January 1, 2020/in Spain, Culture and Experience Travel, Europe
Wondering what the best cities to visit in Spain for 2021 are? With the new year quickly approaching, there is one thing we have on our wish list that lives there all year round: A trip to Spain. With incredible summer deals, fall escapes, winter getaways, and spring festivals to explore, Spain is a country you can visit any time of the year. Whether you're in the market for an amazing dining experience full of tapas or want to explore cultural activities like flamenco dancing, you can never go wrong with visiting Spain. Looking for the best place to start planning your vacation to the Iberian Peninsula?
Start with this list of the top Spanish Cities to visit in 2021. This guide takes you on the getaway of your dreams from north to south. From hidden gems like Bilbao and Cadiz to world-famous cities like Barcelona and Madrid, we've got you covered on the best places to visit, and some of the best-known things to do there. Whatever type of vacation you're looking for, from romantic city escapes, amazing outdoor excursions, or relaxing beachside vacations, Spain will have something for you.
Bilbao:
The city of Bilbao is not one to miss when visiting Spain! Located in the North of Spain in the Basque region, Bilbao offers a unique insight into Spain's more modern sides. Bilbao offers a rich, historical, medieval atmosphere combined with modern skyscrapers and a reflection of the country's industrial history. It makes it a very vibrant city to visit for fans of architecture and art. After all, it does house one of Europe's most famous museums, The Guggenheim. Take a stroll along the Nervion River after a delicious breakfast of churros and cafe. Definitely one of the hidden gems, we consider Bilbao one of the best places to visit in Spain in 2021.
San Sebastian:
If you enjoy lying on the beach with an incredible view, then San Sebastian is the perfect place to spend your Spanish holiday. The beautiful city is tucked right into the Bay of Biscay and it is very well known for its lavish resort hotels and vacation offerings. The northern coast is green all year long with a rainy winter season and a warm, sunny summer. Visitors will love indulging in the upscale shopping, gourmet restaurants offering "pinchos", and exploring up to Monte Igueldo to get the panoramic views of the whole city and La Concha Beach. If a more laid back vacation is what you are searching for, yet something that offers all of the whimsy of the city meets beach life, then this is definitely one of the best places to visit in Spain for you.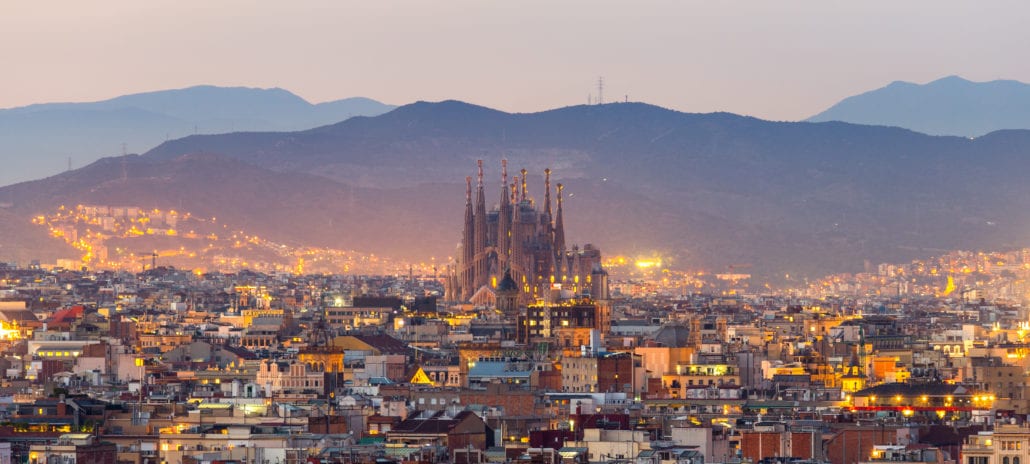 Barcelona:
Hands-down one of the best places to visit when traveling in Spain is Barcelona. The Catalonian city is famous for its nightlife, beach, city, and incredible views. You can't go wrong packing a picnic and hiking up to The Carmel Bunkers to enjoy manchego cheese and vino with an unforgettable view of the coast of Spain. But before you go exploring, you will want to plan a bit as there is so much to do, see, and eat in this cultural hub. One of the best things about Barcelona? How well-connected and easy to get around it is.
Visitors will adore strolling through the Gothic Quarter over the cobbled streets. Elaborate plazas filled with restaurants offer everything from tortilla española (omelets) to paella (Spanish rice with seafood) to tinto de verano (wine with lemon soda). Discover the great live music scene and contemporary street art. You can even plan ahead by taking a virtual tour of several cities in Spain before your visit. Be sure to add visiting La Sagrada Familia, Parc Güell, and the Barceloneta to your list of attractions. Barcelona is definitely one of the best places to visit in all of Spain in 2021, and we highly recommend it to anyone planning a trip to the country.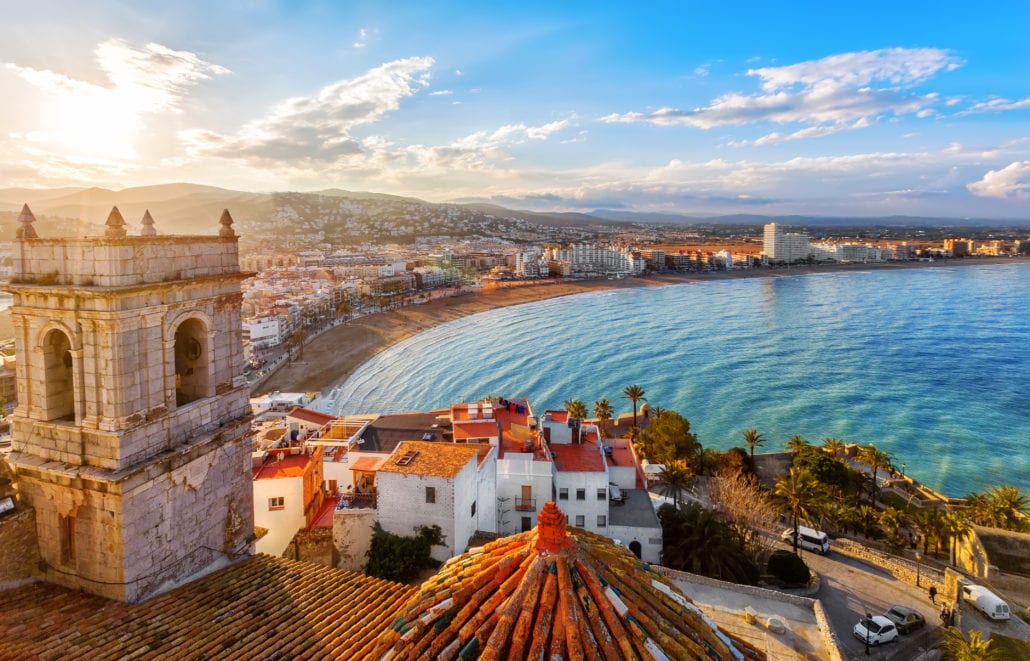 Valencia:
Spain's most famous city for paella, the famous seafood dish, is the coastal city of Valencia. Located south of Barcelona on the Mediterranean Sea, this beach town is a summer hot spot. After spending a day at the beach and eating freshly-made paella, you can try Valencia's horchata almond drink. However, one of Valencia's biggest events happens every March leading up to Easter Weekend. It is called Las Fallas. Parades of large hand-built structures and people dressed up in costumes fill the streets, culminating in the burning of many of these magnificent creations. This event commemorates Saint Joseph. When looking for cultural events to attend during your trip, be sure to plan to see this one. You also cannot miss visiting the City of Arts and Sciences, strolling through the Turia Gardens, and checking out the Cathedral. For a cultural experience, Valencia is definitely one of the best places to visit in Spain.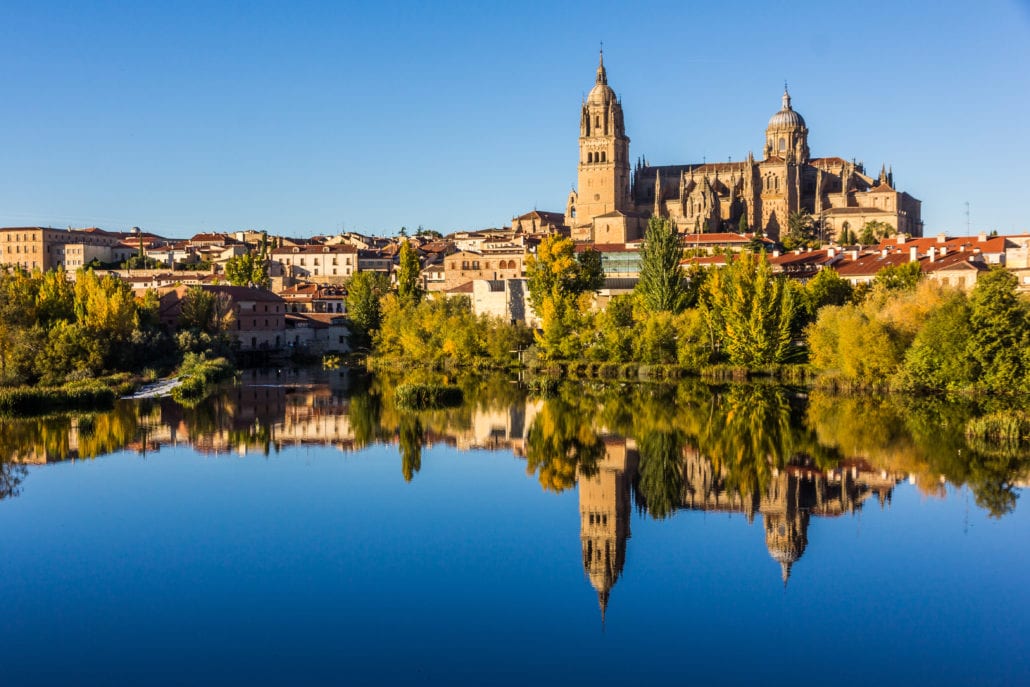 Salamanca:
Salamanca is one of Spain's best cities, especially for student travelers. Popular for how close it is to Madrid and for its gorgeous Spanish outdoors, Salamanca wows everyone who visits. Especially those who are fans of cheap beer and fun nightlife. It also happens to be one of Spain's safest cities which is another reason it boasts visits by the youth. From visiting Casa Lis, Salamanca's Art Nouveau and Art Deco Museum, or house of Shells, tourists love the art experiences offered in this city. After all, Salamanca was the center of great minds in historic Spain. We highly recommend this city as one of the best places to visit in Spain, especially for younger travelers.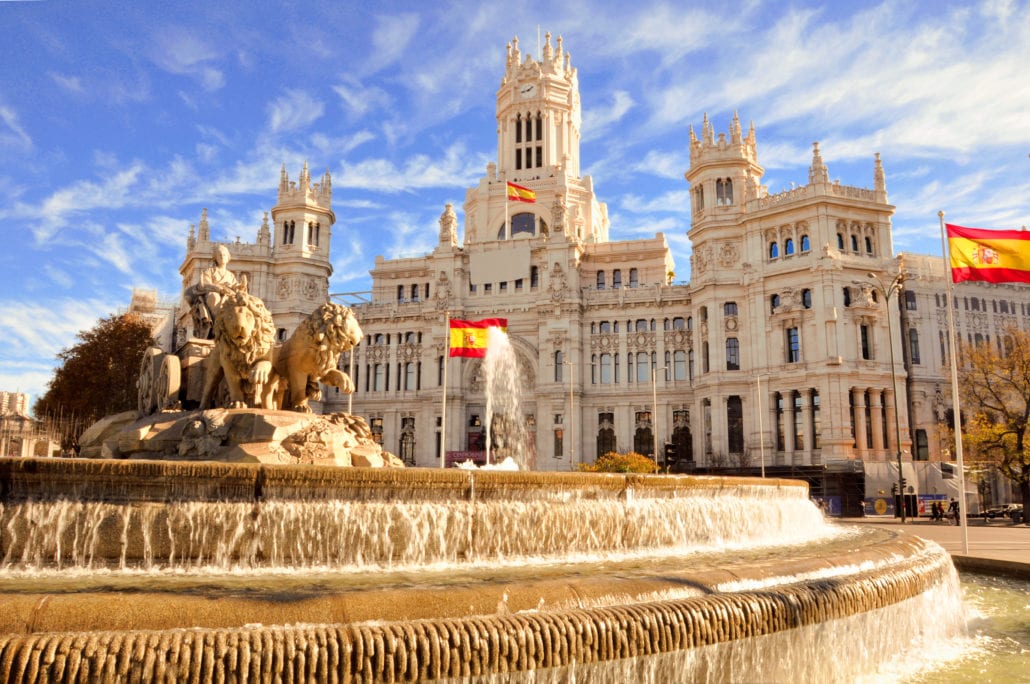 Madrid:
The capital of all Spanish cities is Madrid. Although there is a big debate about whether to visit Barcelona or Madrid if you could only visit one, it is very hard to choose. That's why the only choice is to visit both and the other Spanish cities on this list! Madrid will give you a more contemporary vibe and will be easier on the budget for a longer trip.
Madrid will allow you to explore Spanish history and life in the city. It is also the best city for connecting you to the rest of Spain as it is in the middle of the country. There is a magnificent selection of affordable hotels and rentals in Madrid that will make you never want to leave. From visiting the lively Puerta del Sol to taking long walks through Retiro Park, Madrid has so much lust and charm you will fall madly in love with. We know we do!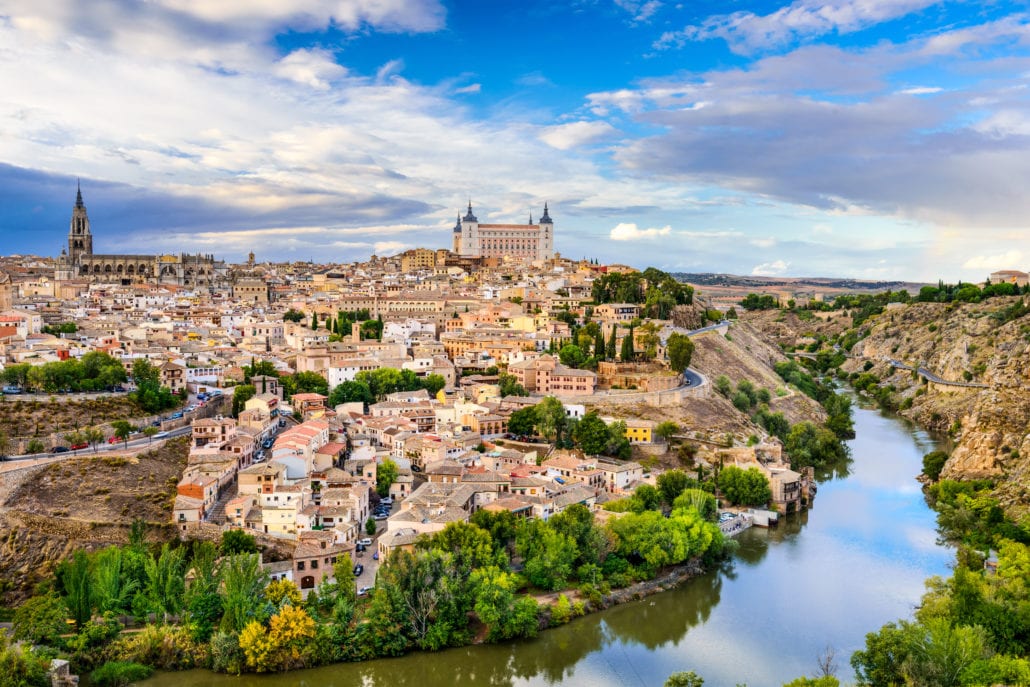 Toledo:
Madrid's neighbor, Toledo is an off the beaten path city that you must visit during your trip to Spain. Just a short ride by bus or train from the capital, Toledo offers nature and town life for those looking for an escape. Set in central Spain on a hill above the plains of Castilla-la Mancha, it is well known for the old city architecture and mannerism. Enjoy a glass of wine and wander through the winding streets on the hilltop. You'll love looking at everything from the Moorish Bisagra Gate to Mudejar Sol Gate. The city has so much to offer especially no crowds. If you are looking to experience classic Spain for a better price and in a quieter setting, then Toledo is for you. We know we can't wait to visit again soon.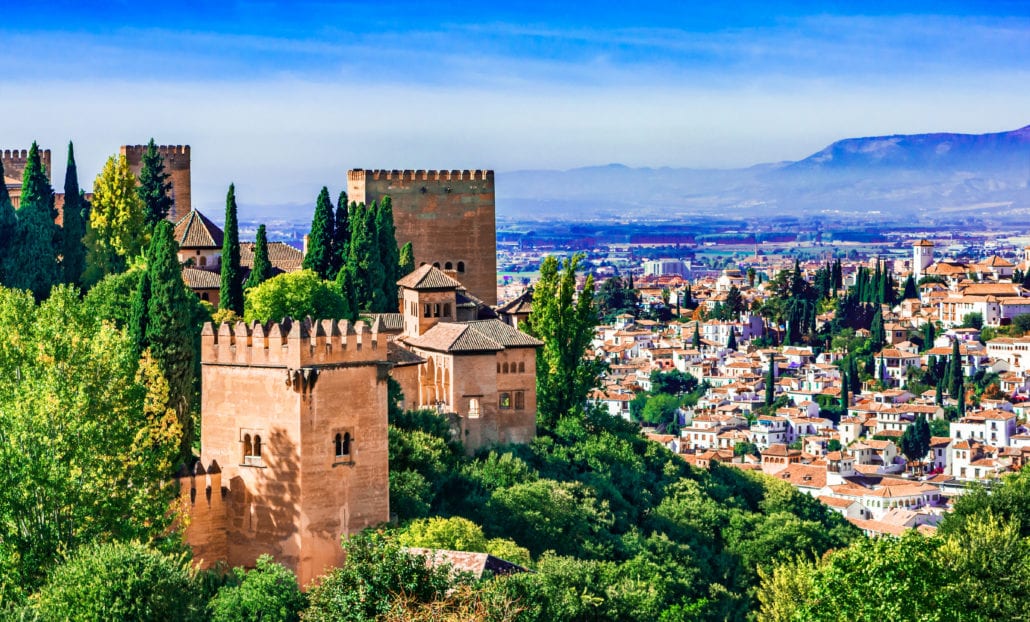 Granada:
From Moorish architecture and serene patios to tapas and drinks that will fill you up with joy, Granada is a must-visit in Spain. Some of our favorite things to do when visiting this historic mountain town include: Hiking up to St. Nicholas Church to enjoy a glass of wine or chilled beer while watching the sunset over the spectacular Alhambra. And in the wintertime, people come from far and wide to enjoy the mountain fun to be had in the nearby Sierra Nevada Mountain Range. In the spring, visitors will see the trees and bushes bloom with vibrant color that goes hand in hand with the magical feel this city gives off. Pro tip: when you order a drink at any restaurant in Granada, they also come with a small tapa so be sure to find the best bars in town.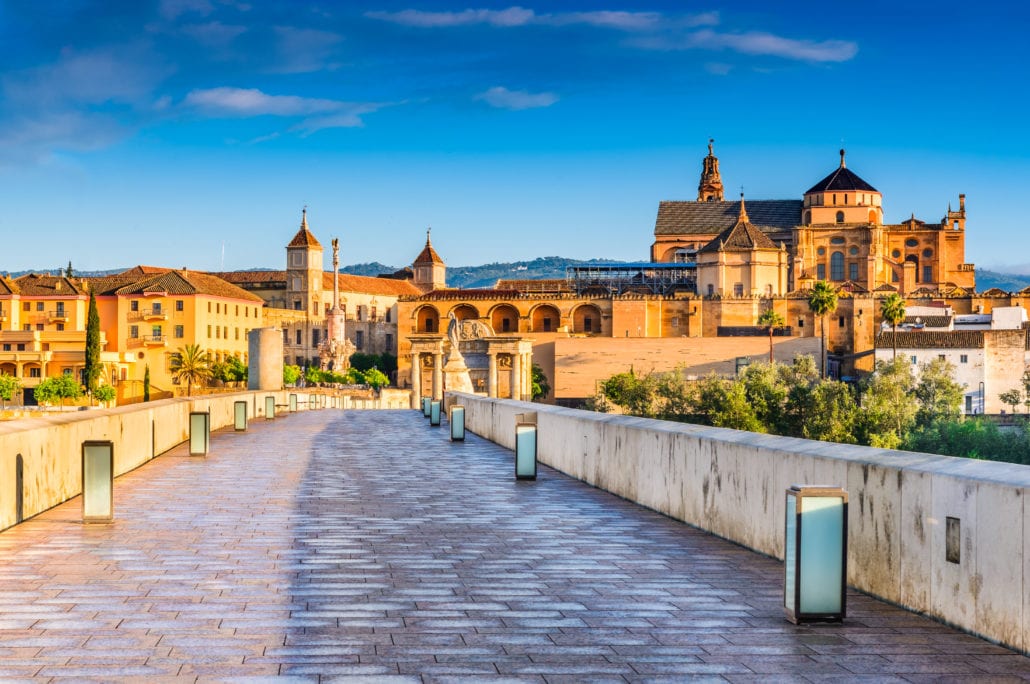 Cordoba:
Tucked in Andalusia only about 30 minutes by train from Spain's southern capital, is Cordoba. This beautiful town is famous for its mix of Roman and Islamic architecture spanning from the early 1st century BC. La Mezquita Mosque is one of the town's main attractions and welcomes millions of visitors a year. Especially during spring when people gather in the city to see the famous patios filled with colorful flowers of all shapes, sizes, and colors. From Roman bridge to Palacio de Viana, the architecture of the city is definitely worth a visit, and if you enjoy wandering through Spanish cities and their romantic cobblestone streets, then Cordoba should be added to your bucket list. Are you a Game of Thrones fan? You can visit Cordoba's GOT Spain filming locations during a road trip through Spain.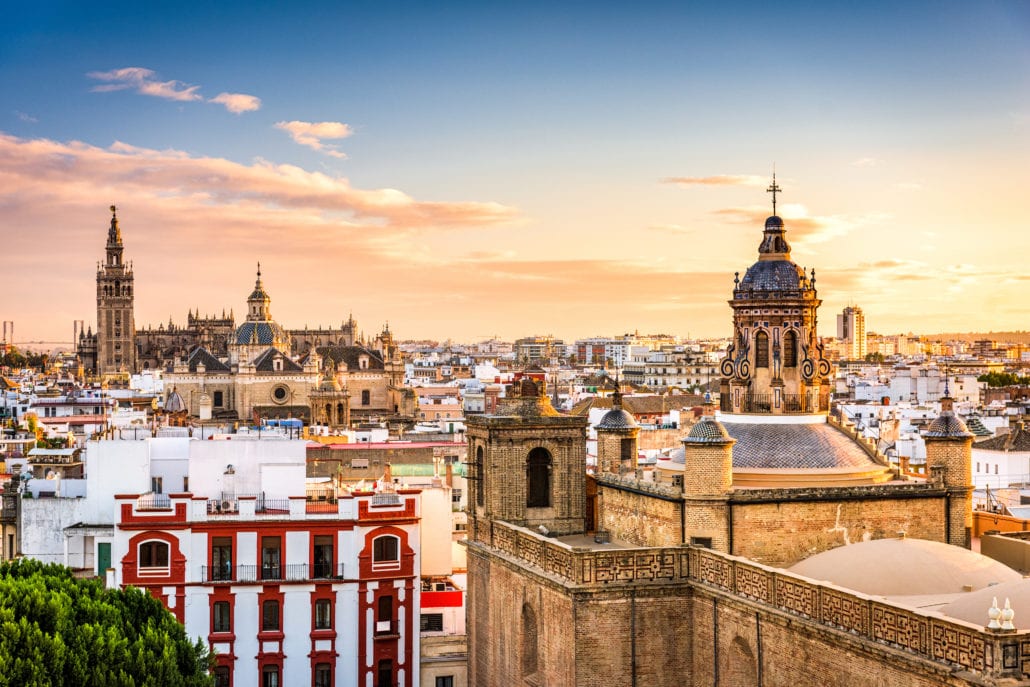 Seville:
Seville is the heart of Southern Spain, both physically and emotionally. If you are fond of flamenco, olives, and oranges, and floral scents, and incredible views from its many rooftops and buildings, Seville is the perfect place for you. Orange blossom perfumes are sold on every corner, along with painted tiles and traditional feria dresses. You will love wandering through the Real Alcazar which is also known to Game of Thrones fans as the city of Dorne. Do not forget to walk around the Maestranza bullfighting ring and take long walks along the Guadalquivir River. Also, if you are already planning your Easter holiday, then we highly recommend you add Seville to your itinerary. The Easter processions are one of the most beautiful in the whole of Spain and attract millions of tourists a year to watch the processions from many cities fill the charming streets of Seville. Seville is definitely one of the best places to visit in Spain for its classic Spanish culture and atmosphere that you won't soon forget.
Cadiz:
Spain's southernmost city, Cadiz is truly paradise. Lovers of seafood and beach vibes will be very fond of everything Cadiz and its beach towns have to offer. It is also one of many European's favorite vacation destinations, and usually brings in thousands of visitors every year. The Costa del Sol offers painted white towns running along the shore. This allows visitors to experience many of Spain's beautiful spots all summer long. We suggest starting with Cadiz capital and taking a road trip along the coast. On a clear summer day, you can even see Morocco from the hilltops. Of all the other Spanish cities to visit, Cadiz is an absolute must.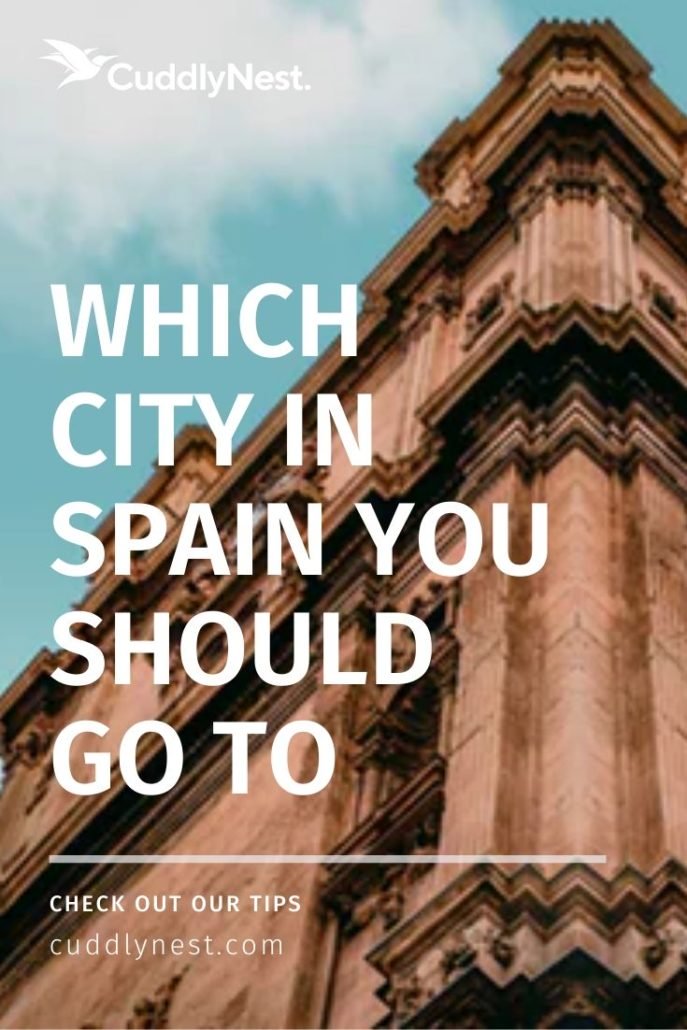 Browse. Book. Stay.
CuddlyNest provides all accommodations to all travelers at an unbeatable price. Find unlimited travel inspiration on our blog and social media channels.
https://www.cuddlynest.com/blog/wp-content/uploads/2019/10/shutterstock_662563231-1.png
627
1200
2020-01-01 08:00:31
2020-09-13 22:33:26
Spanish Cities to Visit in 2021: Get to Know Them All