CuddlyNest attends Vacation rental World Summit 2018 in Como, Italy and Closes Partnerships with Local Property Managers
Startup OTA "CuddlyNest" attends Vacation Rental World Summit (VRWS) in Como, Italy

VRWS is the largest independent vacation rental (VR) industry conference in the world

"CuddlyNest" to close partnerships with many local businesses and learn about industry innovation and future prospects
Global travel online travel agency startup "CuddlyNest" attended one of the main hospitality industry events VRWS on October 6-7 in Lake Como, Italy. During the two day conference, the startup has closed many valuable partnerships with local property managers and participated in the discussion on the future of the travel industry, hospitality, and growth of vacation rental industry.
The conference gathered more than 100 vacation industry professionals from all around the world and gave a stage to leading industry experts from Booking.com, Airbnb, TripAdvisor, hospitality industry regulatory institutions and other marketing and VR tech professionals.  The main topics discussed in the conference verged from the analysis of the state of the VR industry, the risks and opportunities related to state regulations and growing travel accommodation convergence between vacation rentals and hotels, as well as innovation and development. The spotlight of the innovation and development was given to blockchain technology, virtual assistant deployment at homes, and professional management software. More and more importance was given to discussion of the effectiveness of current distribution systems, and the clash between decentralized marketplaces and OTAs versus self-promoted highly local business marketing.
Industry professionals like Simon Lehmann, Andy McNulty, and Tammi Sims shared their insights and opinions of the future opportunities and threats of the VR industry. According to  Lehmann, the property managers are about to become the cleaners and receptionists of the industry if not taking the matter in their own hands and optimizing distribution channels. Another insight of Tammi Sims was, that the hospitality industry is highly local and bound to comply quality over the scale. Therefore, the future expansion and scaling of the vacation rental industry, as well as hotel chain acquisitions of VR are doubted to be successful in the long-term.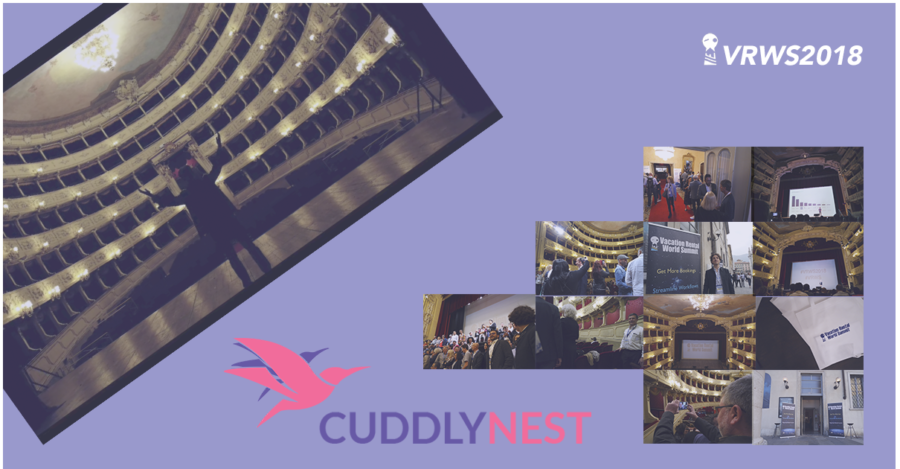 About CuddlyNest
CuddlyNest is a global online travel accommodation marketplace catering to any type of traveler willing to book any type of accommodation in more than 200 countries with lowest service/traveler fee. Our innovative booking fee sharing model allows our guests to book for a reduced guest fee,  and the fast growth of the company's inventory and partnerships promise a market-leading position in the travel ecosystem.
For partnerships, discussions or interviews, please contact:
Ritesh Raj
Chief Operating Officer
[email protected]
https://www.cuddlynest.com/blog/wp-content/uploads/2018/10/Sin-título-1.png
272
520
CuddlyNest
https://www.cuddlynest.com/blog/wp-content/uploads/2018/08/cn_logo_feels-home-everywhere_20180817.jpg
CuddlyNest
2018-10-19 17:26:19
2019-04-09 13:49:05
CuddlyNest at VRWS 2018