Looking for Europe UNESCO Destinations to visit on your holiday? Portugal, the Western-most country of Southern Europe is home to many cultures and peoples who lived here throughout centuries. Therefore, it also boasts 17 UNESCO World Heritage sites.
The History of Peoples in Portugal
Already 35,000 years ago Portugal saw its first inhabitants. Homo sapiens arrived in Portugal first. Then, Pre-Celtic tribes inhabited Portugal. They left a remarkable cultural footprint around the Algarve and Lower Alentejo regions from the 6th century BC. Further, Portugal saw the Roman invasion in the 3rd century BC. It still manifests today, with Portuguese heritage sites including works of engineering, baths, temples, bridges, theatres, layman's homes, sarcophagi, and ceramics. Also later, in 711, an invasion by the Islamic Umayyad Caliphate started, leaving a significant Moorish footprint.
UNESCO World Heritage Sites in Portugal
The UNESCO World Heritage currently lists 1,092 sites in 167 countries around the world. In Portugal, there are 16 cultural and 1 natural site (Alt Duoro River Region). Also, there are many in Northern and Central Portugal dating back to medieval times: Braga, Porto, Coimbra, and Alcobaça are some good places to visit. But if you go to the South of Portugal, also do not miss Azores, Madeira, and Lisbon sites.
Portugal Adds 3 New UNESCO World Heritage Sites
On Sunday, July 12, UNESCO announced 3 new listed sites. The Royal Convent in Mafra, the Sanctuary of Bom Jesus in Braga and the Machado de Castro National Museum in Coimbra have all are now UNESCO World Heritage Sites.
President, Marcelo Rebelo de Sousa, considered the news a reason for "great joy for all Portuguese", reported Portugal News. So what is it that you should visit in 2019 when coming to Portugal, Europe?
Europe UNESCO Destinations: The Royal Convent in Mafra
The Palace of Mafra is one of the Seven Wonders of Portugal, and with a good reason. It is a monumental Baroque palace-monastery near Lisbon. In 7 July 2019, the Royal Building of Mafra – Palace, Basilica, Convent, Cerco Garden and Hunting Park was added to the UNESCO list.
The Sanctuary of Bom Jesus in Braga
Translating in English as Good Jesus of the Mount, the sanctuary sits in Tenões, just outside the city of Braga in northern Portugal. It is one of the main pilgrimage sites. Besides, you can climb the monumental, Baroque stairway 116 meter high.
The Machado de Castro National Museum in Coimbra
Named after Portuguese sculptor Joaquim Machado de Castro and located in the Portuguese university town Coimbra, the museum was first opened in 1913. Besides, the building dates back to Medieval times when it housed the Roman Forum of the city and later served as a Bishop's Palace. If you visit Coimbra, do not forget to listen to fado (in Northern Portugal, only men are allowed to sing it!), and go to the Library of the University of Coimbra Biblioteca Joanina. And, you can still spot bats here!
Want to share this article? Pin this: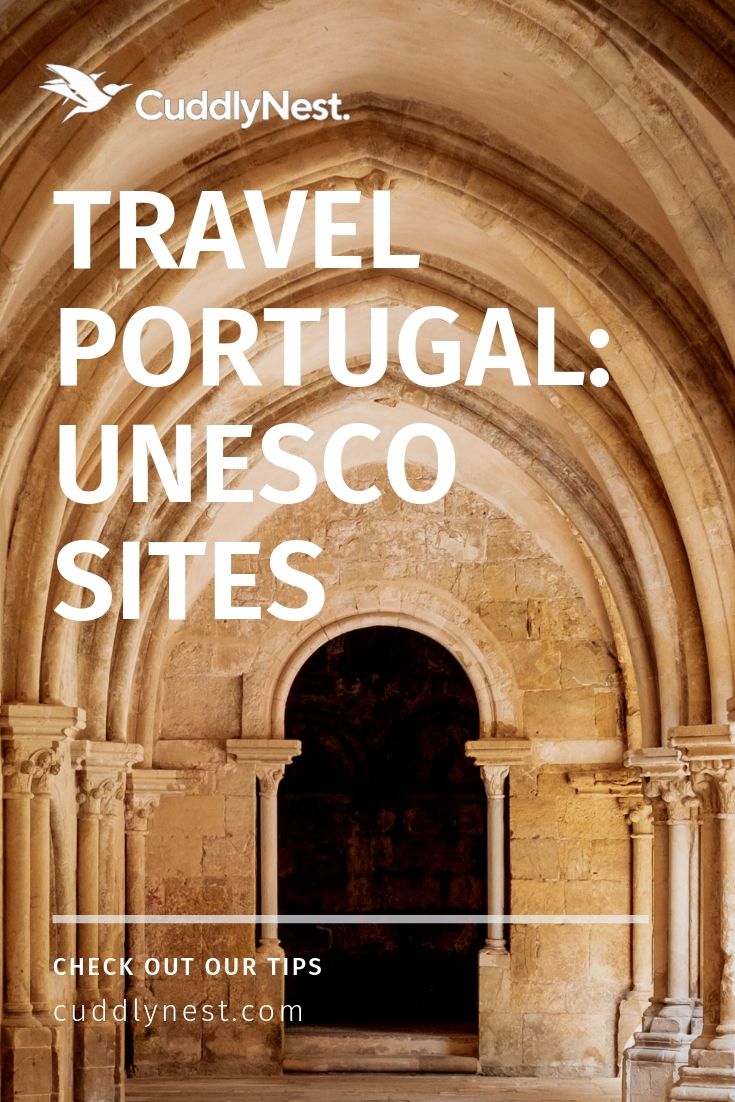 https://www.cuddlynest.com/blog/wp-content/uploads/2019/07/1-2-1.jpg
894
1700
2019-08-03 17:00:59
2019-07-25 14:15:04
UNESCO New 2019 Destinations: What to Visit in Portugal