VRMA International conference takes place in Las Vegas, Nevada on October 27-30

Startup OTA "CuddlyNest" attends VRMA International  to learn about the fast-growing industry

CuddlyNest to partner with channel manager Avantio
On October 27th to 30th, Cuddynest took part in the international VRMA conference in Las Vegas, Nevada, to develop knowledge about the VR industry, explore new travel tech solutions and close meaningful partnerships.
The VRMA International conference was a three-day event by the trade organization Vacation Rental Manager Association and gathered more than 100 vendors with the cutting edge innovations and solutions, and more than 60 sessions brought by industry's leading professionals. The industry-leading PMS, OTAs and ancillary tech producers were attending to share and compare the insights on the previous year's growth and the expectations in future.
The conference once again proved the importance of startup OTA to be in the hotspot of industry leaders and practitioners, as well as general management professionals. From Terry Jones' talk on safety and security to Amber Mayer's warning about the safety concerns with the tech solutions like VR, CuddlyNest had a lot to take away to embed into our new OTA solution.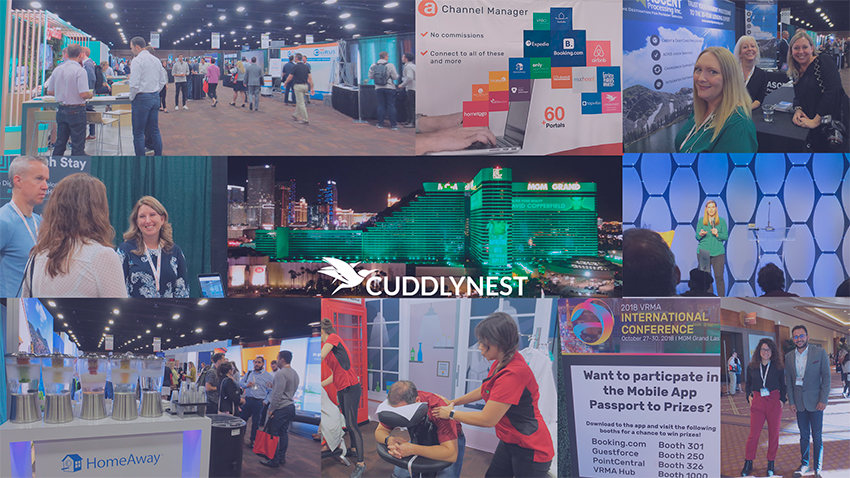 CuddlyNest is a global online travel accommodation marketplace catering to all traveler types willing to book any type of accommodation from over  200 countries with the lowest service/traveler fee. Our innovative booking fee sharing model allows our guests to book for a reduced guest fee, host to earn more. The fast growth of the company's inventory and partnerships promise a market-leading position in the travel ecosystem.
For partnerships, discussions or interviews, please contact:
Ritesh Raj
Chief Operating Officer
[email protected]m
https://www.cuddlynest.com/blog/wp-content/uploads/2018/11/VRMA-portada-nora.jpg
900
1600
2018-11-01 20:21:40
2019-04-09 13:51:51
VRMA International to improve the experience of CuddlyNest' s clientele