Being culturally aware during a trip is an eye-opening experience and, fortunately, Europe offers a wide range of culture-filled destinations for travelers to experience. Birthplace of some of the most brilliant artists and architects of all time, the Old Continent is home to more than 40 stunning castles, and it harbors 18 of the 25 most beautiful buildings in the world.
A must-go destination for art enthusiasts, Europe was also the birthplace of a visually intriguing art movement called Art Nouveau. Known for its sinuous lines and curves, this nature-inspired movement spread all over Europe during the 19th-century
While touristy European cities, including Prague, Budapest, and Barcelona display a showcase of preserved Art Nouveau Style buildings, the top destination for a true Art Nouveau immersion is Riga, the capital of Latvia. Shaped by a rich architectural heritage, the city has over 700 Art Nouveau buildings, more than any other city in the world.
Today, we're taking you to discover the most intriguing samples of Art Nouveau architecture in Riga. From art museums to picturesque streets, this guide will help you experience architecture like never before. Have a look!
Note: Make sure to double-check COVID 19 precautions, protocols and operating hours before you visit any of these sites.
What is the Art Nouveau Style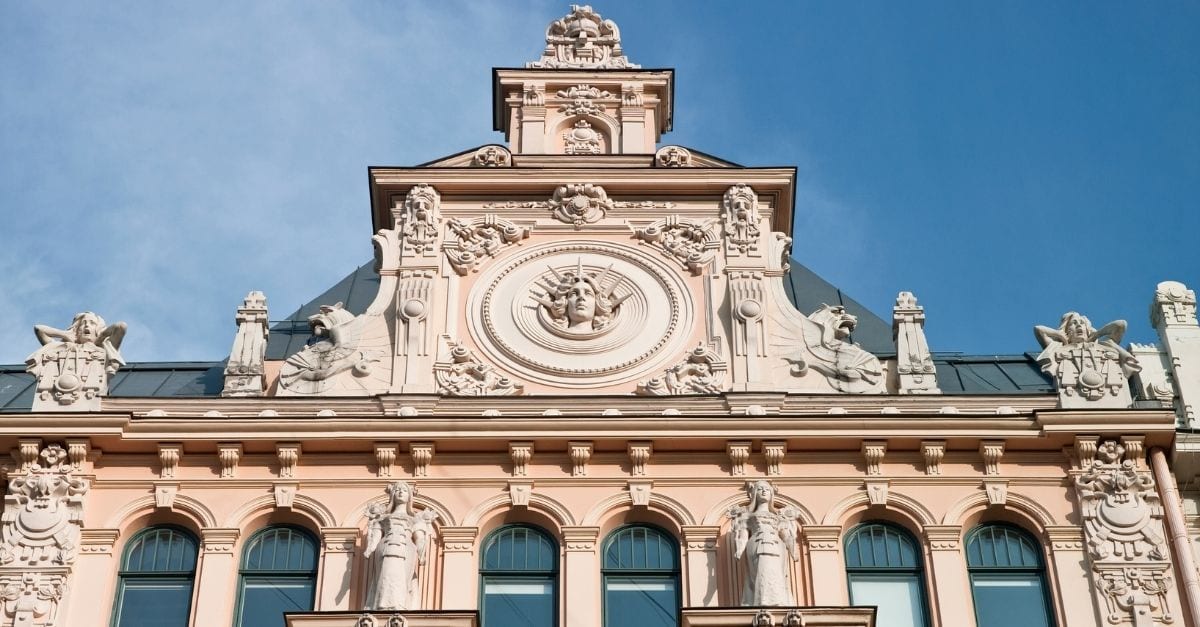 Art Nouveau is an artistic style characterized by the use of distinct sinuous lines, nature-shaped motifs, and organic forms and patterns. The movement flourished throughout Europe and the United States between the late 19th-century and the early 20th-century, being employed mostly in architecture, art, jewelry, illustration, and glass design.
Regarded as a universal art style, Art Nouveau was explored by many renowned artists in Europe, such as Gustav Klimt and Antoni Gaudí. Because of that, this style has different names depending on the country. In Germany, it's known as Jugendstil; in Italy, Stile Liberty in Italian, in Catalunya, Modernisme Català, and in Sweden it's regarded as National Romantic style.
Art Nouveau Architecture in Europe
There are several destinations where you can experience Art Nouveau architecture at its finest in Europe. In case you're planning to visit Eastern Europe, two great spots for some Art Nouveau immersion are Prague and Budapest. But if going to Southern Europe is on the top of your bucket list, you can find some stunning Art Nouveau architecture samples in Turin, Italy; Barcelona, Spain, and Aveiro, Portugal.
Now, if going to an offbeat European destination is the ultimate travel experience you're seeking, Riga, in Latvia, is the place to be.
Traveling To Riga, Latvia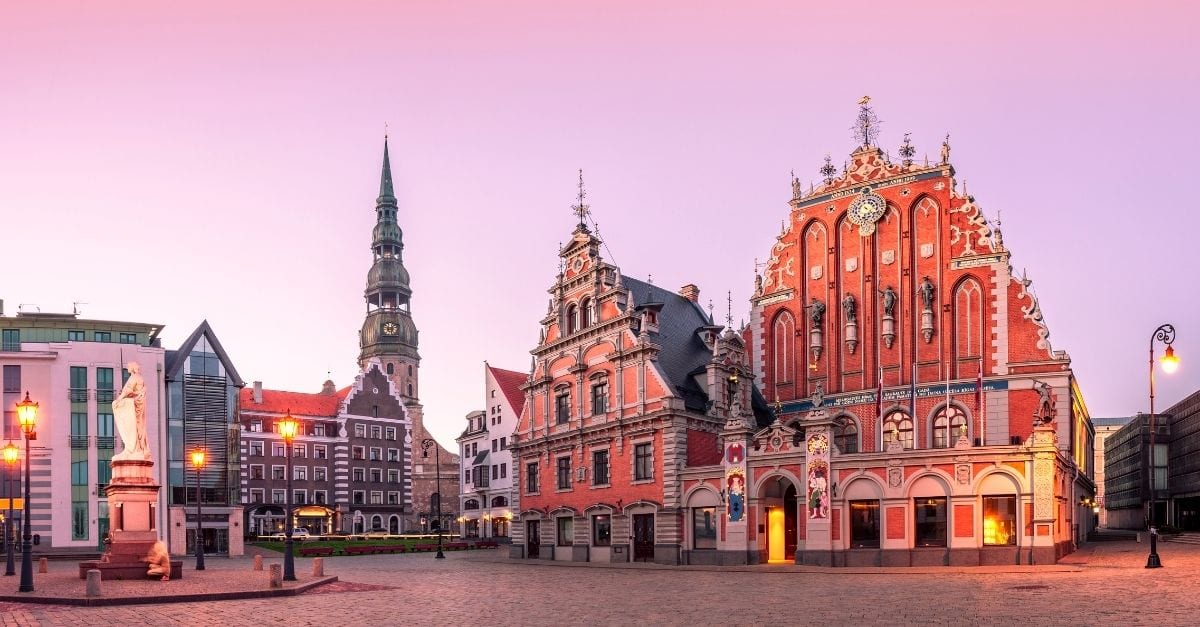 Riga lies in the center of three Baltic States (Estonia, Latvia, Lithuania) and is the capital of Latvia. Apart from Art Noveau Riga architecture, the city is famous for its wooden buildings and medieval pedestrian-only Old Town, which happens to be a UNESCO World Heritage Site.
Riga is the most lively in the summer months when the weather is warm, and the city is bustling with open-air concerts, free music festivals, and outdoor cinemas.
However, Latvia offers much more than typical city entertainment. The country is surrounded by Estonia, Russia, Belorussia, and Lithuania, and sports 500 km of coastline. To enjoy the wild abandoned beaches of the country, you can hop on the train to Jurmala or visit the Kemeri National Park for its bog lakes, mineral waters, and therapeutic mud SPAs nearby.
When in Latvia, visiting the bordering countries is also a great option, and you can add trips to St. Petersburg and Tallinn to your itinerary.
The History of Art Nouveau in Riga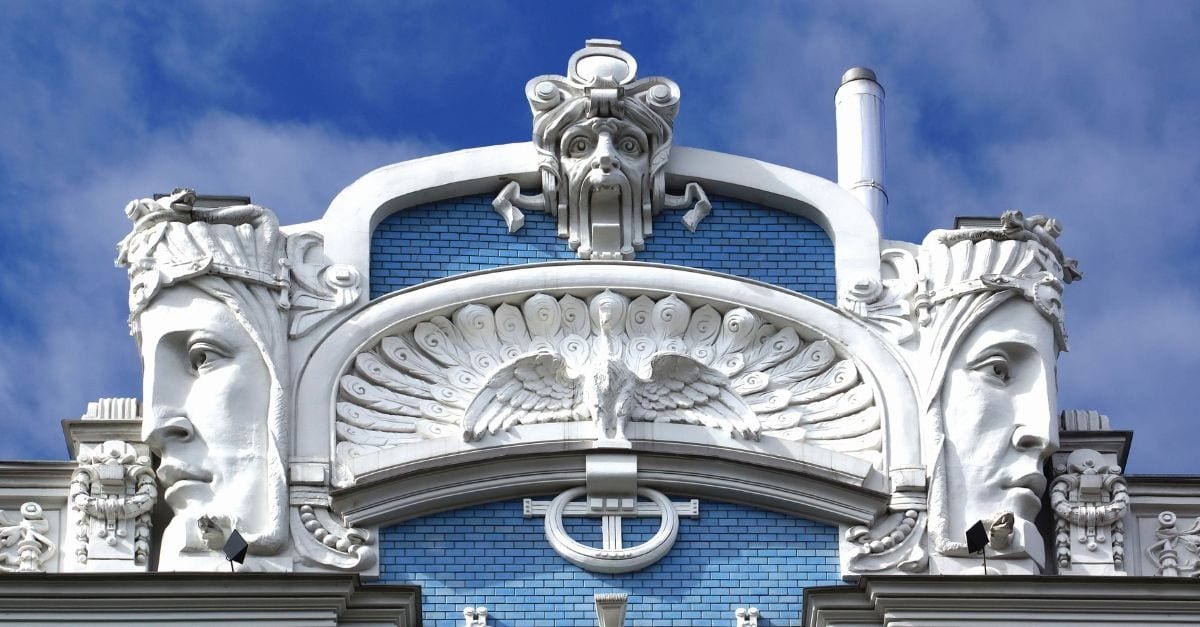 To understand why Art Noveau gained the hype in Riga back in the day, we will drop some facts. During the late 19th-century, Riga experienced rapid economic development. It grew by 88% between 1897 and 1913 and, during WWII, Riva was the third-largest city in the Baltic region. Between 1910 and 1913, almost 500 new buildings were built in Riga annually. Most of them were in Art Noveau style and were placed outside of the Old Town of Riga. The architects in charge of designing the Art Nouveau buildings in Riga ranged from Baltic Germans, Jewish, and newly taught ethnic Latvians.
Today, the Art Nouveau Riga buildings represent one-third of all the buildings in the center of the city. This is exactly why Riga, Latvia, is often regarded as the Art Noveau Mecca, as it has the highest concentration of this architecture style in the world.
Art Nouveau In Riga, Latvia: The Best Experiences And Places To Visit
While wandering around the streets of Riga looking for stunning Art Nouveau buildings, there are some places you don't wanna miss. A good tip is to start off your trip by strolling through the Old Town, just to get acquainted with the city. Then, you can make your move to some of the places listed below. We guarantee you won't regret it.
Alberta Street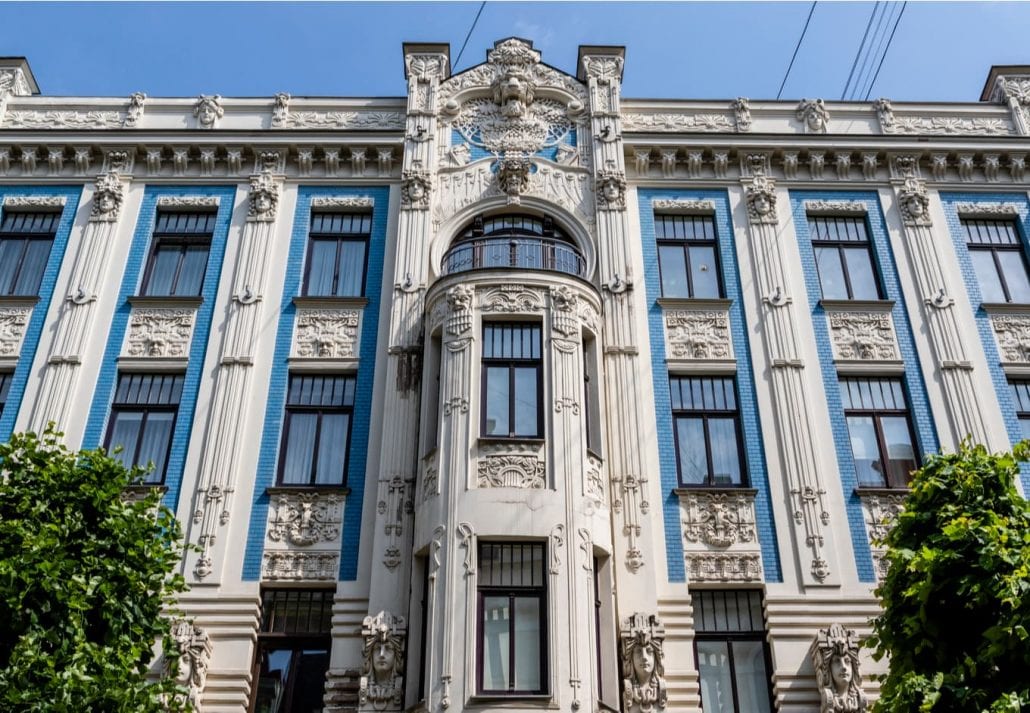 If there is one street you absolutely have to visit in Riga, is Alberta Street. Named after Bishop Albert who founded Riga more than 800 years ago, the street is a trademark thanks to its Eclectic Art Nouveau buildings. Most of them were designed by Mikhail Eisenstein, and some by Konstantīns Pēkšēns and Eižens Laube, a teacher, and his pupil. The buildings are decorated with sculptures, ornamented balconies, columns, and other Art Nouveau elements.
Riga Art Nouveau Centre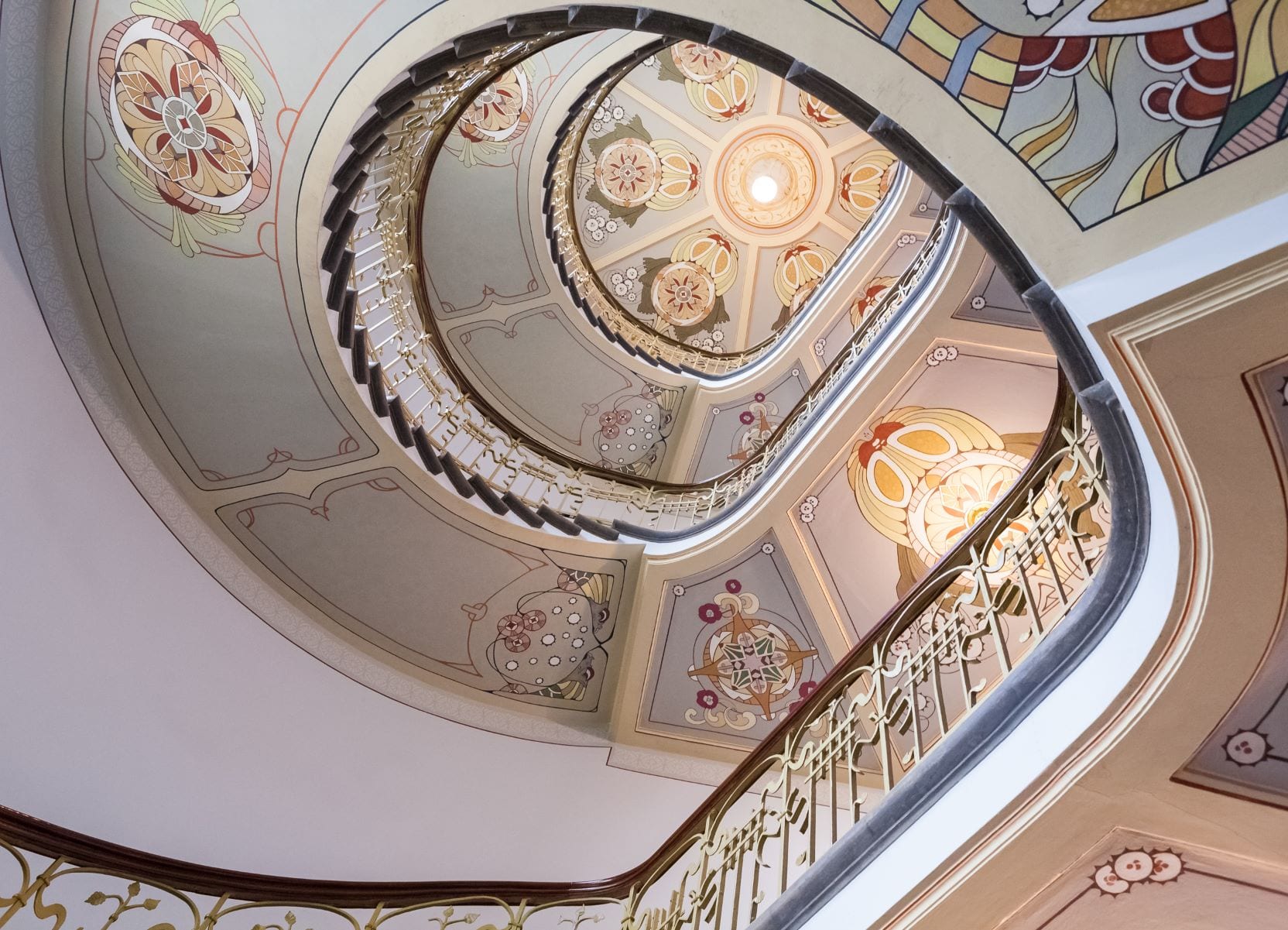 Located on Alberta Street, the Riga Art Nouveau Centre is the only museum in the Baltics that entirely showcases the history of the Art Nouveau movement. The Riga Art Nouveau Centre is placed within a building that belonged Konstantīns Pēkšēns, one of the most famous Latvian Art Nouveau architects.
Walking through the 20th-century building will take you on a journey back in time. During your tour, you'll not only learn about Art Nouveau but also about how the former owners hosted their guests, how people behaved, and more.
Make sure you look up to the ceiling when entering the building, You'll see an ornamented spiral staircase, which is a fine example of the Art Nouveau style.
The Riga Art Nouveau Centre is open every day (except for Mondays) from 10 am to 6 pm. The entrance fee is 9 euros for the full exposition.
Art Noveau Route in the Riga City Center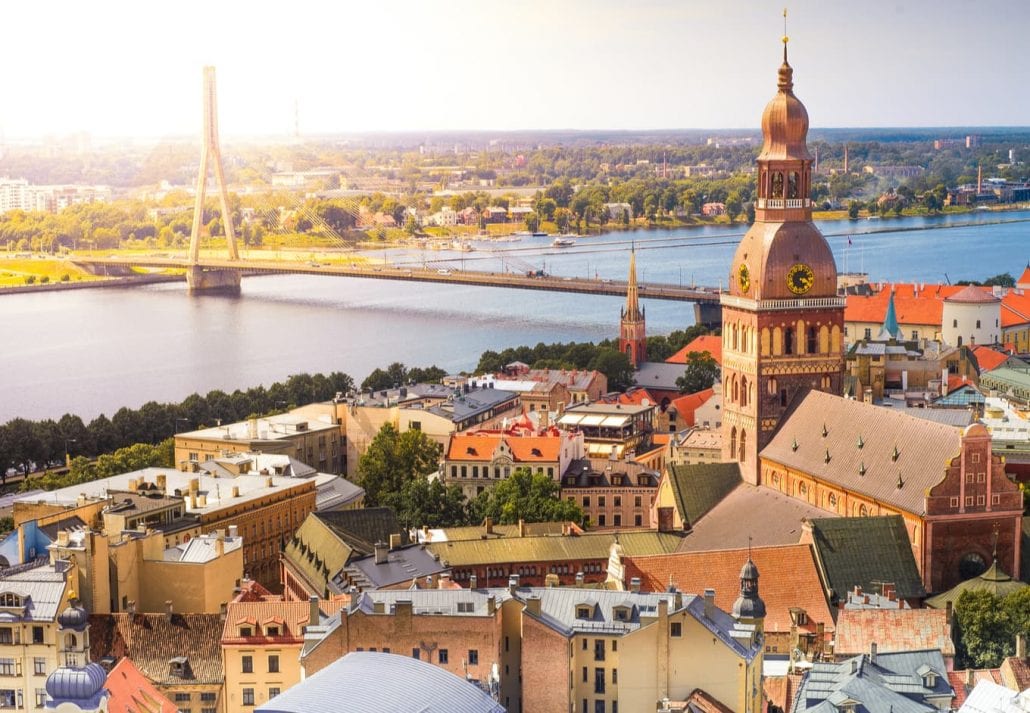 If you got excited after discovering the examples of Art Nouveau in Alberta Street, you can surely go beyond and uncover more architectural gems in Riga. The Alberta Street harbors some of the finest samples of the Eclectic Art Nouveau Style in Riga, but there are three other styles you can uncover in the city: the Perpendicular Art Nouveau, National Romantic Art Nouveau, and the Neo-Classical Art Nouveau.
For exploring the Perpendicular Art Nouveau category, which is commonly referred to as "department store style" or Warenhausstil (in German), head over to Krišjāņa Valdemāra iela (Krišjānis Valdemārs Street) number 37, which is home to a multi-story building designed by Eižens Laube.
A good Neo-Classical example is the former Commercial Bank of Riga, which sits in the very center of the Old Riga, right opposite the Doms Cathedral.
To discover the National Romantic style, or the Nordic Art Noveau, in Riga, stay in the Alberta Street and head over the building number 11, also designed by Eižens Laube.
Drink a Coffee Surrounded by the Art Noveau Style in Riga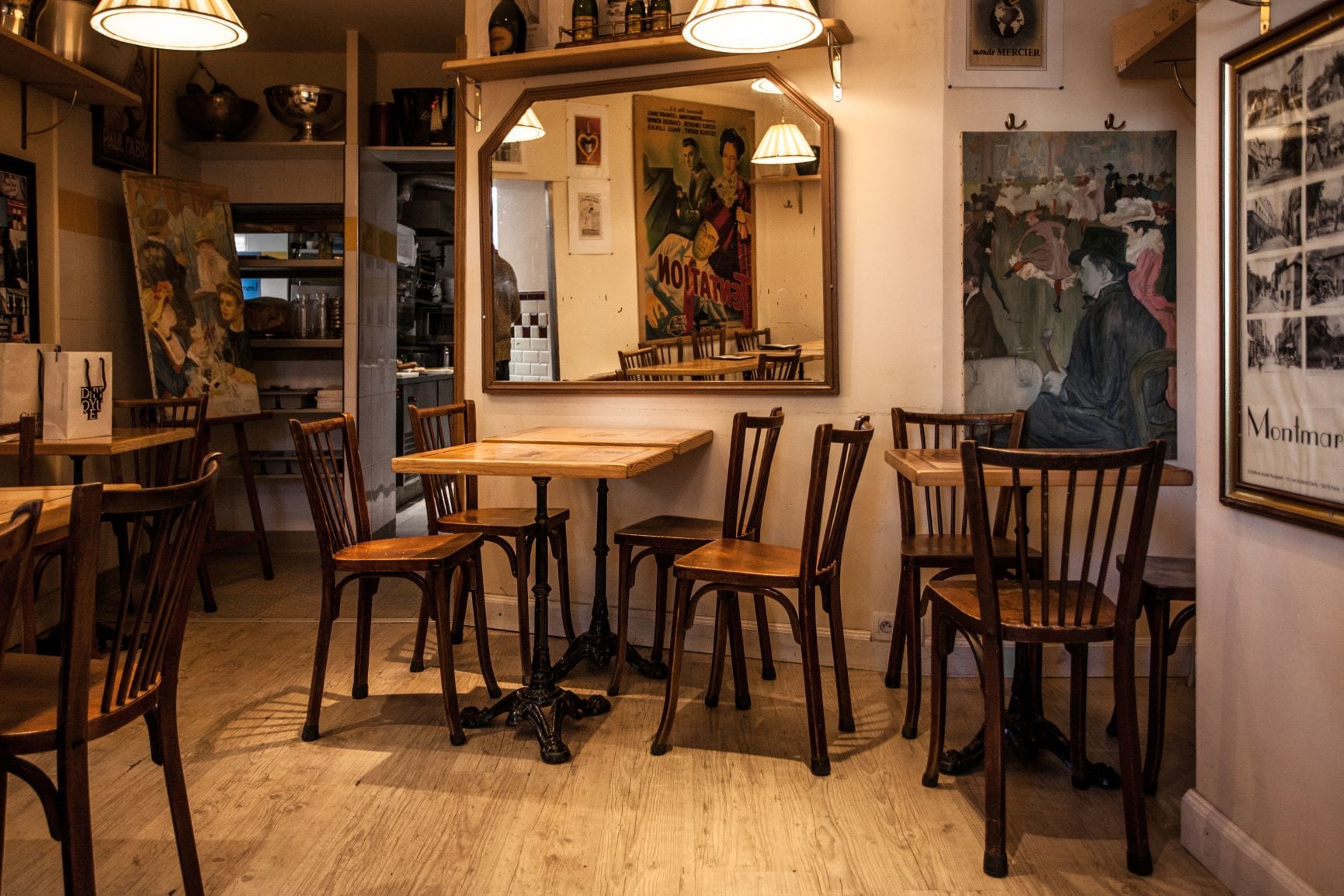 Tired after seeing too many curvy lines and floral decorations? Have a cup of coffee and a slice of cake at this boutique Art Noveau cafe Sienna just across Alberta Street.
Take a Free Art Noveau Tour in Riga
If you want to travel on a budget, then a good idea is to go on a free Riga Art Noveau guided tour. Tours will take you through Alberta Street and Elizabetes Street, as well as to explore some less popular Art Noveau examples. Tours take around 2 hours and start daily at 3 pm (until the end of September) at the stairs of the National Opera House of Latvia.
FAQ
Why is there so much Art Nouveau in Riga?
Art Nouveau arrived in Riga at the end of the 19th century and became a real force in the city from 1901 onwards. At that time, the design movement was sweeping across Europe and Riga was going through an economic boom, which led to hundreds of new buildings being constructed in the new Art Nouveau architectural style in and around the city center.
What are the most beautiful Art Nouveau buildings in Riga?
The most beautiful Art Nouveau buildings in Riga are:
Riga Art Nouveau Centre;
Commercial Bank of Riga;
Cafe Sienna;
The row of houses along Alberta iela (Albert Street);
The buildings at Šķūņu street 12/14.
What is Art Nouveau architecture?
The Art Nouveau architectural style is inspired by the nature. Therefore, it's characterized by sinuous, sculptural, organic shapes, and arches. Common motifs include leaves, flowers, vines, insects, and animals.
What was the first Art Nouveau building in Riga?
Riga's first Art Nouveau building was Audēju iela 7. It was designed by the architects Alfred Aschenkampff and Max Scherwinsky and finished in 1899. The building is located on Audēju iela 7 (Audeju street) in the medieval part of the city.
Are you ready for your cultural travel?
Browse. Book. Stay.
CuddlyNest provides all accommodations to all travelers at the best price. Find unlimited travel inspiration on our blog and social media channels.
You might also like:
The Most Instagrammable Places in The World
Free Budapest Tours
Legendary Barcelona Spots
Here are some curated readings for you:
Best Rooftop Bars in Athens
Best food in Orlando
Best food in Bali