Culture travel is on the rise. And a large part of what we can see at the travel destination is the architecture. Chinese influenced Vietnamese pagodas or Spanish Colonial style castles in St. Augustine, Florida are landmarks telling the history throughout centuries. Art Noveau Riga shapes in her own way, though.
European cities offer a large variety of architectural styles to art enthusiasts. You can choose to visit Ancient Roman ruins (read: Southern France Alps Summer Tour Guide). Or, you can go the modern way and visit modern Gaudi architecture in Barcelona Europe seems to have it all. 
Today, let's have a look at Art Noveau –a late 19th-century architecture style– and share a city guide to Riga, the Art Noveau Mecca. After all, Riga boasts the highest concentration of Art Noveau buildings found anywhere in the whole world.
What is Art Noveau 
Art Noveau, just like many other artistic styles, finds its way through different mediums. You can picture Gustav Klimt's paintings or Gaudi's architecture. While Art Noveau differed throughout regions as well. In Spain, Gaudi's Sagrada Família in Catalan Modernism is also a part of Art Noveau. Nordic countries have their own take on it. In Stockholm, Sweden, Art Noveau is known as the National Romantic style, and you can see it manifest in Stockholms tingsrätt (Stokholm' s Court House).
As you can now see, many in Europe and favoured the romantic long, sinuous and organic lines. Its mayday was between 1890 and 1910, but you can still travel to Europe and see the beautifully decorated buildings in the European city centres.
Art Noveau Europe Cities – Culture Travel Destinations
To see the classic Art Noveau Riga, the best Eastern European travel destinations we suggest going with Budapest, Riga, and Prague. If you travel to Southern Europe, then make sure to visit Aveiro in Portugal and Turin in Northern Italy.
Why are those cities in the spotlight? Some cities, like Barcelona in Spain, Vienna in Austria, Munich in Germany and Subotica in Serbia have spectacular Art Noveau architecture, too. However, buildings are spread far and between. In Riga, Prague, and Aveiro, the Art Noveau style predominates others, making it a large part of cultural heritage.
Riga, Latvia – Center of the Baltic States 
Riga lies in the centre of three Baltic States (Estonia, Latvia, Lithuania) and is the capital of Latvia. Apart from Art Noveau Riga architecture, the city is famous for its wooden buildings and medieval pedestrian-only Old Town.
The city is the most lively in the summer months when the weather is warm – bubbling with open-air concerts, free music festivals and outdoor cinema on the weekday nights and weekends. However, Latvia offers much more than city entertainment. The country is surrounded by Estonia, Russia, Belorussia, and Lithuania, and sports 500 km of coastline. To enjoy the wild abandoned beaches, you can hop on the train to Jurmala (literally: seaside) or visit Kemeri National Park for its bog lakes, mineral waters and therapeutic mud SPAs nearby. Visiting bordering countries is an option, too (check St. Petersburg, Vilnius and Tallinn)!
Art Noveau Riga History
To understand why Art Noveau gained the hype in Riga back in the day, we will drop some facts here. At the time, Riga experienced rapid economic development. It grew by 88% between 1897 and 1913 and on the eve of WWII was the third largest city in the Baltic region. Just in the three years between 1910 and 1913, every year almost 500 new buildings were built. Most of them were in Art Noveau constructed outside of the Old Town of Riga. Architects ranged from Baltic Germans to Jewish, to newly taught ethnic Latvians. While the style finds its roots outside Latvia, mostly in Germany, a large part of architects were locals.
Today, Art Nouveau Riga buildings account for one-third of all the buildings in the center of Riga. Riga, Latvia can, therefore, be awarded as the Art Noveau Mecca with the highest concentration of such buildings in the world.
What to See in Riga Latvia – Art Noveau Route 
As noted before, Riga has the highest concentration of Art Noveau buildings in the world. While you are safe wandering the streets on the outskirts of the Old Town, there are some spots you don't want to miss. From staircases curving into infinity to beautifully decorated cutlery pieces in a living-room museum, to free dedicated tours – Art Noveau Riga offers a lot to its artistically inclined visitors. 
Alberta Street
If there is one street you absolutely have to visit, it is Alberta Street. Named after Bishop Albert who founded Riga more than 800 years ago, the street is a trademark for Eclectic Art Nouveau. Most are living buildings designed by Mikhail Eisenstein, while a large part is by Konstantīns Pēkšēns and Eižens Laube, a teacher, and his pupil.
What not to miss?
While all buildings are prominently Art Noveau, one of the most well-known is a building by Mikhail Eisenstein on Alberta Street 8 built in 1903. You can tell it apart by the sea blue facade quite easily.
Art Noveau Museum 
Art Noveau Riga Museum is located on Alberta Street in the family building of one of the most famous Latvian Art Noveau architects Konstantīns Pēkšēns. You walk through the exhibition of the 20th-century city family apartment with all its rooms, servant rooms and feel yourself back in time. 
What not to miss?
Look up the staircase ceiling when entering the building! It is free and one of the best examples of Art Noveau. Also, here you can take an Instagram-worthy shot for free (opposing the 2 euro payment in the museum apartment). 
When to go?
The museum is open every day (except for Mondays) from 10 am to 6 pm. The entrance fee is 9 euros for the full exposition. 
Art Noveau Riga: Route in the Riga City Center
Are you excited after Alberta street? You can surely go beyond and with a little effort to discover all four legs of Art Noveau: Eclectic Art Nouveau, and Perpendicular Art Nouveau, National Romantic Art Nouveau, and Neo-Classical Art Nouveau. 
While the first is represented by Alberta street (which is a must-visit), you can see the perpendicular variety, referred to as s "department store style" or Warenhausstil (in German) on Krišjāņa Valdemāra iela (Krišjānis Valdemārs Street) number 37. 
National Romantic style, or the Nordic Art Noveau, is something you would notice when visiting Helsinki in Finland, or Stockholm in Sweden. But have a look at Alberta 11 building before! A good Neo-classical variety example sits in the very center of the Old Riga, right opposite the Doms Cathedral. It is the former Commercial Bank of Riga.
Go on Riga Free Art Noveau Tour
Want to stick to a budget? Then apply for a free Riga Art Noveau guided tour. Tours will take you through Alberta Street and Elizabetes Street, as well as to some less popular Art Noveau buildings during its 2 hours. Tours start daily at 3 pm (until the end of September) at the stairs of the National Opera House of Latvia. 
Have a Coffee in Art Noveau Style
Tired after seeing too many curvy lines and floral decorations? Have a cup of coffee and slice of cake at this boutique Art Noveau cafe Sienna just across Alberta Street. 
Are you ready for your cultural travel? Pin this to share your Art Noveau inspiration and spread the hype: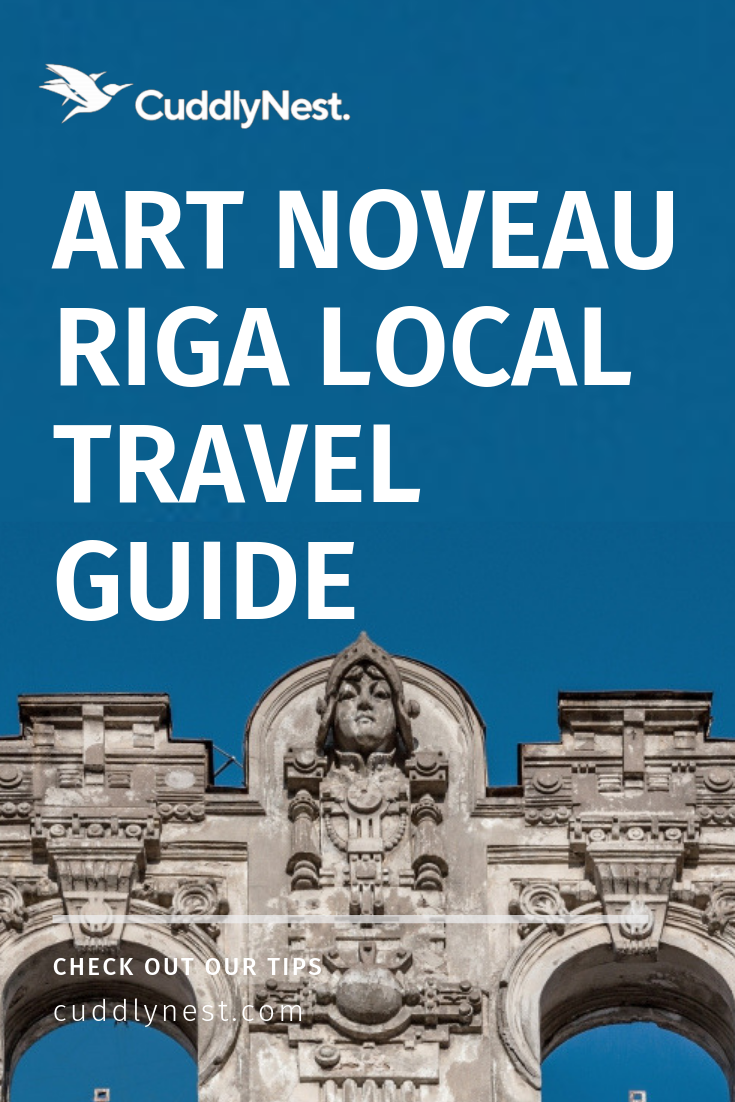 https://www.cuddlynest.com/blog/wp-content/uploads/2019/07/3-1-1.jpg
894
1700
2019-07-26 11:00:08
2019-07-25 14:56:01
Europe Art Noveau Travel: Riga City Local Guide