From watching baristas grounding coffee beans just before their café opens in the streets of Vienna, to visiting coffee plantations in Vietnam and Brazil, there is no doubt about coffee being one of the most loved and sought after drinks around the world.
The legend of coffee has different accounts. In Africa, Moroccan Sufi mystics observed birds of unusual vitality eating berries off of coffee trees, leading them to assume the healing powers of the bean. Another tale of the plant's special properties is Omar, the Mecca priest who survived an exile, who then turned into a priest because of the "miracle drug". Even Ethiopian hunters used to consume the beans for energy and hunger-quelling on day-long treks. 
Whether it's the Islamic world praising the drink for the association with Muhammad's birthday or Americans drinking 400 million cups of coffee for their caffeine hit, one can surely say that the drink has spread throughout the world.
How to Make the Perfect Type of Coffee
The best tips from around the world?
Morocco
Mix things up by adding spices such as cinnamon, cardamom and nutmeg, and you'll enjoy some new flavours in your daily morning drink!
Vietnam
Use a Vietnamese Phin instead of a French press or Italian espresso maker. The cold drip coffee will have a strong taste, even if you serve it with ice.
Ireland
Make it sweet! Instead of following the conventional white-sugar cube, add some brown sugar or use condensed milk as the Vietnamese do.
Brazil
Brazil's billion-dollar speciality coffee is all about experiencing the popular drink in unconventional ways. The best tip? According to experts, when boiling water is gradually poured, the infusion drips into the jug not too quickly.
Portugal
If you are in a hurry and cannot dedicate enough time to brew the perfect cup of coffee from grounds (or beans), use the coffee ampules, especially when you want to keep it fresh.
If that is not enough, here is a tip from Jamie Foster, a mathematician from the University of Portsmouth:
"If you want a stronger cup of coffee, you should grind your coffee finer."
Coffee Varieties from Around the World
Now that you know brewing methods from around the globe, here are coffee varieties you'll find in any continent you visit.
Ethiopia
If you go to Africa, an Ethiopian coffee ceremony is a must-see (and must-taste!) In the origin country of Arabica beans, coffee is brewed in large coffee pots, but contradictory to a Japanese green tea ceremony, it is served in a hurry by only one host. The pot, called jebena, sits in hot coals and when served, sugar is added for an additional dose of energy.
Morocco
In Morocco, mint tea is more popular, yet coffee is occasionally served as well. You'll find Arabic coffee beans roasted on charcoal fire and ground in a mortar. Take a break from the mint tea and experience Morocco by drinking some of the best coffee available in the region.
Poland
You will find Poland's speciality coffee Robusta in every store you go – from Krakow's coffee stores to Warsaw's cat cafes.
Sweden
From Nestle and Lofbergs Lila to other widely known Quora coffee brands, Swedish coffee is mostly characterized by its differences in brewing water. In the South, the water is hard which has high mineral content and leaves plenty of calcium deposits. Whereas in the North, the water is softer which pulls a lot more essence and taste out of the coffee grounds. In the end, it all depends on the coffee brewing.   Regardless of where you are in Sweden, try the local coffee brand Zoegas or the famous Arvid Nordquist Classic.  
Japan
Japanese are known for their tea tradition, but in recent years, coffee is the king. Japan is now among the world's largest importers of coffee! Their national brewing techniques of siphon and pour over (hand drip) are impacting the global modern coffee movement.
Italy
Apart from eating Pizza Ebraica and gelato, making an Italian caffe from a mokka pot is a must-do when visiting Italy. Originally used by Muslims in Kaffa (the Southeastern side of Ethiopia), the mokka pot was later distributed through Europe and eventually became a staple for Italy. You can easily find them from local vendors and coffee shops!
Indonesia
What makes Indonesian coffee unique? The answer is two-fold. Indonesian coffee cultivation began in the 17th century and has grown to be one of the largest producers of coffee in the world today. A cup of Indonesia's premium coffee, Kopi Luwak, can cost as much as $100 a cup; it is considered the most expensive coffee in the world. The drink is made from coffee cherries digested by Asian palm civets that remove the fruit pulp. However, it is not the most animal-friendly or sustainable practice so we suggest going on a budget and animal-friendly when visiting Bali. There are plenty of delicious (and animal-friendly) coffee cafes and roasters in Bali!
Guatemala
Guatemala coffee is among the most well-known in the world, and rightly so. Currently producing more than 3 million bags of coffee beans a year, the mountainous and cloudy regions are perfect for producing  toffee-sweet and nutty coffee beans.
Jamaican Coffee
Jamaica is known for its Blue Mountain Coffee. It is the lack of bitterness that makes it so special. Growing in high altitudes on mountains, the coffee is bold in taste and specially farmed by the Jamaican government.  The coffee beans are a must-buy when shopping for souvenirs from Jamaica. 
Vietnam
Vietnamese coffee, or cà phê đá uses Vietnamese grown coffee with a metal drip filter. Grown in Trung Nguyen in Buon Ma Thout, Vietnamese coffee drinks can vary from simply ice-cold coffee with condensed milk, to  the traditional egg coffee.
Hawaii, Honolulu
Hawaiian Kona coffee is one of the best known in the world and compares well with Jamaican Blue Mountain coffee due to its full-bodied flavor. Coffee trees grow in rich volcanic soil, providing the special taste that Hawaiian coffee boasts.Hualalai and Mauna Loa Mountains are a place to go if you want to visit coffee plantations on the island.
Austria
In Vienna, coffee is made especially fluffy and is enjoyed as a dessert type of coffee. Made from two espresso shots and topped with a fluffy layer of heavy cream, you can't go wrong with a coffee in Vienna.  Ask for Mellocino, Einspanner or even Kapuziner types when visiting Vienna.
Ireland
Thought as a serious rival of the Irish stout, the rich black coffee drink is flavored and full-bodied with a shot of whiskey. Also topped with heavy cream, the Irish coffee will not leave your sweet tooth unsatisfied.
While a caffe latte or an Americano may be your way to go around the world, people watch, work, or get warm during winter spell, there is much more to making a perfect cup of coffee. From Moroccan spiced coffee to the highest-quality Guatemalan bean, there is amazing coffee found everywhere in the world. Make new travel memories by attending a coffee ceremony and bring the coffee beans back home to share the deliciousness from around the world. Follow us on Instagram, Facebook and Twitter, or share our travel tips by pinning:
Browse. Book. Stay.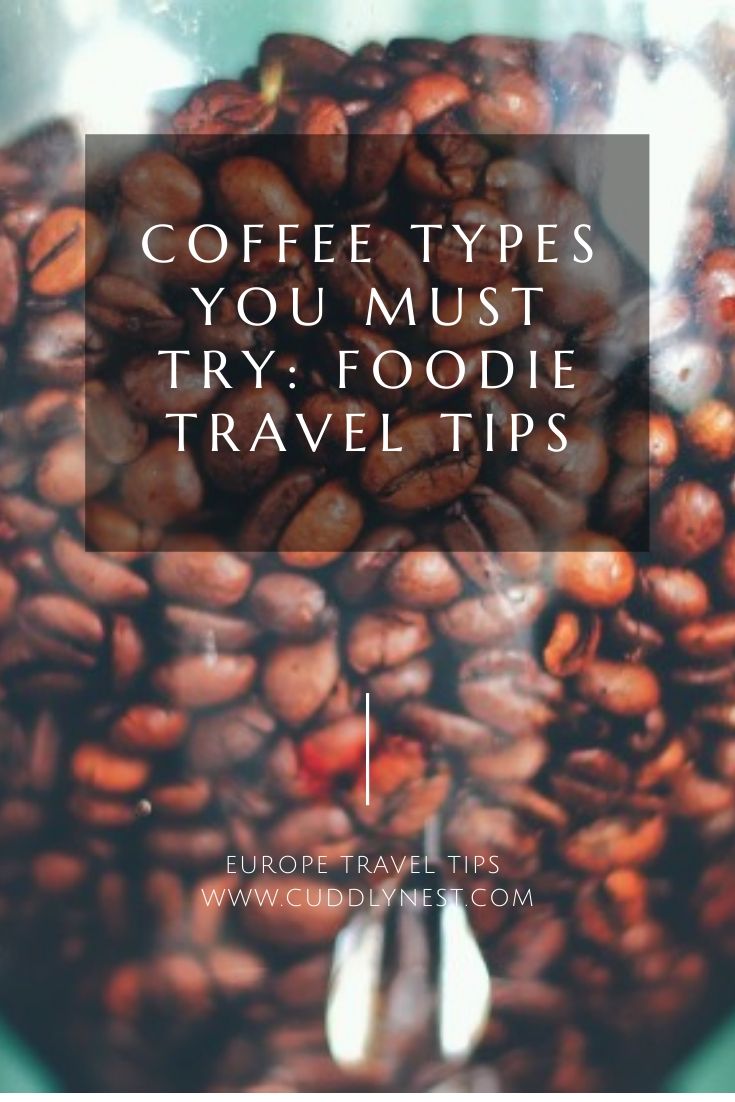 https://www.cuddlynest.com/blog/wp-content/uploads/2020/02/coffeecover.jpg
894
1700
2020-02-04 03:00:08
2020-02-01 18:48:37
How to Make the Perfect Coffee Around the World: Traditional Coffee Methods and Varieties (Around the World)