Liverpool is home to two stunning cathedrals ─ Liverpool Anglican Cathedral and The Metropolitan Cathedral Of Christ The King. While the first one features neo-gothic architecture, the other one has a unique and modern circular style. Nevertheless, both are worth a visit! Here's a complete guide to Liverpool Cathedrals.
Find Places To Stay In Liverpool
Liverpool Cathedrals: The Complete Guide
Liverpool Anglican Cathedral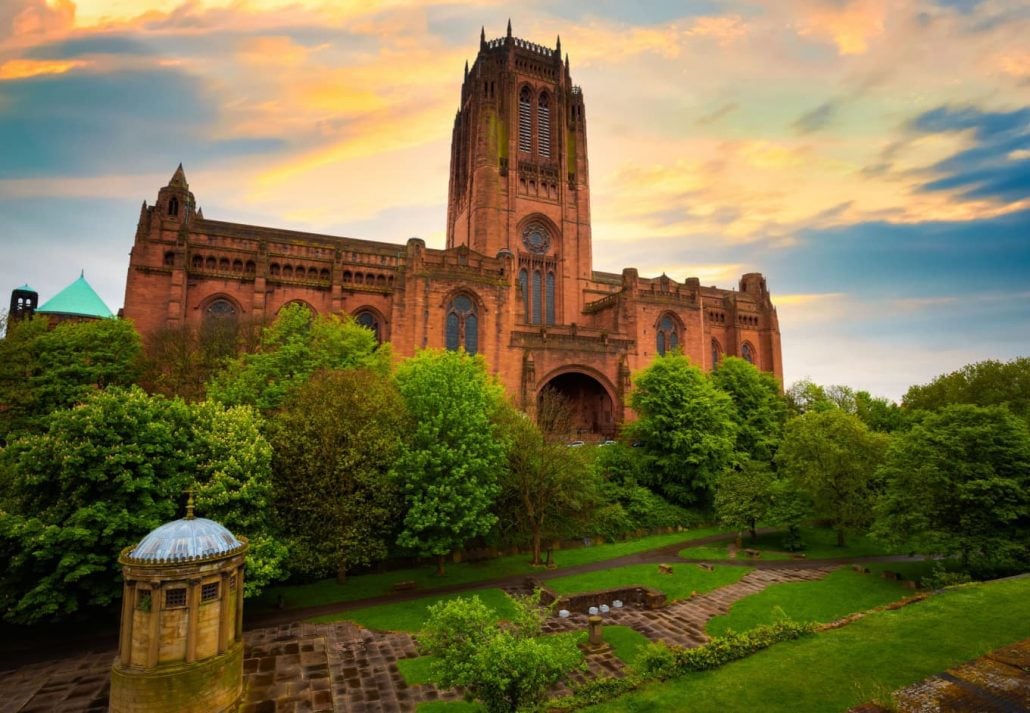 This stunning neo-gothic Anglican cathedral is the largest cathedral in Britain and the fifth-largest Cathedral in Europe. The foundation stone was laid in 1904 and the amazing building finally opened in 1978, in the presence of Her Majesty Queen Elizabeth II.
Along with a variety of architectural masterpieces and artworks, the cathedral offers a program with events like gala dinners, music sets, and conferences. There's also The Tower Experience with magnificent 360˚ views from the rooftop of the cathedral. This includes the Great Space Film and the Bell Chamber.
Admission is free, but there's a fee for The Tower Experience ─ a standard ticket is £6, a concession is £5, and a family ticket is £16.
Address: St James Mt, Liverpool L1 7AZ, United Kingdom
Opening Hours: from 10 am till 4 pm Monday – Friday, 10 am – 3 pm Saturday and Sunday
Recommended Read The 8 Best Things To Do In Liverpool, England
The Metropolitan Cathedral Of Christ The King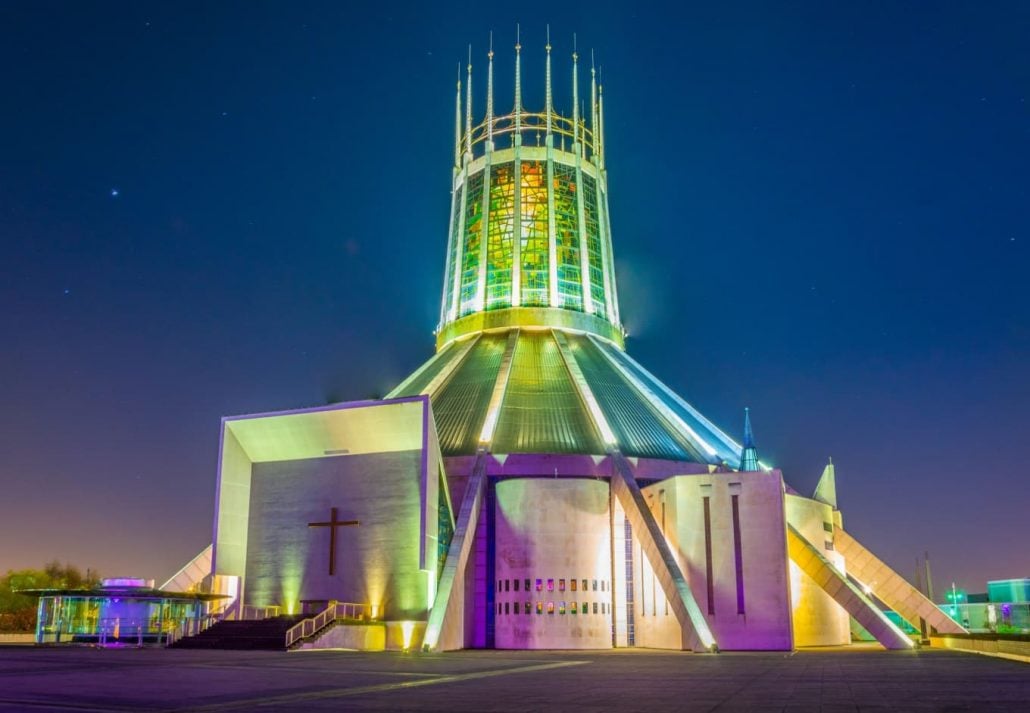 The awe-inspiring Metropolitan Cathedral is a landmark you don't want to miss. It was supposed to have a similar style to the previously mentioned Anglican Cathedral, but due to war, this idea was abandoned. The modern circular cathedral opened its door in 1967 and is famous for the breathtaking Lutyens Crypt & Treasury and large stained glass windows.
You can visit Lutyens Crypt between 10 am and 4 pm, Monday to Saturday. Tickets are £5 per person or £12 for a family. Guided tours are also available and they're free.
Address: Cathedral House, Mount Pleasant, Liverpool L3 5TQ, United Kingdom
Opening Hours: 7.30 am – 6 pm daily
Recommended Read How To Get From London To Liverpool: 3 Ways
FAQ
What are the 2 cathedrals in Liverpool?
Liverpool Anglican Cathedral

Liverpool Metropolitan Cathedral (Catholic)
Is Liverpool Cathedral the largest in the UK?
Yes!
Is it free to visit Liverpool Cathedral?
Yes, but there is a fee for special tours.
CuddlyNest provides all accommodations to all travelers at the best price. Find unlimited travel inspiration on our blog and social media channels.
You May Also Like:
How To Travel From London to Edinburgh, Scotland: 4 Easy Ways
Best Destinations for Family-Friendly Holidays in the UK
Top Attractions in London
A Guide To Visiting The Tower Of London
9 Amazing Free Things to do in London, England