Best Day trips from Naples Florida
Naples Florida travel guide cannot be included in a single blog post. But you can go on a short day trip from Naples in just any direction. No matter your interests, the surrounding area is rich in history. Diverse leisure activities cater to both adventure junkies, foodies as well as art enthusiasts.
Day trips for Shopping near Naples Florida
If you want to bring back of visiting a real store having a chit chat with sales assistant while looking for the perfect scarf instead of chatting with a bot on Amazon or eBay, shopping can be a cure for the soul. There are several small shops located in  Naples you can visit for a heart-warming second-hand shopping experience, like Audrey's, or True Fashionistas, but if you are looking for all-in-one shopping mall, your best bet is to go to Bonita Springs, or straight to the outlet in outskirts of the Naples city to Estero.
Bonita Springs
Gulf Coast beaches and parks, Little Hickory Island Beach Park and Bonita Beach Park, with its sand dunes, and the Northern Lovers Key State Park mare popular visitor hotspots in Bonita Springs, and rightly so. But this is not all; Bonita Springs, located 15 minutes ride away from Naples, also features one of the best shopping malls in the area.
Where to go? Springs Plaza has it all;  Promenade Store is for a unique shopping experience.
Estero
If you seek sales and want to get a new shirt in some of the best Naples outlets, Estero is a place to visit. From Coconut Shopping Mall Naples to Miromar Outlets with more than 140 designer and brand name outlet stores under roof, to smaller shopping malls, like Corkscrew Village Naples FL, Estero has it all.
Beach Family Day Trips from Naples Florida
Naples Florida is famous for its The Naples Pier, stretching 1,000 feet into the Gulf of Mexico. While you shall not miss watching sunset there, also try to spot a dolphin in the morning! Visit the infamous Naples beaches with calm waters and fine white sand. In Clam Pass Park and Delnor-Wiggins Pass State Park, there are several Naples getaways for family day trips near Naples FL.
Fort Myers
30 minute ride away, Fort Mayers is a fairly large town. It offers beautiful beaches and family leisure activities. Make sure to go to Fort Myers Beach which has both educational centres, The Ostego Bay Marine Science Center, showcasing local marine life, as well as leisure activities for both adults and kids, like parasailing in Estero Island and hiking in wildlife in Bowditch Point Park.
Sanibel Island and Captiva Island
Located a bit further, 45-minute drive away, the islands is a great place to go if your kids are of school age, as the sand is shell-strawn, and it takes a bridge to cross.
To get to Sanibel Island, you must go by Sanibel Causeway, which is a 3-mile long wooden bridge (toll: $6 for motor vehicles ($3 per additional axle), free for bicycles). When on the island, go and explore the wildlife and see the Sanibel Lighthouse.
As for Captiva Island, shelling is one of the most popular leisure activities for families. To relax, apart from collecting shells while watching the picturesque sunsets you can also go on a cruise to watch dolphins on the South Seas Resort, or learn to sail on Offshore Sailing School.
What Historical UNESCO Places to Visit near Naples Florida
Immokalee
Meaning "my home" in the Seminole language, spoken by the ancient Calusa tribe who were the early occupants of the area, Immokalee Florida is a small town, filled with migrant workers from all over Latin America, and as such, a great place to visit to learn and explore the history of Florida. Fun and with great flair, the city offers authentic Mexican food, traditional farmer's market and you can visit the Immokalee Pioneer Museum to learn about the history of Florida.
Want to go wild? Visit Corkscrew Swamp Sanctuary to walk marshlands, birdwatch and see alligators in the swamp.
Florida Naples: Culture and Art Scene
Matlacha and Pine Island
An hour ride from Naples lies Matlacha and Pine Island. Just imagine a hippie dream of painted camper life, art all around and sun and beach to swim less than a few feet away. Sounds like a plan? Then go and visit Leoma Lovegrove Gallery & Gardens,  and Wild Child Art Gallery. Matlacha has its own nature reserve, and nature and art still rule the lifestyle here, Visit while you can!
Everglades City and the Florida Everglades
No wonder the city is enlisted as a UNESCO World Heritage site; the
Located 45 minutes to an hour south outside of Naples, The Florida Everglades is one of the great natural treasures of not only the United States but of the world, with its listing as a UNESCO World Heritage site. Founded in 1920s as the Collier County seat, Everglades City offers you kayaking, canoeing, experimenting with paddle boarding, or go fishing, but that is not all.
Gourmet Travel Guide and Fine Dining in Naples Area Florida
Naples is one of the wealthiest cities in the US. It sports the second place just after New York in millionaires per capita. And naturally, where money flows, good food follows. Fine dining near Naples is not a problem, but there are some must-visits. Especially, if you are going on a gourmet journey!
Marco Island
Located 30-minute ride away, Marco Island can be a life-changing experience. Watching the sun collide with the waves and the blood orange sky. Nevertheless, after spending a day in Tiger Tail Beach or walking the Lagoon, you will enjoy the taste of good wine. Coupled with wine, freshly cooked vegetable dishes are the speciality in Sale e Pepe or Marek's Restaurant.   
Cape Coral
Located about 31 miles north of Naples, Cape Coral offers it all. From Northern Italian restaurant Ariani Ristorante serving pasta (and steaks for its American audience) to Roadhouse Cafe offering private dining rooms and great service, to fondue place The Melting Pot,  you can allow yourself to go on a journey of taste.
Naples Florida: How to Get Around
To get around Naples, a car is a necessity. This is the only way to get to natural attractions, like  Everglades National Park's Gulf Coast entrance in Everglades City. Drive the Interstate I-75 north-south known as Alligator Alley going between Naples Florida and Fort Lauderdale. U.S. 41, known as the Tamiami Trail, links Naples and Miami. REcommended for ones seeking a beautiful scenery is the Tamiami Trail, especially when driving through Everglades.
If you do not Have a Car, we recommend renting a car. You can also get around Naples taking the tourist two-hour tour trolley to get a feel of the city. Running daily from 9:30 a.m. to 5:30 p.m., it will not, however, be a budget option, with tickets priced at $27 for adults and $13 for kids.
Stay in vacation condo just like Bret Baier's from FOX News Channel in Naples! Look up the best deals HERE.
And now, count again, Was it 10, or 9 places to visit?
Comment below and pin this on Pinterest!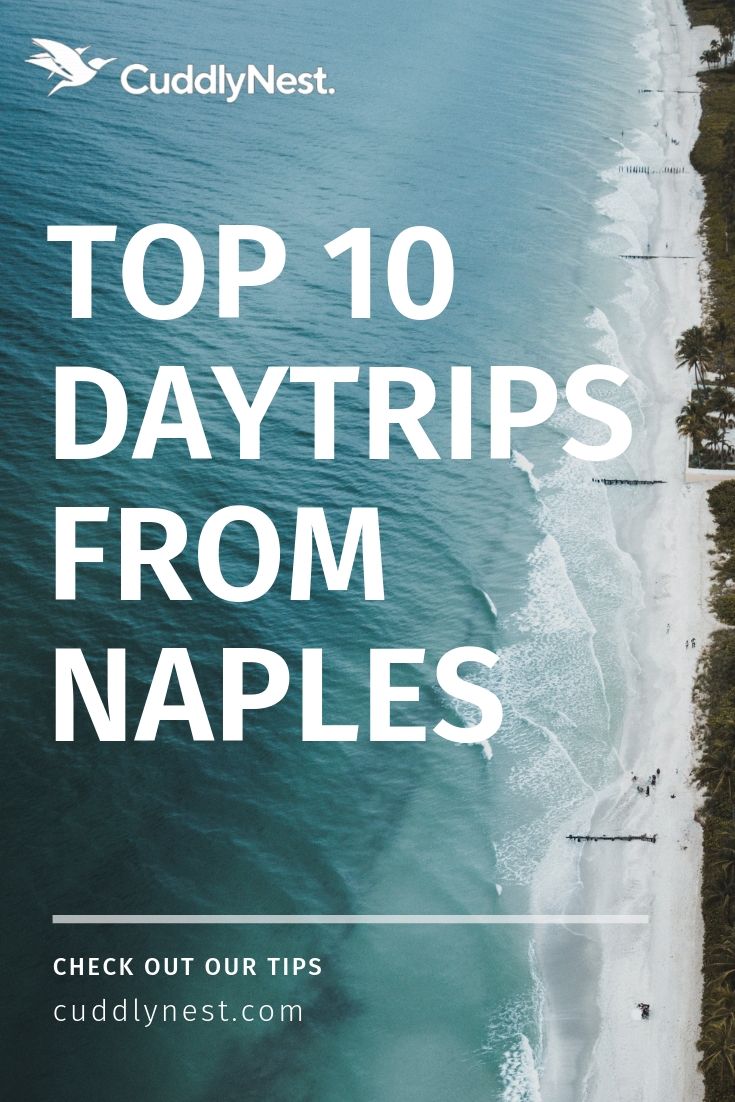 https://www.cuddlynest.com/blog/wp-content/uploads/2019/06/12-3.jpg
894
1700
2019-06-18 03:00:47
2020-06-26 06:44:15
10 Short Daytrips from Naples in Florida