If you find yourself hungry when exploring Alhambra, amazed by the Justice gates, Palace of Charles V and all other Moorish wonders, you may seek refreshment and taste some of the region's famous tapas.
What Is Tapa
Before tapping into tapa culture of the Basques, let us explain what is it and where does it come from.
Arriving in Spain, you will see tapas everywhere, from street tavernas to up-street speciality restaurants. First things first, tapas are appetizers, served as a small portion of any kind of food. Therefore, it does not matter what you prefer – cold or hot dishes; you can get either mixed olives or chopitos, as to your liking.
Spanish Tapa Origins and Granada
Although tapas are commonly associated with Spain, you can find a tapa-style of eating all around the region. From Portuguese petiscos to Greek meze,  this style of eating is common to most Medditarean cultures. The word "tapa" (cover, lid) is that old and widely used that have a range of explanations, from a flatbread placed over the glass to save the wine glasses from flies, or placing the whole plates over glasses, making way to small portion sizes.
Whichever explanation of the origin of tapas appeals to you, one thing is given; you will find tapas on every corner of Granada. Varieties range from the well-loved tortilla Española (Spanish omelet),
Croquetas de Jamón (ham croquettes) and Gambas al Ajillo  (Garlic Shrimp)  to varieties suitable for vegetarians, like Patatas Bravas (Bravas Potatoes) and vegans, like Berenjena con Vinagreta ( grilled eggplant) and grilled salted green peppers Pimientos de Padrón Fritos.
So, why are Spaniards all about tapas?
As you may have noticed, the appetizers can serve for everyone, form meat-lovers to vegans, from hot to cold and refreshing varieties, from winter spell to summer heat. The tapa style of eating is also common to Meddditarean, as the hot climate asks for a slow enjoyment of food, tasting it as an experience.
Granada and Andalucia Tapas
Although you may not need to get tapas for free with a drink in Granada, do not expect the same happen in Seville. Either you have to order separately, or not, it is a sure way to experience Spanish culture from the very important cultural perspectives, that is, gastronomy and food.
Andalusia, having access to the ocean, is all about the seafood. You can get one of the best-fried fish (pescaito frito), shellfish, tiny fresh anchovies (boquerones), or rings of tender squid (calamares), as well as the meaty Andalucia Olives, sometimes called Sevilla Olives, or taste all of them, and many more, if doing tapa-hopping, one of the favorite Andalusian activities.
So, what are the best places to eat tapas in Granada, Spain?
Where to Eat Tapas in Granada
Where to get tapas in Spain comes down to several points. Do you want to get a local-like experience, or do you rather opt out for an upscale restaurant? Either way, we have our favorites here, coming to be yours.
The previously mentioned famous Andalucian varieties you are most likely to get anywhere you go. However, to taste of tapas is best savored when eaten in a traditional way, it is, with Andalucian wine aside. As a wine region, Andalucia offers the world-famous Sherry, a fortified sweet wine. With one or two tapas on the side, you can eliminate the effect of the high alcohol percentage there, allowing you to continue exploring Granada afterwards.
Best Granada Tourist Tavernas for Tapas 2019
Hands down, Tavernas is the way to go if you are serious about enjoying the local experience. Here is our short guide,
Local Experience Tapas Bar in Granada: Bodegas Castañeda
The place is always full of locals catching up while getting a glass of Sherry and a crusty bread with the Spanish ham on top. Restaurant has an especially wide variety of hams, from smoky to woody, to spicy, so you will have a large set of options.
Granada Budget Taverna for Families: Bar Poe
If you are about to taste something completely new or get a tapa or two for every family member, Bar Poe will be one of the most pocket-friendly options out there in Granada. Families with children can find their children-menu similar dishes, as the owner and host Matt Poe is moving to less Spanish and more international, Western food selection.
Tapa Bar in Granada Centre: La Fragua
If you are a little more hungry than simply taking a small refreshment from the bar, and want to have a meal instead, we suggest La Frague, located on the beautiful Albaicin Granada streets. The environment just calls "bohemian," and you will be amazed by the friendly staff and many nationalities you will meet. This is a good option if you find yourself in teh tapa-area of tapa bars after climbing to see Mirador San Nicolás. Plus, beer is cheap and good here!

Fine Dining Tapas Granada: La Fabula
If you look for a place for a laid-back night with your travel partner, and wish to enjoy the gourmet mastery of tapas, or just escape at time hectic bars, we suggest going to La Fabula. You will enjoy a good service here, and one of the most masterfully plated tapas in Granada. The restaurant has a wide menu of lobster dishes, but for tapas, they are free. We suggest crab and zucchini tapa when dining here.
That's if you wish to visit Granada and become one of the tourist attraction visitors. But the following suggestions are like hidden gems, uncovered by our local CuddlyNest advisor.
Top Granada Local Tapa Bars 
Want a local experience, at the quality locals find extremely good? Look no further and follow our advice, listed by location you find yourself at.
Plaza de Toros
After visiting the bullring square and its surrounding monument, we cannot but agree you need some refreshments. But you may easily be taken back by the variety of them – which one to choose?
Go for this:
El Nido Del Búho
The tapa bar is one of the best if you around the area. With big portions and reasonable prices, you can find yourself all you may need, from green beans to burgers. It is no wonder the place is always packed with locals, especially the Granada youth! Read Tripadvisor reviews here.
Nuestro Bar & D'Cuadros Original
Nuestro bar is the top local of all locals; you cannot find a one review in English, and rightly so. Just as the El Nido Del Buho, these bars are full of local youth, Granada students. Read and look it up yourself here and here. After the eatery gets closed, the places open as bars, allowing you to enjoy the young vibes of the city.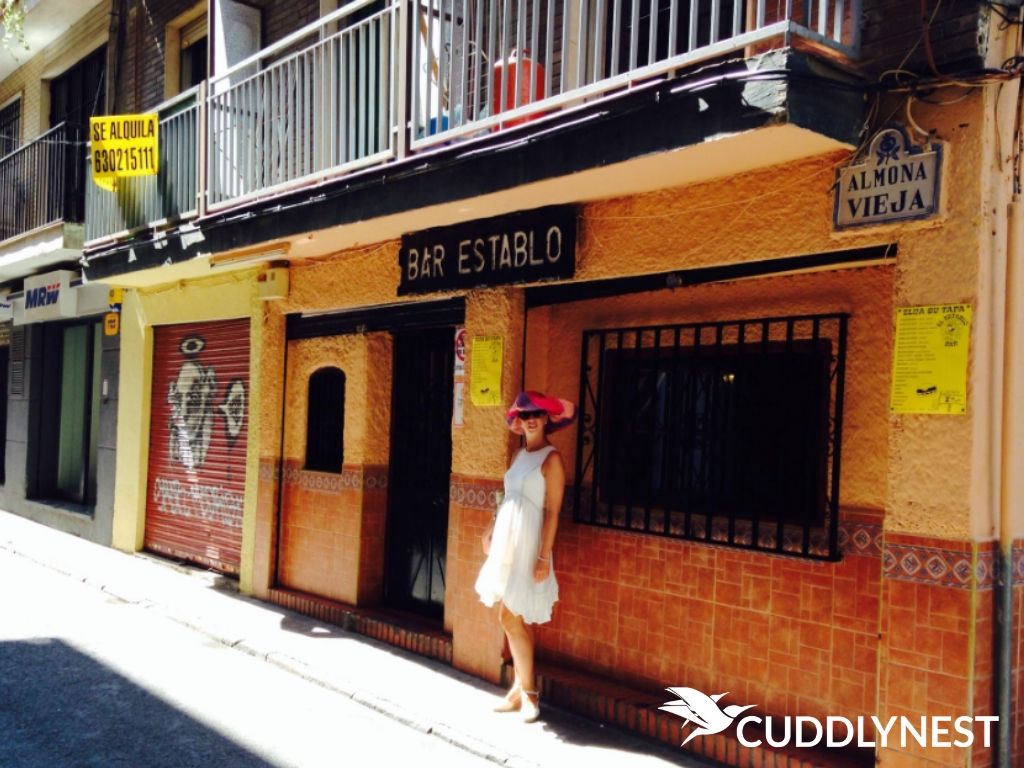 Basílica de San Juan de Dios
If you are around the basilica, our local guide has some suggestions in mind, too.
El Establo
If you are looking for some great beer and cheap tapas, then look no further; at EUR 2.30 for tapas, you will save on eating out at other bars. Added bonus? They have French fries and sandwiches, too!
Al Pan Pan
The highly local tapa bar is truly a hidden gem; not known to many, it is one of the best places to go to, in case you wish to get some fantastic breakfast. Freshly baked goodies and orange juice is all you need for a good start of the day. Look it up here.
Chana Neighbourhood
Look for some other place? Visit the Chana neighbourhood. It is full of tapas bars, and the whole area, definitely worth a visit and tapa-hopping.
Day of Tapas 2019 in Granada
If you happen to be in Granada on the World Tapas Day June 16th, make sure to get some Sherry and enjoy a tapa or two with your drink before dining! Book Granada apartments and rooms with Cuddlynest for the best experience. Here are our economy stay in Granada options and the special offer upscale Granada properties.
Learn more about how to enhance your travel experience by following us on Medium, Instagram and Facebook.
Are you on Pinterest, too?
Share your travel destination inspiration with others! Pin this: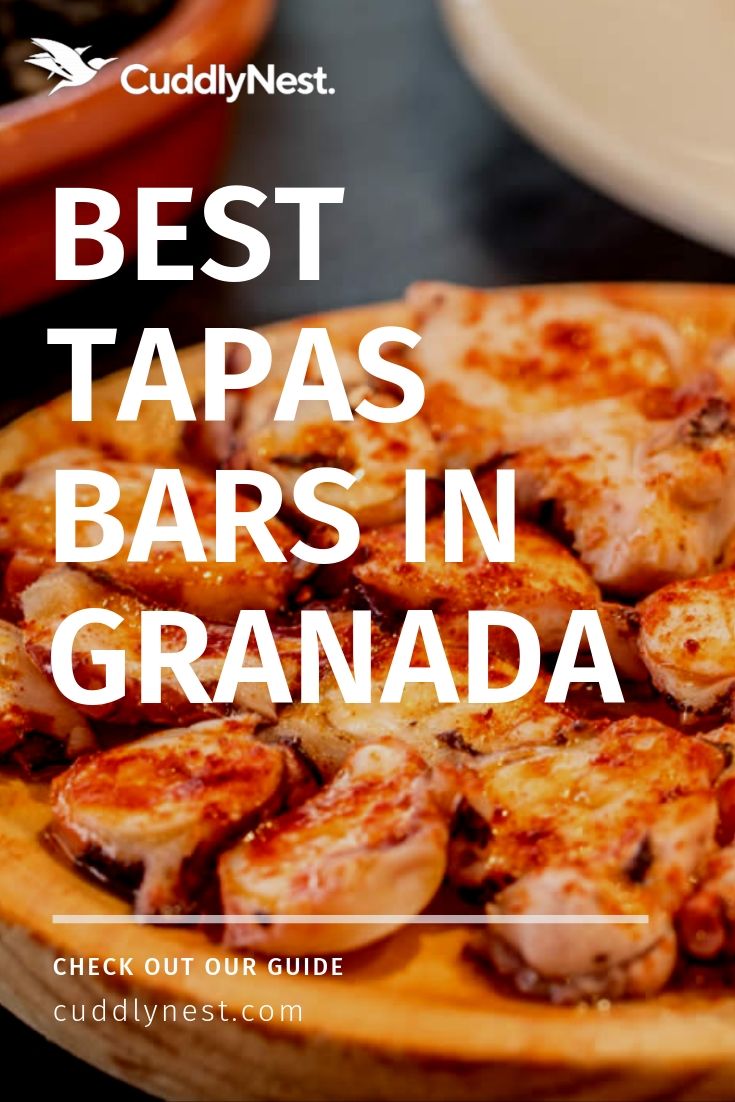 https://www.cuddlynest.com/blog/wp-content/uploads/2019/05/1.jpg
894
1700
2019-05-27 03:00:50
2019-08-03 13:56:17
Granada, Spain: Tapas Guide 2019