While traveling by road you can discover many beautiful small towns in Australia and indulge in outdoor adventure when visiting some of Australia's national parks – we already wrote about Whitsunday Islands – too often, we are inclined to visit the largest Australian cities for culture, museums, and architecture. We at Cuddlynest are all about to explore the countryside as well, with its stunning nature, and amazing cuisine. Read on to learn about the most beautiful, hidden-gem towns in Australia that you can travel to on your staycation to learn about the native peoples, and travel sustainably.
Note: Make sure to double-check COVID 19 precautions, protocols, and operating hours before you visit any of these sites.
Small Towns in Australia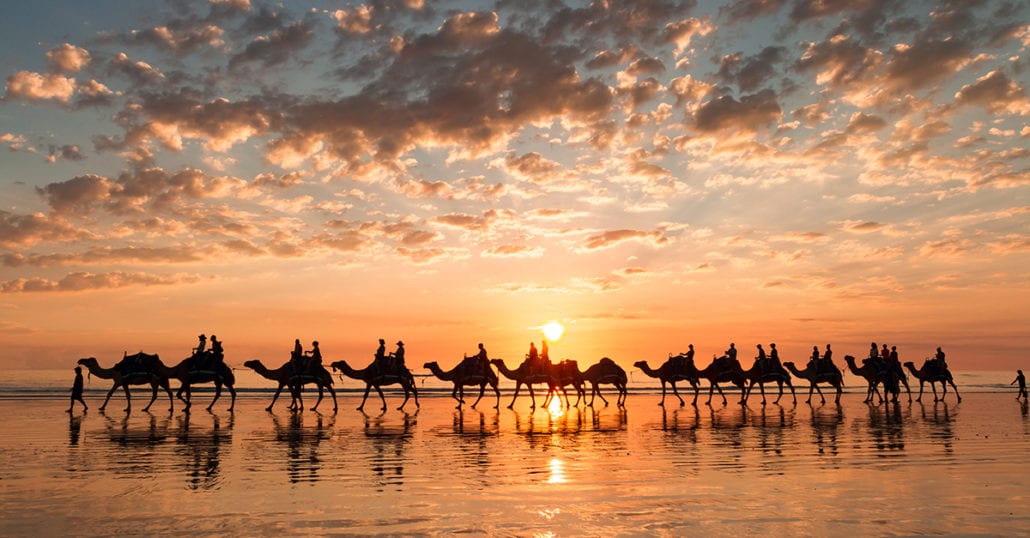 Australia is home to about 1,700 small towns, which are mostly located along the eastern seaboard and in the southeast of the country. The smallest town in Australia is the quirky Cooladdi (Aboriginal meaning "Black Duck"), which is placed between Quilpie and Charleville in southwest Queensland. Cooladdi is actually a ghost town and, even though it once had a population of 270, now it's home to only four people.
And even though the picturesque Cooladdi may not be the first choice when comes to small cities to live in Australia, there are other great options in the country. In fact, at the time of the 2016 Census, 2.3 million people were living in small towns in Australia. Some of the best small towns to live in are Airlie Beach and Maleny, in Queensland, and Geelong, southwest of Melbourne.
The 20 Most Beautiful Small Towns in Australia
Broome, Western Australia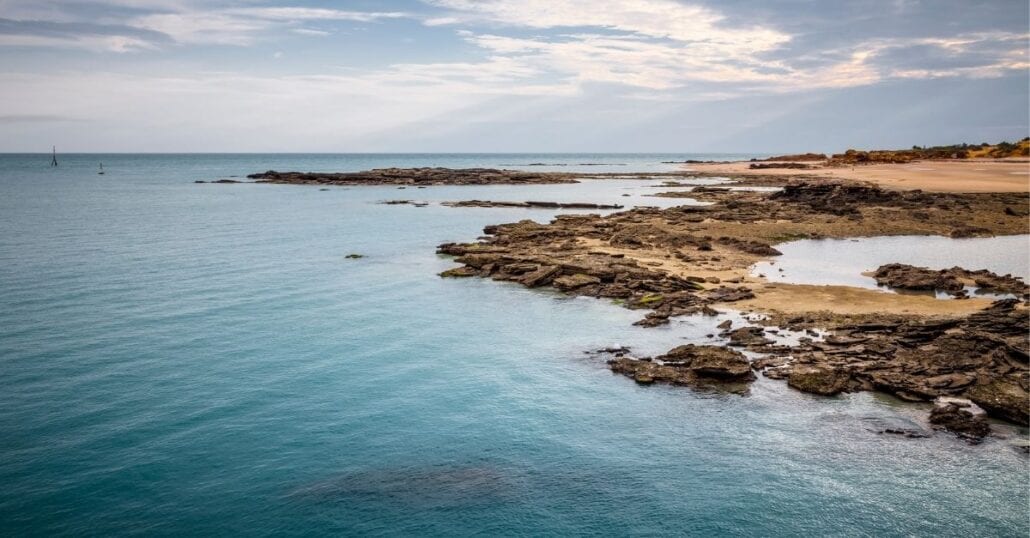 The little town of Broome, also known as Rubibi by the native Yawuru people, sits on the coast of the Indian Ocean. Situated on traditional lands of the Yawuru, the town was first visited by Europeans in the 17th century, with the pearling industry booming in the region. Only at the end of the 19th century, John Forest chose a site for the town, and it was named after Sir Frederick Broome, the then-Governor of Western Australia. In the coming decades, the town experienced a West Australian mining boom, and with growing tourism, the town developed to offer sights and tourist attractions. Today, you can visit headstones in the Japanese Cemetery, and Memorial to the Indigenous female Pear Divers in the city, and maybe run into some of the Aboriginal and Torres Strait Islander people who are still making up around 1/5th of the population. You can also head over to Cable Beach, famous for its 22 kilometers of white sand. To wind off, turn into Wharf Restaurant, and taste some of the amazing seafood in a traditional Kimberley setting.
Port Douglas, Queensland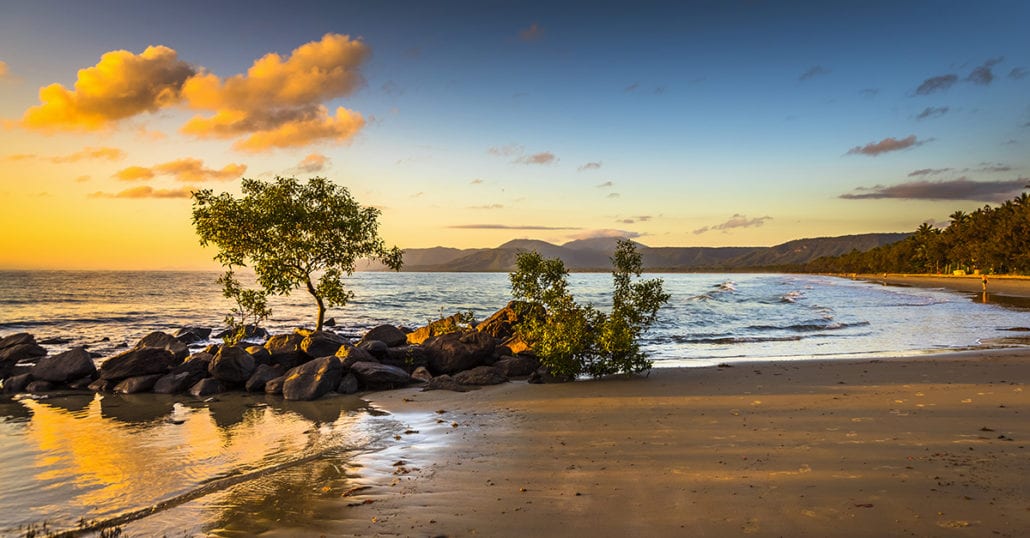 Being just an hour's drive away from Cairns, Port Douglas is one of the most beautiful small towns in Australia. The town is best visited off-the peak season, from September to May, when the beach is not full of tourists, the best months being September, October and May. Just like Broome, Port Douglas was also developing based on the mining and timber industries, with settlements around Mossman River occurring already in early 19th century. However, it took until the end of the century when the town was established.
When travelling to Port Douglas, you should include in your visit the Four Mile Beach. After sunbathing, wander the streets of the and visit heritage sites of Port Douglas: Port Douglas Wharf, Port Douglas Court House Museum, and St Mary's by the Sea. If you can, plan your visit as to include Port Douglas carnival in May, when the city streets fill up with color, attracting more than 10,000 people. If you visit the city in October, make sure to book tickets and hotel in Port Douglas aligning them with Porttoberfest folk festival, or Great Barrier Reef Marathon Festival.
Tennant Creek, North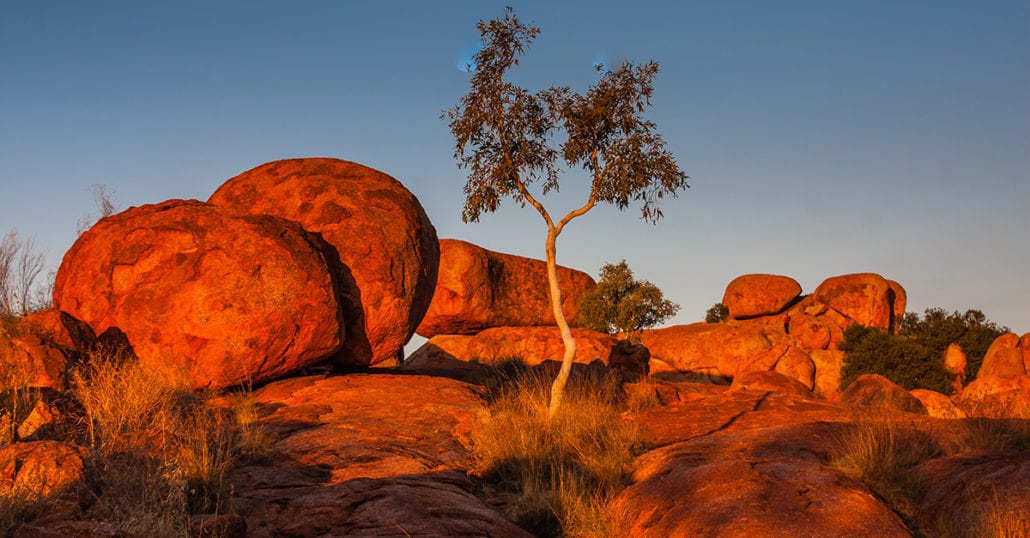 Tennant Creek in the North of Australia is a true must-visit for those willing to travel to experience traditional Australia – over half of the population of the town is of indigenous peoples. The Waramungu people have lived in the region for thousands of years, and only in the middle of 19th century, the first European explorer discovered the land. In the following decades, an Overland Telegraph that linked Melbourne to London, was constructed, and you can still visit the buildings of the telegraph Station today. The city developed fast upon discovery of gold; you can still see the old bakery house from 1937, and even today, from the funds of the owner of Rising Sun Mine, the richest gold mines in the district, every child and visitor of the city is given a Christmas gift at the Tennant Creek Christmas tree event a must-visit, in case you are planning your Australia staycation in December and Christmas holidays. When visiting the town, you can also dive into a more adventurous pastime, going to go-karting, or learn about Aboriginal life, history and culture in Nyinkka Nyunyu Arts and Cultural Centre.
Kalgoorlie, Western Australia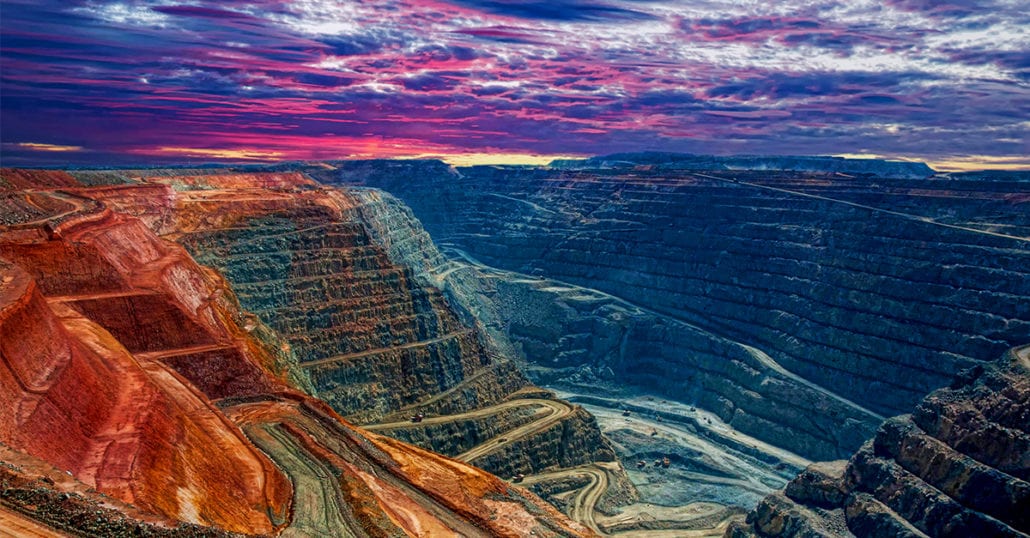 Located in Western Australia, in the Goldfields-Esperance Region around a 6-hour drive from Pert, Kalgoorlie is a historical country town with beautiful 19th-century architecture. The name of the city is derived from Wangai people's word, and literally means "place of the silky pears." The city, however, was only established at the turn of the 20th century, during the Western Australian gold rushes. Today, the city's relaxed atmosphere is best enjoyed when staying in one of the historical hotels, and strolling around the historical Town of Boulder, which today constitutes the historical local center with the town hall and other buildings dating as far back as 1882. To enjoy the local cuisine, go to Hoover'sCafe or get dinner at Exchange Hotel Kalgoorlie.
Kununurra, Western Australia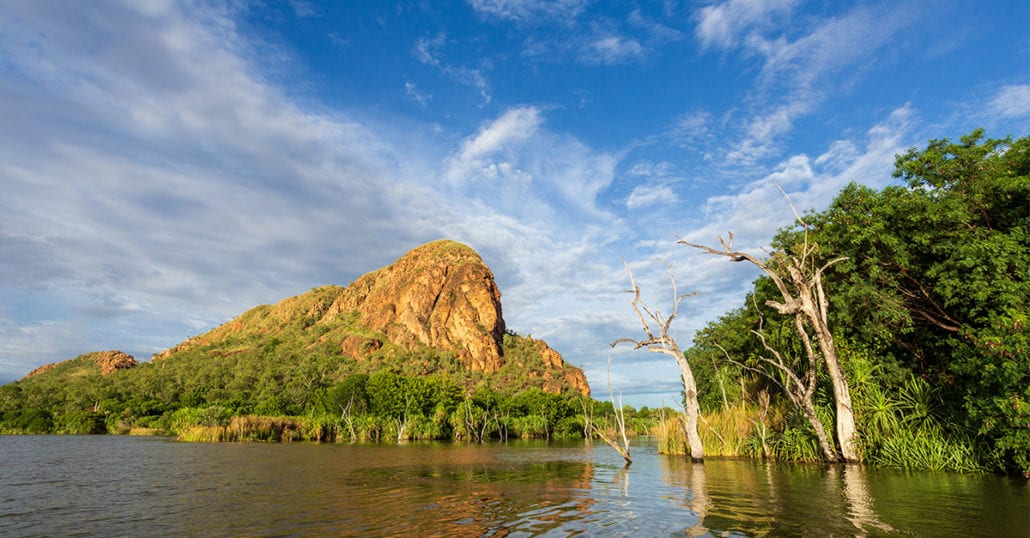 Located in the far North, Kununurra lies just 45 kilometers from the border of Northern territory, and comes into our list of the most beautiful small towns in Australia that you must-visit due to its scenic hills and ranges. Unlike other towns, the river is important for agriculture and local economy; translated from the Miriwoong language, the name of the town means river. The Ord River, as well as Valentine Spring, Black Rock Creek and Middle Springs along with other waterfalls and swimming holes make Kununurra an excellent place to for river beach holidays. You can go swimming here, or go fishing to the Diversion dam, Buttons Crossing or Ivanhoe Crossing. If you are planning your staycation for the long weekend, include lake Argyle on your road trip route, as the largest artificial lake in Australia is just an hour's ride away from Kununurra. If you love outdoors as we do, then bird-watching is must-do, as you can see many different wild birds, including estrildid finches, in the Ord Irrigation Area Important Bird Area.
Melrose, South Australia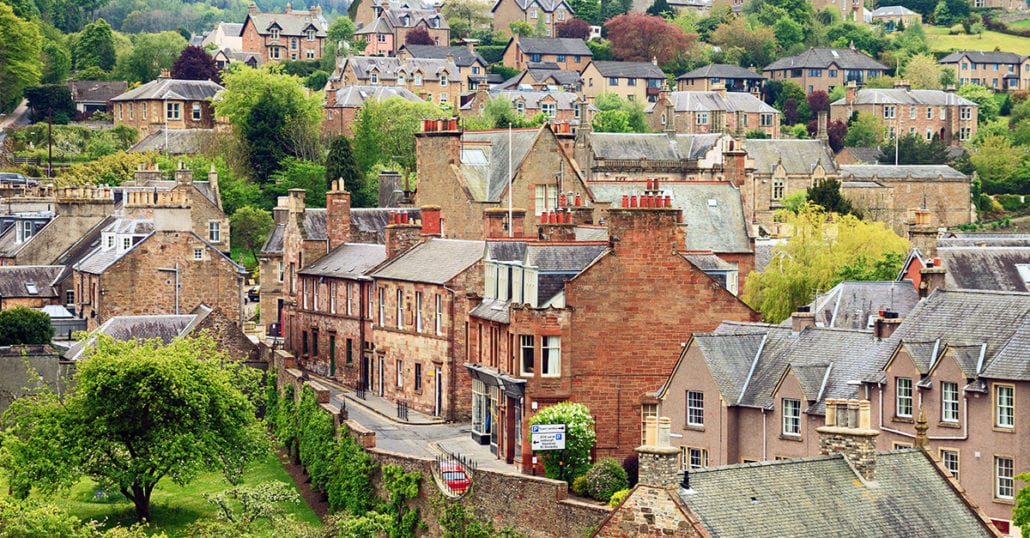 Melrose in Australia is the oldest and arguably one of the most beautiful small towns in Australia, Flinders Ranges. Located under 3 hours' drive away from Adelaide, this town was once named "Mount Remarkable." The first European settlers arrived in 1840, but the city has remained mostly intact from globalization. You should visit the town if you enjoy being in nature, as the Mount Remarkable National park is full of Goannas, emu, echidna, and kookaburras to name a few. There are also 117 native bird species, including Australia ringneck parrots and wedge-tailed eagles in the park. If you prefer more action, then try to plan your visit to Melrose in June or August, when the Fat Tyre Festival (off-road bike and freak bike festival) and the King of Mount trail race take place, gathering runners and walkers to race to the summit if Mt. Remarkable.
Beechworth, Victoria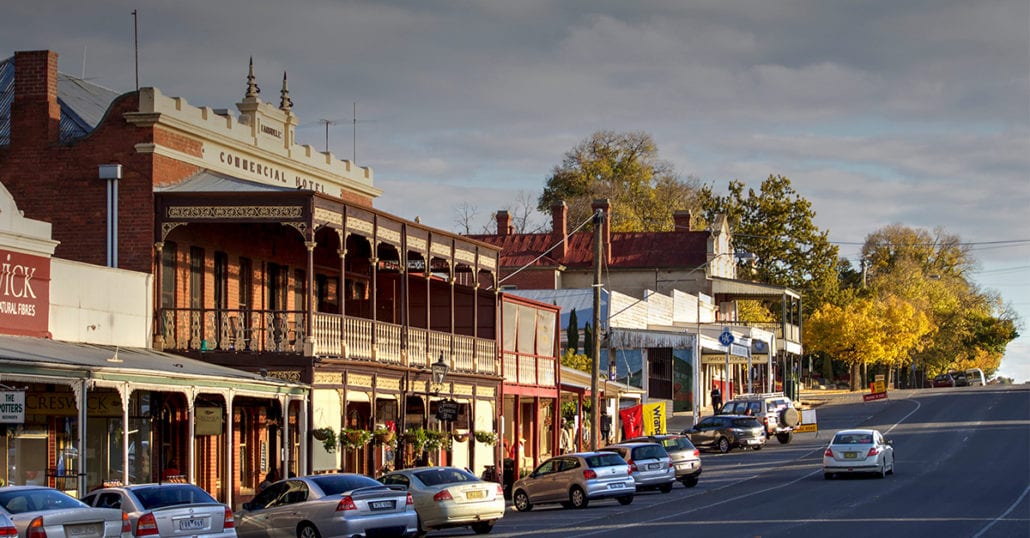 Beechworth is most probably one of the most amazing small towns in Australia. Located in Victoria, this gem is oftentimes truly hidden when you look at the must-visit places in Australia. However, the town boasts many beautiful places for any traveller to spend time on an adventure (tackle the tracks and get into cross-trail cycling) or visiting nature sights, like landscapes and waterfalls. If you long for a much-needed rest and relax holiday, the town has a new Spa Beechworth. After visiting the locale, enjoying short walks in nature by yourself, or joining the Historic Precinct walking tours, do not forget to take the chance and send a free telegram from Beechworth to your loved ones, but when resting at your hotel room at the evening, you can remotely access the Burke Museum's historical and family history online collections.
Yamba, New South Wales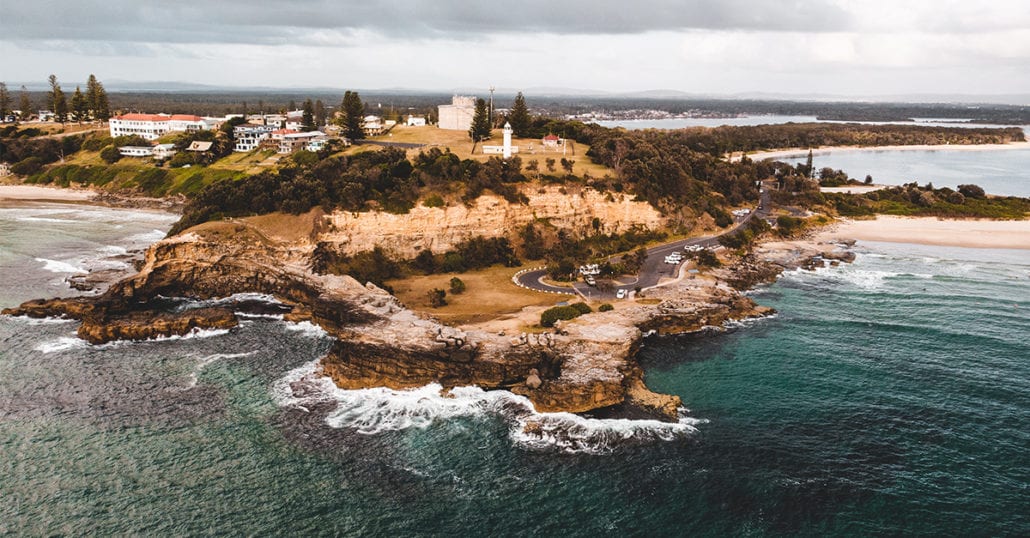 Yamba is a small coastal town in New South Wales. While Bayron Bay might have been one of the best beach holiday destinations a few decades ago, Yamba beach still has a lot of space and wilderness, and intimacy to offer. Apart from sunbathing on the beach, however, it is also worth traveling here to take on surfing or spend time in the city. One of the Yamba beaches is pet-friendly – you can go to Pippi beach and unleash your dog here, but for those longing for wild natural beaches, Convent beach is a good way to go – here, you can rest in between the cliffs and plants. Before taking a stroll around the beach, go to Yamba farmers and producers market operating every Wednesday morning to pick up organic fruit from the locals' backyard harvest, and visit Irons and Craig, one of the best coffee in Yamba. Enjoy your walk around the city and rest in Yamba Waters hotel.
Port Fairy, South-Western Victoria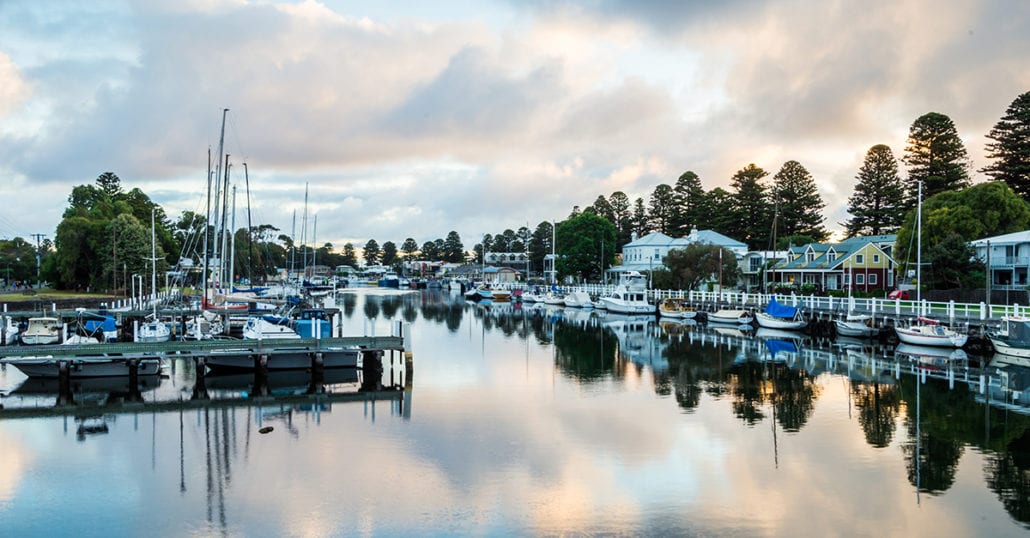 Port fairy is another coastal town in South-western Australia, located in Victoria. Just 3 hours ride away from Melbourne, it makes a great day-trip or weekend destination for anyone visiting the capital of Victoria. The history is ever-present in Port Fairy – from the wide streets lined with 19th-century cottages, to old fishing village port, and old stone churches, the city is a must-visit for anyone willing to see and dive into charming village life. You can take a walk around the local port, stand up the paddle boarding, or join a surfing class for more adventurous pastime, afterwards visiting a variety of boutiques and antique stores on your way around the old part of the town. Learn more about the history joining the Port Fairy Maritime and Shipwreck Heritage Walk. If you are planning to visit Port Fairy in spring, make sure not to miss the Port Fairy Folk Festival held in March.
Strahan, Tasmania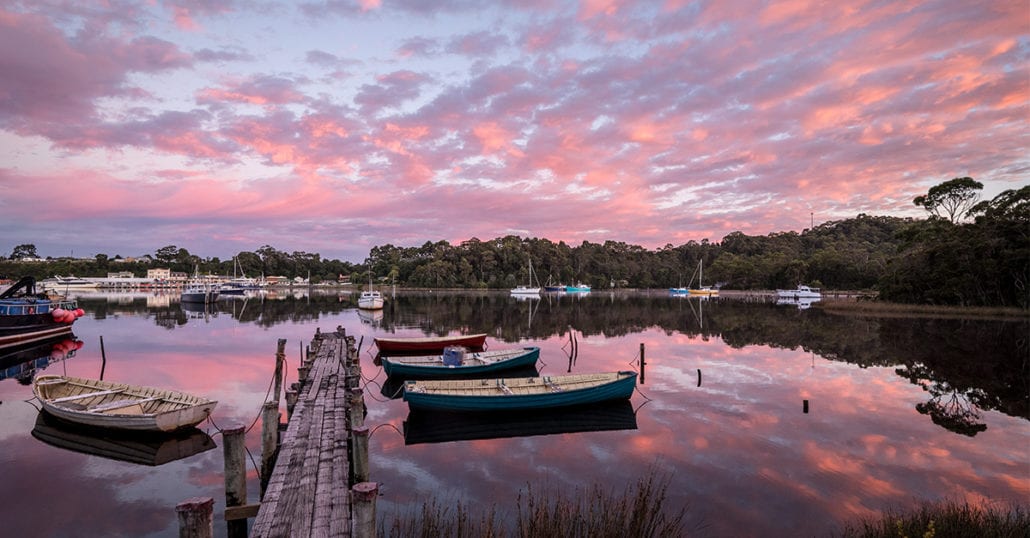 Strahan is another of the beautiful small towns in Australia – the harbour-side village on the West coast in Australia. Located in the middle of the coast, and nestled on the shores of Macquarie Harbour, Strahan will amaze you with its nature, probably more than any other small Australian town will. Set on the Tasmanian Wilderness World Heritage Area, it is also a gateway to the Franklin-Gordon Wild River National Park. To visit the park and see wildlife close up, you can book a boat cruise taking you to rainforests of the Gordon River. But for those looking for history, the village has something to offer, too – the Strahan Island is a place that once was a notorious convict prison and is still full f stories from the days of the pioneers and convicts. Today, when visiting Strahan, you can safely walk the streets visiting shops selling artisan crafts. If you are fond of nature, do not miss out on a chance to visit the massive sand dunes, and take a short walk to Hogarth Hills to go platypus spotting.
Lorne, Victoria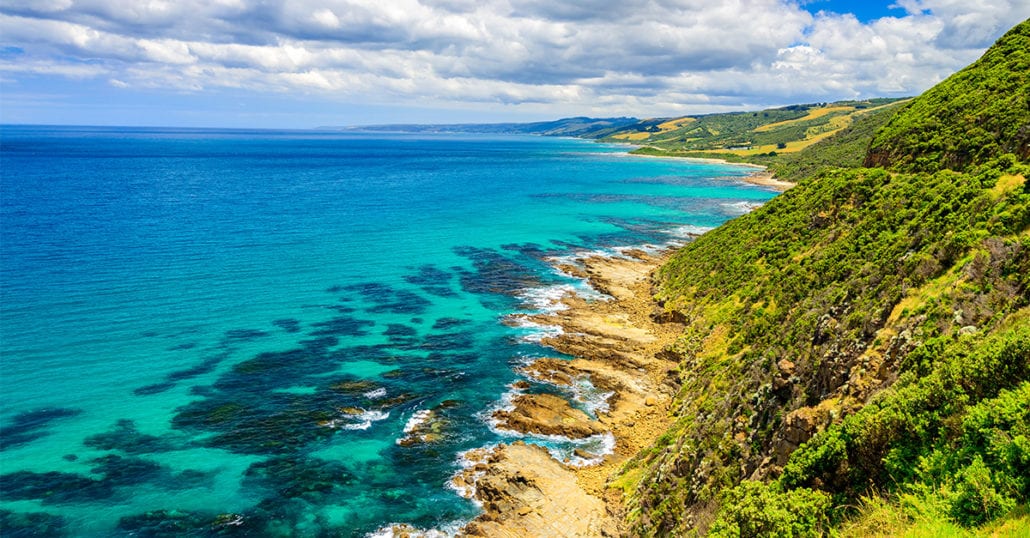 Located in the Louttit bay in Victoria, Lorne is a popular destination for those taking up the Great Ocean Road tourist route. It is named after Captain Lorne who sought shelter after a shipwreck in 1841. Today, the town offers not only sunbathing and surfing, but also pier fishing for barracuda and whiting. But Lorne is more than just one of the most beautiful small towns in Australia.
If you love nature, going to Otway National Park is a good choice, as you can watch the beautiful Erskine River Falls there. Loren is best experienced when visited in summer season when you can also camp in nature, but you can schedule your visit around the largest events, like the Great Ocean Road marathon, or New Year's Eve. If you are all about nature, though, then make sure to visit the cascading waterfalls and see koalas snoozing in branches, and kangaroos nabbing on the grass.
Burnt Pine, Norfolk Island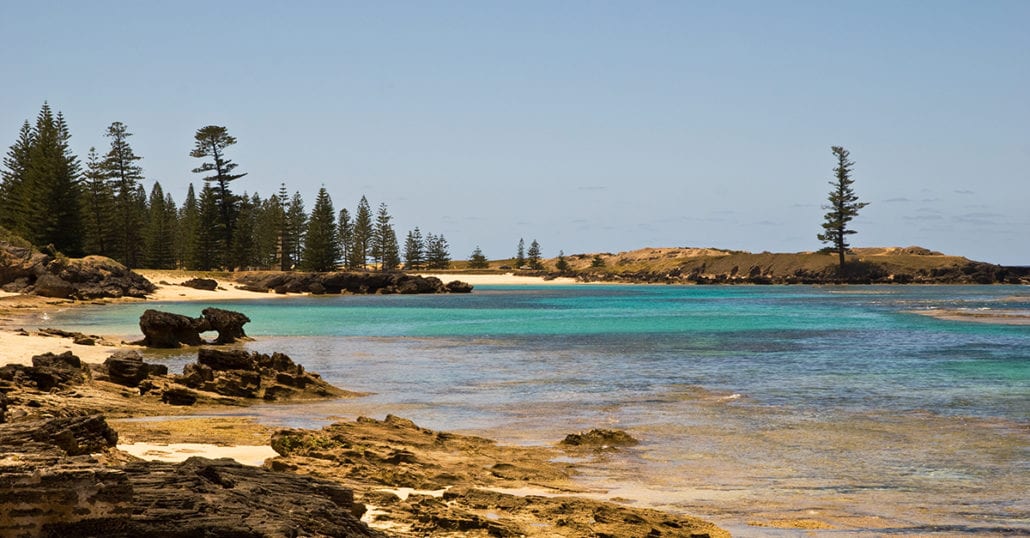 There are plenty of beautiful nature spots to see in Burnt Pine, so make sure you devote at least a day (we suggest making it a weekend!) for the Burnt Pine. Go to see the beautiful red sand dunes in Norfolk Island National park or observe the beautiful painted glass windows and wood ceilings in St Barnabas chapel. For beautiful landscapes, go and climb Mount Pitt, look over the Philip Island, or visit Queen Victoria's garden for manmade landscapes. After a long day of walks around the town, rest and relax in The Golden Orb Bookshop and café on Norfolk Island, or get your hunger satisfied with mouth-watering salad in High Tide Kitchen.
Nelson Bay, New South Wales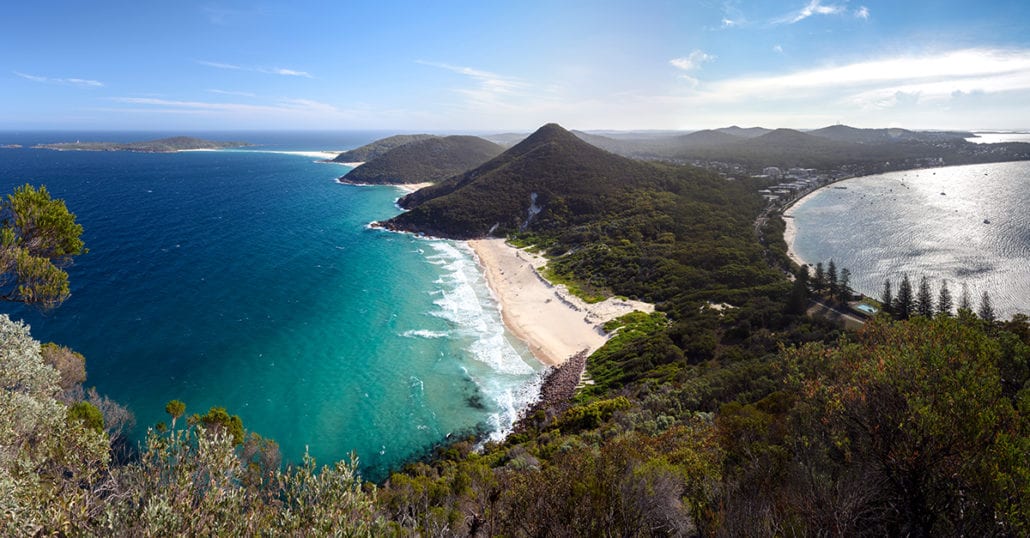 Nelson bay is the largest town, and arguably one of the most beautiful small towns in Australia, located in the Port Stephens area, and its central location makes it the perfect destination for the weekend to settle and explore its surrounding region. Here you can go to the beach to watch a sunset, or book a cruise trying to spot a dolphin in the Port Stephens Great Lakes Marine Park. If you come between September and May, you can also swim with wild dolphins with Dolphin Swim Australia. However, sea life does not stop there.
You can go whale-watching, or snorkel in Fly Point-Halifax Aquatic Reserve to see sponge gardens, soft corals, and even sea turtles. To see a bit of history, visit the 19th century heritage-listed Nelson Head Lighthouse, and sip on a coffee nearby. You can make it a total nature getaway by going to Tomaree National Park, or Fingal bay, or visiting the giant Stockton Bight sand dunes In the Worimi Conservation Lands.
Quoeenscliff, Victoria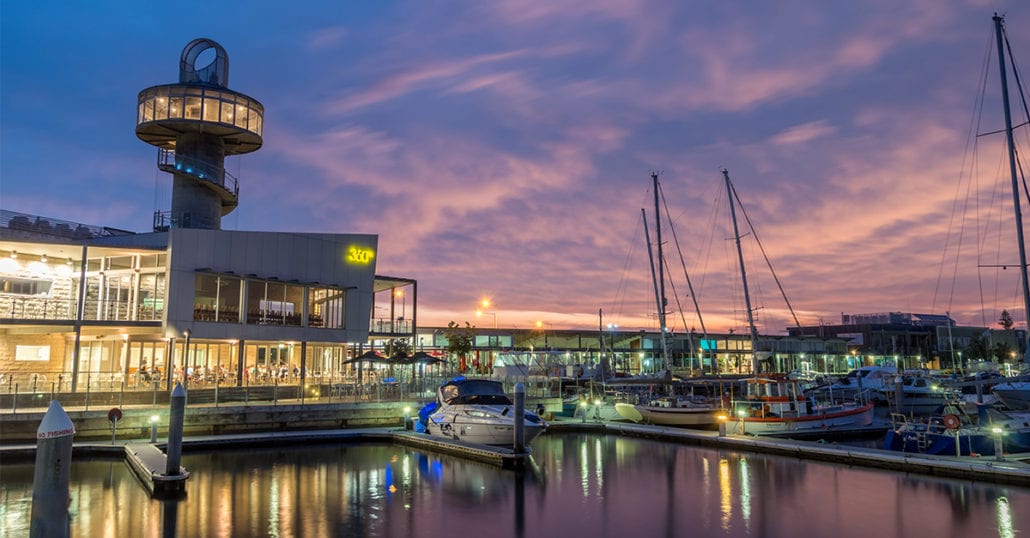 Queenscliff is for history geeks. From Bellarine railway, to Fort Queenscliff Musuem and Queenscliff High Light, there is plenty to see and do in this small beautiful town in Victoria, Australia. After chilling in the beach (which is far less crowded than most Victoria beaches), you can visit maritime and historical museums. Learn about the Fort Queenscliff military history of 1860s onwards, and visit and enter the fort on the guided tour. If you visit the seaside town in off-season months, plan your trip in November when the Queenscliff Music Festival is held.
Mossman, Queensland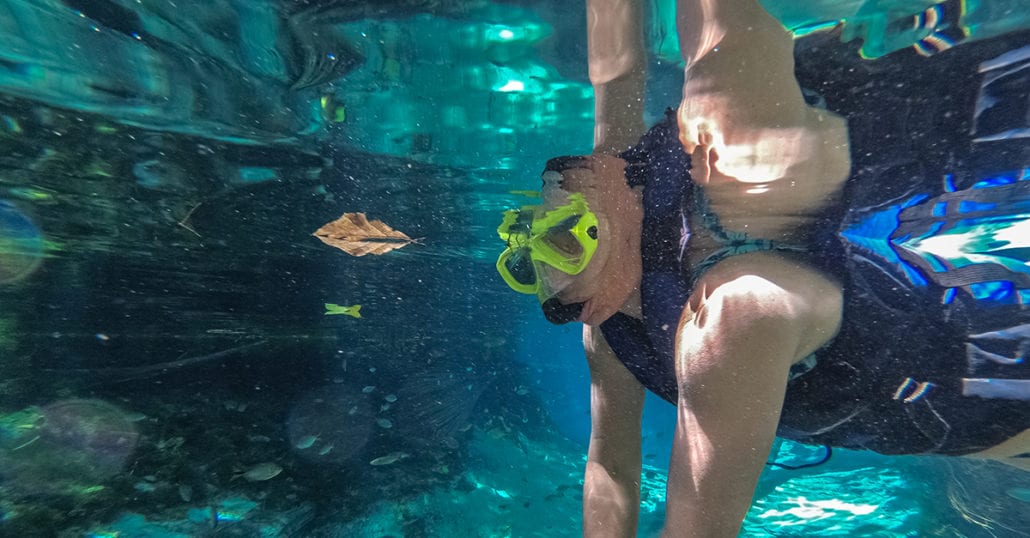 Mossman in Queensland, Australia is a must-visit for those aiming at rewinding in nature. Surely making our list of the most beautiful small towns in Australia, the area has a lot more to offer. Go on a Mossman rainforest tour and go drift snorkeling and walking beneath giant rainforest trees at Mossman Gorge – it will take your breath away! You can also go on a food trail tour and visit the local farmers who produce wine and prepare the local fish and savor the Port Douglas region in full. For those willing to catch some adrenaline, there are crocodile express tours, but for those preferring tranquillity and beautiful landscape, a sunset cruise is held every day in the lagoon.
Apollo Bay, Southwestern Victoria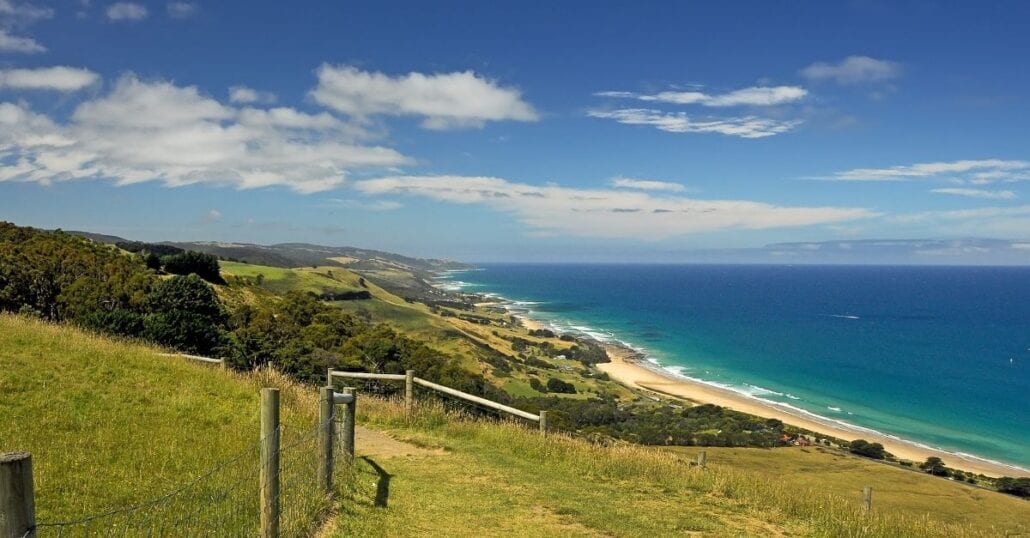 The small town of Apollo Bay is located in southwestern Victoria, at the foothills of the Otways. This quaint seafood village became a tourist destination in Australia, as it's one of the most stunning stops along Great Ocean Road, a driving route that passes through the Great Otway National Park. Placed within a two-and-a-half-hour drive from Melbourne, Apollo Bay offers a variety of things to do.
If you fancy spending some time on the beach, you can rent a kayak and explore the pristine coastline. You can also go diving, paddle boarding, or even surfing, in case you're feeling adventurous. For a well-deserved time around nature in Apollo Bay, go to the Great Otway National Park, which is home to plenty of waterfalls, including the 3 cascades of Triplet Falls, beaches, and mountains.
Margaret River, Perth
Margaret River is a laid back small town located south of Perth, in Western Australia, right in the valley of the eponymous Margaret River. The top reason why people visit this it's the fact it's surrounded by the Margaret River Wine Region, home to 5,017 hectares under vine and 215 wineries, and dotted with boutique wine producers. This award-winning wine country, Margaret River Wine Region is responsible for producing 20% of Australia's premium wine, and it has over 90 cellar doors for travelers to choose from.
Known as the quintessential Western Australian holiday destination, the Margaret River region also offers a set of family-friendly activities. Nature-lovers can take the 140 kilometer Cape to Cape Track, take a bike tour, and visit some of the limestone caves that lie beneath the Leeuwin Naturaliste Ridge.
Augusta, Western Australia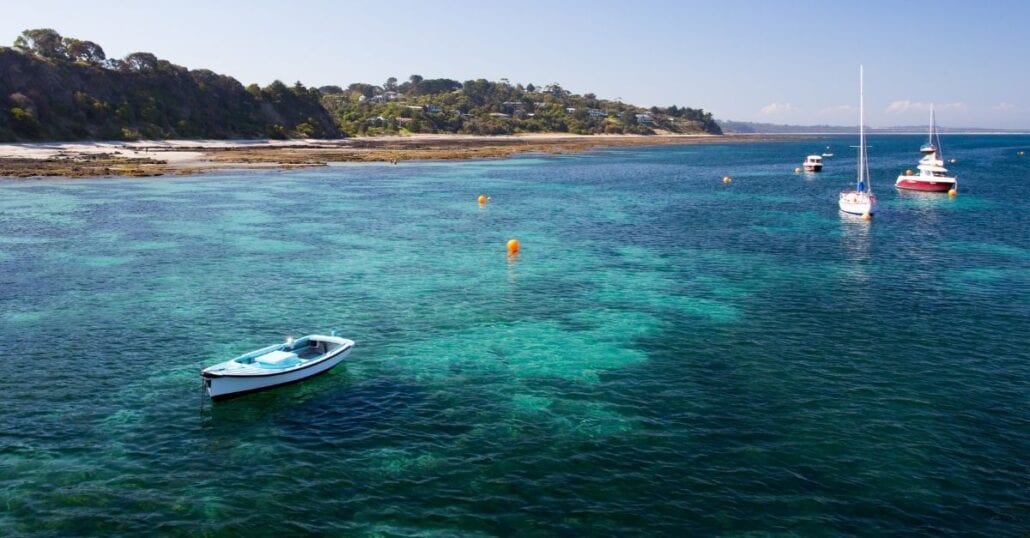 Located where the Blackwood River emerges into Flinders Bay, Augusta is one of the top family getaways in Australia. This small town is within a 3.5-hour drive from Perth, and it's a popular destination especially from June to September, which is when whales migrate to the waters of Flinders Bay. In fact, around 35,000 whales passing along this coastline during that time of year. Other great things to do in Augusta include climbing the Cape Leeuwin Lighthouse, which has a stunning view to the point where two oceans meet.
Victor Harbor, South Australia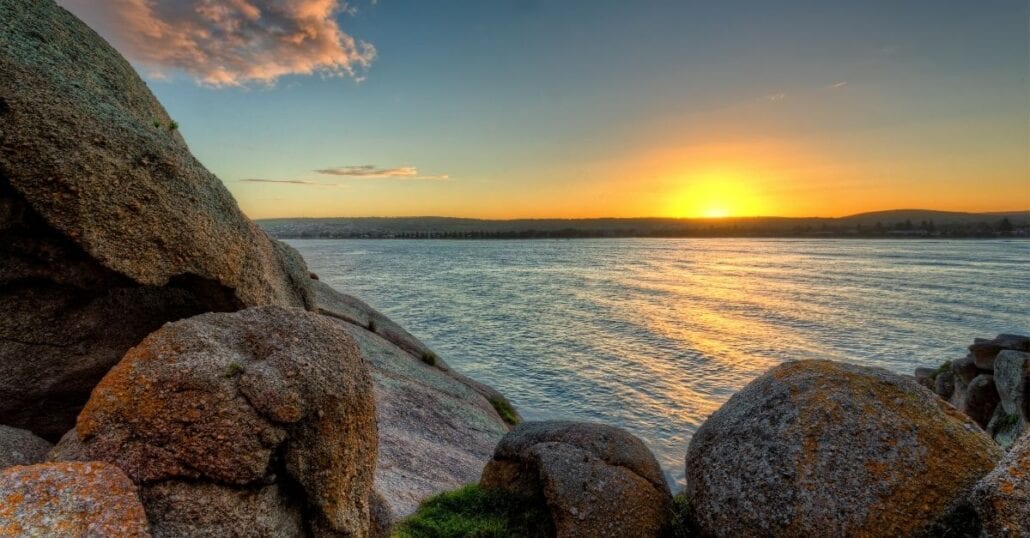 Victor Harbour is one of the most popular tourist destinations in Austria during the summer holidays. Placed within the City of Victor Harbor, in South Australia, this small town is surrounded by beaches, rock cliffs, rivers, which create the perfect environment for an adventurous holiday. During the summer, you can take a boat tour in the ocean, play beach volleyball on the seafront, and visit the beachside markets, which happen every 2nd and 4th Sunday of the month. But in case you're thinking of visiting Victor Harbour during the winter months, no problem, as there are great attractions in the city as well, such as the Hindmarsh Falls, which are best viewed after heavy rainfall.
Esperance, Western Australia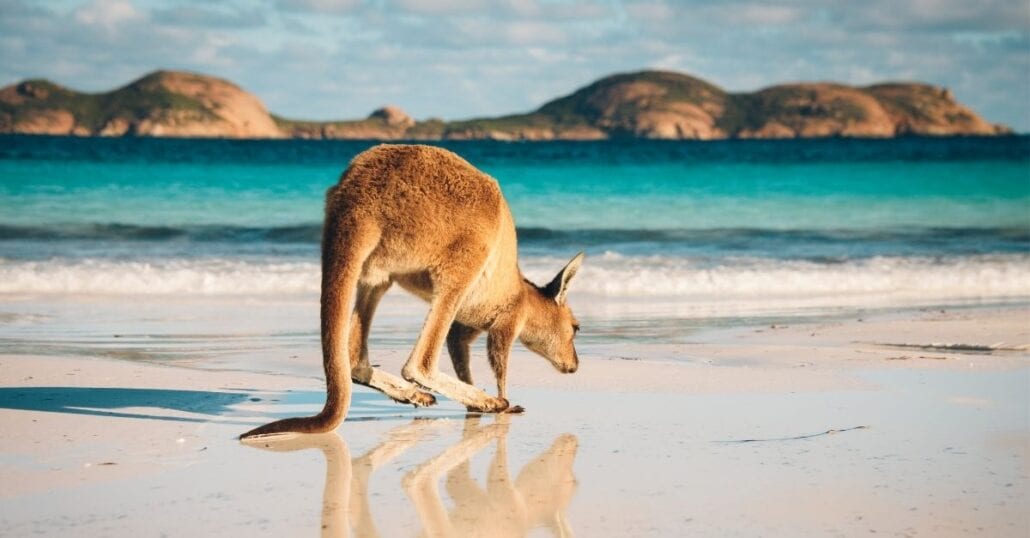 Espeance is one of the most stunning beachfronts in Australia. Located on the south coast of WA, this small town is granted with fine quartz sand beaches and some of the clearest waters in the country. There are two major attractions around Esperance. The first one is the Pink Lake, a lake that, due to it's high salt concentration, used to have pink color. Unfortunately the lake had not been pink for over a decade, but it's said the it could regain its famous rosy hue once the Esperance Shire Council starts the salt-pumping plan.
The other famous attraction in the city is kangaroo-watching on the Lucky Bay beach, where the marsupials regularly go sunbake on its white sand. Other unmissable attractions in Esperance include go snorkeling on the Woody Island Nature Reserve and drive beside the uninhabited islands of the city.
There is plenty to see and do in Australia. Watch out and experience the best small towns in Australia beneath the most popular beaches and cities.
Now that you have checked out some of the most beautiful small towns in Australia, and have a list of places to visit for your next getaway, it's time to book one of the best vacation rentals around the world. Find your city or countryside holiday rental on CuddlyNest.
Browse. Book. Stay.
CuddlyNest provides all accommodations to all travelers at the best price. Find unlimited travel inspiration on our blog and social media channels.
Here are some curated readings for you:
Top 10 Europe's Smallest Countries
Best North America Mountains
Best Croatia Beaches