World-renowned theme parks have long enticed adventurers to the United States. The country is home to over 470 epic amusement and theme parks where thrill-seekers can experience a frenzy of excitement.
Whether you're searching to get your heart racing while riding larger-than-life roller coasters, enjoying exciting arcade games, or indulging in the ultimate family fun, you're sure to find the perfect theme park for you in the United States.
Read on to discover a finely crafted selection of the 10 most amazing theme parks in the USA, and get ready for a thrilling adventure!
Best Theme Parks in The USA
Disney California Adventure Park, Anaheim, California
The Disney California Adventure Park is a 72-acre park that boasts 34 exciting rides and themed attractions spread across seven lands. Super-hero enthusiasts will have a thrilling time in the Avengers Campus, where they'll join Rocket on a thrilling mission to rescue the Guardians of the Galaxy from the Collector's fortress. The little ones can hop a wild taxi wide and Zip through scenes from Monsters, Inc., while adrenaline-seekers will enjoy the Icredicoaster, which features big drop, enclosed tunnels, special effects, scenes, and a musical score by Incredibles 2.

Recommended Read: The Ultimate California Travel Guide
Find Places To Stay In Anaheim, California
Busch Gardens, Tampa Bay, Florida
Wildlife lovers can't pass up the chance to visit Busch Gardens, in Tampa, Florida. This 335-acre African-themed amusement park features a delightful maze of attractions, including an award-winning Serengeti Safari, which allows visitors to have dazzling encounters with giraffes, rhinos, cheetahs, tigers, and lions.
Busch Gardens also features a range of family-friendly rides, including a collection of adrenaline-inducing roller coasters. The most exhilarating ones? Definitely the Cheetah Hunt, a thrilling triple-launch coaster, and Falcon's Fury, a 335-foot freestanding drop tower.
Find Places To Stay In Tampa, Florida
Universal Studios, Orlando, Florida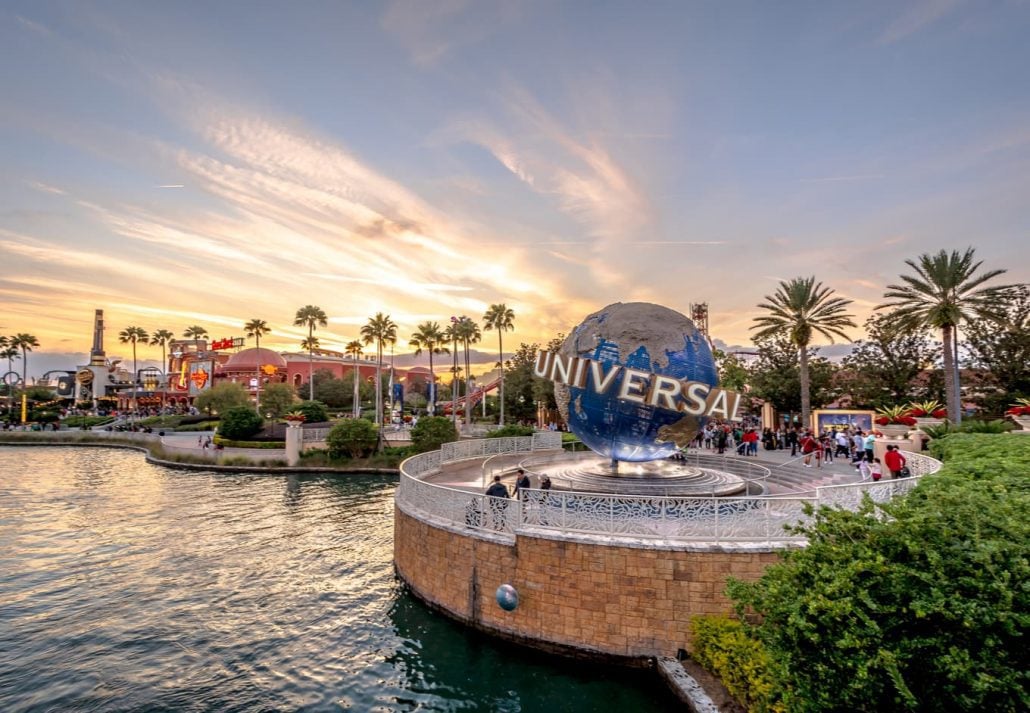 Among all of the United States' bucket list amusement parks, Universal Studios Florida has got to be one of the most coveted. The park features a dazzling array of attractions primarily themed to movies, and television. Highlights include the Revenge of The Mummy roller coaster, which swings riders to plunge high speed into total darkness while fleeing from the evil Mummy Imhotep.
Another must-try is the Men In Black, Alien Attack, a motion simulation ride where participants can use their laser guns to fight over 100 different kinds of aliens.
One of the most visited theme parks in the country, Universal Studios Florida also has a slew of attractions for the Potterheads. They can visit the Wizarding World of Harry Potter for a world-famous studio tour (also available at Universal Studios Hollywood), and follow in Harry's footsteps as they walk through the streets of London, and enter Diagon Alley™.
Walt Disney World, Orlando, Florida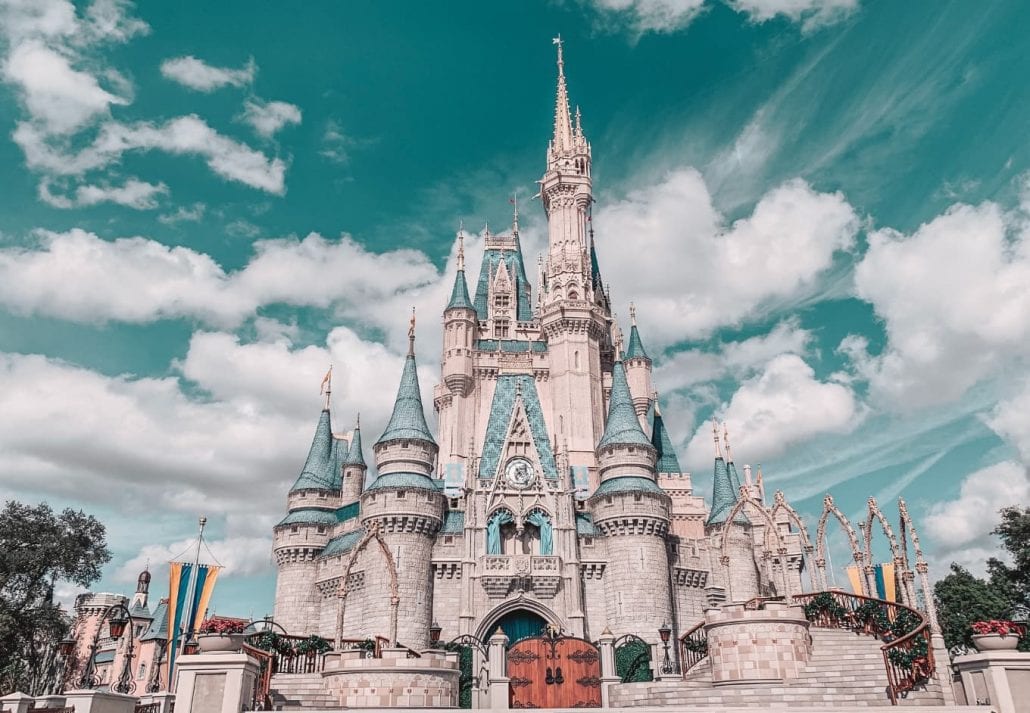 The biggest theme park in the US, Disney World offers fun and excitement for visitors of all ages. This sprawling entertainment complex is actually home to four theme parks (Magic Kingdom, Epcot, Disney's Hollywood Studios, and Disney's Animal Kingdom), filled with kiddie rides, thrilling attractions, and special events.
Some of the top attractions in the Disney Parks are the iconic Sleeping Beauty Castle, the Space Mountain, and the Haunted Mansion, at Magic Kingdom, the Kilimanjaro Safari, at Animal Kingdom, and the all-time-classic Soarin' Around the World at Epcot.
Recommended Read: 10 Best Kid-Friendly Family Vacations In The United States
Find Places To Stay In Orlando, Florida
Six Flags Magic Mountain, Valencia, California
The Six Flags Magic Mountain is a bucket-list item in any California itinerary. One of the best amusement parks in the US, Six Flags features exhilarating rollercoasters, family rides for all ages, shows, and attractions spread across 262-acre. Several attractions are inspired by DC characters such as the Green Lantern and Batman
If you're an adventurous soul, you'll love experiencing the park's thrill rides, including the Apocalypse, an all-wooden roller coaster that rips through an ominous desert on an ultra-fast track. Be sure to also ride the one-and-only Full Throttle, the number one tallest and fastest looping roller coaster in the world.
And there are gentler options for kids, too, such as carousels, hot rod racers, a whistlestop train, and a flight school!
Find Places To Stay In Los Angeles, California
Knott's Berry Farm, Buena Park, California
What started as a small, family-owned berry farm in the mid-1920s, is now one of the most visited theme parks in California. Locate in the city of Buena Park, in northwestern Orange County, California, Knott's Berry Farm plays host to over 40 fun rides for all ages and adventure levels.
Some of the worth-experiencing activities in the park include exploring The Knott's Berry Farm Ghost Town, an 1880s Old West BoomTown that features cowboys, a Wild West stunt show, a steam train, and panning for real gold. This themed area also displays thrilling family-friendly rides like a white-water river excursion, the Silver Bullet, which is a steel inverted roller coaster that suspends riders beneath the track and climbs to a height of 146 feet, and at GhostRider, the tallest, fastest, longest wooden roller coaster on the west coast.
Find Places To Stay In Buena Park, California
Universal's Islands of Adventure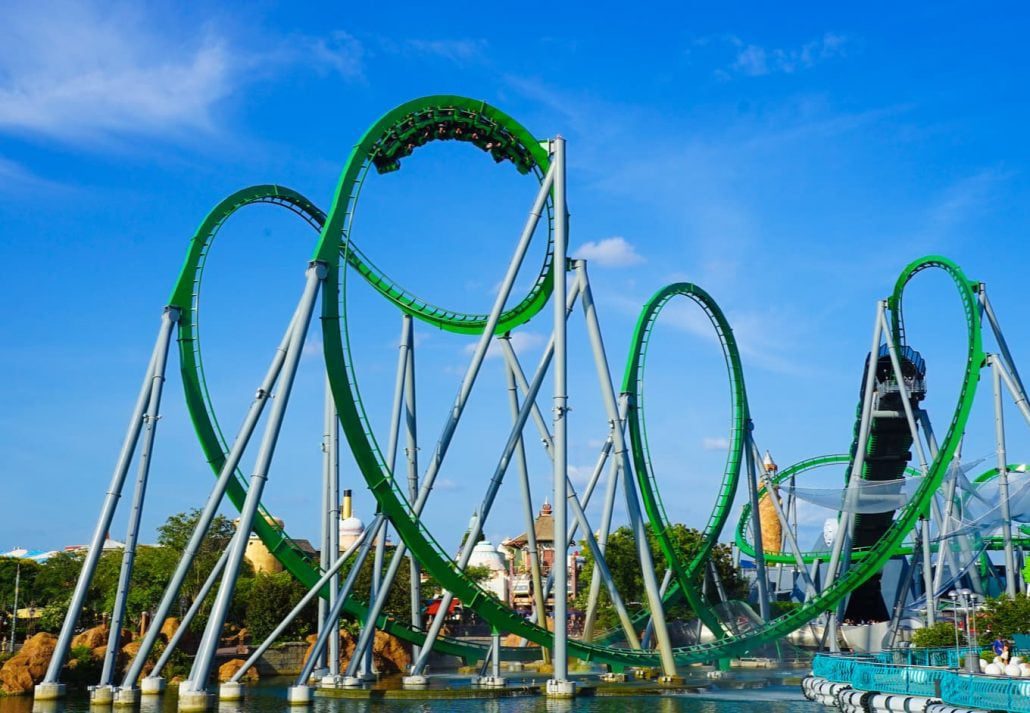 Islands of Adventure is divided into 8 themed "islands": the Port of Entry, Marvel Super Hero Island, Toon Lagoon, Skull Island, Jurassic Park, The Wizarding World of Harry Potter, The Lost Continent, and Seuss Landing. Each of them displays a range of fun rides and attractions based on mythical superheroes, movies, and other pop culture icons.

No matter what your plans are, make sure you pay a visit to the Jurassic World Velocicoaster for a high-speed dash through the park's raptor paddock, and Hagrid's Magical Creatures Motorbike Adventure, which is Universal's most highly themed, immersive coaster.

Are you a Marvel fan? Then don't pass up the chance to ride the legendary Incredible Hulk Coaster that takes adventure-seekers on a thrilling journey filled with twists, and inversions at up to 67 miles per hour.
Find Places To Stay In Orlando, Florida
Cedar Point, Sandusky, Ohio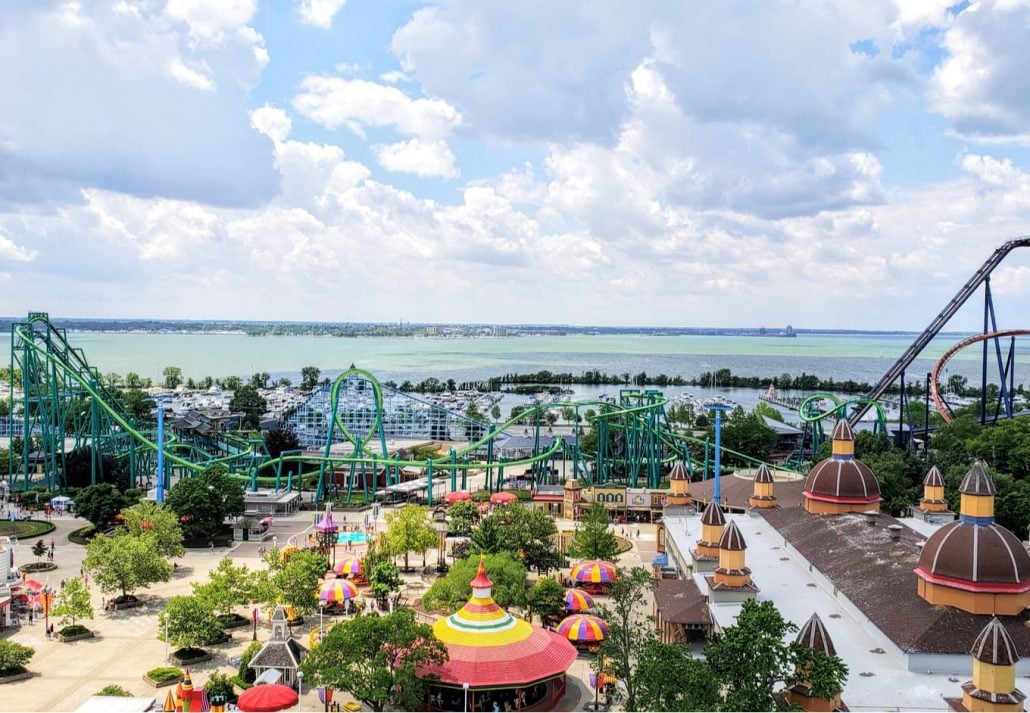 Self-described as "the roller coaster capital of the world", this is one of the largest amusement parks in the USA. Located in Ohio, Cedar Point treats visitors with 17 world-class roller coasters and three areas filled with thrilling rides, and fun attractions for kids.
Among the park's bucket list rides are the 205-feet Steel Vengeance, the world's tallest, fastest, and steepest wood-steel hybrid coaster, the Top Thrill Dragster, which features a 420-foot loop, and Valravn the tallest dive coaster on Earth.
Cedar Point is also home to a Ferris wheel, an 18-acre waterpark, and a sky ride that offers 360-degree views of the area.
Find Places To Stay In Cleveland, Ohio
Six Flags Great Adventure, Jackson Township, New Jersey
Dubbed New Jersey's Most Thrilling Theme Park, Six Flags Great Adventure is an excitement-fueled wonderland filled with daring roller coasters, family rides, and even a waterpark.
Adrenaline junkies will love riding El Toro, a wooden roller coaster with an initial drop angle of more than 70 degrees, and the mighty Nitro. The tallest coaster on the East Coast, it features a 215-foot drop, a 540-degree helix spiral, and a pulse-pounding speed of 80 miles per hour.
Families with kids, on the other hand, can enjoy more gentle attractions, including the fender benders, the giant wheel, and the kart racing track.
Find Places To Stay In Jersey City, New Jersey
Hersheypark, Hershey, Pennsylvania
Founded in 1906 by Milton S. Hershey as a leisure park for the employees of Hershey Chocolate factory, Hersheypark spoils visitors with more than 70 rides and attractions. Some of the best are the Great Bear roller coaster, which features a 125-foot first hill drop and reaches speeds of 61 mph, the Storm Runner that sends riders straight into the sky, and Candymonium, regarded as the "longest, tallest and fastest" in the park.
The park also boasts a range of water rides, which offer a fun refreshment during the scorching hot summer months!
Find Places To Stay In Hershey, Pennsylvania
Frequently Asked Questions

What is the number 1 amusement park in the United States?
Visited by over 20 million people each year, the Magic Kingdom theme park at Walt Disney World is the number 1 park not only in the United States but also in North America.
What is the best amusement park for adults in the USA?
Filled with thrilling rides and attractions, Cedar Point, in Ohio, and Six Flags Magic Mountain, in California, are some of the best amusement parks for adults in the USA.
What are the top 5 theme parks in the world?
The world's top 5 theme parks are:
Disney World's Magic Kingdom, USA;
Shanghai Disneyland, China;
Universal Studios, Japan;
Chimelong Ocean Kingdom, China;
Disney's Animal Kingdom, USA.
What are the top 5 theme parks in the United States?
The best theme parks in the United States are:
Disney World, Florida;
Cedar Point, Ohio;
Universal Studios, Florida;
Islands of Adventure, Florida;
Knott's Berry Farm, California;
Six Flags Magic Mountain, California.
Browse. Book. Stay.
CuddlyNest provides all accommodations to all travelers at the best price. Find unlimited travel inspiration on our blogs and our social media channels Facebook, Instagram, Pinterest
You May Also Like:
The 15 Best Water Parks in the World
15 Unbeatable Florida Family Vacations with Kids
The 4 Best Family-Friendly Vacation Spots in Orlando
The 15 Best Long Weekend Getaways In The US