At the same time noisy and silent, infuriating and serene Bangkok is one of Asia's most fascinating cities. In Thailand's capital, peaceful temples and tranquil gardens live side by side with vibrant street markets and back-to-back traffic, and these contradictions are what make this city truly special.
If you plan on visiting Bangkok anytime soon, you might have wondered what the best time to visit this stimulating city is. Thailand's capital boasts a tropical monsoon climate, which can bring periods of heavy rainfall and scorching hot temperatures, so deciding when to go it's not that simple. But worry not; we're here to help.
In this thoughtful guide, we break down what is the best time to visit Bangkok based on weather, prices, and events. Have a look below to learn more!
Find Places To Stay in Bangkok, Thailand
Bangkok Weather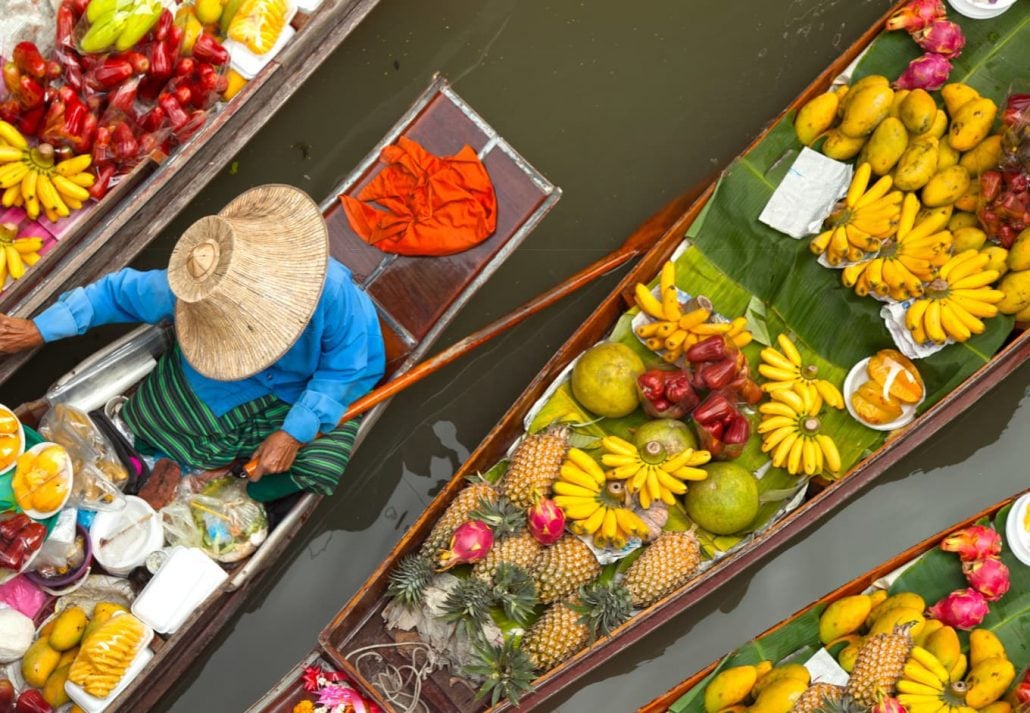 Bangkok has a tropical climate, and it's under the influence of the South Asian monsoon system. This means that the city experiences three seasons: summer (hot), monsoon (rainy), and cool (winter).
Despite having 3 distinct seasons, Bangkok experiences steady temperatures (at around 30ºC) throughout the year, and temperatures up to 32ºC can happen on any given day, regardless of the time of year.
Bangkok's Seasons
Summer (Hot Season) | March To June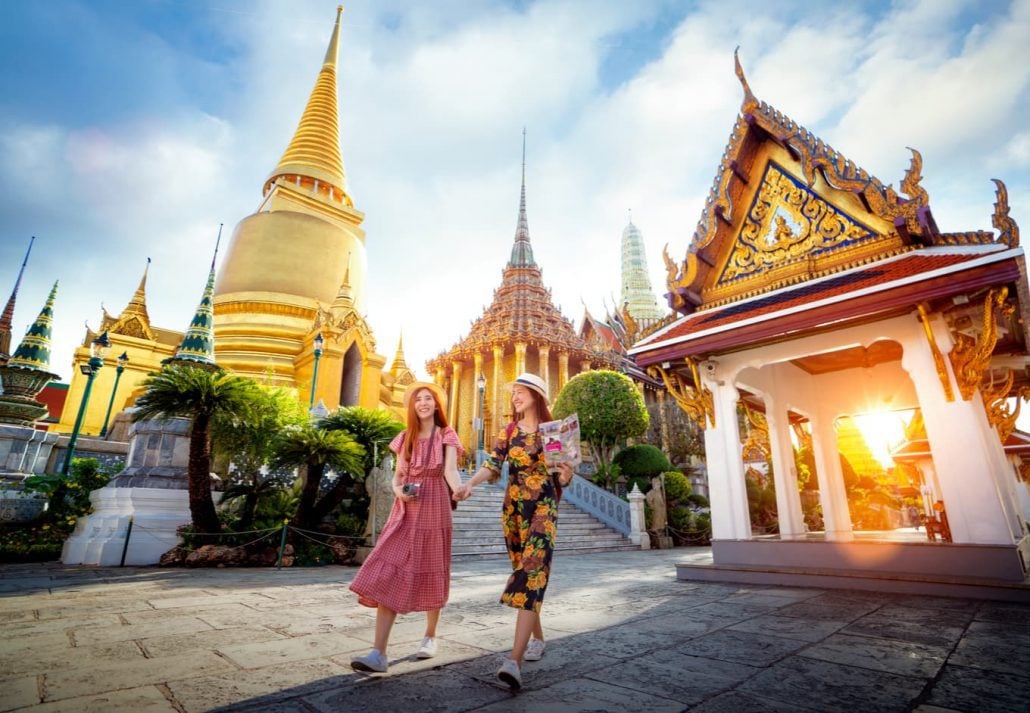 The summertime is the hottest season in Bangkok. During this season, which lasts from March until June, expect daytime temperatures to reach up to 40ºC, as well as high humidity and an average of 14 rainy days.
April is Bangkok's hottest month, with highs of up to 40.2°C on record.
The intense Bangkok summer weather can make sightseeing a bit overwhelming and not always pleasant. To battle the heat, it's suggested that visitors take part in indoor activities such as visiting temples and shopping malls.
Summer, however, is known for its robust line-up of interesting events. June is when the "Amazing Grand Sale" happens, treating shopaholics to attractive discounts in the city's top stores and malls.
Average Temperature: 35ºC
Rainy Days: 14
Monsoon Season (Rainy Season) | July To October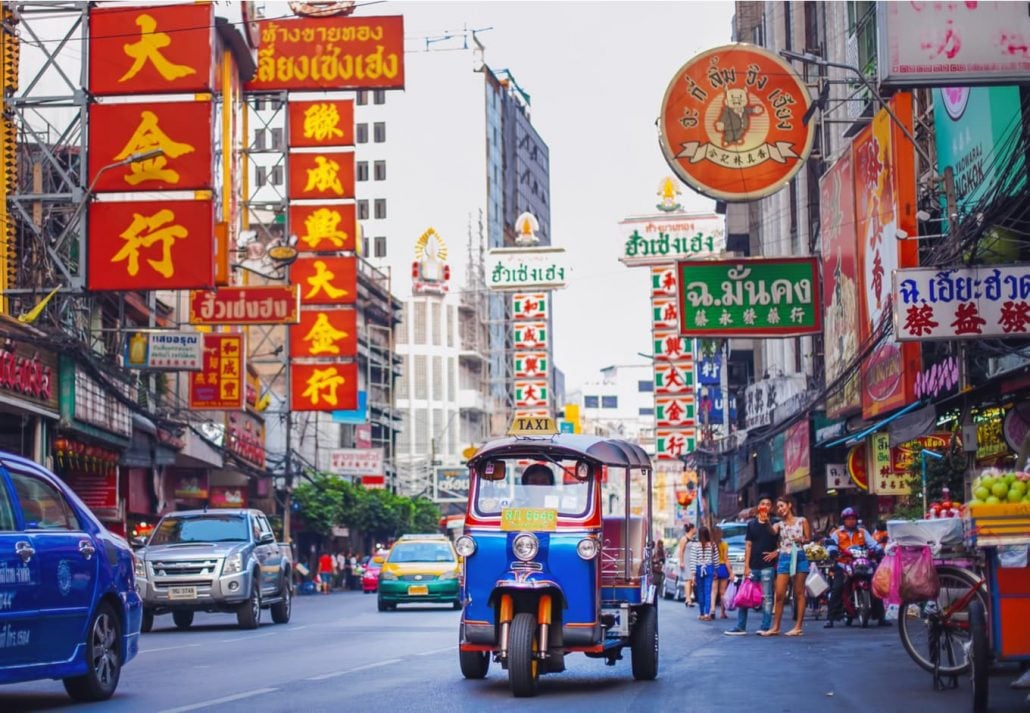 The weather during Bangkok's Monsoon season is a capricious creature. From July to October, Thailand's capital experiences disarmingly warm temperatures and up to 18 days of torrential monsoons, with the rainiest months being September and October.
Due to the fact that the time between July To October is more prone to rain and not ideal for visiting the beach, the monsoon months are the low season for tourism in Bangkok. This means that travelers can snag attractive fares when it comes to flights and accommodation.
The monsoon season is also considered the best time to shop in Bangkok, as the "Amazing Grand Sale" of Bangkok is at its peak in July and August.
Average Temperature: 33º
Rainy Days: Up to 18
Cool Season (Winter Season) | November to February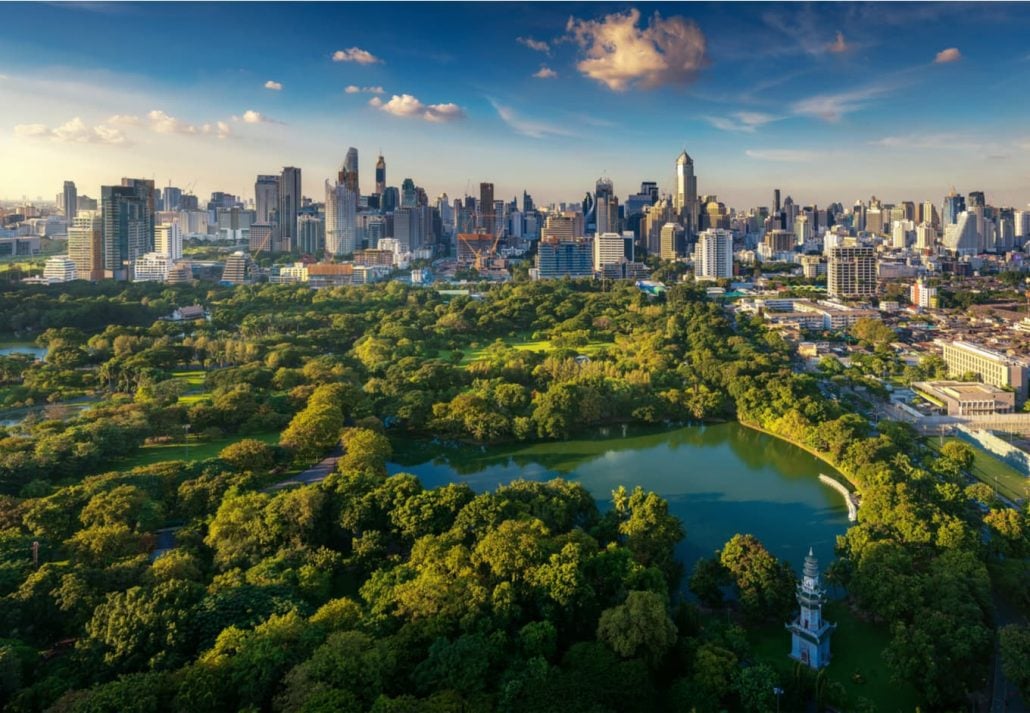 The cool season, which is equivalent to the wintertime, brings the most pleasant weather conditions to Bangkok. During these "cool months", temperatures are still warm, reaching up to 32ºC, but they can drop to around pleasant 22ºC.
Also, winter is the driest season in Bangkok, with a maximum of 2 rainy days per month.
Average Temperature: 32°C
Rainy Days: 2
The Best Time To Visit Bangkok
For Pleasant Weather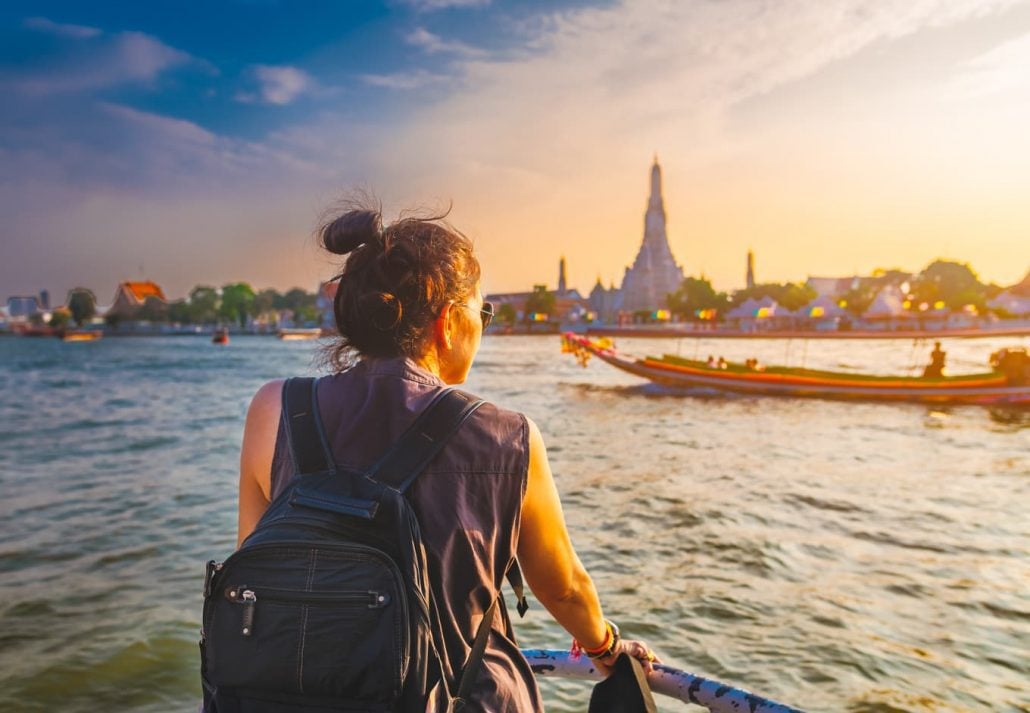 When it comes to comfortable weather, the best time to visit Bangkok is, by far, the winter. Daytime temperatures can reach up to 32ºC, but there's no rain, making it the perfect time to enjoy the beaches and indulge in outdoor activities.
You'll enjoy blue skies almost every day, along with cool temperatures averaging at 24°C. It's possible to experience light rain for a few days, but nothing compared to the monsoon and summer months.
This, however, is the peak season in Bangkok, meaning that overall rates for flights and accommodation are more expensive.
For the Lowest Prices & Fewer Crowds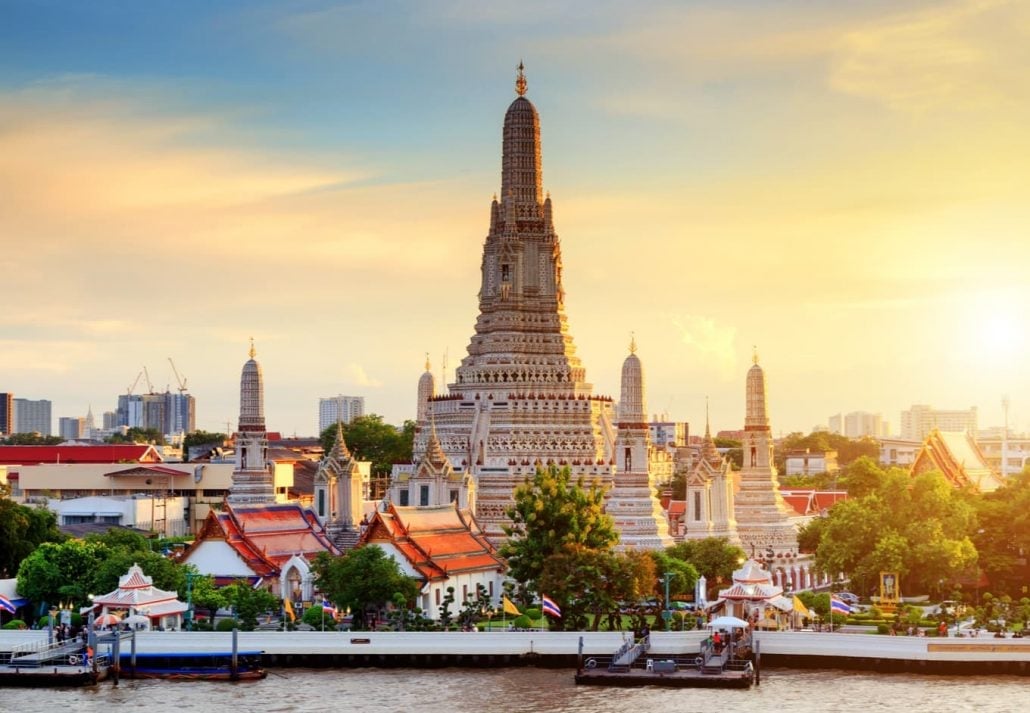 Bangkok's rainy season is the cheapest time to visit the city. Travelers who don't mind the sweltering heat can visit the city from April to October and score the best deals and hotel rates.
For Activities & Events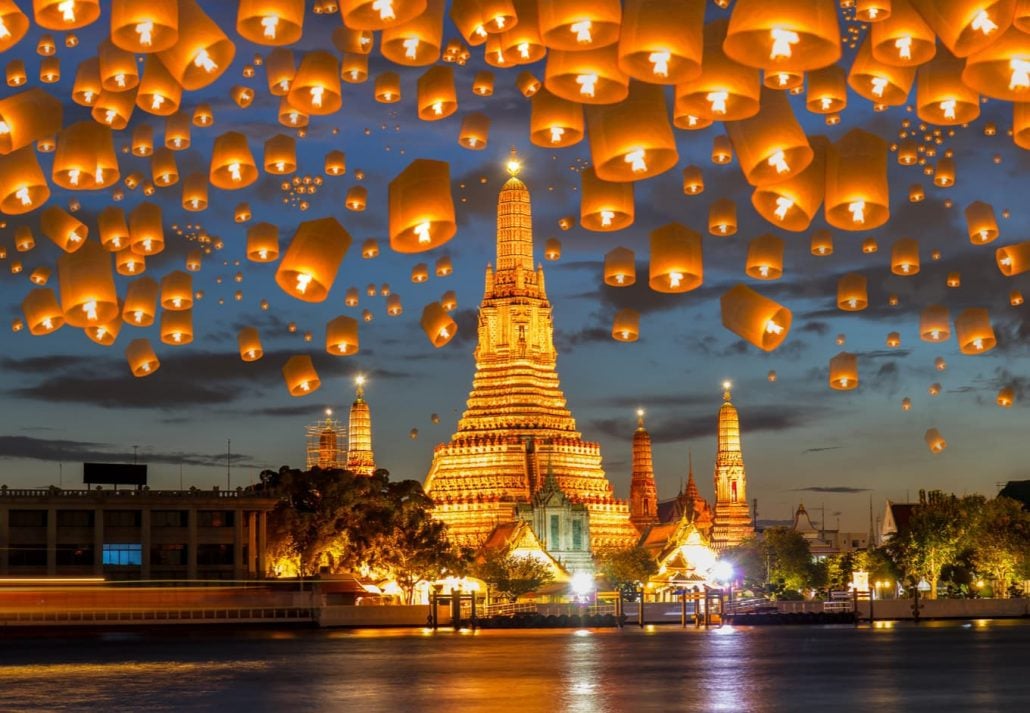 Bangkok boasts a robust lineup of picturesque festivals and events that keep locals and visitors on their toes all year round. So, when it comes to the best time to enjoy the city's top activities and events, it all depends on what you're seeking to experience.
While April is by far the most unpleasant month temperature-wise, it's when the colorful Thai New Year (Songkran), happens in the city, bringing together jostling crowds to celebrate.
There are also amazing events happening during the cool season. November brings the Loy Krathong Festival, which happens during the first full moon of the month, as well as the Beer Garden Festival, where travelers and locals meet to drink various kinds of local and foreign beers.
FAQ
What is the best time to visit Bangkok?
Bringing comfortable temperatures, less rainfall, and a variety of fun festivals, November is the best time to visit Bangkok.
What is the hottest month in Bangkok?
With temperatures peaking at around 35ºC, April is the hottest month in Bangkok.
CuddlyNest provides all accommodations to all travelers at the best price. Find unlimited travel inspiration on our blog and social media channels.
You might also like:
Things to Do in Hanoi
Things to do in Barcelona
Things to Do in Dubai
Vietnam vs. Thailand: Which One Should You Visit First