During the day, Bangkok is home to bustling markets selling tasty exotic food. But in the evening, the city welcomes street food vendors from all over the country. From incredible Pad Thai to mango sticky rice, vendors offer a plethora of mouthwatering dishes. Have a look at our Bangkok street food guide!
Find Places To Stay In Bangkok
The Ultimate Bangkok Street Food Guide
Khao San Street
Khao San is a famous street food in Bangkok. It's packed with food stalls making incredible meals. Along Rambuttri Road and Phra Athit Road, it offers the tastiest food options at the best price. Absolute heaven for foodies!
What To Eat Here:
Thai curry
Thai fried noodles
Scorpions
Fried chicken
Pad Thai
Grilled meat skewers
Corn on the cob
Mango sticky rice
Coconut ice cream
Bangkok Old Town (Koh Rattanakosin)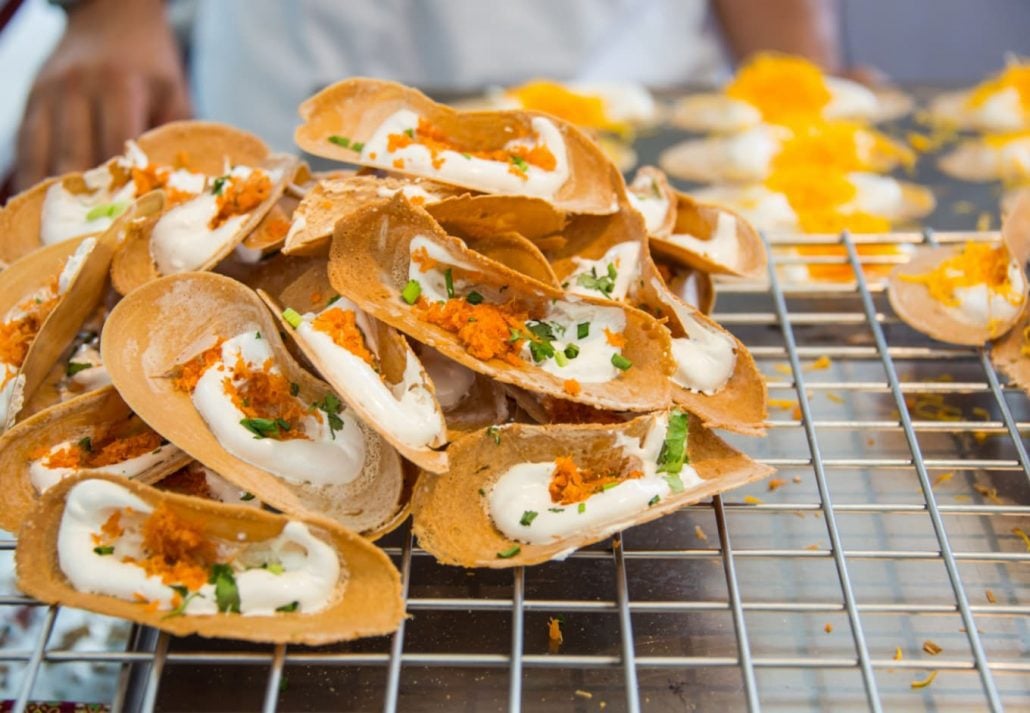 Most of the tourist attractions are located in Bangkok's Old City, close to the Chao Phraya River. It's home to the breathtaking Grand Place, Wat Pho, and a giant red swing. Moreover, it's the ultimate spot for street food tasting.
What To Eat Here:
Yentafo
Chive dumplings
Fish cakes
Red barbecued pork
Fish curry
Pork with rice
Stir-fried crab meat
Yaowarat Road (Chinatown)
If you're street food hopping, you have to stop by Bangkok's Chinatown. This area is particularly well-known for its prominent temples, amazing cuisine, museums, and exhibitions. The perfect setting to stroll around vendor stalls, admire the surroundings, and relish tasty Thai food!
Where To Eat:
Jae Ben Pad Ngi Ngaow
Nai Ek Roll Noodle Bangkok street food stall
Patonggo Savoey
T&K Seafood
FAQ
What is famous street food in Bangkok?
Popular Thai street food:
Pad Thai;
Thai boat noodles;
Sweet mango sticky rice;
Raw seafood in spicy fish sauce;
Fried noodles in thick gravy;
Spicy pork spine soup;
Street food style Tom Yum soup with egg noodles;
Crispy pork belly BBQ;
Thai fried chicken;
Fried rice with Chinese sausage;
A fried fish ball with spicy sauce.
What are the best street food stalls in Bangkok?
Jay Fai;
Ann Guay Tiew Kua Gai;
Wattanapanit;
Roong Rueng;
Chakki.
CuddlyNest provides all accommodations to all travelers at the best price. Find unlimited travel inspiration on our blogs and social media channels Facebook, Instagram, and Pinterest.
You May Also Like:
A Guide To The Best Shopping In Hong Kong
The Best Time to Visit Bangkok, Thailand
20 Countries Where You Can See the Japanese Cherry Blossoms
The Ultimate Asia Travel Guide
50 Fun & Interesting Facts About India You Should Know About
11 Sacred Attractions Around the World
The Best Ways To Travel From Bangkok To Phuket
3 Ways To Travel From Bangkok To Chiang Mai