Night markets in Bangkok are a unique Thai cultural experience that every traveler must experience. These night markets are filled with the hustle and bustle of tourists and locals all coming together from early evening to late into the night to shop for unique items at reasonable prices, eat delicious hot street food that at very affordable prices, and sip on some lovely beers or even coffee. It is truly an experience like no other and one that is known to have originated in Southeast Asia.
There used to be several other Bangkok night markets than the ones listed below, such as the Talad Neon Night Market and the Patpong Night Market, but these have been temporarily closed down due to the COVID pandemic and it is unclear when or if they will reopen again.
We highly recommend choosing from these four night markets in Bangkok to visit to have a truly unforgettable and lively experience. Let's look at a list of the four best night markets in Bangkok.
4 Best Night Markets In Bangkok
Chatuchak Weekend Market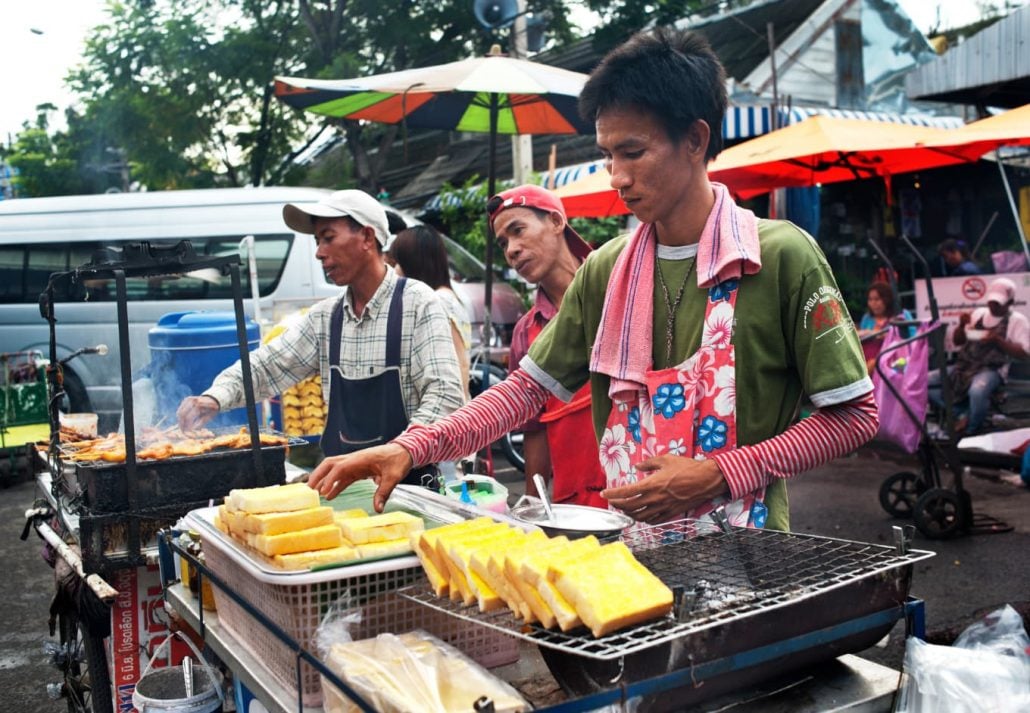 Also known as the JJ market, this is the largest market zone in Bangkok. Arguably the most popular of the night markets in Bangkok, you'll find expansive acres of land filled with heavy crowds, with over 15,000 stalls that have been divided into twenty-seven sections. Colorful, vibrant, and full of life, this market is perfect for shopping for anything right from handicrafts, artwork, homeware, clothing, accessories, pet products, souvenirs, and much more.
The Chatuchak Weekend Market is quite crowded on Saturdays and Sundays, however, most people don't know that there is also a Chatuchak Friday Night Market, as the stall owners are actually setting up at around 9 PM on Fridays to extend into the weekend. This would be the best time to visit to beat the crowded market timings. There would be some sections such as gardening and homeware that would be closed during the Friday night market so we do recommend checking that in advance.
The Chatuchak Night Market features amazing deals and the best prices for all its products, and those looking for good deals should definitely go here and haggle for the best prices as this is customary here with the shopkeepers expecting it. The market stalls also include a variety of street food stalls that serve hot and fresh local Thai food that would be perfect for you to refuel during your shopping trip.
Train Night Market Ratchada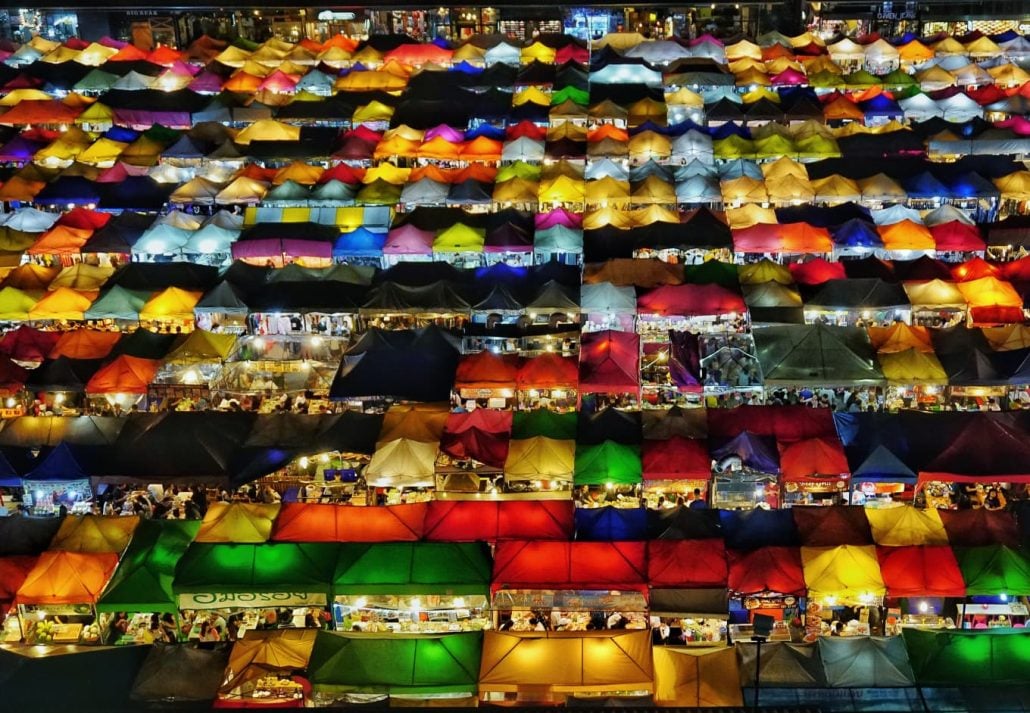 Located on Ratchada road, this unique Bangkok night market started off in an abandoned railway station. Known for its signature image of gorgeous colorful tents with beaming yellow lights when viewed from above, this market offers the perfect evening out for locals and tourists alike.
This market is more geared towards local Thai people rather than tourists, so while you might not find the variety of unique goods that you would find in the Chatuchak Weekend Market, here, you will most certainly enjoy the gorgeous ambiance, the cleanliness, and the delicious street food stalls that also serve drinks. One of the more popular night markets in Bangkok amongst locals, you will find low-priced electronic goods, clothes, accessories, and footwear.
Offering some of the best food stalls in all of Bangkok, the Train Night Market Ratchada is the perfect place to try out local street-style Thai food at. They also serve several international delights that taste just as good, with all the food here being very reasonably priced. There are also several buzzing bars in this night market with live music and fresh beer.
Box Space Ratchayothin Night Market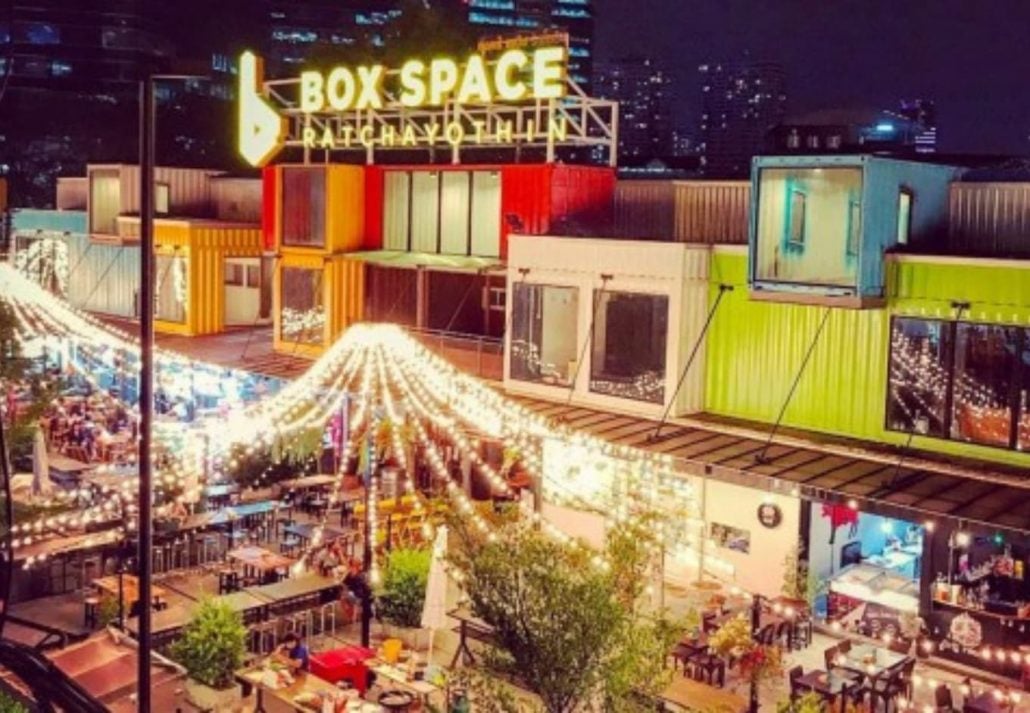 This gorgeous, modern, and bustling market is one of the most popular night markets in Bangkok amongst a younger crowd. It is built in a very unique way with shops located in colorful shipping containers. A market that is super fun to explore and very trendy in nature, the Box Space Ratchayothin Night Market will truly be the most unique night market experience you have in Bangkok.
With locals and tourists swarming through the market from the late evening onwards, you'll find that there are loads to do here. The market itself is divided into three sections – The Market Zone for trendy clothes, The Plaza Zone for delicious street food, and the Hangout Zone for the best drinks and alcohol. You will find good deals on clothes here and will also find reasonably priced delicious street food.
We recommend checking online if the market is open before visiting here as post-covid, there are only a few months that they're fully operational.
Chang Chui Plane Night Market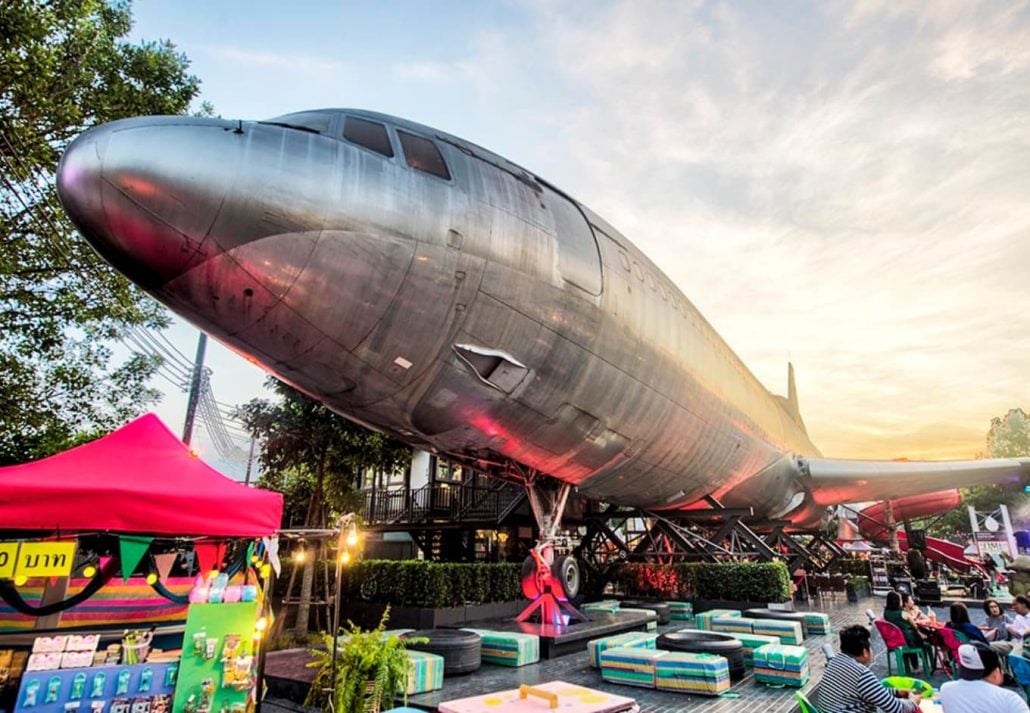 The Plane Night Market is one of the newest and most unique Bangkok night markets. With a decommissioned airplane in the center of the market, youngsters flock to this place to click the best pictures and have an incredible time sipping on handcrafted coffee and cocktails while shopping for gorgeous accessories at a great price point.
This park fuelled by creativity has been named appropriately with 'Chang Chui' literally translating to 'messy artisan'. True to its name, you will find a lot of unique artisanal products here, right from vintage collectibles to art pieces. The market has a 'green zone' that is alcohol-free and this turns into the 'night zone' towards the early evening and this continues late into the night.
Buy books, plants, and clothes to indulge in some therapeutic shopping, sip on fresh draught beer and eat some fun Thai street food dishes. This is a one-of-a-kind Bangkok night market that should not be missed.
FAQ
What is a very popular night market in Bangkok?
The Chatuchak night market is most definitely the most popular, and largest night market in Bangkok. There's a Chatuchak Friday Night Market and a Chatuchak Weekend Market, both of which are famous.
Is Chatuchak Market Still Open in 2022?
The Chatuchak Marker is open in 2022 and its opening hours are from 9 AM to 6 PM on Saturdays and Sundays, and from 6 PM to midnight on Friday nights.
Is Chatuchak market worth visiting?
With over 15,000 stalls originally and currently between 8,000-10,000 stalls, you are sure to find everything you'd want to shop for in Thailand here. The market is well-organized and divided into 30 sections for ease.
What is the best time to visit Chatuchak?
The best time to visit the market is on Saturdays and Sundays between 9 AM and 12 noon when the crowd is at its least.
Is Talad neon still open?
Talad Neon Night Market has unfortunately been closed indefinitely after the COVID pandemic.
CuddlyNest provides all accommodations to all travelers at the best price. Find unlimited travel inspiration on our blogs and social media channels Facebook, Instagram, and Pinterest.
You May Also Like:
The 9 Best Thai Food Dishes
The Best Time to Visit Bangkok, Thailand
20 Countries Where You Can See the Japanese Cherry Blossoms
The Ultimate Asia Travel Guide
50 Fun & Interesting Facts About India You Should Know About
11 Sacred Attractions Around the World
The Best Ways To Travel From Bangkok To Phuket
3 Ways To Travel From Bangkok To Chiang Mai