Train from Bangkok to Chiang Mai scenery, or getting to Ella in Sri Lanka eating crispy dahl balls, train in South East Asia is a full-blown experience. What you see through a train window is incomparable to what you catch in the first and last 2 minutes of your flight or ferry, not talking about the sustainability of train travel. Here are the best train journeys you can take whilst in Asia.
When it comes to trains, there is little we can say to choose another transport mode. Trains are the most sustainable way to travel in a region, and you can get an authentic travel experience by travelling together with locals – after all, conversations only get interesting after a while.
Bangkok to Chiang Mai, Thailand
One of the most popular routes in Thailand is a train from Bangkok to Chiang Mai. Taking the night train is a special experience on its own in Asia, as sleeper trains and buses are one of the most popular for both locals and tourists. 
Both cities have some 680 kilometres (422 miles) away from each other, but travelling between the two isn't as difficult as you may think. The sleeper train takes around 13 hours and is comfortable for both first-class as well as second-class sleepers. 
Our tip? The night train Bangkok to Chiang Mai will not allow for much scenery to see in the evening, so make sure you sleep early and wake up in the early morning to catch the sunrise as you arrive into the hilly countryside of Northern Thailand.
Train Bangkok to Chiang Mai Tickets
If you are more into sleeping in a hotel in Bangkok and then taking a full-pledge scenic train ride for the day, then trains from Bangkok's Hua Lamphong Station run every day, also in the daytime. Third-class tickets are the cheapest, though the wooden benches can quickly become very uncomfortable and the carriages can be stuffy and crowded. Seats aren't allocated either. But what else you would want from an authentic solo travel experience, when you see locals all around, can strike some simple gesture-conversation or take amazing travel portraits during 15 hours or scenic ride.
Second-class seats (that can recline) are the next cheapest option. Tickets typically cost around 500 THB (approximately 15 USD) in a carriage with fans; air-conditioned carriages are a little more expensive, but to make the best value for your buck, you may just take a sleeper train and skip the hotel booking in Bangkok.
If you book a bunk in a train Bangkok to Chiang Mai as sleeper carriage, second-class bunks (in a fan carriage) cost around 800–1,000 THB (approximately 25–30 USD), but you have to pay a little more to get an air-conditioned carriage. The lower bunks are slightly more expensive, but at the same time have more space. At the first-class rooms, however, sleep four and these are lockable.
If you are a solo female traveller or take a gap year trip to Thailand, then there are carriages available solely for females and their young children. For those looking for accessibility, there are very few and selected trains which are wheelchair accessible. 
To buy train Bangkok to Chiang Mai tickets, you can go to any of the major train stations, through agents, and online. To make sure you get to one point to another, and does not lose you hotel booking in Chiang Mai, you should book a trip at least a day in advance of travel by train Bangkok to Chiang Mai to ensure you get the tickets you want.

Kandy to Ella, Sri Lanka
If you wish to experience the beautiful views of Sri Lankan Hill Country with all its tea plantations, you should definitely opt for a  train over a plane. Getting from Kandy to Ella, it will take around seven hours, but worry not about getting hungry on the train. There are many sellers offering fruit and snacks on the way.
Both cities have some 140 kilometres in between, and taking a train for around 7 to 8 hours is just enough to enjoy the scenic train ride without the hustle of booking a hotel in Sri Lanka.
The train was initially conceived by the British Colonial government in 1864 to transport tea and coffee. However, the mysterious fungus wiped out entire crops in Sri Lanka, so the coffee plantations were ruled out, and therefore, you only know Sri Lanka for its tea now.
For years, crates of tea were the primary passengers on this route, until people started to travel in the 1960s. Today, taking a train in Sri Lanka is one of the cheapest ways to travel around, and is vital for locals. 
Kandy to Ella Train Tickets
As for the types of tickets and where to book a ticket, you should rather opt for what's your aim on the seven-hour train ride. If you want to talk and experience the rough train ride with locals with chickens in cages, cats and dogs, and children playing around, go for the 3rd class! But if you desperately need some comfort on the ride, here are the other options.
The first-class tickets are reserved, but you should book them in advance to guarantee a seat. You will get a conditioned room, but these rooms have no open doors or windows to hang out and see the magnificent views, other than getting out of the room, hang out the window and try to strike a pose with other tourists around.
As for the second class, you may want to opt for this arrangement. There are options for unreserved and reserved seats, and for the first option, you have to get a train ticket on the day of the ride. You are also, therefore, not guaranteed to get a seat, but you may probably get a seat along the way.
If you do get a train ticket with a reserved seat, however, then the number of seats are constrained, and you would pay double the price of the unreserved one. Because there are only a limited number of seats, during the holiday season you can book a train ticket in advance. 
The third class is quite an experience. You will see everything you can imagine all around, from cats to dogs, to vegetables and chickens, but beware the smell. 3rd class tickets from Colombo – Kandy cost 10 LKR. That is not even worth the conversion…
Kandy to Ella Train Tips and Buying Advice
Some tips before you take the train is to not to take an overnight train, as you will miss the scenery, and sit on the right side of the train from Kandy to Ella, and the opposite on the opposite direction, from Nuwara Eliya to Ella. Also, make sure to charge your camera and bring a toilet or sanitizer, and, although taste some of the snacks offered. from fruits to 'wade wade,' a deliciously crispy fried balls of dhal, watering it down with a sweet cup of warm chai. 
Are there any more train journeys you absolutely must consider when in South East Asia?
Make sure you get on the train from Hue to Da Nang in Vietnam, and Alishan Forest Railway in Taiwan, as well as Goa to Londa in India – and read about it on our next article.
Ready for a train ride? Make sure to follow us on Instagram, Facebook and Pinterest to keep up to date with travel news!
Share this on Pinterest: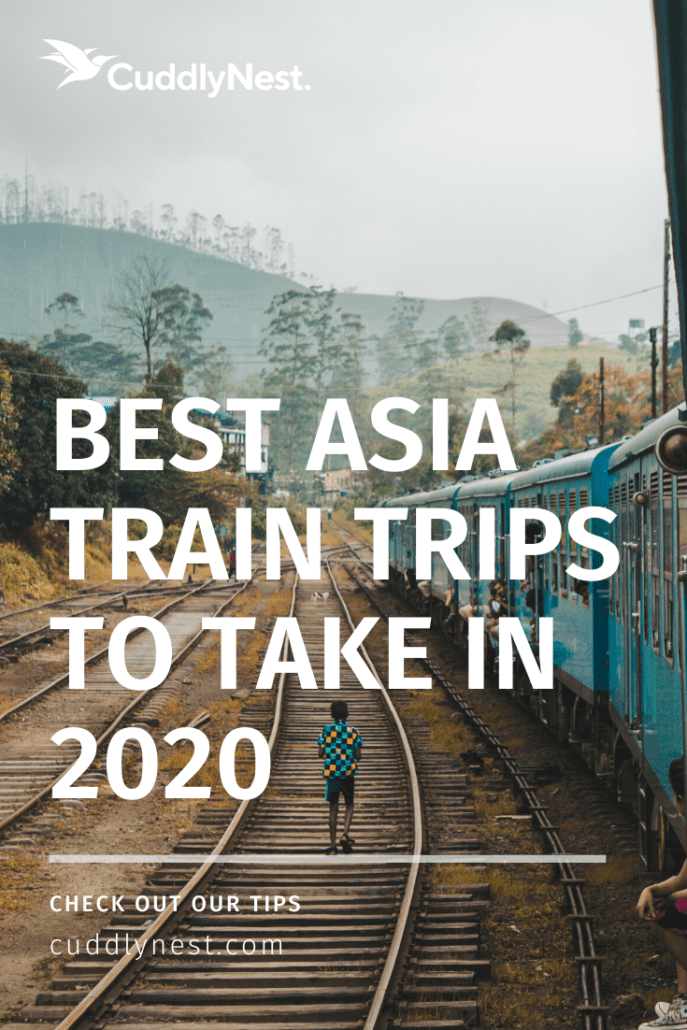 https://www.cuddlynest.com/blog/wp-content/uploads/2019/11/Blog-covers-3.jpg
894
1700
2019-11-04 10:06:39
2019-11-21 14:55:26
The Most Incredible Train Journeys to Take in South East Asia