In the Flathead National Forest, opportunities abound for all to bask in the wonders of Mother Nature 365 days a year. Located in Northwest Montana near the Canadian border, this achingly beautiful national forest is home to a vast natural wonderland that encompasses untouched wilderness areas, dramatic mountain ranges, glittering lakes, and wild rivers.
Tried-and-true activities popular among visitors of the Flathead National Forest include hiking, skiing, whitewater rafting, and scenic driving. The forest is also inhabited by approximately 250 species of animals, including the bald eagle, wolverine, elk, porcupine, bighorn sheep, and white-tailed deer, making it a prime spot for wildlife viewing.
Revered for its natural splendor, Flathead is the go-to destination for trailblazers seeking to flee the crowds and frolic in wide-open green expanses. If this sounds like the perfect setting for your next adventure, you've come to the right place.
We've created a comprehensive guide covering all the information you need to know before exploring this alluring forest. Read on to discover when to visit it, how to reach the place, and the top activities to try there.
Where is it Located
The Flathead National Forest is located in the Rocky Mountains of Northwest Montana. It's bordered by the Canadian border, the Glacier National Park to the north, the Lewis and Clark National Forest and Glacier to the east, the Lolo National Forest to the south, and the Kootenai National Forest to the west.
The forest covers 2,404,935 acres of which about 1 million acres are designated wilderness. It is named after the Flathead Native Americans who live in the area.
The Best Time To Visit The Flathead National Forest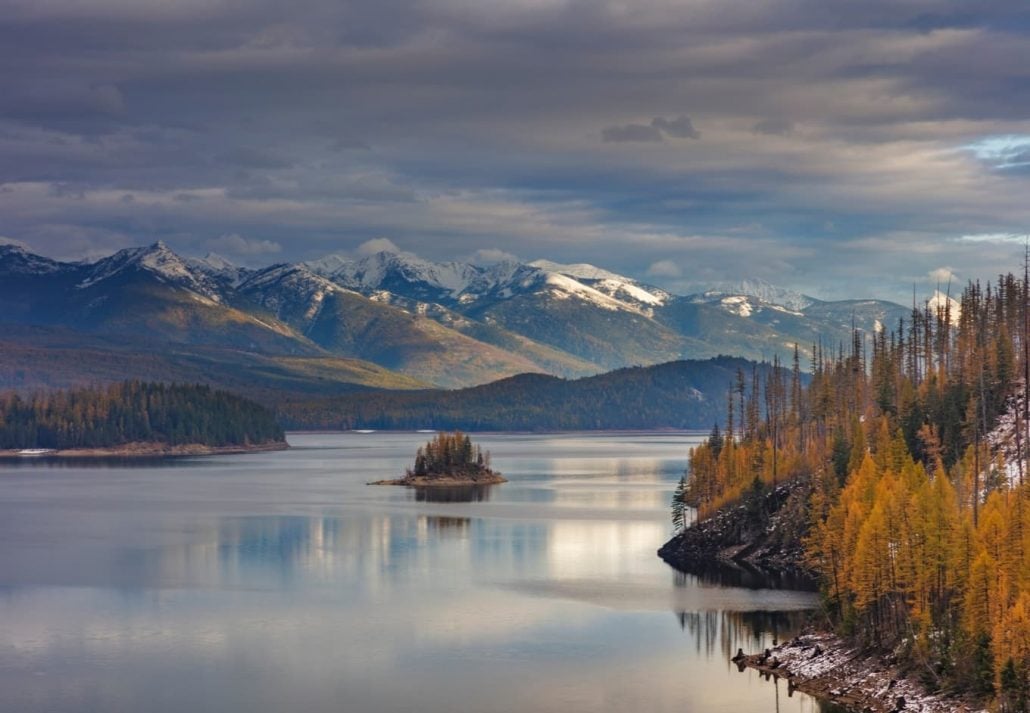 The Flathead National Forest is a year-round destination, with every season offering its own set of recreation opportunities.
While winter is a great time to hit the slopes and enjoy a variety of snow sports like skiing and snowboarding, fall, spring and summer are ideal for indulging in outdoor activities such as hiking, swimming, and boating.
Why Visit It
Adventure lies around every corner in Flathead. Known for its breathtaking beauty, the forest offers visitors the opportunity to enjoy nature in a unique and exciting way.
There, three rugged wilderness areas (Bob Marshall Wilderness Area, Great Bear Wilderness Area, and Mission Mountains Wilderness Area), several trails, mountains lakes, and free-flowing rivers design the most beautiful scenery for enjoying a variety of activities.
The allure of this sprawling forest can be explored through 2,000 miles of hiking trails, and 1,700 miles of roads, which reward adventurers with the most spectacular views of the Flathead's bountiful wilderness.
Aside from hiking and driving, visitors can also enjoy an array of pulse-pounding activities that will certainly get their hearts racing. The forest is home to several designated ski areas, where it's possible to indulge in fun-filled winter sports, as well as a number of lakes, rivers, and streams that are simply perfect for boating and whitewater rafting.
And there are gentler options, too! Wildlife viewing is one of the top activities in the forest, which is home to a dazzling array of animal species such as grizzly bears, wolverines, beavers, elks, porcupines, cougars, moose, bobcats, white-tailed deers, coyotes, spotted bears, and more.
Top 7 Things To Do In The Flathead National Forest
Hiking
Home to 2,160 miles of trails, the Flathead Forest is the perfect place for hiking. Don't miss the opportunity to explore the Jewel Basin Hiking Area, a 15,000-acre wilderness region reserved specifically for travel by foot and camping. One of the most popular hikes in Jewel Basin is the 0.8 miles long Birch Lake Trail, which offers hikers the chance to see wildflower meadows, Alpine lakes, and even mountain goats. 
Jewel Basin also boasts over 20 lakes that provide fishing opportunities.
Another bucket list hike in the Flathead Forest is Alpine Big Hawk Trail. This 1.6-mile-long out-and-back trail is moderate to challenging and takes adventures by a lake located near Hungry Horse, Montana.
The Bob Marshall Wilderness, which is the third largest wilderness complex in the lower 48 states, is another prime area for hiking in Flathead. One of the most popular hiking trails here is the Continental Divide Trail, which leads its way to the Chinese Wall, a massive escarpment stone slice touching skies.
Water Activities
Plan on visiting the forest during the summertime? Then cool off the heat by exploring the local lakes and rivers. The Flathead National Forest encompasses the Three Forks of the Flathead River, which include the North Fork, Middle Fork, and South Fork. These 3 waterways are perfect for floating excursions, as well as whitewater rafting, canoeing, floating, and fishing. 
The Flathead National Forest also has a number of lakes, such as Swan Lake, that are ideal for canoeing. Many lakes have boat launches, docks, and camping nearby.
Hungry Horse Dam and Reservoir is another must-discover feature of Flathead National Forest. This massive water body is fed by the South Fork of the Flathead River and is known for its enchanting scenery. The reservoir is also popular for water activities like fishing and boating. Open daily from May – September, the Hungry Horse Dam Visitor Center offers free guided tours of the dam.
Nature Viewing
Inhabited by an abundance of animals and plant species, the epic wilderness areas of the Flathead National Forest are perfect for nature viewing. Big-game species found in the area include spotted bear, elk, moose, big horn sheep, mule and whitetail deer, and Rocky Mountain goat. Along the trails, it's also possible to spot a variety of songbirds, hawks, eagles, and owls. Of course, visitors are encouraged to maintain a fair distance between themselves and the wild creatures that inhabit the forest.
Winter Activities
Winter sports are one of the preferred activities for adventurers visiting the Flathead National Forest. The site is home to world-class ski areas such as the Blacktail Mountain Ski Area, which is located above the community of Lakeside and offers 1000 skiable acres. There's also the Whitefish Mountain Resort, on Big Mountain, offering 3000 skiable acres.
The forest also provides 157 miles of designated snowmobile trails, thousands of acres of open play areas, groomed cross-country ski trails, as well as frozen lakes, and snow-covered trails that are ideal for snowshoeing.
Camping
Those who are seeking an immersive nature experience can take the opportunity to camp in the forest. The Flathead National Forest also has 31 campgrounds with facilities such as fire rings, picnic tables, and vault toilets. Camping throughout the Forest is allowed and can give a one-of-kind camping experience.
Located shores of an Alpine lake, near the village of Swan Lake, and at the north end of the scenic Swan Valley, the Swan Lake Campground is one of the forest's top areas for camping, as it's beautifully surrounded by dense conifer forest and the craggy, snow-covered peaks of the Swan Mountain Range.
Scenic Driving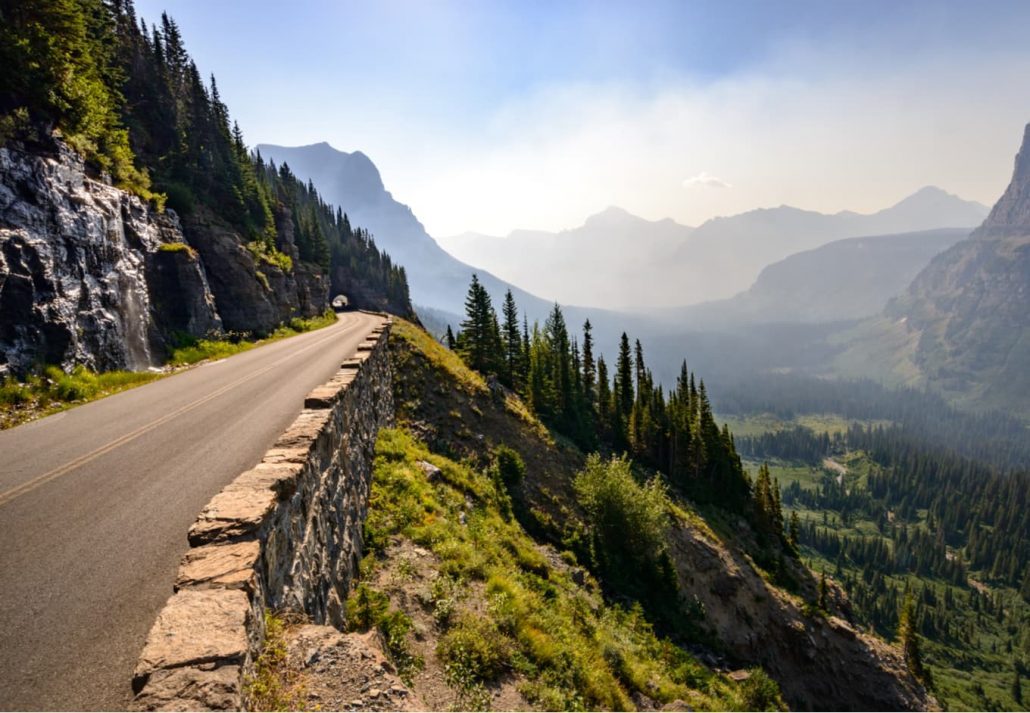 Going for a scenic drive is an unparalleled way of taking in the forest's beauty. There are thousands of miles of roads (paved or gravel), which will lead you to uncover dreamy forests, freshwater lakes, and rugged mountain scenery.
Some bucket-list scenic drives include the east and west side of the Hungry Horse Reservoir, Logan Creek, Good Creek, Big Mountain Road, and the North Fork Road.
One of the most breathtaking drives in the park is, unarguably, the Seeley-Swan drive. This 90-mile-long corridor along Highway 83 stretches through the Swan Valley from Seeley Lake to Swan Lake, and spoils travelers with views of natural lakes, and heavily forest valleys, as well as abundant opportunities for outdoor recreation — from boating to fishing.
Staying Overnight in the Forest Service Cabins
If you want to stay overnight in the forest, but are not a fan of camping, book one of the cabins that are available for overnight stays. The Flathead National Forest has 14 cabins ranging in size and accommodations, all including electric or wood stoves for cooking and heating.
Cabins provide a comfy space for those seeking to pamper and relax after a long day of adventuring into the forest.
6 Tips For Visiting The Flathead National Forest
The Flathead National Forest is home to both grizzly and black bears. Since this is a bear country, bear spray is always a good idea to take along the hikes;
Be sure you check with the Forest Service to determine whether you have all the necessary permits and passes;
If you plan on camping away from a designated campsite, please research that area beforehand and follow all posted rules and regulations during your stay;
Avoid going out alone into the wild;
Store your food in a bear-safe container;
Be sure to reserve your cabins in advance on the recreation.gov website.
FAQ:
Can you drive through Flathead National Forest?
Yes. The forest has 1,700 miles of roads that can be driven through.
Do I need a pass for Flathead National Forest?
Passes are necessary for most of their recreation sites.
What animals are in Flathead National Forest?
The forest is home to approximately 250 species of wildlife, including the bald eagle, wolverine, beaver, elk, porcupine, cougar, moose, bobcat, white-tailed deer, coyote, grizzly bear, timber wolf, two species of fox, and mountain goat.
Can you camp anywhere in Flathead National Forest?
Dispersed camping is free, and permitted almost everywhere in the Flathead National Forest.
Are dogs allowed in Flathead National Forest?
Yes. Dogs are welcome in the Flathead National Forest.
CuddlyNest provides all accommodations to all travelers at the best price. Find unlimited travel inspiration on our blog and social media channels.
You Might Also Like:
The 15 Best National Parks In The World
Best North America Mountains
10 Oldest National Parks In The United States
Best North America Mountains
Best Colorado Ski Resorts
The 6 Best Waterfall Hikes in Rocky Mountain National Park