India is the land of wonders, or as Mark Twain put it, "an imaginary land — a fairyland". This fascinating country is known worldwide for its vibrant culture, breathtaking arts, and extreme diversity. Read on to learn more about these wonders, and to dive deep into the most amazing facts about India in the culture, science, and art spheres.
Keep reading to learn cool things about India!
What is India known for?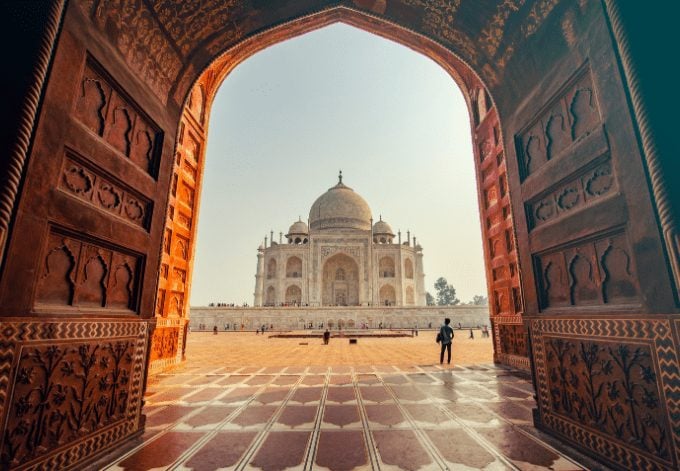 India is known as the second most populated country in the world, the film industry and Bollywood, an old and outstanding train network, and its colorful celebrations and festivals, the beautiful Taj Mahal, and weird post offices, among many other things. Did you know, for example, that the Arabic numbers have originated in India?
Quick India Fun Facts
| | |
| --- | --- |
| Capital | New Delhi |
| Official Language | Hindi |
| Country Code | +91 |
| Currency | Indian rupee (INR) |
| Time Zone | IST |
| Flag | |
| Population | 1.366 billion (2019) |
| Location | Asia |
| Area | 1,269,219 sq mi |
| Neighboring countries | China, Bhutan, Nepal, Pakistan, Bangladesh, Myanmar. |
| Anthem | "Jana Gana Mana" |
Fun Facts About India
As you see, there are plenty of interesting facts about India already, and the country is a never-ending wonderland for those seeking knowledge of different cultures and keen to look at the world from a different standpoint. Not only India is the second-largest population in the world, but it is also projected to overtake China in forty years to have the world's largest population.
India's History
Fact about India 1. India was never invaded by any other country in the last 100000 years of history.
Fact about India 2. The name "India" was derived from the River Indus, valleys home to the early settlers. The Aryans referred to River Indus as Sindhu. Only later, Persian invaders converted it to Hindu. "Hindustan" refers to the area of Hindus, combining "Sindhu" and "Hindu".
Fact about India 3. One of the most well-known Hindu people, today is Mahatma Gandhi. In full name Mohandas Karamchand Gandhi, he was a political ethicist who campaigned against British rule in India in a non-violent way. Interestingly, the honorific Mah'atm'a means "great-souled" in Sanskrit. Mahatma Gandhi has also led nationwide campaigns for easing poverty and expanding women's rights. If you want to learn more about India's independence movement, read about Rajendra Prasad.
Fact about India 4. India became an independent nation in 1947, and independence day is celebrated on August 15 each year. The occasion is marked with grand festivities, with the prime minister and the president delivering a speech.
Fact about India 5. India has the world's largest diaspora at 18 million. Over 18 million Hindus live around the world outside India, and most of them live in the United Arab Emirates, the United States of America, and Saudi Arabia.
Fact about India 6. Indians are not peoples of India. Hindus are. When Columbus first met natives of what he thought was India (and was actually America) on his first voyage in 1493, he described them as "timid and full of fear," but these were not Hindus of India that he met.
Fact about India 7. The oldest city of India is Varanasi (Banaras once), which was once famous for its muslin and silk fabrics, perfumes, ivory works. Moreover, Buddha is believed to have founded Buddhism there by his first lecture "The Setting in Motion of the Wheel of Dharma".
Fact about India 8. The Indian rupee is one of the most popular currencies in the world. After independence, Pakistan used Indian rupees stamped with "Pakistan" until it could print its own.
Fact about India 9. Algebra originated in India. Al-Khwarizmi is the father of albegra in India. He was the founder of Bījagaṇita, the "mathematics by means of seeds," medieval Indian mathematics. The other branch of medieval mathematics was "mathematics by means of algorithms" to pāṭīigaṇita. Indian mathematics contributed to the concept of zero as a number, negative numbers, arithmetic, and algebra.
Fact about India 10. Trigonometry and Calculus also originated in India
Fact about India 11. India has the world's largest democratic educational ecosystem.
India's Geography, Monuments & Cities
Fact About India 12. India has the largest number of post offices in the world. There is even a floating post office in Jammu and Kashmir on the Dal Lake in Srinagar, the first and only one in the country. Besides normal postal services of the post office, the place is also a philately museum and a shop for postage stamps and other prodi=icts
Fact about India 13. Chenab Bridge is the highest rail bridge in the world. Thus, not all of the famous monuments in India are religious. The jaw-dropping bridge over Chanbu river in Jammy is 1.178 feet above the water. India's rail network compromises more than 40,000 miles, making it one of the world's largest rail networks. The 162-year-old system allows for 11,000 trains to run daily. You should definitely take a ride on Indian railways!
Fact about India 14. There is a Temple of Rats in Rajasthan. Although rats are not as widely worshipped as cows in India, there is a temple in Rajasthan dedicated to rats. Many pilgrims visit this temple and the city on their religious journeys year-round.
Fact about India 15. Interestingly, New Delhi is indeed new, less than 100 years old. The city was established in 1911 and inaugurated only in 1931. The part of the capital city of Delhi, New Delhi is famous for its gardens and botanical houses. The Garden of Fice Senses, the Lodi Gardens, the Buddha Jayanti Park, and Nehru Park are some of the gardens that make New Delhi famous.
Fact about India 16. There are 28 states and 8 union territories in India. When Indians go from state to state, they sometimes have to speak in a different language.
Fact about India 17. The town of Jaipur is home to the world's largest sundial, which is 90 feet tall. The sundial has been listed as a UNESCO World Heritage Site.
Fact about India 18. The Golden Temple of Amritsar is the most visited place in the world, according to the World Book of Records.
India's Culture
Fact about India 19. The Indian population is the second-largest in the world, with India being the largest English-speaking country on Earth.
Fact about India 20. There are more people in India than in the entire Western Hemisphere of Earth!
Fact about India 21. There are 22 official languages in India. The EIght Schedule of Constitution consists of Assamese, Bengali, Gujarati, Hindi, Kannada, Kashmiri, Konkani, Malayalam, Manipuri, Marathi, Nepali, Oriya, Punjabi, Sanskrit, Sindhi, Tamil, Telugu, Urdu, Bodo, Santhali, Maithili, and Dogri languages.
Fact about India 22. Cows are considered sacred in India. It is a rule of thumb that cows are sacred in India, as they are such to Hindus who make 80 percent of India's population. Its horns symbolize the gods, its four legs, the ancient Hindu scriptures or the "Vedas" and its udder, the four objectives of life, including material wealth, desire, righteousness, and salvation.
Fact about India 23. India is the only country to win all three types of Cricket World Cups – 60 overs, 50 overs, and 20 overs. Cricket is one of the most important attractions. The sport was brought there by the British.
Fact about India 24. In the 2010 Commonwealth Games, India won over 100 medals in total for the first time in the history of the Games. In the Olympic Games, India has the most luck in hockey.
Fact about India 25. India has over 300,000 mosques and over 2 million Hindu temples. These religious buildings range from small temples – as the smallest temple in India Mundeshwari Temple in Bihar – to the grand Taj Mahal.
Fact about India 26. You may know the Taj Mahal already, the white mausoleum emperor dedicated to his wife after her death. Taj Mahal is one of the most significant Mughal Empire architectural marvels, and it took 22,000 laborers, painters, stonecutters, and embroidery artists to make the temple stand as it does today. It took 17 years to complete the temple, and all the materials needed for the Taj Mahal were transported with 1000 elephants.
Fact about India 27. The world's largest Hinduism pilgrimage festival Kumbh Mela happens in India. It is so large that one can even see the gathering from space! It is celebrated in a cycle of approximately 12 years at four river-bank pilgrimage sites and marked by a ritual dip in waters. Kumbh Mela is also a celebration of community commerce with fairs, education, religious discourses with saints, and spectacles.
Fact about India 28. The world's highest cricket ground is in Chail, Himachal Pradesh. Built in 1893 after leveling a hilltop, this cricket pitch is 2444 meters above sea level.
Fact about India 29. Freddie Mercury and his family identified as Indian Parsi. Freddie's father was born in British-ruled India.
Fact about India 30. The Snakes-ladders board game, originally known as Moksha Patam, is an ancient Indian board game today regarded as a worldwide classic. The game shares the joy of climbing up the ladders and feat from stepping on the snake and is therefore reliant on the lucky hand.
Fact about India 31. The world's biggest family is from India. Made up of 39 wives, 94 children, and 33 grandchildren, the family lives in a 100-room, four-story house set amidst the hills of Baktwang village.
Fact about India 32. The Indian national Kabaddi team has won all the Kabaddi World Cups that have ever been held.
Fact about India 33. Bollywood is the world's largest producer of films, surpassing Nollywood (Nigerian cinema) and even Hollywood.
Fact about India 34. The national anthem was written by Rabindranath Tagore and first sung in a rally at Kolkata.
Fact about India 35. The caste system is still in place in India today.
India's Food
Fact about India 36. Indian food is full of spices, and the cook's reputation is based on their curry, but not all the dishes in the Indian food spectrum are spicy.
Fact about India 37. Chai is an ancient drink, whose proper name is masala chai. Traditionally, it requires a bit of sweetness and is lower in caffeine than coffee.
Fact about India 38. In India, women eat the last and the least, but the balance has been shifting since the 1950s when women have come out from home to the workspace.
Fact about India 39. India is home to the roots of the world's most spicy pepper Carline Reaper. which is cultivated from Naga Morich. Bhut Jolokia and Trinidad scorpion. All three Indian peppers find their home in North East India.
Fact about India 40. The country is the world's largest milk producer, with 22 percent of global production.
Fact about India 41. London has more Indian restaurants than Mumbai or Delhi.
India's Great Outdoors
Fact about India 42. An interesting fact about India is that the country is the wettest inhabited place on earth. Meghalaya village won the Guinness record as the wettest place on the Earth. The monsoon season lasts six months here with 11,873 millimeters of annual rainfall.
Fact about India 43. The Bengal tiger also called the Indian tiger, is the most common tiger. The most interesting fact, however, is that Bengal tiger species individuals make half of all wild tigers!
Fact about India 44. The endangered Bengal Tiger is also the national symbol of India.
Fact about India 45. India has the highest population of sheep in the world (75,000,000).
Fact about India 46. North Sentinel Island is an island in India whh=ihc is inhabited by an indigenous population, the Sentinelese, in voluntary isolation. India has banned its citizens from going to North Sentinel Island, and going within three miles of the island is illegal. Moreover, the indigenous population is known for their violence and unwillingness to communicate.
Fact about India 47. One of the holiest rivers of India, the Ganges, according to Hindu legend was unleashed from the knot of Shiva's hair.
Fact about India 48. There are seven major mountains in India, with the most popular being Himalayas. It is also because of the Himalayas that India has its specific climate – their high altitude, length, and direction cause summer monsoons to cause rain or snow.
Fact about India 49. Incredible India is situated in the Indian subcontinent of Asia and has a specific climate and ecosystems different from Southeast Asia or Central Asia.
Fact about India 50. Last fun fact about India: On Monday 11th July 2016, the country planted nearly 50 million trees in 24 hours setting a new Guinness World Record!
Browse. Book. Stay.
CuddlyNest provides all accommodations to all travelers at the best price. Find unlimited inspiration for your next trip on our blog and social media channels.
Here Are Some Curated Readings For You:
Best India Destinations According To Your Zodiac Sign
The Ultimate Asia Travel Guide