Asia, the largest and most populous continent in the world, gathers a vivid history since the first civilizations in the region in 2500 BC. Since the ancient Chinese, ancient Indians, and Babylonians, there has been a lot of change since those times, and today, when visiting Asia, you can follow not only the Silk Road, or sail down the Mekong River following the old-time trade routes but also visit some of the cutting-edge cities in the world, like Tokyo, Singapore, and others, enjoying such wonders as hotels stuffed with robots, and the whole districts dedicated for video games.
Quick Facts About Asia
Largest Country
China

Smallest Country

Maldives

Largest City

Chongqing (Asia)

Number Of Countries

48

Highest Point

Mount Everest

Population

4,673

billion

Total Area

17,212,000 sq mi
UNESCO Heritage Sites
41+
Top 5 Reasons to Travel to Asia
It is one of the largest and most diverse world parts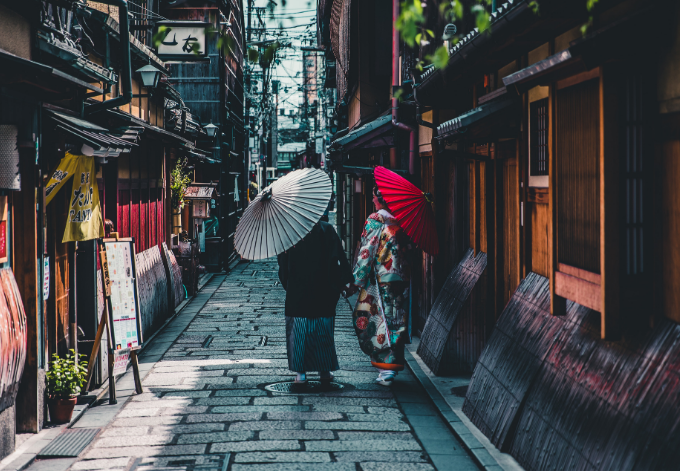 Asia, stretching from West Asia to East Asia, being home to more than half of the world's population of 4.561 billion people, one may say, has it all. From brutally cold winters in Siberia to dry and tropical dry season in equatorial Indonesia; from the spicy Indian Pork Vindaloo to the mild Thai Khao Pad, and from Tuvan throat singing in Mongolia to K-pop in South Korea, the region is a golden mine for those who want to explore the diversity of cultures, ideas, and beliefs. Read on the Asia travel guide to learn more about Asia travel.
It is the birthplace of three of the grandest ancient civilizations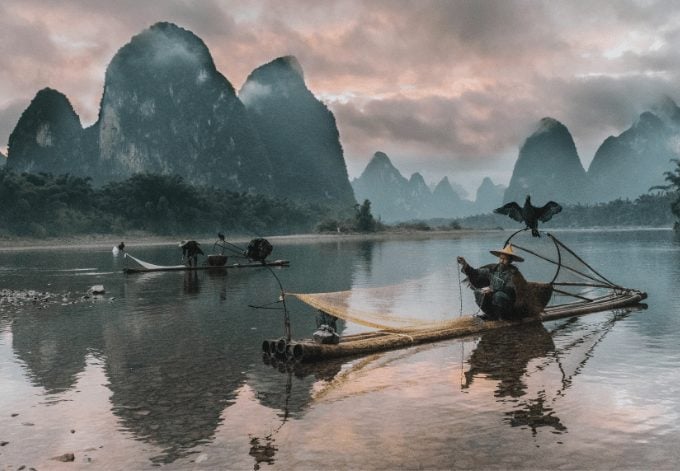 Being home to some of the world's grandest ancient civilizations, like ancient China, ancient India, and Babylon, the region truly has loads of affordable travel destinations to explore the Ancient cultures. From Babylon heritage in Iraq, West Asia, to China and India, the heritage of these ancient civilizations reminds of itself almost anywhere you step your foot. You do not have to visit the Great Wall of China to feel the millennia-old culture; a mere look at Chinese pictographic characters for writing, tea houses, and shopping in Guangzhou Jade Market will remind you of the ancient Chinese preferences. In a similar style, India's contributions you see in today's everyday life, like mathematics, metaphysics, religion, and astronomy, have an ongoing impact on the world today and beyond.
Read more about tea traditions in Japan.
It is affordable and perfect for backpacking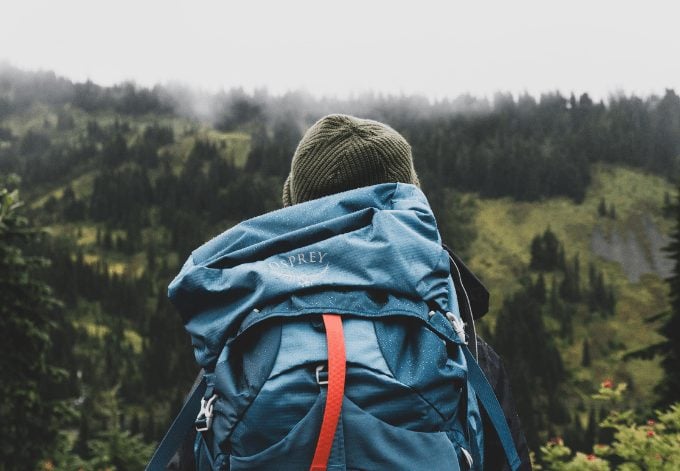 Although affordability does not apply to all the countries in Asia (you will have to plan and stick to your budget when going to Singapore, Japan, and Brunei, for example), backpacking is almost always the best way to go. Not only can you be highly mobile taking trains and night buses on the rolling hills, floating in the boats on the turquoise blue bays, and connecting with other backpackers in hostels; you can also enjoy your vacation with some of the most amazing experiences on a budget.
It has some of the largest cities in the world for urban travelers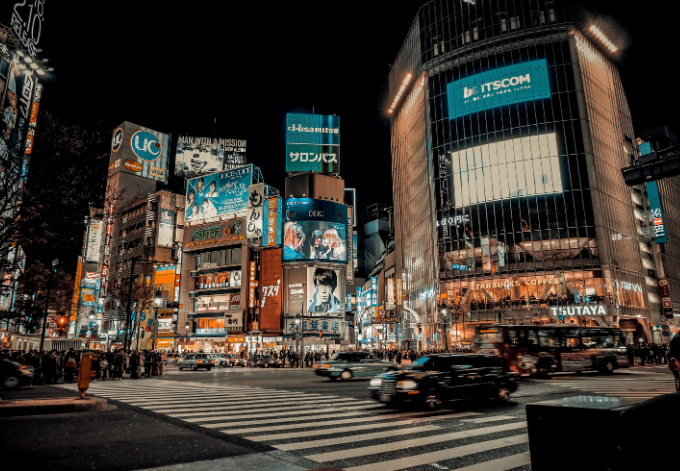 Are you more of an anime and manga person than one who seeks spirituality in the wilderness of the Himalayas? Asia's largest cities are home to not only world heritage sites. Tokyo, Delhi, and Shanghai are among the largest cities in the world, and those who love city weekend getaways will adore going to the busy streets of these cities. Backpacking your way through Tokyo's great tea houses, Delhi's bustling Khan, and Shanghai's own water-town Zhujiajiao, the cities in Asia mixes ancient with the modern cultural scene, luring travelers with modern lifestyles set against some of the world's grandest temples and history.
It is well connected and great to travel by public transport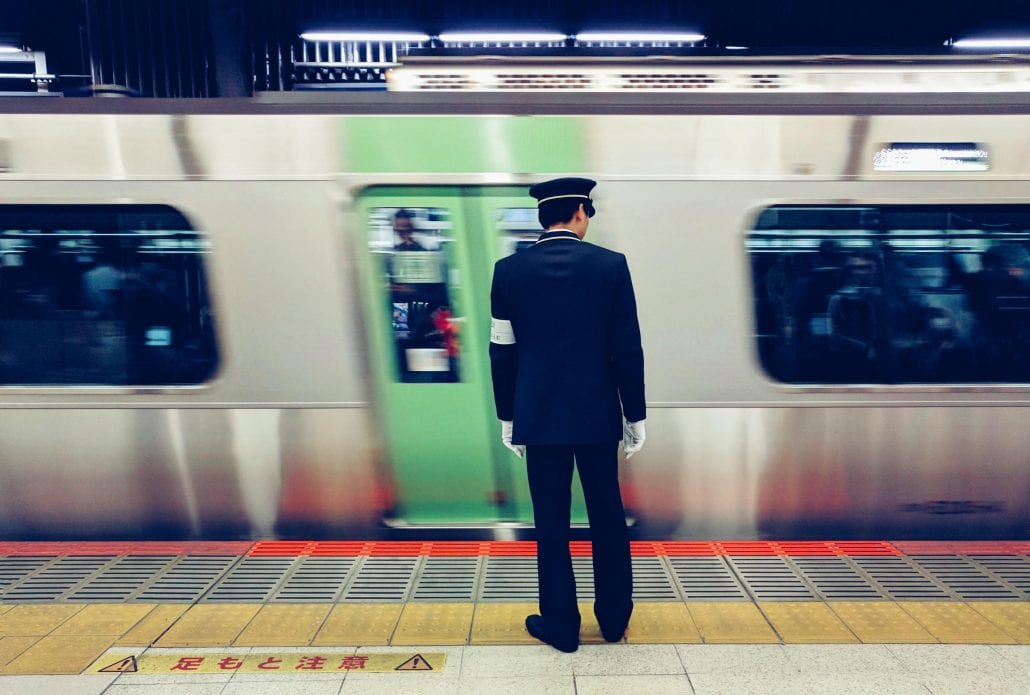 If you plan to travel to Asia, there are probably several items on your destination bucket list. The good news is, navigating this part of the world is fairly simple – you can get from place to place by well-interconnected colonial time railways in India, comfortable and cheap inter-state night buses, and plan a day trip from a destination in one country to a heritage site in another with ease. As more and more people chose to travel by air, the local flights are getting popular.
Learn more about the best train trips to take in Asia.
Best Time to Travel to Asia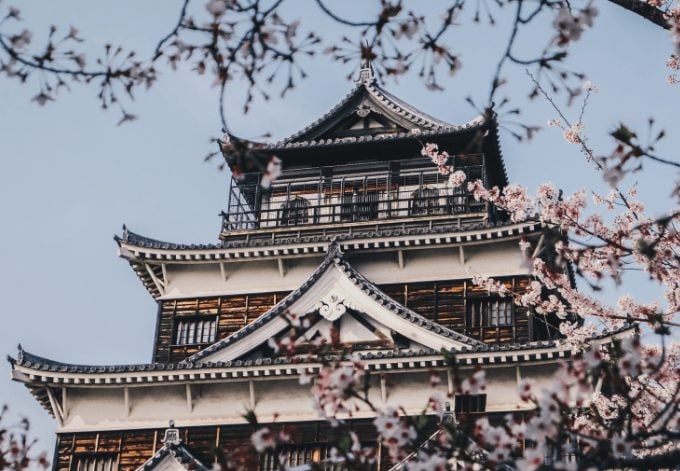 The best time to travel to Asia varies by the climate, so we suggest looking up the country you are interested to travel to specifically. However, the rule of thumb is that the best time to visit countries lying around the equator is from April to October, in the dry season. If you are planning to visit Northern Asia, then aiming for mild and short springtime would be the best – choose March to travel to Siberia, for example, and avoid the brutally cold winters and boiling hot summers.
If you seek to attend some of the greatest traditional cultural festivals in Asia, seek your guidance in religious holidays, as these are widely celebrated still today. Hindus in India, Nepal, and other countries celebrate Holi in spring, Vietnamese, Chinese, and other country nationals celebrate Chinese New Year between January and February, while Tsagaan Sar, the White Moon Festival, is the largest nomad festival marking the new year celebrated by Mongolian and some Turkic tribes.
Asia Travel Guide: Best Destinations
Although some destinations, like Indonesia, Vietnam, or Cambodia has grown inseparable of the ultimate Asia travel guide or bucket list for most travelers, particularly due to the affordable travel destinations with beautiful beaches, warm and sunny climate, and hospitable people, the nomadic and wild Central Asia destinations have been rather neglected. So, let's jump straight into the As travel destination guide and start with some of the most offbeat countries in Asia.
Mongolia | Central Asia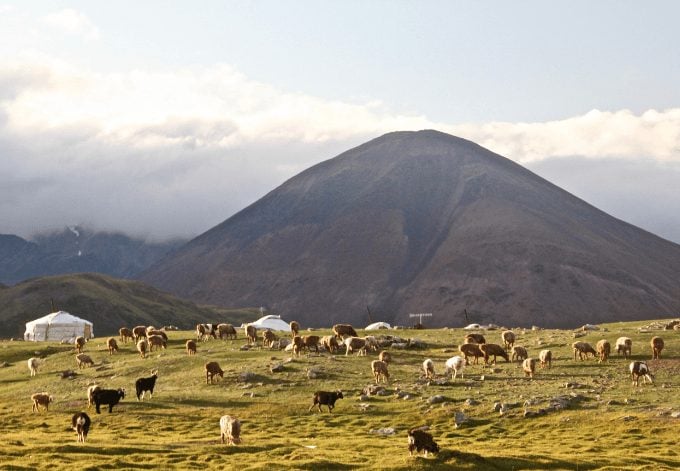 Mongolia is a land of wilderness and land of wilderness. It is the melting pot of shamanism, Buddhist beliefs, and nomadic values and traditions. In cities, you may be amazed by etiquette rules, such as to never walk in front of an elderly person or never touch another person's hat, while when visiting the great Gobi Desert and Mongolian–Manchurian grasslands, you may want to keep in mind that fire is sacred, and one shall never put water on a fire, or step on fire.
Being open to learning about shamanic and nomadic customs, visiting Karakorum, the ancient city between the green hills and stony ridges of the Orkhon Valley, with ruined gree silos and stone turtles, and Altai Tavan Bogd National Park, which borders Kazakhstan, Russia, and China. You can watch eagle hunters do their thing in the low-lying plains, taste traditional cooked and steamed dumplings with shredded beef or lamb, and shoesole cookies filled with sugar or cream.
Turkmenistan | Central Asia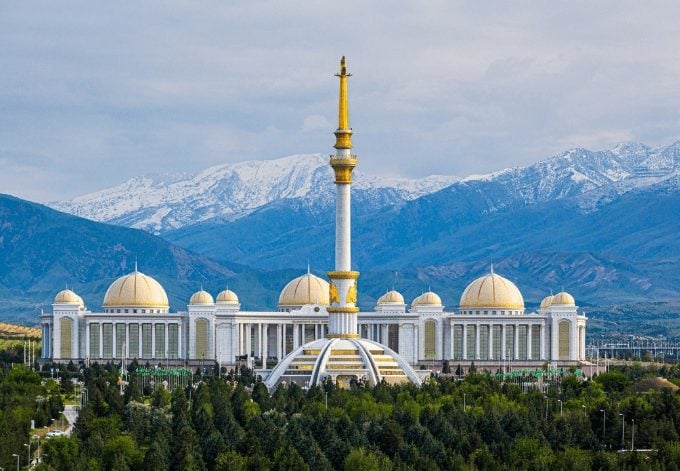 Turkmenistan has a couple of gem-like destinations you should visit in a lifetime. It is in present-day Turkmenistan where Merv, one of the world cities, before it was destroyed by the Mongolian empire, is located, lying in between Afghan highlands and the Karakum Desert. While in Turkmenistan, you can visit the Gates of Hell, a fiery crater burning for the last 40 years, with its fiery glow being noticeable from miles around. All in all, Turkmenistan is a beautiful place to visit for the nature enthusiasts who value scenic landscapes and wish to capture the feel of untouched nature. Add Köw Ata Underground Lake, Yangykala Canyon, and Kyrk Gyz Cave to the list.
When navigating Turkmenistan, travel destination guides could be useful here, taking you around the country and uncovering the legends and history of Turkmenistan, especially if you don't speak Turkmen or Russian. The best time to visit the country is spring (March-May) or fall (September – November). If you wish to experience some of the traditional festivities, visit Turkmenistan in March during Novruz, with food stalls, lights, rides, noise, and general merriness in the air.
China | East Asia
Being the world's most populous country, and the largest of all Asian countries, China has the greatest contrast in temperature between its northern and southern borders. Just like it has the highest and one of the lowest places on Earth, that is, Mount Everest running through China's border with Nepal, and Ayding Lake 150 below sea level, coated with salt crystals and known for extreme sports, China also has one of the most diverse cultures. There are almost 300 living languages in China today, and the diversity of tongues are well reflected in the diversity of the architecture, peoples, and foods around the country.
Even in Shanghai, one of China's most diverse cities, the range of cultures, tastes and likes and dislikes is easily seen when exploring the restaurant menus. The spicy Hunan and Sichuan, Cantonese barbecue pork, and North China specialties along the sweet Shanghai foods are widely available in the restaurants. You can listen to Northeastern Manchu music dominated by percussions, or the deeply religious Sichuan music played by Daoist priests, along with the traditional Chinese theatre, the Chinese opera.
When traveling to China, visit Shanghai, known for its Lujiazui skyline, museums and historic buildings, along with Beijing, where you can see the Forbidden City, the palace complex built in the fifteenth century. If you wish to explore the more traditional and offbeat Chinese cultures, visit Dunhuang and Jiayuguan at the intersection of two key Silk Road routes, and Huizhou villages in the northern Jiangxi.
South Korea | East Asia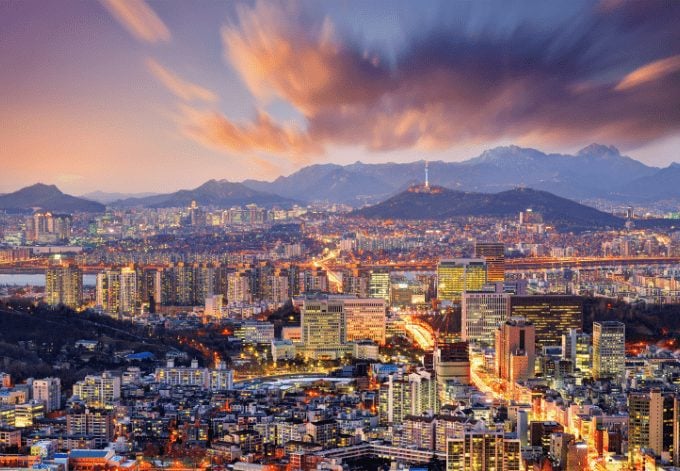 Since being split from North Korea in 1945, South Korea has developed into a cutting-edge travel destination. Quirky experiences, as sipping coffee while petting a Rocket on your own in Seoul, to visiting Owl Museum where you can see art inspired by owls and walking blocks in the Myeong-dong commercial tourist area. Go to karaoke bar here, and eat some grilled chicken with beer and kimchi, and try the large diversity of macarons. What else is there for a sweet tooth? Try the sweet potato latte, made from steamed or roasted sweet potato, milk, and sugar.
Korea, Asia, travel guide, is nothing without some of South Korean K-pop festivals. If you go to South Korea in summer, keep an eye on Boryeong Mud Festival dates, and go to Jeju island for a fresh breath by the ultra-fast KTX train.
Japan | East Asia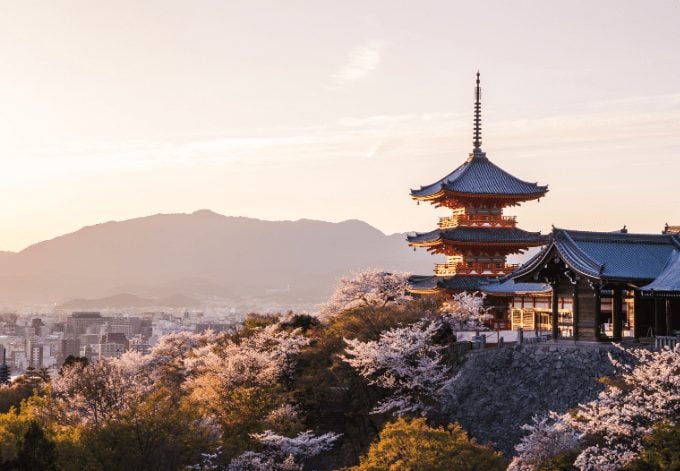 Japan, is probably among the safest of the countries in Asia, making it a great choice for a family vacation trip with children. Japanese children are perfectly safe taking buses and subway trains alone, and visitors can walk around at night without having to worry.
If you are interested in Japanese modern culture, then Tokyo's kawaii cuteness brings up associations with youth and coolness – and indeed, you can see the Japanese cat on every corner and bus, a Hello Kitty Matcha Cream Anmitsu almost in any cafe, and konpeito (sugar candy) in any souvenir shop. In Tokyo, you can drop by the Harajuku video game district, and on the way, use all sorts of technological advances that have not reached other countries yet. Love all things automatic? Have dinner at the Robot Restaurant to see where we are heading in the future.
If cuteness is not your thing, consider visiting Mount Fuji, one of Japan's three sacred mountains and a pilgrimage site for centuries. If staying in the boundaries of the city, pay a trip to Tokyo's morning fish market to taste fresh sushi, and visit a Kantoku-tei tea house between the ancient trees of the historic Koishikawa Korakuen Gardens to experience the traditional Japanese tea ceremony.
India | South Asia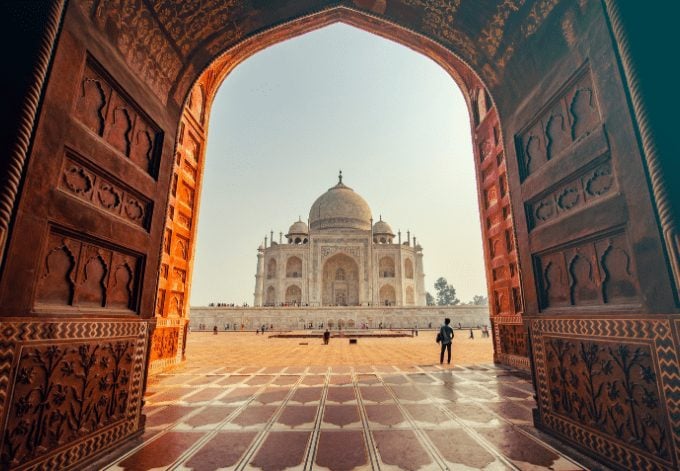 Visiting India, the country where cows are protected in Constitution, and rats has their own temple in Rajasthan, is (you guessed it!) an unforgettable experience. While you should definitely see one of the oldest and largest cities in the world, Delhi, which encompasses both world-class events, such as The New Delhi World Book Fair (the second-largest exhibition of books in the world) in the middle of the "Book Capital" of India, as well as the traditional festivities, such as Diwali (the Festival of Lights) and Holi (the festival of colors), Indian cities and countryside spans far beyond its capital.
With 300,000 mosques and over 2 million Hindu temples, among them the famous Taj Mahal, the highest rail bridge in the world, and the Himalayas, India is a destination where the soothing Buddhist teachings intervene with the busy streets, where the continent exhibits some of the greatest street food, and meditative music performed in temples (see Parinirvana Buddhist Temple, for example) as an offering, and where the millennia-old caste system still governs the life. Pro travel tips include taking a special precaution when monkeys are around. Yet, if you want to see these creatures in all their glory, go straight to the historic Indian city of Shimla.
Singapore | Southeast Asia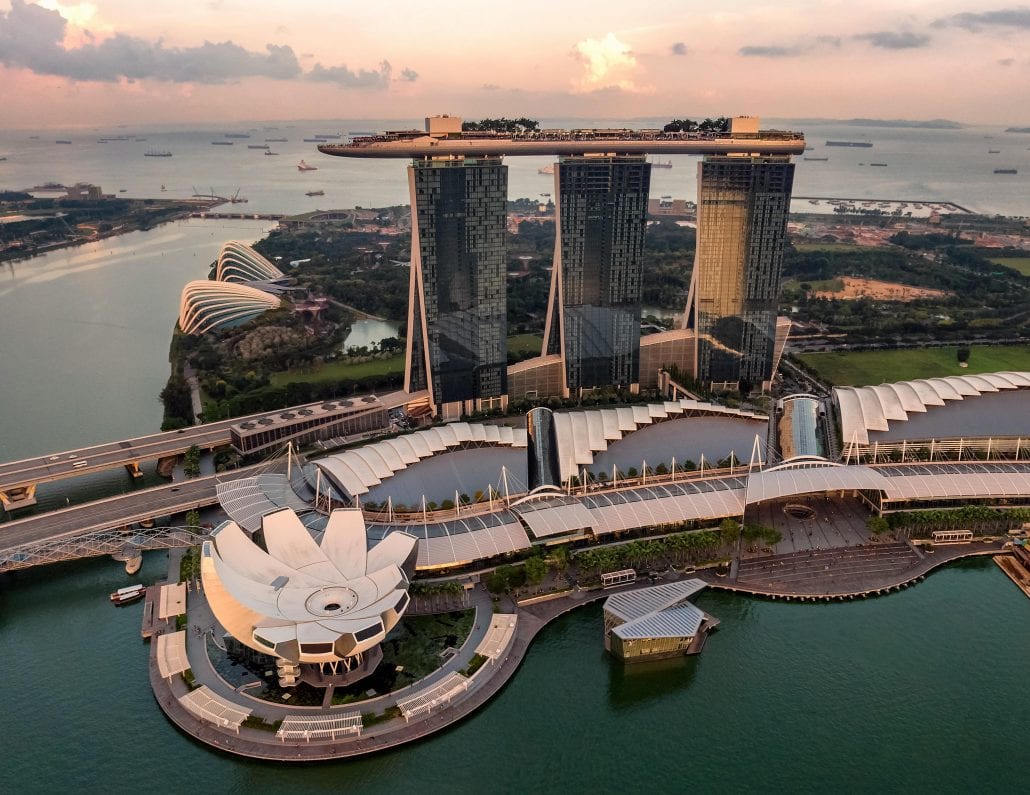 Singapore, a rather expensive city to visit, where you would expect to spend as much as visiting a larger European or American city, is yet another country lying on the technological frontier. With supertrees as high as 80-160 feet by Marina Bay, the urban landscaping project boasts around 200 species of orchids, ferns, and other tropical plants, all arranged in super tall trees. But apart from adoring the urban architecture, you can immerse yourself in experiences, such as dining at the Boat Quay, or Little India, learn about the history of Singapore in the former British naval base of Fort Siloso, or visit the oldest Hindu temple Sri Mariamman Temple located in Singapore's Chinatown.
Vietnam | Southeast Asia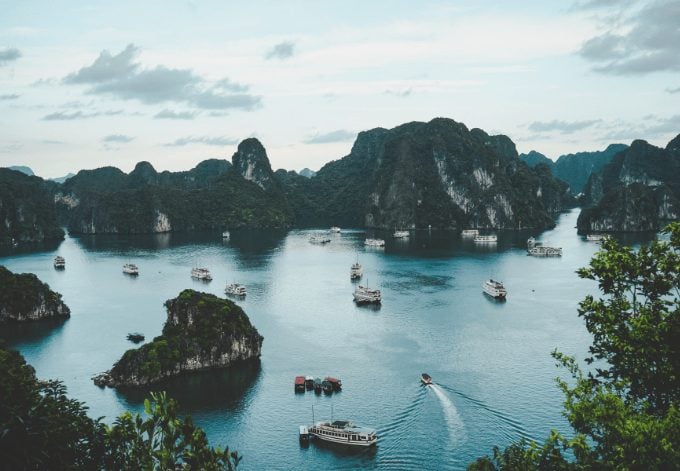 Vietnam has spectacular views, beautiful natural landscapes, and a bit of old-time touch from the times when it was a colony of Europe, particularly France. Visit Ho Chi Minh City, Saigon, and get a soup of pho on the street between the locals to start the day, then tour the War Remnants Museum, and finish off your day in Pham Ngu Lao Street. You should, however, plan some time to take a ride to the beautiful Halong Bay, and visit Hoi An in the northern part of the country.
Read about the things to do in Hoi An.
Thailand | Southeast Asia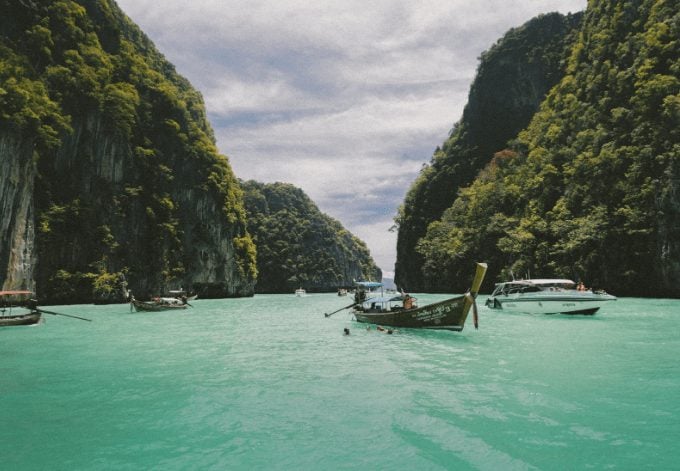 Thailand, or previously known as Siam, is famous for its tropical beaches, luxurious royal palaces, ancient ruins, and temples displaying figures of Buddha. When arriving in Bangkok, the capital of Thailand, embark on a sky train and visit Chatuchak Market, climb the Sathorn Unique Tower, and later calm yourself down with a relaxing Thai massage.
Other cities you should consider visiting are Chiang Mai, and you can take a day trips to UNESCO Heritage Town Luang Prabang in Laos (15 hours by bus) in Northern Laos, or travel to Siem Reap.
Still puzzled where to go? See Vietnam vs Thailand travel comparison.
Sri Lanka | South East Asia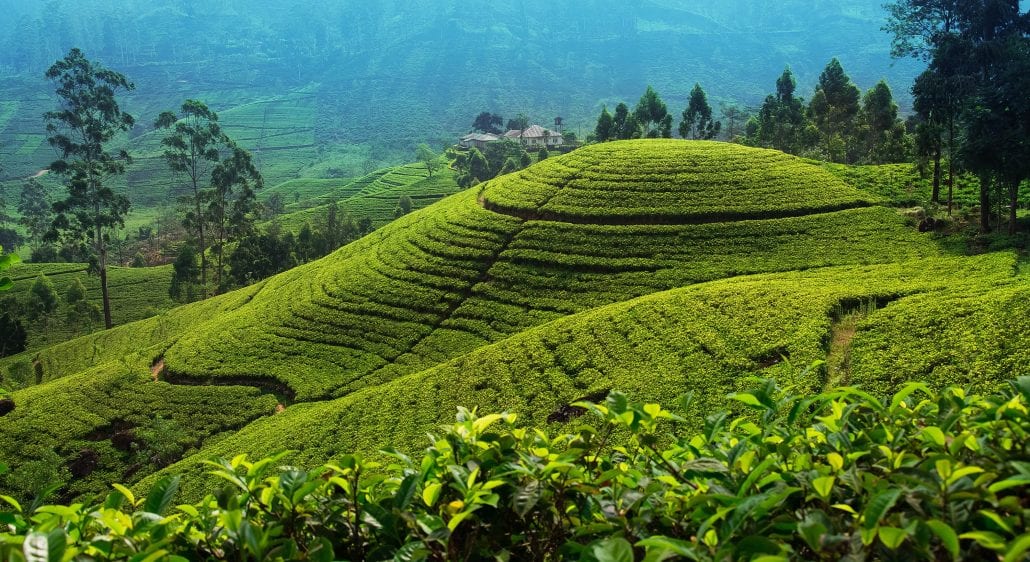 If you are into teas, sunbathing in beaches, and having cinnamon-flavored custards or flans, such as wattalapan (Tamil & Sri Lankan traditional coconut custard pudding dessert), then Ceylon, or Sri Lanka, might be just the right place to visit. As the largest tea producer, you can taste top-quality tea in tea rooms across the country, and learn about the work at tea plantations by visiting Nuwara Eliya.
Are you on a more adventurous vibe? Go and get up close to wild elephants in a National Park, and leopards in Yala National Park, or blue whales in Dondra Head, which they are passing from January to April on the route from the Bay of Bengal to the Indian Ocean.
Indonesia | South East Asia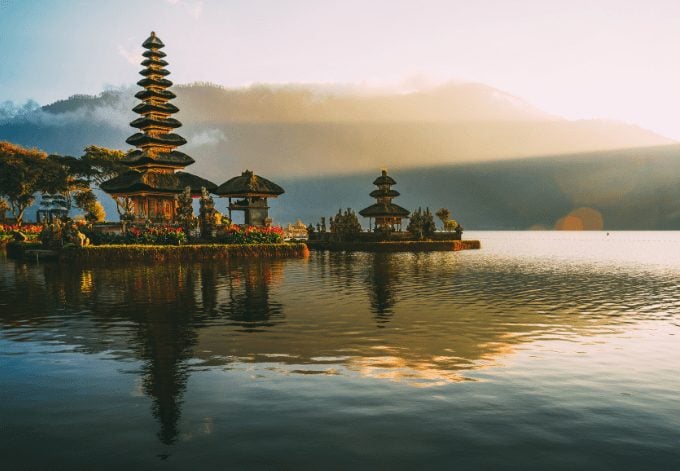 Sporting more than 150 volcanoes, of which 127 are still active, the country is nicknamed a "Ring of Fire." As for cultural diversity, you can see people wearing crosses along with talismans and other charms, showing the blend of colonial history with Christianity and native beliefs. But more than that, you can hike the lush forests and mountains, and relax on the beach during the day, while going out for beach parties at night.
When visiting the archipelago, take into consideration that alcohol and card games are a no-no in public spaces, and watch your step – don't step on flower offerings placed on streets by the street vendors. Indonesia is also one of the most family-friendly countries to visit with children, so may you want to consider it for your spring or summer holiday.
Browse. Book. Stay.
CuddlyNest provides all accommodations to all travelers at the best price. Find unlimited travel inspiration on our blog and social media channels.
Here are some curated readings for you:
Middle East Travel Guide
Africa Travel Guide
Oceania Travel Guide
Europe Travel Guide
North America Travel Guide
South America Travel Guide