Joshua Tree National Park is a captivating desert oasis that entices visitors with its unique landscapes and natural wonders.
The park is best known for being home to the picturesque Joshua trees, which stand tall with their twisted branches against the desert backdrop.
These peculiar trees, endemic to the region, seem to have been plucked straight out of a Dr. Seuss book, creating an otherworldly atmosphere.
Scenic sand dunes, dramatic mountains, a fascinating variety of plants and animals, and surreal geologic features add to the wonder of this beautiful national park.
Visitors can experience the park's vast wilderness by hiking a network of trails, rock climbing, or going on scenic drives to admire the area's breathtaking landscapes.
If you want to explore the wonders of Joshua Tree National Park, we've got you covered.
Here's a comprehensive guide with all you need to know before visiting Joshua Tree National Park — when to go, how to get there, where to stay, what to see and do, and more.
Fun Facts About The Joshua Tree National Park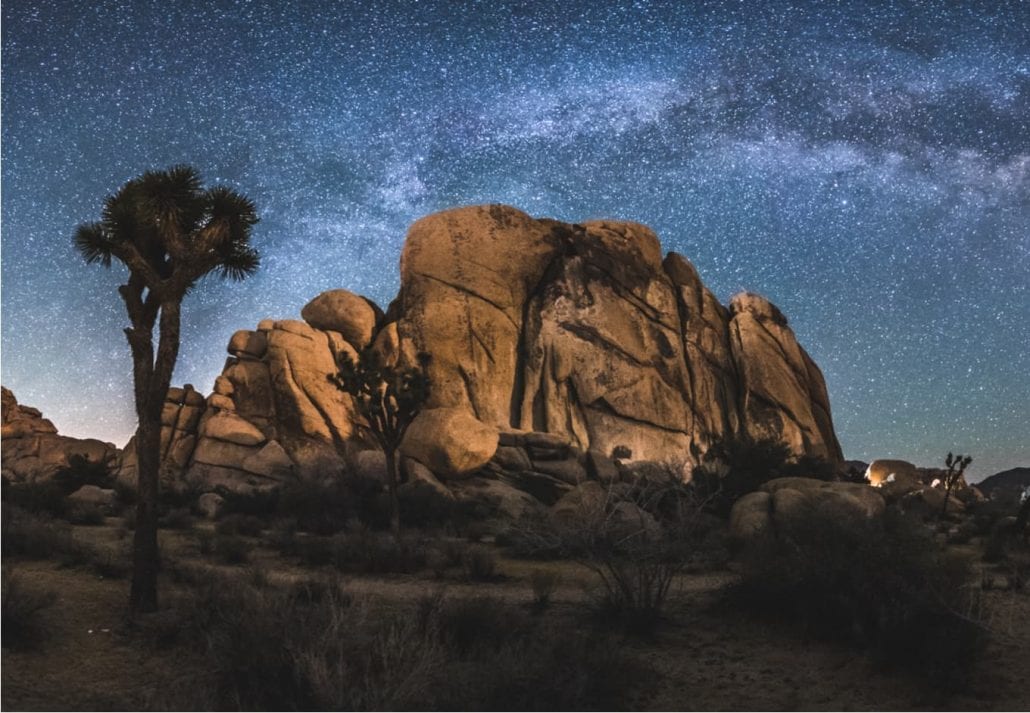 Joshua Tree's oldest rocks are between 1.4 and 1.7 billion years old.
Joshua Tree National Park is home to 750 species of plants.
During the late 18th century, there were three groups of Native Americans living in the Joshua Tree area — the Cahuilla, Chemehuevi, and Serrano tribes.
Covers 1,235 square miles, Joshua Tree National Park is the second largest National Park in California, after Death Valley.
Legend has it that the Joshua Tree was named by a group of Mormon settlers after the biblical figure, Joshua.
The park is home to 57 species of mammals, 46 different species of reptiles, over 250 bird species, and thousands of species of arthropods.
The Joshua Tree area has been inhabited by humans for at least 5,000 years.
Joshua Tree National Park is that it has one of the darkest skies in Southern California.
Nearly 800 species of plants grow in the park.
The park is known for encompassing two distinct desert ecosystems Mojave and the Colorado Deserts. But there's a third ecosystem, located above 4,000 feet, which provides habitat for California juniper and pinyon pine.
Early explorer John Fremont described Joshua trees as "the most repulsive tree in the vegetable kingdom"
Why Visit The Joshua Tree National Park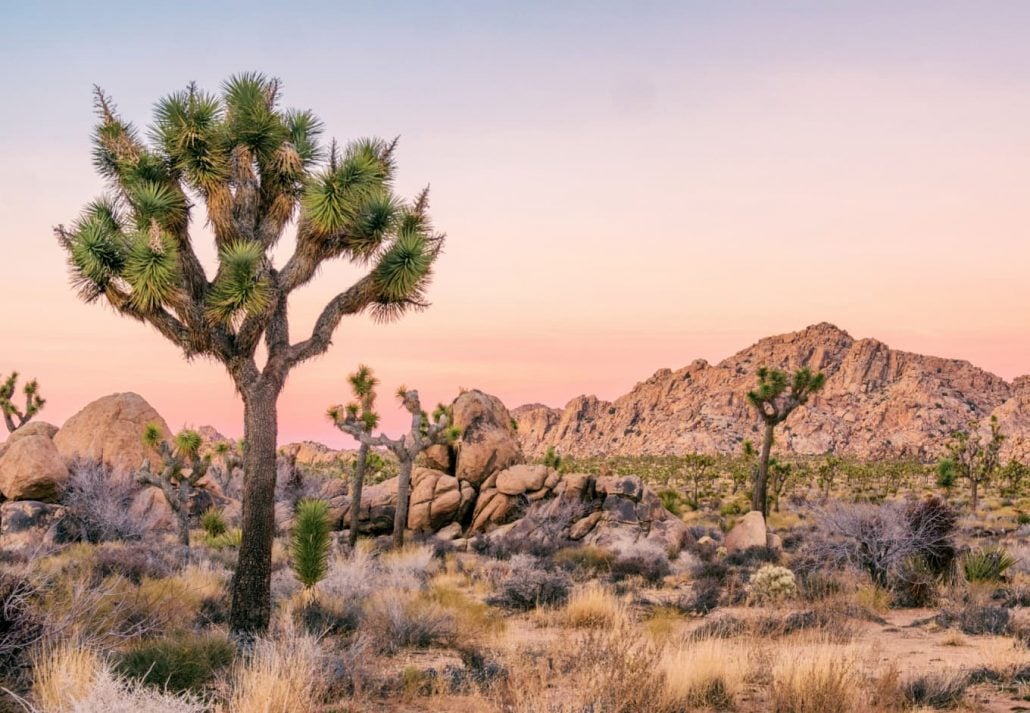 There are several compelling reasons to visit Joshua Tree National Park. Firstly, the park's unique sand dunes, dry lakes, flat valleys, oases, and Joshua trees create a surreal and mesmerizing atmosphere.
Joshua Tree ( Yucca brevifolia) is also known for harboring some of the world's most picturesque geological formations.
You'll see exposed granite monoliths, boulder formations, rugged canyons, and dramatic mountains formed more than 100 million years ago.
Additionally, the park is also home to rich fauna and flora. There are nearly 750 species of vascular plants found here, as well as over 250 bird species like ravens, gamble's quail, red-tailed hawks, and road runners.
The park offers visitors the chance to immerse in the beauty and tranquility of the desert.
Outdoor enthusiasts can enjoy an array of activities such as hiking, rock climbing, and camping.
Furthermore, stargazing at Joshua Tree is an unforgettable experience, as the park is renowned for its dark skies and excellent visibility of stars and celestial phenomena.
Recommended Read: A Guide To The Most Beautiful National Parks in California
Where Is The Joshua Tree National Park Located
Joshua Tree National Park is located in southeastern California, east of San Bernardino and Los Angeles and north of Palm Springs.
The park is located on the border between the Mojave and Colorado deserts. The park is located about:
Palm Springs: 52 minutes (49.1 mi)
Los Angeles or San Diego: 3 hours (140 miles)
Las Vegas: 4 hours (252 mi)
Phoenix: 4½ hours (234 miles)
Death Valley National Park: 4½ hours (321 miles)
Yosemite National Park: 6 hours (392 miles)
Grand Canyon National Park: 6 hours (377 miles)
San Francisco: 8 hours (544 miles)
How to Get to Joshua Tree National Park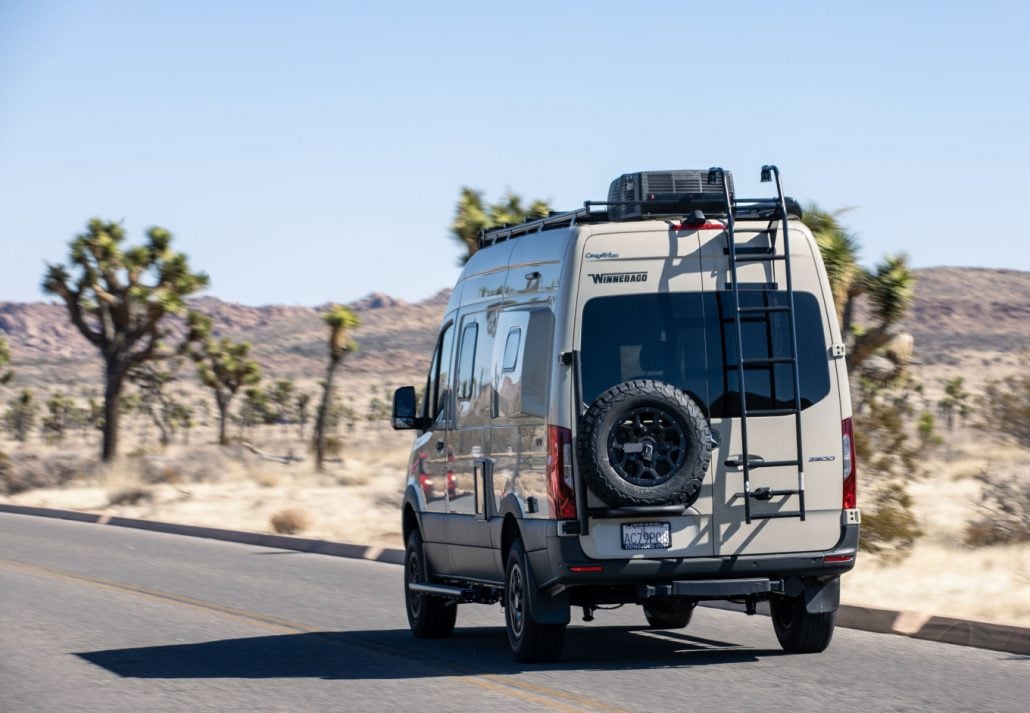 Public transportation to the Joshua Tree National Park, so the best way to get to the park is by car.
You can reach Joshua Tree from Interstate 10 or California Highway 62 (the Twentynine Palms Highway).
The park's entrance stations are:
• West Entrance, located five miles south of the junction of Highway 62 and Park Boulevard at Joshua Tree Village.
• North Entrance, in Twentynine Palms, three miles south of the junction of Highway 62 and Utah Trail.
•South Entrance (near Cottonwood Spring) is an access point along Interstate 10, 25 miles east of Indio.
The Best Time To Visit The Joshua Tree National Park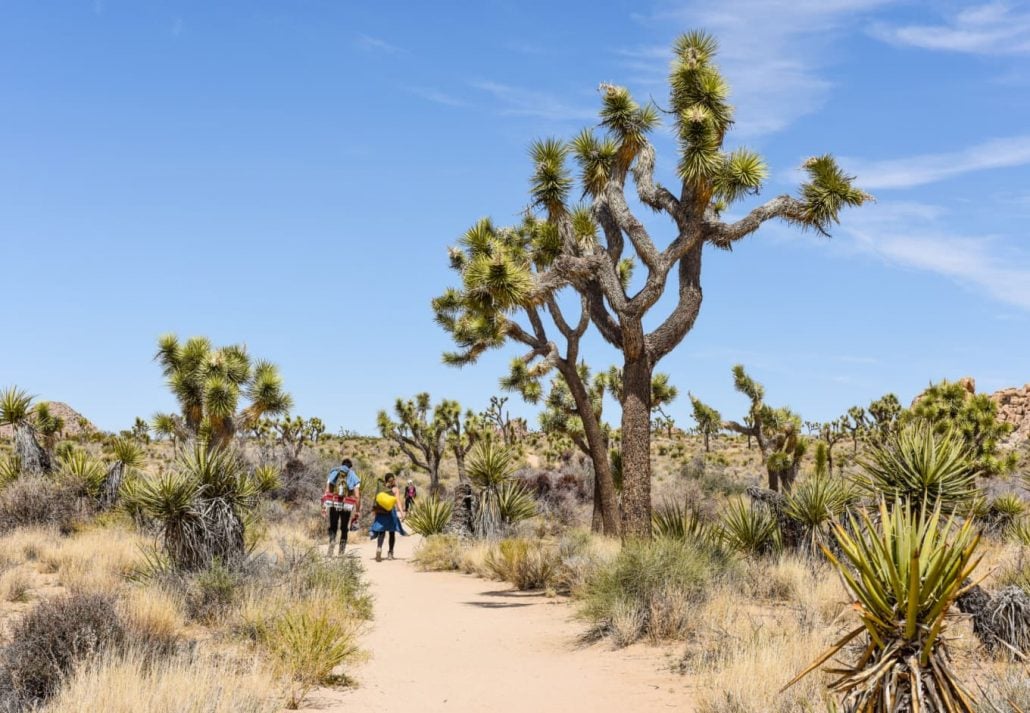 The Joshua Tree National Park in California offers distinct experiences throughout the year due to its varying seasons. Here's a breakdown of the best time to visit based on each season:
Spring (March to May)
Spring is a prime season to visit Joshua Tree National Park. The weather is mild and pleasant, with temperatures ranging from the 20s°C during the day and cooler evenings.
This season showcases the park's beautiful wildflower blooms, adding bursts of color to the desert landscape.
Spring It's an excellent time for hiking, wildlife viewing, and enjoying the stunning scenery.
Summer (June to August)
Summers in Joshua Tree National Park can be extremely hot, with temperatures exceeding 38°C.
It is the off-peak season due to the scorching heat, but early mornings and late evenings can still be enjoyable for outdoor activities.
If you decide to visit during summer, be prepared with plenty of water, and sun protection, and limit strenuous activities during the hottest parts of the day.
Fall (September to November)
Fall is another popular time to visit the park. The temperatures start to cool down, making it pleasant for exploration.
Fall offers an opportunity to enjoy hiking, rock climbing, and camping before the winter season sets in.
The park's landscapes are still stunning, and the crowds are generally smaller compared to spring.
Winter (December to February)
Winter brings cooler days to Joshua Tree National Park, with daytime temperatures fluctuating around 15-20°C. These mild temperatures create great conditions for outdoor activities.
However, nighttime temperatures in the winter can get below freezing -1°C.
Some areas may experience occasional torrents or even snowfall.
During the winter, the desert sky has optimal visibility, making it a prime time for stargazing.
It's also a quieter time to visit, with fewer crowds.
Final answer: Considering these seasonal variations, spring, and fall are generally the best times to visit Joshua Tree National Park due to their milder temperatures, blooming wildflowers, and overall pleasant conditions.
Tips For Visiting The Joshua Tree National Park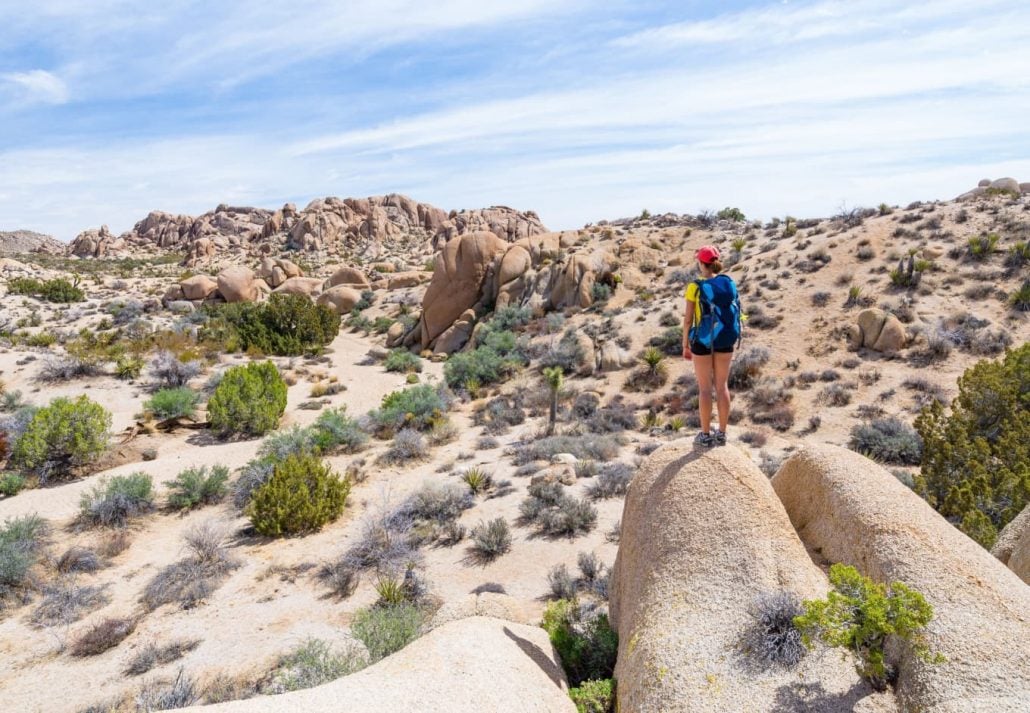 Here are a few tips that'll help you have a safe, enjoyable, and respectful visit to Joshua Tree National Park.
Plan ahead and check for alerts. Before your trip, visit the official park website or contact the visitor center to check for any closures, road conditions, or alerts that might affect your visit.

Buy your entrance pass online in advance to save time at the entrance station.

Allow ample time. The park is vast and offers numerous attractions and activities, so plan to spend at least a couple of days exploring and fully appreciating its beauty.

Pack essentials like water, snacks, and sunscreen. Additionally, bring flashlights and appropriate gear for the season, including sturdy hiking shoes, layers of clothing, and insect repellent.

Stick to marked hiking trails and paths to minimize the impact on the delicate desert ecosystem. Going off-trail can be harmful to vegetation and disturb wildlife habitats.

Respect wildlife and nature. Remember that you are a visitor to the animals' natural habitat. Keep a safe distance from wildlife, never feed them, and dispose of trash responsibly.

Joshua Tree is home to various wildlife species. Observe animals from a safe distance and never feed or approach them. Maintain a respectful distance and refrain from disturbing their natural behavior.

For an emergency or to report a missing person in Joshua Tree National Park, please call 909-383-5651 or 911.

Capture memories responsibly. Photography is a wonderful way to preserve your experiences, but be mindful of your surroundings.

If planning to camp, check for campsite availability and make reservations in advance, especially during peak seasons. Some campgrounds are first-come, first-served, so arrive early to secure a spot.

Plan for Stargazing. Joshua Tree's dark night skies offer incredible opportunities for stargazing. Just make sure to plan your visit during a new moon phase and bring a telescope or binoculars for a memorable celestial experience.
Joshua Tree National Park Entrance Fees
| | |
| --- | --- |
| Type Of Ticket | Price |
| Single Person | $15 |
| Vehicle | $30 |
| Motorcycle | $25 |
Buying your pass ahead of time may help expedite your trip into the park. You can secure your entrance passes on recreation.gov.
Passes for Joshua Tree National Park must be printed or saved on your mobile device prior to use.
Just remember that connectivity is limited in the park, so printing the pass or saving it on your phone is recommended.
You can also buy a pass at:
North Entrance Station – debit or credit cards only
West Entrance Station – debit or credit cards only
Cottonwood Visitor Center – cash or card
Joshua Tree National Park Visitor Center – cash or card
Joshua Tree Visitor Center – cash or card
California Welcome Center – cash or card
Top Attractions & Things To Do in Joshua Tree National Park
Hidden Valley Hiking Trail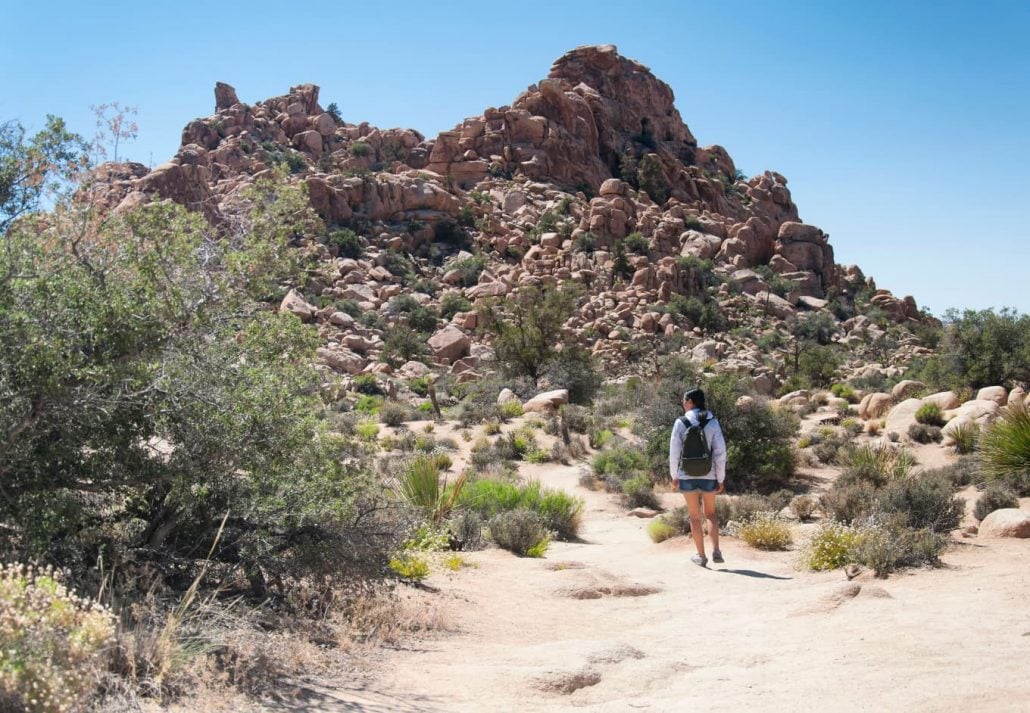 Hidden Valley is a stunning enclosed valley surrounded by towering rock formations. It's a popular spot for rock climbing and hiking, with picturesque scenery.
The valley can be explored through the Hidden Valley Nature Trail, an easy and enjoyable one-mile loop.
Close to Hidden Valley, you'll find the Hidden Valley Campground, which is one of the best places for camping in the Joshua Tree National Park.
Cholla Cactus Garden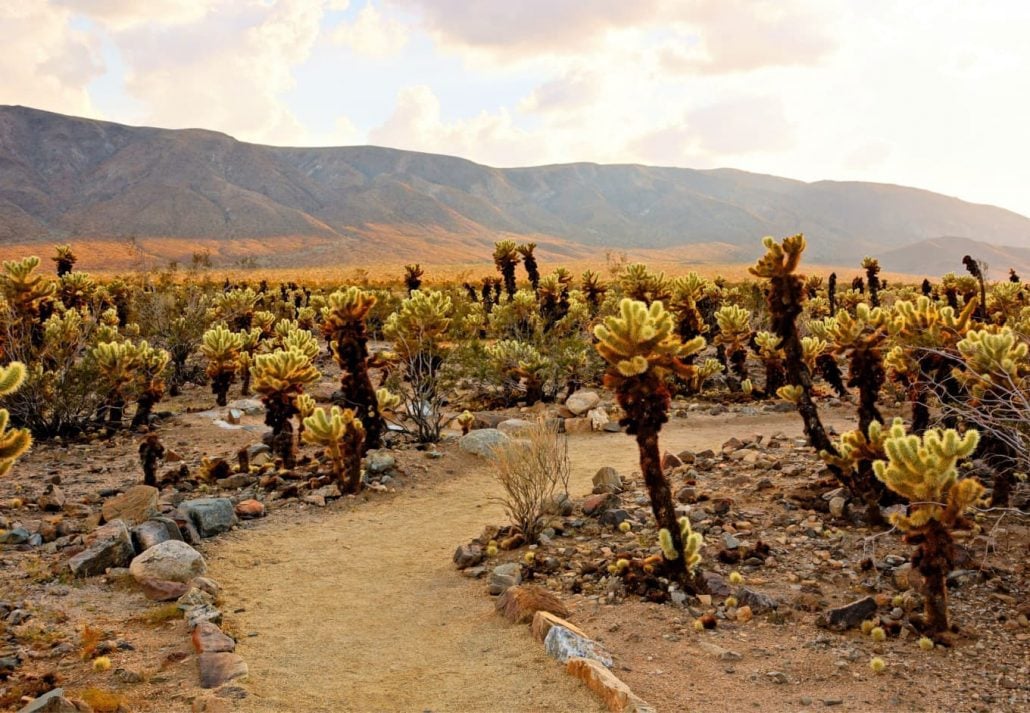 Cholla Cactus Garden Nature Trail is one of the best hikes in the Joshua Tree National Park. This flat loop leads hikers through the Pinto Basin Road near the transition zone between the Colorado and Mohave Deserts.
During the hike, you'll get the chance to see nearly 4 hectares of landscape dotted with teddy-bear cholla cacti.
This unusual type of cactus is known for its brown stems and fuzzy golden arms, which create a striking landscape. It's particularly enchanting during sunrise or sunset.
Keys View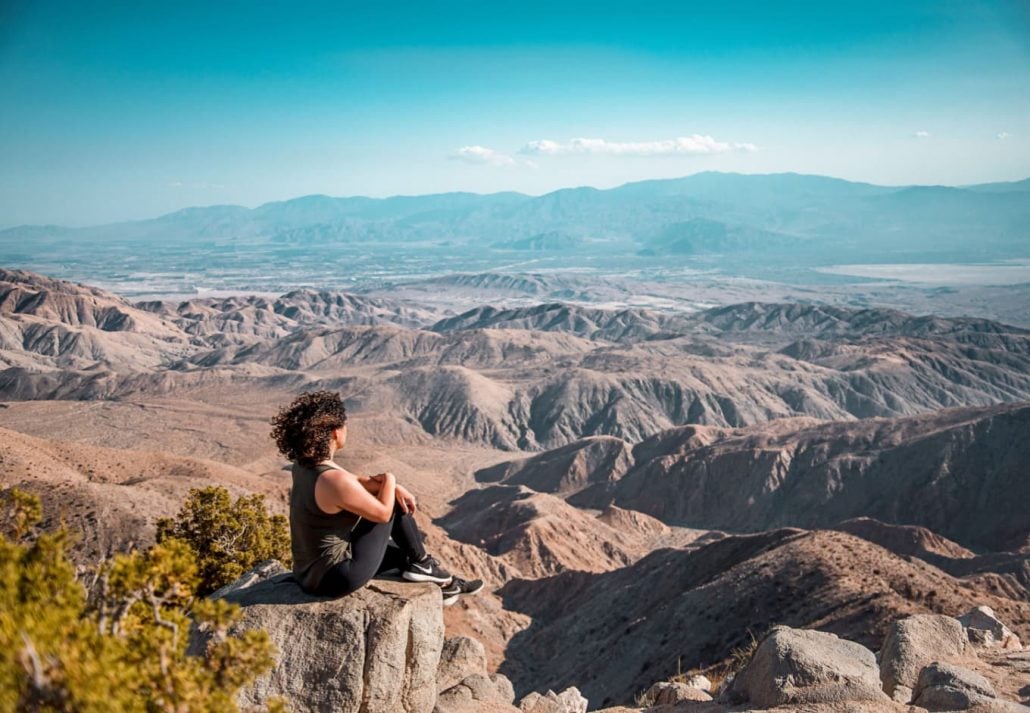 Keys View, the highest point in Joshua Tree, is one of the best sunset spots in Joshua Tree National Park.
Located about 25 minutes drive from the northwest entrance of the park, this viewpoint offers breathtaking vistas of Coachella Valley and Palm Springs.
On clear days, you can even see the Salton Sea and San Andreas Fault from Keys View!
Barker Dam Trail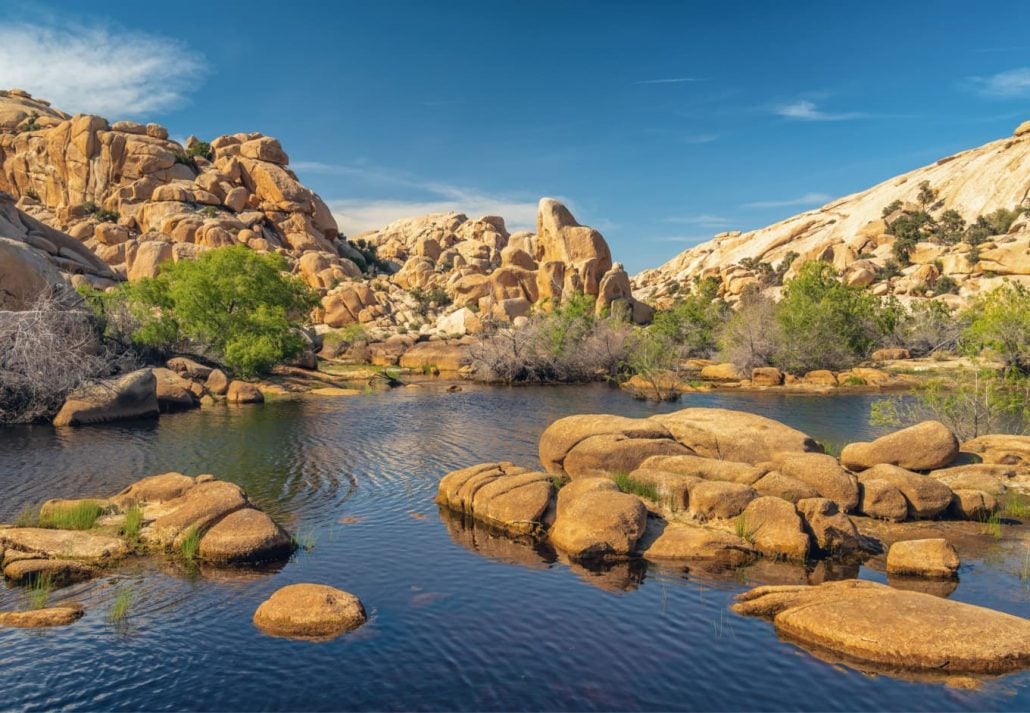 Barker Dam Trail is another fantastic hike in the Joshua Tree National Park. This easy 1.3-mile loop winds through many of the highlights of the Mojave Desert, including the Joshua Trees, Mojave yucca, and monzogranite boulders.
You'll also get the chance to see the historic Barker Dam, built by early ranchers in 1900.
Barker Dam is surrounded by lush vegetation, making it an ideal spot for wildlife viewing. You'll get the chance to spot many species of birds, reptiles, and even desert bighorn.
Ryan Mountain
If you're seeking a more challenging hike, climb up Ryan Mountain. This 1-5 mile trail gains 1,000 feet of elevation in the central part of Joshua Tree National Park, so it's perfect for more experienced hikers.
The challenge is worth it! In the summer, hikers are rewarded with stunning vistas of the desert.
Skull Rock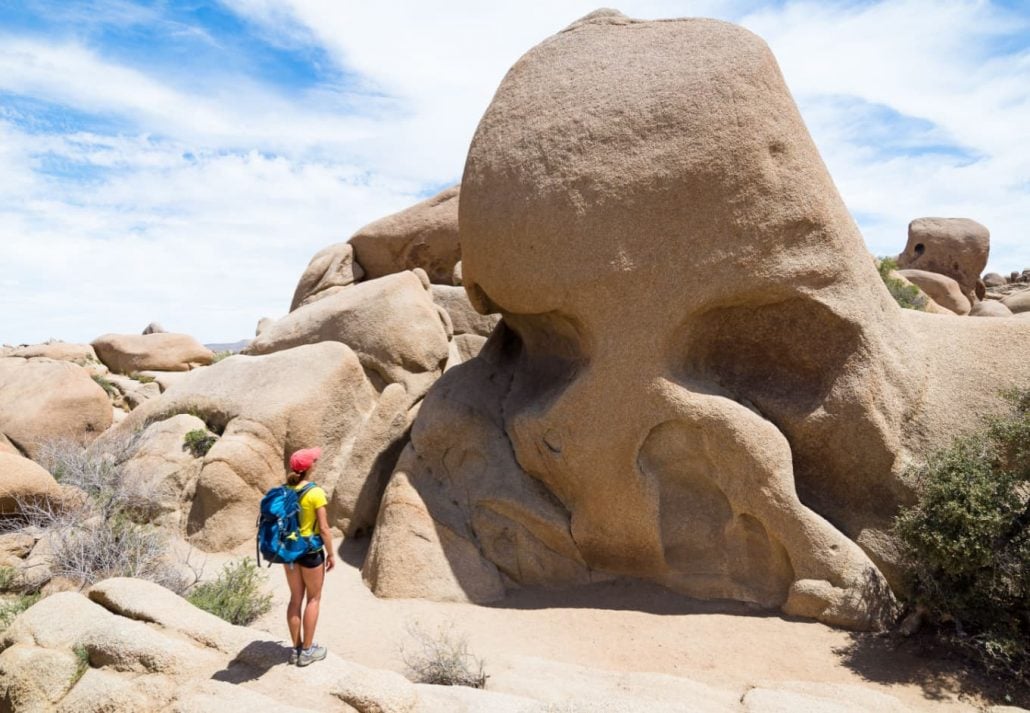 Skull Rock is one of the most surreal geologic features in the Joshua Tree National Park.
Located near the Jumbo Rocks Campground, the rock has two hollowed-out eye sockets, which formed when rain eroded the granite.
Thanks to its resemblance to a skull, the rock is a popular photo spot in the park.
Arch Rock Trail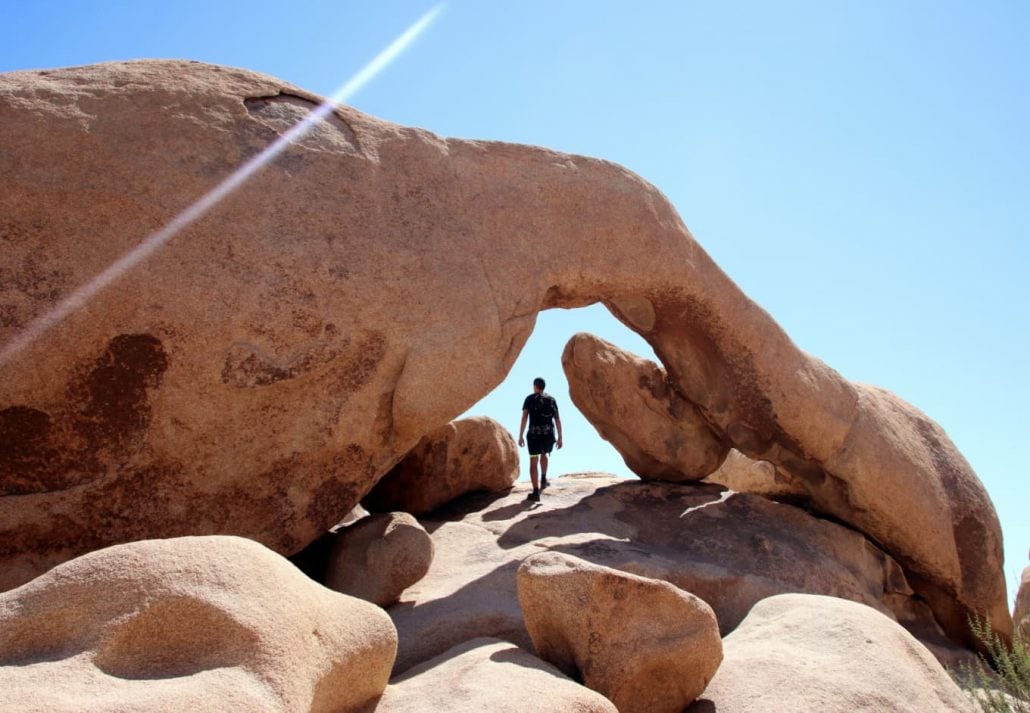 The Arch Rock Trail provides visitors with the chance to explore a spectacular, boulder-strewn desert landscape.
This easy and pleasant 0.3-mile loop leads to Arch Rock, a brontosaurus-shaped rock arch formation that serves as a unique and picturesque backdrop for photos
Jumbo Rocks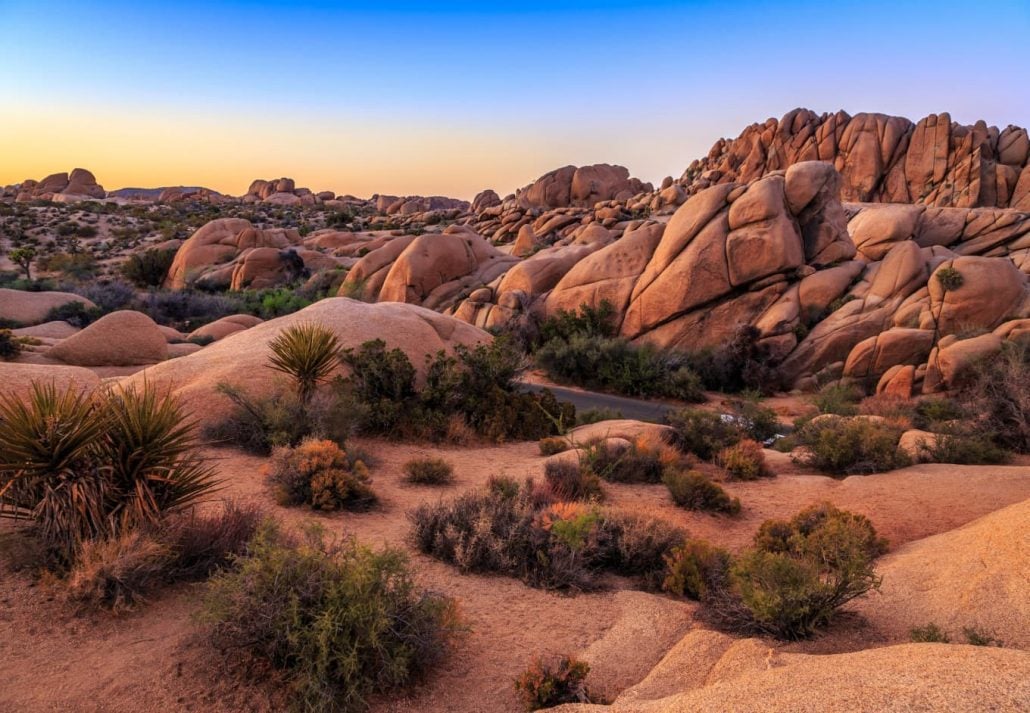 Jumbo Rocks is an immense boulder pile near the main road through the park. Visitors can climb on, around, and between the boulders or even camp in the area.
The Jumbo Rocks Campground is also a great spot for stargazing and immersing yourself in the desert atmosphere.
The Scenic Drive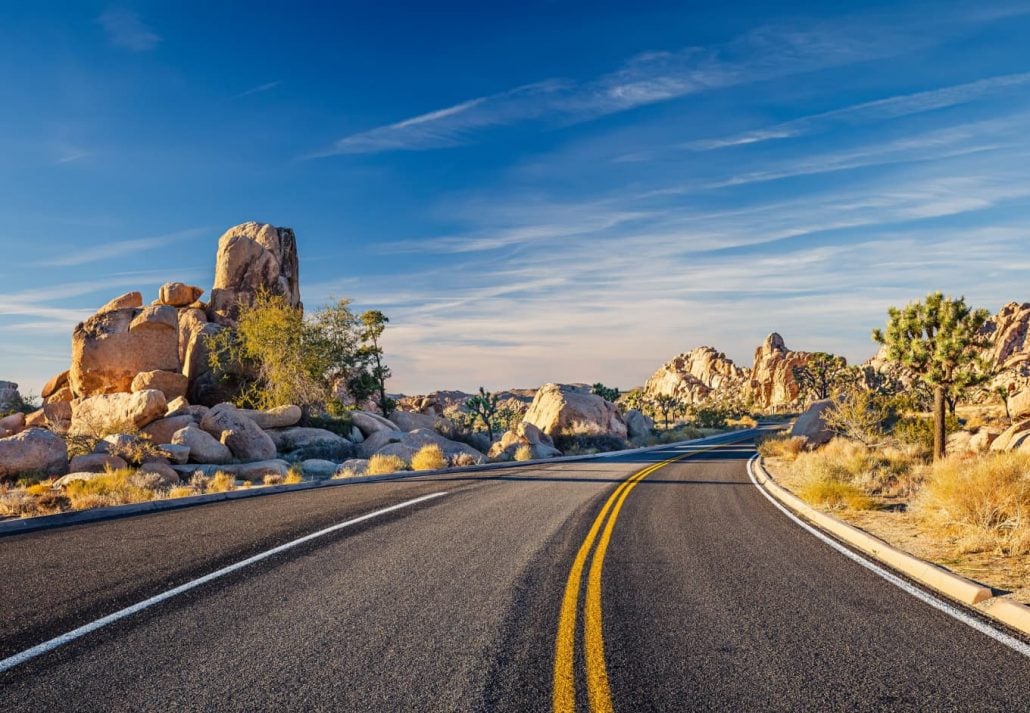 There are a variety of routes that you can take to explore the Joshua Tree National Park.
The West-South Route, which winds through the heart of the park, is the most comprehensive drive. It allows you to see the distinct desert landscapes of the high and low desert, with stops at Keys View and Skull Rock.
You can also opt for driving Park Boulevard, which is much shorter but stops at several key points within the park.
Along this drive, you'll get the chance to see rock formations, Joshua tree groves, Hidden Valley, Ryan Mountain, and Skull Rock in just a couple of hours.
Ocotillo Patch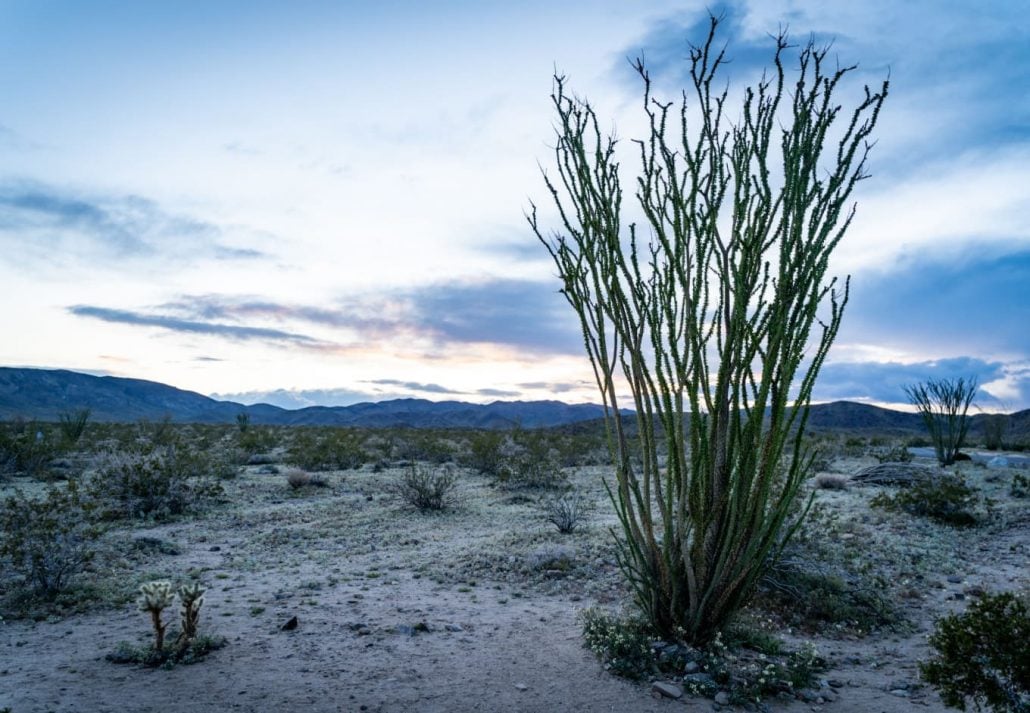 Just a 30-minute drive from Cottonwood Campground you'll find the Ocotillo Patch.
This scenic pull-off located along the Pinto Basin Road is famous for being dotted with a few patches of ocotillo plant (Fouquieria splendens).
After even a slight rain, this tall desert shrub produces bright pink flowers on its whip-like canes. A sight to behold
Where to Stay in The Joshua Tree National Park
Hilton Palm Springs Resort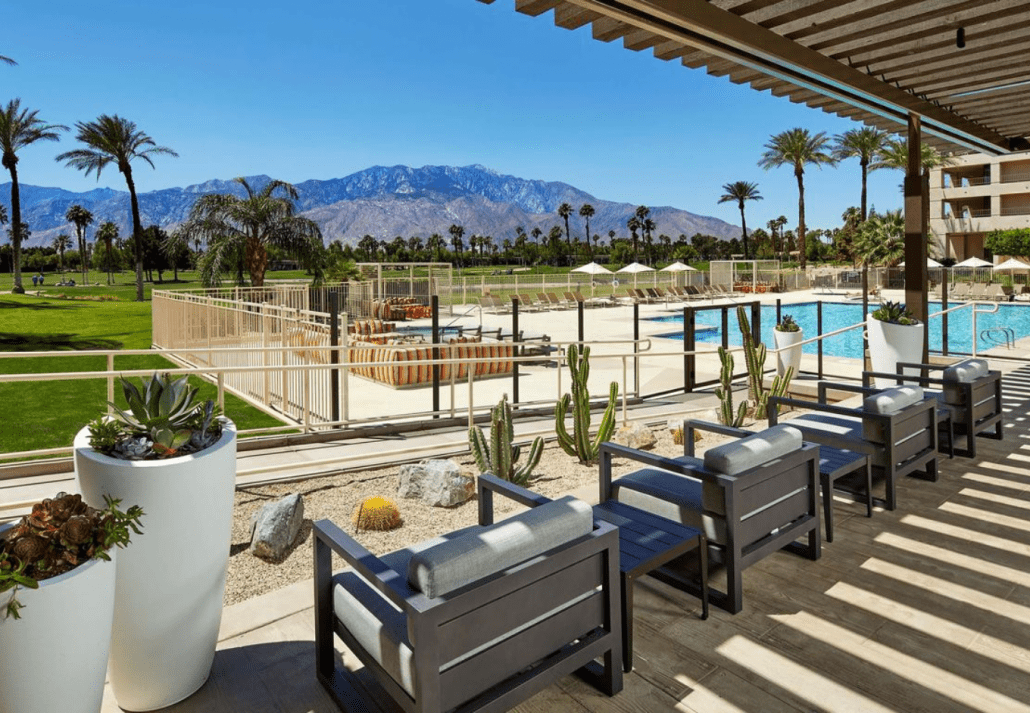 Hilton Palm Springs Resort is a relaxing retreat nestled at the foot of the San Jacinto Mountains.
The hotel is home to 261 spacious guest rooms. All of the accommodations are well-equipped with thoughtful amenities like 250 thread count sheets, 42-inch HDTV, a hairdryer, plush bathrobes, air conditioning, and high-speed internet access.
Hilton Palm Springs also has a majestic swimming pool surrounded by lush palm trees and a luxurious spa where guests can indulge in relaxing treatments.
The hotel provides free shuttle service to and from Palm Springs International Airport and offers easy access to the Joshua Tree National Park (a 53-minute drive via I-10 E).
Address: 400 E Tahquitz Canyon Way, Palm Springs, CA
Distance To Joshua Tree: 50 miles
Best Western Plus Las Brisas Hotel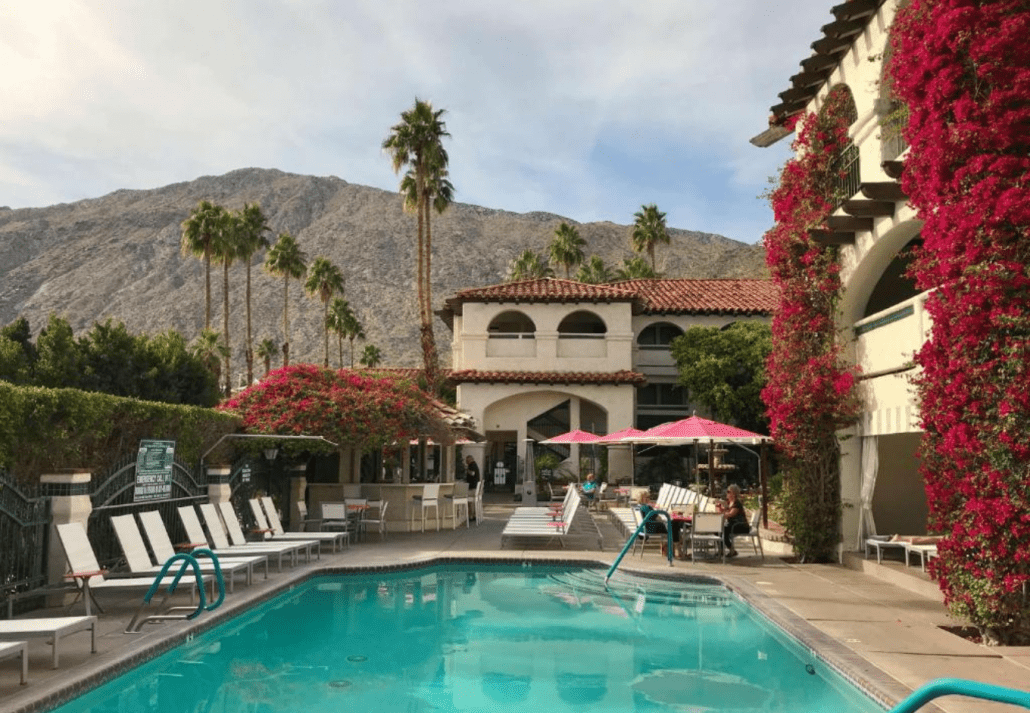 Best Western Plus Las Brisas Hotel offers a delightful escape for guests seeking a relaxing and enjoyable stay.
This charming hotel has spacious guestrooms, all featuring luxurious pillowtop mattresses, flat-screen TVs with premium channels, coffee makers, and refrigerators.
The hotel's allure goes beyond the comfortable rooms. Secluded fountain terraces, poolside lounge chairs, or bar and dining areas offer the ideal environment for some well-deserved relaxation after a day adventuring into Joshua Tree.
Best Western Plus Las Brisas also offers a complimentary full breakfast, free self-parking, high-speed Wi-Fi, and a new gym facility.
Address: 222 S Indian Canyon Dr, Palm Springs, CA
Distance To Joshua Tree: 48 miles (52-minute drive)
FAQ
What is so special about the Joshua Tree National Park?
Joshua Tree National Park is known for its unique desert landscapes showcasing a mesmerizing blend of rugged rock formations, vast open spaces, and the iconic Joshua Trees themselves.
Additionally, Joshua Tree National Park offers a myriad of outdoor activities, including hiking, rock climbing, camping, and stargazing.
What month is best to visit Joshua Tree National Park?
The best time to visit Joshua Tree National Park is during spring (March to May), and fall )October to November).
Is Joshua Tree National Park worth seeing?
Yes. The park's distinctive beauty and unique landscapes make it a must-visit destination for nature lovers, outdoor enthusiasts, and anyone seeking an unforgettable experience.
Can you just drive through Joshua Tree?
Yes, you can drive through Joshua Tree National Park and enjoy the stunning scenery from the comfort of your car. The park has a network of paved roads that provide access to many of its key attractions and viewpoints.
What is the biblical meaning of the Joshua tree?
The name "Joshua Tree" originates from the Mormon pioneers who traversed the Mojave Desert and thought the unique tree's outstretched branches resembled the biblical figure Joshua pointing the way to the Promised Land.
Do I need a reservation for Joshua Tree?
No advance reservations are needed to enter Joshua Tree National Park.
What major city is closest to Joshua Tree National Park?
Palm Springs is the closest major city to Joshua Park.
What airport do you fly into to go to Joshua Tree Park?
To reach Joshua Tree, most visitors fly into Palm Springs International Airport (PSP), which is about 50 miles east of the park.
Where exactly is a Joshua Tree?
A Joshua Tree is a type of tree (Yucca brevifolia) that is native to the southwestern United States. The tree is primarily found in the Mojave Desert, which spans parts of California, Nevada, Utah, and Arizona.
CuddlyNest provides all accommodations to all travelers at the best price. Find unlimited travel inspiration on our blog and social media channels.
You Might Also Like:
10 Best Kid-Friendly Family Vacations In The United States
The 11 Best Long Weekend Getaways In The US
The Ultimate North America Travel Guide
10 Best Day Trips From Naples, Florida
The Ultimate Guide For a Pet-Friendly Holiday in Florida
The 15 Best National Parks In The World
Best North America Mountains
The 30 Most Beautiful Beaches in California
The 16 Most Beautiful Beaches in Southern California
The 15 Most Romantic Getaways in California
The 10 Most Romantic Getaways In Northern California