Florence makes a beautiful day trip from Rome. This alluring city dazzles even the most seasoned travelers with its picture-perfect Renaissance buildings, scenic piazzas, and world-class museums, which are smothered top to bottom with timeless masterpieces by Botticelli, Caravaggio, and Michelangelo.
Capital of the dreamy Tuscany region, in Central Italy, Florence is located within easy reach of Rome. Approximately 143 miles separate the two cities; the best way to cover this route is by high-speed train. Aside from reaching "Firenze" in less than two hours, trains are comfortable, affordable, well-run, and punctual. In fact, any other method of going between Rome and Florence (airplane, car, and bus, for instance) will take nearly twice as long.
To help you enjoy a seamless train journey from Rome to Florence, we've put together this thorough guide answering essential questions such as where to buy the tickets, what's the best train to take, how long the ride takes, and more.
Find Places To Stay in Rome, Italy | Find Places To Stay in Florence, Italy
Train From Rome to Florence: The Essential Info
Taking the train from Rome to Florence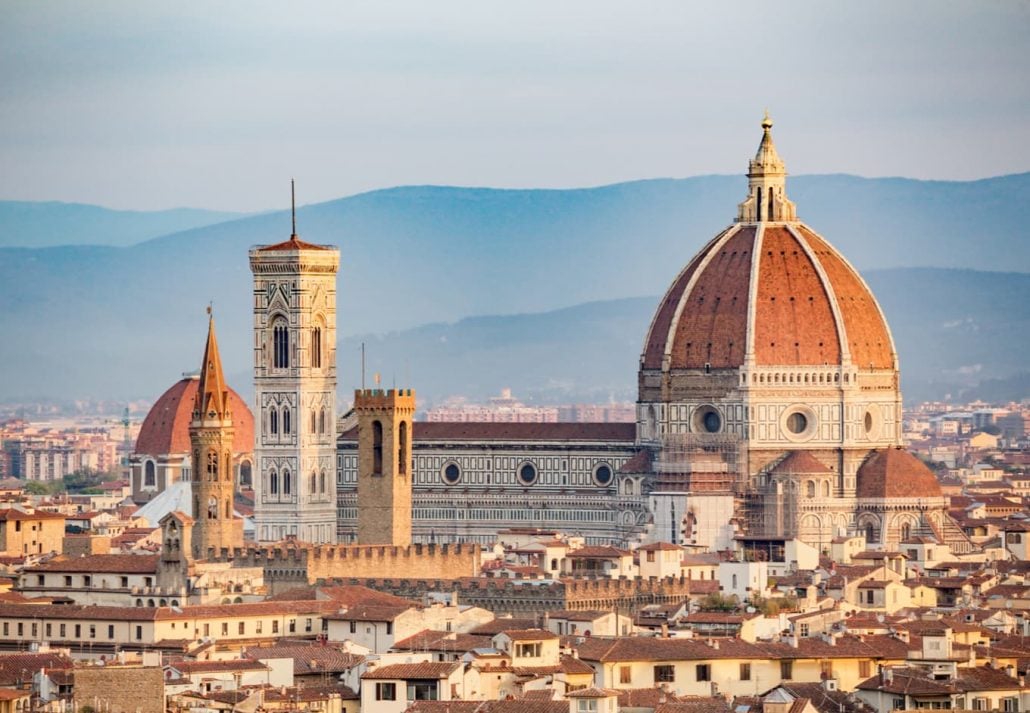 Traveling by train from Rome to Florence is easy and comfortable. The distance from Rome to Florence is 162 miles, and most trains travel directly between both cities, meaning you won't be required to change trains.
Trains depart from the main train stations in Rome: the Rome Termini Station and the Rome Tiburtina station.
The majority of the trains depart from Rome Termini Station, which is the central station of Rome, and arrive at Firenze Santa Maria Novella Station. Trains leave Rome as early as 5:35 am and as late as 9:30 pm, and there are trains every 30 minutes.
On average, there are 68 train services a day from Rome to Florence.
High-Speed Trains X Regional Trains
Taking the high-speed train is the fastest way to travel from Rome to Florence. They can reach speeds of up to 186 mph and will get you from Rome to Florence in only 1h30.
High-speed trains to Florence require a seat reservation in advance, and average ticket prices are €40 for the round-trip.
Intercity and Regional trains departing from Rome, on the other hand, take more time to reach Florence. Travel time can take anywhere from 3h30 to 4h30. Also, these trains tend to be older. The upside is that tickets are cheaper, costing between €10-€20.
Another major difference between high-speed and regional trains is the amenities. Modern and luxurious, high-speed trains are equipped with air conditioning and power outlets at your seat to charge devices. There is wi-fi on most trains, and it's possible to buy drinks and snacks from a food cart.
Rome To Florence Train Operators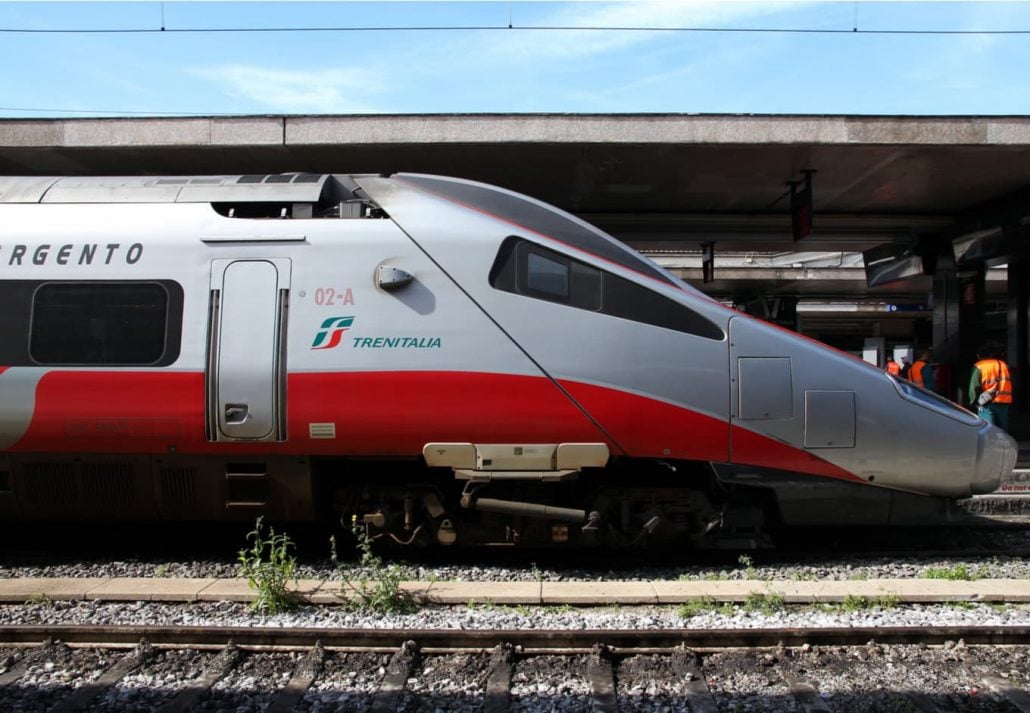 The Frecciarossa, aka "Le Frecce", is Italy's most well-known high-speed train operated by Trenitalia. They're known for their comfort, ultra-modern design, and reduced impact on the environment. Also called "Le Frecce", these trains are equipped with a food carriage and free WiFi connection. There are 4 levels of service available – Standard, Premium (drinks and welcome snacks served on arrival, as well as a morning newspaper), Business (drinks and snacks, morning newspaper, and larger seats), and Executive (Fast Track, access to FrecciaClub lounges in selected stations, and gourmet meals served to your seat).
The new Frecciarossa trains have 4 levels of service – Standard, Business, Executive and Meeting Room – and two types of carriage: Silence Area, for those who want to travel in total tranquillity, and Allegro Area, for those who want to chat with their fellow passengers.
Alternatively, you can also opt for taking the high-speed train operated by Italo Treno, which runs services between many of the major cities across Italy. Italo trains are modern, air-conditioned, and have free WiFi available. The Italo trains have four distinct classes – Smart (the cheapest price), Comfort (with wider seats and extra legroom), Prima (with a welcome selection of food and drink, fast track boarding, and extra space), and Executive Club (with all Prima services, extra-wide seats, access to Italo Club lounges and personal entertainment screens at your seat).
Aside from the Frecciarossa trains, Trenitalia also operates the intercity trains, which depart out of Roma Termini and Roma Tiburtina stations. Italo Treno only offers service from Roma Termini to Firenze S. M. Novella.
How long does the train from Rome to Florence take?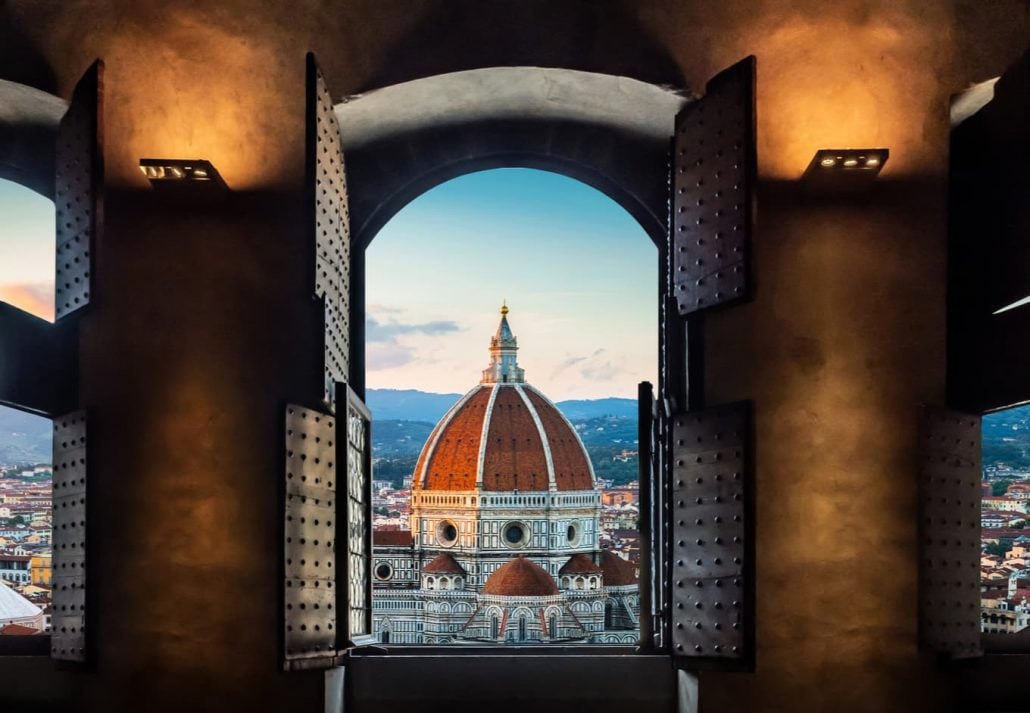 The train ride from Rome to Florence takes 1h30 in high-speed trains, and between 3h30 to 4h30 in regional trains.
Rome to Florence Train Tickets
Florence to Rome train tickets can be purchased months in advance three to six months in advance, many of which can be cheaper the earlier you book. For instance, if you book in advance, it is possible to find cheap train tickets for around €15 to €20. Therefore, it's recommended to purchase tickets for the high-speed train in advance, as fares are often lower.
Regional train tickets between Florence and Rome are valid on a range of dates and times, which means you do not have a reserved seat. They can be secured before departure at ticket stands and ticket machines inside the train station.
The train ticket can be bought in advance through one of the two train vendors, Trenitalia or Italo, or through an online train agency, TrainLine.
How much does the train from Rome to Florence cost?
Ticket prices for the Rome-Florence route can cost between 10€ to 100€. Remember that costs can vary depending on the time of day, train type, and class.
Is there a direct train from Rome to Florence, Italy?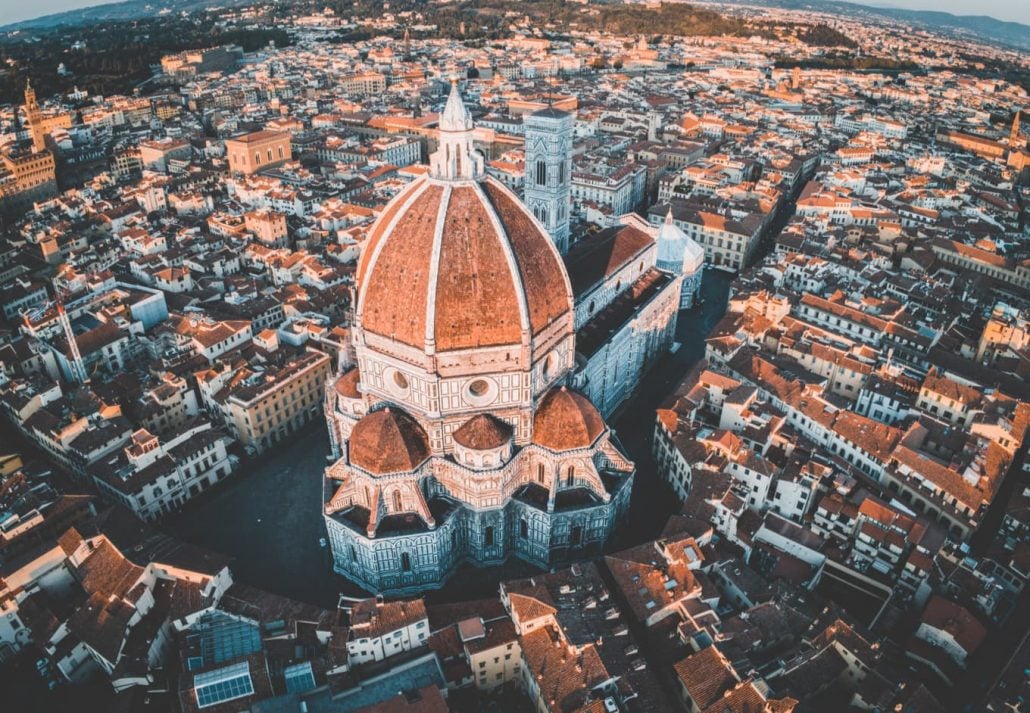 Yes, it is possible to travel from Rome to Florence without having to change trains. There are 65 direct trains from Rome to Florence each day.
Rome to Florence Train Schedule
The earliest train from Rome to Florence leaves at around 05:35. There are also night trains to Florence, and the last departure is usually at around 23:50.
Which Rome Train Station To Use
Most trains depart from Rome Termini station, the main railway station of Rome. From Termini, you can also catch the Leonardo Express train to Rome's Leonardo da Vinci-Fiumicino Airport. The station also provides daily service to all major Italian cities as well as many major European cities.
There are also high-speed and regional trains departing from Rome Tiburtina station, which is located further east. All trains terminate at Florence Santa Maria Novella station (Station Firenze SMN).
Where is the Florence Station Located?
The Florence train station is located just at the edge of the city center. To get into the city center, where all the major attractions are located, you just have to walk straight out of the train station either directly in front of you, or just a little to your left, and cross over the big streets.
FAQ
What's the fastest way to travel from Rome to Florence?
Taking the high-speed train is the fastest way to travel from Rome to Florence.
Where to stay in Florence?
Here's a list of the best hotels in Florence:
CuddlyNest provides all accommodations to all travelers at the best price. Find unlimited travel inspiration on our blog and social media channels.
You Might Also Like:
Top Italian Dishes You Can Make at Home
The Best Guide To Florence's Piazza Del Duomo
The 6 Best Day Trips From Rome, Italy
A Complete Guide To Visiting The Cathedral of Santa Maria del Fiore, Florence
How To Get From Florence to Siena: The 3 Best Ways
The Ultimate Europe Travel Guide
Best Farmers' Markets in Rome, Italy
What to Pack for a Sustainable Trip To Europe
40 Top & Most Beautiful Castles in Europe
The 13 Best Attractions in Rome, Italy
The 6 Best Day Trips From Rome, Italy
The 9 Best Kid-Friendly Attractions in Rome, Italy
Rome 5 Day Itinerary: The Top Things To Do
Rome 2 Day Itinerary: The Top Things To Do
Rome 4 Day Itinerary: The Top Things To Do In The City
Rome 3 Day Itinerary: The Top Things To Do
Rome 1 Day Itinerary: The Top Things To Do
The 7 Best Places for Nightlife in Rome, Italy
The 9 Best Museums in Rome, Italy
The Best Time To Visit Rome, Italy
9 Free Things To Do In Rome, Italy
The 10 Best Restaurants in Rome, Italy
Transportation In Rome: How To Get Around The City
The 10 Best Pizza Restaurants in Rome, Italy
The 5 Best Places To Go Shopping in Rome, Italy
The Top 5 Hotels Near The Colosseum, Rome
Best Italian Breakfast: The Top Foods To Try
How to get From Naples to Pompeii: The 3 Best Ways
How To Get From Milan to Lake Como: The 3 Best Ways