While there are many sites to visit in southern Italy, Capri is truly a must-see location. It's no surprise that the island is one of Italy's most popular tourist destinations, with breathtaking panoramic views of the deep-blue sea and colorful hilltop villages.
Planning a day trip from Rome? Look no further, Capri is the perfect choice to get away from all the hustle and bustle. To know how to travel from Rome to Capri, check out our guide below!
Find Places To Stay In Anacapri
Where Is Capri Located?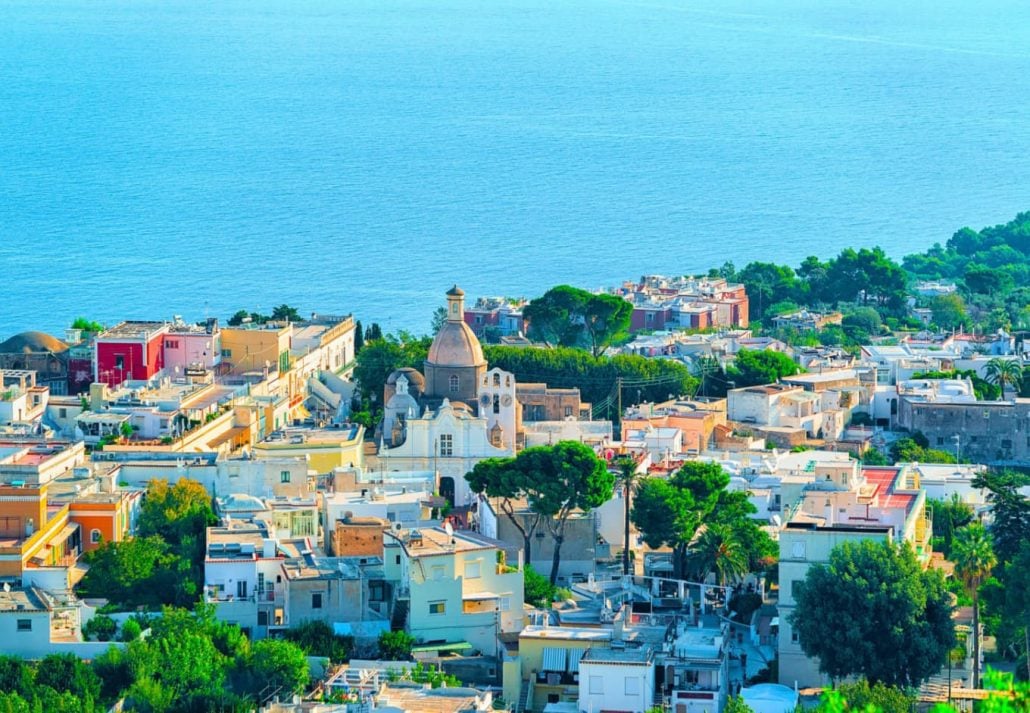 Capri is a beautiful island located in the Campania region on the southern edge of the Gulf of Naples in the Tyrrhenian Sea. It's a famous vacation spot that draws a large number of visitors from all over the world.
Recommended Read 6 Best Things To Do In Capri, Italy
How To Get From Rome To Capri?
Rome To Capri On A Tour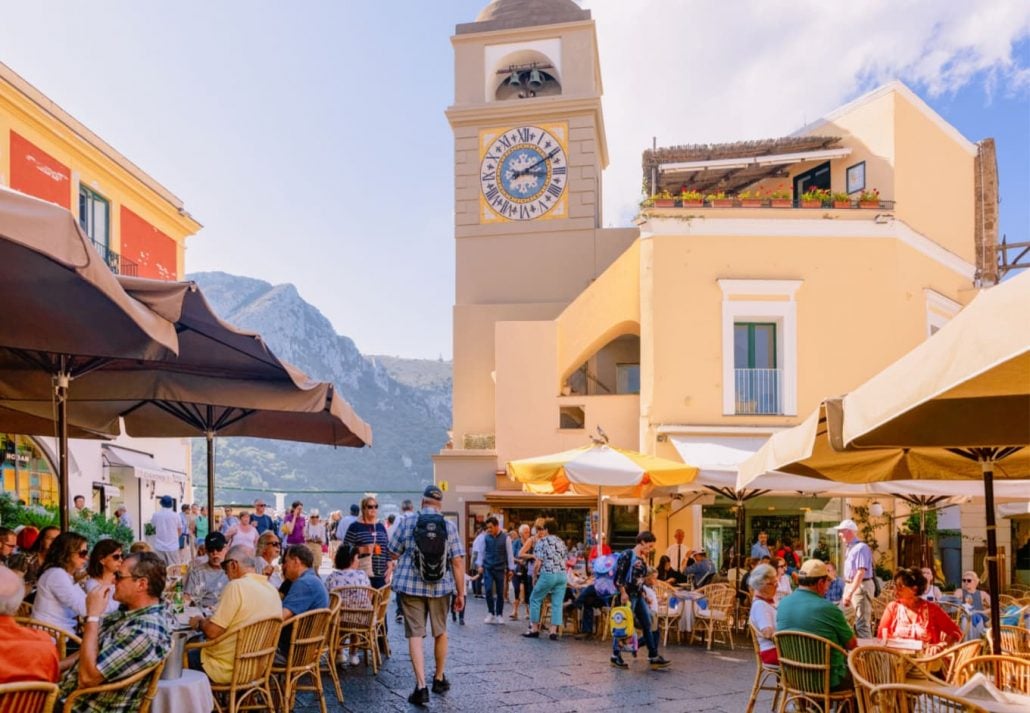 Taking a Capri day trip from Rome is an easy way to explore the island and its attractions without having to make all the preparations yourself. The excursion lasts 13 hours and the coach transfer to Naples is included. From there, you'll take a 45-min boat ride (hydrofoil) and then a bus to Anacapri – Capri's beautiful mountaintop village. Your guide will show you the best sights in the small town before you take a boat tour around the incredible Blue Grotto or Faraglioni Rocks. In the end, the same coach will take you back to Naples.
Travel Time: 13 hours
Cost: $1,600 (price varies by group size)
Recommended Read Two Fun Ways To Travel From Naples To Capri
Rome To Capri By Car And Ferry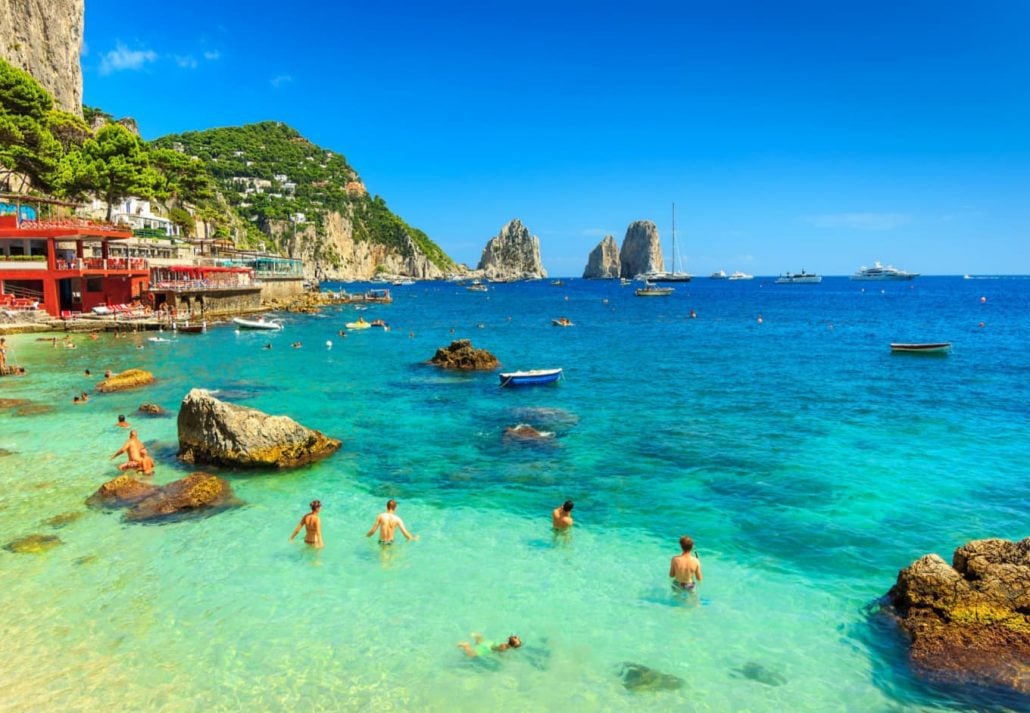 You can drive to Naples via A1/E45 and then take a ferry to reach Capri. Keep in mind, most time of the year Capri is a vehicle-free zone, so you'll have to leave your car behind. In Naples, cars can be left at Molo Beverllo, Calata Porta di Massa, Parcheggio Brin, and Parcheggio Buono. In Sorrento, you can park in Garage Marina Piccola or Parcheggio Correale.
This is a great combination if you want to enjoy the gorgeous scenery. Plus, you'll be in Capri in just a few hours!
Important: To rent a car in Rome, non-EU citizens need an International Driving Permit and a Collision damage waiver (CDW). Also, if you plan to pick up your car at the airport, be prepared to wait in long lines.
Travel Time: about 3.5 hours
Cost: $60+
Recommended Read How to Get From Rome to Pompeii: The 4 Best Ways
Rome To Capri By Train And Ferry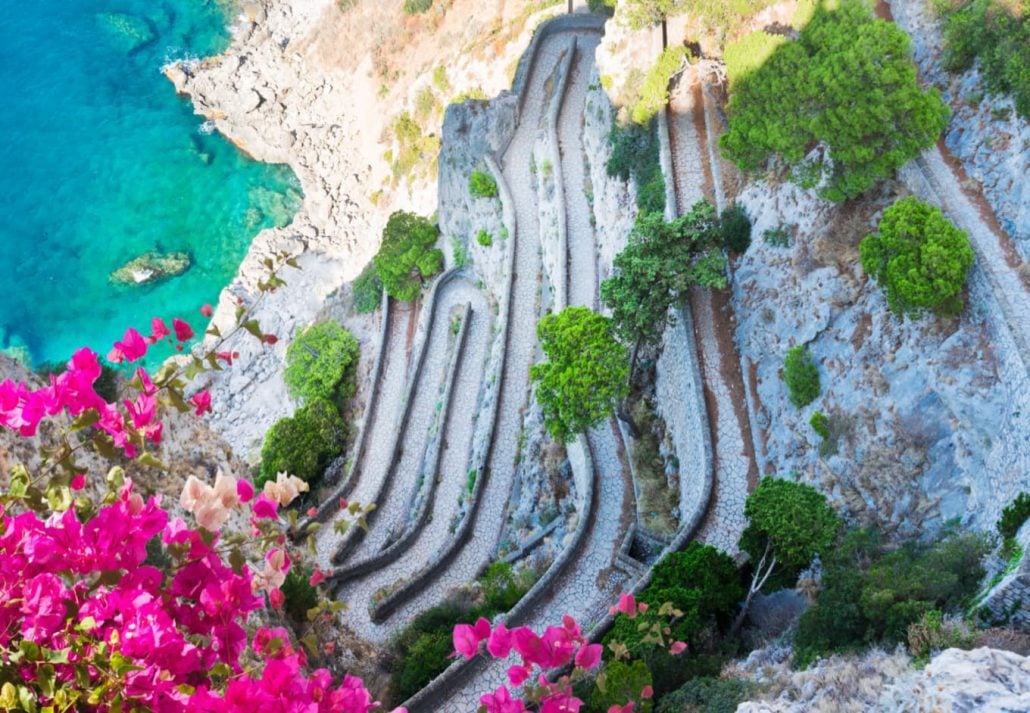 The best way to get to Capri from Rome is by train and ferry. Several trains to Naples depart from Roma Termini train station. The high-speed train Eurostar Frecciarossa (TAV) with free wifi, air conditioning, and power outlets will get you to Napoli Centrale in just over an hour. There's also an Intercity train that costs less than TAV and takes about two hours. The cheapest option is the Interegionali train that's half the price of Intercity, but the ride lasts for almost four hours. Although it's a great budget option, it might not be for everyone! Consider it if you plan to stay in Naples overnight.
Ferries to Capri depart from two ports in Naples: Molo Beverllo and Calata Porta di Massa. High-speed ferries depart from Molo Beverllo while regular and slow ferries depart from Calata Porta di Massa.
To reach Molo Beverllo ferry port from Naples Train Station, take a taxi or the subway (Linea 1) in Piscinola's direction. Exit at Piazza Municipio, then walk 100 meters to the port. You can also take a bus to Piazza Garibaldi that's outside the station. Purchase your tickets on the bus! Get off at Via Marina for Calata Porta di Massa or Piazza Municipio for Molo Beverello. There's a free shuttle bus that operates between the two ports.
Important: If you want to travel from Rome's airport, take a shuttle train to Roma Termini, then transfer to another train to reach Naples.
Travel Time: 2-5 hours
Cost: $10-$46
Recommended Read 6 Rome Hotels Near Pantheon That You'll Love
FAQ
What is the best way to get to Capri from Rome?
The best way to get to Capri from Rome is by train and ferry. The journey time between Rome and Capri can be anything from 2 to 5 hours, depending on the train you get.
Which airlines fly from Rome Airport to Naples Airport?
ITA Airways offers flights from Rome's Fiumicino to Naples Airport.
Which train companies operate between Rome and Capri?
Trenitalia Freccea and Trenitalia Intercity.
What's the biggest beach in Capri?
The biggest beach in Capri is Marina Grande.
How many trains are there from Rome to Capri a day?
There are around 20 trains on the Rome-Capri route a day.
CuddlyNest provides all accommodations to all travelers at the best price. Find unlimited travel inspiration on our blog and social media channels.
You Might Also Like:
The 5 Best Hotels Near Vatican Museums in Rome, Italy
6 Rome Hotels Near The Pantheon That You'll Love
The 5 Best Hotels Near Roman Forum, Rome
The 7 Best Places for Nightlife in Rome, Italy
The 8 Best Hotels Near Rome Airport
The Top 9 Things To Do On The Amalfi Coast, Italy