As you drive along Italy's Amalfi coast, your eyes will undoubtedly wander to the island in the distance – the charming Capri Island. It boasts breathtaking natural wonders, stunning views, wonderful restaurants, several tiny side streets, and twisting little paths that are enjoyable to explore.
It's astonishing how many fun things there are to do in Capri considering how small the island is. You must witness some of the top attractions like the Blue Grotto, Marina Grande beach, Faro di Punta Carena, Giardini di Augusto, Piazza Umberto, and a tall bronze statue in Chiesa di Santa Maria del Soccorso.
If you're only visiting Capri for a day, you might wish you had more time left! To plan your trip properly, take a look at our curated list of the best things to do in Capri.
Find Places To Stay In Capri, Italy
6 Best Things To Do In Capri, Italy
Take A Boat Tour Around The Capri Island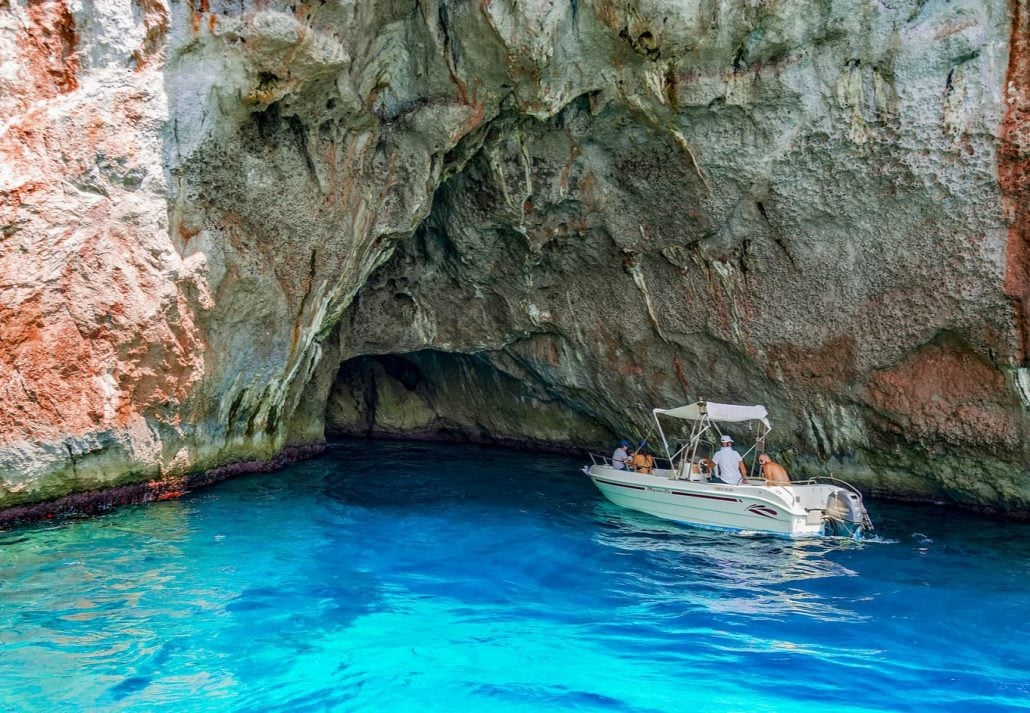 Capri boat tours around the island start from Marina Grande and cruise past Tiberius' Leap to the famous Faraglioni rock formations. Then, it continues along Punta Carena with its stunning lighthouse and finally stops in front of the gorgeous sea cave Blue Grotto. Small wooden rowboats are the only boats that can fit in the sea cave, therefore visitors who want to explore the inside can hop into them immediately.
In addition to the well-known Blue Grotto, Capri island boasts two other sea caves where the color of the water is altered by limestone in the rocky seabed and rock formations above. These caves are called White Grotto and Green Grotto.
The boat tour takes up to 8 hours, so it's a full-day excursion. There's also a shorter boat trip around the Faraglioni Rocks that takes about an hour and is one of the most famous things to do in Capri!
Treat Yourself To Capri Shopping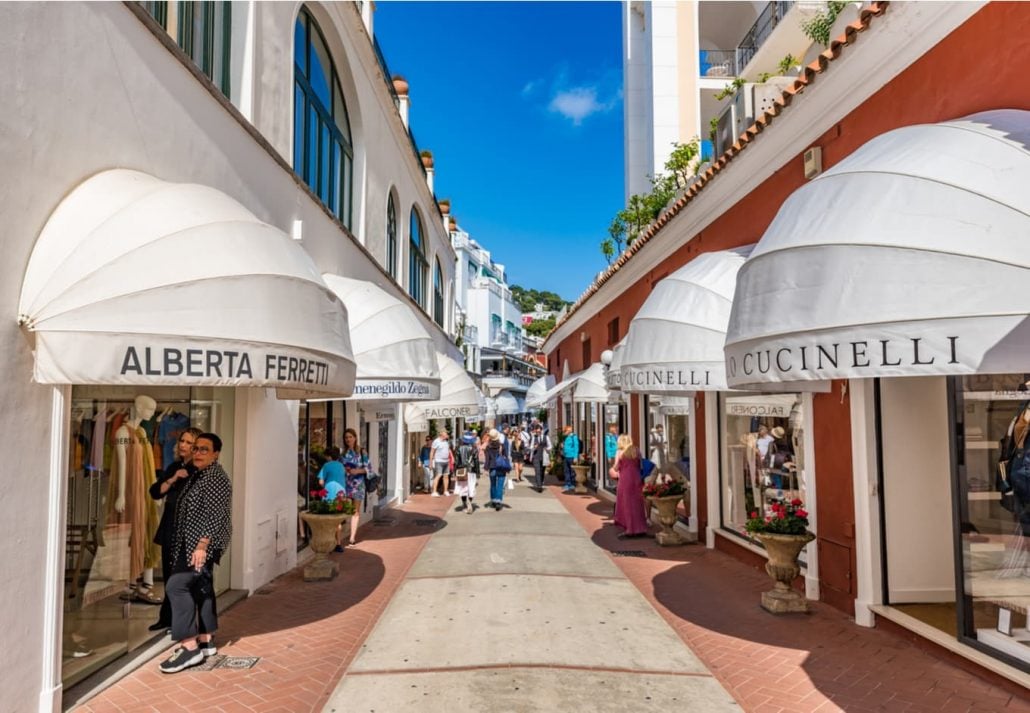 Capri shopping feels like a dream and is something you must experience there. Designer stores are nicely decorated and offer special items you won't find in other Italian cities. Given that Miu Miu and Gucci are exclusive locations, Italian fashion is understandably highly represented. However, there are also several stores offering stylish swimsuit covers, handmade Capri sandals, and funny t-shirts as well.
Recommended Read: Two Fun Ways To Travel From Naples To Capri
Watch The Sunset At The Picturesque Lighthouse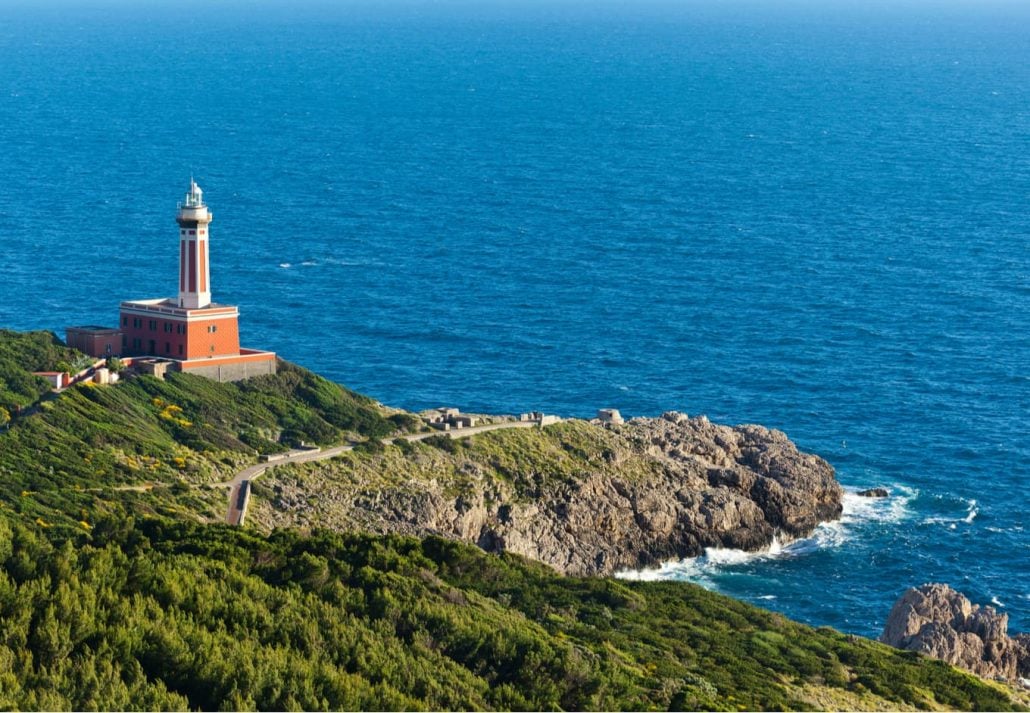 The only location on the island where you can see the sunset into the Mediterranean is the Punta Carena lighthouse. Don't miss out on the opportunity to spend a few afternoons there. It features a lovely beach, calm, sparkling waters, and charming bars where you can sip on a drink while watching the gorgeous sunset.
Explore The Villa Jovis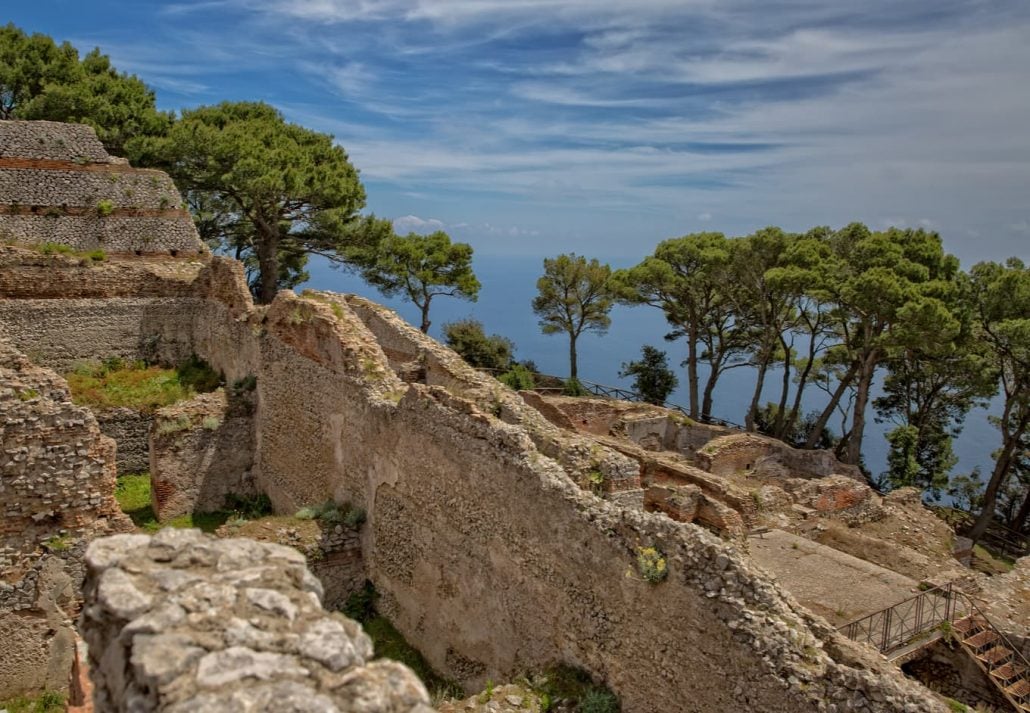 The palaces of two of Capri's most prominent residents – Emperor Tiberius and his nephew and future Emperor Caligula can be reached after a 45–60 minute uphill trek. There are two hiking trails and it takes some effort to get to the top but it's worth it!
The astonishingly well-preserved ruins of the Villa Jovis include buildings finished in the year 27 AD. After rigorous scientific standards were followed for excavation work by archaeologist Amadeo Maiuri, the Villa Jovis complex was formally opened in 1937. The little Church of Santa Maria del Soccorso is located inside the borders of the Villa Jovis property. 
Recommended Read: How To Travel From Rome To Capri: 3 Ways
Roam Around The Gardens Of Augustus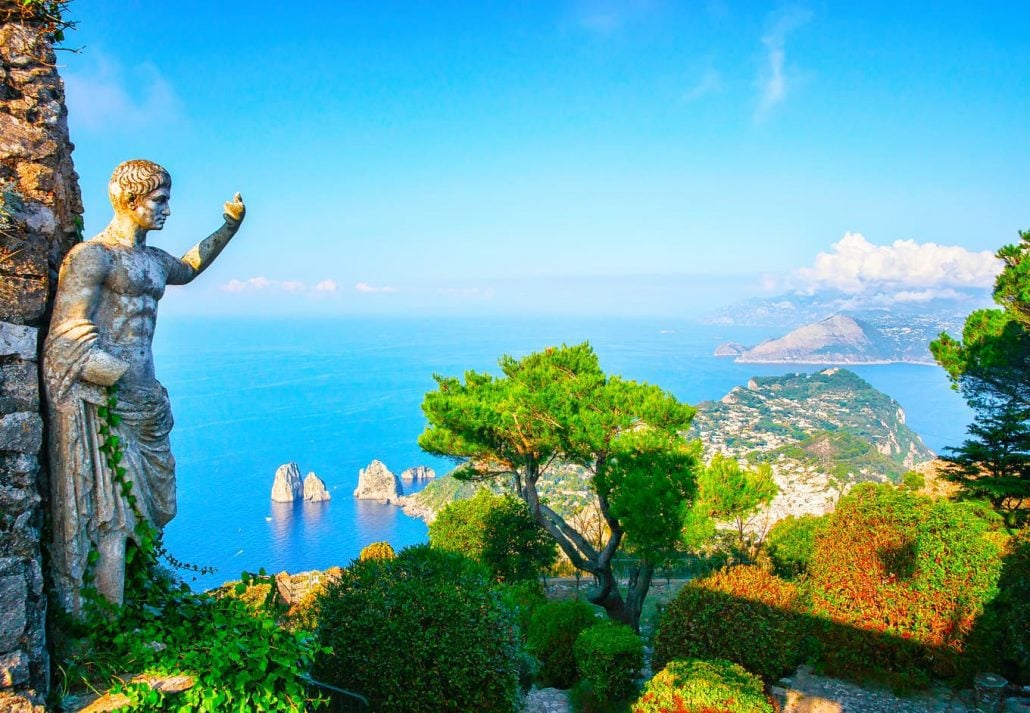 The Gardens of Augustus are a collection of expansive flower-decked terraces that overlook the Faraglioni Rocks on one side and the Marina Piccola and Via Krupp on the other. They are conveniently located near the city center of Capri Town and just a few feet from the Certosa di San Giacomo. Due to the possibility of falling rocks, Via Krupp is not always accessible.
Fun Fact: Lenin visited the Island and stayed there in 1908. Giacomo Manzù built a commemoration stone of him on one of the colorful terraces.
Have A Cocktail In Piazzetta Di Capri
Anyone taking a day trip to the island should stop in the Piazzetta – the island's famous main square. Spend some time at one of the outside cafés for some people-watching, an aperitif, a cocktail, or an espresso.
Life on the island has always revolved around the Piazzetta. It once served as a market square where fish, vegetables, and meat were sold. Today, it's a top spot for eager paparazzi to snap pictures of celebrities and tourists expecting to rub shoulders with their favorite Hollywood star.
FAQ
What are the best things to do in Capri, Italy?
The best things to do in Capri are:
Capri tours that include boat trips
Visiting Blue Grotto & The Natural Arch
Relaxing on the largest beach in Capri – Spiaggia Libera Marina Grande
Having a drink at Lido del Faro or Piazzetta
Seeing the Faraglioni Rocks, Via Krupp & Marina Piccola Bay
Roaming around Anacapri – Center of Capri town
When to visit Capri?
The beginning of April to mid-June and the beginning of September to mid-October are considered to be the greatest periods to visit the island of Capri.
What's the Capri weather like?
The winters in Capri are lengthy, cool, wet, windy, and partially cloudy while the summers are brief, warm, and dry.
Are there any luxury hotels in Capri?
Yes. Some of the best luxury hotels in Capri are:
Casa Mariantonia – offers a beautiful swimming pool
Capri Tiberio Palace – with a rooftop terrace
Hotel Punta Tragara – views of Marina Piccola Beach
What are the best free beaches in Capri?
The best free beaches in Capri are Marina di Pennauro and Marina di Mulo.
CuddlyNest provides all accommodations to all travelers at the best price. Find unlimited travel inspiration on our blog and social media channels.
You Might Also Like:
The 13 Best Attractions in Rome, Italy
The 12 Best Things To Do In Berlin, Germany
The 6 Best Day Trips From Rome, Italy
The 9 Best Kid-Friendly Attractions in Rome, Italy