While there's plenty to see and experience in Rome, you won't regret venturing further out of the Eternal City to explore its nearby destinations. Fortunately, the surrounding Lazio and Umbria regions are home to an array of spellbinding sites that cater to every type of traveler.
Foodies, for instance, will have the best time at Castelli Romani, a scattering of wine-producing towns set in the volcanic landscape of the Colli Albani, while archeology lovers and history buffs will naturally gravitate towards Pompeii, buried under meters of ash after the catastrophic eruption of Mount Vesuvius in 79 A.D.
We've compiled a list of 6 fantastic day trips from Rome that'll take you to discover some of Italy's most beguiling destinations. Have a look below!
Find Places To Stay In Rome, Italy
The Best Day Trips From Rome, Italy
Naples & Pompeii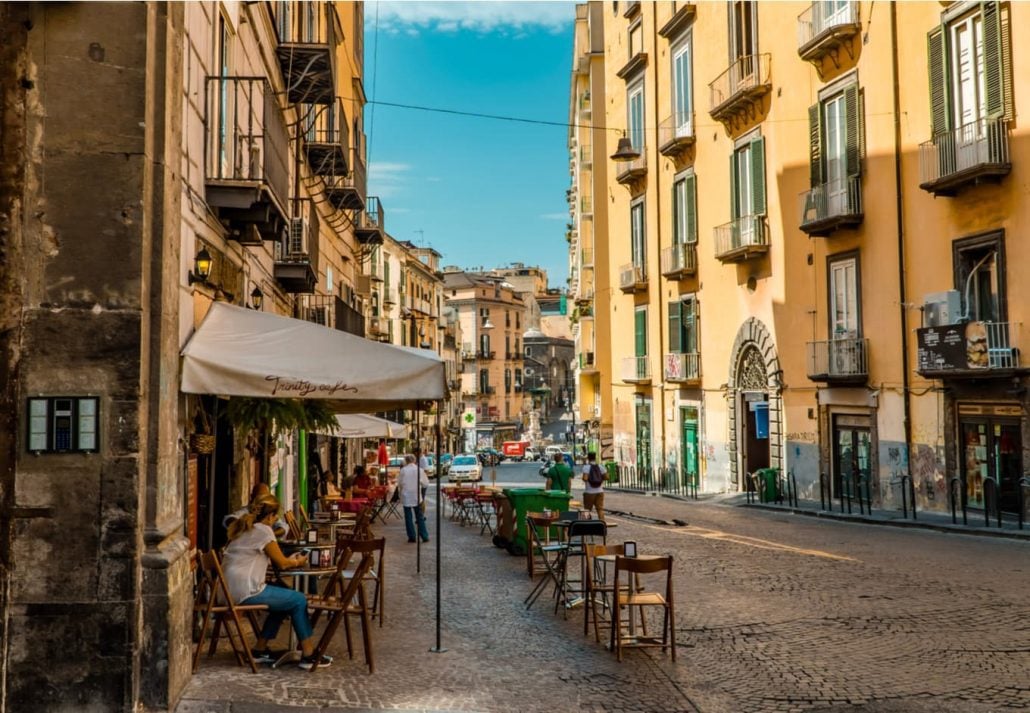 Shaped by a turbulent history — cholera epidemics, World War II, and an earthquake all left their mark on the city —, Naples has grown into a beauty of a destination. Now, the regional capital of the Campania draws travelers from all over the world thanks to its vibrancy, bustling markets, rich cultural heritage, and, of course, the food.
Naples is located 2h30 hours by car from Rome, and it's a great day trip for foodies and history buffs alike. Top experiences in the city include a free walking tour in Naples historic center, which is filled with Medieval, Renaissance, and Baroque-style buildings, and was designated a UNESCO World Heritage site in 1995 due to its architectural and cultural fineness.
Be sure to also visit Naple's fascinating museums. The Naples National Archaeological Museum, is home to one of the most extensive collections of artifacts of the Roman Empire in the world, while Museo di Capodimonte hosts a dazzling collection of masterpieces by Raphael, Titian, Caravaggio, and El Greco.
Between one attraction and the other, don't forget to stop by Gino e Toto Sorbillo for sampling the best Neapolitan pizza in the city!
From Naples to Pompeii, you can either drive or take two direct trains, the Circumvesuviana or the Metropolitano, from Napoli Centrale train station (journey time: 40 minutes). Located near the coast of the Bay of Naples, the city was buried under meters of ash and pumice after the disastrous eruption of Mount Vesuvius in 79 A.D.
Pompeii remained mostly untouched until 1748 when it was rediscovered by a group of explorers. You can visit the vast archaeological site to see excavated ruins of streets and houses, as well as artifacts, and even skeletons, which will certainly take you to uncover how everyday life was in the ancient world.
Distance from Rome: 2h32 min by car | 1h12 min by train

How To Get There: Catch the Trenitalia Frecce train at Roma Termini to Napoli Centrale station
Vatican City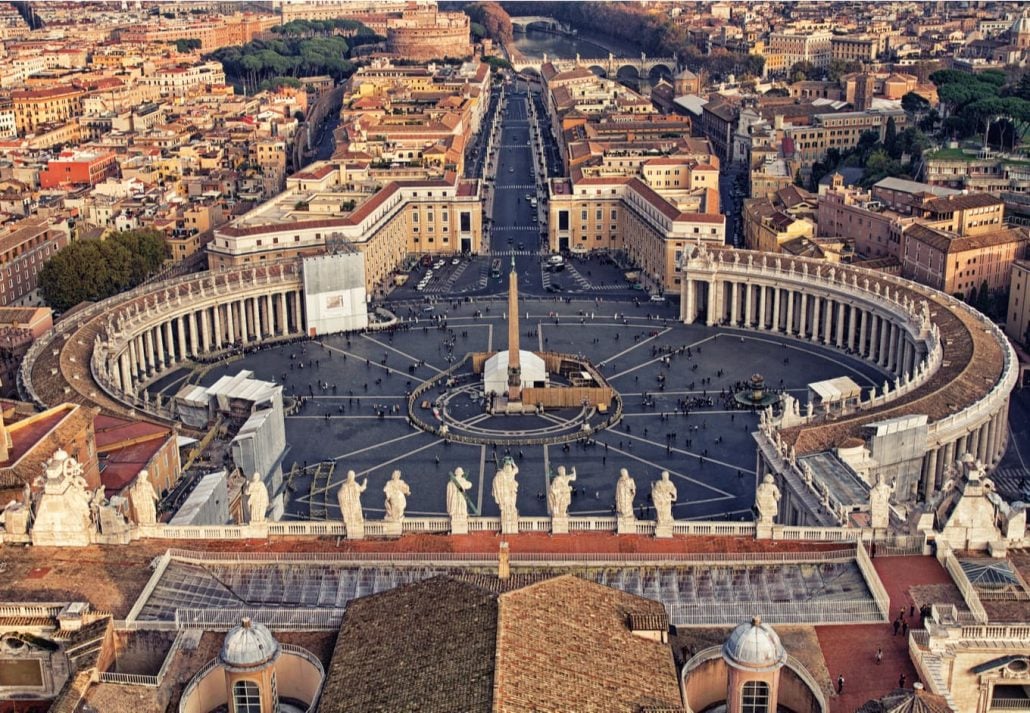 Within Vatican City, you'll stumble upon majestic sites such as the 4th-century St. Peter's Basilica. Built over the tomb of St. Peter the Apostle, the basilica boasts precious features, including a full-size statue of the Pietà, by Michelangelo, a gorgeous travertine façade, furnishings by Gian Lorenzo Bernini, and 19th-century glass and ceramic mosaics.
Despite being located within the city of Rome, just 15 minutes away from the city center, the Vatican City is so tremendously rich, that you'd need a full day to discover it. Both the center of the Roman Catholic Church and the permanent seat of the Popes, the Vatican is home to some of the most significant works of art and cultural treasures in the world, so no wonder one could spend hours on end exploring every inch of it!
The Vatican Museums, which include the drop-dead gorgeous Sistine Chapel, also leave visitors in awe with its artistic treasures. There, you'll come across some of the world's most iconic paintings and sculptures, such as the alluring ceiling with large frescoes by Michelangelo, as well as wall paintings by Sandro Botticelli, Domenico Ghirlandaio, and Pietro Perugino.
Distance from Rome: 15 minutes by car | 22 minutes by train
How To Get There: The Vatican is easily accessible from the center of Rome. You can get the RV train from Roma Termini, stop at Rome Saint-Pierre and then walk 14 minutes to the Vatican, or catch a taxi/use a ridesharing app.
Florence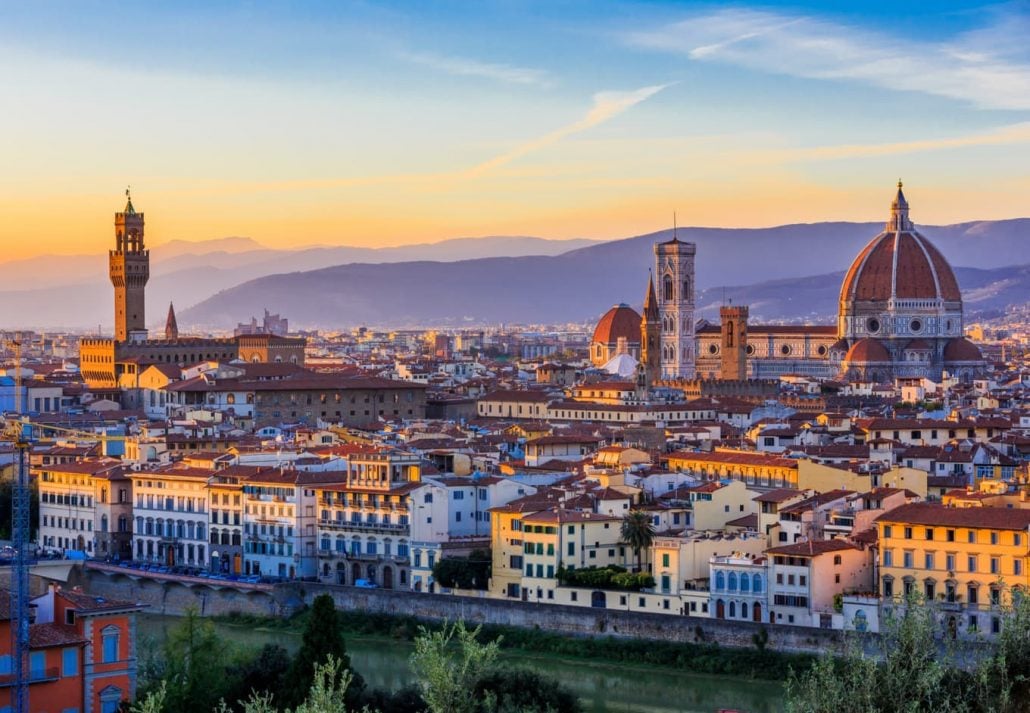 Are you a culture vulture? Then don't pass up the chance to go on a day trip to Florence. Capital of the dream Tuscany region, Firenze, as they say in Italian, is practically an open-air museum dotted with gorgeous Renaissance buildings, each one with numerous stories to tell.
Start your adventure by visiting the century-old Cathedral of Santa Maria del Fiore (Florence Cathedral), the third-largest church in the world and the number one attraction in Florence. This whimsical church is best-known for its splendid stained glass windows, and a sumptuous dome featuring frescoes depicting the Last Judgement, and painted by Giorgio Vasari.
After marveling at the cathedral, stop by the Uffizi Gallery to catch a glimpse of ancient sculptures and paintings ranging from the Middle Ages to the Modern period. The highlights? Botticelli's Birth of Venus, and The Annunciation by Leonardo da Vinci.
If you feel ambitious, on the same day you can head over to Ponte Vecchio for great views of the Arno River, and then straight to Pitti Palace (Palazzo Pitti), which was once the great symbol of the Medici's power over Tuscany, and now harbors 4 museums.
Distance from Rome: 1h26 minutes by high-speed train |3h4 by car
How To Get There: The fastest way to get from Rome to Florence is by taking a high-speed train from Rome Termini or Tiburtina station to Florence Santa Maria Novella Station
Amalfi Coast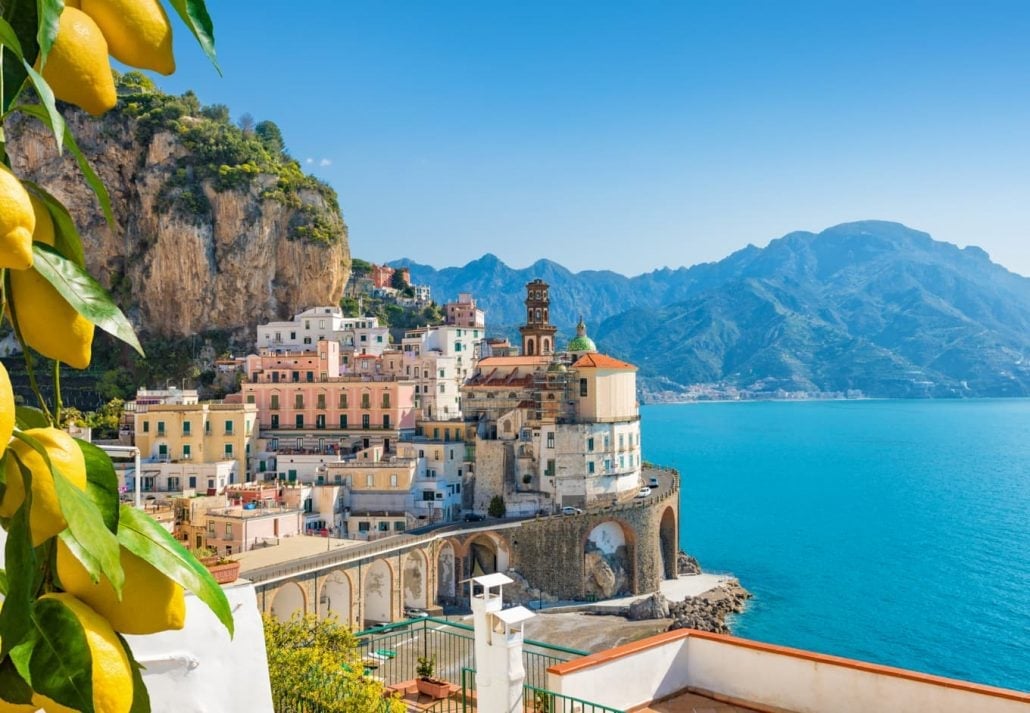 Graceful multicolored houses spread flanked on coastal cliffs on the edge of the Mediterranean make the Amalfi Coast one of the most alluring destinations in all of Italy. This 34-mile stretch of coastline along the Sorrentine Peninsula has dotted with a wealth of cinematographic towns and villages like Positano, the picturesque Amalfi, Ravello, and Villa Rufolo.
Aside from visiting some of the quaint towns comprised by the scenic Amalfi Coast, be sure to also visit the Grotta dello Smeraldo (Emerald Cave), in the village of Conca dei Marini. When the sunlight filters through this small karst cave, partly inundated by the seawater, the grotto becomes tinged with a magical emerald color, which is a sight to behold!
Distance from Rome: 3h30 by both train and car
How To Get There: You can catch a Trenitalia or Italo train from Roma Termini to Stazione Salerno, the main station in Salerno. You can also take a train from Roma Termini to Naples Centrale Station, and then walk to Naples Garibaldi, from where the train to Sorrento departs.
Hadrian's Villa & Villa D'Este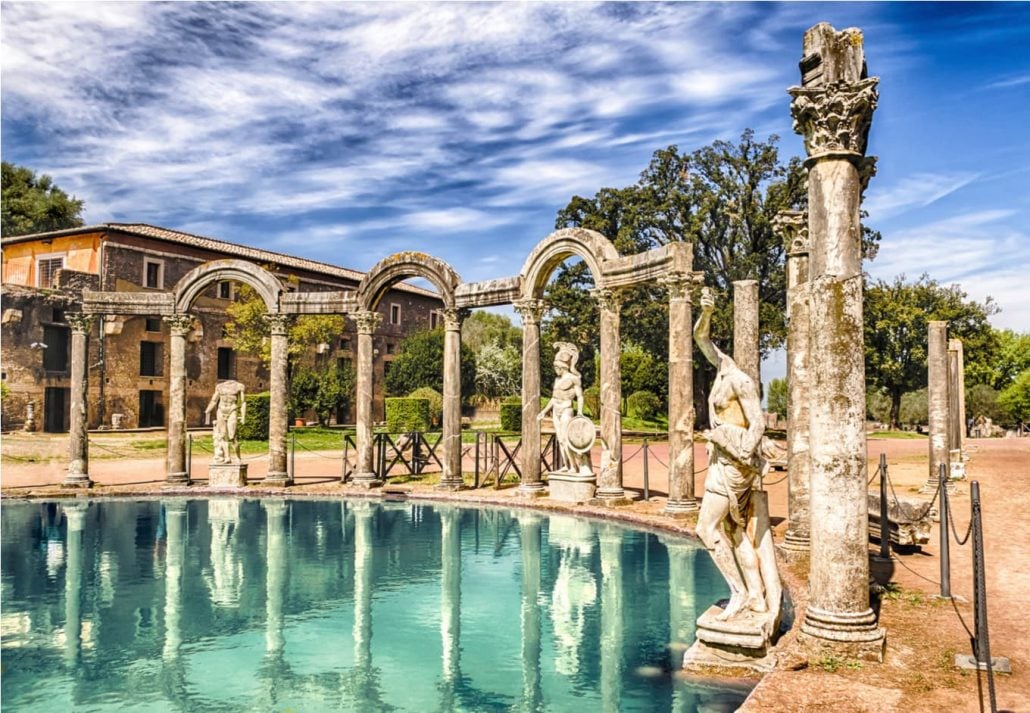 A day trip from Rome to Hadrian's Villa is a fantastic way of traveling back to the glory years of the Roman empire. Located in Tivoli, 19 miles east-north-east of Italy's capital, this fascinating site encompasses the ruins and archaeological remains of a large villa complex built c. AD 120 by Emperor Hadrian.
Designated as a UNESCO World Heritage Site in 1999, Hadrian's Villa was the largest and most sumptuous imperial villa in the Roman Empire, covering approximately 7 square miles. Significant portions of the complex have survived to modern times, and during a tour of the site, you'll come across well-preserved structures like an imperial palace, the philosopher's room, a Greek theatre, and a maritime theatre (teatro maritimo), where the Emperor isolated himself when he wanted some peace and quiet.
The leafy town of Tivoli is also known for its 16th-century Villa D'Este, which comprises a terraced hillside Italian Renaissance garden and a profusion of gorgeous fountains.
Distance from Rome: 45 to 75 minutes by train | 55 minutes by car
How To Get There: Hop on The Roma-Avezzano-Pescara regional (Regionale) train, which departs from Rome's Tiburtina rail station almost hourly. You can hop on trains marked as both Tivoli and Avezzano, as either will take you to Tivoli. The train journey is stunning, one as you climb into the wooded Sabine Hills.
Castelli Romani
Seeking to explore Rome's idyllic — and history-filled — countryside? Then the Castelli Romani, aka Roman Castles, region is a must-visit. The area comprises a group of communes spread throughout the southeast of the Italian capital, in the natural park of the Lazio region.
Due to its fresh climate and gorgeous landscape, the lush Castelli Romani region was traditionally frequented by the noblemen of Rome.
If you are lucky enough to explore this scenic area, be sure to stop by Castel Gandolfo. Nestled on the Alban Hills, overlooking the sparkling waters of Lake Albano, this small — but immensely charming — town is home to the Apostolic Palace of Castel Gandolfo, which is the summer residence of the Pope. Surrounded by carefully manicured gardens, this 135-acre complex is open to the public as a museum where you can see 20 rooms of the Apostolic Palace, as well as paintings, relics, and liturgical vestments.
The Castelli Romani region is also famous for its vineyards that produce stellar rosés, meaning that there are great wineries you can visit as well. A must is the Minardi Frascati Winery, where you can sample wine and olive oil tasting on a beautiful deck overlooking Rome!
Distance from Rome: 44 min by train | 55 min by car
How To Get There: Catch the Regionale train at Rome's Termini Station to the Castel Gandolfo train station, at Castelli Romani.
CuddlyNest provides all accommodations to all travelers at the best price. Find unlimited travel inspiration on our blog and social media channels.
You Might Also Like:
Top Italian Dishes You Can Make at Home
The Ultimate Europe Travel Guide
Best Farmers' Markets in Rome, Italy
What to Pack for a Sustainable Trip To Europe
40 Top & Most Beautiful Castles in Europe
Best Day Trips from Madrid