Positano, a small beach town on the Amalfi Coast, is famous for its picturesque coastline, stunning buildings, and amazing cuisine. It's only 55km away from Naples which makes it a perfect location for a day trip.
Although there is no direct public transportation, there are a few great ways to get there. You can reach Positano by ferry, train, bus, and car. For more information, check out our list of the best ways to get from Naples to Positano!
Find Places To Stay In Naples │ Places To Stay In Positano
Where Is Positano Located?
The charming town is located in the Campania region, just south of Sorrento. Its colorful homes, top-notch dining, and scenic coastline are recognized worldwide.
How To Get From Naples To Positano?
Naples To Positano By Ferry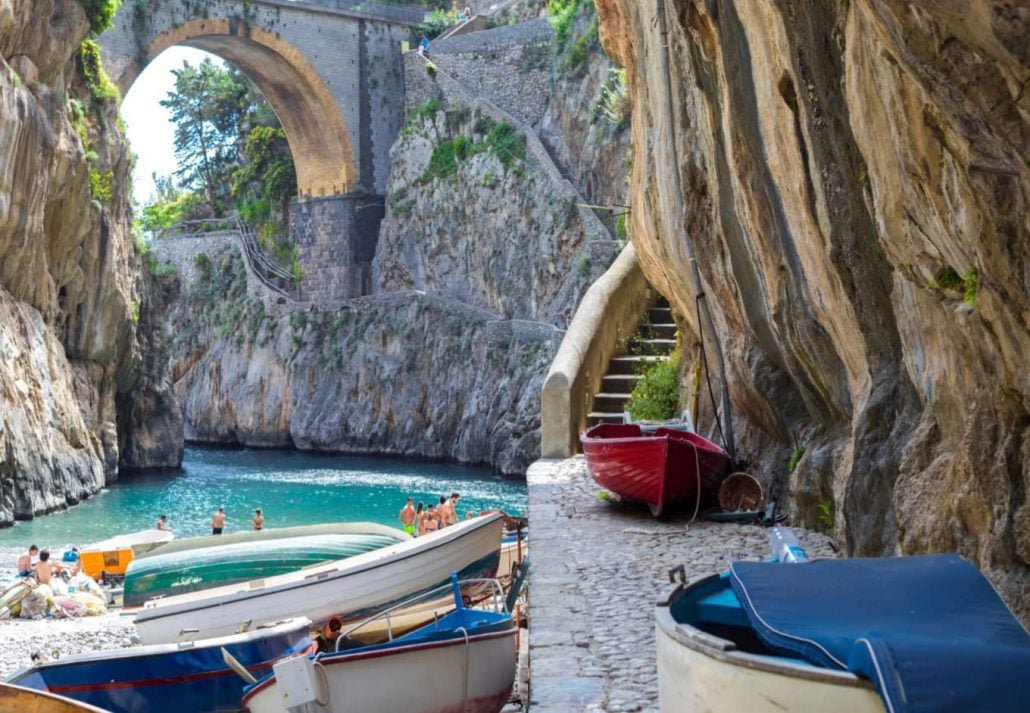 If you have extra time, take a ferry ride from Naples to Sorrento and then board a smaller ferry to Positano. Ferries depart from the Moro Beverello Pier and it takes 40 minutes to reach Sorrento. The port in Sorrento is right by the beach, but if you want to take a break before boarding a ferry to Positano, you'll need to climb roughly 100 steep steps to get to the town's center.
When you're ready to continue, we suggest you take one of the high-speed ferries that run several times a day. You can purchase tickets at the ticket office, online, or when you board.
Important: The ferry between Sorrento and Positano only runs from April to October.
Ticket Cost: Naples to Sorrento €13, Sorrento to Positano €20
Travel Time: about 85 minutes
Naples To Positano By Train And Ferry
A simple way to reach Positano is to take a train to Salerno or Sorrento and then a ferry. Dozens of trains depart from Napoli Centrale Station or Piazza Garibaldi. You can choose to travel by a high-speed train Freccia (Campania Express train) or a regular Circumvesuviana train that's slower. The difference is that high-speed trains have air conditioning, extra luggage space, and free wi-fi while regular ones don't. Circumvesuviana trains depart every 30 minutes, from 6 AM to 11 PM (during peak season). This trip takes an hour and ten minutes. They're a great budget-friendly option, but they're often overcrowded.
In Salerno or Sorrento, two ferry companies can take you to Positano. The Travelmar service travels more frequently but takes twice as long as the NLG service which runs once a day and takes 35 minutes. It's best to book a ferry ticket in advance, if not – you're likely to find a spot on the Travelmar ferry.
Important: You can't reserve your spot in advance for regular local trains. Instead, take a fast train or get to the train station as early as possible to buy a ticket for a regular one. Local train tickets are sold out quickly during the summer months.
Ticket Cost: Circumvesuviana train €3, Campania express train €7, ferry ride €20
Travel Time: 1-3 hours
Naples To Positano By Bus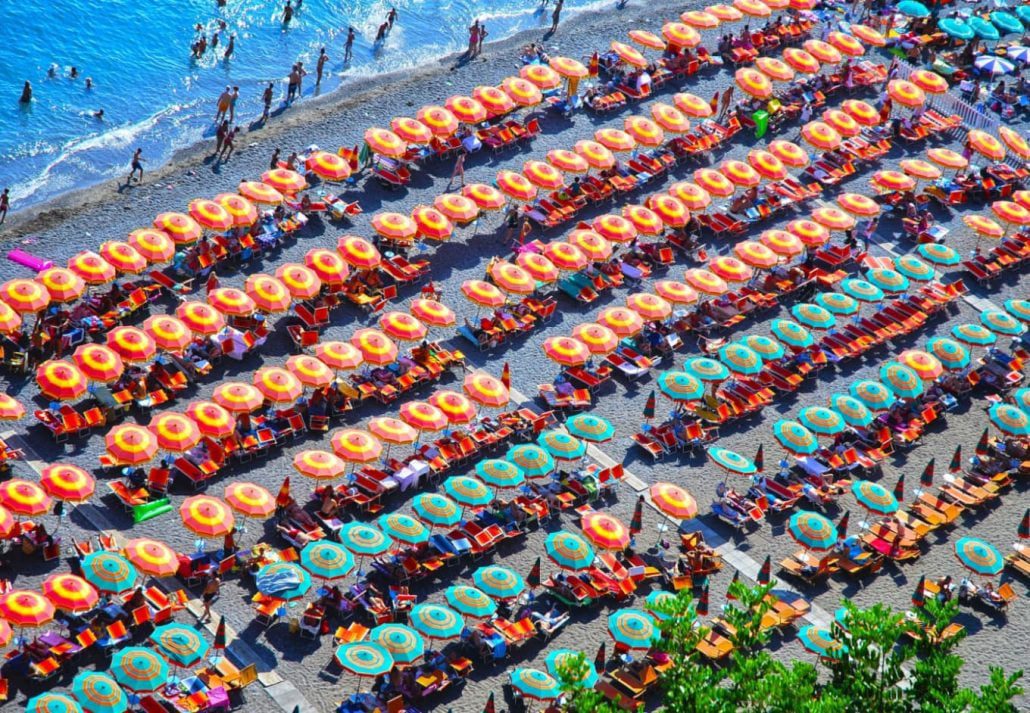 Take the Curreri Viaggi shuttle service from the Naples airport to the Sorrento bus station. Most buses on this route have air conditioning and sufficient space for luggage.
With stops in Positano and Praiano, the Sita bus company operates from the Sorrento train station to the coast of Amalfi. The trip takes about 45 minutes and the bus departs every 30 minutes from 6:30 AM to 7:30 PM. You can purchase tickets at local cigarette shops and newspaper stands. As these buses are sometimes completely sold out, a ticket does not always guarantee you a seat.
Ticket Cost: €10-12
Travel Time: 1-1.5 hours
Naples To Positano By Car
The fastest way to get to Positano is by car, however, you need to be aware of the new number plate system. For example, to stay in Positano for an even number of days during peak season you must rent a car with license plates that correspond to your visit (if you arrive on August 8th, you also must leave on an even date). The same system works for the odd number of days. Overall, this is limiting the number of cars that can enter the towns on the Amalfi Coast. However, these restrictions do not apply to taxi and car services.
If you decide to take a car, get on the A3 Autostrada in the direction of Sorrento. Then, take the Via Nastro Azzuro exit and get on the SS 163 highway to reach Positano.
Important: Take a sat nav with you to avoid getting lost.
Cost: €105+
Travel Time: 1.5 hours
FAQ
What is the fastest way to get to Positano from Naples?
The fastest way to get to Positano from Naples is by car.
Is there a direct train from Naples to Positano?
No, there is no direct train from Naples to Positano. Take a train to Salerno or Sorrento and then hop on a ferry to Positano.
Is there a direct ferry from Naples to Positano?
Although there are no direct ferries from Naples to Positano, you can simply take a ferry to Sorrento and then to Positano.
Is there a private car transfer from Naples to Positano?
Yes, you can book a private transfer to Positano. The driver will pick you up at your accommodation and will take care of your luggage. It's a good way to avoid long lines if your budget allows this option. The service starts at around €130 with additional fees.
Is Positano worth visiting?
Yes! The colorful houses built in the rock, lemon shops, and traditional meals are simply magnificent.
CuddlyNest provides all accommodations to all travelers at the best price. Find unlimited travel inspiration on our blog and social media channels.
You Might Also Like:
How To Travel From Rome To Capri: 3 Ways
Top 6 Things to See In Piazza Della Signoria, Florence
How to Get From Rome to Pompeii: The 4 Best Ways
How To Get From Milan To Cinque Terre: 4 Ways
Train From Rome to Florence: Everything You Need to Know
Two Fun Ways To Travel From Naples To Capri
The Best Guide To Florence's Piazza Del Duomo
6 Awesome Things To Do In Catania, Italy