Cinque Terre is a true heaven on Earth with its dramatic cliffs, charming terraced vineyards, seafront villages, and colorful homes. Although the region has five villages, they are all small and easy to get to. This place is only three hours away from bustling Milan. It's an ideal location for an unforgettable day trip!
Thinking of visiting Cinque Terre, but not sure how? Don't worry, we've got you covered – here's everything you need to know to travel from Milan to Cinque Terre.
Find 8 Incredible Day Trips From Milan, Italy
Where Is Cinque Terre Located?
Cinque Terre is a part of the Liguria region and is located in northern Italy. This UNESCO World Heritage Site consists of five charming villages: Monterosso al Mare, Vernazza, Corniglia, Manarola, and Riomaggiore. The region is famous for having gorgeous beaches, colorful cliffside homes, fantastic hiking trails, and incredible cuisine.
4 Ways To Travel From Milan To Cinque Terre
Milan To Cinque Terre By Car
The shortest route to Cinque Terre by car covers 230 kilometers and takes approximately three hours. Although it is possible to drive from Milan to Cinque Terre, tourists don't typically choose this option. Since all five villages are vehicle-free zones, you'd need to leave your car at one of the train stations to get to your final destination.
Furthermore, we recommended you rent a small car to navigate the challenging narrow roads. If you're going to Levanto or Monterosso al Mare use the A7 road and if you're traveling to La Spezia or Riomaggiore, take the A1.
Travel Time: 3 hours and 20 minutes
Cost: €30-€45
Milan To Cinque Terre By Train
The fastest way to reach Cinque Terre is by train. Throughout the day, several trains leave from Milano Centrale (the city's main train station) for Monterosso or La Spezia.
Monterosso is the closest village to Milan and there are direct trains on the route, but others may need transfers along the way. Another option is to take a train to La Spezia which serves as a hub for numerous lines. As soon as you arrive, you can hop on a regional train and travel to one of the villages. Sometimes, these regional trains don't have air conditioning and other features that high-speed trains have.
Intercity trains run daily between Milan and Monterosso and provide more luggage space, air conditioning, and power sockets. This might be the best option if you're traveling during the summer months. Purchase train tickets online to avoid long lines!
Travel Time: 3 hours
Cost: €30+
Milan To Cinque Terre By Train And Ferry
This combination is an amazing way to travel and enjoy the beautiful scenery. First, take a train from Milan to La Spezia. Between April and September, ferries to Cinque Terre depart at least twice a day.
Ferries stop at Portovenere, Riomaggiore, Manarola, and Vernazza on the way to Monterosso al Mare, where you'll arrive in about two hours. You can exit at any of the stopping points and then take a connecting train or hike through the Cinque Terre National Park to reach the other villages.
Important: You can't purchase ferry tickets in advance. You can get them at the ticket counters 30-min before your departure.
Travel Time: About 5 hours (3 hours by train + 2 hours by ferry)
Cost: €9.90+ for a one-way train ticket, €37 for a full all-day ferry ticket with stop-offs
Milan To Cinque Terre By Tour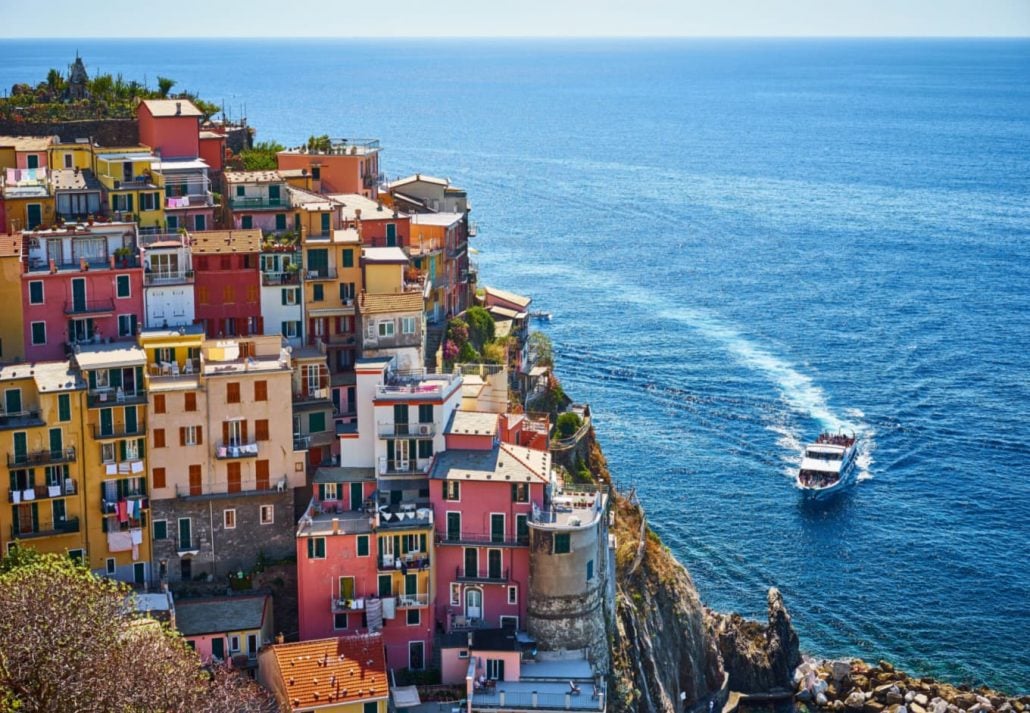 Booking an organized Cinque Terre day trip is a hassle-free way of traveling to this breathtaking place. You don't need to worry about making travel arrangements or standing in line. The 12-hour journey starts in Milan where you'll board a coach.
After arriving in Cinque Terre, you'll have time to explore the area on your own. You can wander along the harbor, visit local stores, or have a cup of coffee by the seaside. Then, you'll take a train to Monterosso al Mare where you'll stop by the Cinque Terre National Park. When it's time to leave, you'll hop on a 90-min ferry tour of the bay. It's an excellent way to fully experience the charming region! When the ferry arrives in La Spezia, your driver will be waiting to take you back to Milan.
Travel Time: 12-14 hours roundtrip
Cost: €135+
FAQ
Can you do a day trip to Cinque Terre from Milan?
Yes! If you're in Milan you should take the opportunity to visit Cinque Terre. The best way to travel is to take an organized tour.
How many days do you need in Cinque Terre?
We suggest you stay in Cinque Terre for 3 to 4 days to fully explore everything the region has to offer.
What's so special about the Cinque Terre National Park?
Cinque Terre National Park was the first national park in Italy, founded in 1999. Today, it's considered to be the smallest national park in the country. It has great hiking trails and offers a spectacular view of the Mediterranean Sea.
Which town has the biggest train station in Cinque Terre?
Monterosso al Mare has the biggest train station in the region.
Why is Vernazza in Cinque Terre so famous?
Vernazza is known as one of the most authentic fishing villages on the Italian Riviera.
Is there a Cinque Terre train station?
No. Cinque Terre is a region of five villages. The best way to travel by train is to arrive at the Monterosso train station.
CuddlyNest provides all accommodations to all travelers at the best price. Find unlimited travel inspiration on our blog and social media channels.
You Might Also Like:
How To Get From Milan to Lake Como: The 3 Best Ways
Train From Rome to Florence: Everything You Need to Know
The Best Guide To Florence's Piazza Del Duomo
Two Fun Ways To Travel From Naples To Capri
6 Best Things To Do In Capri, Italy
The 6 Best Things To Do In Lake Como, Italy
6 Awesome Things To Do In Catania, Italy