As the second-largest city in Sicily, Catania is situated on the eastern coast at the base of Mount Etna. In the past, it was one of the most influential cities in Italy. Although Greeks laid the foundation for the city, Catania has seen a number of occupations throughout history, including a Roman one. Particularly during the Renaissance era, Catania had great cultural and artistic growth.
Today, Catania is known for showcasing a rich cultural heritage. Many monuments around the historical center emphasize Roman sculptures and baroque architecture with window decorations and marble floors. Some of the main tourist sights include Piazza Duomo, Castello Ursino, Piazza Carlo Alberto, Monastero dei Benedettini, and Santa Filomena street.
The area provides visitors with many activities, from having a drink by the castle walls to hiking the grand Mount Etna. So, take a look at our curated list of the best things to do in Catania!
Find Places to Stay in Catania, Italy
6 Best Things To Do In Catania, Italy
Take A Walk In Piazza Del Duomo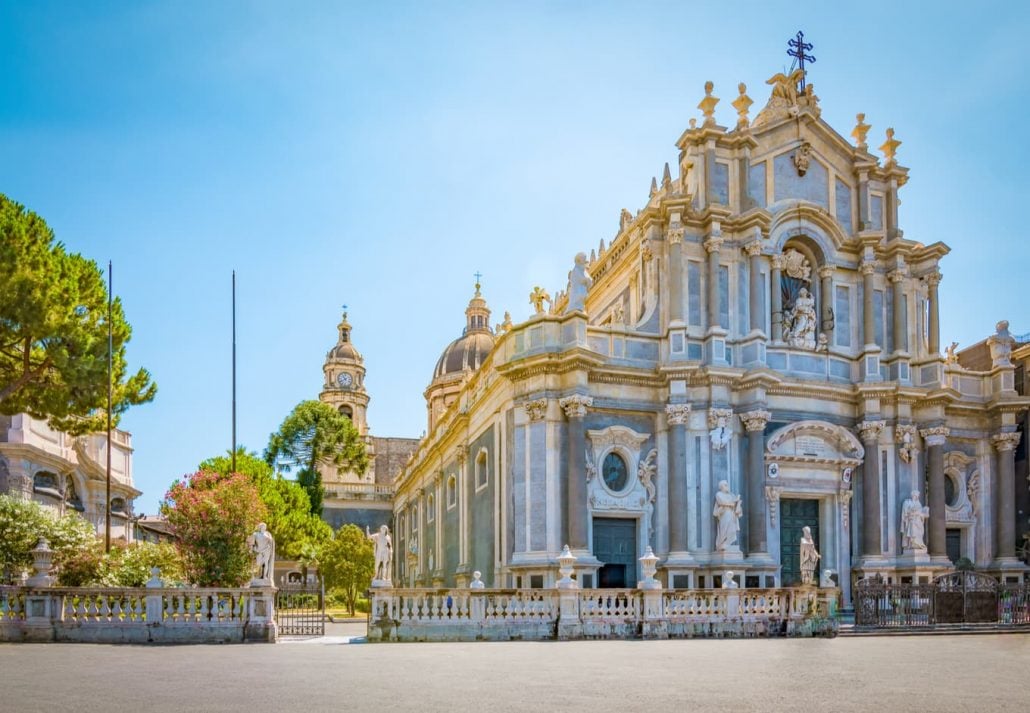 The Piazza Del Duomo, Catania's main square, has a ton of attractions to offer. Locals frequently love to gather close to the magnificent Fontana Dell'Elefante, Fontana Dell'Amenano, or the Catania Cathedral.
The building that stands out the most is the gorgeous cathedral dedicated to the patron Saint Agatha. It was built between 1086 and 1090, not long after the Normans occupied Catania. The story says the structure stands where Saint Agatha died as a martyr in 251.
Alongside stunning baroque architecture, a number of lively cafes and restaurants offer outdoor seating where you can have a tasty drink, try local specialties, and take in the lovely Sicilian ambiance.
Address: Piazza del Duomo 95100 Catania, Italy
Hike Mount Etna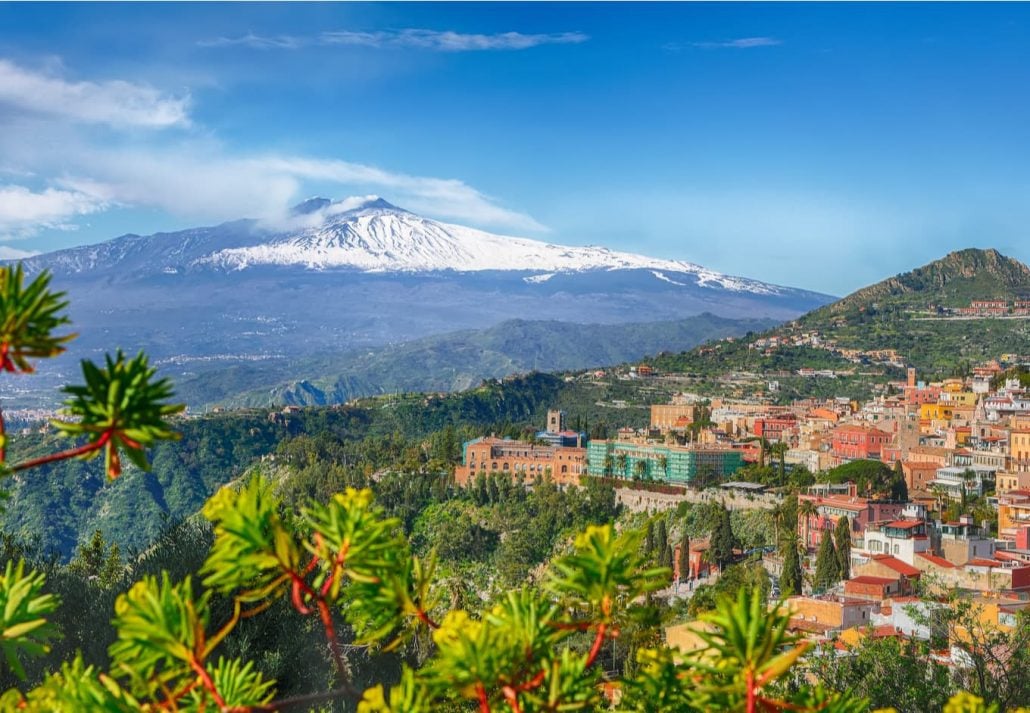 If you're feeling adventurous, hike to the calderas at Etna's Peak. The climb up the volcano swirls around abandoned settlements and showcases a surreal empty scenery and a view of the Mediterranean Sea. If you didn't already know, you'd never guess this is Eastern Sicily!
You can hike on your own up to 2000 meters, but you must travel with a certified guide if you wish to reach the top craters. On the other hand, you can ride in a jeep to get to the summit if hiking isn't your thing. It's important to note that the best time to visit Mount Etna is in the late spring, summer, or early fall when there is less chance of snowfall.
Shop For Fresh Produce At Piazza Carlo Alberto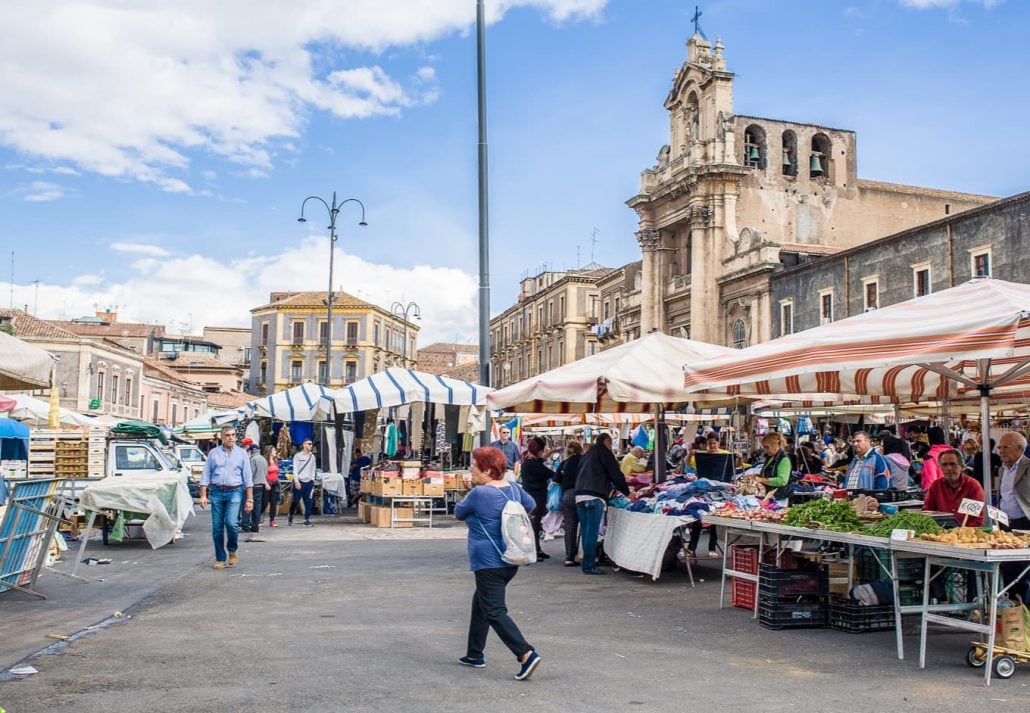 The main bustling outdoor market in Catania is located on the Piazza Carlo Alberto. Here, you can buy everything from street cuisine specialties, souvenirs, and antiques, to fresh fruit and vegetables. Roaming around this square is one of the best things to do in Catania because it's also home to the beautiful Villa Bellini garden with flower beds and the Parco Maestranze's walking trails.
Address: Piazza Carlo Alberto 95100 Catania, Italy
Visit The Castello Ursino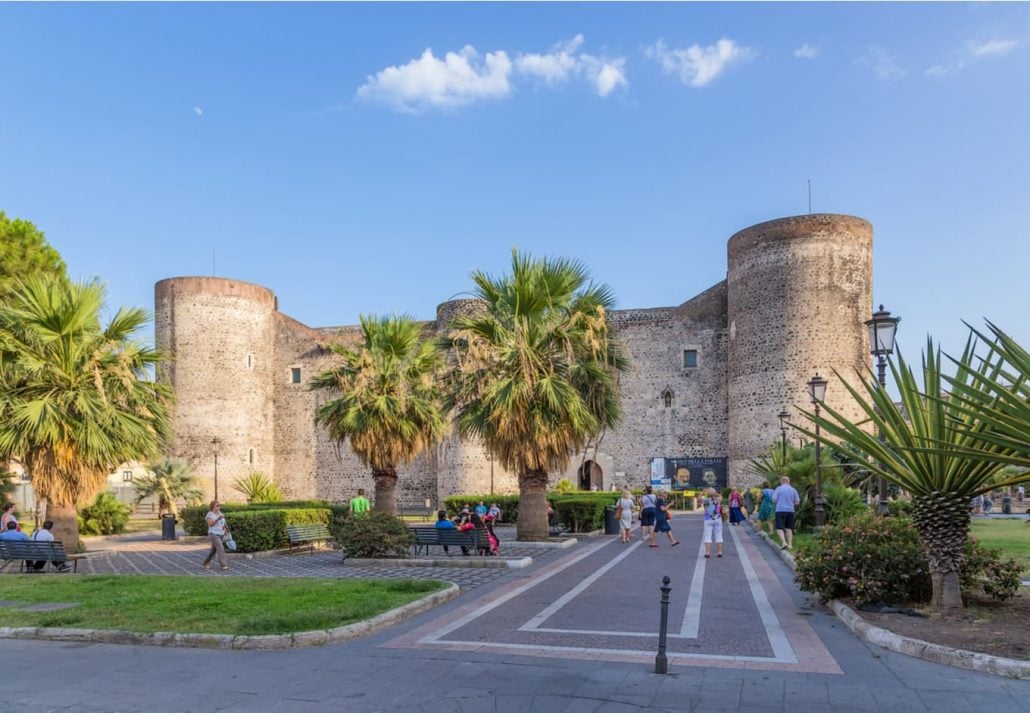 Sicily is home to a number of beautiful castles that are left over from the era of occupation and Castello Ursino is one of them. Emperor Frederick II constructed it in the 13th century to defend the east coast of the Kingdom of Sicily.
There's an interesting fact behind the castle's location. When Etna erupted in 1669, the lava spread and flowed around it, essentially pushing the coastline to the east when it was originally positioned by the sea.
Today, the castle is an important part of Catania's rich culture, not just because of its history but also for its breathtaking architecture. The Civic Museum inside the building houses weapons, sculptures, and beautiful paintings. A must-see!
Address: Piazza Federico di Svevia, 95121 Catania, Italy
Recommended Read 6 Amazing Things To do In Verona, Italy
Admire The Monastero Dei Benedettini Di San Nicolò l'Arena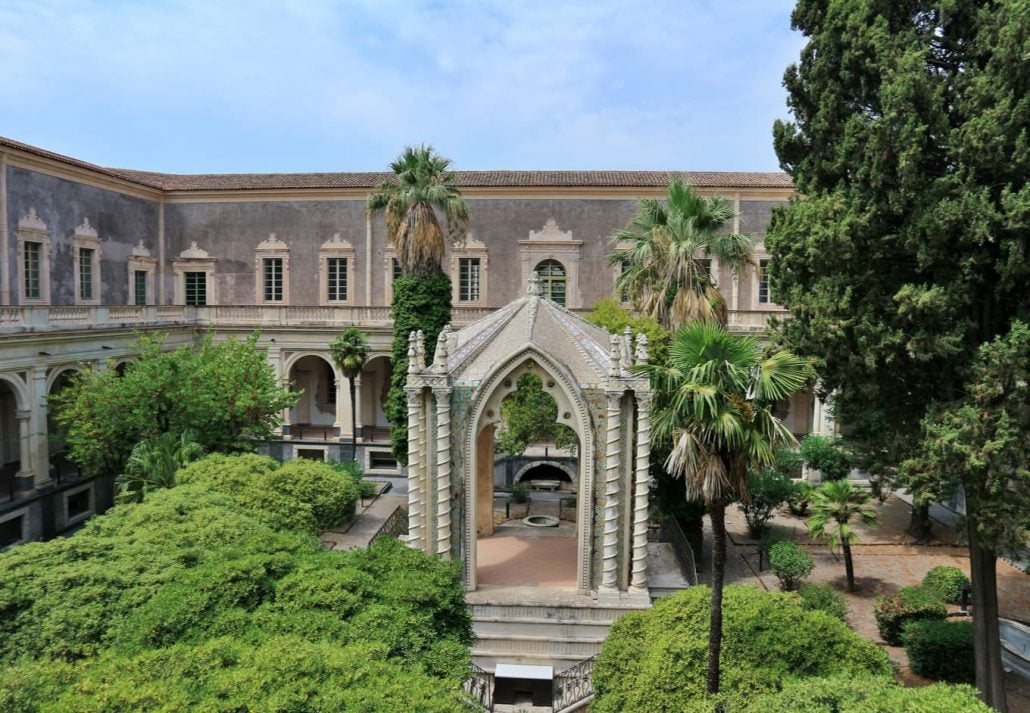 The Benedictine Monastery lies in central Catania and is one of the most impressive structures of its sort in Europe. It's also proudly presented as a part of the UNESCO World Heritage Site.
It has one of Sicily's most significant libraries as well as two opulent internal cloisters. These two spots are often off-limits to the public but can be visited on a daily guided tour. Alternatively, you can see view the cloisters from the nearby hallways on your own.
Don't forget to stop by the largest church in Sicily called San Nicolò l'Arena, which is nestled next to the monastery. Its architecture is inspired by the Saint Peter's Basilica in the Vatican and showcases that through the Corinthian capitals that support the aisles.
Address: Piazza Dante Alighieri, 32, 95124 Catania, Italy
Try Tasty Dishes At Via Santa Filomena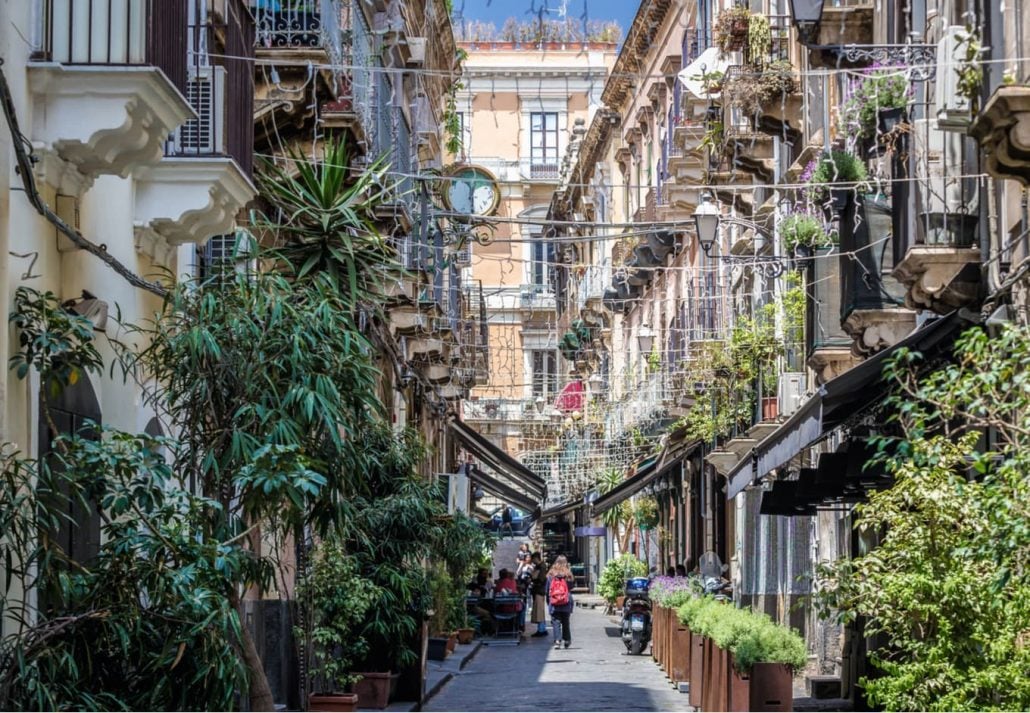 If you're feeling hungry after all the walking around the city center, head to Via Santa Filomena in the evening. This hidden passageway is the right place to relish authentic Sicilian food including arancini (rice balls), crispy potato sheets, and croquettes. There are plenty of restaurants offering Italian and international cuisines as well as vegetarian options. What better way to end the day than with tasty food creations!
FAQ
What other attractions can be found in Catania?
Teatro Romano di Catania
San Francesco church
Catania Botanical Gardens
Fish market
Porta Garibaldi
Palazzo degli Elefanti
What is Catania known for?
Catania is known for being located nearby the enormous Mount Etna – the tallest active volcano in Europe. Plus, it boasts a gorgeous historic city center with fine architecture and bustling markets.
When is it best to visit Catania?
The best time to visit Catania is from April to June. There are fewer tourists and the weather conditions are ideal.
Where to go on a day trip from Catania?
Visitors love to go on a day trip to Isola Bella island that's less than an hour away from Catania. It's a charming place with lovely pebbled beaches, an ancient Greek theater which is the main sight of the island, and an archaeological museum.
How to get around Catania?
The best way to get around Catania is to walk. Most attractions, bars, and restaurants are close to each other. Other options include taking a rental car or a train.
What is Catania's signature dish?
Pasta alla Norma is one of the most popular signature dishes. Allegedly, it was named after the Norma opera of Vincenzo Bellini. A poet Nino Martoglio shouted, "This is true Norma!" after tasting the pasta. It isn't just a staple of Catania, it's the most famous Sicilian dish in general.
CuddlyNest provides all accommodations to all travelers at the best price. Find unlimited travel inspiration on our blog and social media channels.
You Might Also Like:
The 13 Best Attractions in Rome, Italy
The 12 Best Things To Do In Berlin, Germany
The 6 Best Day Trips From Rome, Italy
The 9 Best Kid-Friendly Attractions in Rome, Italy
The 7 Best Places for Nightlife in Rome, Italy
The 9 Best Museums in Rome, Italy
The Best Time To Visit Rome, Italy
9 Free Things To Do In Rome, Italy
The 10 Best Restaurants in Rome, Italy
Transportation In Rome: How To Get Around The City
The 10 Best Pizza Restaurants in Rome, Italy
The 5 Best Places To Go Shopping in Rome, Italy
The Top 5 Hotels Near The Colosseum, Rome
Best Italian Breakfast: The Top Foods To Try
The 5 Best Things To Do In Genoa, Italy
6 Best Things To Do In Capri, Italy
The 6 Best Things To Do In Lake Como, Italy