Rome is every shopper's wonderland. The city accommodates a wide swath of fabulous places where you can find everything from high-end designer goods and luxury brand items to fast-fashion clothes and handmade apparel.
Whether you're seeking to upgrade your closet or simply window shop along Rome's picture-perfect streets, you will surely find a place to go.
We've created an insider guide to the best shopping in Rome so you know precisely where to indulge in well-deserved retail therapy. There are luxurious department stores, bustling shopping streets, budget-friendly shopping malls, and more!
Find Places To Stay In Rome, Italy
The Top 7 Places For Shopping in Rome, Italy
Via Del Corso
Gloriously located in the heart of Rome, Via Del Corso is one of the city's most prestigious commercial stretches. This bustling shopping street links Piazza del Popolo with Piazza Venezia, and it's dotted with a dazzling array of stores catering to every taste, style, and budget.
While strolling along Via Del Corso, you will find everything from high-end brands to fast fashion stores. If you are a luxury-loving traveler, for instance, be sure to stop by the opulent Galleria Alberto Sordi, an Art Nouveau-style building that plays host to stellar fashion boutiques such as Prada, Moncler, and Dolce & Gabbana.
Now, no worries if you want to shop without digging deep into your pocket. In Via del Corso, often regarded as Rome's high street, you'll come across big-name retail brands such as H&M, Zara, Gap, Benetton, and more.
Via del Governo Vecchio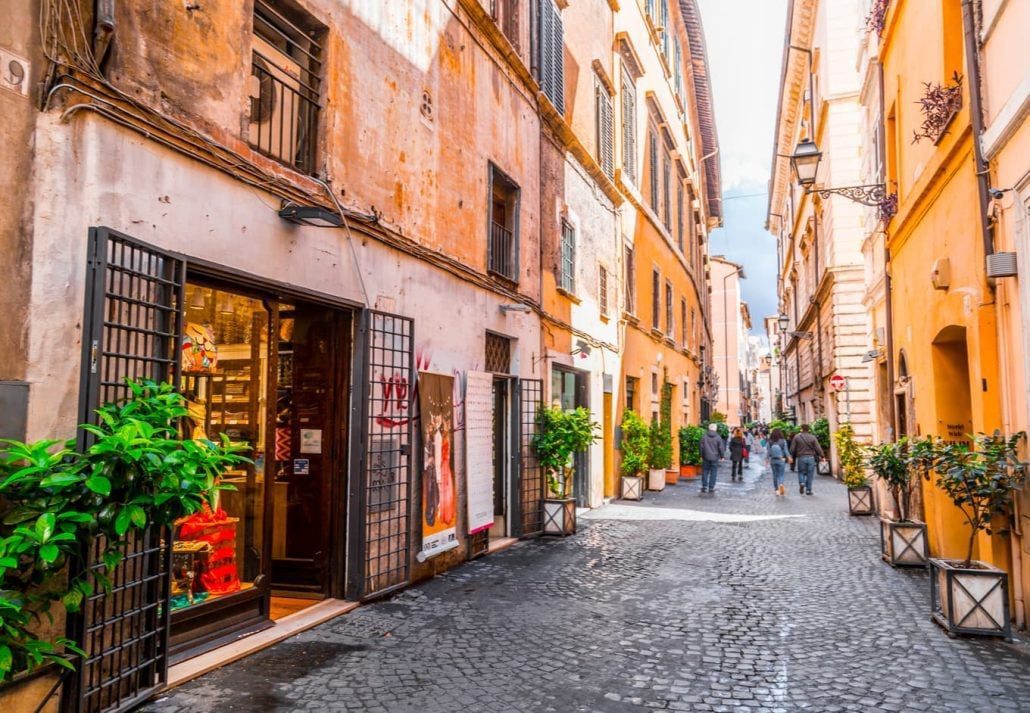 Nestled behind the alluring Piazza Navona, Via del Governo Vecchio is one of Rome's best places to shop. There, expect to come across a dazzling wealth of boutique stores and vintage shops, making it the perfect destination for those seeking to find stylish items with plenty of history.
A must-visit? The Otherwise Bookshop. Thus Insta-worthy English-language bookstore features a robust selection of classic novels, new releases, and kid-friendly reads.
Running along five blocks in Rome's Centro Storico, the cobblestoned Via del Governo Vecchio is also lined with many lively bars, charming restaurants, and historic buildings dating from the 15th and 16th centuries.
And since Via del Governo Vecchio is in the city center, you can easily reach top attractions like the bustling Campo de Fiori square.
Via Cola di Rienzo
Set in the heart of the Prati neighborhood, just north of the Vatican, Via Cola di Rienzo is a prime destination for those seeking a more "local" shopping experience in Rome. This tree-lined street is less touristic than Via del Corso, but it still spoils visitors with a delightful array of Italian and international stores.
Highlights include Falconeri, well-known for its high-quality cashmere knitwear for men and women, Intimissimi, an Italian brand specializing in lingerie, and famous stores such as Zara Home, Tiffany & Co., Sephora, and Tomy Hilfiger.
The crown jewel of Via Cola di Rienzo, however, is COIN Excelsior, a one-stop department store where visitors can find desirable items by high-end brands like Armani Exchange, Marc Jacobs, and Guerlain, just to name a few.
Via Dei Condotti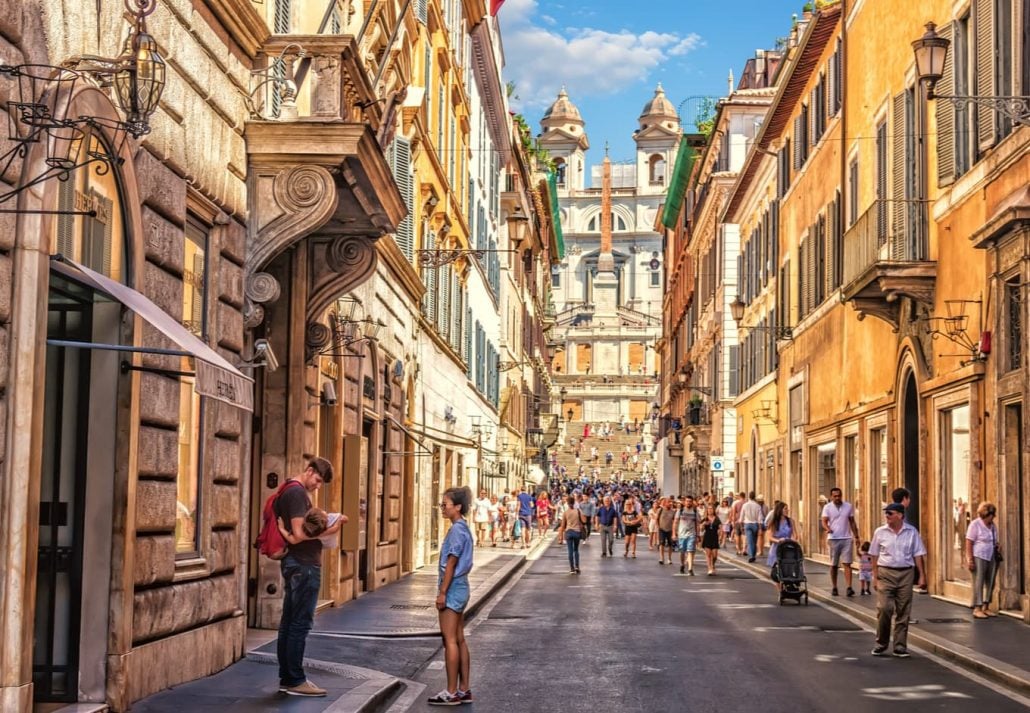 Beginning at Piazza di Spagna (the Spanish Steps), Via Condotti is one of Rome's most fashionable shopping streets. Due to its robust selection of haute couture boutiques, it is one of the favorite destinations for those seeking luxury items.
Some of Via Condotti's most coveted stores include Giorgio Armani, Miu Miu, Dior, Valentino, Hermès, Prada, Salvatore Ferragamo, and Céline. Another sought-after shopping destination in this opulent street is Palazzo Fendi, which is Maison's flagship store in Italy.
Via Condotti is also lined with a wealth of precious historic buildings from the 17th, 18th, and 19th-century, making it a prime place for an idle stroll and window shopping in Rome.
Castel Romano Outlet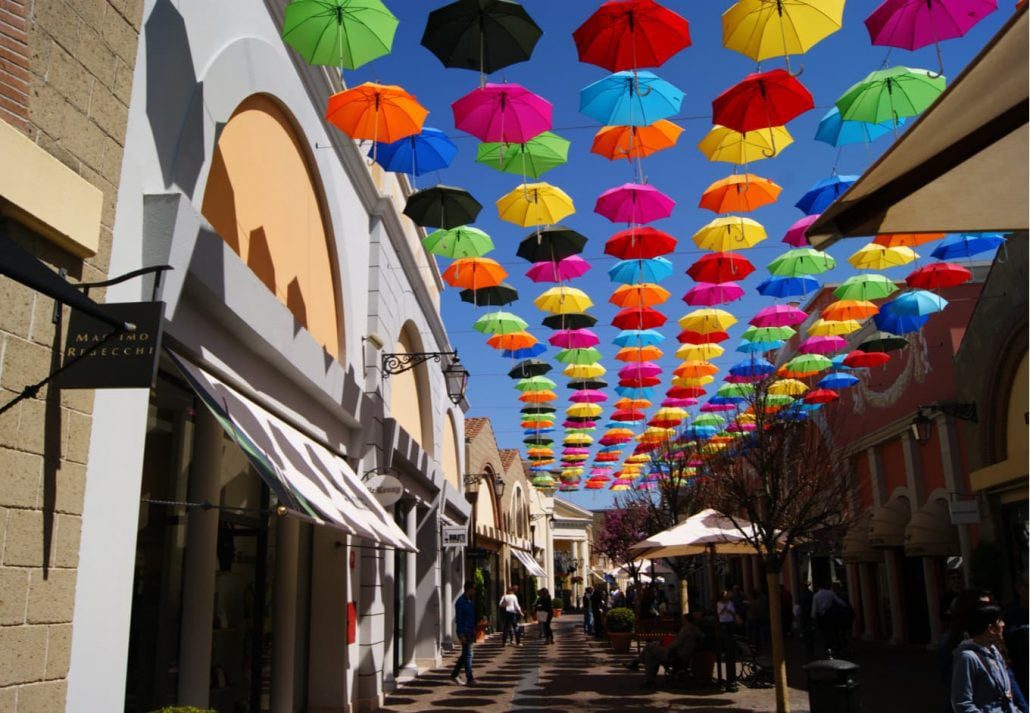 Castel Romano is a must for those seeking to score heavily discounted designer brand items. Located just 20 minutes from Rome, this outlet shopping mall features a fine selection of over 150 stores, including Jimmy Choo, Moschino, Valentino, Armani, and Burberry, where you can save up to 70%.
You need can drive out there or take the shuttle that leaves from Via Marsala outside Termini Station.
Via di Monserrato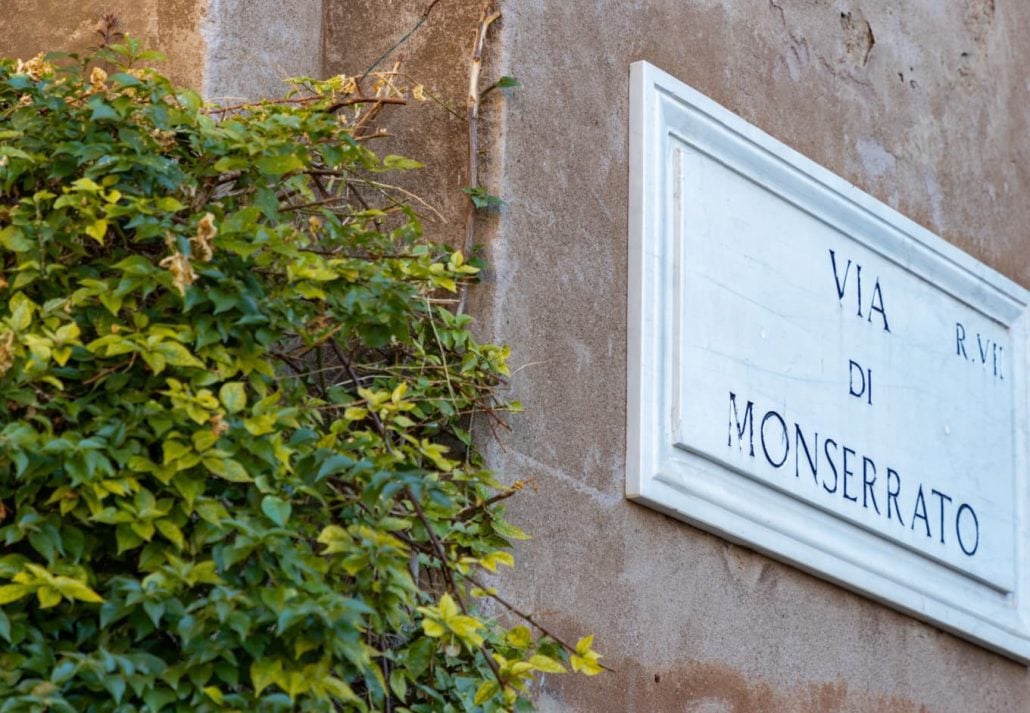 Via di Monserrato is a tiny street in the Campo de Fiori area. Serene and charming, the street is dotted with art galleries, restaurants, bars, and a fair amount of shopping options.
Here, you'll mainly find chic boutique stores instead of big-name shops. A must-visit in Via di Monserrato is Chez Dédé, an independent boutique also operating as an art gallery and atelier. Located in Palazzo Antonelli Capponi, the store is owned by Daria Reina and artist Andrea Ferolla and sells exclusive collections of accessories, fashion, home decor, and jewels.
Stop by Maison Halaby, run by Lebanese designer and artist Gilbert Halaby. In this eclectic atelier and gallery, you'll stumble upon handcrafted items like scarves, paintings, tea sets, journalism, and leather handbags.
Via dei Coronari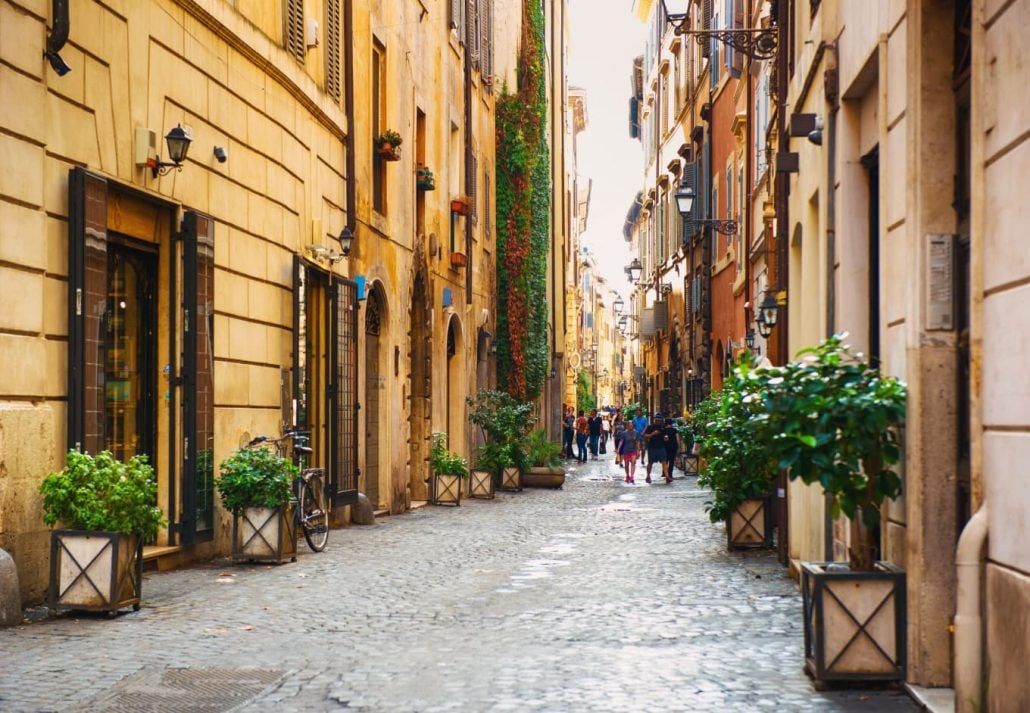 Perfectly located close to Piazza Navona in the city center, Via dei Coronari is one of Rome's top shopping streets. The road is lined with beautiful 15th and 16th-century buildings that play host to antiques, jewelry, home decor, and clothing stores.
While strolling along this awe-inspiring Rome shopping street, stop by Essenzialmente Laura, a dreamy boutique known for its luxury perfumes handmade in Italy.
Not in the mood for splurging? No worries! Window shopping in Via dei Coronari while taking in the street's dreamy atmosphere is also worth it.
Don't forget to treat yourself to an ultra-creamy gelato in Gelateria del Teatro at 65/66 of Via di Coronari.
FAQ
What is the famous shopping street in Rome?
Located in the city center, Via Del Corso is Rome's most famous shopping street.
What should I buy while shopping in Rome?
Italian ceramics, shoes, leather handbags, jewelry, and clothing are top items to buy while shopping in Rome.
Is Rome a good place for shopping?
Rome is a fabulous place for shopping. Throughout the city, you'll find a range of boutiques, big-name stores, luxury shops, and outlet malls catering to every taste and budget.
What is the best shopping area in Rome?
The five best places for shopping in Rome:
Via Del Corso;
Via del Governo Vecchio;
Via Cola di Rienzo;
Via dei Condotti;
Castel Romano Outlet;
Via di Monserrato;
Via dei Coronari.
CuddlyNest provides all accommodations to all travelers at the best price. Find unlimited travel inspiration on our blog and social media channels.
You Might Also Like:
Top Italian Dishes You Can Make at Home
The Ultimate Europe Travel Guide
Best Farmers' Markets in Rome, Italy
What to Pack for a Sustainable Trip To Europe
40 Top & Most Beautiful Castles in Europe
The Best Time To Visit Rome, Italy
The Best Day Trips From Rome, Italy
The Best Kid-Friendly Attractions in Rome
Rome 1 Day Itinerary
The 9 Best Kid-Friendly Attractions in Rome
The 10 Best Restaurants in Rome
9 Free Things To Do In Rome