There are endless reasons to hop on a flight to Rome: century-old monuments, splendorous archaeological sites, achingly beautiful fountains, leafy piazzas, and some of the world's most eye-opening art masterpieces. But there's another driving force that draws travelers to the Eternal City — the food.
A culinary powerhouse at its heart, Rome spoils fastidious foodies with a joyous gastronomic experience where hallmark pasta dishes, mouthwatering pastries, unique-flavored cured meats, seasonal vegetables, and artisanal cheeses take the lead.
After you've worked up an appetite by wandering around the city's history-filled streets, there's no better way to recharge your batteries than by enjoying a heartwarming meal, or simply a well-deserved snack, at one of Rome's tantalizing eateries.
With the food-loving travelers in mind, we've created a guide with the 12 dishes — from cacio e pepe pasta to porchetta — that are worth trying in the city. Plus, curated tips on where to try each of these Roman classics. Buon appetito!
Find Places To Stay In Rome, Italy
What To Eat In Rome, Italy
Pizza al Taglio
Pizza al Taglio is the go-to snack for when you're adventuring into Rome and the hunger strikes. Baked in large rectangular trays and generally sold in slices by weight (pizza al taglio translates to "pizza by the slice"), this pizza variety is mostly a takeaway street food, often eaten outside the pizzeria or in a nearby piazza.
This popular Roman pizza comes in a variety of flavors, which range from classics like Margherita (tomato sauce, and mozzarella), to more creative ones loaded with toppings such as mushrooms, zucchini, smoked salmon, or black truffles.
While meandering your way through Rome, you're likely to find places selling pizza al taglio around every corner. All of the pizzerias look pretty similar, so how does one avoid tourist traps and choose the right spot to eat? A good tip is to avoid eateries that display pictures of their pizza on their front door or offer special price combos with soda and a dessert.
Just remember that the authentic pizza al taglio is priced by the kilo, and never pre-cut.
Where to Eat: Pizzarium, Pizzeria la Boccaccia, Volpetti Più, Forno Campo de' Fiori
Saltimbocca alla Romana
Believed to have originated in Brescia, a Lombardian city flanked at the foot of the Alps, saltimbocca alla Romana curiously remains one of the most famous dishes of Rome, much like carbonara pasta. The dish consists of pan-fried veal cutlets, that have been wrapped with prosciutto and fresh sage, and then sautéed in white wine.

Regardless of its area of origin, this staple Italian dish is succulent, tender, and tantalizes the tastebuds with a pleasant combination of unique flavors. Its name, by way, comes from the words "salti in bocca", meaning "leap into the mouth", a reference to how delicious the veal cutlets are!
Where to Eat: La Matriciana dal 1870, Otello Alla Concordia, Armando al Pantheon
Spaghetti alla Gricia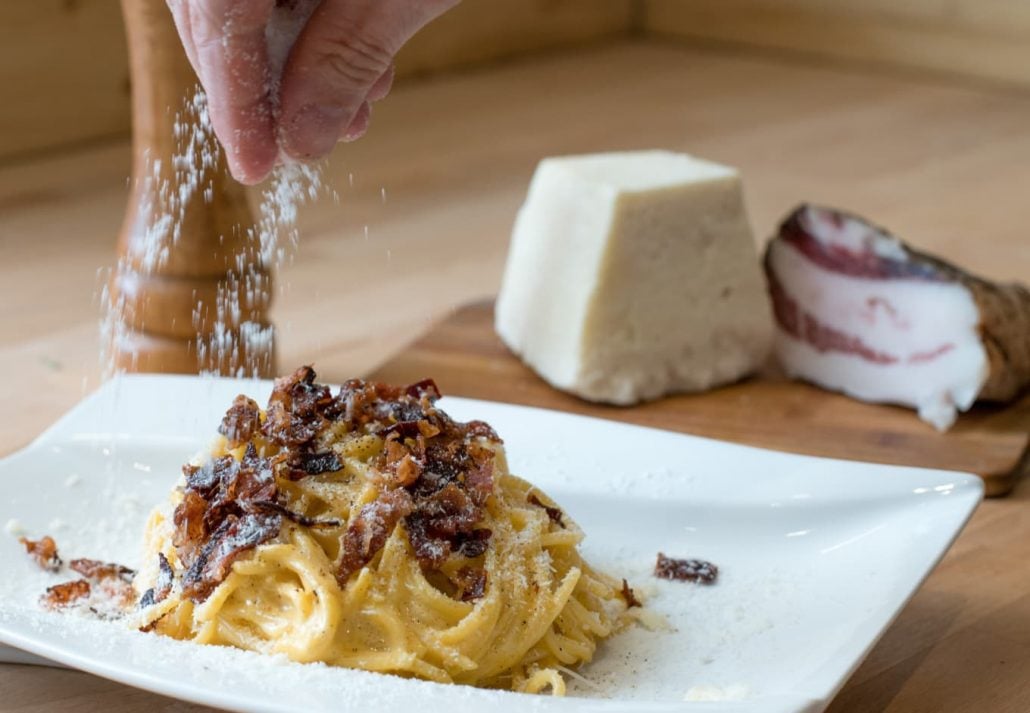 Carbonara might be Rome's best-known pasta dish, but spaghetti alla gricia is equally delicious and a must-try for travelers visiting the city. This type of pasta also features the unique flavors of Pecorino-Romano, black pepper, and the guanciale — Italian-style bacon made from pork jowl or cheeks —, but unlike the Carbonara, it's not prepared with freshly beaten eggs.
The gricia pasta is more "pork-oriented", and the spaghetti is perfectly punctuated with bits of meat, and coated with the glossy fat from pork.

Where to Eat: Armando al Pantheon, Trattoria Da Cesare al Casaletto, Osteria Bonelli, Roscioli
Tonnarelli Cacio e Pepe
If you're looking to indulge in some comforting food after a day adventuring into Rome, then the legendary tonnarelli cacio e pepe, one of Italy's oldest pasta dishes, will be your best bet.
In several Italian dialects, cacio e pepe literally means "cheese and pepper", which are 2 of the 3 main ingredients used in the making of this rich and creamy dish. The other one is dried Tonnarelli, which is a traditional pasta from Rome.
Despite being a simple pasta dish with a semi-soft mild flavor, cacio e pepe has a small twist that comes from the freshly ground pepper and the grated Pecorino cheese.
Also, beware that cacio e pepe does not have cream or butter in it!

Where to Eat: Lo'steria, VyTa Enoteca Regionale del Lazio, Hostaria Romana
Carciofi alla Romana
Carciofi alla Romana is a typical dish from the Lazio region, where Rome is located. Served during springtime in practically every restaurant in the city, it consists of globe artichokes stuffed with garlic and wild mint and then braised until soft.

Tender and aromatic, the "Roman-style artichokes" can be served as a side dish or antipasti (appetizer).
Where to Eat: Da Enzo al 29, Da Bucatino, Sora Margherita
Trippa alla Romana
Traditionally served on Saturday at lunchtime in several trattorias in the Trastevere and Testaccio neighborhoods, trippa alla romana (Roman-style tripe) was once a popular dish among the poorest inhabitants of ancient Rome. This classic dish is made out of the quinto quarto (the "fifth quarter"), which is the less noble part of the butchered animal. At the time, each animal was divided into quarters (quarti) — and the first one (primo quarto) consisted of the best cuts, and was distributed to the nobility.
Despite being prepared with the least valuable part of the animal in ancient Rome — this dish is incredibly flavorful and it became one of the pillars of the local cuisine. The tripes are slowly simmered in chopped peeled tomato, and then topped with plenty of grated Pecorino Romano cheese and a spoonful of chopped mint leaves to clean the palate.

Where to Eat: Osteria Tripperia il Magazzino,Mercato di Testaccio, Flavio al Velavevodetto
Bucatini all'Amatriciana
The bucatini all'Amatriciana is one of the 4 hallmark pasta dishes of Rome alongside cacio e pepe, carbonara, and spaghetti alla gricia. Named after the hilly city of Amatrice, where it originated, the pasta was first prepared with just guanciale and Pecorino Romano, since shepherds used to bring cheese and pieces of pork jowl with them after long stays away from home. Tomatoes were added to the paste at the end of the 17th-century.

Dating back to almost 1000 ago, this legendary pasta recipe is made up of guanciale (pork jowl), pecorino cheese, and tomatoes from San Marzano, as well as bucattini, a tubular-shaped pasta that resembles spaghetti. There's no onion or garlic in the sauce, and the flavor of the pork cheek should be dominant.
Where to Eat: Salumeria Roscioli, Trattoria Da Cesare al Casaletto, La Tavernetta 48
Spaghetti Carbonara
When it comes to the top foods you need to try when in Rome, carbonara can't be left out of the list. While the origins of this iconic dish remain uncertain — some connect it to pasta cacio e uova, a Neapolitan dish, and others relate it to the liberation of Rome in 1944 —, of one thing we're sure: this legendary pasta captivates the most inquisitive foodies thanks to flavor-packed raw beaten eggs, bits of guanciale, grated Pecorino Romano cheese, and black pepper.
Where to Eat: Grazia & Graziella, Armando al Pantheon, La Tavernaccia Da Bruno
Supplì
Once a street food in Rome in the early 19th century, supplì became one of the most famous appetizers of the Eternal City. They are similar (but not the same) as the Sicilian arancini, and consist of a deep-fried rice ball (often arborio or carnaroli, the same rice used for risotto), coated with eggs and breadcrumbs and filled with tomato sauce and mozzarella cheese.

Commonly eaten in pizzerias across the city, this heavenly snack is also known as "supplì al telefono" (suppli on the telephone), in reference to the long strings of mozzarella that stretch between halves when you crack open the supplì, just like an old-fashioned telephone.
Where to Eat: Supplizio, Trapizzino, Pizzarium
Porchetta
Porchetta is considered, by many, the best food in Rome. Popular in central Italy since over 2,000 years ago (infamous emperor Nero was apparently a huge fan of porchetta), this staple dish is made from a whole suckling pig, which is deboned, layered with aromatic herbs, wrapped in fat and skin, spitted, and roasted over a wood fire for 6 to 8 hours. As it cooks, the skin forms a crispy, golden crust that protects the moisture of the meat while the spices become a flavorful paste within.
In several Roman eateries, the mouth-watering porchetta with its juicy meat and crispy crust is served inside a panino (fresh bun), like a sandwich.
Where to Eat: Angrypig Birretta e Porchetta, La Vita E un Mozzico
Trapizzino
Is it pizza, or a sandwich? Well, it's both. Invented 10 years ago by pizzaiolo Stefano Callegari at his original pizza shop 00100 in the Testaccio neighborhood of Rome, trapizzino is a hybrid of pizza bianca and tramezzino, a triangular-shaped Italian sandwich made with crustless white bread and served in many bars.
This half-sandwich, half-pizza treat is made out of a sourdough starter that is baked until it becomes soft on the inside and crunchy on the outside. Then, it's cut in the form of a triangle, and filled with staple dishes of the Roman such as braised oxtail, tongue in green sauce, and pork belly.
Unarguably one of the most desirable street foods in Rome!
Where to Eat: Trapizzino Testaccio and Trapizzino Trastevere
Maritozzo
No Roman food tour is complete without trying the maritozzo. Dating back to Rome in the Middle Ages, as the church allowed it to be eaten during the period of fasting during Lent, this dough-based bun sliced in half and packed with whipped cream is one of the most popular breakfasts pastries in the city.
Fun fact: the word maritozzo derives from the Italian word marito, which translates into "husband" in English. The name references a traditional courting ritual that was popular in Rome during the 1800s. Back them, Roman suitors would propose — on the first Friday of March — by giving their future brides an engagement ring hidden inside a maritozzo.
A Roman food with an interesting history, that's for sure!
Where to Eat: Regoli, Maritozzo Rosso, Romoli dal 1952
FAQ
What are the most popular dishes in Rome, Italy?
12 best foods to try in Rome, Italy:

Pizza al Taglio;
Saltimbocca alla Romana;
Spaghetti alla Gricia;
Tonnarelli Cacio e Pepe;
Carciofi alla Romana;
Trippa alla Romana;
Bucatini all'Amatriciana;
Carbonara;
Cacio e Pepe;
Supplì;
Porchetta;
Trappizzino;
Maritozzi.
What is the signature dish of Rome?
While Rome has several staple dishes, the city is best known for its 4 hallmark kinds of pasta: the carbonara, cacio e pepe, gricia, and amatriciana.
Is the food in Rome expensive?
The Roman food scene is quite diverse, with an unlimited variety of options for every taste and budget. In the city, you'll find everything from Michelin-starred restaurants, which tend to be more expensive, to lesser-known trattorias that are perfect for budget travelers.
CuddlyNest provides all accommodations to all travelers at the best price. Find unlimited travel inspiration on our blog and social media channels.
You Might Also Like:
Top Italian Dishes You Can Make at Home
The Ultimate Europe Travel Guide
Top 10 Croatian Foods to Try
The 10 Best Restaurants In Madrid, Spain
The Best Spanish Cheeses Every Foodie Should Try
Top Traditional German Foods
The Best Street Food Cities In The USA
The 13 Best Restaurants in Orlando, Florida
The 20 Best Restaurants In San Francisco
10 Best Vegan Restaurants in Alicante, Spain
7 European Drinks You Must Try