Way beyond ancient monuments, eye-popping fountains, history-filled streets, and some of the world's most delicious eats, Rome also has eternal bragging rights when it comes to fabulous farmers' markets. At their best, they are colorful patchworks of stalls where you will find organic vegetables, honey, artisanal olive oil, cold cuts, and delicious local treats like freshly baked pizza and deep-fried artichokes during springtime.
Whether you're seeking to shop for fresh ingredients to cook dinner at your vacation rental, or simply delight yourself by nibbling perfectly ripe strawberries, visiting farmer's markets is one of the top bucket list experiences for anyone traveling to Rome.
Here's a guide to the top farmer's markets across the Eternal City that will keep you coming back from more!
Find Places To Stay In Rome, Italy
6 Incredible Farmers' Markets in Rome
Mercati Campagna Amica (Mercato di Circo Massimo)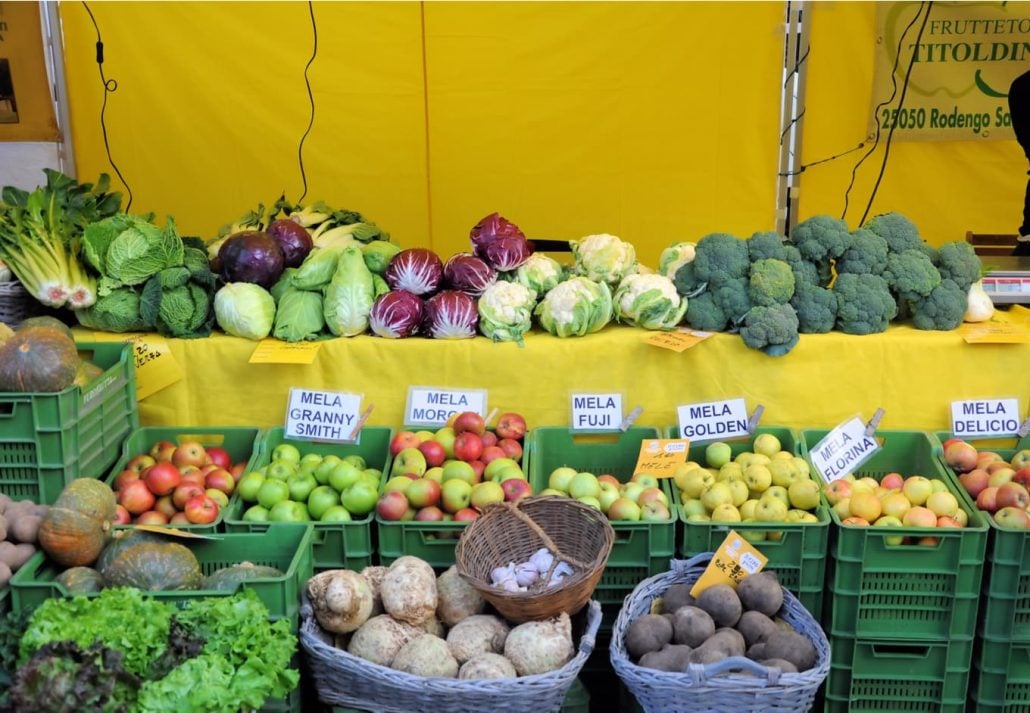 Hidden behind the Mouth of Truth (Bocca Della Verita), at one end of the Circus Maximus chariot-racing stadium, the Mercato di Campagna Amica is Rome's largest farmers' market. Adherents to the "0 km philosophy", the market only has products made or grown within 100 km from the point of sale, meaning most of the vendors come from the Lazio region.
While meandering through the stalls at Mercato di Campagna Amica, you'll find local pecorino cheese, freshly baked bread, wine, cured meats, and extra-virgin olive oil — all directly sold by the food producers themselves.
Address: Via di S. Teodoro, 74
Opening Hours: Saturdays and Sundays from 8 am to 3 pm
Campo de' Fiori Market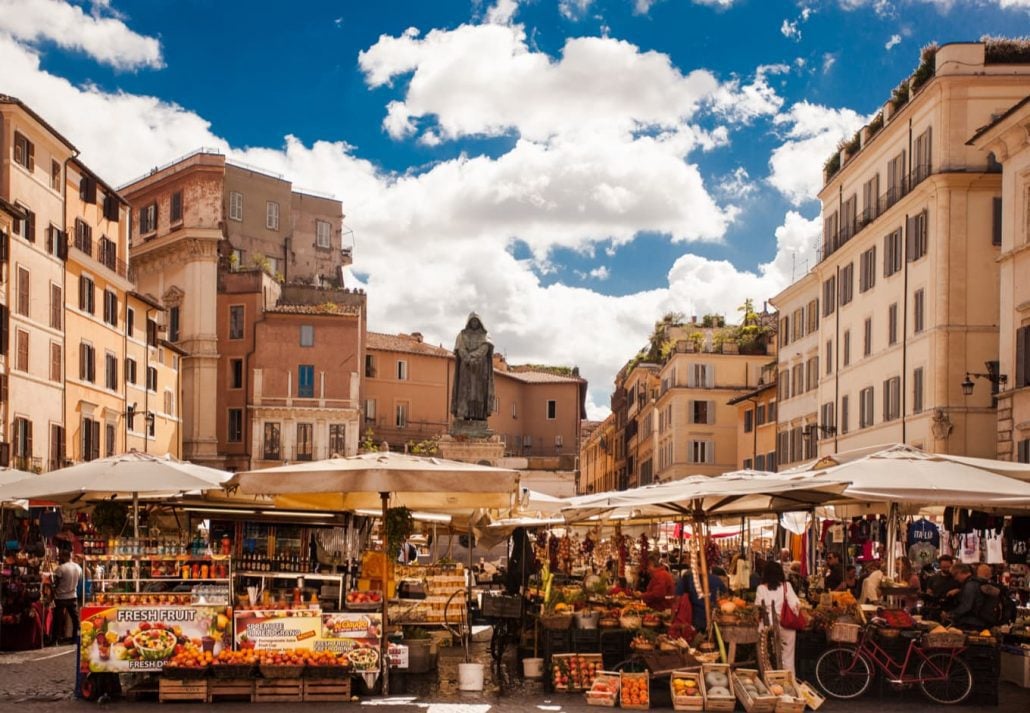 Campo de' Fiori is a tantalizing profusion of sounds, smells, and sights. Flanked like a jewel in the heart of old Rome, not far from Piazza Navona, this is considered to be the oldest farmer's market in the city, and since 1869, the square is brimming with a sea of colorful stalls selling fruit and vegetables, meat, walnuts, and fresh fish.

This market is a special sight during springtime when several stalls sell brightly colored flowers, and delicious seasonal treats such as fried artichokes, considered one of the top foods to try in Rome.

Address: Piazza Campo de' Fiori, 33
Opening Hours: Monday to Saturday from 8 am to 2 pm
Nuovo Mercato Esquilino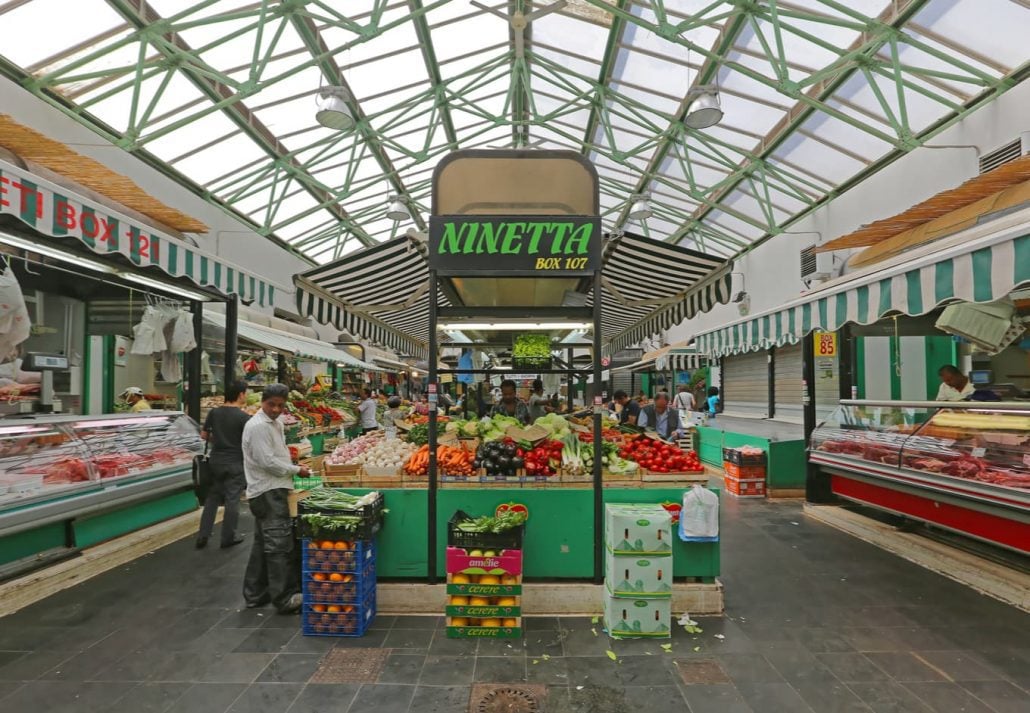 Just a stone's throw away from Rome's Termini Train Station, close to Piazza Vittorio, lies Nuovo Mercato Esquilino. Located in the most multicultural area of the city, this large indoor market is visited by locals seeking to buy exotic herbs and spices, as well as vegetables and fruits from Africa and Asia that are hard to find in other parts of the city.
Address: Via Filippo Turati, 160
Opening Hours: Monday to Saturday from 5 am to 3 pm
Testaccio Market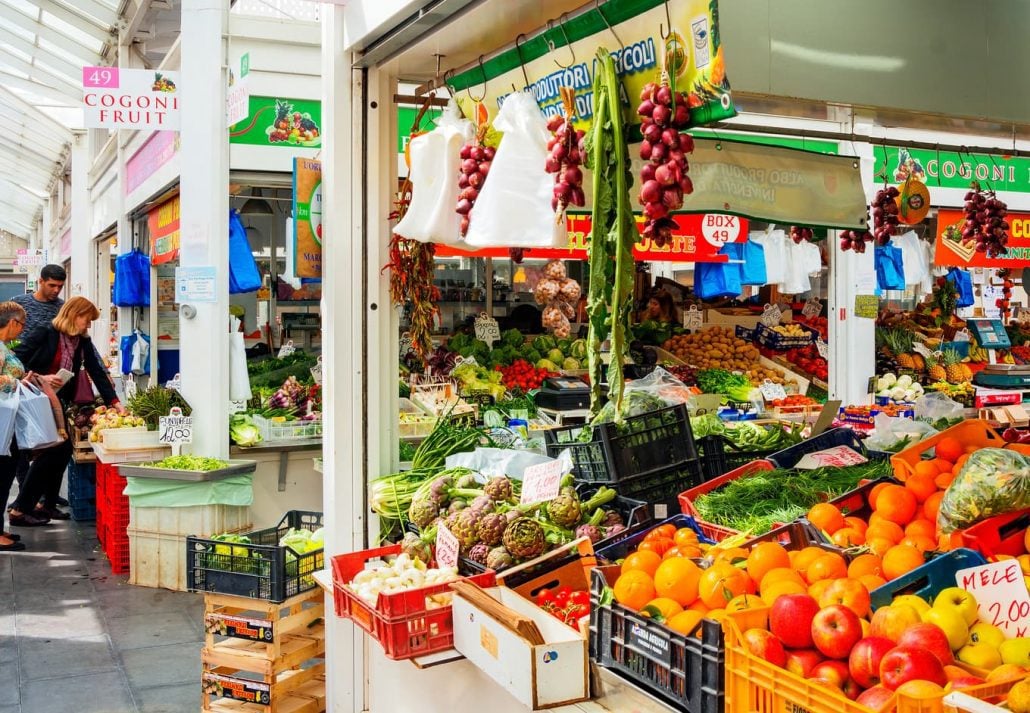 Testaccio is a must-visit for anyone seeking to uncover Rome's captivating food market scene. Home to hundreds of stalls, the market is a true paradise where you can find ready-to-eat street food, making it the perfect destination for gourmand travelers craving to sample Italy's most delicious dishes.
Must-tries include the authentic porchetta, a whole roasted pig stuffed with aromatic herbs, freshly baked pizza al taglio (pizza by the slice, which is a Roman classic), and the famous sandwiches of Mordi e Vai, known for their slow-cooked fillings like trippa alla romana (tripe in tomato sauce)
Address: Via Aldo Manuzio, 66b
Opening Hours: Monday to Friday from 7 am to 2:30 pm, Saturdays from 7 am to 3:30 pm
Mercato Trionfale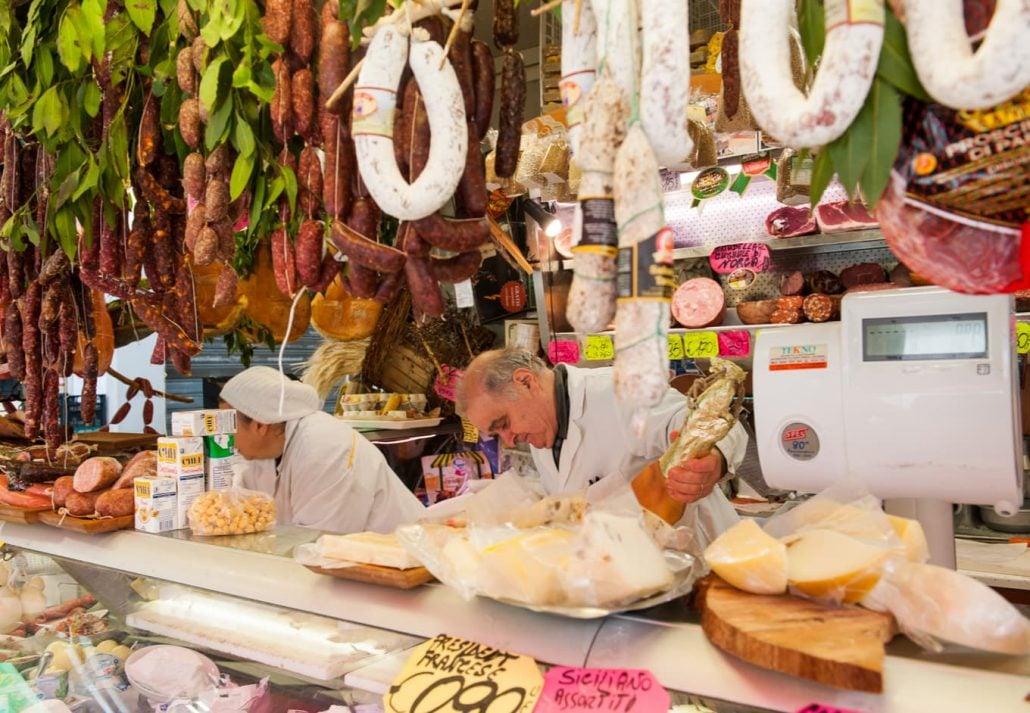 Mercato Trionfale is a huge food market home to over 200 buzzing stalls. First opened on Giulio Cesare Avenue, just outside the Vatican City, in late 1800, the market is one of the oldest in all of Rome.
Set within a concrete and glass building since 2009, the vibrant Mercato Trionfale has everything from fresh fruits and vegetables (Sicilian oranges, artichokes, and punterelle, early winter chicory), to rice and cereals, and fresh fish and salted codfish.
Beyond delicious eats, there are also clothes, Christmas decorations, and accessories for sale in the market.

Address: Via Andrea Doria
Opening Hours: Monday to Saturday from 8 am to 1:30 pm
Storico Mercato delle Coppelle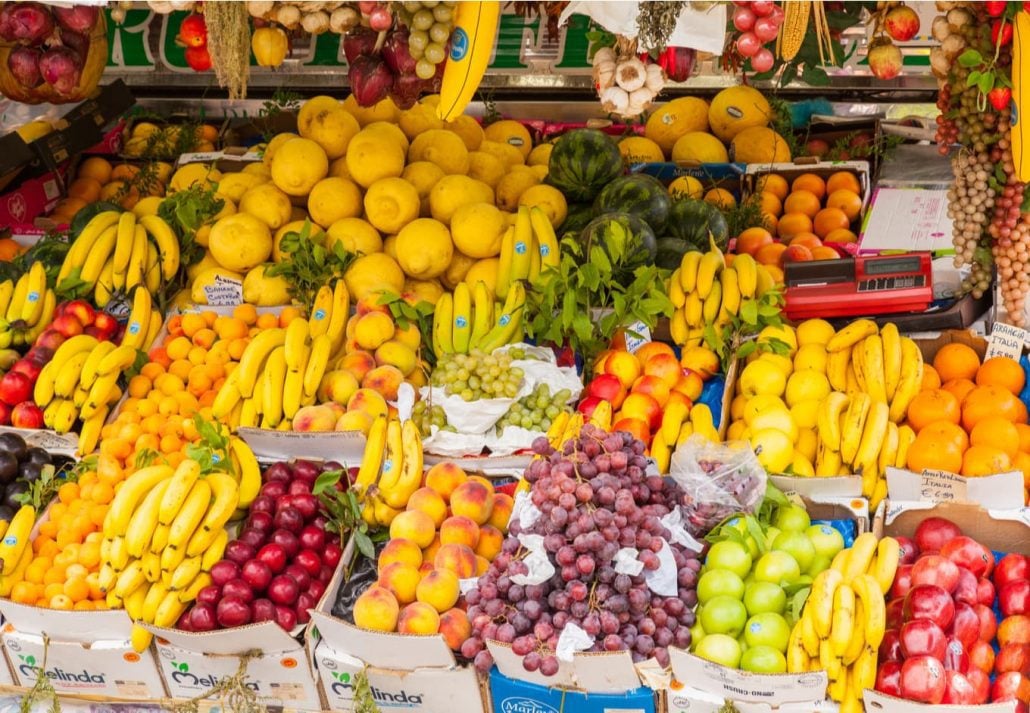 If you want to go grocery shopping in the historic center o Rome, Storico Mercato delle Coppelle is one of the best places to go. Perfectly situated just steps away from the Pantheon, this small-yet-mighty morning market is filled with a collection of charming stalls selling fruit, vegetables, and flowers.
Address: Piazza delle Coppelle, 69
Opening Hours: Monday to Saturday from 7 am to 2 pm
FAQ
Are there any farmer's markets in Rome?
Yes, there are over 100 farmer's markets across Rome.
What are the best farmer's markets in Rome?
The 6 best farmer's markets in Rome:
Mercati Campagna Amica;
Campo de' Fiori;
Nuovo Mercato Esquilino;
Mercato Trionfale;
Testaccio Market;
Storico Mercato delle Coppelle.
CuddlyNest provides all accommodations to all travelers at the best price. Find unlimited travel inspiration on our blog and social media channels.
You Might Also Like:
Top Italian Dishes You Can Make at Home
The Ultimate Europe Travel Guide
Top 10 Croatian Foods to Try
The 10 Best Restaurants In Madrid, Spain
The Best Spanish Cheeses Every Foodie Should Try
Top Traditional German Foods
The Best Street Food Cities In The USA
The 13 Best Restaurants in Orlando, Florida
The 20 Best Restaurants In San Francisco
10 Best Vegan Restaurants in Alicante, Spain
7 European Drinks You Must Try