When it comes to things to see and experience, you'll be spoilt for choice as soon as you step foot in Rome. The city's uniqueness is tied to its age-old monuments (we're looking at you, Colosseum!), captivating restaurants, colorful farmer's markets, fascinating archaeological sites, and dazzling museums, making it one of the most amazing destinations in Europe.
Spending 5 days in Rome and not sure what to gawk at first? Then you've come to the right place. To help you plan your trip to Rome, we've created a detailed guide to the best places to see in the Eternal City.
Read this blog post to discover what to see and do in Rome in 5 days!
Find Places To Stay In Rome, Italy
Tips For Spending 5 Days In Rome, Italy
If you want to visit the Colosseum and The Vatican, consider buying online tickets in advance. This will allow you to save time, and avoid the long lines, especially during the high season;
A combined guided tour of the Colosseum, the Roman Forum, and Palatine Hill is a great way to learn about Rome's history and uncover some of these monument's restricted areas.
Deciding where to stay in Rome is crucial, especially if you have limited time. A great idea is to opt for staying in the city center, where most of the attractions and public transportation options are available;
If you only have five days in Rome, you don't want to spend too much time trying to figure out how to get around the city. To make your life easier, we have created a thorough guide to transportation in Rome, which is guaranteed to help you get from one place to another seamlessly.
Day 1: Ancient Rome
Colosseum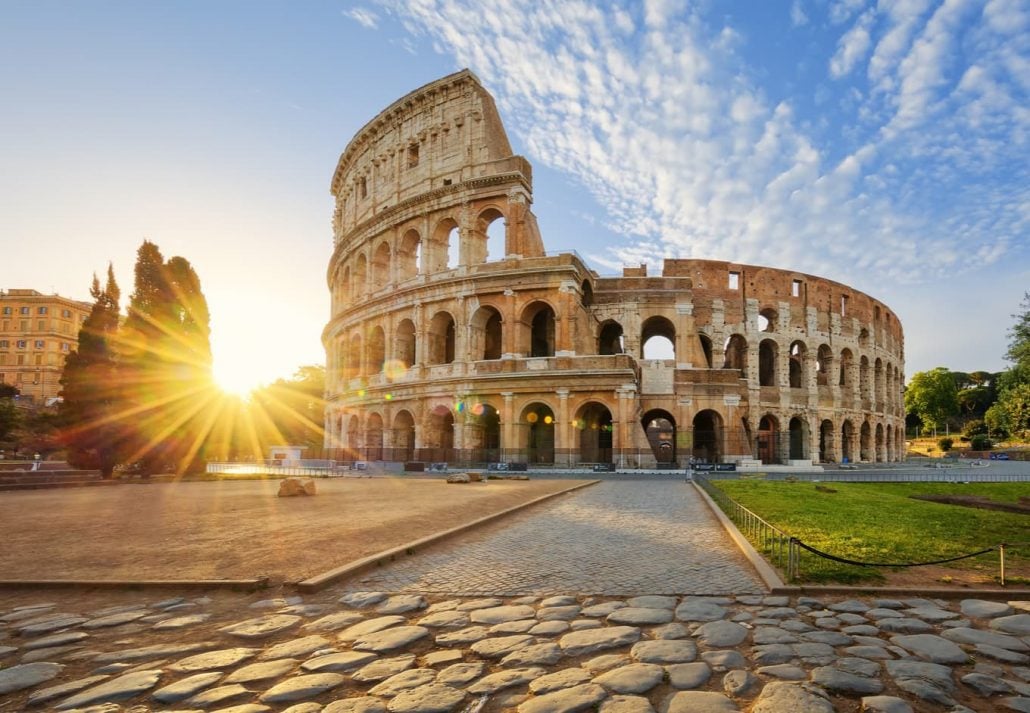 Start off your 5 days in Rome by diving right into the Colosseum. Built nearly 2,000 years as a gift from Emperor Vespasian to the Roman people, this immense amphitheater — the largest ever built in the world — used to host the most fantastic public events. At the time, more than 50,000 spectators visited the Colosseum to watch gruesome gladiator combats, bloody animal fights, and other wild spectacles.
Over time, the Colosseum lost its main purpose, but still to the present day it's one of the most fascinating sites in Rome.
Tip: We recommend taking a guided tour of the Colosseum's arena floor. This will give you access to the building through the "Gladiator's Gate", a side entrance formerly used by gladiators, which is usually restricted to visitors.
A tour of the Colosseum's underground area, where gladiators and animals were held captive, is also a must
Address: Piazza del Colosseo, 1
Palatine Hill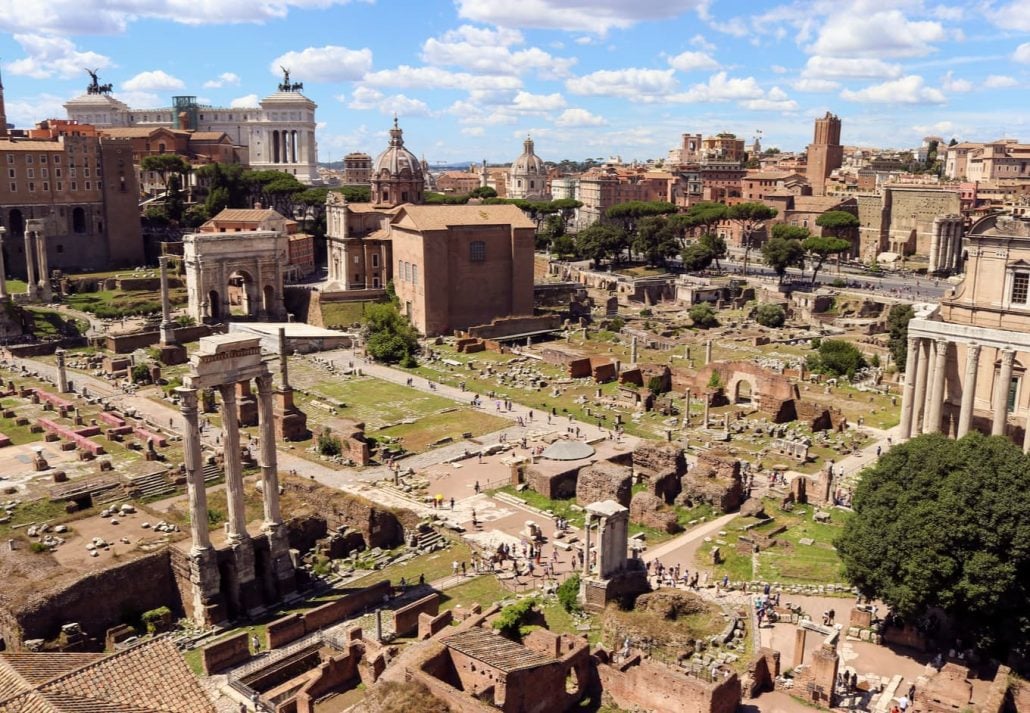 The second stop of your 5-day Rome itinerary? The Palatine Hill. Located within a short walk from the Colosseum, the site is considered to be the birthplace of the city, and it has been inhabited since 1000 B.C.
There, you will come across a wide array of ruins of imperial palaces that were once created for the Roman high society.
Must-sees include the massive Palace of Domitian, emperor Domitian's official residence, the House of Livia, known for its gorgeous frescoes dating from around 30 BCE, and Domus Augustana, the primary residence of Caesar Augustus during his reign.
Roman Forum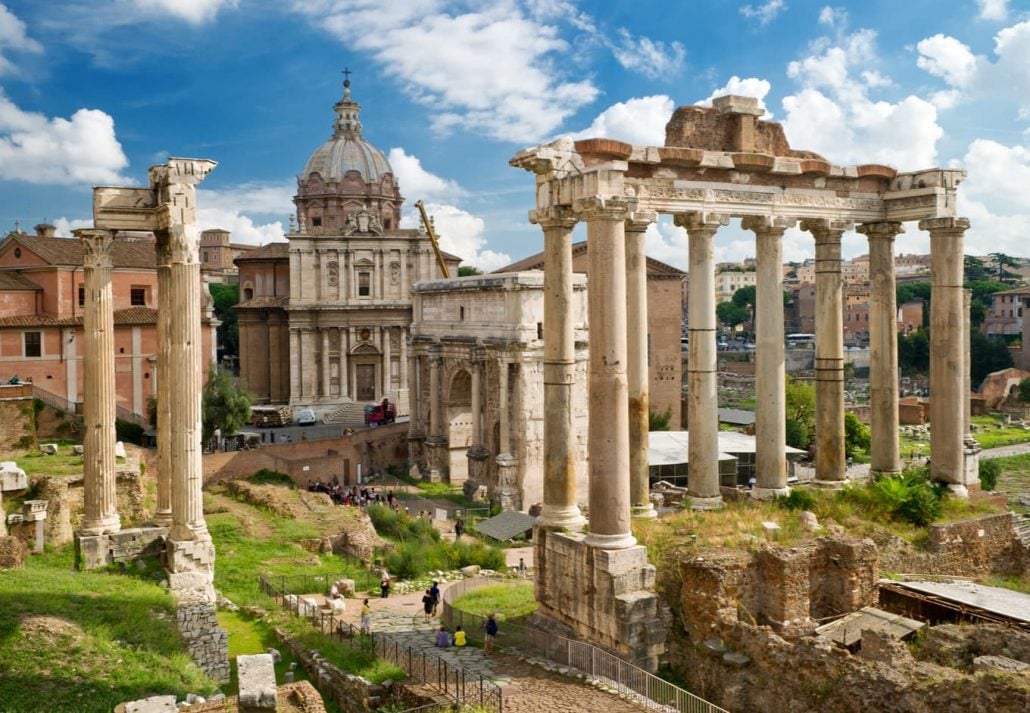 Just a stone's throw away from Palatine Hill and the Colosseum lies the Roman Forum, which harbors one of the city's most fascinating selection of ruins. Once the heart of Rome,
the site was home to important buildings that hosted an array of events such as public meetings, elections, and criminal trials.
Important surviving structures in the Roman Forum' include the remains of The Temple of Saturn, the Temple of Castor and Pollux, the Temple of the Deified Caesar, the Mamertine Prison, and the Curia (senate house).
Address: Via della Salara Vecchia, 5/6
Roman Baths of Caracalla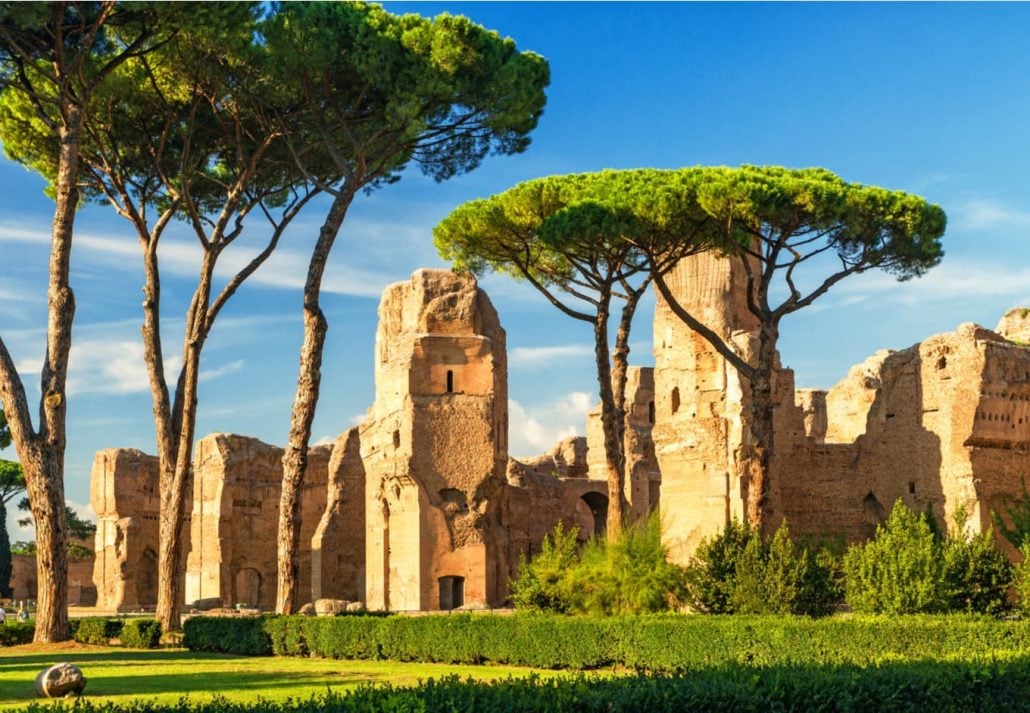 The Baths of Caracalla is a bucket-list attraction for travelers seeking to explore the lesser-known marvels of Rome.
Said to have been built between 212 and 216 AD under the rule of emperor Caracalla, the baths were one of the finest and biggest thermal complexes in antiquity.
Luxurious and opulent, baths were designed to accommodate about 1,600 people and served as an important meeting point for the inhabitants of ancient Rome.
This awe-inspiring site was made up of large open-air swimming pools, a steam room, gardens, and awe-inspiring works of art such as sculptures, mosaics, and frescoes.
Today, only the ruins remain, but be sure to visit if you want an overview of what this magical place was like in ancient Rome.
Address: Viale delle Terme di Caracalla
Day 2: Centro Storico & Villa Borghese
Campo de Fiori Market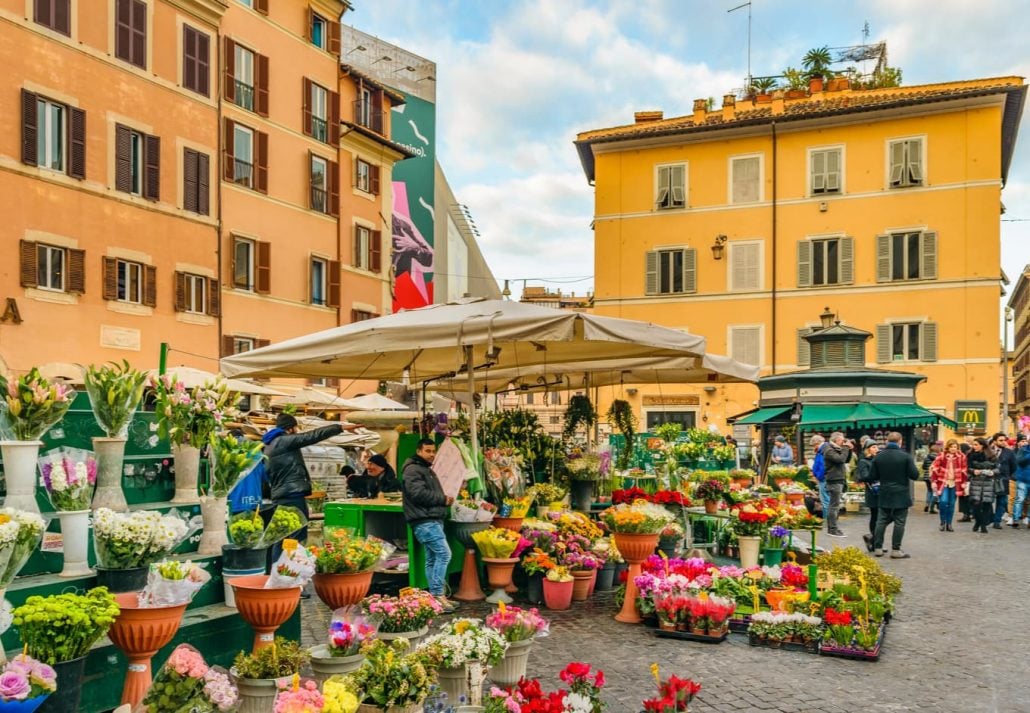 The most lovely way to kick off your second day in Rome? By visiting the lively Campo de' Fiori Market. Located in the heart of the city, this is considered one of the best farmer's markets in Rome.
While making your way through the market's colorful stalls, you'll stumble upon an array of fruit and vegetables, meat, walnuts, and fresh fish. You can even pick up some fresh ingredients to cook dinner at your Rome vacation rental!
If you are a foodie, don't pass up the chance to visit the Campo de Fiori Market during springtime to feast on the famous fried artichokes, which are often regarded as one of the top foods to try in Rome.
Address: Piazza Campo de' Fiori, 33
Piazza Navona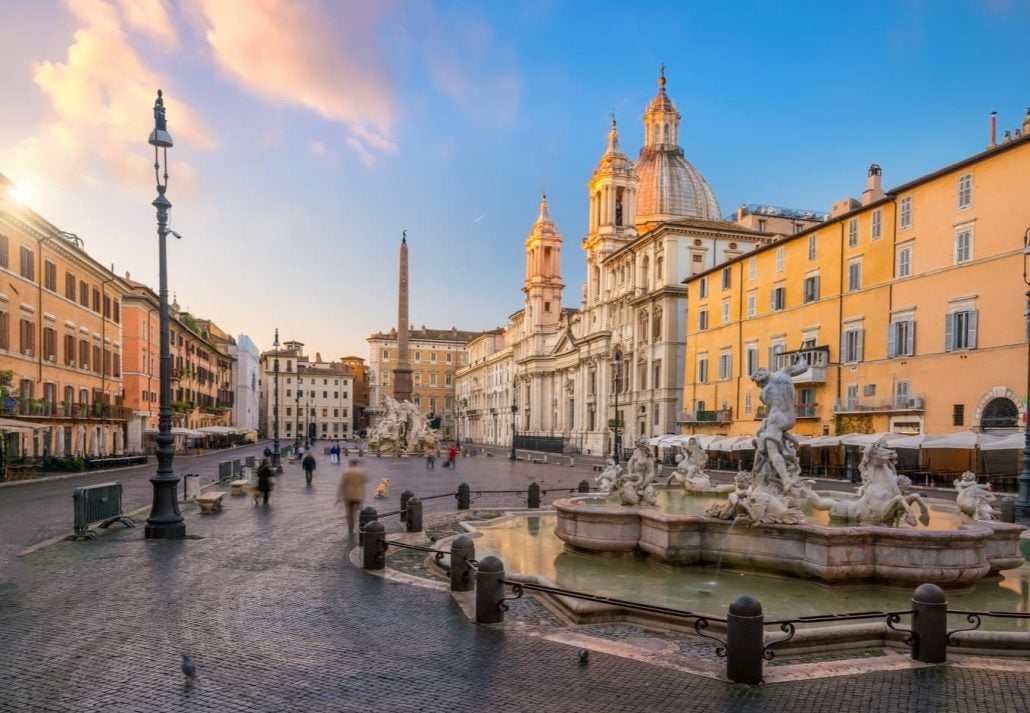 After marveling at Campo di Fiori's tantalizing food stalls, walk 5 minutes until you reach Piazza Navona. This fabulous piazza was built during the rule of emperor Titus Flavius Domitianus in 86 CE as a gift to the people of Rome, and it became one of the finest squares in the city.
There, you'll find a collection of awe-inspiring fountains — Fontana del Moro, Fontana de 'Calderari, and the spectacular Fountain of the Four Rivers —, as well as landmarks such as the 17th-century Sant'Agnese in Agone church, and Palazzo Pamphili, home to one of the most incredible private art collections in Rome.
Piazza Navona is surrounded by age-old buildings, bars, and restaurants, making it a top spot for a coffee break and people watching!
Address: Piazza Navona
Trevi Fountain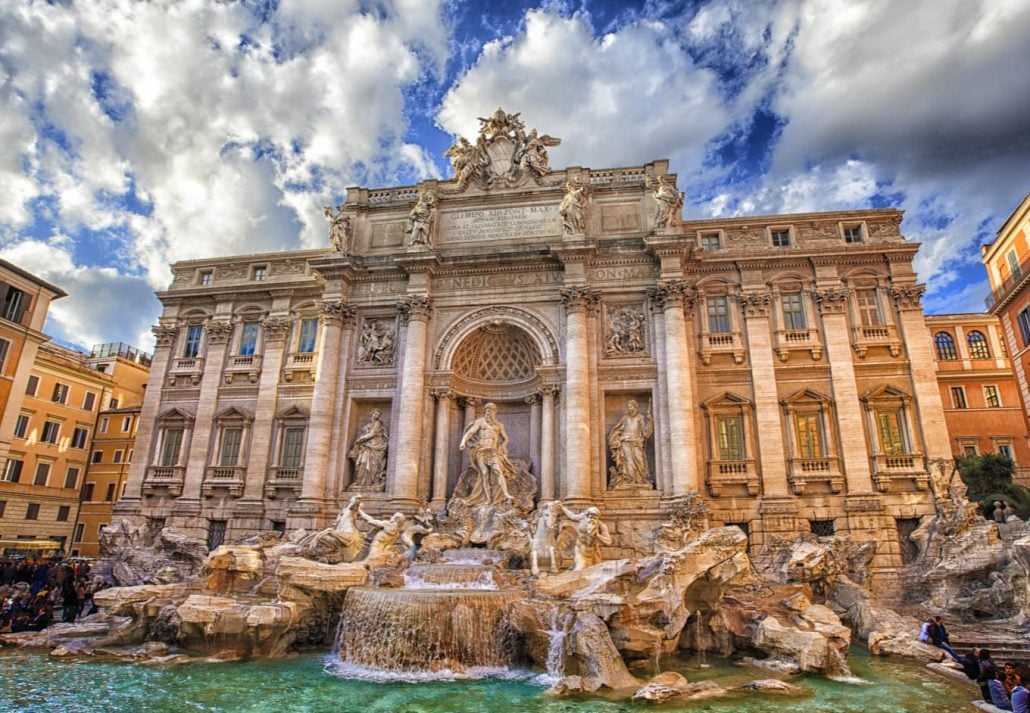 Next stop? The one and only Trevi Fountain. Built between 1732 and 1751 on the site of an ancient aqueduct, this is one of Rome's most well-known attractions and coveted photo spots, immortalized in movies such as La Dolce Vita (1960), by Federico Fellini.
This worldwide famous fountain stands majestically at 86 ft high and 161.3 ft wide, dazzling visitors with its opulent sculptures of mythological and allegorical creatures.
One of the most striking features of the Trevi Fountain is, unarguably, Pietro Bacci's statue of Oceanus, who stands atop a chariot pulled by sea horses and is accompanied by tritons.
Legend says that those who toss a coin into the fountain will one day return to Rome (we bet you're not gonna miss this opportunity!)
Address: Piazza di Trevi
Galleria Borghese & Villa Borghese Gardens
If you are an art lover, make sure you take some time to visit the dreamy Galleria Borghese. Set within the 80-hectare lush park, this is one of the world's largest private art collections, home to an array of treasured paintings, sculptures, and antiquities by renowned Italian artists such as Bernini, Caravaggio, Canova, and Raphael.
Address: Piazzale Napoleone I
Piazza di Spagna & The Spanish Steps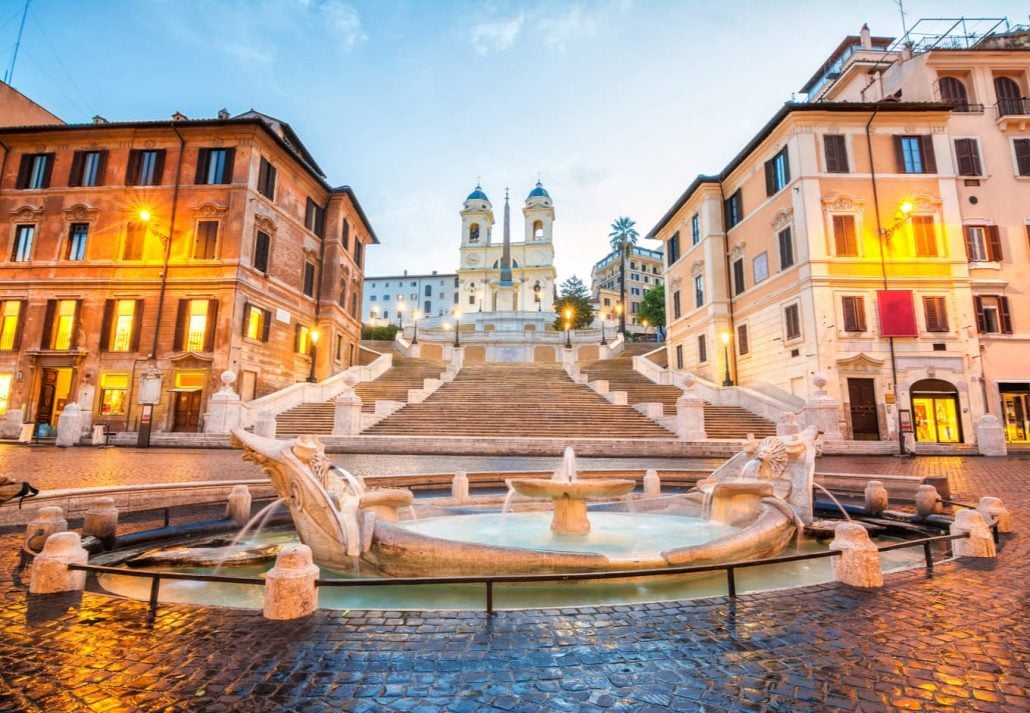 A great way of ending an exciting day in Rome is grabbing a creamy gelato at Come il Latte, and then heading over to the bustling Piazza di Spagna. Rising up from this picture-perfect square, you'll see an ample and majestic Rococo-style staircase named "Spanish Steps", which is the perfect place to unwind, enjoy your dessert, and marvel at great views of Rome's sunset.
Address: Piazza di Spagna
Day 3: Naples & Pompeii Day Trip
Naples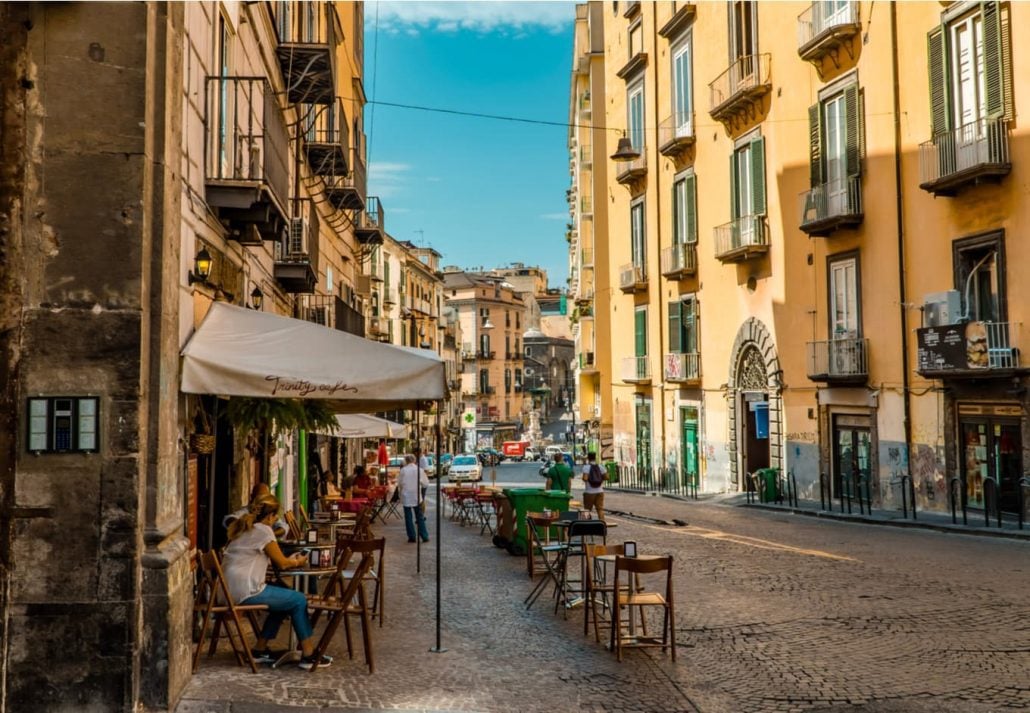 While there are plenty of attractions to see in Rome, going on a day trip to a nearby destination is a fabulous way to discover the wonders of Italy. And the great news is that, with 5 full days in Rome, it's completely possible to spare some time to explore some of the loveliest cities in the country.
One of the best day trips from Rome is Naples, located within a 2h30 drive from Rome. Best known for its turbulent past shaped by cholera epidemics, World War II, and a destructive earthquake, the capital of the Campania region grew into a beauty of a destination. The city is now famous for its vibrancy, cultural heritage, historical significance, and lip-smacking food.
Bucket-list experiences in Naples include a free walking tour in the UNESCO-listed city center, visiting the Museo di Capodimonte, home to masterpieces by Raphael, Titian, Caravaggio, and El Greco, and sampling the famous Neapolitan pizza at Gino e Toto Sorbillo.
Pompeii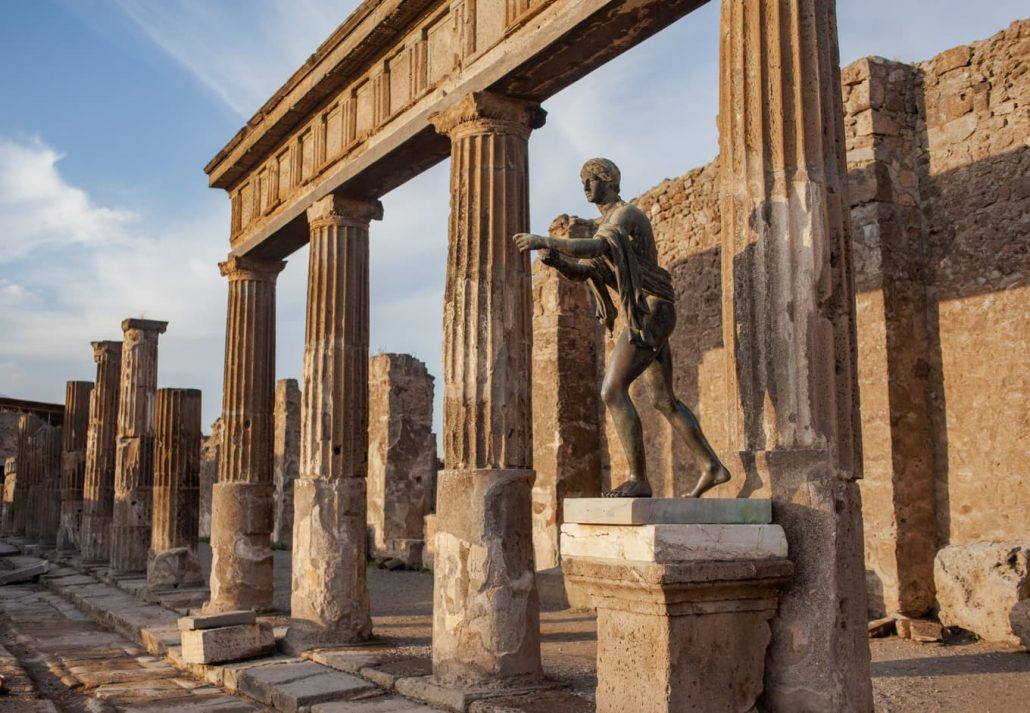 Located near the coast of the Bay of Naples, Pompeii is one of Italy's most fascinating destinations. The city was buried under meters of ash and pumice after the disastrous eruption of Mount Vesuvius in 79 A.D. and remained mostly untouched until 1748 when it was rediscovered by a group of explorers. You can visit the vast archaeological site to see excavated ruins of streets and houses, as well as artifacts, and even skeletons, which will give you a sneak peek of how everyday life was in the ancient world.
Day 4: The Vatican & Castel Sant Angelo
St. Peter's Basilica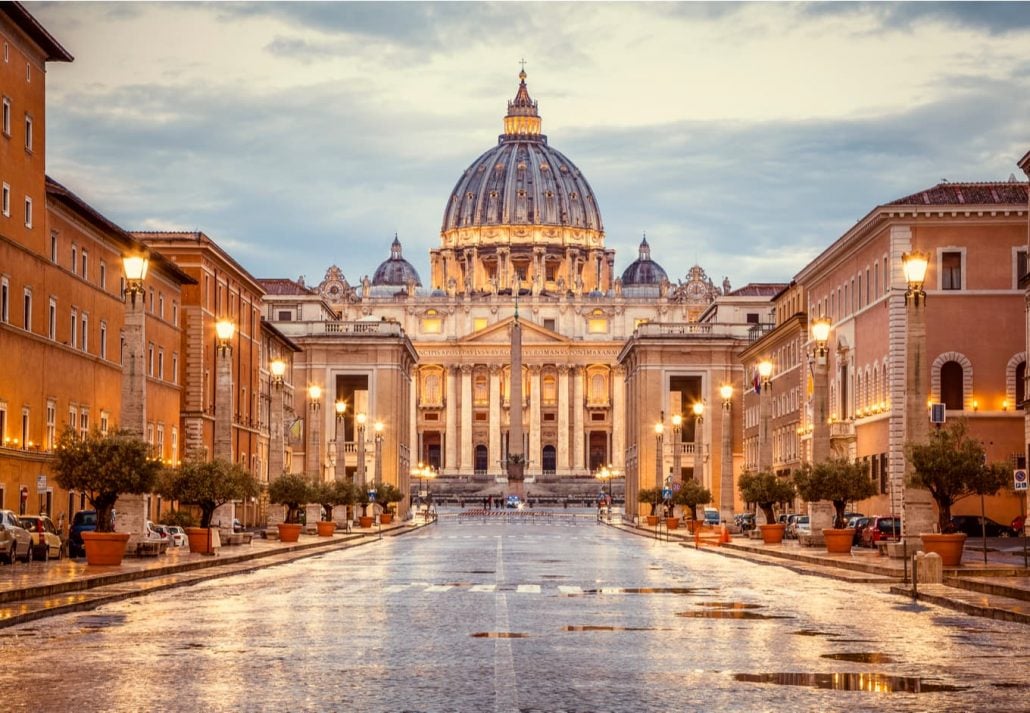 Whether you have 2 or 5 days in Rome, a tour of the Vatican is one of the best things to do in the city. There, you'll come across an array of interesting sites, both religious and cultural, such as the 4th-century St. Peter's Basilica.
Built over the tomb of St. Peter the Apostle, the basilica is home to a full-size statue of the Pietà, by Michelangelo, a gorgeous travertine façade, furnishings by Gian Lorenzo Bernini, and 19th-century glass and ceramic mosaics.

Address: Piazza San Pietro, Vatican City
The Vatican Museums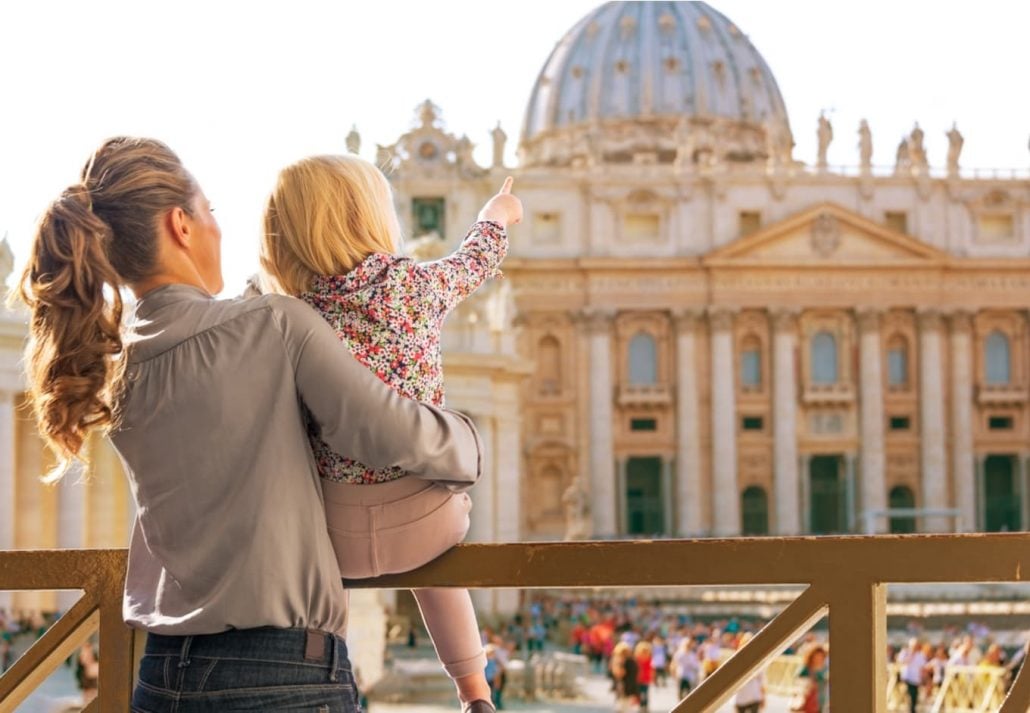 The Vatican might be small, but it's home to a huge array of treasures, including 54 galleries that harbor over 70,000 artworks.
Must-visit museums in the Vatican include the Sistine Chapel, praised for its opulent ceiling frescoes painted by Michelangelo, the Gallery of Maps, which features a 120-meter-long corridor filled with frescoes representing the map of Italy, and the Raphael Rooms, part of the apartment of Pope Julius II.
Address: Vatican City
Castel Sant Angelo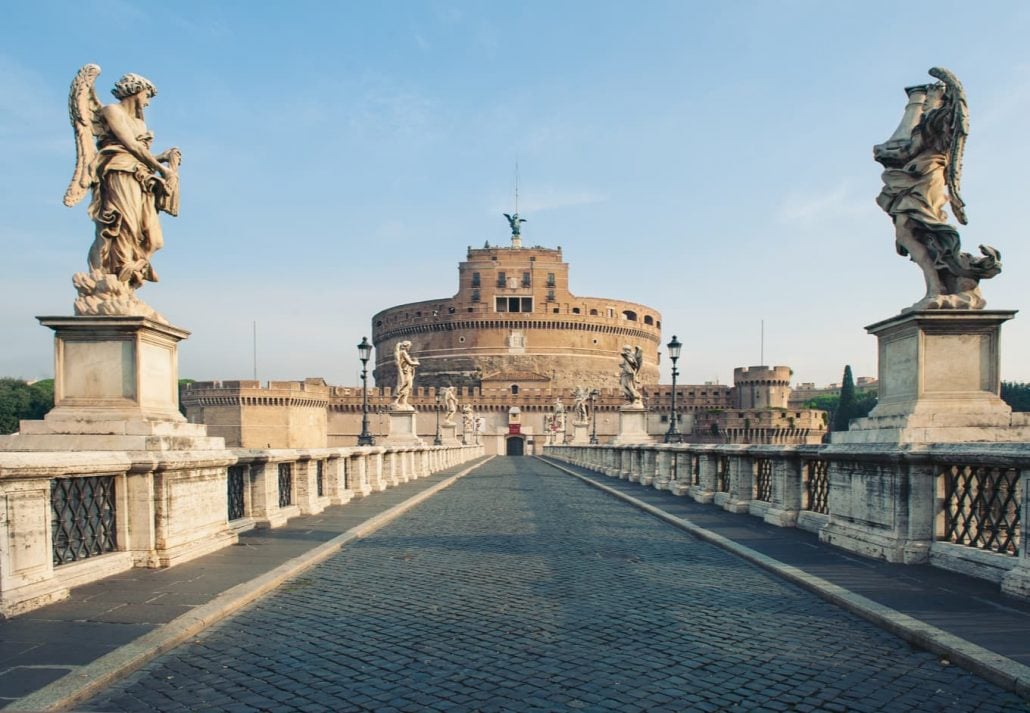 Perched on the right bank of the Tiber River, at the end of the legendary Ponte Sant'Angelo, Castel Sant Angelo was first commissioned by the Roman Emperor Hadrian as a mausoleum for himself and his family.
Throughout its history, the building served several purposes like a fortress to protect the city during the Middle Ages, and a prison, until it finally became a museum home to sculptures, architecture, frescoes, and more.
Address: Lungotevere Castello, 50
Day 5: Pantheon & Trastevere
Pantheon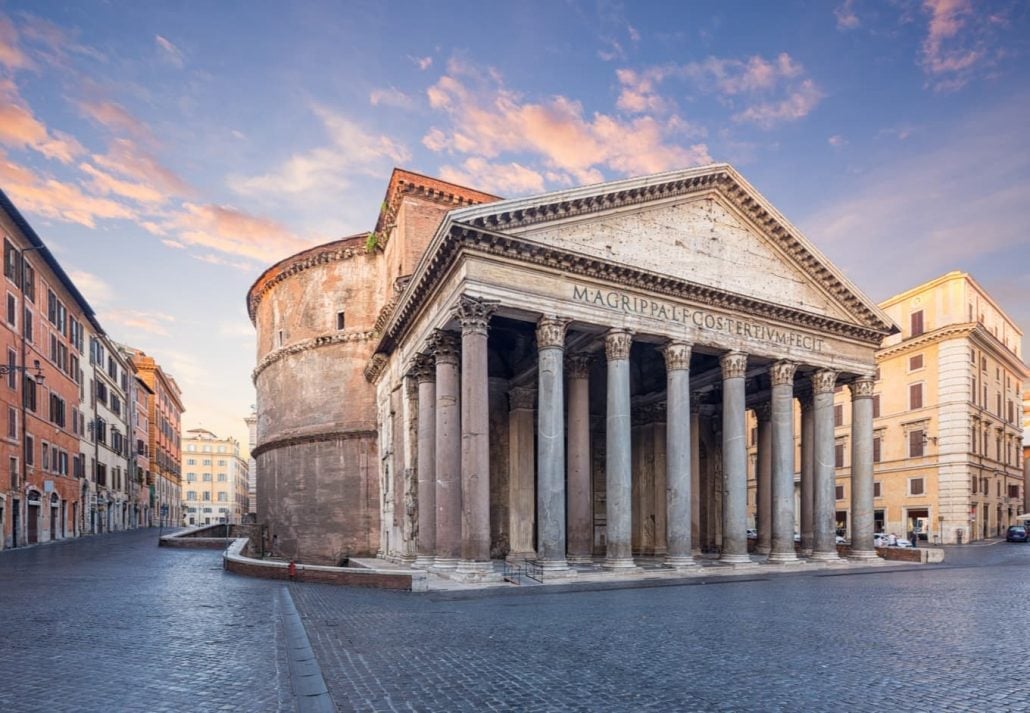 Originally built as a temple during the reign of Augustus (27 BC – 14 AD), the Pantheon was rebuilt by emperor Hadrian in 126 AD., and it's the best-preserved construction of ancient Rome.
The building dazzles visitors with its immense domed ceiling, which is almost half the length of a football field, and its tombs of major Italian historical figures like the artist Raphael and the former Queen Margherita.
Recommended Read: Free Things To Do In Rome
Address: Piazza Della Rotonda
Mouth of Truth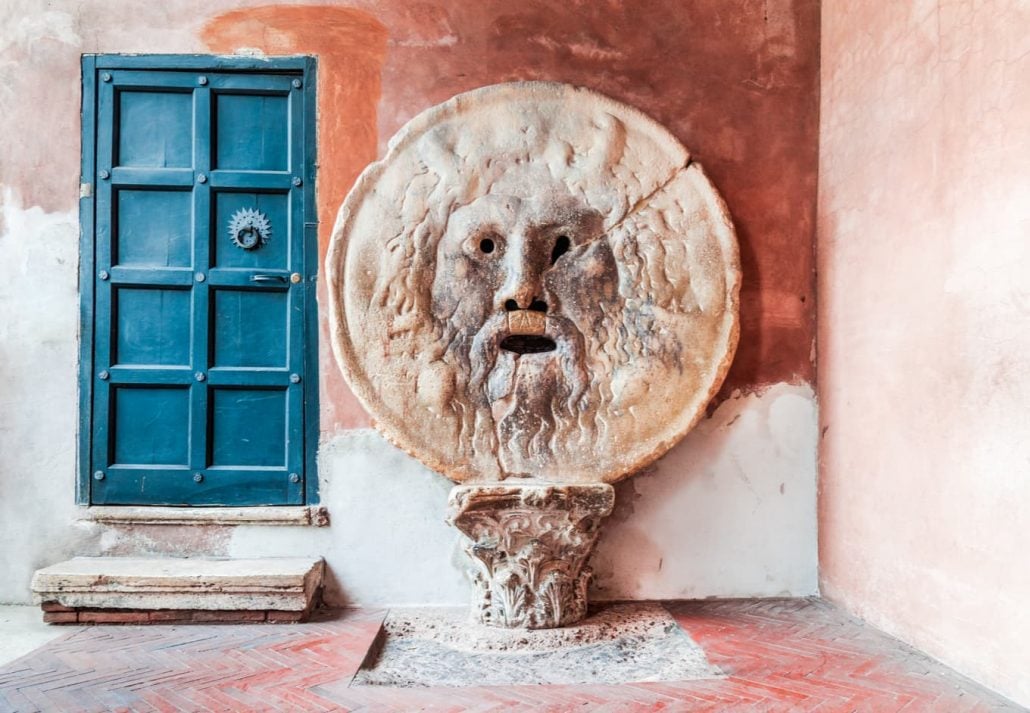 A great way of spending your last day in Rome is by taking a scenic stroll from the city center (centro storico) to the Trastevere neighborhood. Along the way, your attention will be caught by intriguing details, such as Bocca della Verità, or Mouth of Truth. This giant marble mask with a diameter of 1.75 meters is located in the portico of Santa Maria in Cosmedin Church, and it's believed that, during the Middle Ages, liars who placed their hands inside the sculpture would immediately lose it.
This legend of the Mouth of Truth became a well-known part of the Roman culture and is still a popular tall tale in the city.
Address: Piazza della Bocca della Verità, 18
Palazzo Corsini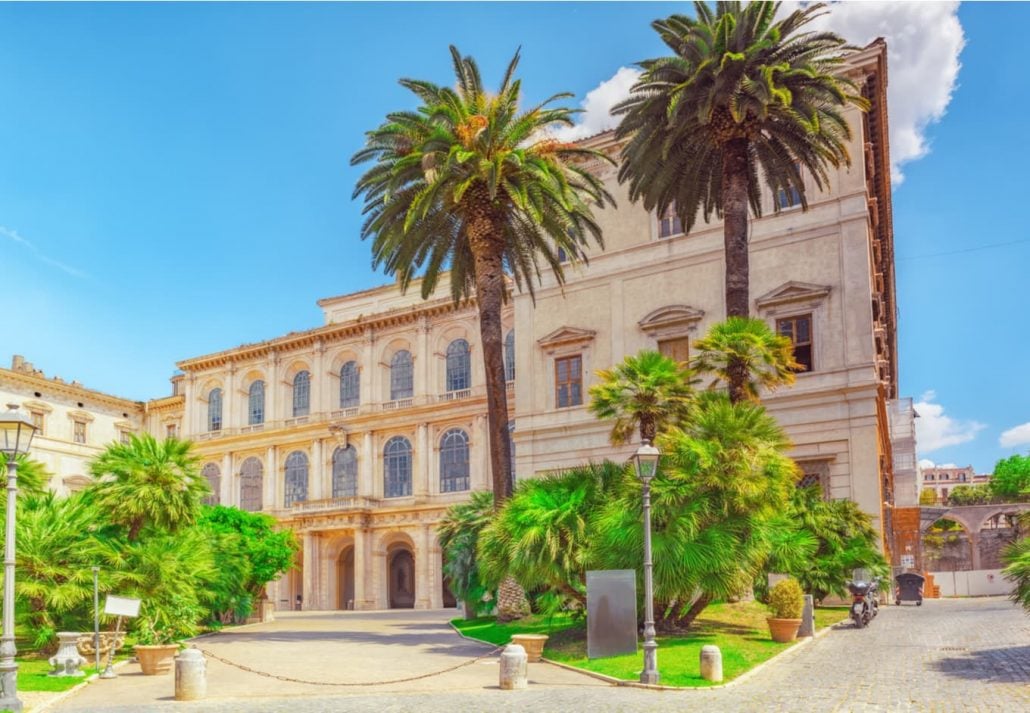 Now, time to go for a scenic walk on the edge of the River Taber until you get to Palazzo Corsini. Located within a baroque-style palace built for the wealthy Corsini family between 1730 and 1740, this stellar museum displays the only collection of paintings in Rome dating from the 1700s that remains intact to the present day.
While exploring the palazzo's galleries, you'll get to see masterpieces by Caravaggio, Reni, Guercino, Rubens, and van Wittel, as well as works by Italian artists from the 1500s and paintings by his contemporaries.
Recommended Museums: Best Museums in Rome
Address: Palazzo Barberini, via delle Quattro Fontane, 13, and Palazzo Corsini, Via della Lungara, 10
Trastevere Neighborhood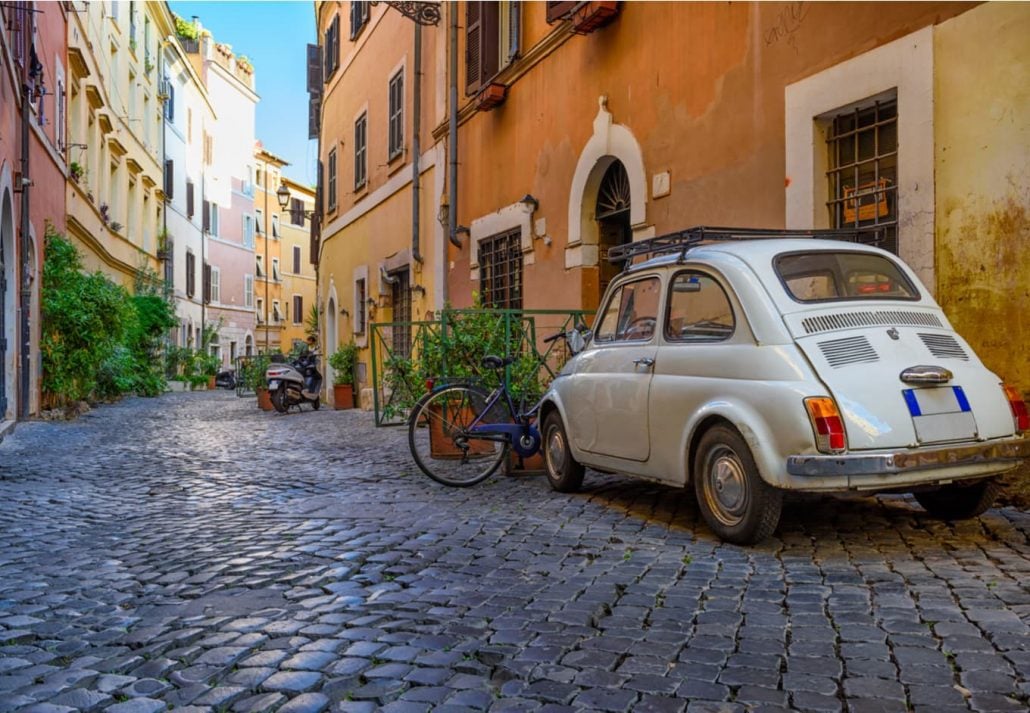 If you have enough time up your sleeve, we recommend that you spend the rest of your fifth day exploring Trastevere, one of the coolest neighborhoods in Rome.
Nestled on the opposite bank of the river Tiber, south of the Vatican, this eye-popping neighborhood is filled with narrow cobblestone streets, and charismatic colorful buildings decorated with cascading flowers.
There, make sure to stop by La Chiesa di Santa Cecilia, a gorgeous 5th-century church featuring Pietro Cavallini's Giudizio Universale, and Orto Botanico, a lush botanical garden home to up to 8000 species.
Trastevere features some of the best restaurants and trattorias in Rome, and it's a prime location for indulgent food tours. So don't think twice and be sure to book a table at Nannarella Osteria, a family-run eatery where you can sample an array of authentic Roman dishes like the cacio e pepe pasta, as well as one of the best carbonaras in town.
FAQs
Is It Possible To See Rome In 5 days?
Yes. In 5 days you can get an overview of the city and explore not only its main sights but also a few hidden gems.
Are 5 Days In Rome Enough?
Yes. 5 days provides travelers with enough time to see the city's top attractions, discover lesser-known marvels, and even go on a day trip to a nearby location such as Naples and Pompeii.
What Is The Best Time To Visit Rome, Italy?
Spring (from Mid-March to May) is a prime time to visit Rome. The weather is comfortable, and there aren't many tourists yet in the city, meaning that overall prices are lower.
What To Do in Rome In 5 days?
5-day Rome itinerary:
Day 1: Ancient Rome
Colosseum
Palatine Hill
Roman Forum
Roman Baths of Caracalla
Day 2: Centro Storico & Borghese
Campo de Fiori Market
Piazza Navona
Trevi Fountain
Galleria Borghese & Villa Borghese Gardens
Piazza di Spagna & The Spanish Steps
Day 3: Day Trip
Day 4: The Vatican & Castel Sant Angelo
St. Peter's Basilica
The Vatican Museums
Castel Sant Angelo
Day 5: Pantheon & Trastevere
Pantheon
Mouth of Truth
Palazzo Corsini
Trastevere Neighborhood
CuddlyNest provides all accommodations to all travelers at the best price. Find unlimited travel inspiration on our blog and social media channels.
You Might Also Like:
Top Italian Dishes You Can Make at Home
Rome 2 Day Itinerary
Rome 3 Day Itinerary
The Ultimate Europe Travel Guide
Best Farmers' Markets in Rome, Italy
What to Pack for a Sustainable Trip To Europe
40 Top & Most Beautiful Castles in Europe
The Best Time To Visit Rome, Italy
The Best Day Trips From Rome, Italy
The Best Kid-Friendly Attractions in Rome