Dating back to almost 2000 years ago, the dazzling Pantheon is one of the most visited attractions in Rome. Commissioned by Marcus Agrippa during the reign of Augustus, this century-old monument is situated in Campus Martius, once the most populated area of ancient Rome, and now a lively place filled with lively coffee shops, restaurants, and stores. It is also located close to the gorgeous Trastevere district and Vatican City.
There are numerous reasons why you'd like to find a hotel near the Pantheon. Couples find this neighborhood incredibly charming, families like the opportunity to stroll everywhere and solo travelers appreciate the easy access to main streets, squares, and public transportation.
To help you find a dream stay within walking distance of the Pantheon, we have hand-picked the best hotels located in this charming historic area. Browse through our list below!
Find Places To Stay In Rome, Italy
The 5 Best Hotels Near The Pantheon, Rome
Damaso Hotel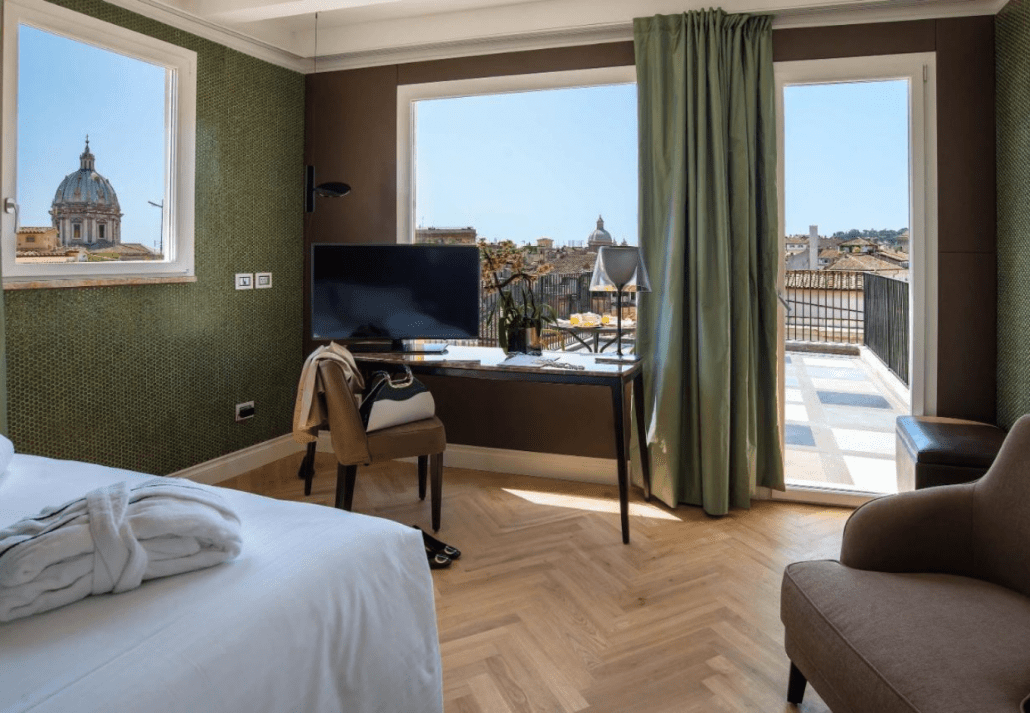 Damaso Hotel near Piazza Della Rotonda is named after a saint and a closeby church called San Damaso. The 3-star hotel is located just 15-min away from the Pantheon, as well as other Rome attractions such as the Colosseum, and St. Peter's Basilica.
The charming hotel also boasts a rooftop bar overlooking the most beautiful and historic part of the city. Pick any of the cocktails on the menu, all of them taste heavenly! Although the design of the hotel is very modern, as the property has been newly refurbished, it still maintains some of its antique charms. The building, by the way, dates back to the 19th century and boasts a lavish façade made of an ancient stone construction technique.
To get a taste of Rome, try the daily breakfast buffet that has sweet and savory dishes (special diet menus are available upon request). After a long day of sightseeing in the Eternal City, kick back and relax at the Dama lounge bar, which features an extensive selection of fine wines at an accessible price. The perfect setting for a beautiful and quiet vacation!
Address: Piazza Della Cancelleria, 62 00186, Roma Italia
Top Amenities & Services: rooftop terrace, 24-hour reception, a panoramic rooftop overlooking the city, free wifi, rental cars, scooters, Vespa, transfers, cocktail bar
Nearby Attractions: Piazza Della Rotonda, Trevi Fountain, Pantheon, Vatican Museums
Recommended Read 7 Best Hotels In Rome, Italy
Argentina Residenza
Set within a 17th-century building, Argentina Residenza is a 4-star luxury boutique hotel that used to be a part of the ancient Forum of Pompeii, better known as Largo di Torre Argentina. The property is nestled between Rome's most praised attractions like the Pantheon, Roman Forum, and Piazza Navona, making it the perfect stay for sightseers.
The rooms are illuminated with glamour and elegance with large windows, marbled floors, and lavish decor. They differ in size and style from a stunning classic room to a studio suite with an independent entrance. This is rightfully one of the prettiest boutique hotels in the Centro Storico di Roma!
To experience a piece of the daily Italian lifestyle, take a seat downstairs at the SA Cafelounge bar for an aperitif, a brunch, or a whole Roman dish. If you're looking to indulge in yourself completely, feel free to visit the sauna and jacuzzi after a long day of walking through the city. Definitely, Argentina Residenza is a place to come back to again and again.
Address: Via di Torre Argentina 47 – Largo Argentina, Zona Pantheon, 00186, Roma Italia
Top Amenities & Services: family rooms, 24-hour front desk, non-smoking rooms, free wifi, airport transfers, breakfast room, spa, window city views
Nearby Attractions: Piazza Della Rotonda, Fontana Di Trevi, Pantheon, Piazza Navona
Recommended Read Train From Rome to Florence: Everything You Need to Know
Hotel Pantheon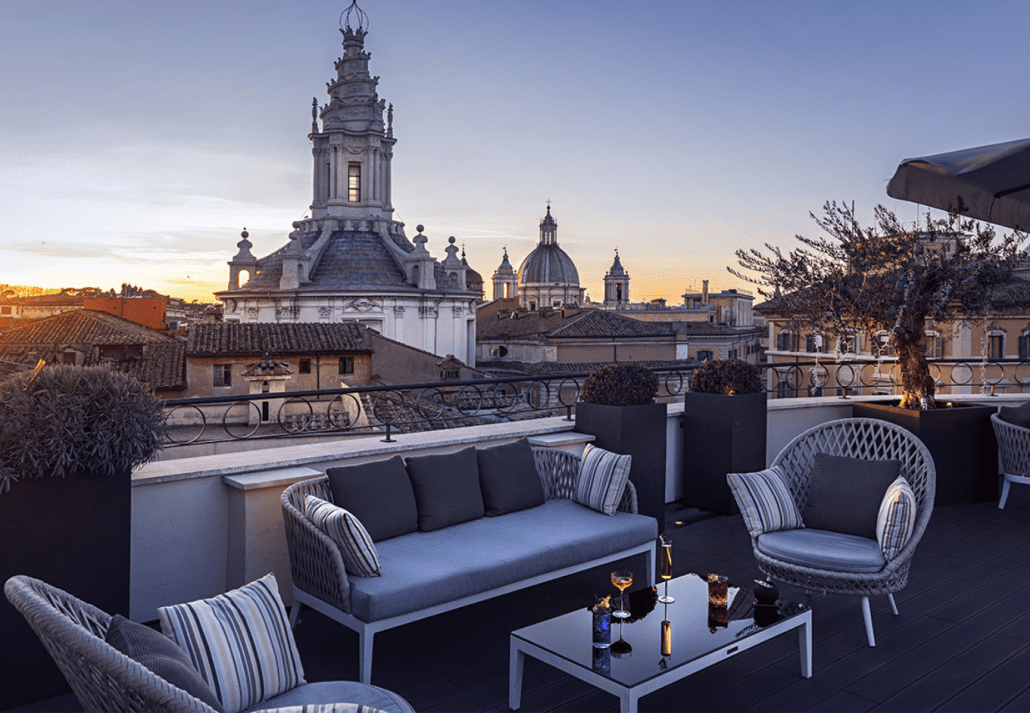 Since the 1950s, Hotel Pantheon boasts an excellent location, just a 20-meter stroll from the Pantheon. Alongside previous hotels on our list, this 4-star stay is located inside a 17th-century building.
As soon as they step foot in the hotel, visitors will be positively surprised by the property's design, which features a liberty-style staircase from Paris, terracotta floors, and trompe-l'oeil decor. The latest renovation was in 2017, so all the guest rooms have been improved in order to boast a new astonishing look and stellar amenities. They have Versace® tiles, Bluetooth® technology, and antique bare wooden beams. Moreover, if you're traveling with family, the spacious junior suite is the perfect option for you.
Hotel Pantheon caters to both leisure and business guests with high-speed wifi, a cozy Italian breakfast room, a safe place for your furry pets, and room service. The generous breakfast buffet offers American dishes and even pizza. Narrow alleys, cafes, and restaurants are all around, and a step away from the world's most famous sites. What more could you wish for?
Address: Via Dei Pastini 131, Pantheon, 00186, Roma Italia
Top Amenities & Services: medical service on request, baby cots, laundry service, bicycle rental
Nearby Attractions: Santa Maria Maddalena, Sant'Agostino, The Pantheon, Piazza Navona, Campo De Fiori
Recommended Read The 8 Best Hotels Near Rome Airport
Corso 281 Suites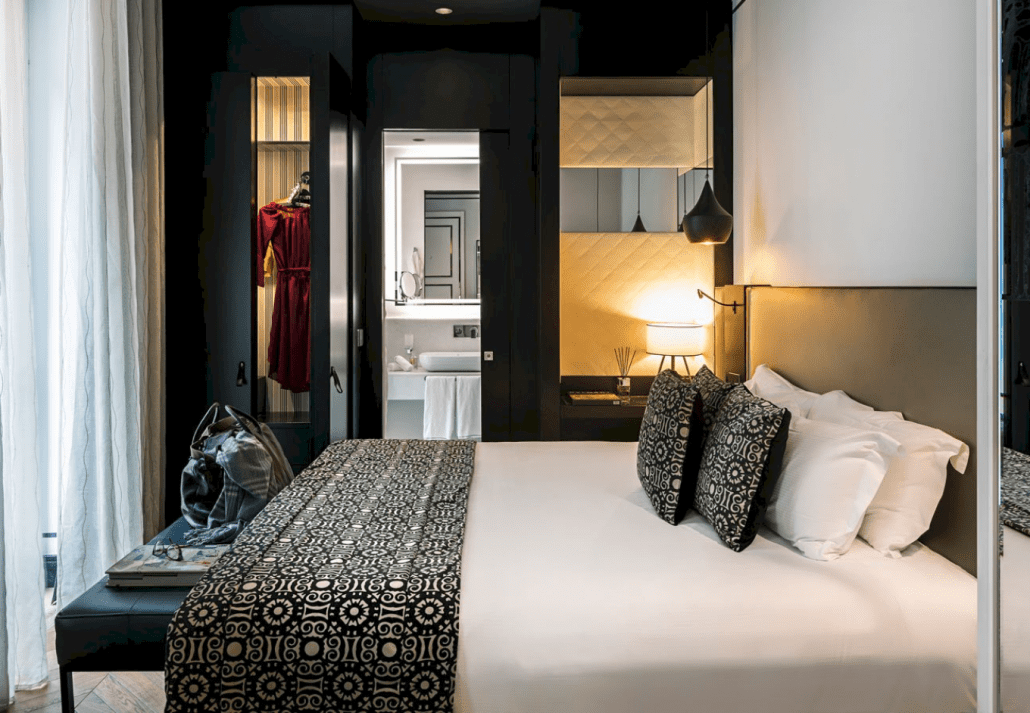 Corso 281 boutique hotel is a sophisticated accommodation located in an 18th-century mansion in Via del Corso. It proudly presents 12 uniquely designed suites with an extraordinary view of the Altar of the Fatherland and Altare Della Patria.
The hotel owner, Natalino Gissona, likes to present the hotel as a place that feels like home — both for him and the guests. With that said, the staff makes sure you have everything you wish for from the moment you enter your new home.
If you'd like to try traditional Roman cuisine, stroll alongside Pantheon, shop in the famous stores, or take a private yacht to the Island of Capri – the staff can assist you with all of it.
What makes this hotel remarkable is the focus on providing guests with a true Italian experience. A private dinner with a private chef guides visitors through the ingredients on the menu, the process, and the history behind the dishes. With all the highlights, this lavish stay is hard to beat.
Address: Via del Corso 281, Pantheon, 00186, Roma Italia
Top Amenities & Services: free wifi, 24-hour front desk, bar, allergy-free rooms, wellness options, breakfast in the room, express check-in/check-out
Nearby Attractions: The Pantheon, Doria Pamphilj Gallery, Piazza Venezia, Gesù Church
Recommended Read The 7 Best Places for Nightlife in Rome, Italy
Otivm Hotel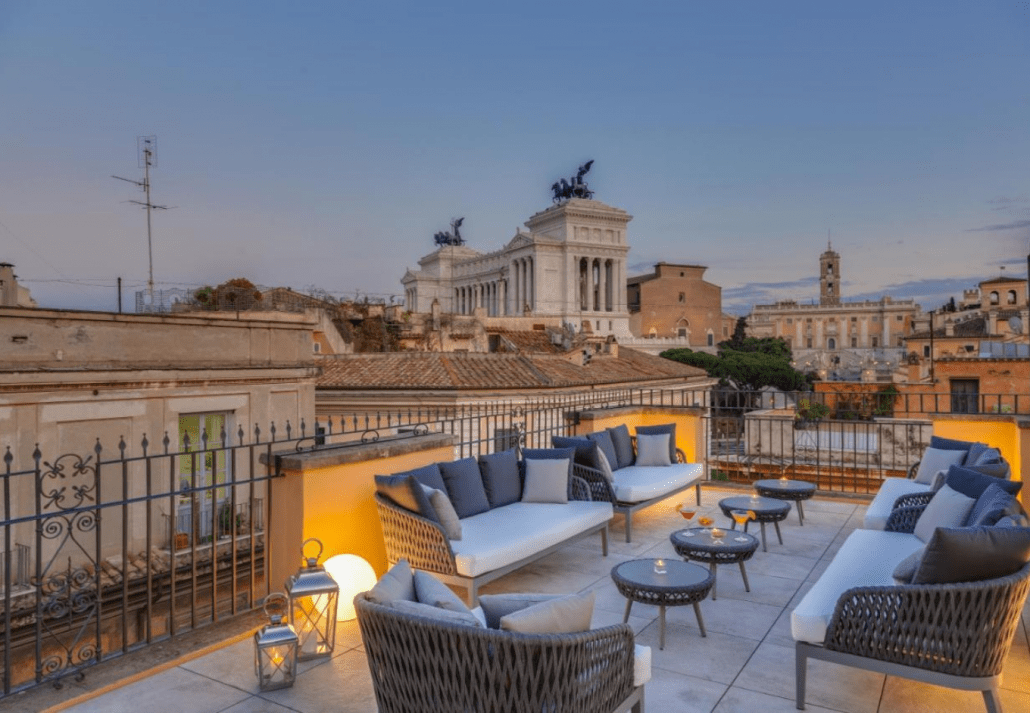 Featuring panoramic views, the 4-star Otivm Hotel is nestled near Piazza Venezia and is located within walking distance of Rome's major monuments and museums.
It offers 20 spacious rooms reminiscent of the La Belle Époque art period, with access to the balcony, lounge zones, and private bathrooms. Every morning you can taste many different options at the breakfast buffet and take a stroll to Gran Caffe Roma for a phenomenal Italian lunch or dinner.
After a long day of walking around the Eternal City, relax with a glass of fine wine at the rooftop bar with 360° views. It's guests' favorite oasis! There's no better way to finish a day of sightseeing than enjoying a fresh drink while soaking up the last rays of the sunshine.
Address: Via d'Aracoeli 11, Pantheon, 00187, Roma Italia
Top Amenities & Services: terrace, breakfast in the room, free wifi, bar, designated smoking area, lift
Nearby Attractions: The Pantheon, Altar of the Fatherland, Basilica di Santa Maria in Aracoeli, Synagogue of Rome, Roman Forum
Recommended Read The 5 Most Incredible Rome Vacation Rentals
FAQ
What are the overall best hotels close to the Pantheon in Rome, Italy?
The best overall hotels close to Pantheon are:
Damaso Hotel
Argentina Residenza Boutique Hotel
Hotel Pantheon
Corso 281 Hotel
Otivm Hotel
What are other good hotels near Pantheon in Rome, Italy?
Hotels in the heart of Rome:
The Pantheon Iconic Rome Hotel;
The Palazzo Navona Hotel;
Hotel Nazionale.
What are the best luxury hotels close to the Pantheon, in Rome?
The best luxury hotels close to The Pantheon are:
The Pantheon Iconic Rome Hotel
The Singer Palace Hotel
Eitch Borromini Hotel
D.O.M Hotel (Preferred Hotels & Resorts)
What are the best low-cost hotels near the Pantheon, in Rome?
The best budget hotels near Pantheon in Rome are:
A World Aparts – 105 Pellegrino
Hotel Fellini
Grand Master Suites
Hotel 87 Eighty-Seven – Maison D'Art Collection
CuddlyNest provides all accommodations to all travelers at the best price. Find unlimited travel inspiration on our blog and social media channels.
You Might Also Like:
The 10 Best Restaurants in Rome, Italy
The 9 Best Kid-Friendly Attractions in Rome, Italy
Rome 1 Day Itinerary: The Top Things To Do In The City
Rome 2 Day Itinerary: The Top Things To Do
Rome 3 Day Itinerary: The Top Things To Do
Rome 4 Day Itinerary: The Top Things To Do In The City
The Top 5 Hotels Near The Colosseum, Rome