Staying at a hotel near the airport may be the most convenient option, whether you have a long stopover in Rome or are simply visiting the city on business. Apart from saving money on rental cars, this will relieve the stress of needing to rush to make an early morning flight.
We've compiled a list of the 8 top-rated hotels near Rome Fiumicino Airport to make your life easier. These hotels are not only close to the airport, but they also provide excellent services such as complimentary 24-hour shuttle service and complimentary breakfast.
Keep reading below!
Find Rome 2 Day Itinerary: The Top Things To Do
The 8 Best Hotels Near Rome Airport
Hilton Rome Airport Hotel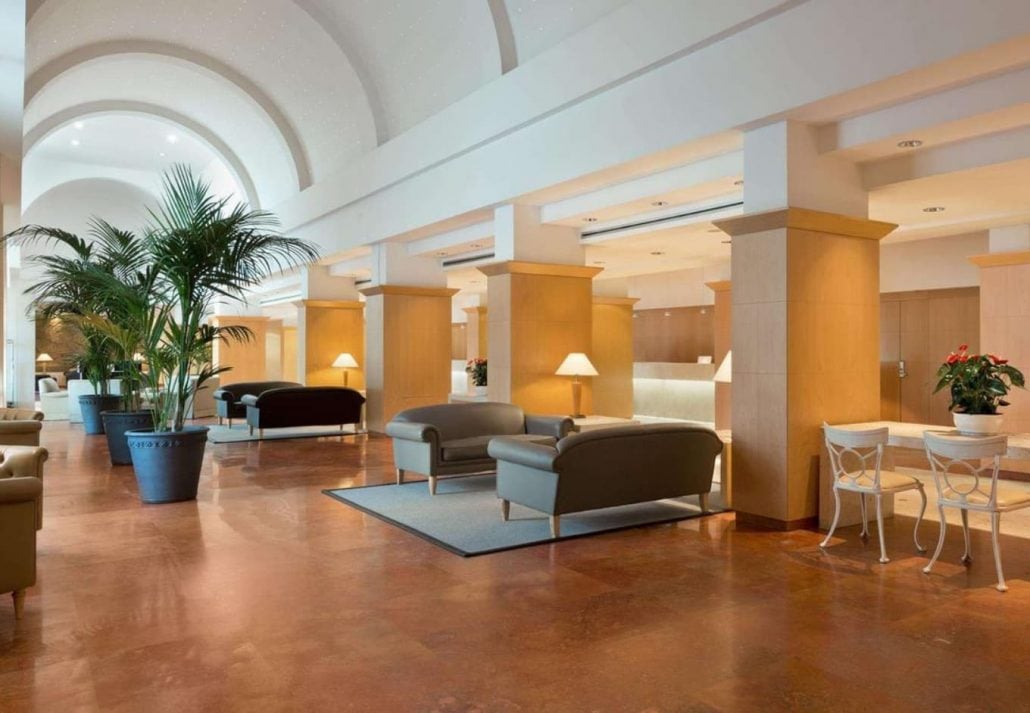 The Hilton Rome Airport Hotel is connected to Fiumicino Airport's Terminals 1-3.
With classic furnishings, wooden floors, satellite TV, air conditioning, a minibar, and a private bathroom, this hotel will make you feel luxurious and comfortable. If you want, you can purchase access to the Executive Lounge, which includes drinks, snacks, newspapers, and high-speed internet access is one of them. It also offers an indoor pool and public areas with free Wi-Fi.
If booking through CuddlyNest, you can secure the best prices while staying at Hilton Rome Airport Hotel. Accommodations vary from Guest Double Rooms for $131 a night, to Executive Double for $198 a night.
A delicious breakfast buffet with sweet and savory foods is served every day, and throughout the day, the Artists Bar and the Caffè Tevere Bistr serve snacks and drinks, while the Le Colonne restaurant serves buffet lunches and dinners.
Address: Via Arturo Ferrarin, 2, 00054 Fiumicino RM, Italy
Best Western Hotel Rome Airport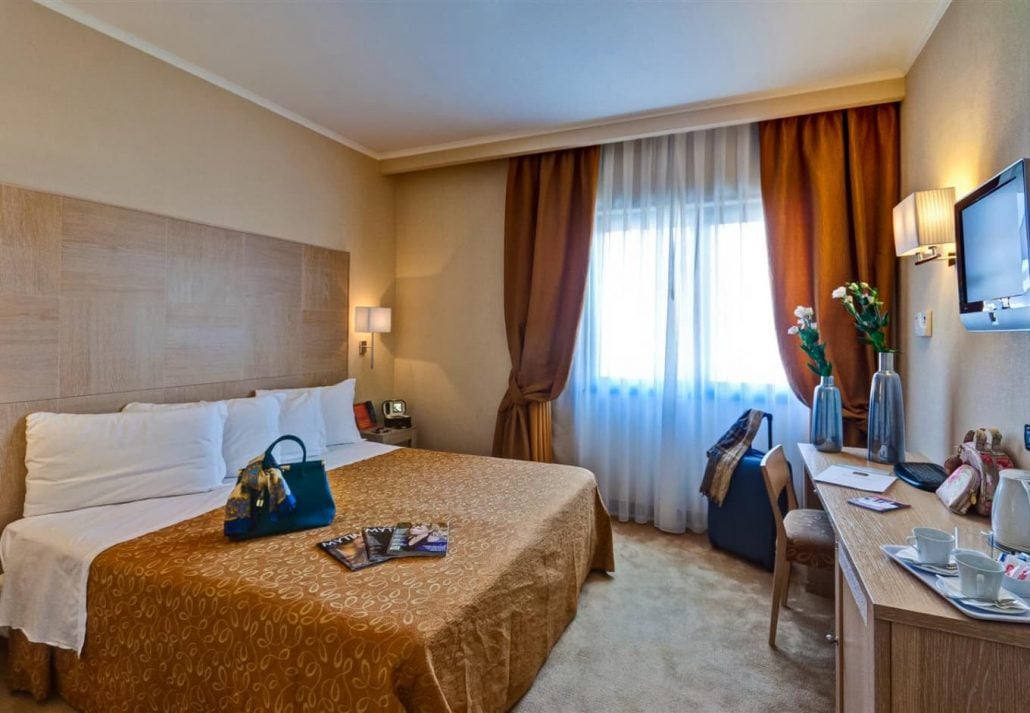 Best Western Hotel Rome Airport 4-star hotel is a 5-minute drive from Fiumicino Airport and offers modern, air-conditioned rooms with LCD satellite TV. The airport shuttle service is offered at an extra cost every day from 5 am.
From the 24-hour check-in to the huge television and reading rooms, the all-day bar, the restaurant, and the breakfast room, where traditional Italian cafeteria breakfast and buffets are offered, all spaces are traveler-friendly. Breakfast can be purchased for 7 EUR per person.
If you find yourself there for a layover or work, don't worry! The hotel offers a gym, a business center, and conference rooms. The restaurant serves Italian cuisine, and the bar serves delicious beverages. There is free Wi-Fi everywhere, which works perfectly if you have to keep taking work calls, or just want to keep in touch with family and friends.
Address: Via Portuense, 2465, 00054 Fiumicino RM, Italy
Hotel Isola Sacra Rome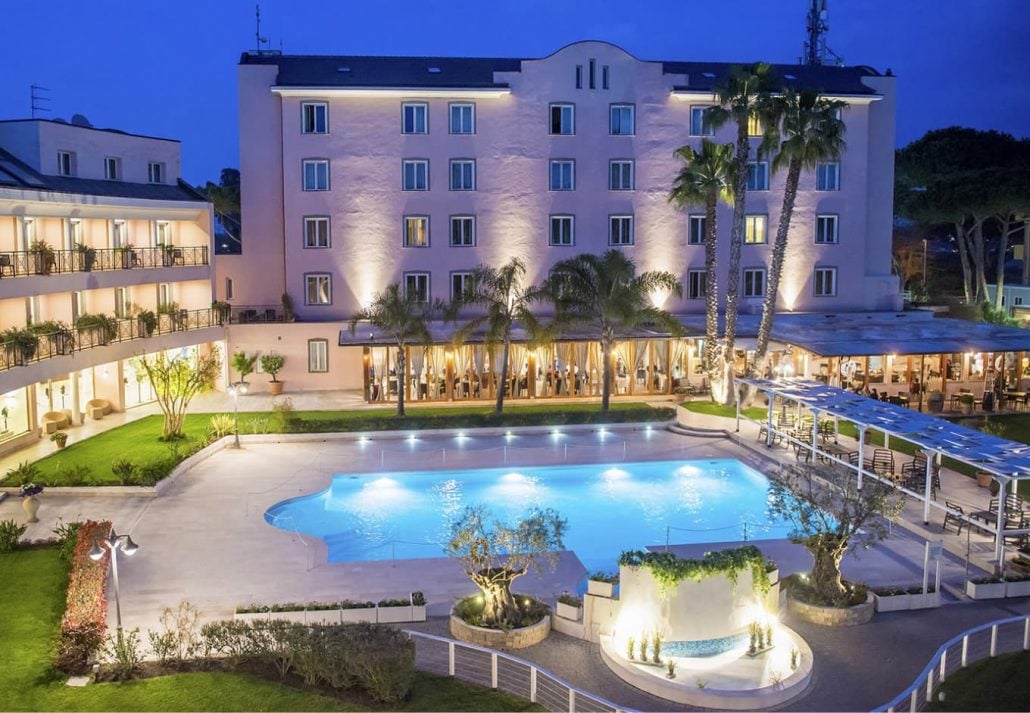 The Hotel Isola Sacra Rome Airport is a very spacious hotel, providing free Wi-Fi throughout, and with a magnificent garden with an outdoor pool that is open during the entire summer. The hub of Fiumicino and Leonardo Da Vinci Airport are both within a 5-minute drive!
The rooms have wooden furnishings, air conditioning, and an interactive LCD TV with satellite channels. And if you want to try some incredible Italian cuisine, don't hesitate to try their restaurant that specializes in old Roman fish cuisine. During the summer, meals are served in an exquisite dining room or on the patio. Breakfast is available from 7:00 a.m. to 10:00 a.m. every day.
Just a short ride (4 km) from the sandy beaches of Ostia and Fiumicino, and with quick access to the historic center of Rome and the airport, Isola Sacra is one of the best options out there.
Address: Via della Scafa, 416, 00054 Fiumicino RM, Italy
Garden Inn Rome Airport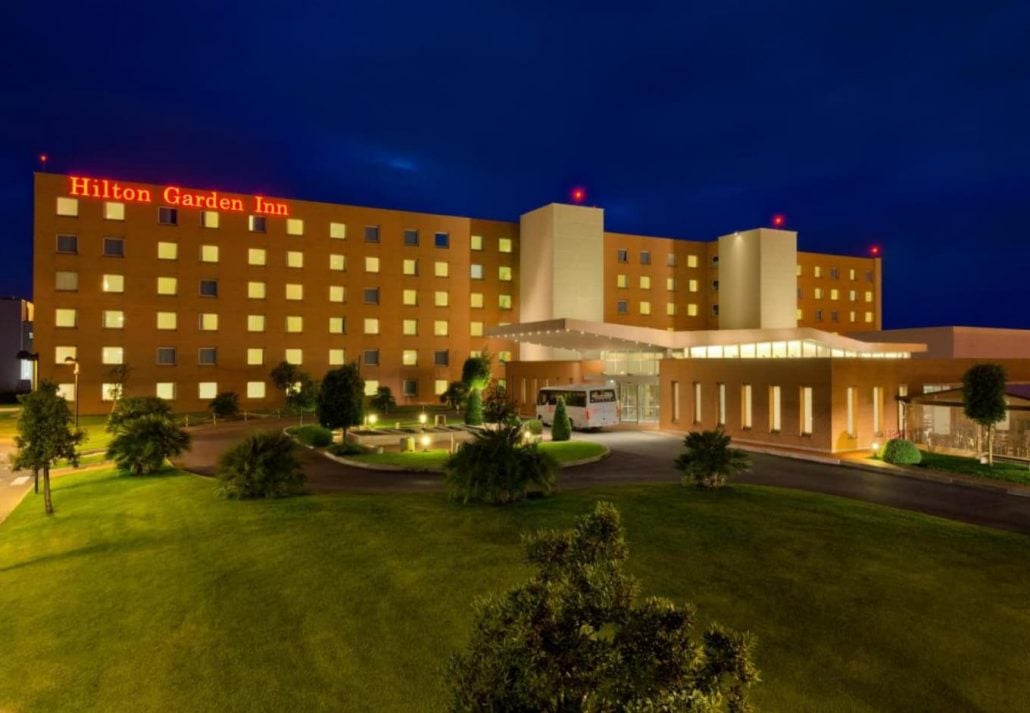 The Grande Inn Rome Airport is a modern hotel designed for customers arriving or departing from Fiumicino Airport and provides everything needed for a pleasant stay.
Each stay includes complimentary and unrestricted transportation to and from Fiumicino Airport via a customized shuttle service that operates 24 hours a day. The stops are located outside of Terminals 1, 2, 3, and 5, as well as the Arrivals halls of Terminals 1 and 3.
With free WiFi and 24-hour facilities including a fitness room and a small shop, food, and drinks at the hotel's restaurant and bar, which is open all day, you will never feel the need to go anywhere else.
The cozy rooms are designed for comfort and convenience, and you can choose between a king-size bed or twin beds. The accommodations are soundproofed and feature wooden floors and convenient amenities.
Address: Via Vittorio Bragadin, 2, 00054 Fiumicino RM, Italy
Leonardo Da Vinci Rome Airport Hotel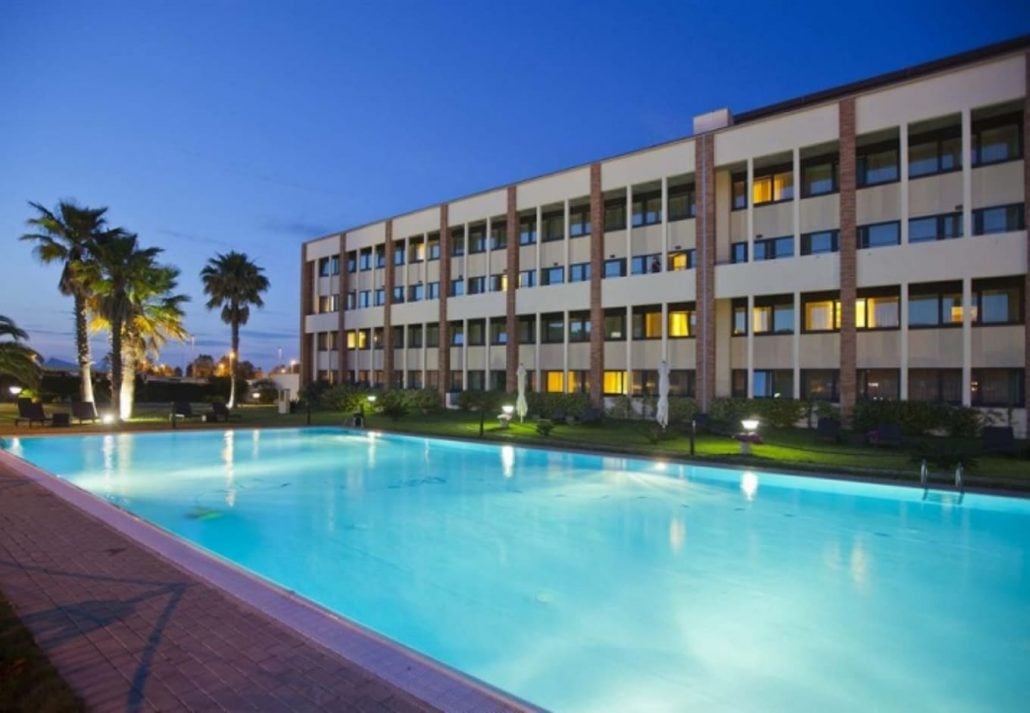 Staying at the Leonardo da Vinci Rome Airport Hotel will help you discover the best attractions of Rome. The property offers a variety of amenities to make your stay more enjoyable, like free Wi-Fi in all rooms, a 24-hour front desk, facilities for disabled guests, rapid check-in/check-out, and luggage storage.
The guestrooms are equipped with all of the necessities for a restful night's sleep. Television LCD/plasma screen, internet connection, non-smoking rooms, air conditioning, and desk are available in some of the rooms, making that inconvenient layover more pleasant. Use the exercise center, outdoor pool, and garden to unwind after a busy day.
The hotel is located in Fiumicino, about 3 kilometers from Leonardo da Vinci International Airport. A variety of retail options, as well as bars and restaurants, are just a few minutes away, and the nearest bus station is around 200 meters away. The center of Rome and Ciampino airport are both 30 kilometers away.
Address: Via Portuense, 2470, 00054 Fiumicino RM, Italy
Holiday Inn – Eur Parco Dei Medici
The Holiday Inn Rome – Eur Parco Dei Medici invites guests to unwind in the refined surroundings of a contemporary and comfortable hotel, which is conveniently located on Viale Castello Della Magliana in Rome's business and entertainment district.
Eur Parco Dei Medici is an appealing accommodation choice for any visitor, due to its proximity to Leonardo Da Vinci-Fiumicino International Airport, PalaLottomatica – the magnificently built Olympic Stadium that hosts sporting events, theatre performances, and concerts – as well as the Parco de' Medici Golf Club.
The hotel has 317 air-conditioned rooms with standard, double beds, and family room options. On request, non-smoking and smoking rooms can be provided, and all rooms have well-equipped private bathrooms. Modern amenities such as minibars and coffee/tea makers, as well as air conditioning and climate control, are available in the rooms at Eur Parco Dei Medici Hotel. If requested, complimentary cribs/infant beds are available in the family rooms.
Address: Viale Castello della Magliana, 65, 00148 Roma RM, Italy
Seccy Hotel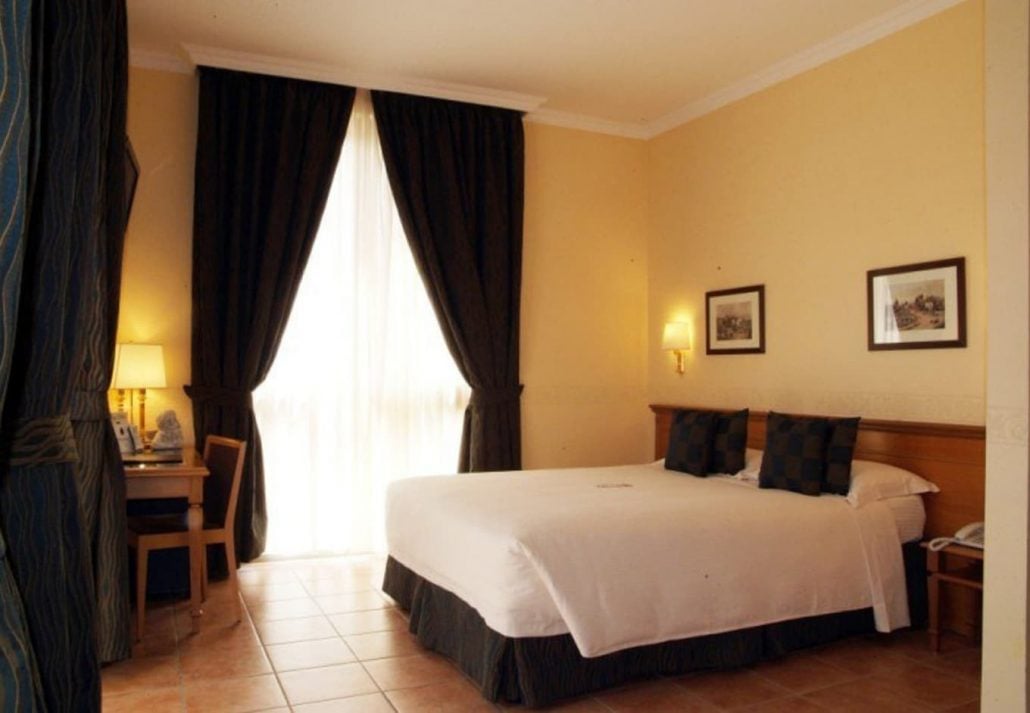 Elegant rooms with wireless internet, television, and climate control are available at Seccy Hotel, with garden views available in certain units.
The Seccy Hotel is located 2.2 kilometers from the Porto di Traiano History Museum, and near Il Borgo Valadier. The Via Della Torre Clementina Route is about a 6-minute walk away, so if you want to explore, you can! The hotel also provides a shuttle service to Rome's new fairgrounds as well as Fiumicino Train Station, where trains to Rome are available.
A breakfast buffet is available at Seccy Hotel, and within a 5 minutes walk of the venue, you can dine in Italian and delicious restaurants. On-site, there is a lounge bar. To make your stay more enjoyable, the hotel has a gym and a spa salon.
Address: Via delle Scuole, 32, 00054 Fiumicino RM, Italy
Hotel Tiber Fiumicino
Hotel Tiber is a 10-minute drive from Fiumicino Airport and features a rooftop patio with a swimming pool and complimentary sun loungers, as well as a high-quality fish restaurant.
The soundproofed rooms have air conditioning, free Wi-Fi, and a flat-screen TV in a modern style with neutral or lively colors. Some rooms feature a balcony with views of the sea.
The hotel has a rooftop restaurant, in which sometimes special events are held on. But be sure to not miss their Italian breakfast served every morning there, with the most glorious panoramic views.
Address: Via della Torre Clementina, 276, 00054 Fiumicino RM, Italy
FAQ
What are the best hotels near Rome Airport?
The best hotels near Rome Airport are:
The Hilton Rome Airport Hotel
Best Western Hotel Rome Airport
Hotel Isola Sacra Rome
Garden Inn Rome Airport
Leonardo Da Vinci Rome Airport Hotel
Holiday Inn – Eur Parco Dei Medici
Seccy Hotel
Hotel Tiber Fiumicino
CuddlyNest provides all accommodations to all travelers at the best price. Find unlimited travel inspiration on our blog and social media channels.
You Might Also Like:
The 6 Best Day Trips From Rome, Italy
The 5 Best Places To Go Shopping in Rome, Italy
The 9 Best Kid-Friendly Attractions in Rome, Italy
The 12 Best Foods To Try in Rome, Italy
The Best Time To Visit Rome, Italy
The 10 Best Restaurants in Rome, Italy