The historical center of ancient Rome is buzzing with travelers all year round and everyone wants to get a close look at the grand Foro Romano and the Palatine Hill. By taking a quick walk you'll also reach the magnificent Colosseum. As Alberto Sordi once said: "Rome is not like any other city. It's a big museum, a living room that shall be crossed on one's toes."
There are plenty of stays close to the Roman Forum, but it can be tricky to find the best ones. So, for history enthusiasts looking for a hotel near the ancient ruins, we're bringing a list of the best properties that fit every style and budget. Most of them are a stone's throw away from the biggest attractions in Rome. Take a look!
Find Places To Stay In Rome, Italy
The Top 5 Hotels Near Roman Forum
Hotel Cosmopolita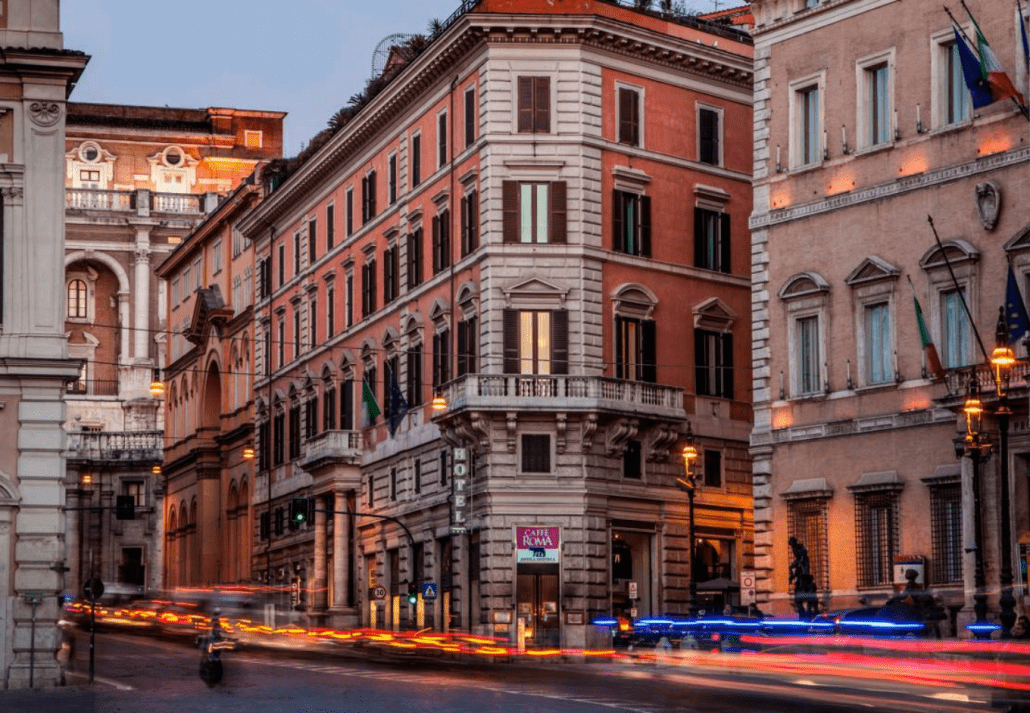 The Hotel Cosmopolita provides the ideal setting for a relaxing stay near the Roman Forum and Piazza Venezia. This newly renovated stay welcomes you with top-notch service and eye-catching interior design. It's infused with elegance, warmth, and a calm atmosphere.
What makes it unique is the special care for guests who suffer from allergies. Therefore, you won't find any furniture with padding or carpets. All rooms are smoke-free and equipped with hypoallergenic materials. Take a look at the gorgeous standard double room starting at $279 a night! The hotel boasts a wide range of room types catering to everyone's needs and desires, so you can choose anywhere from a single room to a queen room with an accessible mobility option.
To relish in Roman and Mediterranean dishes, stay at the Caffee Roma on-site bar offering delicious cocktails and authentic meals. To make things even better, Hotel Cosmopolita invites you to take fresh sips on their soon-to-be renovated roof garden with rooftop views of St. Peter's Basilica. Who can resist this?
Address: Via Di Santa Eufemia 5, Trevi, 00187
Nearby Attractions: Via Margutta, Via del Corso, Via Condotti, Fori Imperiali, Colosseum, Trevi Fountain, Altar of the Fatherland
Top Amenities & Services: Free wifi, airport transfer, air conditioning, non-smoking property, roof terrace, 24-hour front desk, accessible rooms, ticket assistance
Recommended Read The 5 Best Hotels Near Vatican Museums In Rome, Italy
Nerva Boutique Hotel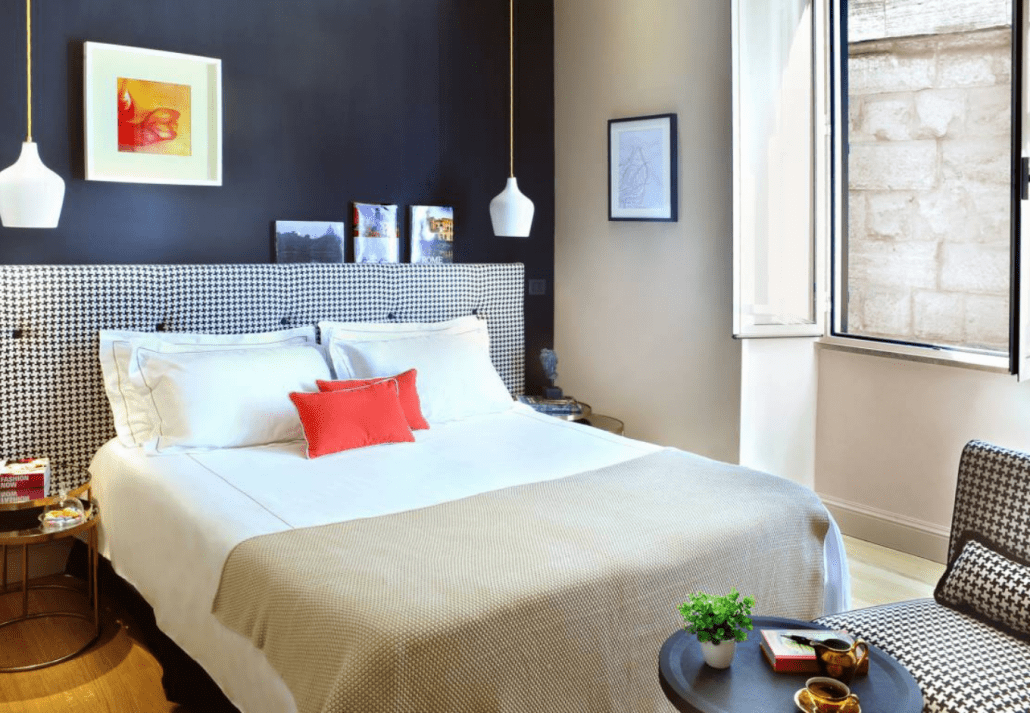 Located in the Monti neighborhood, Nerva Boutique Hotel claims to deliver the ultimate Italian experience. The colorful 3-star hotel is just 200m away from the Roman Forum, Pantheon, and Spanish Steps.
With 20 available rooms, this cute boutique hotel offers views of the cobblestoned courtyard. It's been recently refurbished with a contemporary stylish design but kept the original brick ceiling and exposed beams to keep it in touch with the ancient ruins in front.
If booking through CuddlyNest, you can secure the best prices while staying at Hilton Rome Airport Hotel. Accommodations vary from a Deluxe Double room for $314 a night, to a spacious Premier Double Suite for $450 a night.
You won't be disappointed here, the hotel provides you with the best complimentary continental breakfast in the city and a tasty afternoon tea. Savor the macarons, wine, and champagne, and take in the true energy of Rome!
Address: Via Via Tor Dè Conti 3, Rione Monti, 00184
Nearby Attractions: Vatican Museums, Centro di Roma, Santa Maria ai Monti, St. Peter's Basilica
Top Amenities & Services: Free wifi, free breakfast, pet-friendly, non-smoking property, accessible rooms, 24-hour front desk, express check-in/check-out
Trevi Palace Luxury Inn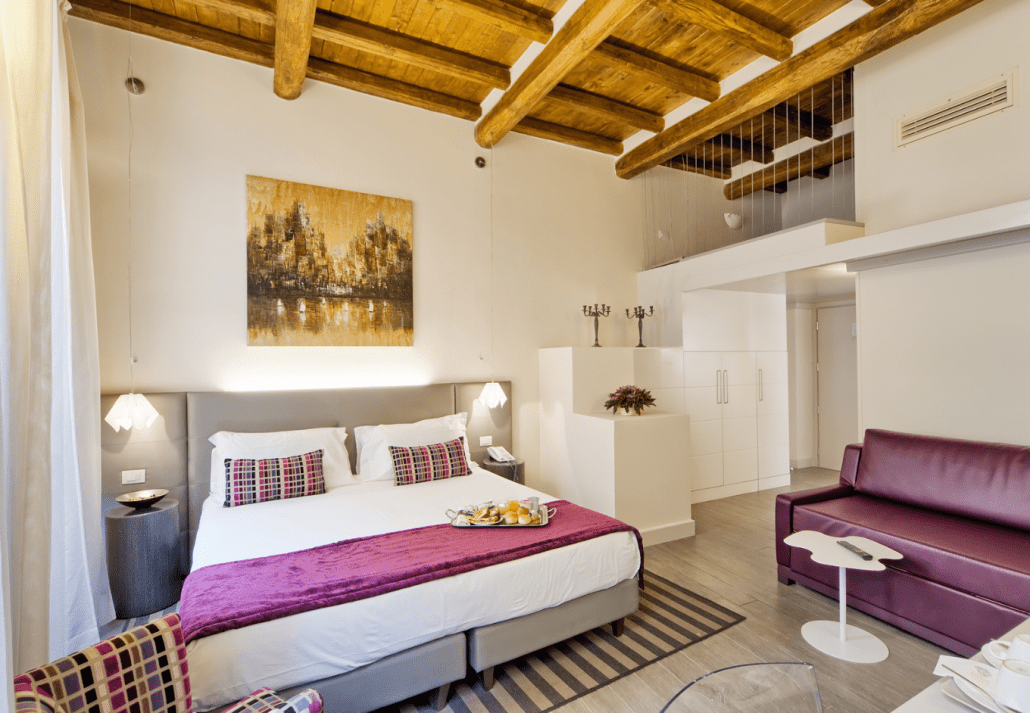 On our list of best properties in the heart of Rome, the Trevi Palace Hotel secures the spot as it's within a walking distance of the Roman Forum and the well-known Via Veneto. For those seeking easy access to public transportation, the Termini train station is about 30min away.
It's placed in an 18th-century townhouse and offers 5 exclusive suites with contemporary décor and designer bathrooms. To add more to that, some rooms have stunning hot tubs out on a private terrace with a view of the surrounding historic buildings.
Along with pleasant views, the incredibly attentive staff makes every guest feels taken care of during their stay. We're certain you'd love it here.
Address: Via Del Lavatore 30, Trevi, 00187
Nearby Attractions: Colosseum, Foro Romano, Trevi Fountain, Via del Corso, Via Veneto
Top Amenities & Services: Free wifi, buffet breakfast daily, non-smoking property, multilingual staff, coffee/tea maker
Recommended Read How To Travel From Rome To Capri: 3 Ways
FH55 Grand Hotel Palatino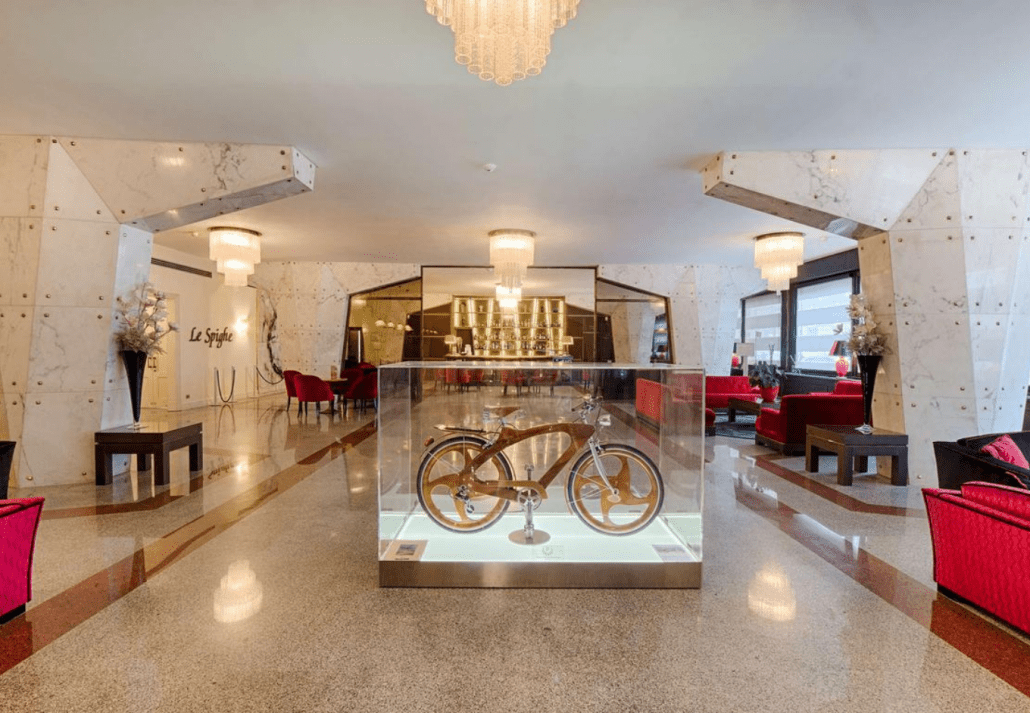 The stunning Grand Hotel Palatino is nestled in a prime location in front of the Borgia staircase and a 10min walk away from the Roman Forum and the Parco di Traiano. It's an ultra-modern building with 8 stories and even 200 rooms. The Prestige rooms at the very top offer exquisite panoramic views of the city. The premium double room can be found at $269 a night!
The 4-star hotel boasts 3 dining rooms – Le Erbe, Il Giardino, and Le Spighe. They serve Roman and American dishes, followed by organic food and homemade pastries made by a professional patissier. They also cater to your specific food preferences like gluten-free pasta or fitness meals.
Guests have access to a newly equipped gym with cardio-fitness machines and a congress center Globo with 7 rooms with capacities ranging from 200 to 20 people. All rooms have the latest tech and possible restaurant services. Who could refuse such glamour?
Address: Via Cavour, 213M, 00184
Nearby Attractions: Piazza Della Madonna Dei Monti, Church of Saints Dominic and Sixtus, Piazza di Spagna, Roman Forum
Top Amenities & Services: Free wifi, buffet breakfast daily, non-smoking property, Facilities for disabled guests, fitness center
Hotel Hiberia
Classical Hotel Hiberia, a 3-star hotel that overlooks the Roman Forum is part of a hotel chain called Petrucci Hotels. It's only a walk away from the lovely Trevi Fountain and the massive Colosseum. Termini train station is close to the hotel so you won't have any trouble getting around the city.
All 41 rooms are quite elegant with a touch of wooden elements and warm brown tones. It's great for couples, families, and business clients seeking a stay with a view of the ancient ruins. An appetizing breakfast buffet is served daily at the hotel café and for dinner and lunch, you can head to the restaurant Petrucci which makes tasty Italian dishes.
Hotel Hiberia is one of those older, traditional, and charming Italian properties that promise an authentic Italian atmosphere you'll rarely find.
Address: Via XXIV Maggio 7, Trevi, 00187
Nearby Attractions: Church of Saints Dominic and Sixtus, Trajan's Column, Quirinal Hill, Piazza Venezia
Top Amenities & Services: Free wifi, buffet breakfast daily, non-smoking rooms, multilingual staff, airport shuttle
Recommended Read Train From Rome to Florence: Everything You Need to Know
FAQ
What are the best hotels near the Roman forum?
Hotels with great access to Roman Forum are:
Hotel Cosmopolita
Nerva Boutique Hotel
Trevi Palace Hotel
Grand Hotel Palatino
Hotel Hiberia
Hotel Borromeo
The Inn At The Roman Forum
What are the best luxury hotels near Roman Forum?
The best luxury hotels near the Roman Forum are:
Cavour Metro
Decò Roma
NH Collection Roma Fori Imperiali
Hotel Raffaello
Best Western
Helvezia
iQ Hotel Roma
Residenza Maritti
What are the best budget hotels near Roman Forum?
The best budget-friendly hotels in the area are:
Freerome Hotel
Hotel Pomezia
Hotel Torino
Hotel Sweet Home
Hotel Orlanda
CuddlyNest provides all accommodations to all travelers at the best price. Find unlimited travel inspiration on our blogs and social media channels Facebook, Instagram, and Pinterest.
You Might Also Like:
5 Best Hostels In Rome, Italy
The 10 Best Restaurants in Rome, Italy
The 9 Best Kid-Friendly Attractions in Rome, Italy
Rome 1 Day Itinerary: The Top Things To Do In The City
Rome 2 Day Itinerary: The Top Things To Do
Rome 3 Day Itinerary: The Top Things To Do
Rome 4 Day Itinerary: The Top Things To Do In The City