One of the major attractions in Rome is the sacred Vatican City, which is essentially a city-state located entirely within Rome's borders. A trip to the world's tiniest country, home to only 1,000 inhabitants, is something everyone should do at least once in their lives.
Apart from being known as the Holy See and the home of the Roman Catholic Pope, Vatican City is cherished for its historic treasures like Vatican Museums, the Basilica of St. Peter, Castel Sant'Angelo, Via Cola di Rienzo, Via Giulio Cesare, and small stores for every taste and pocket.
Interestingly enough, the Vatican doesn't have any hotels open to the public. However, there are plenty of cozy stays right outside its borders. So, whether you're seeking lavish accommodation or a budget-friendly stay, we've got you covered with a carefully curated list of the best hotels near the Vatican Museums based on value for money, comfort, and amenities.
The best part? You can find all these hotels at the best prices on CuddlyNest. Check out this guide and find your dream hotel near the Vatican Museums.
Find Places To Stay In Rome, Italy
The Best Hotels Near Vatican Museums, Rome, Italy
Best Western Plus Hotel Spring House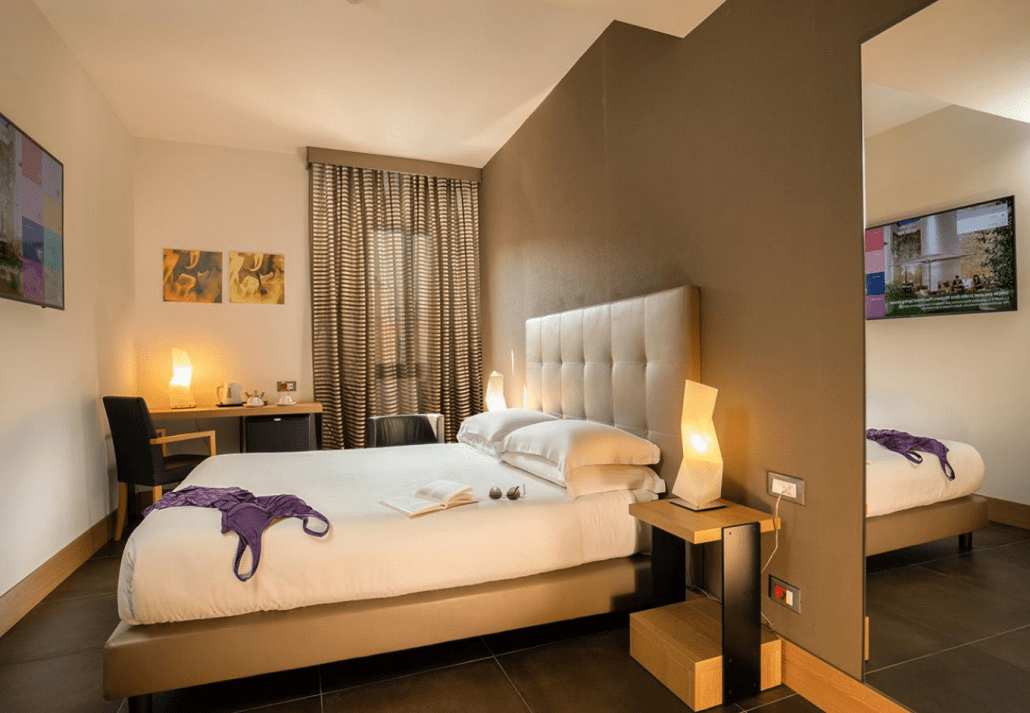 Nestled in the Via Mocenigo, Best Western Plus Hotel Spring House boasts a convenient location near the most adored attractions in the Eternal City. The hotel is located just a 3-min walk away from the Vatican City, which includes the Vatican Museums, Sistine Chapel, and St Peter's Square. All the city's top monuments can be reached on foot or by Cipro-Musei Vaticani Metro Station that's 300 meters from the hotel.
This calm and comfortable stay offers newly renovated rooms covered in warm wooden elements, free wifi, air conditioning, and a minibar with complimentary mineral water. To cater to all of your needs, Spring House provides you with a private garage, fitness center, sauna, and special family and children packages.
Discover the real taste of Rome at the hotel's breakfast buffet served from 7 am to 10:30 am and relish croissants, cakes, waffles and pancakes, cereal, and fruit salads. For savory alternatives choose eggs, cold cuts, fresh tomatoes, and cheeses. Gluten-free alternatives are available upon request. It doesn't end here! Guests have access to the hotel's American Bar in the lovely garden, which serves tasty cocktails and dishes like burgers and pasta. Everything on the menu can be ordered for room service as well.
With all the top amenities, we're confident you'll love it here.
Location: Via Mocenigo, 7, Lazio, 00192, Rome Italy
Nearby Attractions: Vatican Museums, St. Peter's Basilica, Piazza Navona, Via Condotti
Recommended Read Train From Rome to Florence: Everything You Need to Know
Residenza Paolo VI Hotel
The elegant 4-star Residenza Paolo VI Hotel is truly one of the most unique experiences near Vatican Museums. It's been established in 2000 on the premises of an Augustinian Monastery and its long history is still being kept alive and well respected. This elegant stay is far from all the bustle in Rome and takes pride in being the only hotel located in the grand St. Peter's Square.
By taking a quick walk from this property, you can visit the outstanding Sistine Chapel, the Vatican Gardens, the Necropolis, and St. Angel's Castle. To create the feeling of being at "heaven's gate", guests can enjoy panoramic views from the rooftop terrace with peaceful classical music playing in the background.
The hotel offers deluxe rooms and a suite named after the world-famous Michelangelo and Bernini, to emphasize your authentic sophisticated stay. After a long day of walking in the cobbled streets of the city and the glorious Vatican Museums, take a seat at the hotel's bar and treat yourself with an aperitif, tea, or coffee. An a la carte menu offers Italian dishes, tasty ice creams, and liqueurs. Who could ask for more?
Location: Via Paolo VI, 29, 00193, Vatican City, Rome Italy
Nearby Attractions: Vatican Museums, St. Peter's Basilica, Piazza Risorgimento, Campo de Fiori
Twenty One Hotel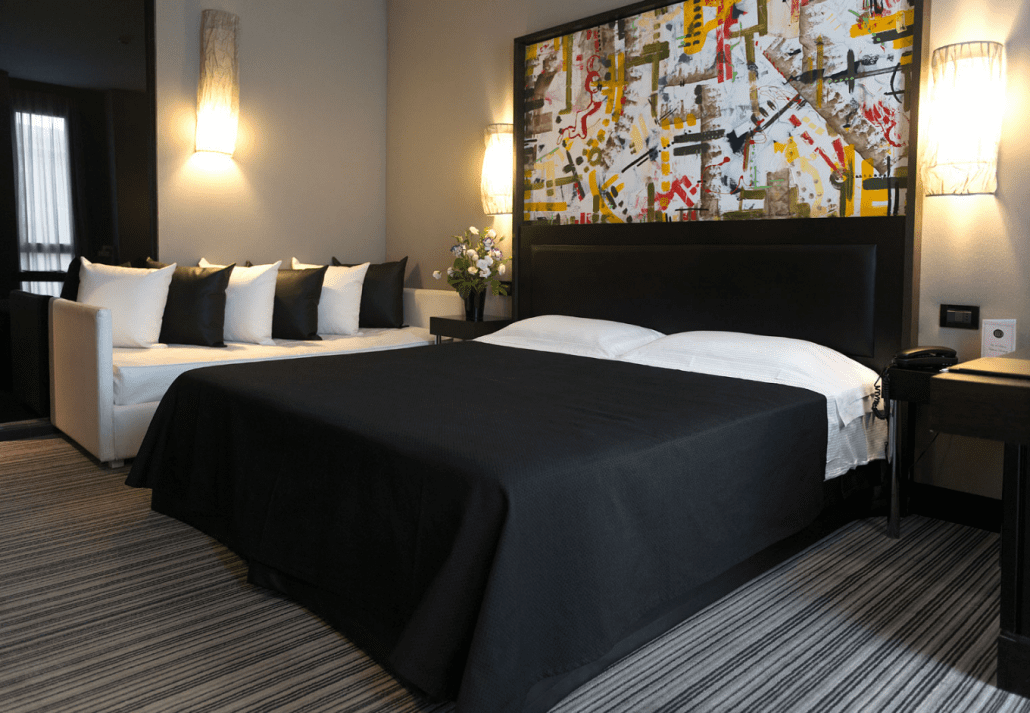 Situated in one of the famous shopping alleys Via Cola di Rienzo, the Twenty One Hotel boutique hotel is a stone's throw away from the Castel Sant'Angelo. Guests are welcomed to explore the beautiful Prati district which is home to the Vatican and Saint Peter's Basilica.
Characterized by the ultra-modern interior, minimalist design, and friendly atmosphere – the hotel is one of the most sought-after cozy corners in Rome. All 93 rooms offer a comfortable stay with LCD TV, free wifi, and a minibar. The stunning deluxe rooms on the 5th floor offer remarkable views of the Eternal City and a private terrace.
A continental breakfast buffet is served daily in the breakfast room while lunch and dinner are served at the on-site restaurant Bistrò 21. There's an extensive selection of culinary delicacies like peppered mussels, Norweigan salmon, Danish steak, scallops, and of course the beloved tiramisu.
With a guest rating of 4.0, the Twenty-One hotel is guaranteed to be an unforgettable and quality stay.
Location: Via Cola Di Rienzo 23, 00192 RM, Lazio, Rome Italy
Nearby Attractions: Vatican Museums, St. Peter's Basilica, Piazza Navona, Campo de Fiori, Roman Forum
Recommended Read The 5 Best Hotels Near Roman Forum, Rome
Atlante Star Hotel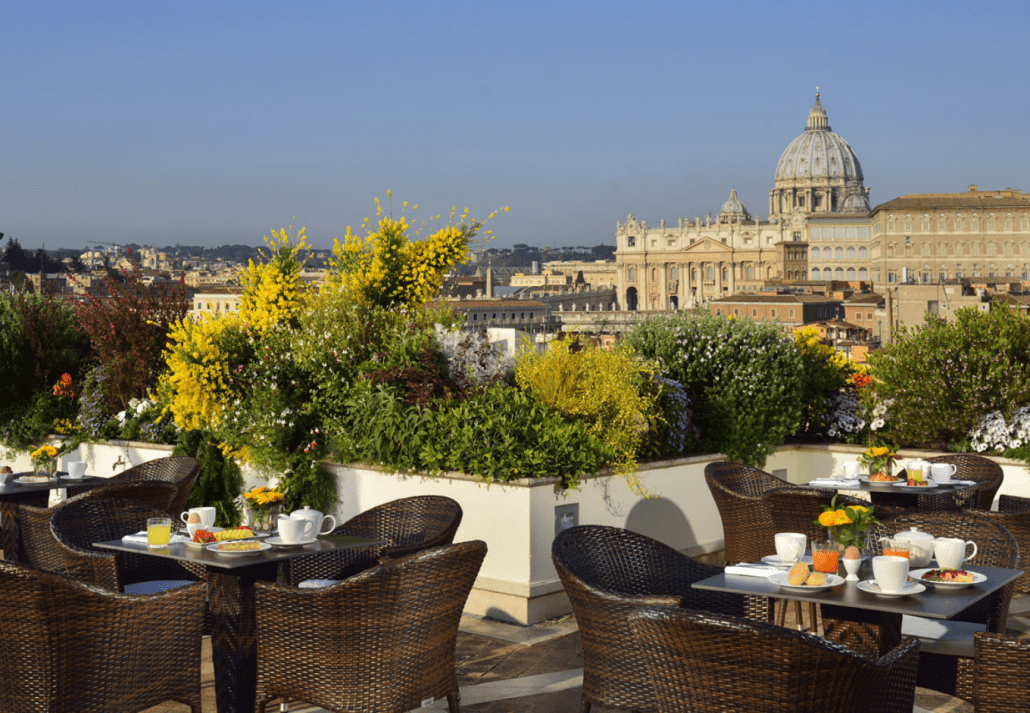 Right in the heart of Rome, Atlante Star is famous for its high-standard accommodation with 70 luxurious rooms for leisure or business travelers. It's within walking distance of The Vatican and the magnificent Sistine Chapel.
With CuddlyNest, you can book your stay at Atlante Star easily, and at the best prices. For $509 a night, you can stay in a spacious double bedroom with a private bathroom, flat screen tv, air conditioning, and complimentary high-speed internet.
Guest rooms are gracefully furnished and styled with the perfect mix of classic and modern designs. All of them are equipped with satellite TV, wifi, and a stocked minibar. One of the top perks of this 4-star property is the luxurious rooftop terrace with Les Étoiles restaurant where you're able to get an incredible view of the Holy See.
The dishes are prepared with a true Italian philosophy and a dash of international inspiration. The menu consists of special dishes like squid filled with ricotta cheese from Lazio, amberjack marinated with passion fruit, and Sicilian cannolo. Plus, don't hesitate to try a wide selection of prestigious traditional Italian wines. The spectacular location makes dining or enjoying a cold drink a genuinely special experience.
Location: Via Giovanni Vitelleschi, 34, 00193, Vatican City, Rome Italy
Nearby Attractions: Vatican Museums, St. Peter's Basilica, Trevi Fountain, Castel Sant'Angelo
Cardinal Hotel St Peter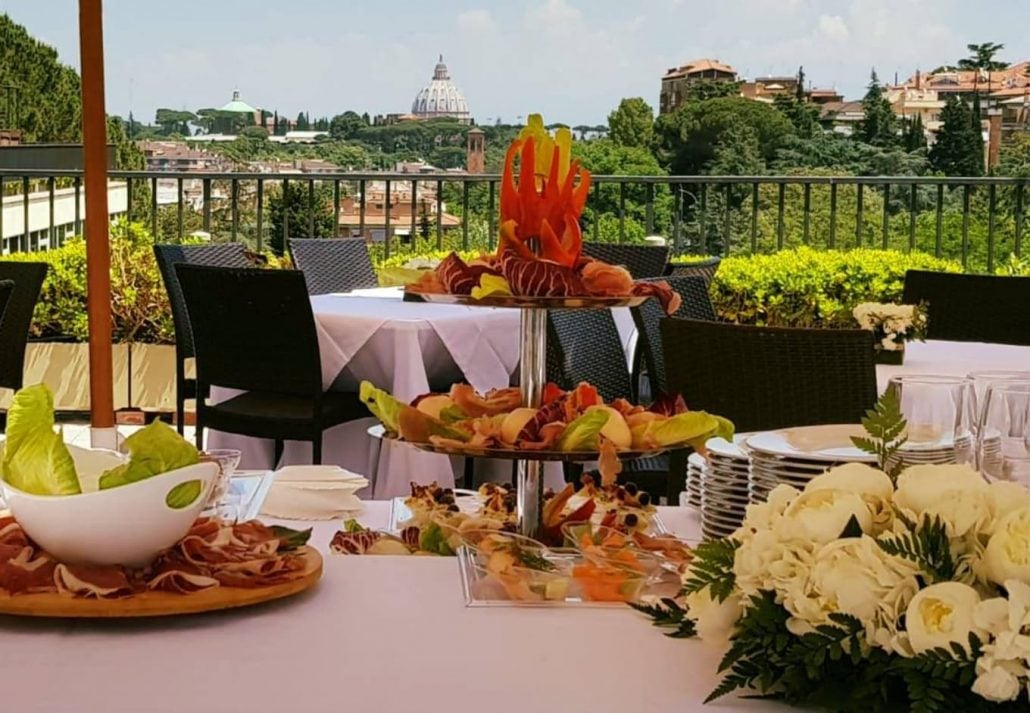 The 4-star Cardinal Hotel St Peter is an exquisite place to stay if you want to be as close as you can to the borders of Vatican City. Located near the stunning Villa Doria Pamphili and Piazza Pio XI, all historic attractions are a couple of moments away. It's only an 8-minute drive from Vatican Museums and St. Peter's Square.
This elegant hotel has a pool, a minibar, flat-screen TV, free wi-fi, air-conditioned rooms, and spacious family rooms. Some units feature private balconies with views of Saint Peter's Basilica. To satisfy your hunger, head to the Villa Doria Restaurant which serves delicious Italian and Roman cuisine. An American breakfast buffet is also available. Furthermore, don't miss the opportunity to relax in the rooftop garden. It boasts three jacuzzis open from May 1st to September, a cozy bar, and breathtaking 360° views of the city.
Location: Via Leone Dehon, 71, 00165 Roma RM, Italy
Nearby Attractions: Vatican Museums, St. Peter's Basilica, Trevi Fountain, Castel Sant'Angelo, Roman Forum
Recommended Read How To Travel From Rome To Capri: 3 Ways
FAQ
What are the best overall hotels near Vatican Museums?
The best hotels near the Vatican Museums and the Sistine Chapel are:
Best Western Plus Hotel Spring House
Residenza Paolo VI Hotel
Twenty One Hotel
Atlante Star Hotel
Cardinal Hotel St Peter
What are the best luxury hotels near Vatican Museums?
The best lavish hotels near Vatican Museums are:
Hotel Alimandi Vaticano in Viale Vaticano 99
Hassler Roma Hotel in Piazza della Trinità dei Monti 6
A.Roma Lifestyle Hotel in Via Giorgio Zoega 59
What are the Vatican Museums known for?
The Vatican Museums feature around 70, 000 of the world's most important and most extraordinary art pieces. Reflecting the Christian and medieval art, the collection includes antique treasures from Egypt, Greece, and Rome as well as contemporary pieces from the 17th century onwards. Many of these artworks have been gifted to popes and originally displayed in Catholic churches.
CuddlyNest provides all accommodations to all travelers at the best price. Find unlimited travel inspiration on our blogs and social media channels Facebook, Instagram, and Pinterest.
You Might Also Like:
The 8 Best Hotels Near Rome Airport
7 Best Hotels In Rome, Italy
Rome 1 Day Itinerary: The Top Things To Do In The City
Rome 2 Day Itinerary: The Top Things To Do
Rome 3 Day Itinerary: The Top Things To Do
Rome 4 Day Itinerary: The Top Things To Do In The City
6 Rome Hotels Near The Pantheon That You'll Love