If you're planning a trip to Italy, you must already know that the country is praised for its mouthwatering food that leaves travelers from all over the world coming back for more.
But don't go expecting to eat pizza, tiramisu, and carbonara pasta during breakfast! Rather, the traditional Italian breakfast is light and not very complex, so enough room is saved for lunch and dinner.
There are, however, a few staple foods that Italians eat for breakfast — and you'll likely try them as well.
Curious to know what you'll be eating on your dream trip to Italy? Then you've come to the right place. In this blog post, we're breaking down all you need to know about the Italian breakfast: from the top foods to try to tips on how to order. Have a look!
Find Places To Stay In Rome, Italy
Breakfast In Italy: All You Need To Know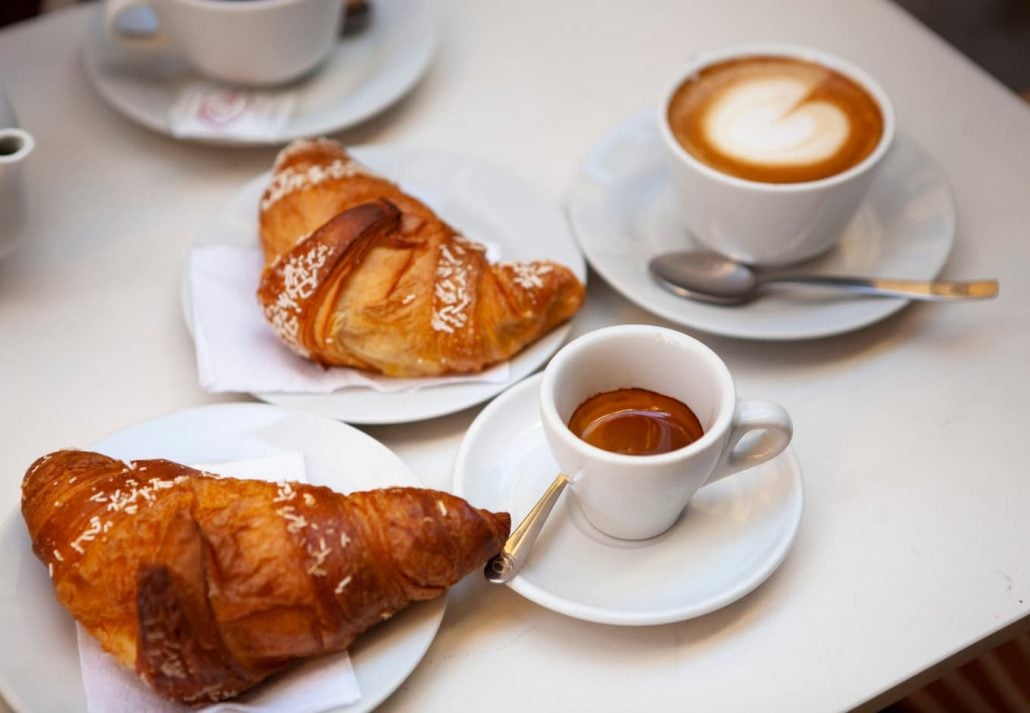 What's A Typical Italian Breakfast Like?
The traditional Italian breakfast is quite different from the ones eaten in North America, and England, for instance. In Italy, the first meal of the day is usually light and simple, meaning you shouldn't expect to feast on hearty dishes like eggs with bacon.
But what do Italians eat for breakfast then? Well, a typical breakfast consists of coffee or cappuccino, and a pastry such as cornetto (an Italian variation of the French croissant).
Another important fact about Italian breakfast foods is that they're usually sweet instead of savory. The cornetto, for instance, is usually eaten either plain or filled with Nutella, chocolate, or whipped cream.
However, if you are eating breakfast at your hotel or B&B, you can expect broader food options such as eggs, cheeses, meats, cereals, and fruits.
What Pastries Do Italians Eat In The Morning?
Pastries are a big component of the typical Italian breakfast. And while the type of pastry eaten can vary according to the region, the most popular one is the cornetto, also known as brioche.
This croissant-shaped pastry is commonly served in Italian households, as well as in cafes, and hotels.
What Time Do Italians Eat Breakfast?
Breakfast in Italy is usually eaten from 7:00 to 10:30 am.
Quick Tips About Breakfast in Italy
Never order a cappuccino after 11:00 am — coffees with added milk are exclusively breakfast drinks;
In cafes and bars, coffee is served alongside a glass of water to clean the palate;
It's common for Italians to have their breakfast in a bar, which is the equivalent of a café;
If you eat breakfast at a bar, expect to eat at the counter, standing up. However, some places also have tables and chairs available (note that, if you sit down, you'll have to pay a bit more for the table service);
Unless you want a glass full of milk, don't order a latte. That's because latte means milk in Italian, so be sure you order a caffè latte or a latte macchiato if you want coffee in your drink.
How To Order Breakfast In Italy
Un caffè, per favore | A coffee, please
A shot of espresso served in a small cup
Un caffè macchiato, per favore | A machiatto, please
A shot of espresso with a dash of foamy milk
Un cappuccino, per favore | A cappucino, please
Equal parts espresso, milk foam and steamed milk
Una brioche vuota, per favore| Abrioche, please
Plain brioche (Italian-style croissant)
Una brioche alla marmellata, per favore | A brioche with jam, please
Brioche filled with jam
Una brioche alla crema, per favore | A brioche with jam, please
Brioche filled with cream
Una brioche al cioccolato , per favore | A brioche with chocolate, please
A brioche pastry filled with chocolate
The 5 Most Popular Italian Breakfast Foods And Drinks
Coffee & Cappucino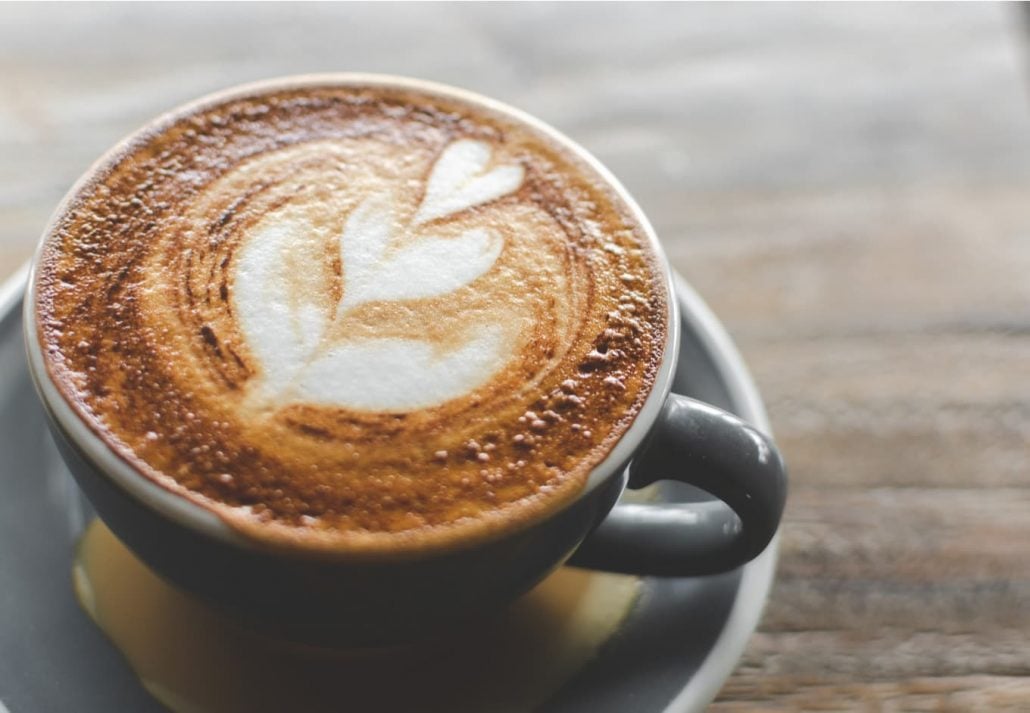 Coffee and Cappucino are the most popular breakfast drinks in Italy and are usually paired with pastries like cornetto.
If you're not a fan of coffee drinks, you can have a fruit juice (suco di frutta), instead.
Biscotti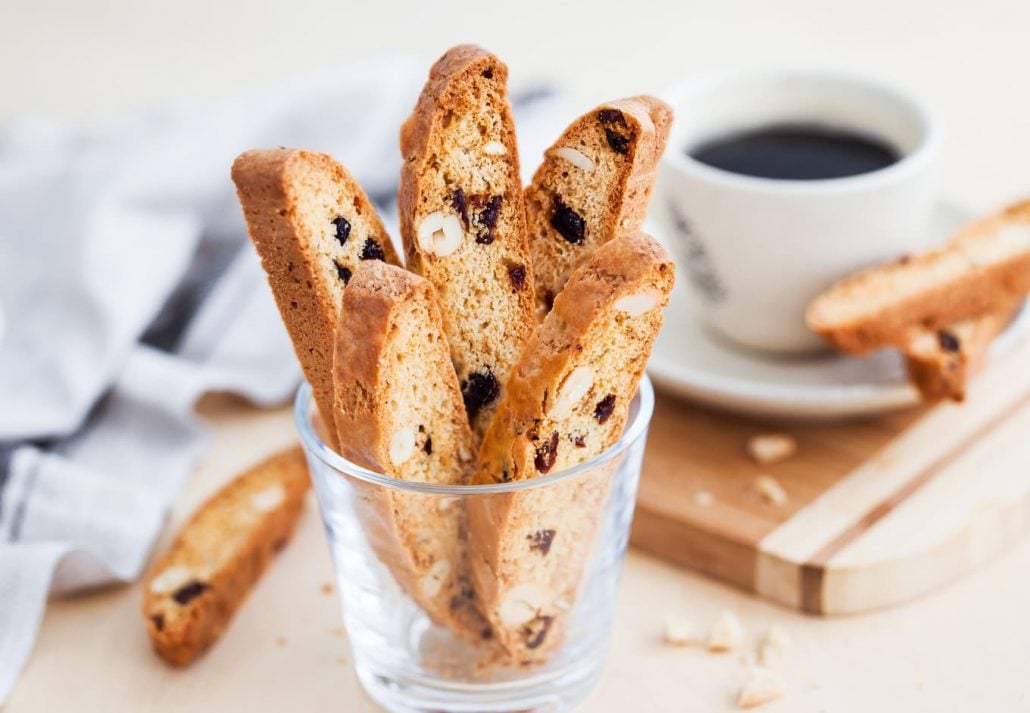 Biscotti are almond-based breakfast biscuits that originated in the Tuscan city of Prato. They are crunchy, sweet, and perfect to dip into a cup of coffee. A great way to start the day!
In case you plan on buying some in the supermarket, know that Mulino Bianco is one of Italy's most popular manufacturers of biscotti.
Cornetto/Brioche (Italian Croissant)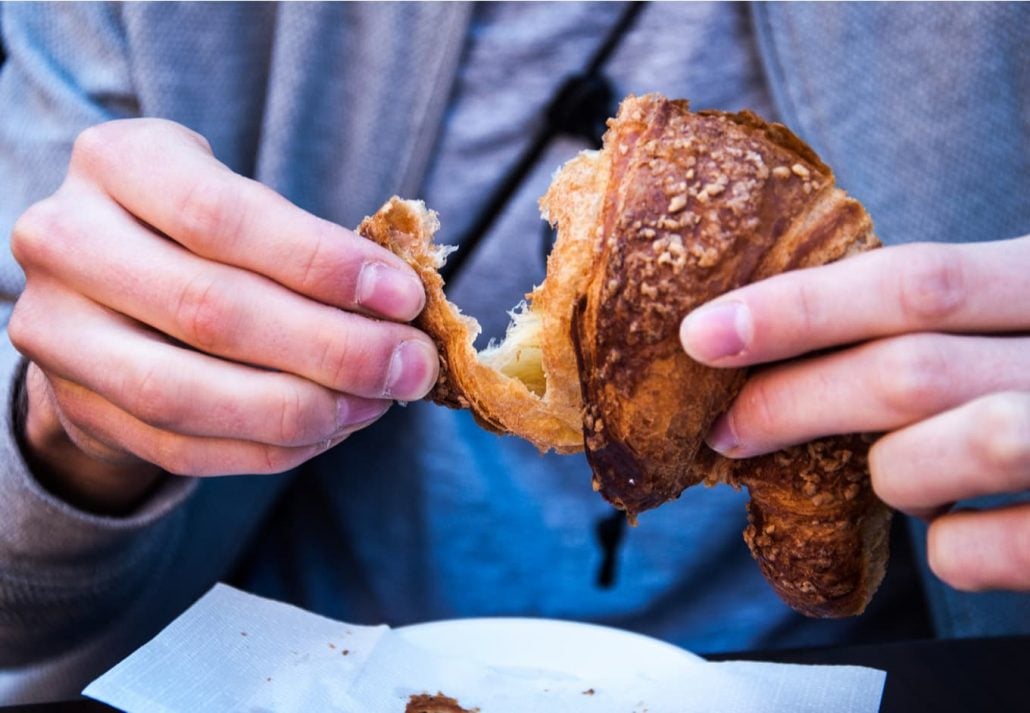 Cornetto is the most famous breakfast pastry in Italy. They're shaped like French croissants but are sweeter and softer since the dough is different and resembles more brioche or Danish.
You can eat this breakfast food plain, or filled with jam, cream, chocolate, Nutella, and pistachio cream.
Pane, Burro e Marmellata (Bread, Butter, and Jam)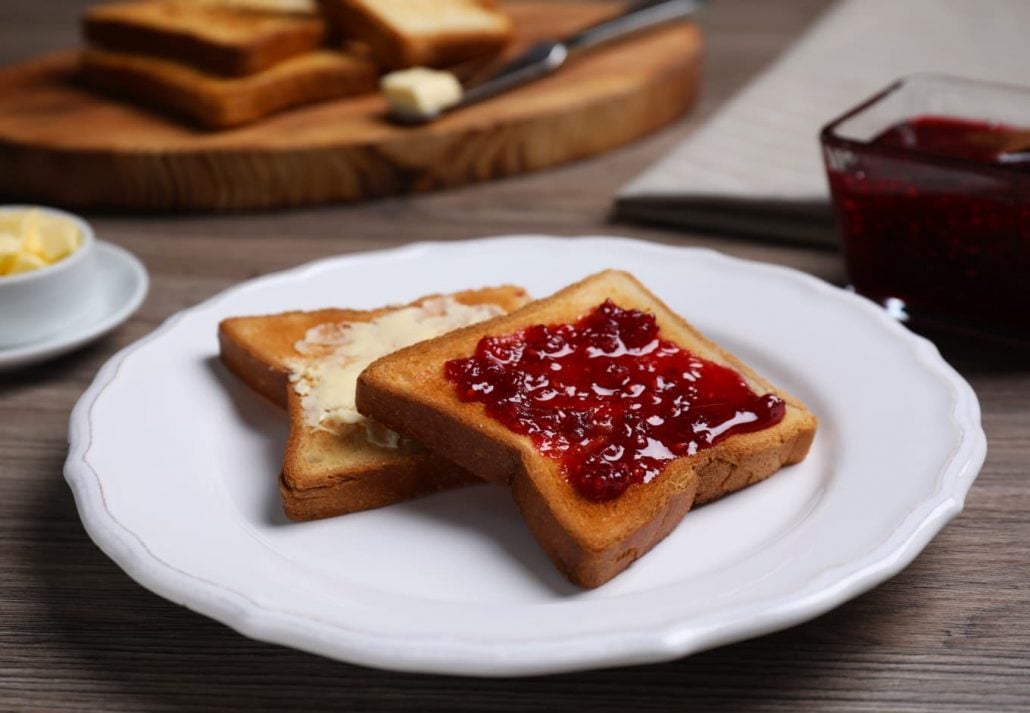 While indulging in breakfast pastries with coffee is the most common way to start the day in Italy, there are other options available.
Other popular breakfast recipes include the traditional bread, butter, and jam, which in Italian is called "pane, burro e marmellata", and goes well with coffee or cappuccino.
Fette Biscottate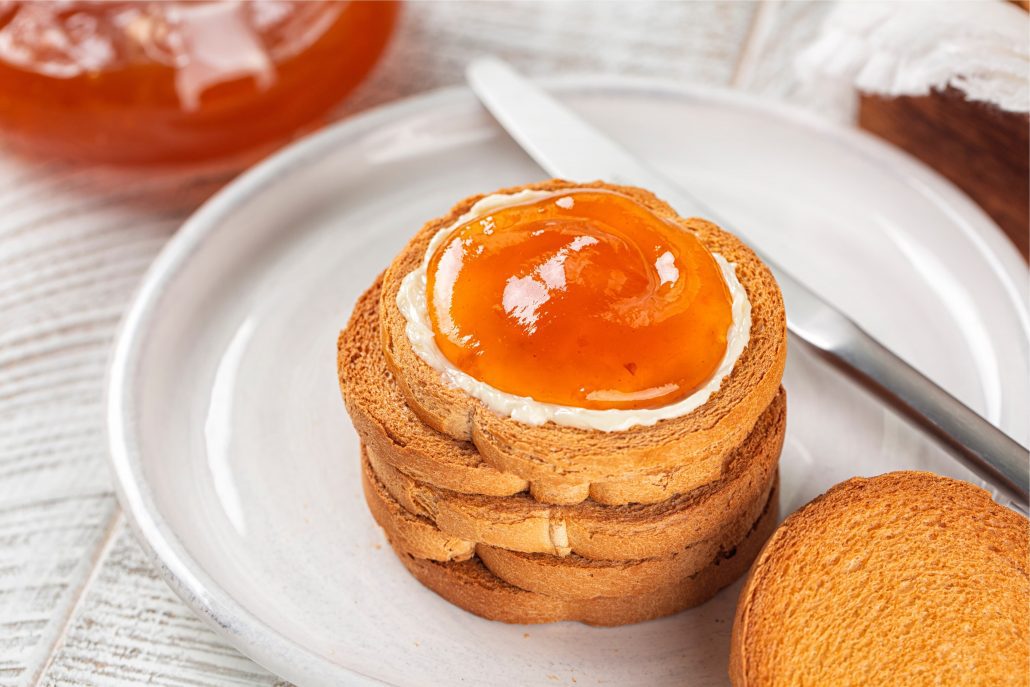 Also known as "Melba toasts" or "rusks", fette biscottate are crunchy slices of sweet bread, usually eaten with a spread of Nutella or jam. Have it with a warm cup of coffee and you're good to go!
CuddlyNest provides all accommodations to all travelers at the best price. Find unlimited travel inspiration on our blog and social media channels.
You Might Also Like:
Top Italian Dishes You Can Make at Home
Rome 3 Day Itinerary
The Ultimate Europe Travel Guide
Best Farmers' Markets in Rome, Italy
What to Pack for a Sustainable Trip To Europe
40 Top & Most Beautiful Castles in Europe
The Best Time To Visit Rome, Italy
The Best Day Trips From Rome, Italy
The Best Kid-Friendly Attractions in Rome