Spiked like a jewel at the foot of the Alps, Lake Como is blessed with natural beauty. Its serene waters framed by dramatic hills, historic villas, and idyllic gardens provide a place of beauty and serenity as an escape from everyday life.
Aside from its breathtaking beauty, Lake Como also boasts a spectacular variety of things to do — from memorable boat cruises to exploring picture-perfect towns. The area is also conveniently located just 32 miles from Milan, making it a perfect day trip for those visiting the capital of Lombardy.
There are a few transportation options to get from Milan to Lake Como — travelers can opt for driving a scenic route until they reach the lake, or take public transportation, which is easy and convenient to use.
To help you enjoy a memorable trip, we've covered the best ways of going from Milan to Lake Como — including all the transportation options available.
Have a look below to learn more!
Find Places To Stay in Como, Italy
Where Is Lake Como Located?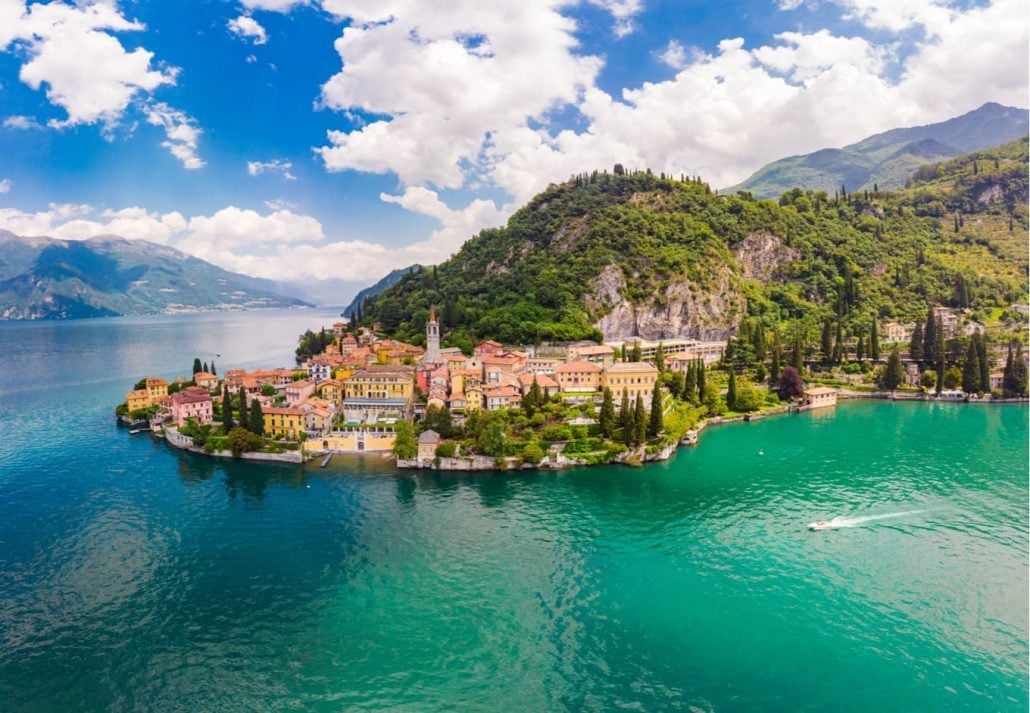 Lake Como is the third largest lake in Italy (after Lake Garda and Lake Maggiore) and is considered one of the best day trips from Milan.
Also known as Lario, this wishbone-shaped lake is located at the foot of the Alps, in Northern Italy. The lake lies 34 miles north of Milan, at an elevation of 653 feet in a depression surrounded by limestone and granite mountains.
How To Get To Lake Como from Milan?
Milan to Lake Como by Car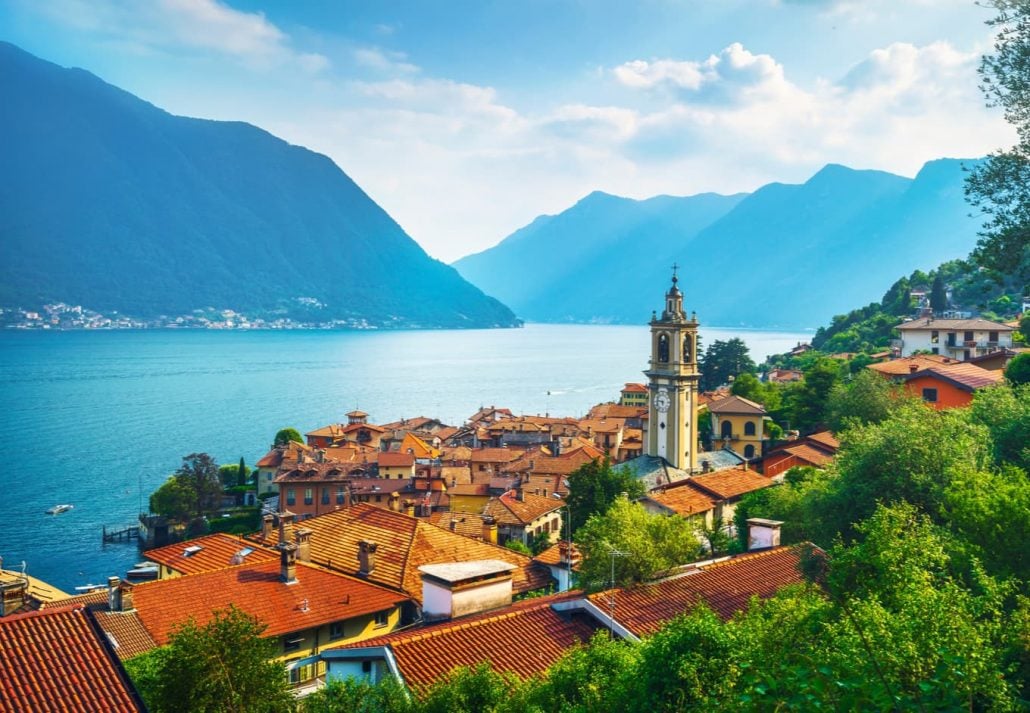 Lake Como is easy to reach by car from the Milan city center. The drive takes less than an hour via the A9/E35 and takes 1h15.
While driving takes longer than the train, it's the perfect option for travelers seeking to explore some of Italy's most beautiful landscapes. So, if you are more than only a day trip, be sure to hit the road and stop at some picturesque areas along the route. Must-sees include Spina Verde Regional Park, a lush protected forest overlooking the town of Como, and the Baradello Castle ruins. You can also take the chance to explore the
Please note that both Milan and Como have a Zona a Traffico Limitato (ZTL). If you drive in the ZTL without official permission, you will be ticketed.
Milan to Lake Como by Train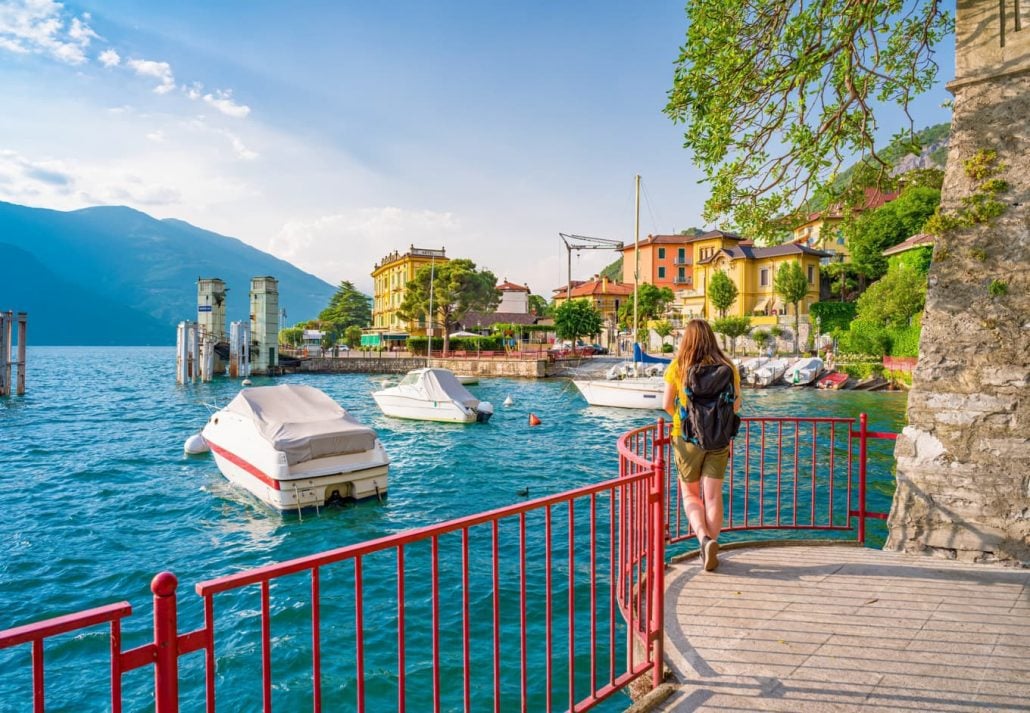 The train is one of the most convenient ways to reach Lake Como, as it's both quick and affordable. There are frequent direct trains departing daily from Milan and reaching several towns around the lake area.
Travelers heading over to the city of Como, for instance, can catch a direct train departing from the Milano Centrale train station (Milan Central station). The Trenitalia Trenord and Eurocity trains departing from Milano centrale reach the Como San Giovanni station, in the city of Como, in about 40 minutes.
There are also trains departing from Milan's Porta Garibaldi station. These trains travel along the same railway line as the Milano Centrale Station — the only difference is that the trains from Centrale make fewer stops (but there are also fewer departures), while trains from Porta Garibaldi stop in every single local station and as a result take about double the time. While travel time from Centrale to Como is 40 minutes, from Porta Garibaldi to Como is just over an hour.
The Como San Giovanni train station is only a 10-minute walk from the Lake Como front.
You can also catch a train from Milano Nord Cadorna station (Milan Nord Cadorna) to the Como Camerlata station in one hour.
In case you're departing from the Milan Malpensa Airport, take the Malpensa Express train (that starts from both terminals) which heads to the Saronno train station, in Saronno, in 20 minutes. Remember you have to change and take the train that heads to Como Nord Lago Station. At the Milan Malpensa Airport, you can also take the TILO train, traveling daily to Como San Giovanni in an hour and a half.

If your final destination is the village of Bellagio, you'll have to take a train from Milan Cadorna Station to Como Nord Lago, and then take either the hydrofoil or the slow boat to Bellagio.
Travelers arriving at the Milan Linate airport and the Bergamo airport will have to go to the Milan Central Station (there are private transfers available), and from there catch a train to Lake Como.
Ticket prices vary from €4.80 to €12, and it's possible to buy them online in advance. To check train schedules and book your tickets online, you can use the Italia Rail website small booking fee, €5) or Tren Italia, which is the main website for booking train tickets (no extra fee).
Milan to Lake Como by Bus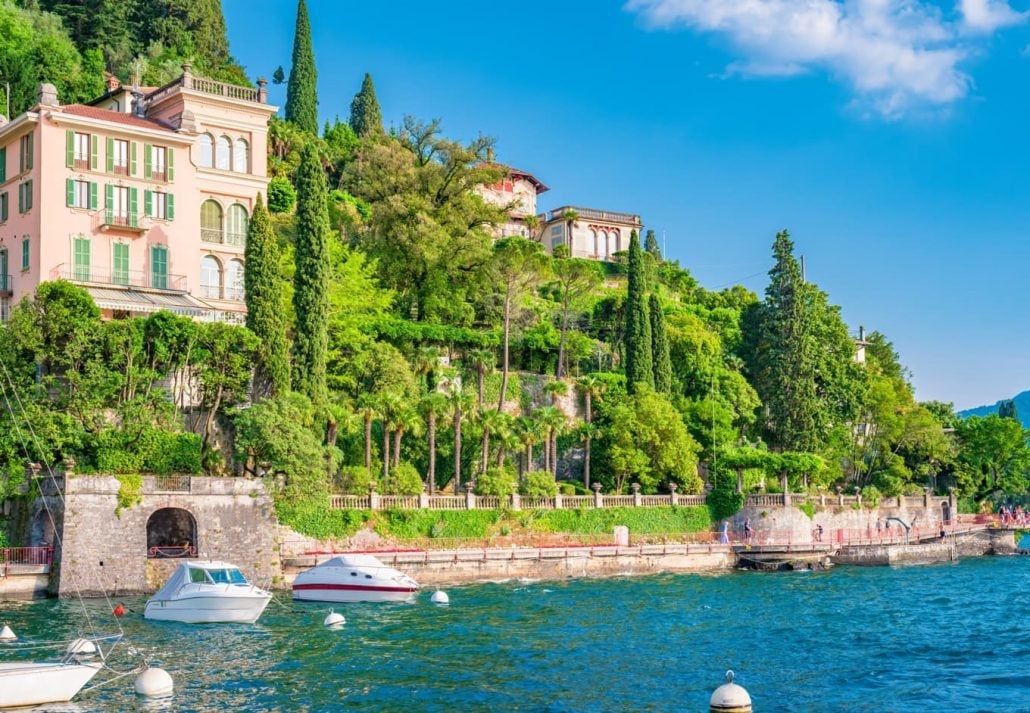 Alternatively, it's also possible to take the bus to Lake Como. Most of the buses from Milan's Centrale bus station end at Como's S. Giovanni bus station. From there, you can take a local bus to get you to other lake towns like Bellagio.
Traveling from Milan to Como by bus takes 1h30 and it's the cheapest option (bus tickets costs around €5).
Long-distance FlixBus bus company, for instance, makes daily trips from Milan to Lake Como. Buses are direct and comfortable, offering air-conditioning, hot drinks on board, and free Wi-Fi.
FAQ
How far is Lake Como from Milan?
Lake Como is located 34 miles north of Milan.
Can you get to Lake Como from Milan by train?
Yes. The train is the easiest and fastest way of getting from Milan to Lake Como, and there are direct trains departing daily from Milan Central Station to Como San Giovanni train station.
What is the best time to visit Lake Como?
The best time to visit Lake Como is from April to October when the weather is warm and mild. Remember that the peak tourist season lasts from June to early September, meaning you can expect large crowds, full ferries, and busy restaurants.
Is visiting Lake Como worth it?
Yes. Lake Como is worth visiting thanks to its immense natural beauty and lakeside luxurious villas.
What is the cheapest way of going from Milan to Lake Como?
The cheapest way of reaching Lake Como from Milan is taking the bus, which costs around 5 euros.
What are the worth visiting towns in the Lake Como area?
Among the many noted lakeside resorts are Como, Lecco, Bellagio, Tremezzo, Menaggio, and Varenna.
CuddlyNest provides all accommodations to all travelers at the best price. Find unlimited travel inspiration on our blog and social media channels.
You Might Also Like:
The 13 Best Attractions in Rome, Italy
The 12 Best Things To Do In Berlin, Germany
The 6 Best Day Trips From Rome, Italy
The 9 Best Kid-Friendly Attractions in Rome, Italy
Rome 5 Day Itinerary: The Top Things To Do
Rome 2 Day Itinerary: The Top Things To Do
Rome 4 Day Itinerary: The Top Things To Do In The City
Rome 3 Day Itinerary: The Top Things To Do
Rome 1 Day Itinerary: The Top Things To Do
The 7 Best Places for Nightlife in Rome, Italy
The 9 Best Museums in Rome, Italy
The Best Time To Visit Rome, Italy
9 Free Things To Do In Rome, Italy
The 10 Best Restaurants in Rome, Italy
Transportation In Rome: How To Get Around The City
The 10 Best Pizza Restaurants in Rome, Italy
The 5 Best Places To Go Shopping in Rome, Italy
The Top 5 Hotels Near The Colosseum, Rome
Best Italian Breakfast: The Top Foods To Try
The 5 Best Things To Do In Genoa, Italy