Capri island is a true gem of southern Italy and is loved for many things. Its mouthwatering Italian dishes, designer shops, and beautiful beaches continue to draw visitors from all over the world. A rocky volcanic mountain Monte Solaro, a peaceful Anacapri town, and the otherworldly Blue Grotto are just some of Capri's major attractions.
Although the stunning island can only be reached by sea, there are two exciting ways to travel from Naples to Capri. Check out our guide for more details!
Find 6 Best Things To Do In Capri, Italy
Where Is Capri Located?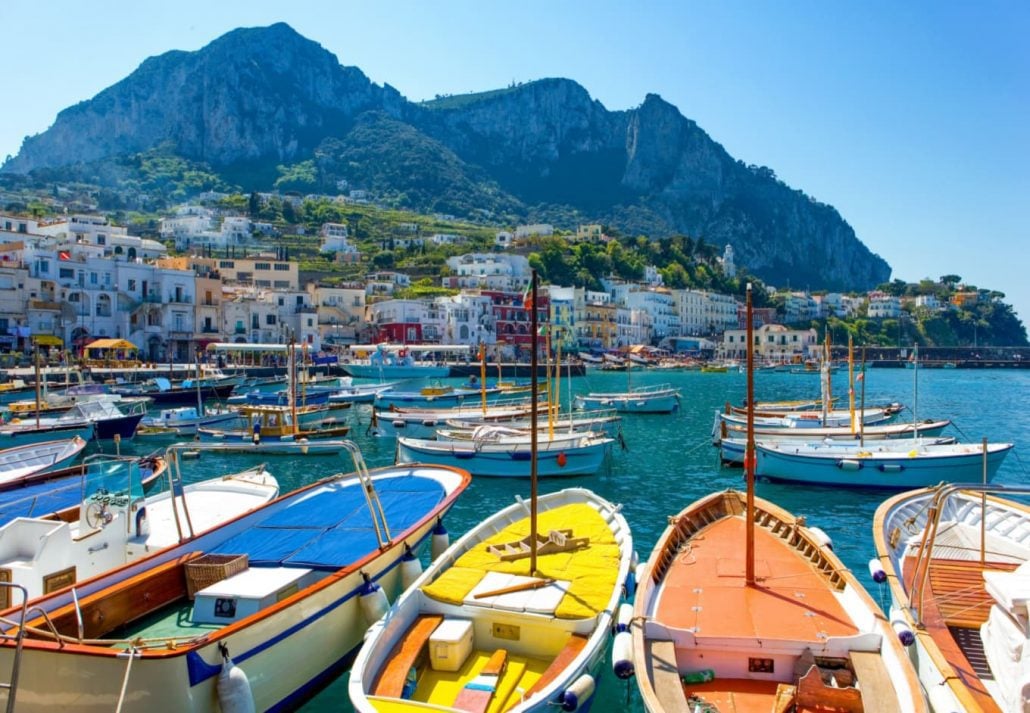 Capri is located in the Tyrrhenian Sea off the coast of Naples in southern Italy. Ferries from Naples and Sorrento operate all year long, connecting the island to the mainland. This place is famous for having spectacular attractions, breathtaking nature, charming towns, and luxury shops.
How To Reach Capri From Naples: 2 Easy Ways
Naples To Capri By Ferry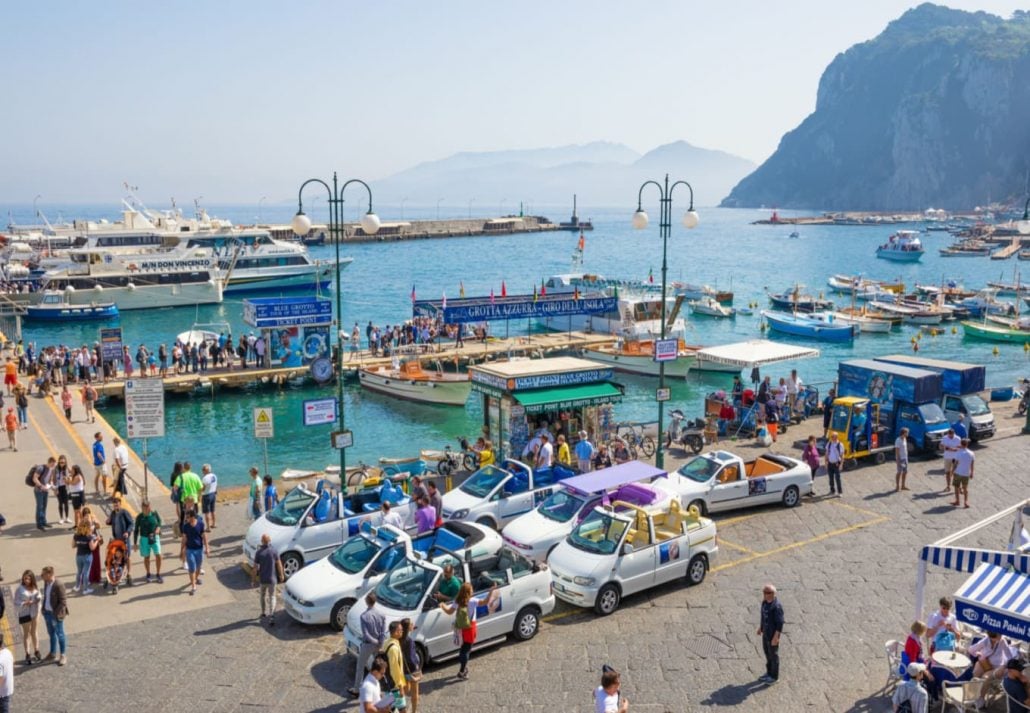 Ferries to Capri depart from the two ports in Naples: Molo Beverello Port and Calata Porta di Massa. There are three boat options to choose from – a slow ferry, a medium-speed boat, and a high-speed ferry known as a hydrofoil.
If you'd like to reach Capri as fast as possible, you might want to consider taking a hydrofoil. It will get you to the island in 50 minutes, unlike the slower ones that take 90 minutes. Slow ferries are a great option when you want to enjoy the scenery and take some photos. High-speed ferries don't offer the same opportunity – the rides are very fast and rough.
To buy a ferry ticket, go to the port's ticket office a few minutes before the departure time. The earlier you go the higher the chances you won't be left without a ticket. Don't be surprised to see long lines during the height of the season. If you're traveling between June and August, purchase your tickets in advance!
High-speed ferries depart from the Molo Beverello Port and you can reach it by taking the metro in Naples. Exit at the Municipio and walk to the port nearby. Another option is to take the Alibus shuttle bus if you're planning to go to Capri from the airport.
To transfer your vehicle for an additional cost, you'd need to depart from the Calata Porta di Massa. Keep in mind that non-resident vehicles are only allowed on the island between November and Easter. Ferry schedules change frequently, so we suggest double-checking before you embark on a journey.
Travel Tip: purchase a return ticket with your departure ticket to avoid long lines
Ticket Prices: €24+, €44+ if you're taking a vehicle
Naples To Capri By Boat Tour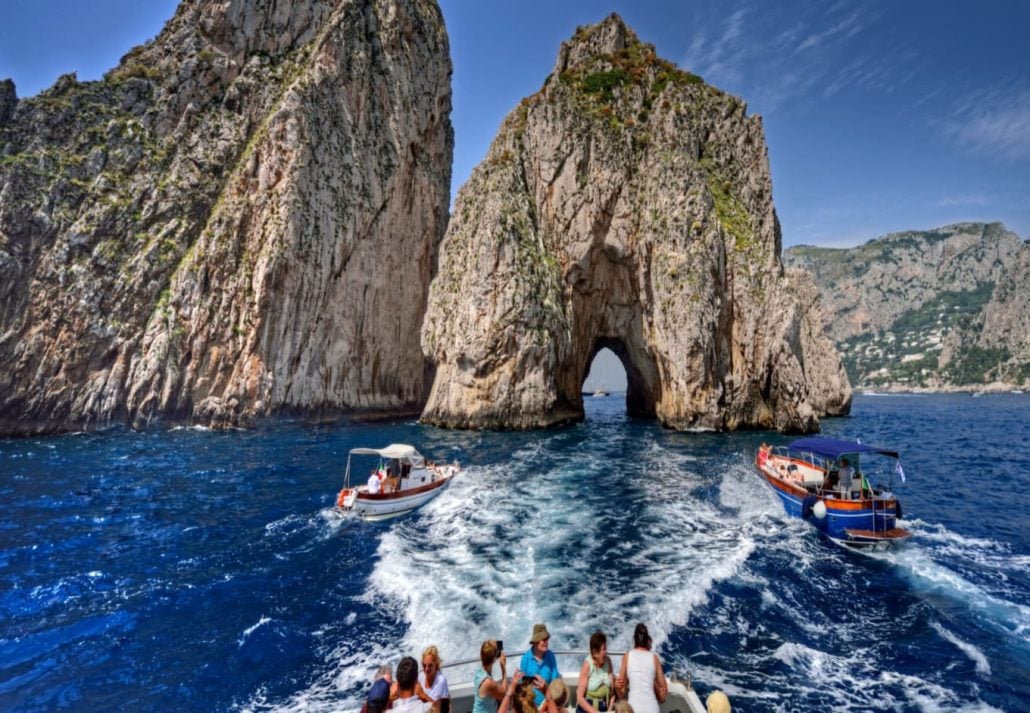 The second way to go from Naples to Capri is to join a Capri & Blue Grotto day tour. This is a fantastic option if you don't want to worry about transportation and sightseeing on your own. The starting point of the seven-hour tour is Molo Beverello Port in Naples or Marina Piccola in Sorrento. Your guide will accompany you as you board the ferry!
After a scenic ride, you'll arrive at the Marina Grande Port and hop into a rowing boat to the stunning Blue Grotto. Next, you'll stop by Anacapri town to view Mount Solaro and enjoy your time exploring the area on your own. In the end, you will take a walk to the famous Capri Piazza Umberto. Feel free to roam around, shop, or sit at one of the chic cafes. A quick funicular ride will take you back to Marina Grande to go back to Naples or Sorrento.
Ticket Prices: €162+
FAQ
Is Capri worth a day trip?
Yes, Capri offers beautiful scenery, a fascinating history, and tasty cuisine. Stay overnight to get the full experience!
How long is the ferry trip from Naples to Capri?
Depending on the type of boat, it takes 50 to 90 minutes to reach Capri from Naples.
How often are ferries departing from Naples to Capri?
Ferry routes are active all year long and there are more than 16 crossings in a day. They roughly depart every hour and this service is provided by Navigazione Libera del Golfo, Gescab, Snav, and Caremar ferry companies.
Where do ferries arrive in Capri?
They arrive at Marina Grande ferry port. To get to your desired place, take a taxi or a funicular.
Why isn't a high-speed ferry operating at times?
High-speed ferry routes are suspended in case of rough seas – it's simply too dangerous. Other ferries operate normally.
How do I get to Molo Beverello to Calata di Massa?
To get to Molo Beverello from Calata di Massa take a free shuttle bus.
When do I need to book ferry tickets in advance?
It's not mandatory to buy your tickets in advance, but it is strongly recommended. Afternoon ferries sell out quickly during the peak of the season (June-August).
CuddlyNest provides all accommodations to all travelers at the best price. Find unlimited travel inspiration on our blog and social media channels.
You Might Also Like:
The 5 Best Hotels In Naples, Italy
How to get From Naples to Pompeii: The 3 Best Ways
The 5 Best Things To Do In Genoa, Italy
6 Best Things To Do In Capri, Italy
6 Amazing Things To do In Verona, Italy
The 6 Best Things To Do In Lake Como, Italy
6 Awesome Things To Do In Catania, Italy
8 Incredible Day Trips From Milan, Italy
The Top 9 Things To Do On The Amalfi Coast, Italy