Once a thriving ancient city devastated by the nearby volcano Mount Vesuvius in 79 A.D., Pompeii is a bucket list day trip from Naples. This fascinating site, located near the coast of Italy, was buried under a thick layer of dirt and ash and remained mostly untouched until the late 16th century when it was discovered by a group of explorers.
Pompeii was listed as a UNESCO World Heritage Site, and while visiting this vast archaeological site you'll come across excavated ruins of streets and houses, as well as artifacts, and even skeletons, which will provide a unique peek into daily life in this ancient Roman city.
Only 15 miles separate Pompeii from Naples, and there are buses and trains connecting both cities.
To help you enjoy a one-of-a-kind day trip to this intriguing archaeological site, we've put together a guide to the best ways to travel from Naples to Pompeii, covering 3 different transport options. Have a look!
Find The Best Places to Stay in Naples, Italy
Where Is Pompeii Located?
Pompeii is located in the modern-day Campania region, near the coast of the Bay of Naples, in Southern Italy. The city lies just 15 miles, or about 30 minutes away from central Naples.
How To Get From Naples to Pompeii?
Naples to Pompeii by Car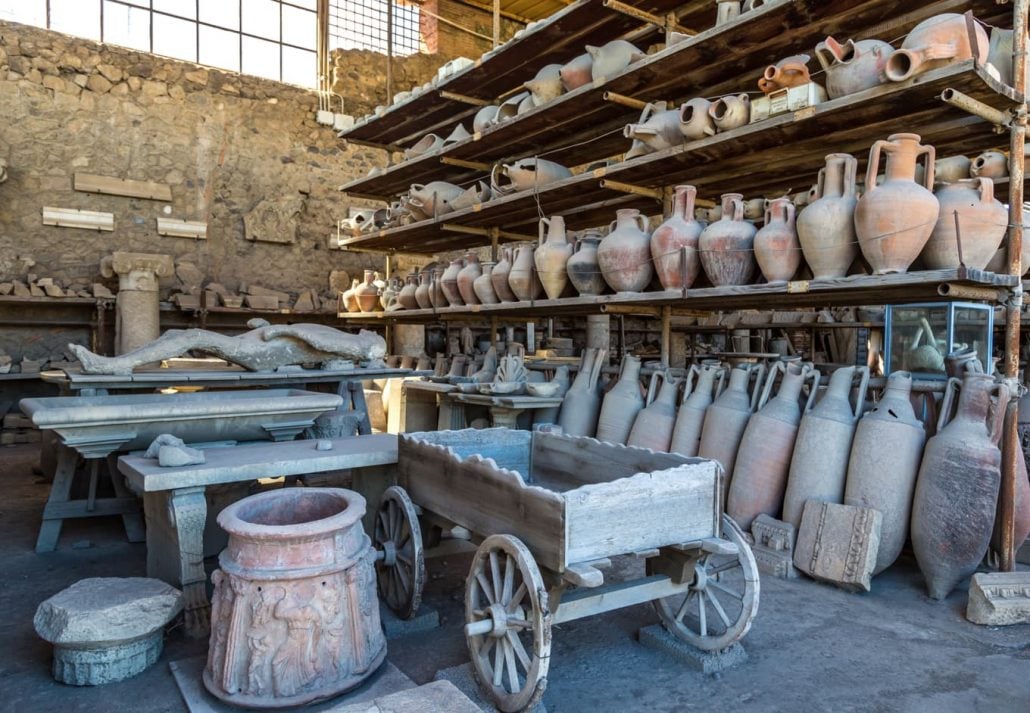 Pompeii is located within a 30-minute drive from Naples, which covers a distance of around 15 miles.
To reach Pompeii from Naples by car, you just have to take the A3 Naples-Salerno motorway towards Salerno and exit at 'Pompei Ovest'. From here, continue on the SS18, turn into 'via Villa Dei Misteri' and after a few meters, you'll get to your final destination.
There will be tolls to pay along the route, so be sure you either bring Euros to pay in cash or have your debit/credit card ready.
Because you're traveling by car and you have more freedom, we highly suggest you stay in Pompeii overnight. This will allow you to spend more time exploring the ruins and keep you away from the enormous crowds that occur on day trips. Some of the best hotels near Pompeii are Piccolo Sogno Inn, Forum Hotel Pompei, Santa Caterina, Villa Magiola, and many more!
Naples to Pompeii by Bus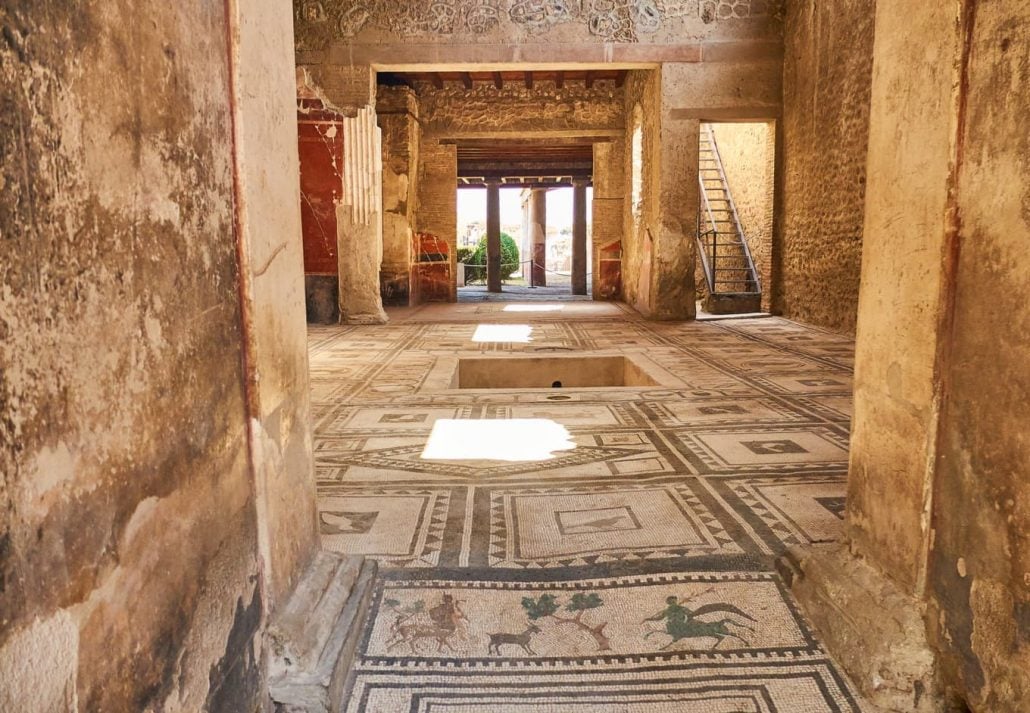 If you're on a budget, taking the direct bus is the best way of getting from Naples to Pompeii. They take just as long as trains (around 35 to 40 minutes) to reach Pompeii, and cost as little as and cost €2.80 per person.
Buses depart from the SITA bus station, which is located just a few steps away from the Nuova Marina port. Be sure you buy a ticket for the Napoli-Salerno line (not every service running this route stops at Pompei, so make sure to always double-check in advance).
Note that 'Pompei Scavi' is again the best place to disembark in Pompeii. From here, it's a short walk to the Pompeii ruins.
Buses leave once or twice per hour, starting from 7.30 am, and you can buy your ticket on board if the ticket office is shut.
Recommended Read Two Fun Ways To Travel From Naples To Capri
Naples to Pompeii by Train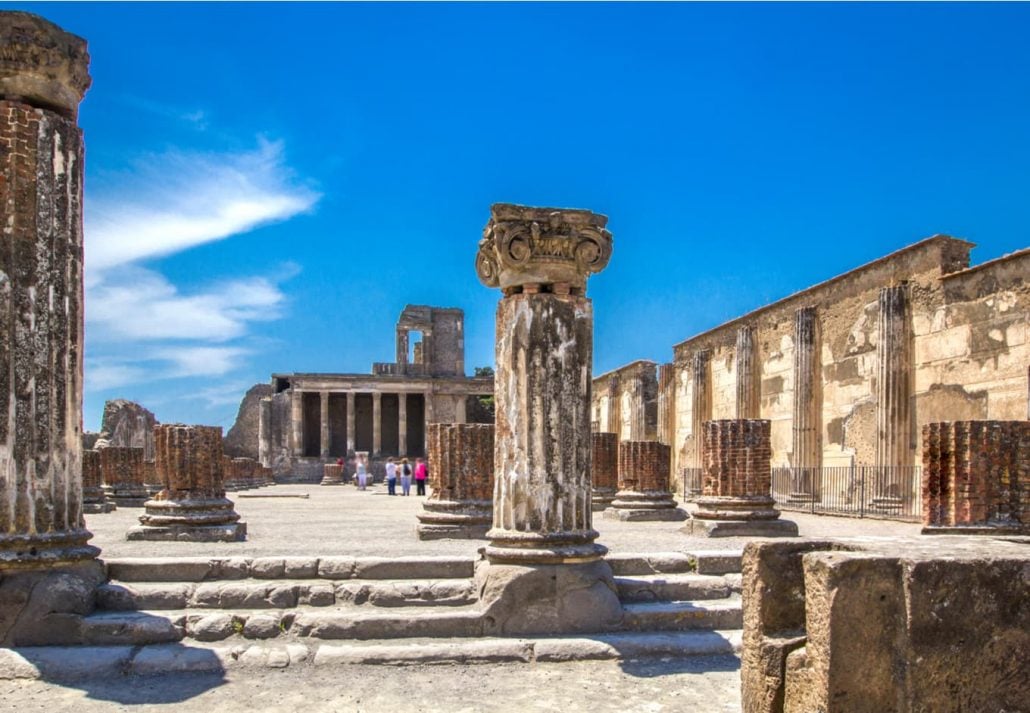 Trains are the most convenient way to travel from Naples to Pompeii. There are two regular train services covering that journey, both of which depart from the Napoli Piazza Garibaldi Station (aka Napoli Centrale train station).
The most popular train is the Circumvesuviana line, which takes 35 minutes to cover the Napole-Pompeii route. Although they are slightly faster, these commute trains make several stops and usually get very crowded, so you might have to travel standing up. Plus, these trains have no air conditioning.
Circumvesuviana trains depart Naples for Pompei 2-3 times per hour during most of the day, and there are a few trains per day that stop at fewer points along the way. There's no need to change trains, but there are lots of stops en route.
For better chances to grab a seat on the Circumvesuviana train, you can head to the Napoli Porta Nolana Station instead. This station is right before the popular Garibaldi station, so there are fewer passengers, and the trains are likely to be less crowded.
Alternatively, you can hop on the Campania Express, which is a special train that runs along the Circumvesuviana line between Naples and Sorrento, with stops only at tourist sites like Pompeii. Available from mid-March to mid-October, this train departs from both Napoli Centrale station and Napoli Porta Nolana. The Campania Express train is designed especially for tourism, so it has guaranteed seating (you can buy tickets online and make seat reservations in advance), air conditioning, and luggage storage space.
The trip From Napoli Porta Nolana to Pompeii takes 36 min. From Napoli Centrale, the trip takes 33 min.
There's also the Metropolitano train line, which also departs from the central Naples Train Station (Napoli Centrale). They take 38 minutes to reach Pompeii, but are slightly more comfortable, and also have to air-condition.
Both trains take you to the modern town of Pompei, which is built around the ruins of Pompeii. If you take the Circumvesuviana train, stop at Pompei Scavi/ Villa dei Misteri stop, located very close to the excavation site. The stop for the Metropolitano train is a little farther away – about a 10-minute walk to the Pompeii entrance.
Recommended Read The 5 Best Hotels In Naples, Italy
FAQ
What is the distance between Naples and Pompeii?
Pompeii lies 15 miles (30 minutes) from Naples.
Is there a direct train from Naples to Pompeii?
Yes, there are two direct trains that go from Naples to Pompeii, the Circumvesuviana and the Metropolitano.
From where do the direct trains from Naples to Pompeii depart?
Both trains depart from the Napoli Centrale station and arrive at the Pompeii train station (Pompei Scavi Villa Misteri) The Circumvesuviana train also departs from Napoli Porta Nolana Station.
Can you get from Naples to Pompeii by public transport?
Yes. There are two public transportation options to go from Naples to Pompeii: the bus and the train. Both the bus and the train from Naples reach Pompeii in around 35 to 40 minutes.
Is visiting Pompeii worth it?
Yes. Listed as a UNESCO World Heritage Site and filled with ruins covered in ashes, Pompeii is the perfect destination for history lovers.
What is Pompeii known for?
The city is known for its famous Roman ruins, which were buried under a thick layer of dirt and ash and remained mostly untouched until the late 16th century.
CuddlyNest provides all accommodations to all travelers at the best price. Find unlimited travel inspiration on our blogs and our social media channels Facebook, Instagram, and Pinterest.
You Might Also Like:
The 13 Best Attractions in Rome, Italy
The 6 Best Day Trips From Rome, Italy
The 9 Best Kid-Friendly Attractions in Rome, Italy
Rome 5 Day Itinerary: The Top Things To Do
Rome 2 Day Itinerary: The Top Things To Do
Rome 4 Day Itinerary: The Top Things To Do In The City
Rome 3 Day Itinerary: The Top Things To Do
Rome 1 Day Itinerary: The Top Things To Do