Australia is a vast land that offers travelers the opportunity to enjoy a life-changing vacation while experiencing nature in a unique, primitive setting. Home to a myriad of incredible places to visit, the country is a top choice for a weekend trip, as it's filled with pristine beaches, swinging palm trees, native wildlife, rolling hills, and, of course, stellar luxurious accommodation options.
Most Unique Weekend Getaways in Australia
East Australia Weekend Getaways
South Australia Weekend Getaways
Northern Territory Weekend Getaways
From the lush rainforests of Northern Queensland and the sunny beaches of Sydney, all the way up to the snow-covered peaks in Tasmania, Australia is dotted with fabulous romantic escapes that could be your next weekend getaway.
So if you're looking for some weekend escapes to visit with your family, friend, or loved one, here are the best romantic getaways in Australia that will help make your heart skip a beat.
East Australia
Blue Mountains Getaways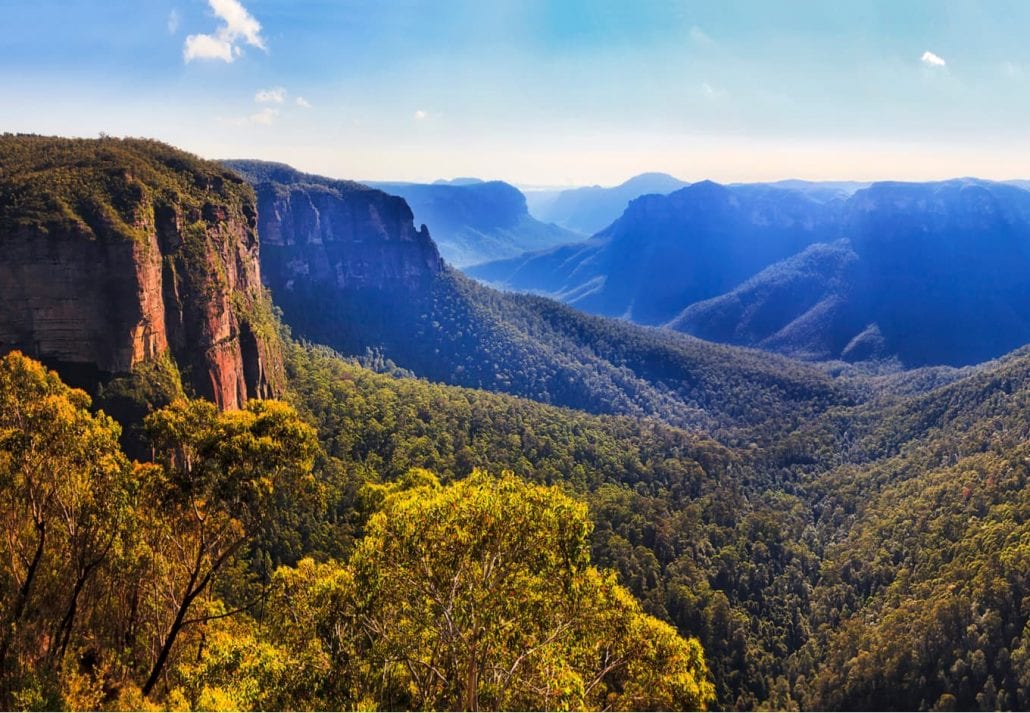 Home to numerous waterfalls, and bountiful wildlife, the Blue Mountains are an exquisite destination for those seeking a weekend getaway. With sweeping views of the countryside, including lush rainforest and rolling hillsides, it's no wonder this area is often called "The Jewel Of The West". In there, visitors can enjoy many activities including walking trails, scenic railways, rock climbing, and special events such as Moonlight Movies (held on Saturdays).
Located on the border of bustling Sydney, in New South Wales, the Blue Mountain National Park is a wonderful destination for those looking to give their relationship a little boost while having thrilling adventures in the great outdoors.
The adventure begins with the steep climb aboard the famous Scenic Railway, which takes visitors from Lithgow up into the mountains and rewards them with magnificent views of Sydney's shores in the distance. A walk through these natural wonders will take you past deep valleys, creeks that ripple down red sandstone cliffs, and waterfalls where travelers can enjoy some quality alone time together.
Whitsunday Islands
Home to more than 70 paradisiac islands, the Whitsunday Islands National Park is one of the most exciting outdoor landscapes in the world. Located in Queensland, Australia, the park comprises the eye-popping Great Barrier Reef, and some of the most amazing beaches in the world, including the heavenly Whitehaven Beach.
Accessible only by seaplane, helicopter, or boat, this secluded beach is known for its crystal blue waters, white sand which is made of 98% pure silica, and incredible views.
The famously weekend sandy beach is perfect for a day trip or weekend getaway and can be explored on foot via the five-kilometer coastal path.
Thanks to its pristine landscape, Whitsundays is known as one of Australia's most famous tourist destinations – it may just be because they're so gorgeous! With over 70 islands alone in this destination, you'll never want to leave once you've arrived. There are many different things to do here that cater to all interests; whether travelers prefer adventure or relaxation there will always be something new waiting around every corner.
One of the best ways to explore these beautiful islands is by taking a boat tour, which usually lasts from nine hours up to three days depending on what kind of experience the travelers prefers. These tours take guests to some of the most beautiful and secluded islands in all of Australia, which makes them a highly recommended weekend getaway.
With over 45 National Parks throughout this region alone there are plenty of ways to keep yourself busy if you don't want to stay in town. The area just west of Mount Isa has many caves with ancient Aboriginal rock paintings as well as other natural sights worth visiting while one can also go stargazing here at night without any light pollution whatsoever.
Hamilton Island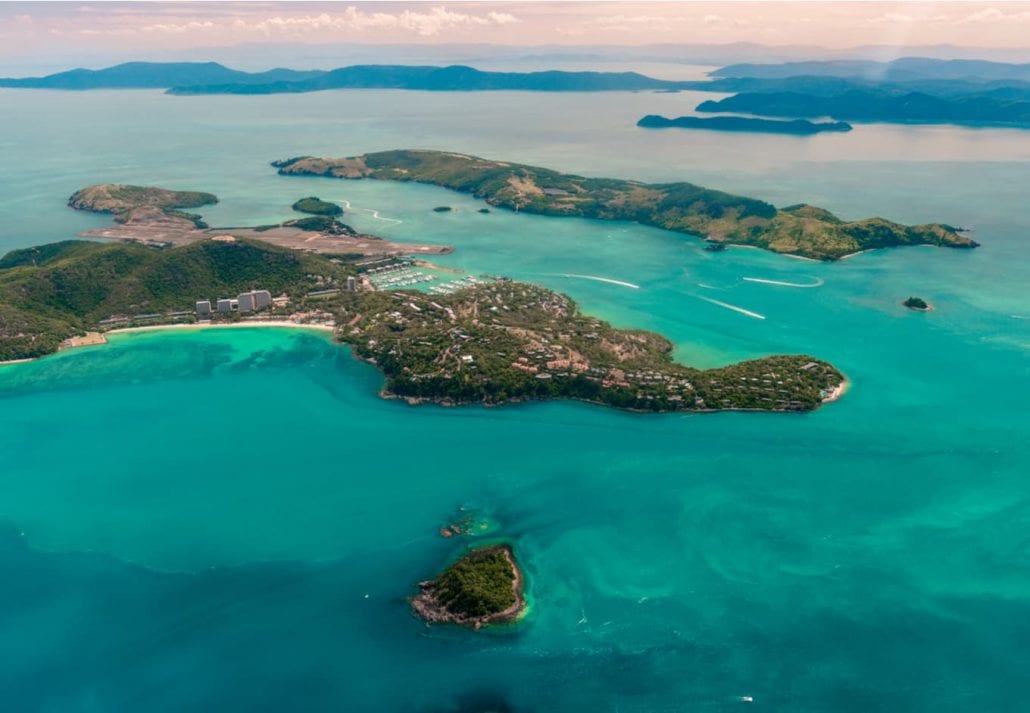 If you're looking for a weekend escape in Australia, look no further than Hamilton Island. Located off the coast of Queensland, this beautiful island resort is home to two gorgeous golf courses and an array of other activities like helicopter rides over the Great Barrier Reef or dining at one of their many award-winning restaurants.
The views are stunning all year round with every season bringing its own unique charm – but it's particularly spectacular during the winter months when wildflowers bloom along the coasts making them seem almost unreal!
Sunshine Coast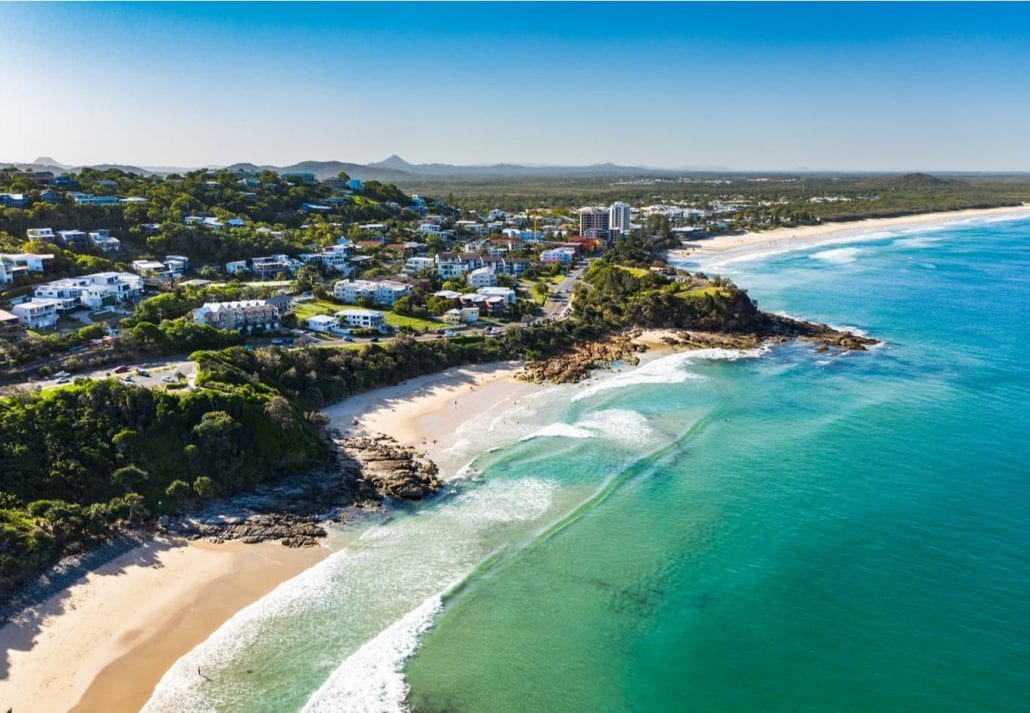 Urbanites who are looking for a couples getaway destination with a more cosmopolitan aura can't pass up the chance to spend their vacation on the Sunshine Coast. Dubbed as one of the best honeymoon destinations in Australia, this bustling district has everything one could want from a weekend getaway.
From the palm tree-lined beaches to its vibrant nightlife and culture, this place is a must for couples who want their weekend getaway in Australia to be both relaxing and exhilarating.
The Sunshine Coast has much more than just white sandy beaches on offer with places like Tewantin National Park giving you a taste of Queensland's subtropical rainforest before hitting the beach or exploring the local wildlife at Currumbin Wildlife Sanctuary while those interested in geology will find plenty of fascinating sights such as Coolum Beach's unique volcanic rock formations.
Byron Bay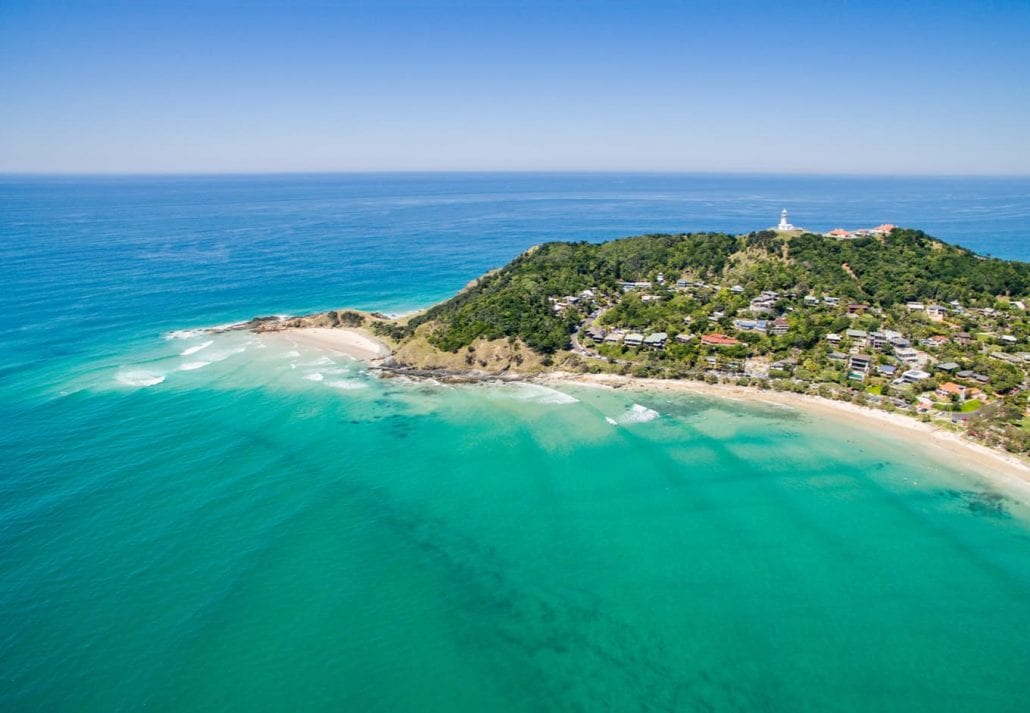 Located on Australia's most easterly point, Byron Bay is a beachside town of New South Wales, and well known for its diversity of experiences.
It sits on the edge of the Pacific Ocean and is a haven for surfers, artists, and an assortment of other creatives who have been drawn to this enchanting coastal retreat. Its atmosphere can best be described as bohemian but has not lost its charm with time – it oozes relaxed vibes from every corner.
The town's laid-back vibe meanders through almost everything that happens here – sunrise yoga sessions overlooking the crashing waves are surprisingly popular (as well as romantically picturesque), festivals celebrating all things green happen year-round, and a delectable food scene featuring award-winning restaurants — and Byron Bay's world-famous fish burgers!
With so much variety available it would take far too long to describe every romantic opportunity offered by Byron Bay – there are simply too many. But with so much to do, see and explore in close proximity it's no wonder that Byron Bay is one of the most romantic destinations for a holiday in Australia!
Hunter Valley
The oldest wine-growing region in Australia, Hunter Valley is the ultimate weekend getaway for wine lovers. Placed a two-hour drive north of Sydney, Hunter Valley's vineyards are among the oldest in Australia, and many of its wineries offer wine tasting tours.
The region is also home to a number of acclaimed restaurants serving up sumptuous fine dining as well as organic produce from the surrounding farms – perfect for an intimate dinner date. And you can't beat Hunter Valley's picturesque scenery either with rolling hillsides overlooking dams or vast stretches of countryside dotted with sheep herds!
Daylesford
Nestled in the foothills of the Great Dividing Range of Victoria, Daylesford is a charming village that has long been a popular tourist spot for both locals and foreigners.
The town's natural beauty is best reflected at the Daylesford Organic Market where you can pick up fresh produce from local farmers including organic meats, cheeses, bread, and vegetables as well as artisanal products like soaps made with lavender grown in nearby fields. The market also offers free cooking demonstrations by some of Australia's top chefs on Wednesdays!
While traveling to Daylesford, travelers can also make time to visit the Milawa Cheese Factory, which has been producing cheese since 1881.
Some of their most popular varieties include a triple cream brie and blue vein brie that is made from free-range cows in nearby fields. The factory also holds cooking demonstrations for travelers who want to learn how to cook with cheese! It's definitely worth stopping by if you're at all interested!
Travelers in Daylesford can also spend some time blissfully wandering the city's streets, which are lined with captivating boutiques, and picnicking around the idyllic Lake Daylesford.
Another must-visit romantic getaway around Daylesford is Hepburn Springs, famous for the largest concentration of mineral springs in Australia.
Yarra Valley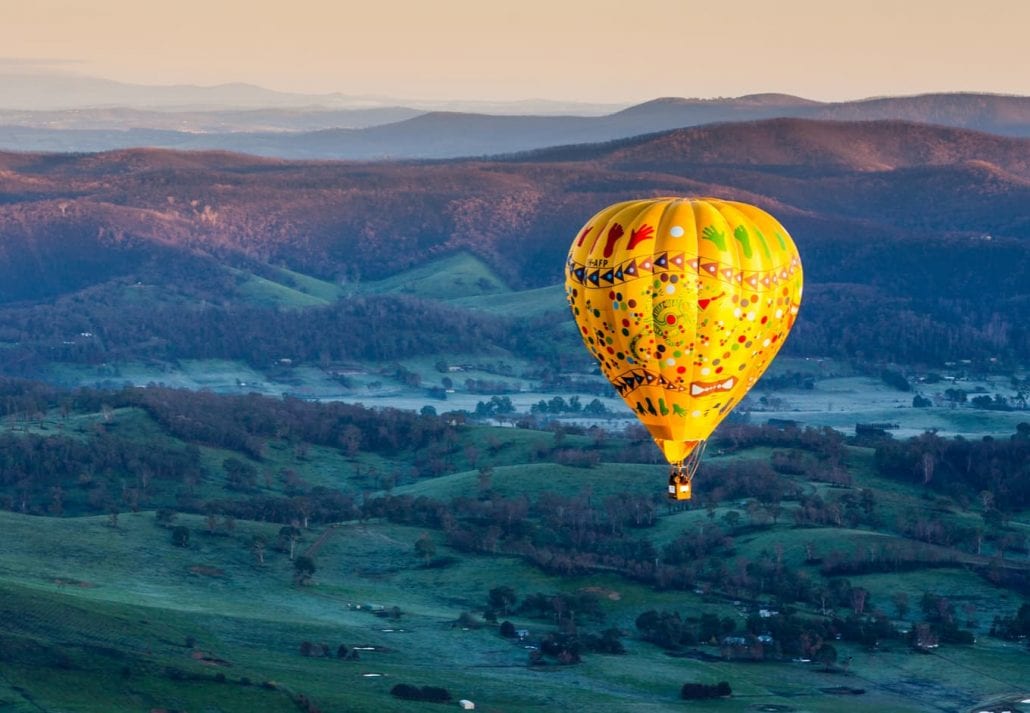 Just an hour's drive from Melbourne, the Yarra Valley is a superb weekend escape in the state of Victoria. Surrounded by a perfect backdrop of rolling hills, quaint towns, and vast vineyards, Yarra Valley is a picturesque destination for those looking to get away from it all.
Surrounding the otherwordly Yarra River, this weekend getaway is the perfect escape for travelers seeking a bucolic travel destination where they can spend days on end relaxing around nature.
In there, travelers can visit the local estates — from Helen & Joey Estate Website to the Oakridge Website — to sample the top-notch wines from the region.
Another memorable weekend experience for travelers is taking a hot air balloon ride over the dreamy Yarra Valley. During this scenic flight, you'll be able to marvel at stunning views of golden vineyards, and forested towering mountains.
As if there were not enough reasons to visit the Yarra Valley, the region also flaunts a sparkling collection of hotels. Travelers looking for the perfect luxury accommodation can book a stay at Chateau Yering, a Victorian-style heritage-listed mansion in the Yarra Valley wine region.
Upper Crystal Creek
Upper Crystal Creek is a bucolic town nestled in north-eastern New South Wales, Australia, in the Tweed Shire. Tucked between Byron Bay and the Gold Coast hinterland, this scenic area is surrounded by bountiful natural beauty. Travelers can explore the several waterfalls of the area, from the mighty Purling Brook Falls to the Goomoolahra Falls, and go for a dip in the Currumbin Rock Pools.
Aside from exploring the area's scenic natural features, travelers can also spend days on end relaxing on Crystal Creek Rainforest Retreat. This dreamy luxury escape located in the Tweed Valley is home to cozy mountain view lodges with a king-size bed and canopy bungalows.
South Australia
Kangaroo Island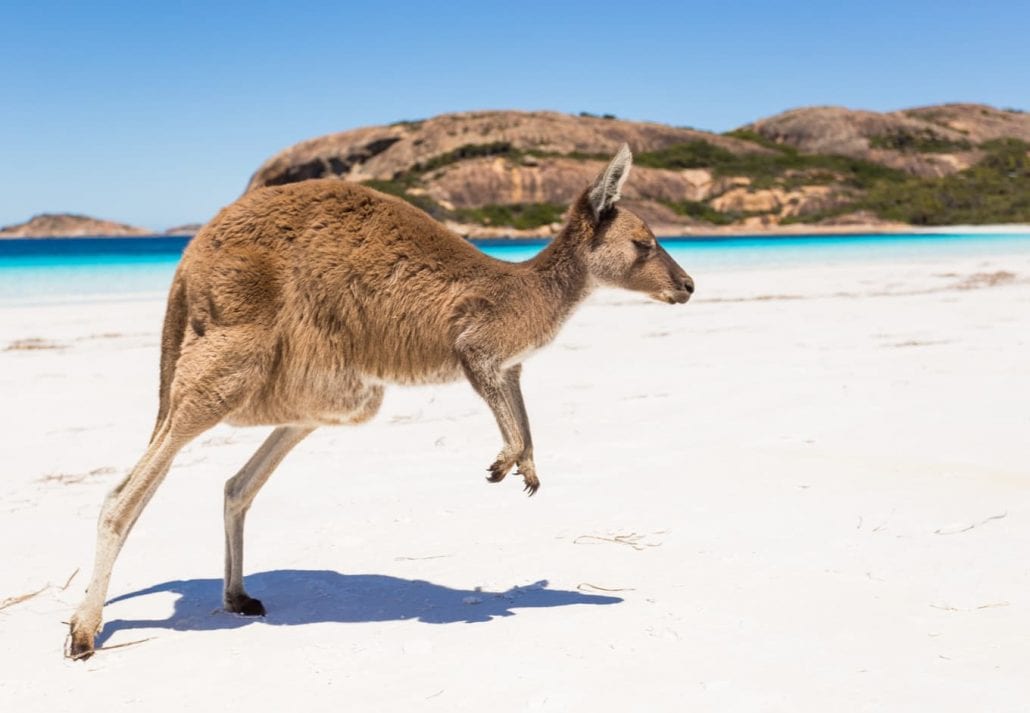 Kangaroo Island is a little-known gem in South Australia, but it's one of the best weekend escapes in Australia you'll find. It has lush forests and sandy beaches that are perfect for exploring together – plus they have some excellent options when it comes to dining like seafood fresh from local waters as well as a more formal fine dining experience at Cape Jervis House which overlooks the ocean.
The wildlife is boundless with koalas, kangaroos, and wallabies living alongside unique native animals like emus and dingoes!
There are also plenty of things to do within close proximity of this destination including golfing or fishing on nearby Encounter Bay.
Northern Territory
Kakadu National Park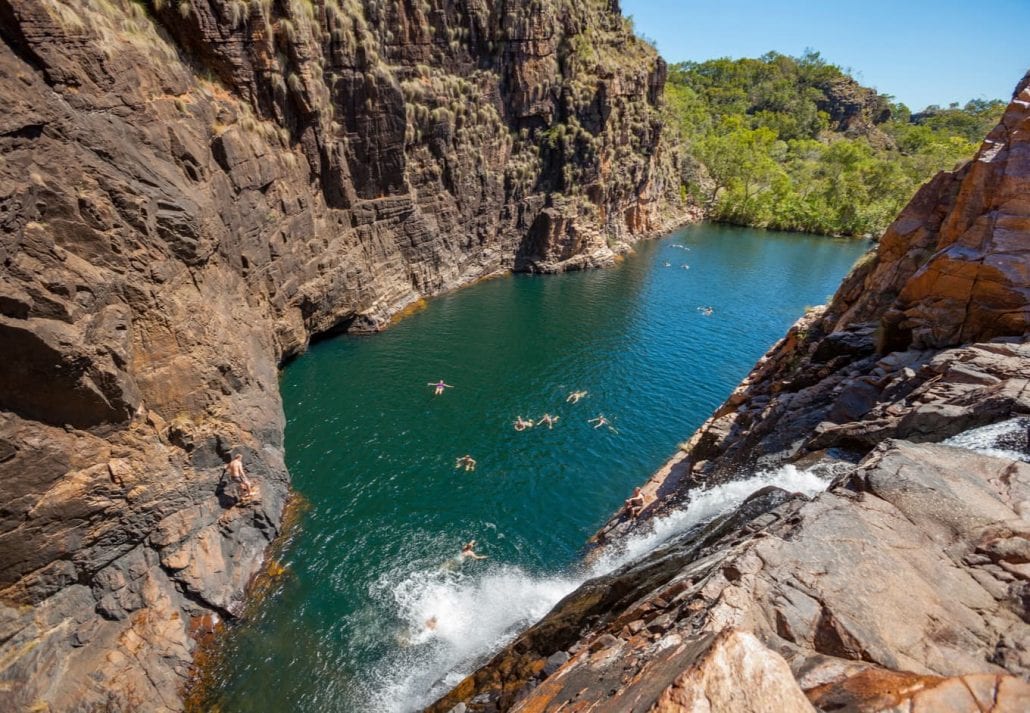 Located in the Northern Territory, Kakadu is a vast area of wetlands and ancient gorges. It's home to one of Australia's most extraordinary natural wonders: The Olgas. These sublime rock formations are an Aboriginal sacred site that can be found deep within the heart of the park. Travelers exploring this exquisite environment will find themselves surrounded by strange creatures such as angry red kangaroos, emus with huge yellow eyes, and lizards darting about everywhere – it'll feel like they've landed on another planet!
Here Are Some Curated Readings For You:
Australia Honeymoon Destinations
Smallest Towns in Australia
Oceania Travel Guide