Barcelona is a great destination if you are planning your European family holiday with your kids.
This amazing city has its perks for the whole family — the history geeks can visit these Barcelona tourist attractions to step off the beaten tourist track, or follow the legendary icons touring Barcelona's streets as it was in the age of Picasso and Hemingway.
Sun worshippers seeking relaxation can get straight to 2.7 miles of Barcelona city beaches including Barceloneta, Mar Bella, Nova Icaria, and Bogatell, naming the most popular.
Culture enthusiasts can explore the Iberian traditions, but popular Game of Thrones fans can tour the country to discover popular shooting scenes. There is a sound reason why Barcelona is topping our list as one of the best family destination spots for holidays in Europe.
The array of fun family-friendly activities in Barcelona is so gloriously wide, you'll have no trouble filling up your itinerary. You can go sunbathing on the beach, go on a day trip to a national park, watch a soccer match at the mighty Camp Nou stadium, try some good food or visit science and zoo parks around the city.
Traveling to Barcelona with kids will result in unforgettable memories — you will remember the vanilla aroma of churros, your kids running around the chocolate museum, and the sun kissing your skin during a family bike tour in Barcelona.
Ready for some family fun? Then read on to discover what are the 15 top family activities you can't miss in Barcelona!
Essential Tips for a Family Vacation with Kids in Barcelona
Many pop-up stores and market food stalls do not accept credit cards, so better carry around some cash with you at all times;
Kids are welcome everywhere at all hours, as babysitters are very rare — you can often see toddlers in restaurants at 10 pm;
As children's menus are rare, tapas can make a meal for kids — it is totally fine to bring kids into tapas bars;
Note that children under 4 years old can travel free by rail with reservation; kids of 4 to 12 years old pay 60 percent of adult fare;
Many restaurants lack high chairs, so get the stroller next to the table
The city has got a stellar variety of accommodation options that are suitable for families, from hotels to vacation rentals. So don't forget to research in advance to find the perfect place to stay in Barcelona, Spain;
Before you go, read our comprehensive Barcelona travel guide with all the tips and tricks that will help you make the most out of your trip.
Note: Make sure to double-check COVID 19 precautions, protocols, and operating hours before you visit any of these sites.
Best Things To Do In Barcelona On A Family Holiday
Go For A Stroll In Parc de la Ciutadella
Tripping Barcelona with family does not mean you have to let go of some of the most notorious Barcelona spots — interesting and children-friendly Barcelona must-sees include Parc de la Ciutadella. Created in the 19th century, the park was the city's only green space. The grounds include the city's zoo, a small lake, museums, and the Parliament of Catalonia.
As in all of Barcelona's gardens and city parks, kids can play and run, but there are plenty of things to do in Barcelona with kids in Parc de la Ciutadella. It is the cultural oasis of the Barcelona city center. A useful tip: get a football ball in the store and take it with you, and soon your kids will get into the game with locals.
Barcelona kids pop giant bubbles here created by the clowns, and there is a small play area for children to climb and swing. In the nearby lake, you can take a boat or simply watch the geese drifting around.
See The Famous Castell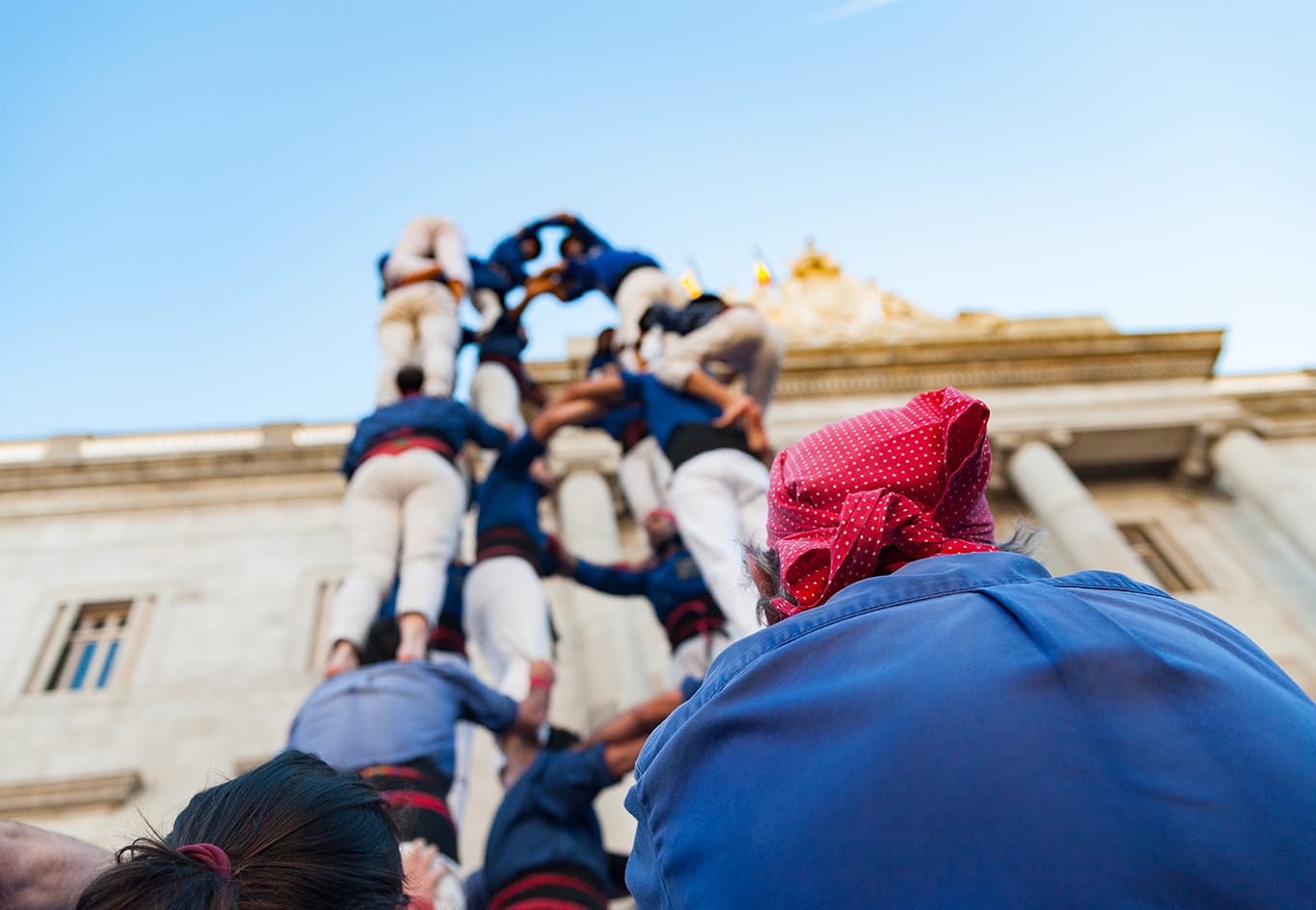 Catalan tradition that goes back at least 200 years is a must-see for anyone visiting Barcelona. The Castellers of Barcelona set up free shows on the street — just follow their news channels and get to see the mind-blowing human tower built traditionally at festivals in Catalonia, where several teams (colles castelleres) attempt to build and dismantle the tower's structure.
In 2010, castells were declared as UNESCO Masterpiece of Oral and Intangible Heritage of Humanity, and you do not even have to buy tickets to see this wonder!
The assembly is complete when all castellers have climbed in their places, and the enxaneta climbs at the top, raising one open hand and after climbing down at the other side of the castle. The motto of the Castellers is "Força, equilibri, valor i seny" (Strength, balance, courage, and common sense), valuable teaching to any child.
Visit La Boqueria Market
The most famous market in Barcelona worldwide, La Boqueria Market, is located just in the middle of Barcelona, La Rambla, originating in the 1200s, with the first documents confirming the presence of meat stalls on Pla de la Boqueria.
This public market in downtown La Rambla, also named Mercat de Sant Josep de la Boqueria, has both prepared or fresh food vendors, as well as casual places to eat.
Note that while Barcelona families and locals generally usually find La Rambla quite touristy and prefer shopping at quieter markets, many of Barcelona's best restaurants shop for produce here — so take your chances to get your hands on some of the freshest produce on your own if you are staying in Barcelona hotel or vacation home with a kitchen.
The streets around the Gothic Quarter of Barcelona are mostly cobblestone, so if you are in Barcelona with kids of a very young age, taking a stroller with you will not be smooth, yet not too bad, either. Any time from 11 am to 2 pm or 5 pm to 10 pm is a good time to go; otherwise, most shops even in La Rambla close between 2 pm to 5 pm for a siesta.
Also, when visiting the market with family in Barcelona, kids will love the place as it is a candy galore. Gummies, truffles, and all kinds of dried fruit are available on every corner and food stall, as well as popsicles of all colors for kids and adults to indulge.
You can also join one of the best food tours around Barcelona, or explore the market on a free virtual self-guided food tour of Barcelona here.
Explore The Magnificent La Sagrada Familia Church
Often regarded as one of the most beautiful buildings in the world, La Sagrada Familia appeals to adults and kids alike thanks to its magnificence.
Kids will love exploring the church's 18 towers, spotting trees and turtles in the interior, and learning about how computers helped to speed up the construction.
Don't forget to climb to the top, where you can marvel at the most magnificent views of the city of Barcelona.
You can also get some chills on your spine looking at one of the facades with a collection of faces sculpted from the death masks of builders of Sagrada Familia (kind of scary!)
Thrilling, you may say? After all, it was originally a school for children called Sagrada Familia Schools building, so we encourage you to take your kids with you when visiting this splendid basilica.
A tip before you go: you can get skip-the-line tickets online without paying the extra fee or visit the La Sagrada Familia on a virtual tour.
Make sure to read our La Sagrada Familia guide for all the information you need before visiting the basilica.
Take The Whole Family To The Tibidabo Amusement Park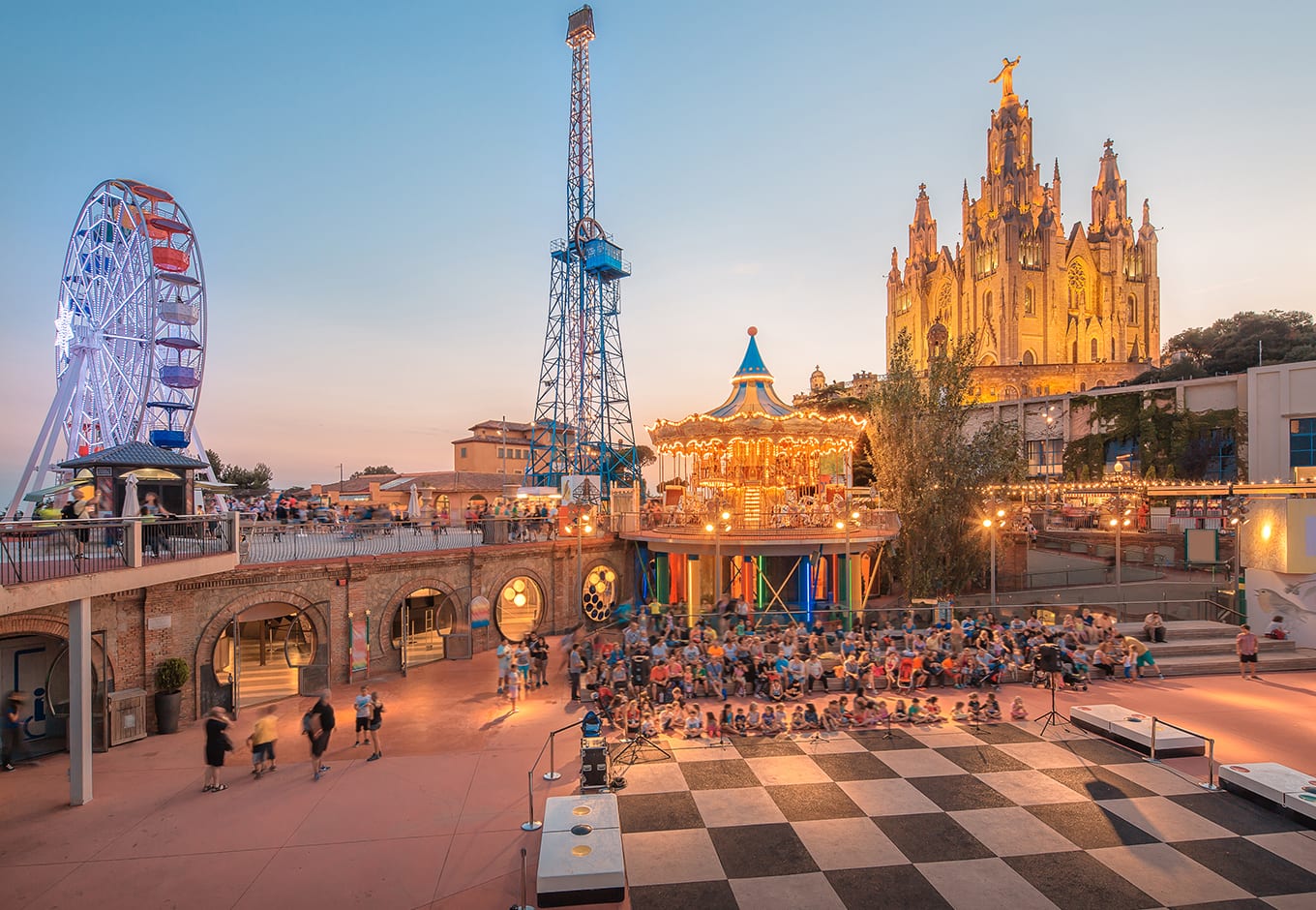 Located on Tibidabo in the Collserola Ridge in Barcelona and opened by the beginning of the 20th century, this amusement park is one of the best and oldest functioning theme parks in the world.
Topping the list as the third oldest in Europe and the very oldest in Spain, it can surely compete with the Disneyland theme park in Madrid for the best family-friendly adventure.
You may doubt the century-old attractions, but kids love the single-car carousel of 1928 as they did almost a hundred years ago.
Giving an impression of flight (just imagine the views of the city!), the Avió airplane ride carousel in Tibidabo Amusement Park replicates the first aircraft that flew from Barcelona to Madrid.
To give you a tip before you go — watch Vicky Cristina Barcelona by Woody Allen (and make a mental note of The Bar Marsella that you can also add to your Barcelona bucket list.)
Go On A Hop-On-Hop-Off Bus Tour
Although risking your family holiday in Barcelona with kids to become overly mainstream and touristic, the hop-on-hop-off city sightseeing tour can make navigating your way through Barcelona's many sights much easier.
It is especially fun for little ones to see city streets from the top of the hop-off bus, which would otherwise be impossible if you buy tickets to get around Barcelona via public transport, such as metro, tram or bus. Before you buy tickets for the city sightseeing bus, consult the Barcelona bus and metro ticket prices on the official Barcelona Metropolitan Transports website.
Beware, though, that Barcelona is an extremely walkable city with wide boulevards, and many of the tourist attractions in Old Barcelona are not attainable by the hop-off bus. Thus, if your kids are old enough not to get tired too soon, it is recommended to enjoy this Catalonian capital on foot.
Regarding things to do in Barcelona with kids that are the age of teenagers, your whole family in Barcelona can rent bikes. In recent years, Barcelona has emerged not only as one of the best family-friendly but also a bike-friendly city with an incredible increase in bike facilities and is a safe environment for bikers to enjoy the fresh air and sun alike. So take your kids and go on a family bike ride!
Explore The Iconic Park Güell
If you wonder what to do in Barcelona with kids, Park Güell is an engaging experience for the whole family. Usually topping the list of things to do in Barcelona with kids (or without), it is a great place to visit.
Not to mention that this Gaudi masterpiece is one of the most popular attractions of the Catalan capital!
Originally designed as a park to house Barcelona's elite, it failed as a housing development, as upscale Barcelona residents did not want to move out of central Barcelona.
With a free entrance for 6-year-old kids and younger, Park Güell is beautiful and super kid-friendly. Kids love the colorful mosaics, so another tip: to get close to them, be an early bird, and come right when it opens at 8:30 am.
But as it became widely popular as a park, it is better to make sure you get in at all. You can buy tickets for the whole family in advance on the official Park Guell website, print it off (or download it on your phone), and get on a free shuttle bus that leaves from Alfonso X Station.
Visit The Tempting Chocolate Museum
Got a sweet tooth? If the answer is "Yes", then a family trip to Barcelona would not be complete without a visit to one of the best food museums in the city, which both kids and adults love.
The Chocolate Museum, designed for this 2000-year-old treat, is extremely child-friendly and engaging. Thanks to its interactive spaces, it is a great place to understand how chocolate is made, and little ones can take part in a whole range of activities.
Toddlers are offered to paint with chocolate, older children are exploring the museum with the cocoa Spark, a tour guide/elf from Madagascar who takes them into the magical world of chocolate, while the whole family can make lollipops of white, milk, or dark chocolate. The museum also offers food tours, such as chocolate tasting.
Stroll Around The Gothic Quarter
For ones who love to take a view of the city from up close, and seek to explore the Spanish culture scene (read tips for Spanish culture here), the Gothic Quarter is the place to go. The area has a variety of family-friendly restaurants, beautiful architecture, and shopping options.
The main sights in the Gothic Quarter are the Barcelona cathedral and Placa Reial. Although La Seu Cathedral, a beautiful example of gothic architecture, is one of the best things to see in Barcelona for ones exploring the architecture and history, the Placa Reial square with many open-air cafes selling ice cream during the day (or you can get gelato at the nearby Dino's) and welcoming tourists until late at night.
On summer nights, many concerts are held there, so expect to listen to melancholic Spanish guitar and stimulating Catalan Rumba.
Families do not have to leave one member at home, thanks to the fact that the Spanish are generally comfortable with young kids joining parents in restaurants at late hours.
Ride The Cable Cars To The Montjuïc Park
Barcelona city is known for its hills, but, hey, not only you will be fitter after a week in Barcelona — but you can also enjoy some great views of the city while visiting Barcelona with family. Even though it is not a resident-preferred way of getting around the city (and up the hills), the cable car is always a great option for those who arrive in Barcelona for a family holiday.
Kids will love the Montjuïc cable car ride — during these seven minutes, you can view Barcelona's great monuments as Sagrada Familia and the Torre Agbar from above.
Pro tip: if you wish to go for an especially romantic cable car rise, sunrise and sunset golden hours are just perfect. The Montjuic cable cars operate 365 days a year from 6.30 am until just after midnight, so make sure your ride is well-timed.
Montjuic Park is a must-visit if your family with children stays in Barcelona for more than 3 days. Translating as "Jewish Mountain" thanks to a medieval Jewish cemetery that once stood there, the Montjuic Castle with park, botanical garden, and several museums can be now found here.
Stumble At Street Performers and Human Statues
You and children can skip the line to theaters and concerts and enjoy the street culture in Spain, as there is so much to it! Street dancers, musicians, and human statues can be spotted frequently, and children love it! o need to buy tickets — just walk the streets and soak up the free-spirited vibes. One mythological demoness on one corner, a levitating Satan on another one, and the Grim Reaper on the next street — the iconic boulevard of Las Ramblas is amazing for absorbing as much open-air culture and street art as one possibly can.
And thanks to so many families with children, couples, and solo tourists visiting Barcelona, and locals valuing both performance and decorative arts, you can also spot the huge circular street mosaic on Las Ramblas, created by the famous Spanish artist Joan Miró in 1967.
Marvel At Barcelona's Breathtaking Panoramic Views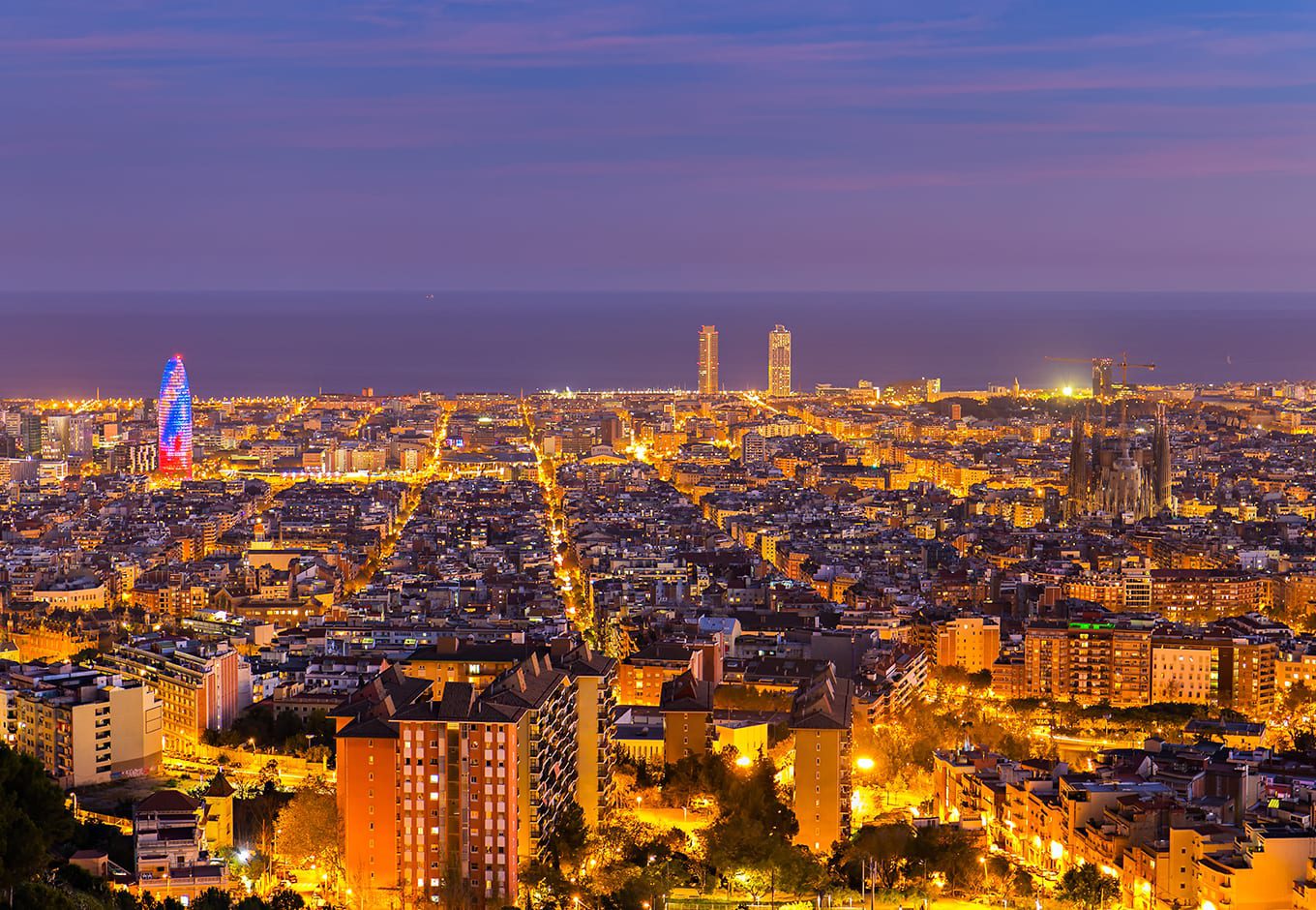 A family holiday with kids in Barcelona is far from perfect if one does not go to see the city from the top. We already wrote about great views of Barcelona from elevators at La Sagrada Familia, from the cable cars and hop-off busses taking you around the city, but little ones will enjoy running around 360º view f the mountains, the sea, and the city surrounding the tower of Barceló Raval Hotel in La Rambla. You can also take your family to Las Arenas Commercial Center, or take some time out of the buzzing city getting away from the crowds to hike to the Bunkers del Caramel.
Explore All The Barcelona Beaches
It is always a question of where to stay in Barcelona during a family holiday- near the beach or in the very center of the city.
One of the best family options for those families with toddlers might be renting an apartment in the city center, but Barcelona is can get expensive very fast, so if you are comfortable with carrying or strolling with kids around when the small ones get tired, renting a larger place outside the very Barcelona city center might be a good option, as Spain's transport infrastructure is well-suited for daily routing form nearby cities to Barcelona.
Wherever you decide to stay, the most popular Barcelona city family-friendly beaches are Barceloneta (free beach the closest to the city), Sant Sebastia, and, although requiring a longer half-hour drive by train, Ocata Beach, where you and kids can feel much like in a private beach away from crowds.
Take A Kid-Friendly Walking Tour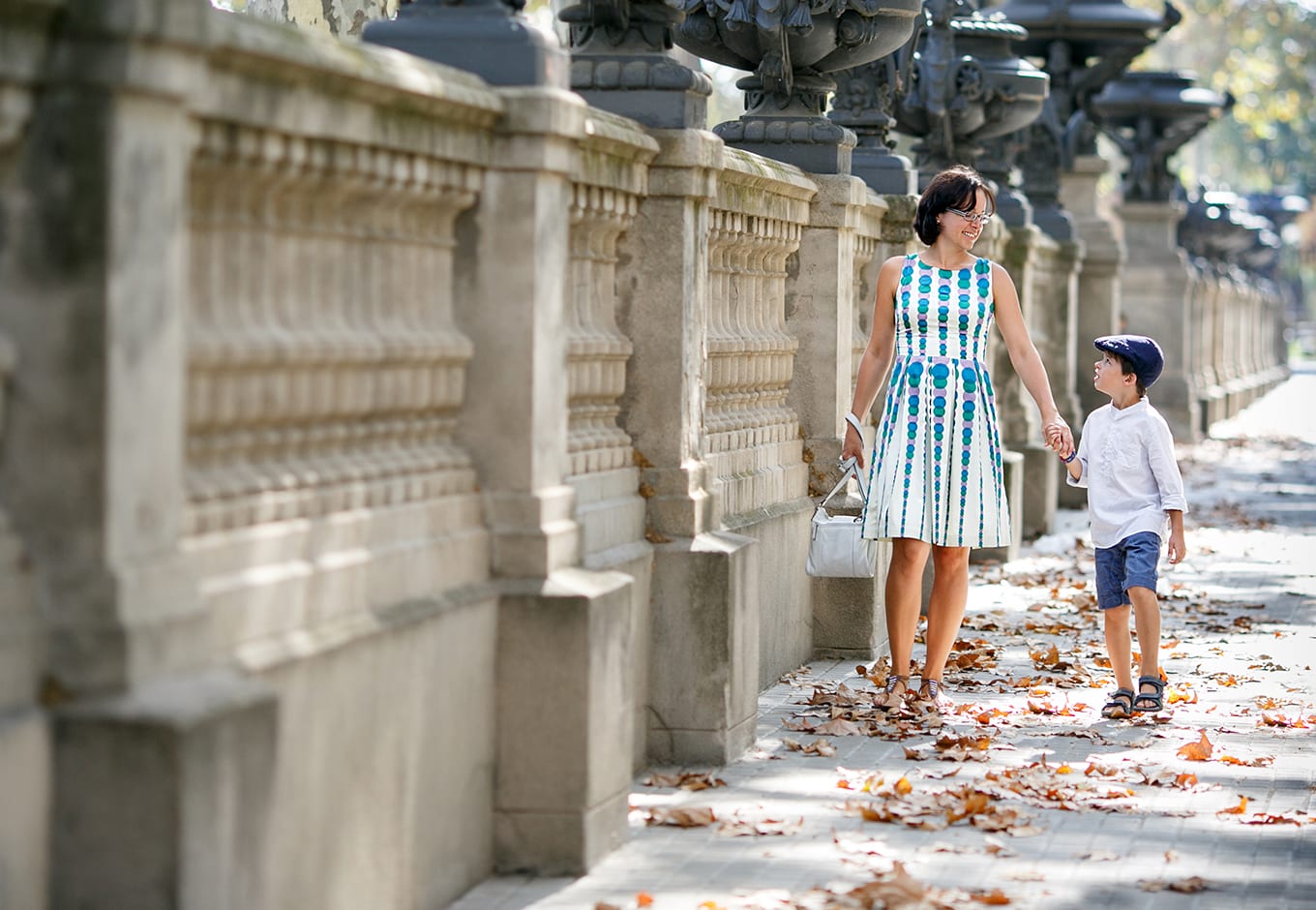 If you're not content with the free self-guided walking tour of Barcelona, some of the best things to do is to take one of the tours offered by tour guides in Barcelona for kids. To make sure that walking tour content is truly family-friendly, it's better to contact the walking tour guides before.
However, thanks to more and more people traveling to Barcelona with children, family tours have become increasingly popular. If you want to travel on a budget, however, we advise you to plan your family holiday with walking tours around Barcelona yourself, downloading all the necessary information (interactive Barcelona tourist map and metro map here) on the official Barcelona tourism website.
To learn more about Barcelona and to receive updates on the best offers in your inbox, subscribe to our newsletter and follow us on social media.
Spend The Day At The Barcelona Zoo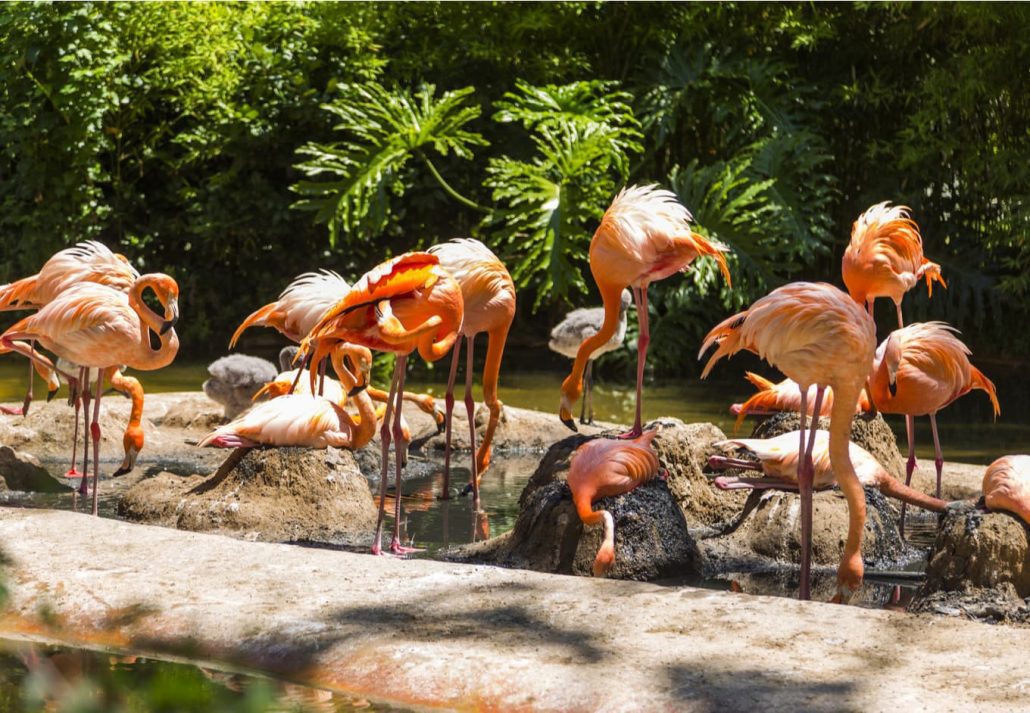 Located in the verdant grounds of Ciutadella Park, the Barcelona Zoo is a very good deal for young children and adults alike. In there, the little ones will get face to face with a myriad of wild creatures like black howler monkeys, giraffes, lions, red pandas, gorillas, tigers, and more.
The zoo also hosts fun activities for families, like Adventure Saturday, and The Zoo Secrets.
You might also like: