Combing Mediterranean charm, world-class cultural attractions, captivating Modernist architecture, teeming nightlife, and beautiful beaches, Barcelona is one of the most visited cities in Europe.
And there are several ways to enjoy Barcelona. From feasting on delicious food while sipping on some cava — the Catalan sparkling wine — to exploring the city's vibrant neighborhoods, and marveling at the architectural gems designed by the one-and-only Antoni Gaudí, the options are endless.
Well, this vibrant city is all about that and more! The array of things to do in Barcelona is so strikingly copious, that it manages to spoil each and every type of traveler.
Families, backpackers, sports enthusiasts, history buffs, foodies, and couples all love the magical city of Barcelona.
This comprehensive guide is filled with top-notch travel tips that will help you plan your Barcelona adventure and make the most out of this beautiful city.
Have a look below!
Barcelona Travel Tips: Useful Information
| | |
| --- | --- |
| Language | Spanish and Catalan |
| Currency | Euro |
| Country Code | +34 93 |
| Voltage | 230 volts AC |
| Charging Plug Types | Types C and F |
| Time Zone | CET |
| Perfect For | Architecture enthusiasts, art lovers, foodies, families, and backpackers |
| About Safety | Barcelona is a safe city. Just be careful with your belongings, as there are pickpockets looking for tourists that leave their bags unguarded. |
Find Hotels In Barcelona | Find Homes In Barcelona
Best Time To Visit Barcelona, Spain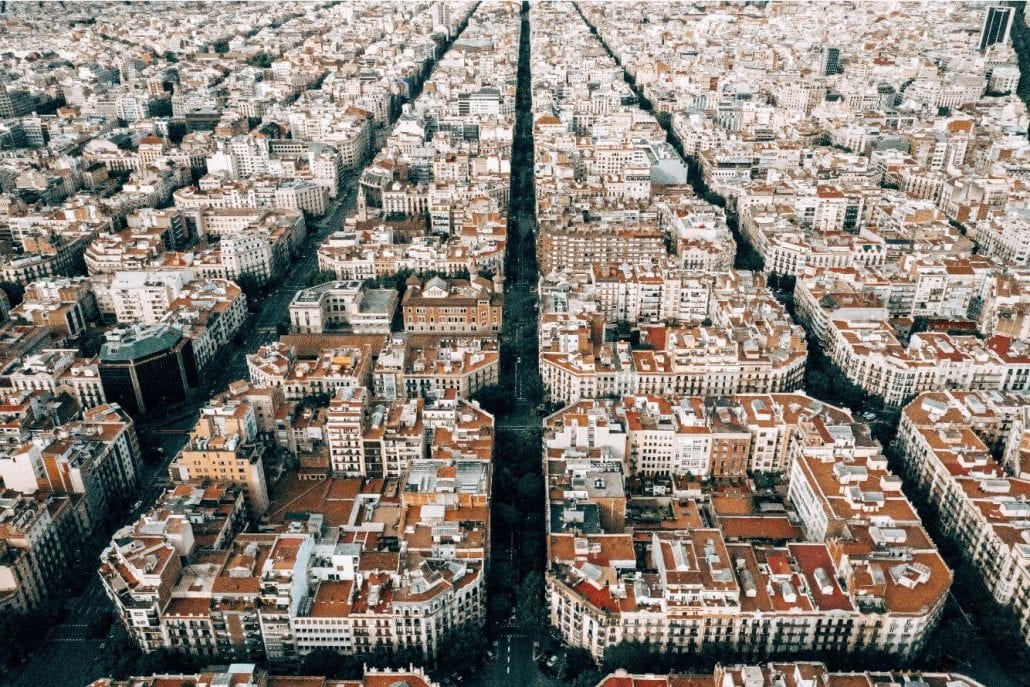 Thanks to its pleasant Mediterranean climate, Barcelona provides travelers with a one-of-a-kind experience at any time of year.
Summer-chasers that are dreaming of indulging in the city's beaches, and experiencing luminous weather with temperatures peaking at around 29°C should visit the city from June to August.
During the summer, Barcelona also hosts top-caliber festivals, like Primavera Sound and Sonar Festival, that keep tourists and locals on their toes.
Summer, though, is the high season in Barcelona, which means that rates are more expensive and the local attractions are more packed.
For fewer crowds of tourists and scoring more travel deals, the best time to visit Barcelona is the shoulder season: from March to April, and from late September to October.
Make Sure To Read: A Complete Guide To The Best Time to Visit Barcelona
The Costs Of Traveling To Barcelona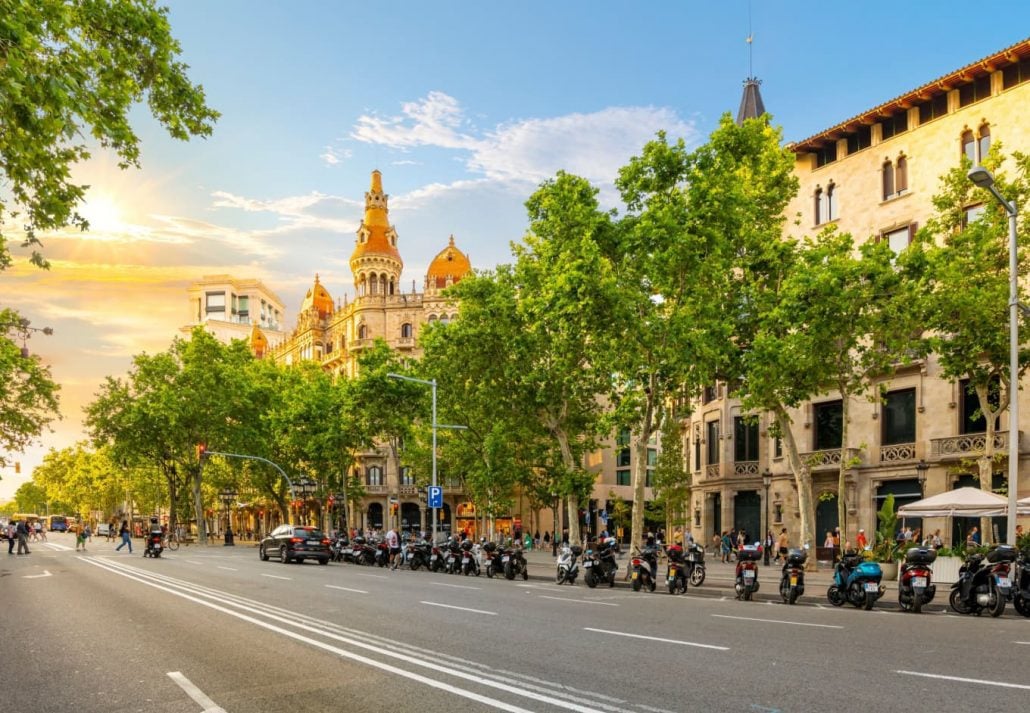 Compared to other European destinations such as London, Paris, and Zurich, Barcelona is relatively budget-friendly.
Travelers who want to save money will be glad to know that there are several free attractions in Barcelona and that you can eat well for just a few euros.
The price for Barcelona hotels ranges from $92 to $297 per night, but the city also features an incredible collection of amazing hostels that are typically affordable.
Through CuddlyNest, you can easily book a cozy place to stay in Barcelona, at the best price.
Best Places To Stay In Barcelona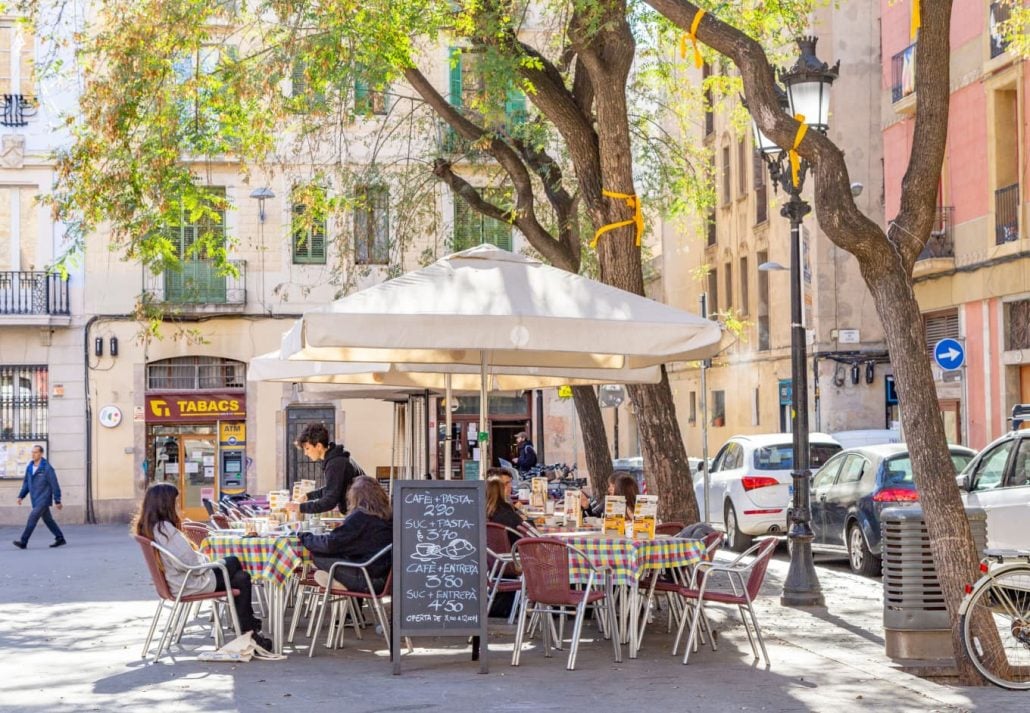 When it comes to the perfect vantage point to explore Barcelona, it all depends on your interests.
The city has an array of vibrant neighborhoods, each offering its own unique array of experiences.
Some are known for their vibrant nightlife scene, while others are famous for their charming old streets and big-name landmarks.
Here are the 7 best areas to stay in Barcelona.
Grácia
This leafy and serene neighborhood is a great option for travelers seeking to escape the hustle of overcrowded areas like the Gothic Quarter. It's also a prime location for families visiting Barcelona.
Eixample
With a great location in the city center, Eixample is a top destination for first-timers visiting Barcelona. You'll be located just a short walk from the top attractions in Barcelona.
Some of the most famous places to visit in Eixample include Casa Battlò, and Casa Mila (La Pedrera), two beautiful buildings designed by Antoni Gaudí.
El Born
Situated in the heart of Barcelona's historic center, El Born is bounded by the Barceloneta beach, Barri Gòtic, and Eixample.
It's home to hidden squares, artisanal boutiques, cozy cafés, and delicious tapas bars, making it an ideal place for those seeking a more bohemian vibe.
El Born also provides access to famous Barcelona attractions such as the Santa Maria del Mar church, the Picasso Museum, Palau de la Música Catalana, and the lush Parc de la Ciutadella.
El Raval
El Raval is a vibrant and multicultural neighborhood nestled in the heart of Barcelona.
Its narrow streets are dotted with art galleries, independent shops, and international restaurants.
El Raval is also home to the renowned MACBA (Museum of Contemporary Art of Barcelona), a cultural landmark that showcases contemporary artworks from both local and international artists.
Barri Gothic (Gothic Quarter)
Boasting a convenient central location in Barcelona's Old City, the Gothic Quarter (Barri Gòtic) is the perfect place for travelers wanting to soak in history and culture.
This charming area is known for its medieval streets, hidden squares, and centuries-old buildings that span literal centuries.
Must-visit attractions here include the Picasso Museum and the iconic Barcelona Cathedral. 
Not far from the Gothic Quarter, you'll find La Rambla, Barcelona's most famous street.
La Barceloneta
This is the perfect location for travelers seeking to enjoy Barcelona's beach scene and seafood restaurants.
Aside from an ample beach, the La Barceloneta area also has a lively promenade, which greets visitors with stunning views of the glittering waters of the Mediterranean Sea.
This lively area is also located within short walking distance from other popular Barcelona neighborhoods such as El Raval and the Gothic Quarter.
Make sure to read this guide to the top Barcelona hotels to discover a selection of accommodations that perfectly blend comfort, amenities, convenient location & value for money.
The Top Places To Visit In Barcelona
Gothic Quarter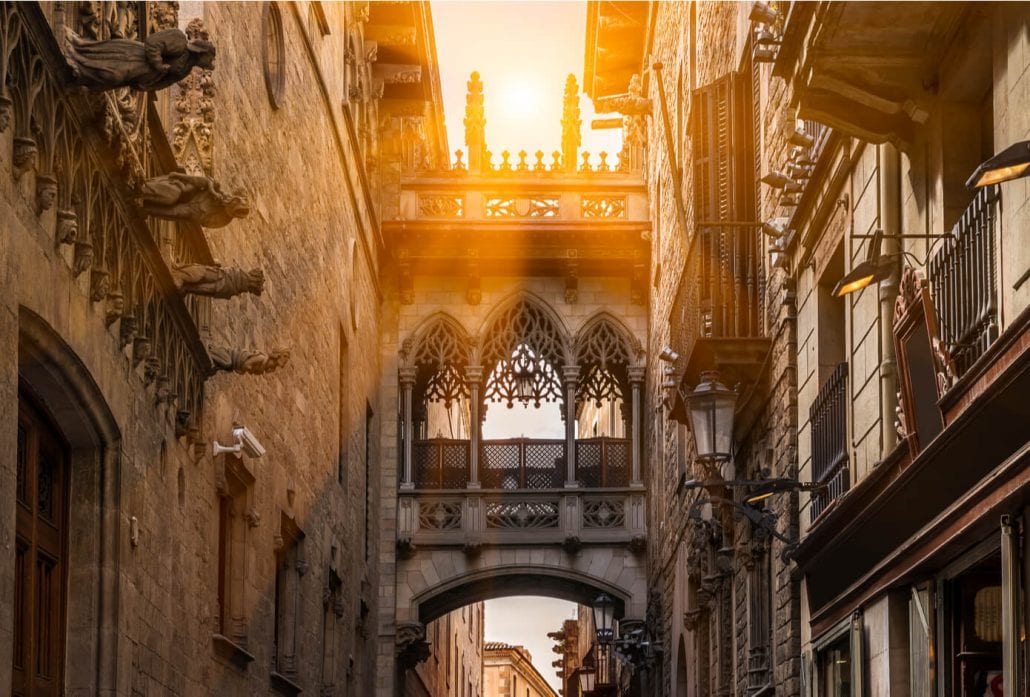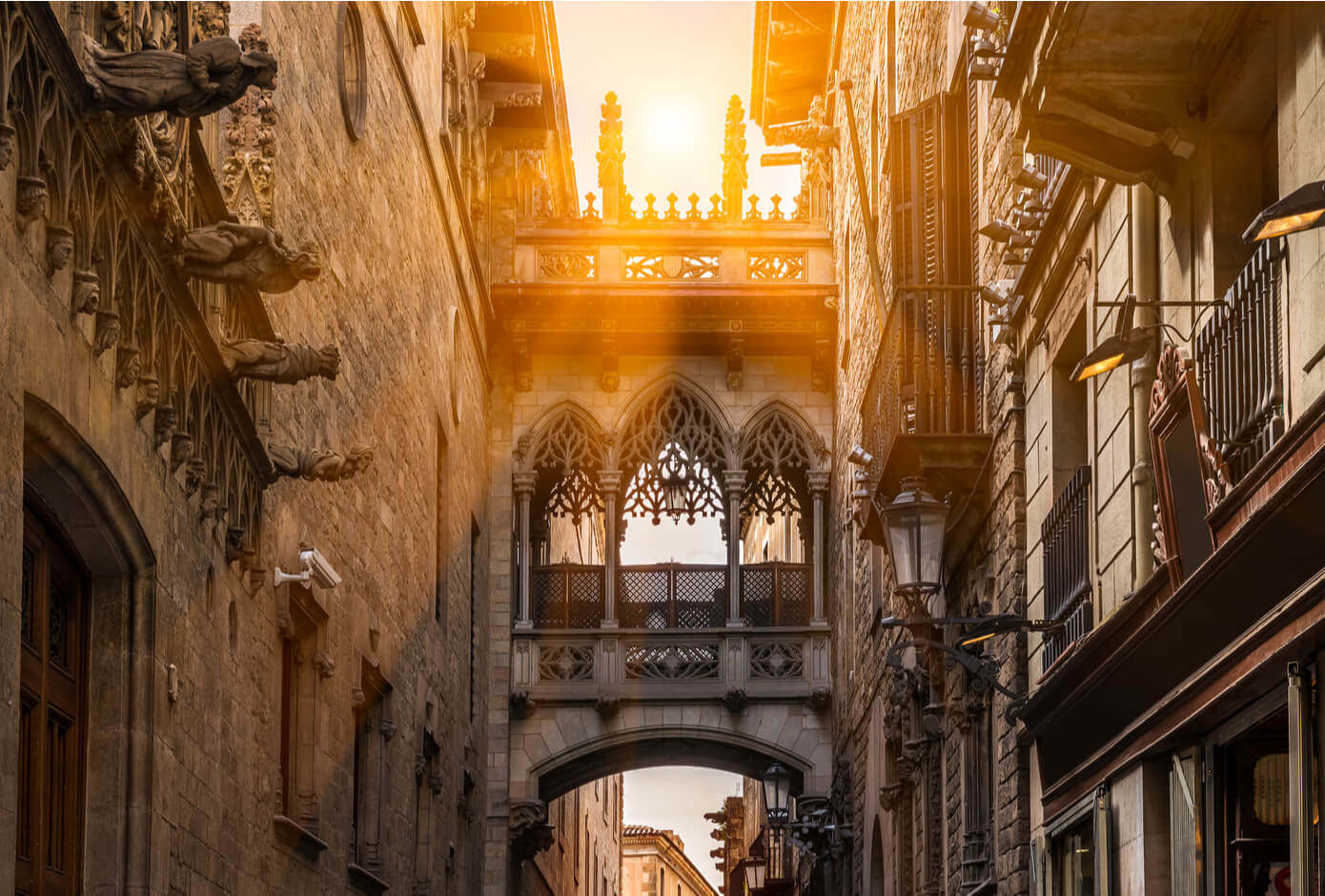 Whether you're planning to spend one day or a week in Barcelona, taking a free walking tour of Barri Gòtic (Gothic Quarter), is an unparalleled way of getting a feel for the city.
Located in the city center, this neighborhood is steeped in rich history, as it encompasses the oldest parts of Barcelona.
While getting lost in the narrow cobblestoned streets of the Gothic Quarter, you'll stumble across fascinating remnants of ancient Roman buildings, medieval walls, and neo-Gothic constructions.
One of the most-visited attractions in Barri Gòtic is the Cathedral of the Holy Cross and Saint Eulalia, also known as the Barcelona Cathedral.
Erected on the site of a Romanesque temple over 150 years, the cathedral is a real Catalan Gothic jewel adorned with two large bell towers, large windows, and a majestic organ decorated with grisailles by Pedro Pablo Serafín "the Greek".
You'll also notice that the narrow streets of the Gothic Quarter are home to an array of trendy shops and stylish boutiques, making it one of the best places to go shopping in Barcelona.
Travel tip: Walking tours are a great way of exploring this neighborhood like a true Barcelona local.
The travel guides usually know the city better than anyone and since the tour will be conducted by a Barcelona resident, you'll get all the insider information about Barri Gòtic.
Recommended Read: The Best Hotels in the Gothic Quarter, Barcelona
Camp Nou Stadium Experience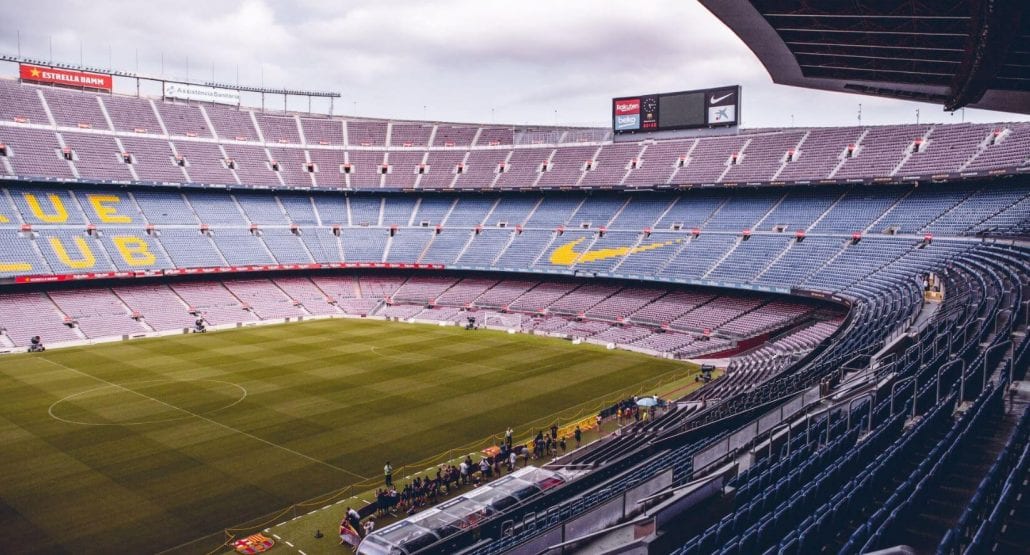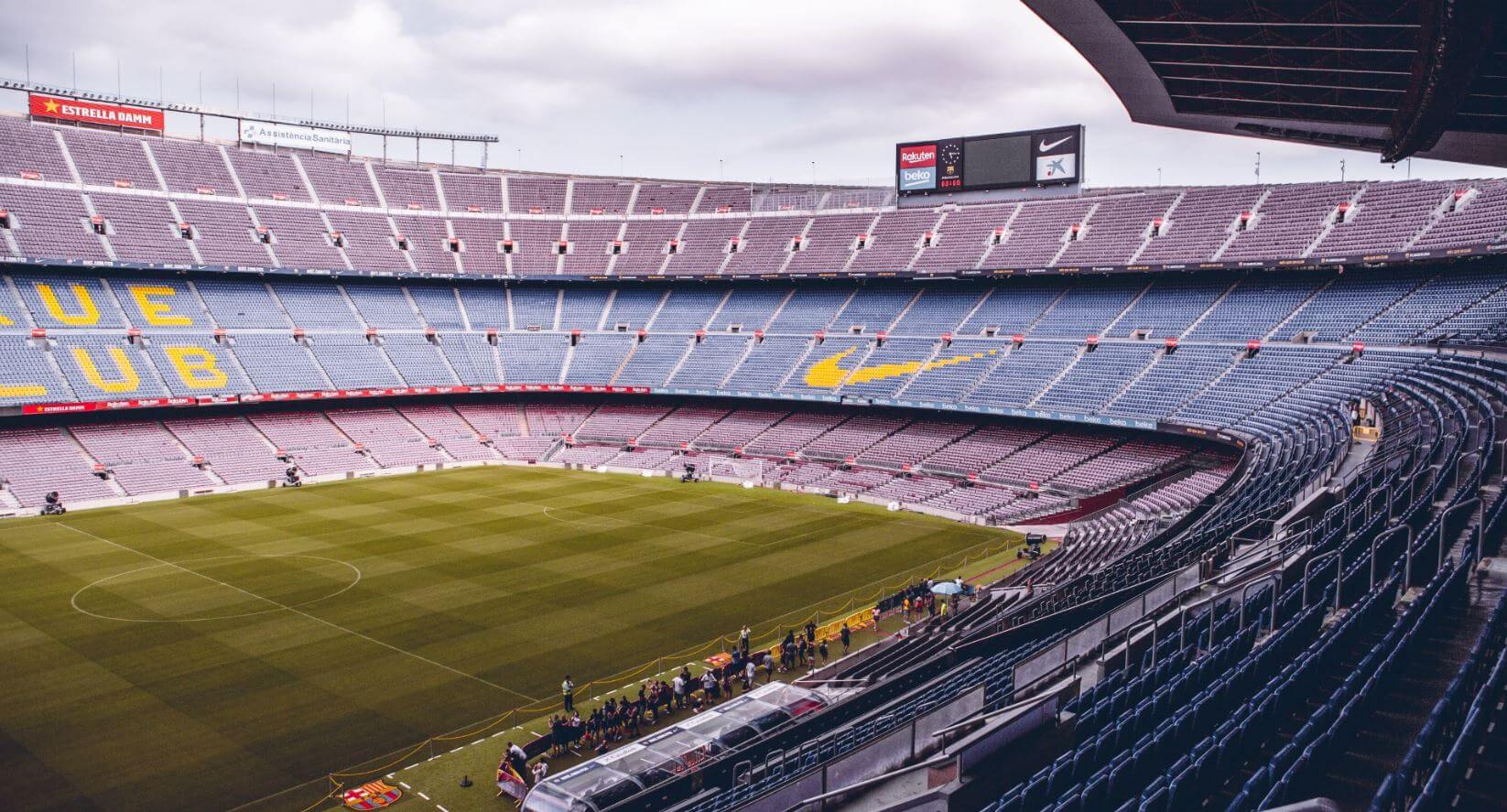 Taking a guided tour of the Camp Nou stadium is a larger-than-life experience, whether you're a Barça fan or not.
Home of FC Barcelona, this mighty stadium has a capacity of 99,354, making it not only the largest stadium in Spain but also in Europe.
During the guided Camp Nou tour, visitors will be granted access to every inch of the stadium, from the field to the player's tunnel.
There's also the opportunity of visiting the FC Barcelona Museum, which plays host to a precious collection of trophies, photos, and memorabilia related to the almost 120-year history of FC Barcelona.
Indulge In Plenty Of Tapas And Cava!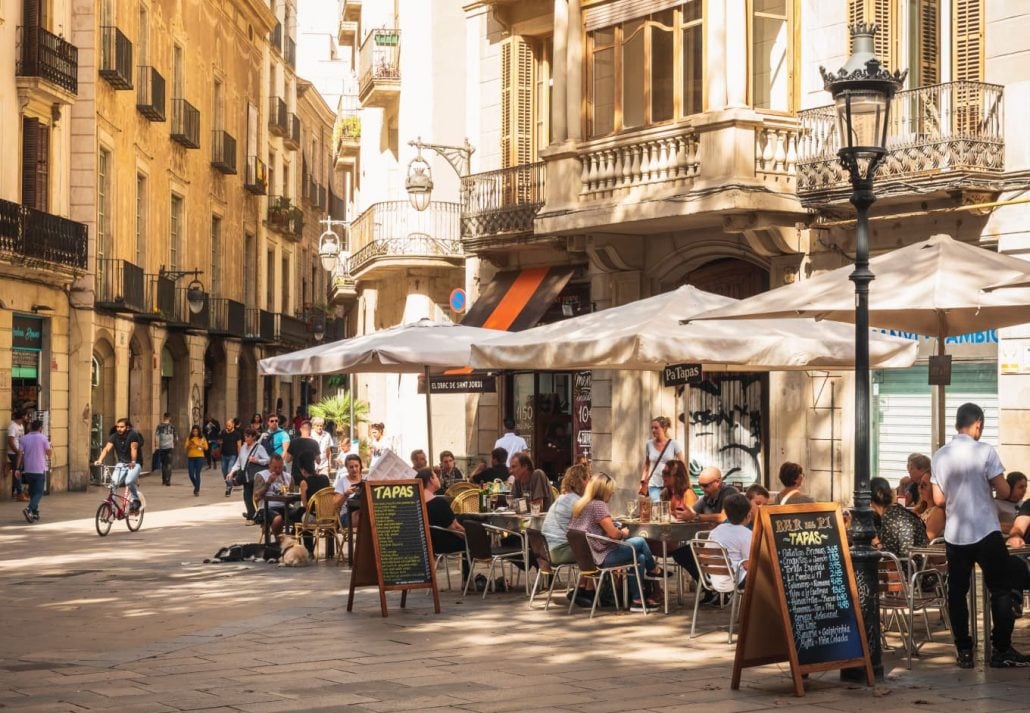 A food tour is one of the best ways of experiencing Barcelona's local culture. So, loosen your belt, because you're about to try some incredible dishes!
The tapas culture is big in Barcelona, and everywhere you go you'll be tempted to try these bite-sized goodies, which are a staple of Spanish cuisine.
Fortunately, in Barcelona, there are several amazing cheap restaurants where you can go feast on authentic Spanish tapas.
One of the best bars in Barcelona is the lip-smacking Can Paixano (La Xampanyeria). This busy — and tiny — cava bar is located well the Barri Gòtic meets the Barceloneta area. Here, expect to try some mouthwatering croquetas, a superb fuet (pork sausage), and plenty of cava.
Another great spot for indulging in some delectable tapas in Barcelona is the well-known El Xampanyet, which is inspired by the city's typical old bars.
Sparkling wine, cheese, tortilla de patatas, and jamón Iberico, are some of the delicacies you'll try at this place.
Bunkers del Carmel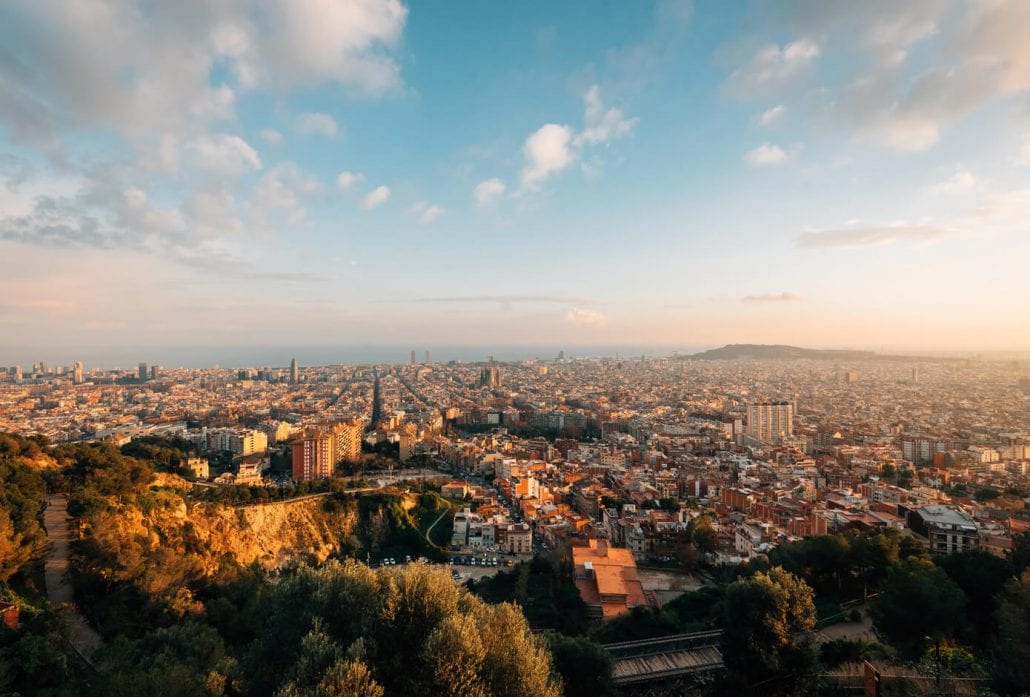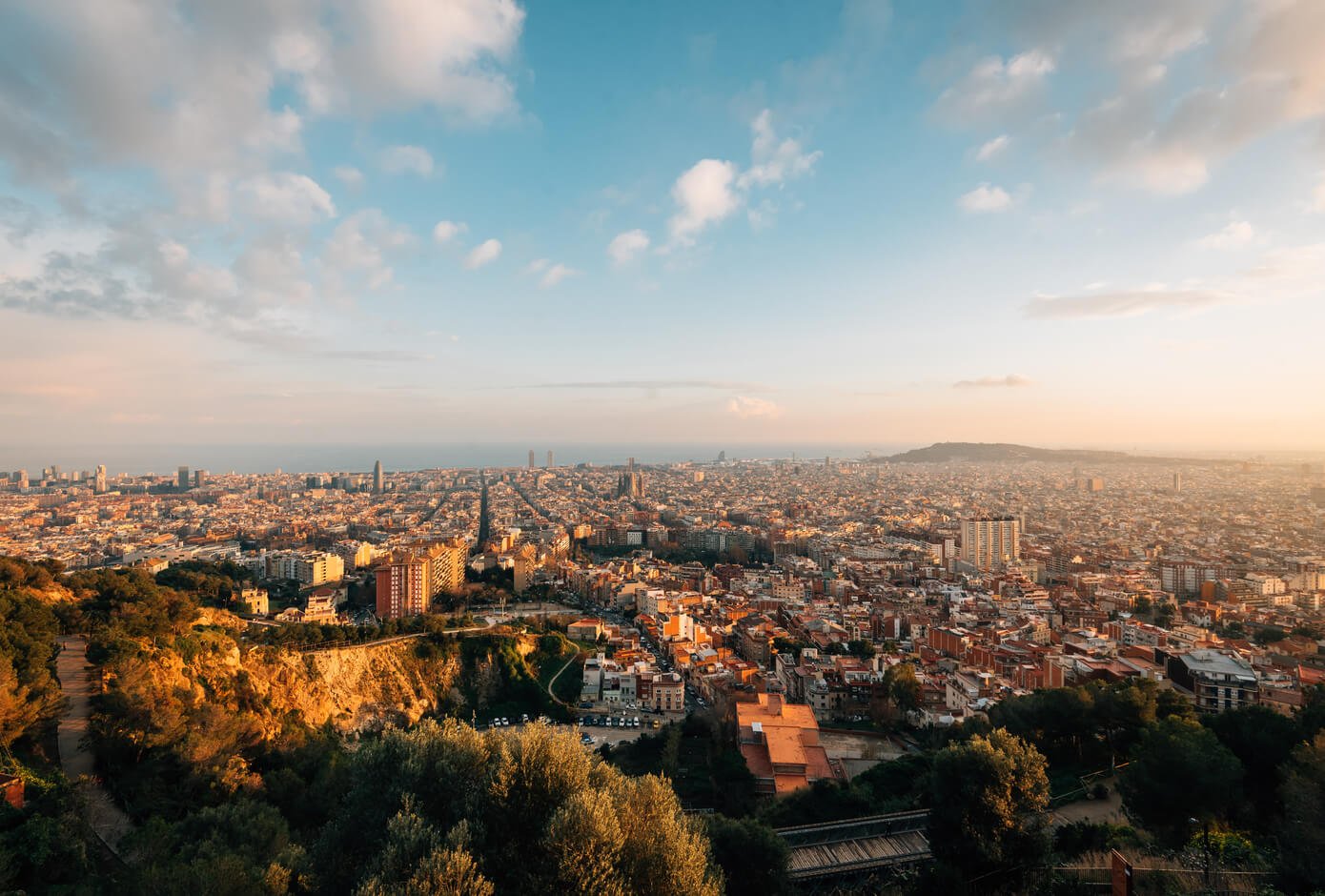 Perched atop the Turó de la Rovira hill, the Bunkers del Carmel was built as a series of anti-aircraft fortifications during the Spanish Civil War.
Thanks to its glorious location, the place rewards visitors with the most sweeping 360º views of Barcelona and soon became the best place for watching the sunset in the city.
The best way of enjoying Bunkers del Carmel? By grabbing a bottle of wine, Spanish-style snacks (bread, fuet, and cheese), and climbing to the top of the hill to watch a stunning sunset while marveling at the sea, the Sagrada Familia, and Montjuïc Hill.
Montjuïc Castle & Magic Fountain of Montjuïc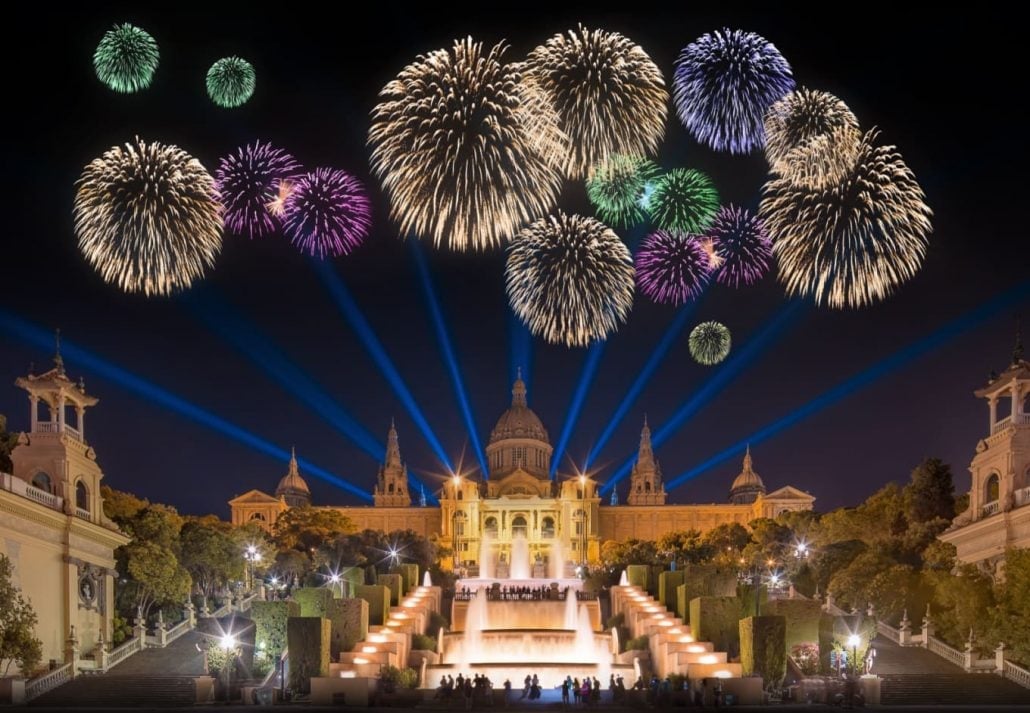 Nestled at the bottom of the Montjuïc Mountain, in the Poble Sec area, the Magic Fountain of Montjuïc is one of the most popular attractions in Barcelona.
From Thursday to Saturday, the fountain hosts the famous Barcelona Magic Fountain show, which is a spectacular display of 3620 water jets, and 4760 lights choreographed to classical and contemporary music. A must-watch performance, especially for families with kids!
The Montjuïc Castle presents an iconic narration of the rich history of Barcelona. Dating back to 1640, this perfectly preserved fort is perched on top of a hill and has witnessed some major moments in Spain's history, including the Siege of Barcelona, the Napoleonic Wars, and the Spanish Civil War.
After exploring the castle, don't forget to enjoy the 360º views of Barcelona.
Parc de la Ciutadella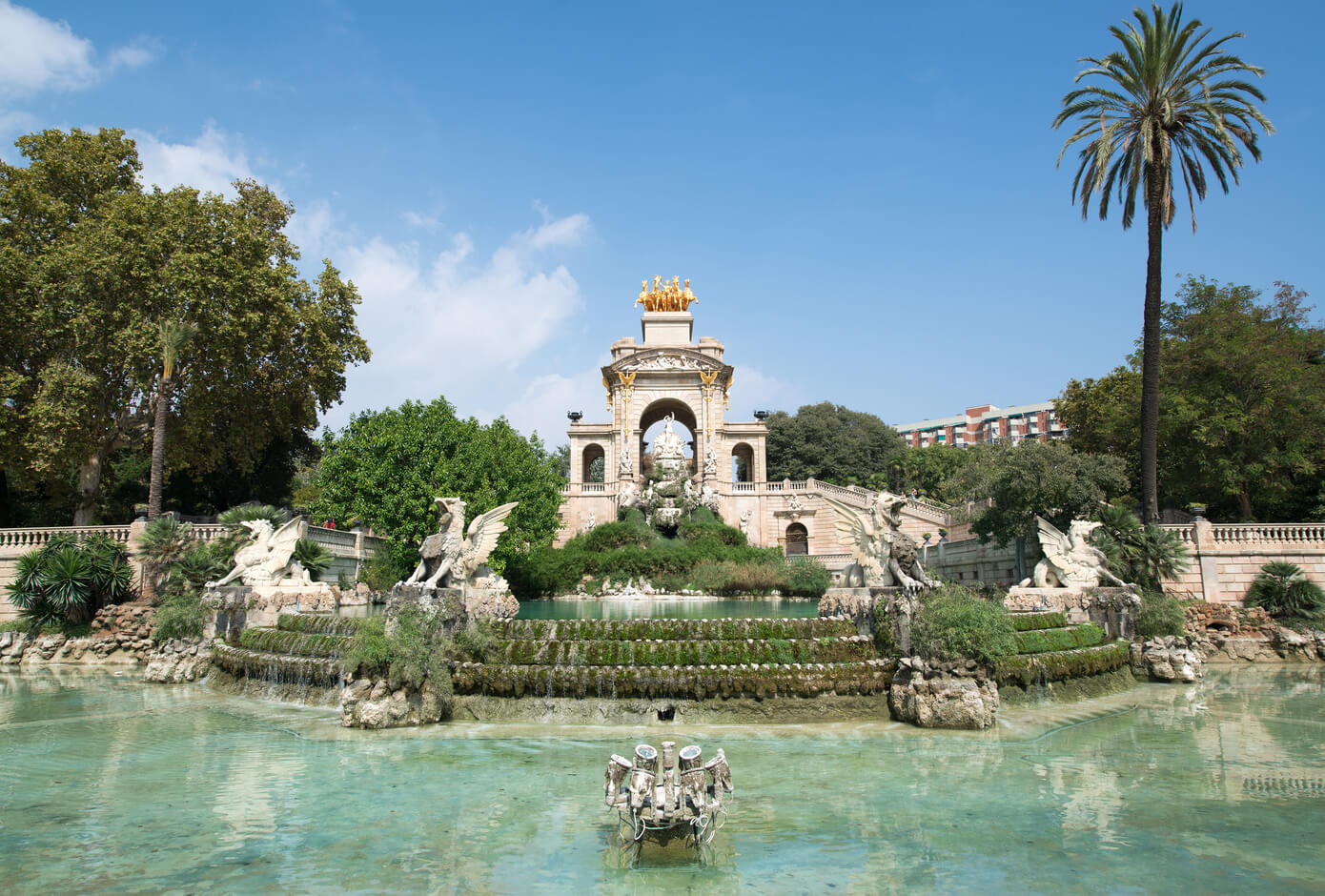 When the nice weather descends, head over to the lush Parc de la Ciutadella, which is a playground for locals and out-of-towners alike.
Placed on the northeastern edge of Ciutat Vella, on the grounds where Barcelona's fortress once stood, this idyllic 17-hectare park is dotted with verdant landscaped areas that are simply perfect for a picnic.
Not by chance, it's regarded as one of the top things to do in Barcelona with kids.
Inside the park, visitors will also come across major Barcelona attractions, including the Zoological Museum and MACBA: Museu d'Art Contemporani de Barcelona.
Palau de la Música Catalana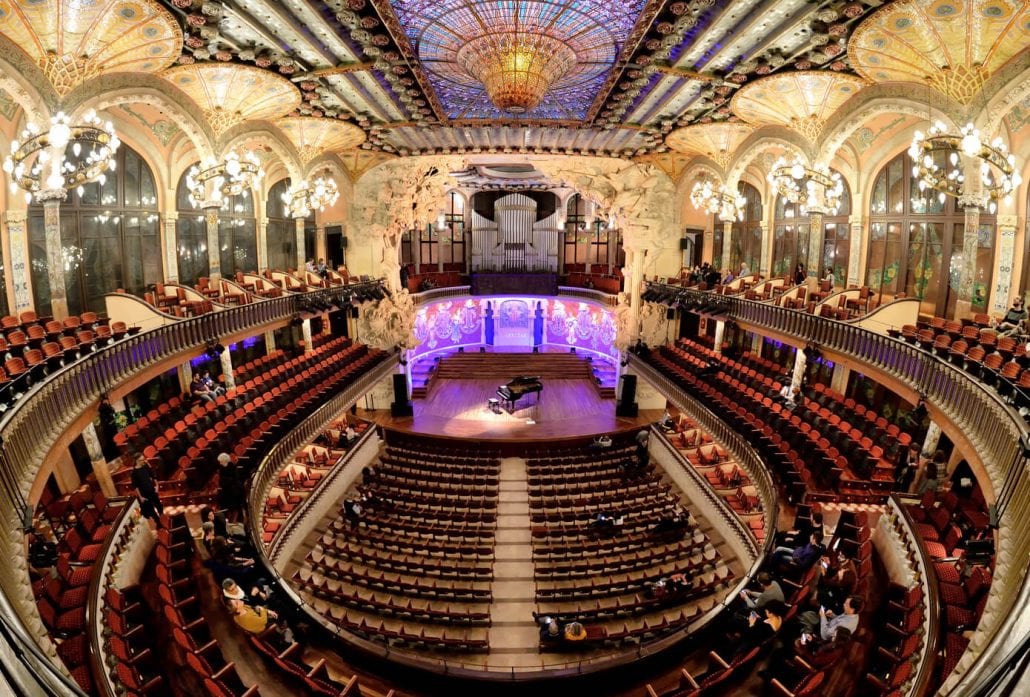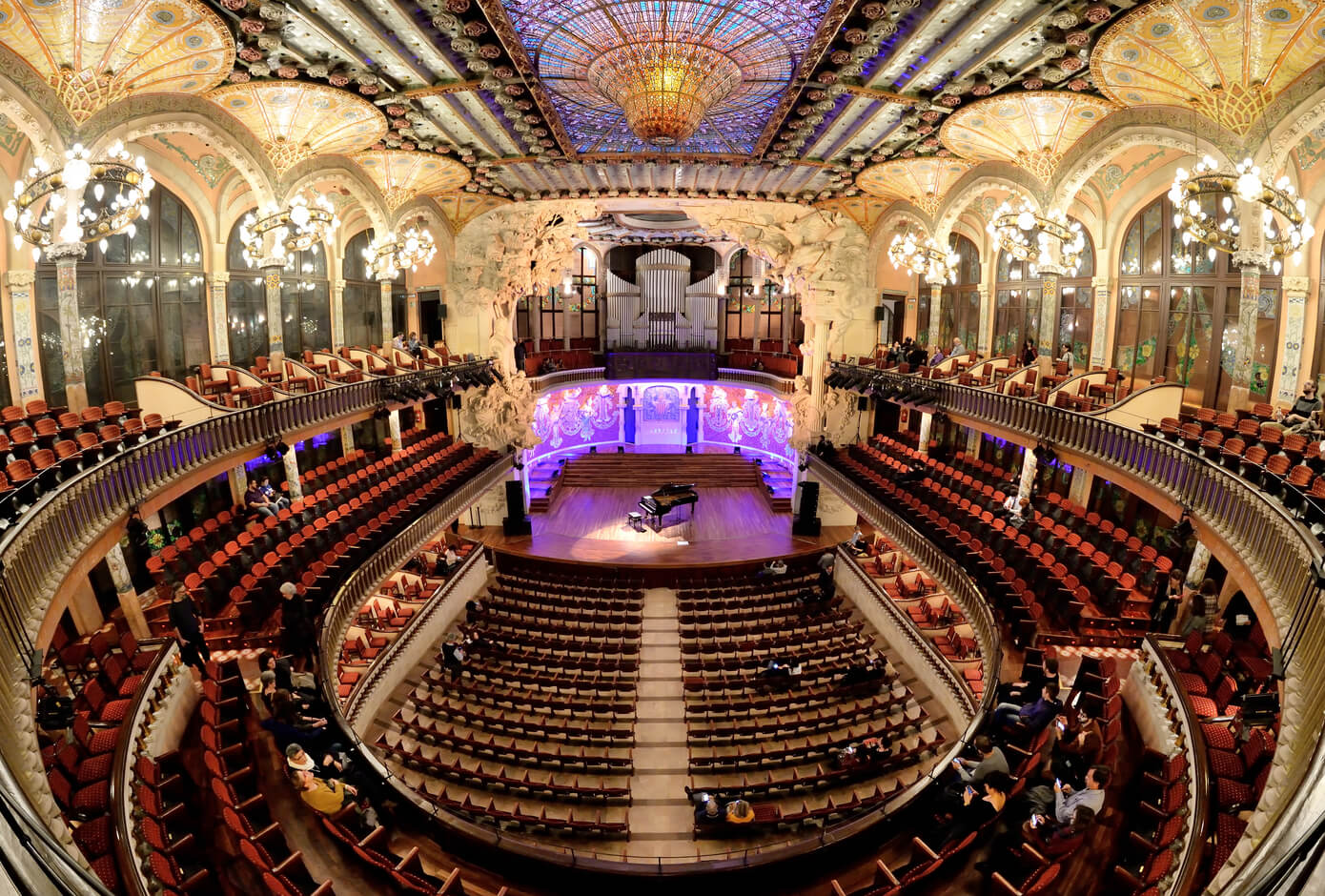 Listed as a World Heritage Site by UNESCO, the sumptuously decorated Palau de la Música Catalana is the ultimate cultural bucket-list experience in Barcelona.
First, the concert hall designed by Lluís Domènech I Montaner is a true masterpiece of the Catalan Art Nouveau style.
Thanks to its marvelous stained-glass panes set, it's the only auditorium in Europe that is illuminated during daylight hours entirely by natural light.
Aside from marveling at the intricately ornate details that make up the "Palau", visitors can also watch a music concert in the venue, which hosts a varied lineup of performances, from symphonic and chamber music to jazz.
Montserrat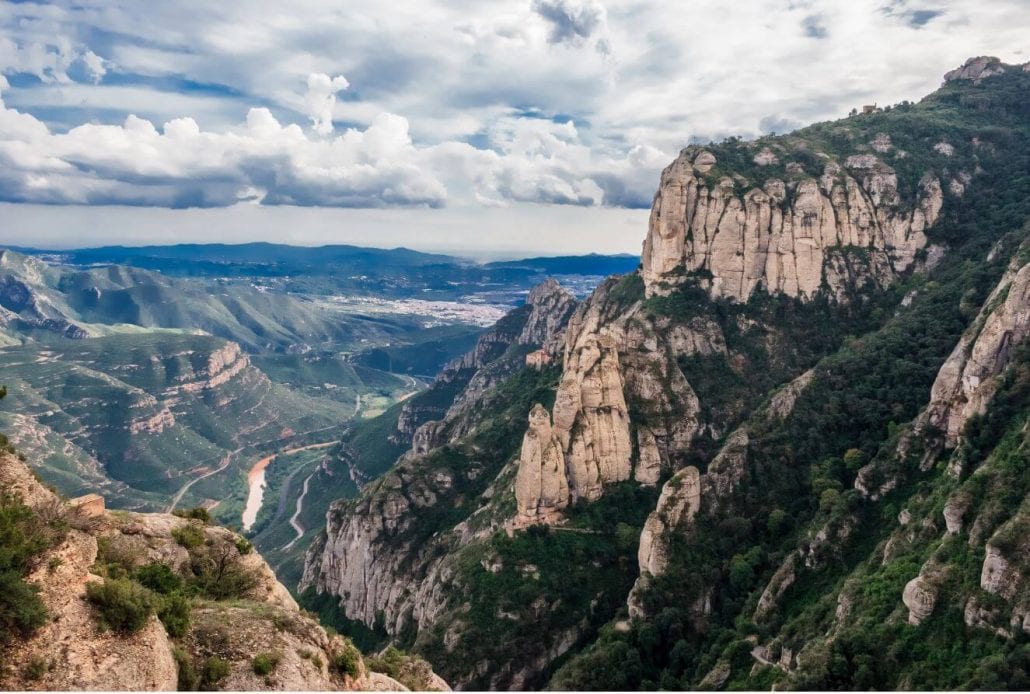 One of the best ways of enjoying a trip to Barcelona is by exploring the surrounding region. So, in case you have some spare time, be sure to visit the scenic Montserrat area, which is starred by the stunning Montserrat Mountain.
Visitors can hop on the cable car to reach the mountain's 4,055 feet high summit, which offers a birdseye view of Catalonia.
Another must-visit in the region is the Montserrat Monastery, which houses a precious statue of the Black Madonna, the patron saint of Catalonia.
Also, drop by the Montserrat Monastery Museum, home to works by geniuses like Dalí, El Greco, and Monet.
Recommended Read: Amazing Day Trips From Barcelona
Tibidabo Amusement Park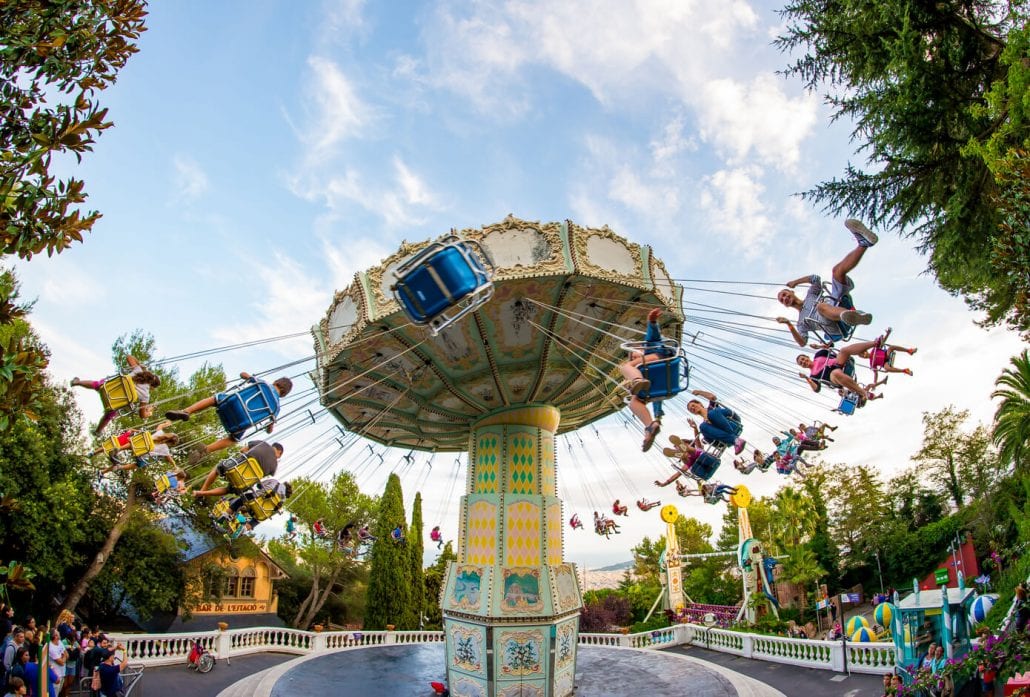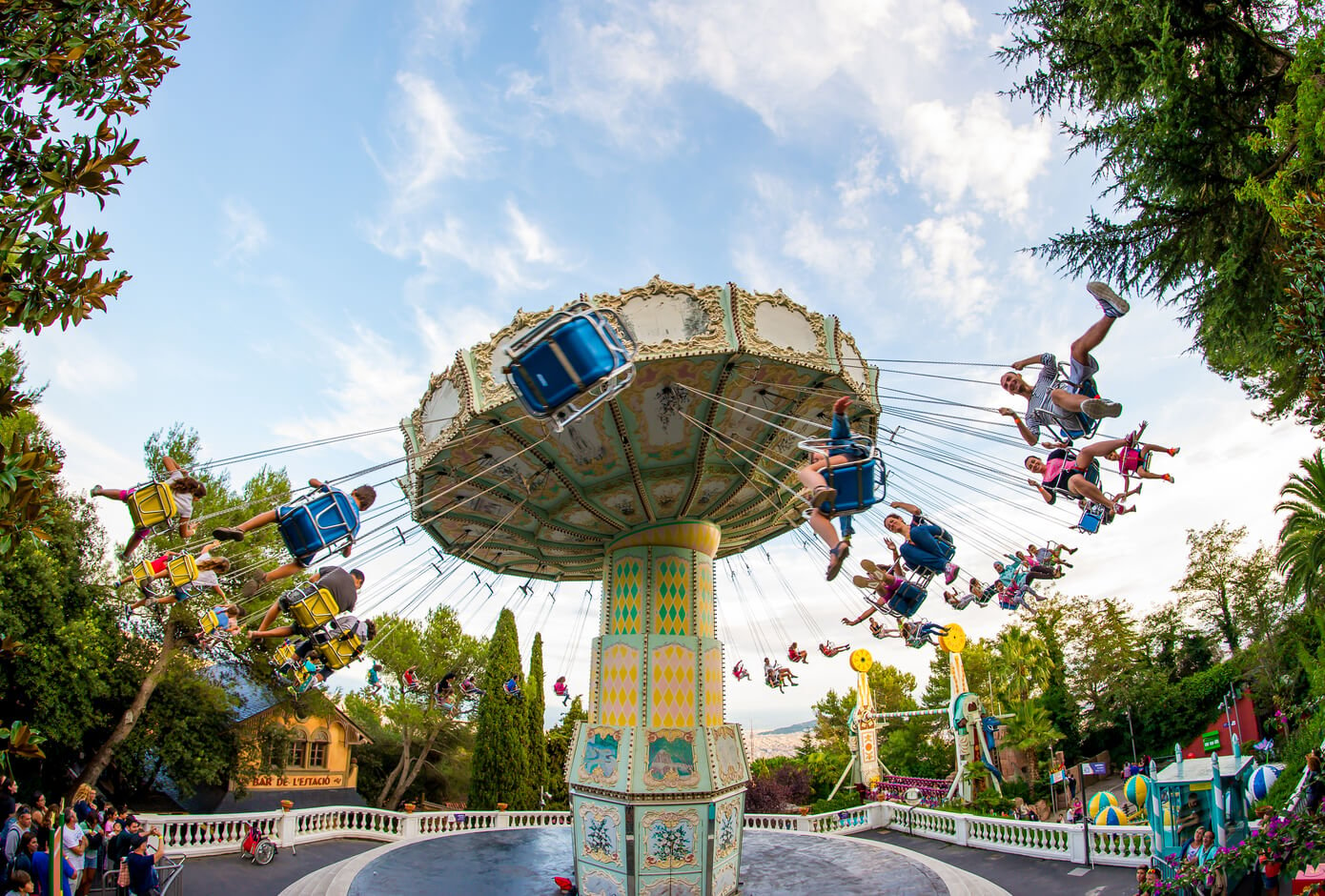 In search of the ultimate family-friendly activity in Barcelona? Then plan a visit to the Tibidabo Amusement Park, the longest-running amusement park in Spain and Europe's third-oldest.
Gloriously placed in the Collserola Ridge, the park features a pulse-pounding rollercoaster that fastly swings visitors more than 500m above sea level.
They also have a Sky Walk, where visitors can enjoy some of the most beautiful views of Barcelona.
Alta Alella Winery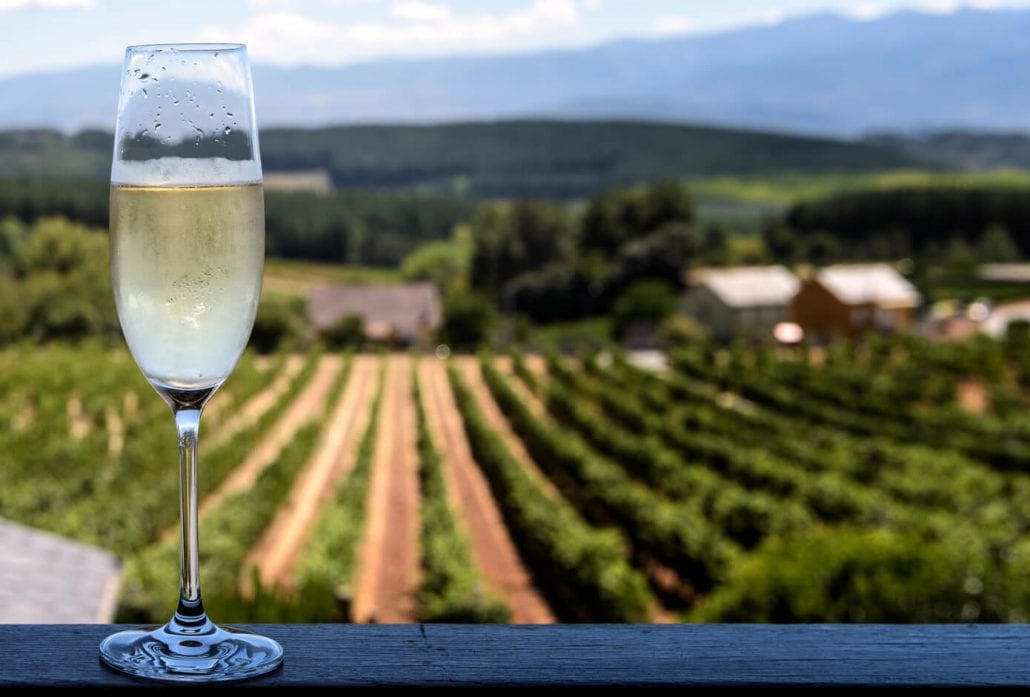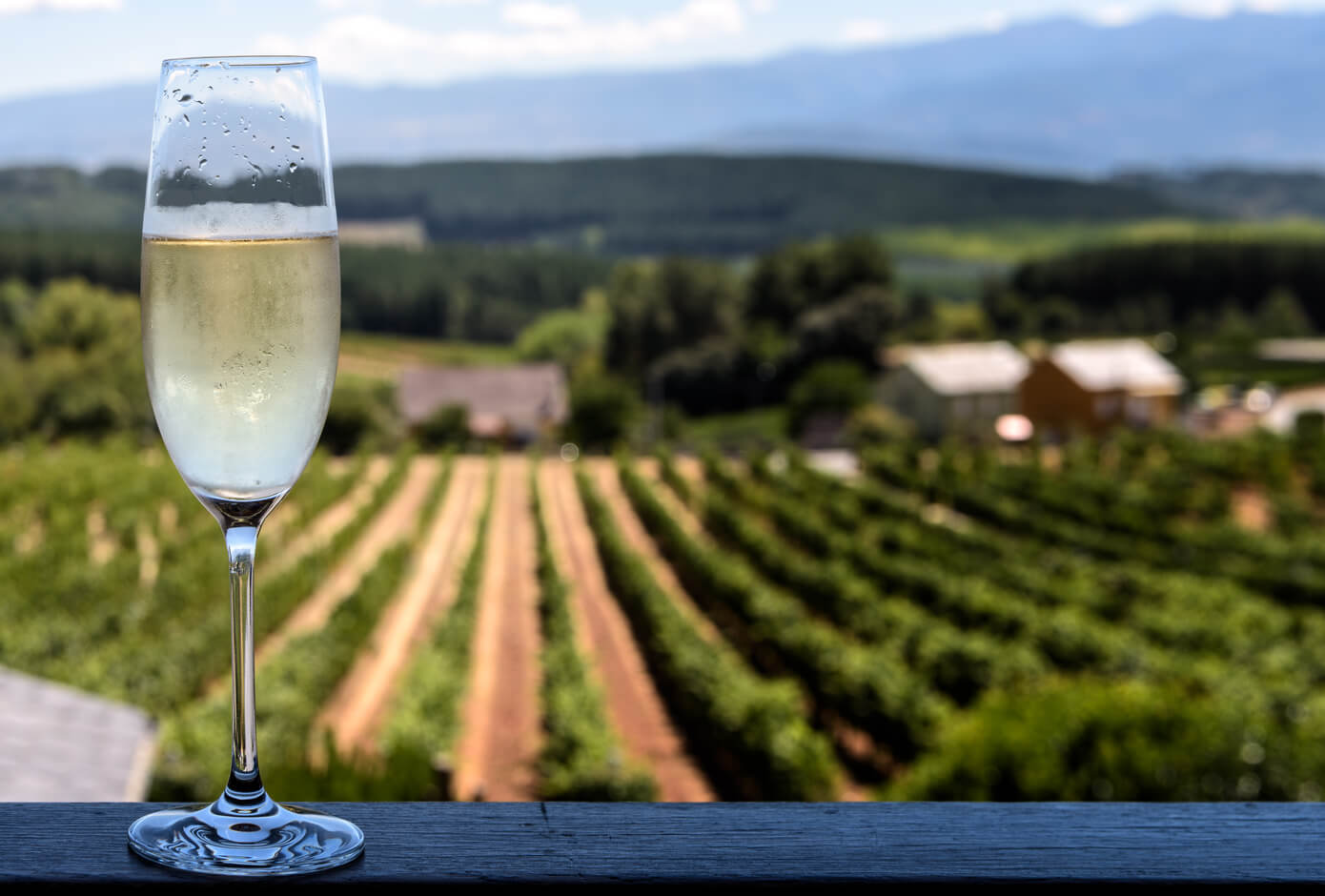 The genuine Barcelona experience is as much about amazing food as it is about drinking the amazing local wine.
The Catalonia region, by the way, is famous for producing the Cava, a sparkling wine originally inspired by the wines of Champagne.
And while most of Spain's cava is produced in the Penedès area of Catalonia, it's still possible to visit some stellar cava wineries near Barcelona.
The closest one is Alta Alella, which is located within the Serralada de Marina Natural Park.
At this family-run winery, visitors can walk through the vineyard and discover both the wine cellar and the aging area.
The grande finale? A guided tasting of 4 wines and Spanish cavas. We guaranteed it will be money well spent!
Parc Güell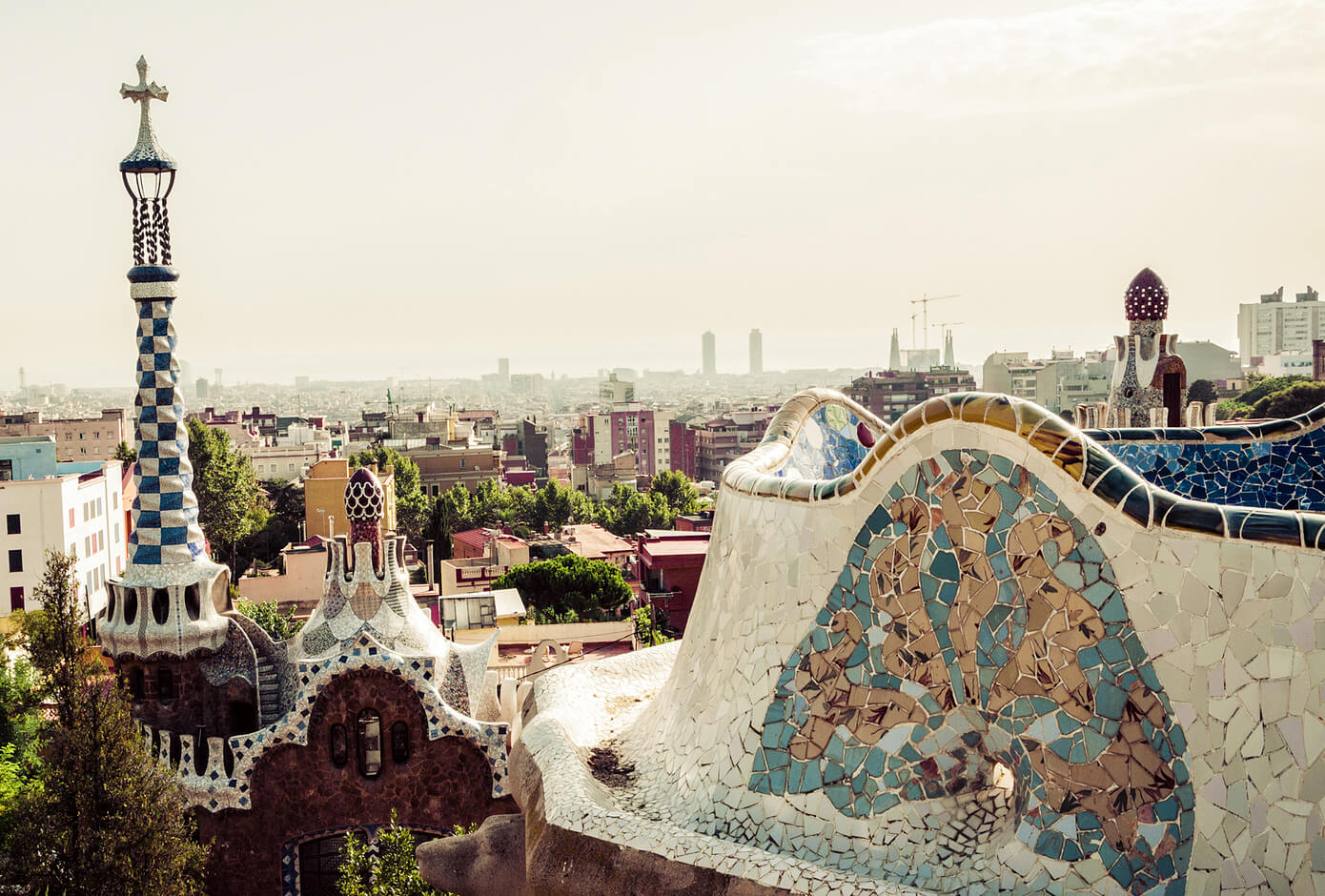 Parc Güell (Park Güell) is, unarguably, one of the most picturesque — and fascinating —sites in Barcelona.
This colorful, and picture-perfect park is regarded as one of the greatest works of Gaudí, and, not by chance, it was listed as a World Heritage Site by UNESCO.
Surrounded by a dense forest on top of Carmell Hill, the park flaunts sinuous shapes and architectonic details that evoke the shapes of nature.
Several elements of the estate are decorated with multi-colored ceramic pieces, which provides Parc Güell with a remarkable and eye-popping aesthetic.
Make sure to read this ultimate guide to Park Güell for complete information on visiting the park (tickets, how to get there, and more).
Las Ramblas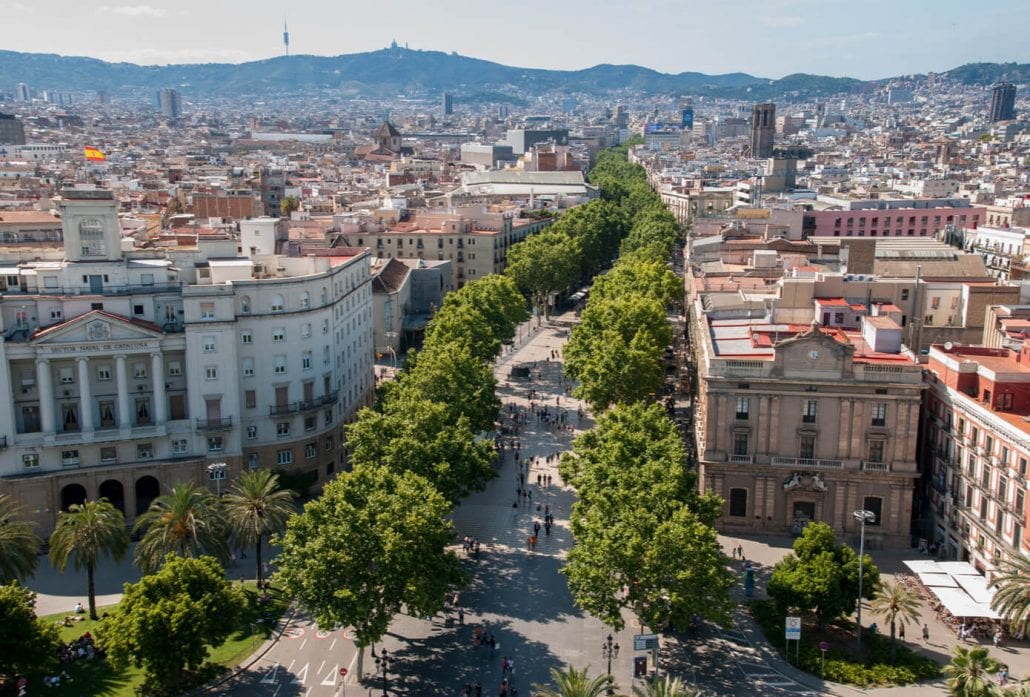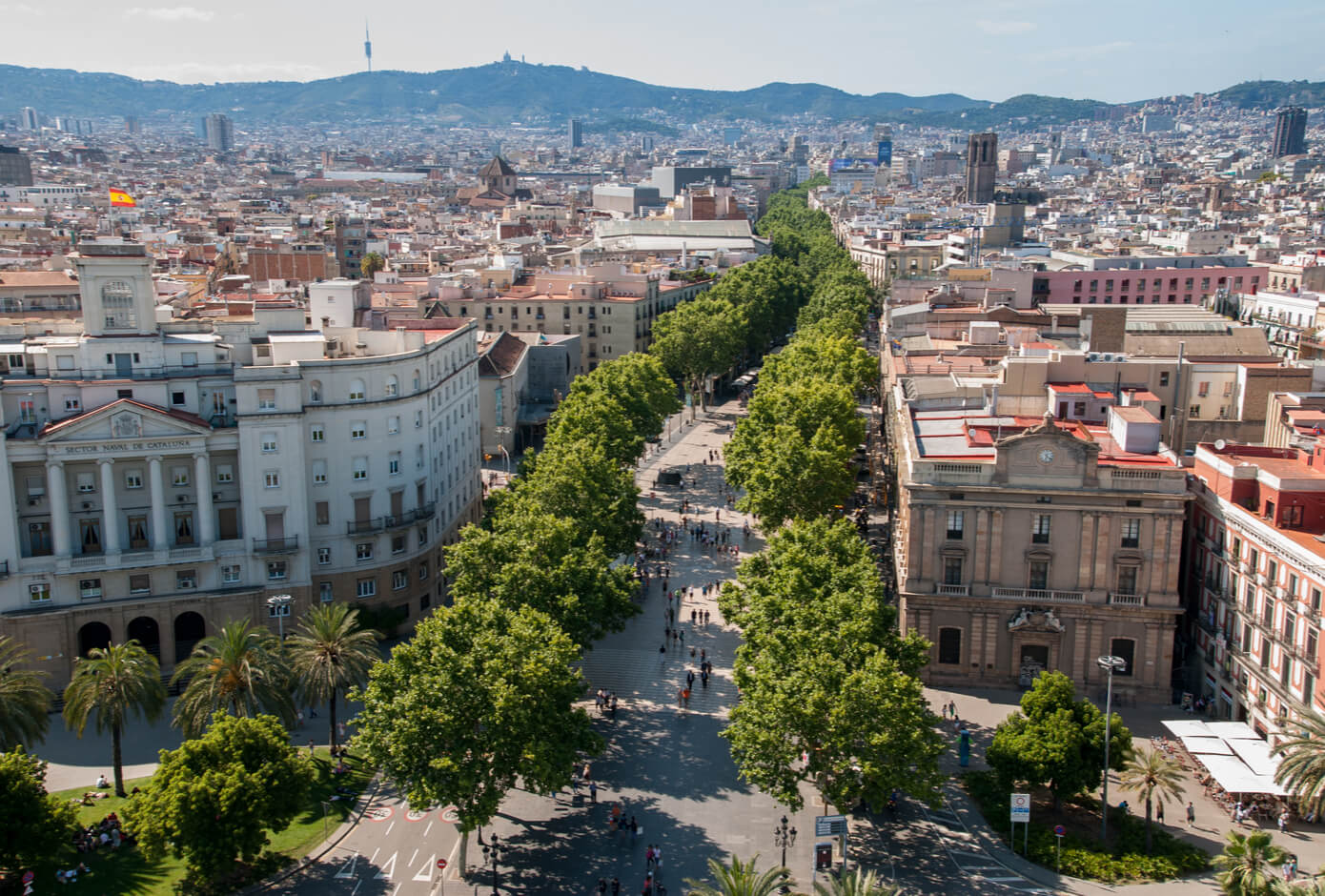 One of the best ways of taking advantage of Barcelona's consistently luminous climate is by idly wandering around Las Ramblas.
Also known as La Rambla, this famous street stretches for almost one mile linking the Plaça de Catalunya with Port Vell.
This alluring tree-lined boulevard is dotted with souvenir shops, restaurants, street performers, and cafes, and it's located close to some major Barcelona attractions, including the Mercado de la Boqueria, which is a real heaven for foodies.
So, when the weather is nice and sunny, take some time to walk along this iconic street at your own pace, and take in the irresistible Barcelona vibe.
Museu Picasso de Barcelona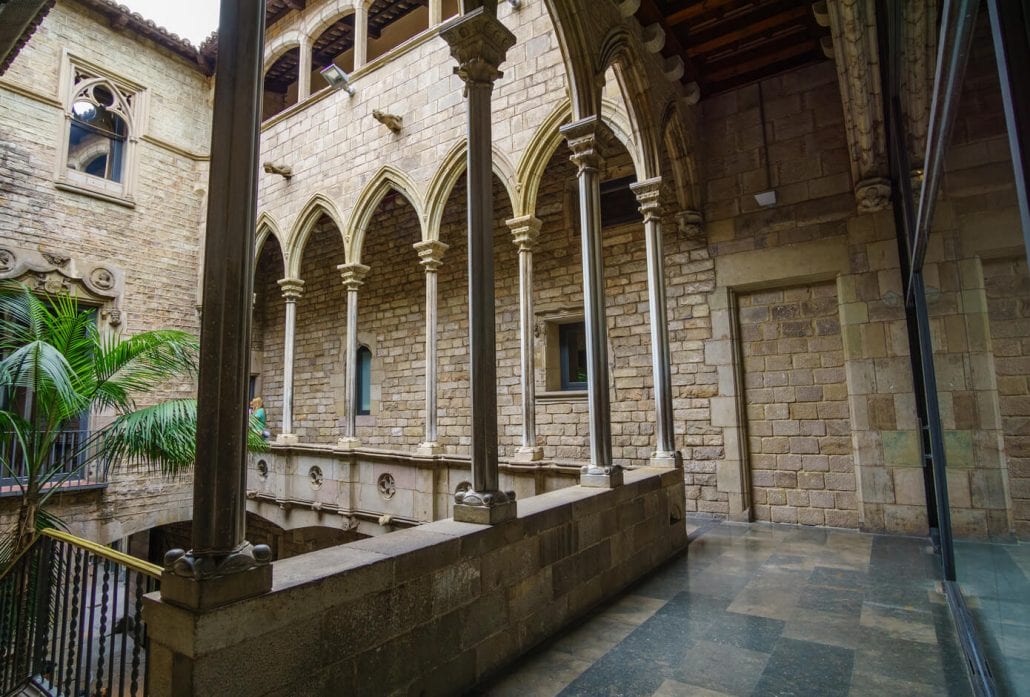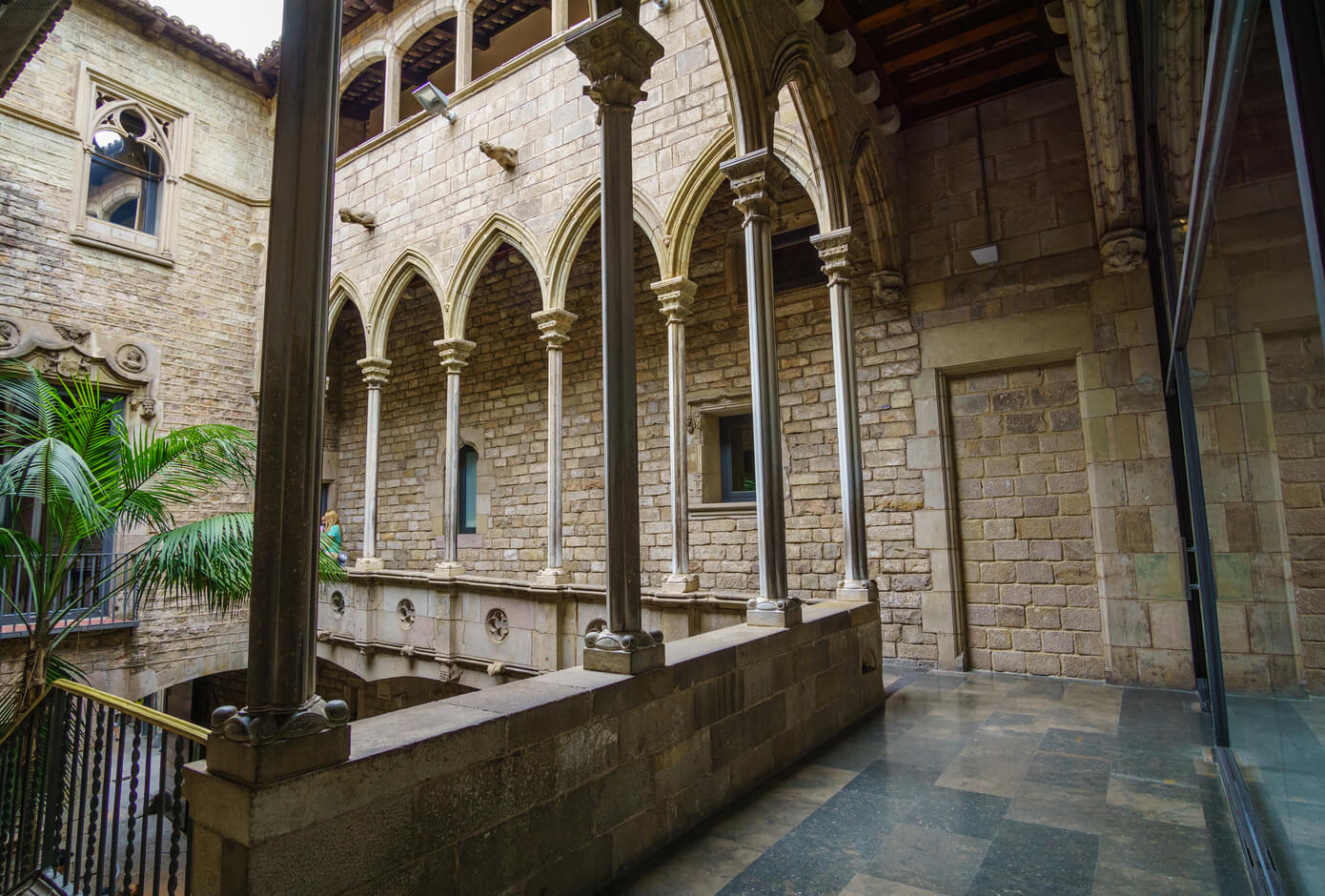 Culture buffs will never get bored in Barcelona. In case you're in need of some extra dose of inspiration, visit the renowned Picasso Museum, which is home to over 4,000 works by the Spanish painter.
Set within five Catalan Gothic-style palaces, the museum features one of the world's largest collections of artworks by Picasso, including major paintings of his early years as an artist.
La Sagrada Familia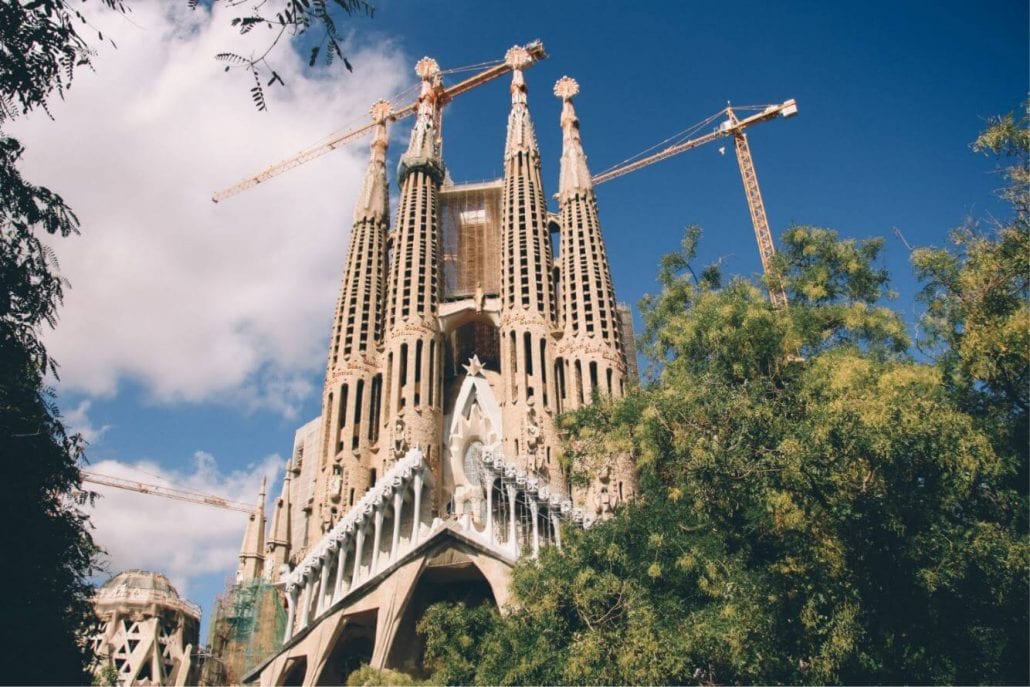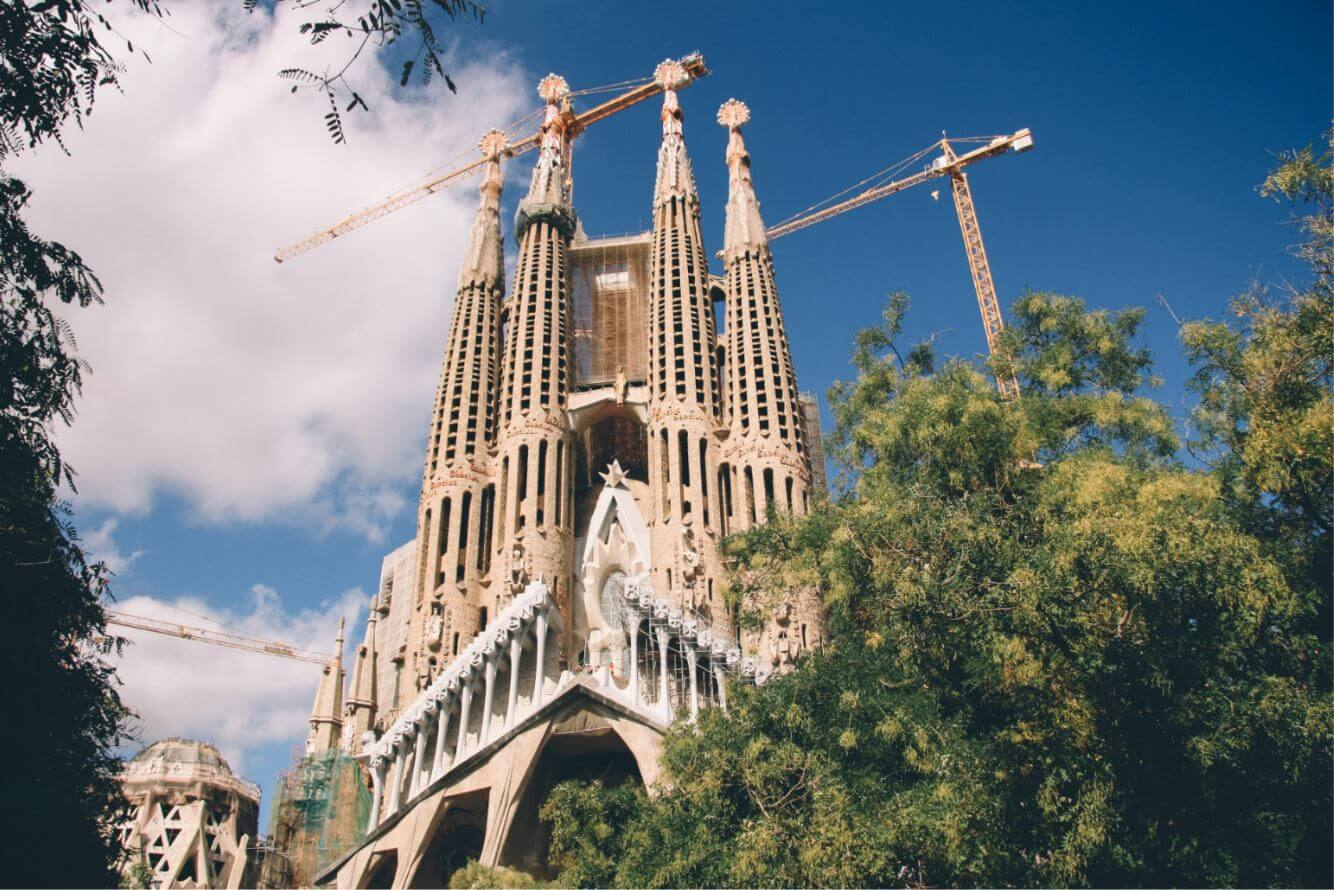 It's a known fact that Barcelona is awash with wonderful museums and spectacular landmark sites. But nothing really compares to the magnificence of La Sagrada Família, a monumental church that is heralded as a veritable Modernista masterpiece.
Listed as a UNESCO World Heritage Site since 2005 thanks to its historic and cultural significance, the basilica artfully embellished Barcelona's skyline thanks to its 18 monumental spires.
Tip: when visiting the church, opt for an audio guide tour. This is the best way of exploring the monument's stunning exterior walls, which are decorated with intricate carvings, and its whimsical colorful interiors that evoke a forest. Everything about this place is absolutely magical.
Be sure you read this ultimate guide to La Sagrada Familia for more information on the history of the basilica, ticket prices, tips for visiting, and more.
Miró Museum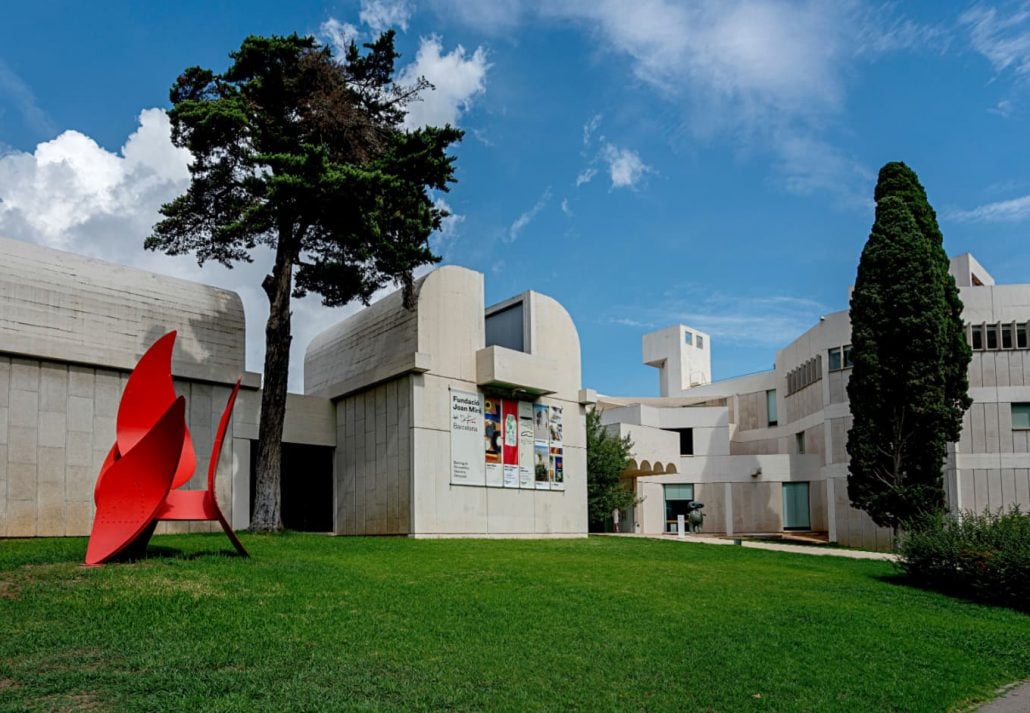 The Joan Miró Foundation is another must-visit place for culture lovers that visit Barcelona. Praised as one of the best art museums in the city, the foundation was created by Miró himself to house works from his own private collection.
The museum is set within an impressive modernist building design by Catalan architect Josep Lluís Sert, and it houses some of Miró's most famous works like "Morning Star" and "Woman and Birds at Sunrise".
Casa Battlò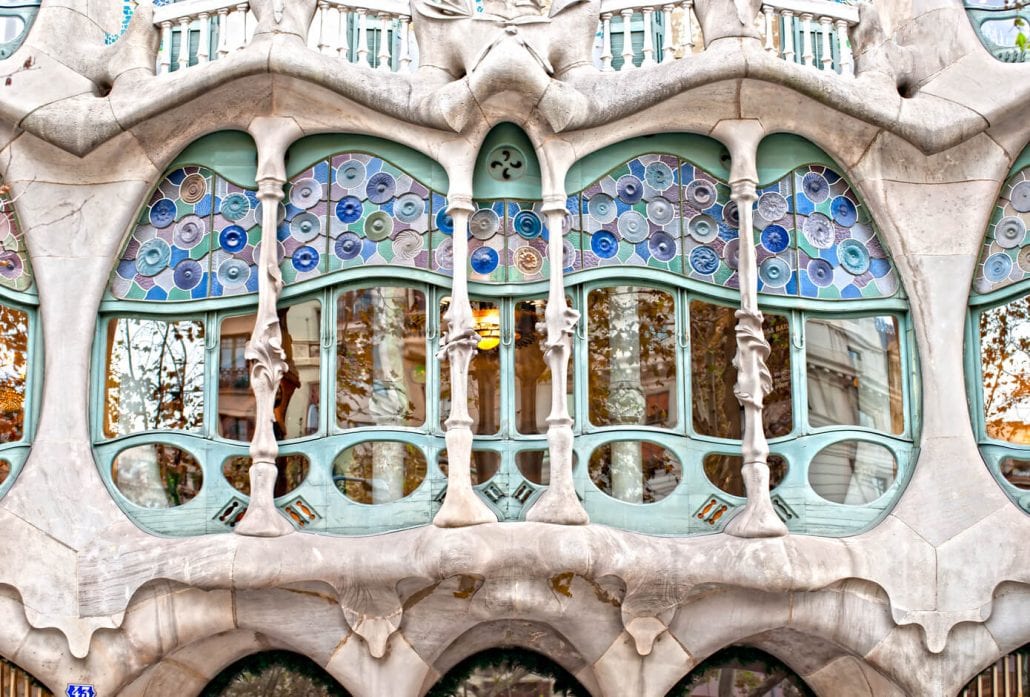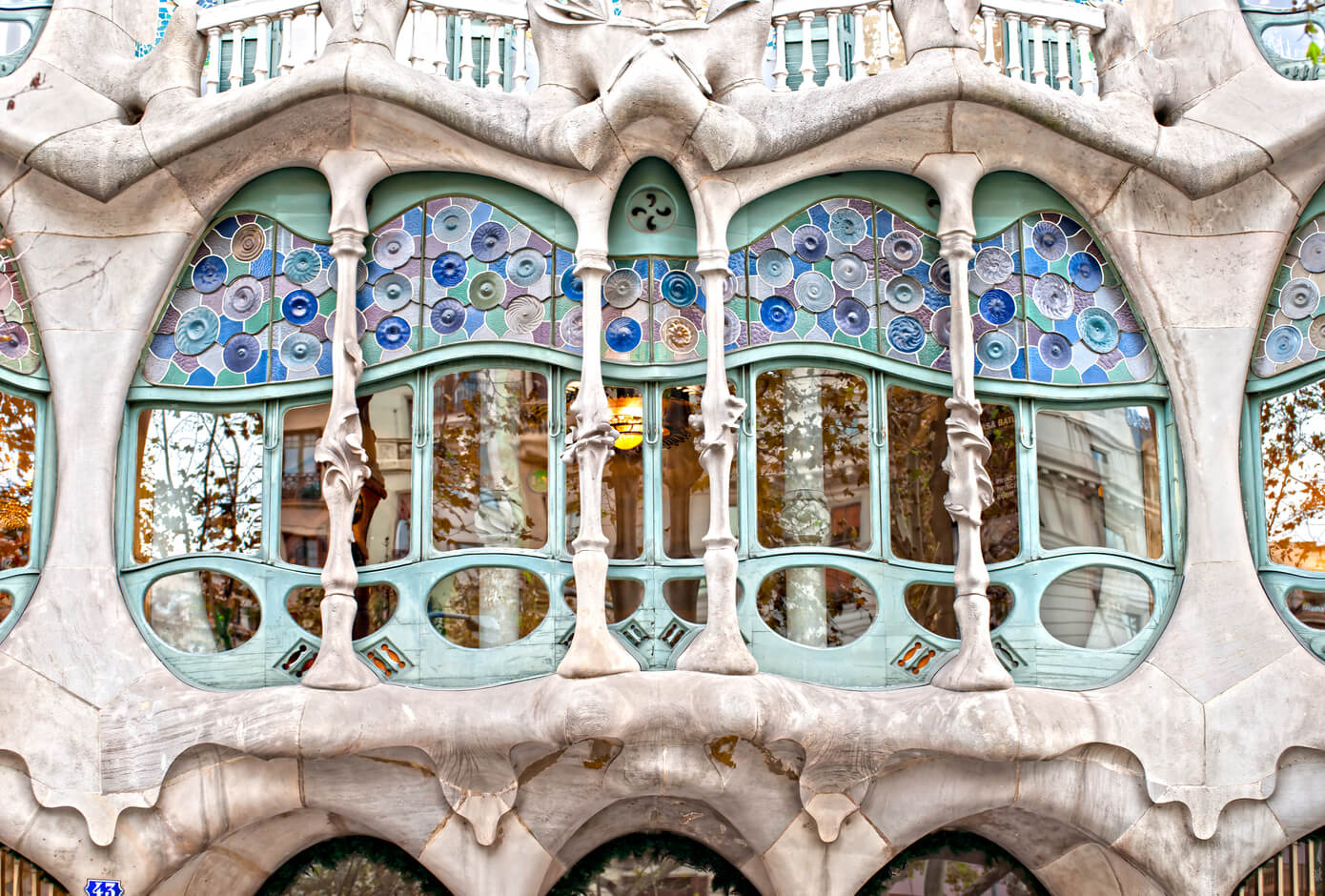 While exploring Barcelona's precious architectural gems, don't pass up the chance to visit Casa Battlò. Located on the leafy Passeig de Gràcia — one of the city's main avenues —, the house will certainly pop in front of your eyes with its colorful glass windows, sinuous shapes, and a picturesque roof that resembles the scales of an aquatic creature.
Originally built in 1877, the house was later redesigned by Gaud, who is said to have been inspired by the marine world and the Mediterranean Sea.
La Barceloneta Beach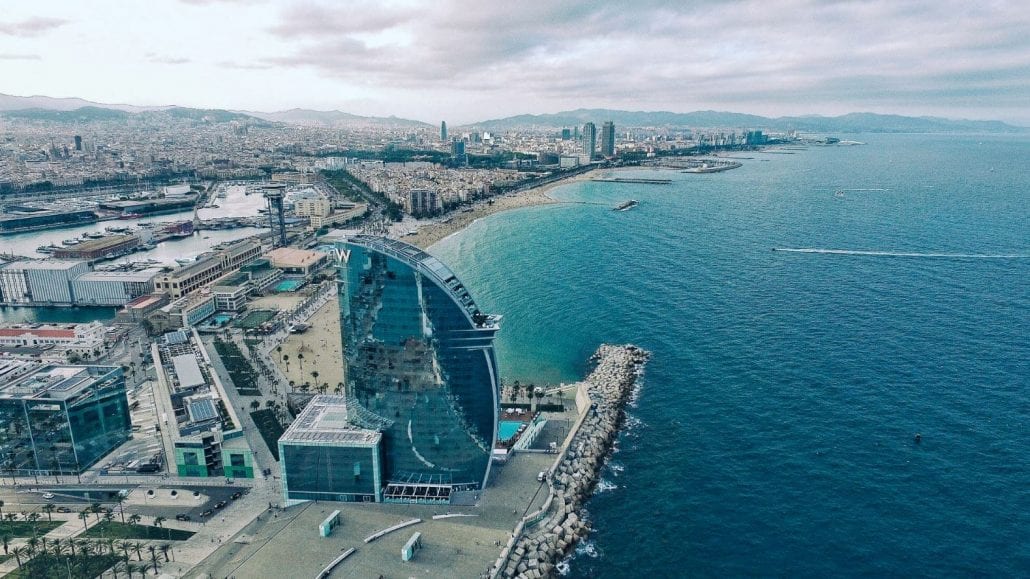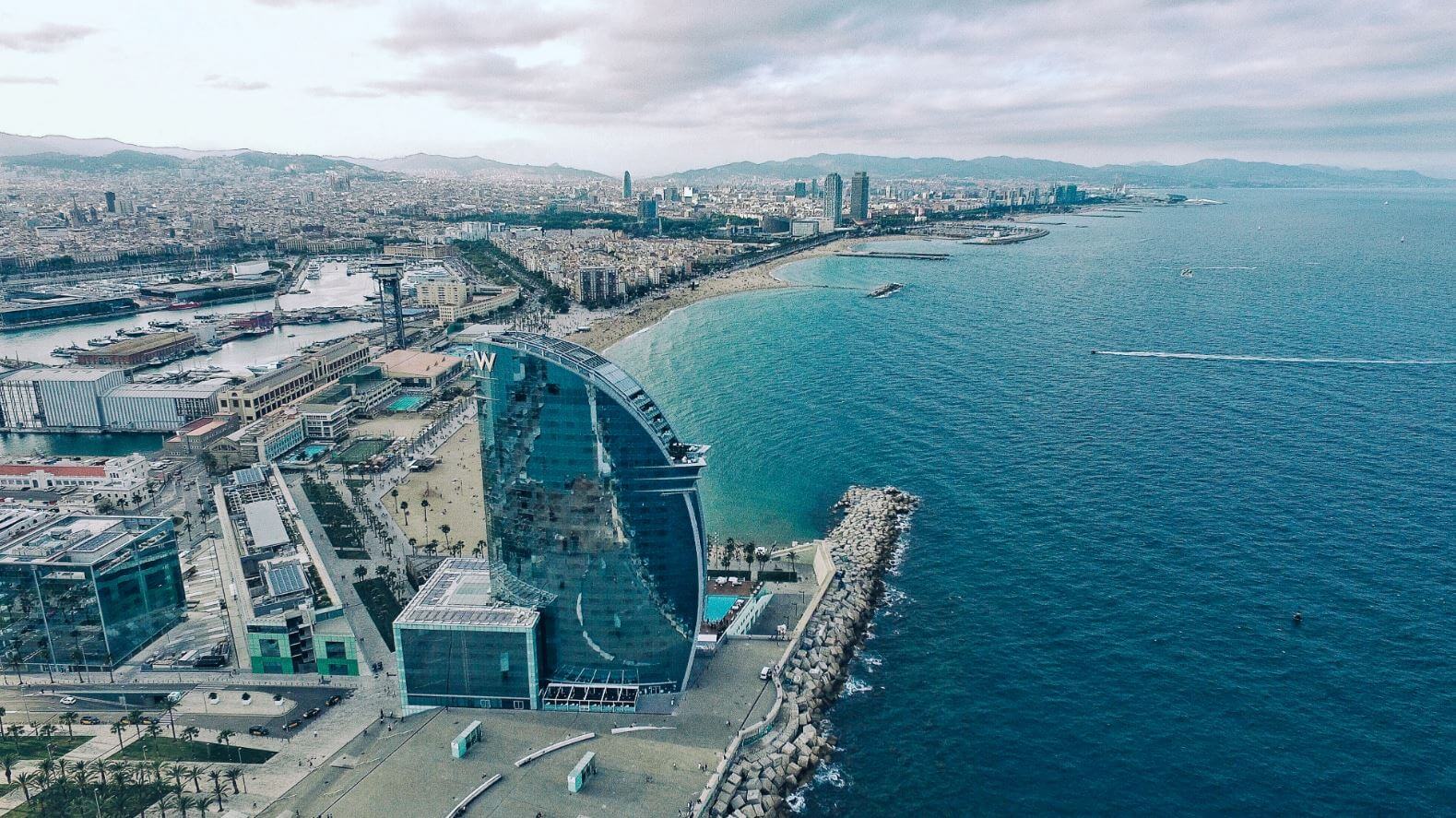 Whether you're visiting Barcelona during the summer or spring, Barceloneta Beach is a must-visit tourist attraction in the city.
The beach is located within walking distance from sites such as La Rambla, the Gothic Quarter, and Park Ciutadella, and is a prime spot for sunbathing, swimming, playing sports, or simply walking by the sea!
Around the beach, you'll find a myriad of delectable restaurants that are perfect for seafood galore. A must-try? Can Solé, which serves one of the best paellas and fideuás in the city!
Recommended Read: Best Beaches in Barcelona & Surroundings
Mount Tibidabo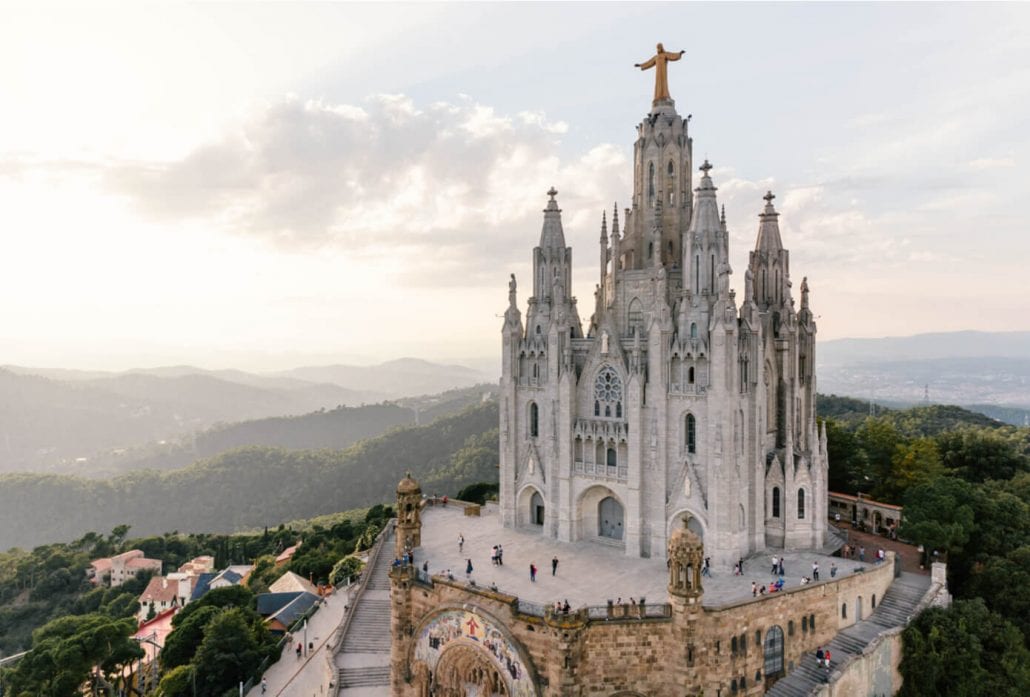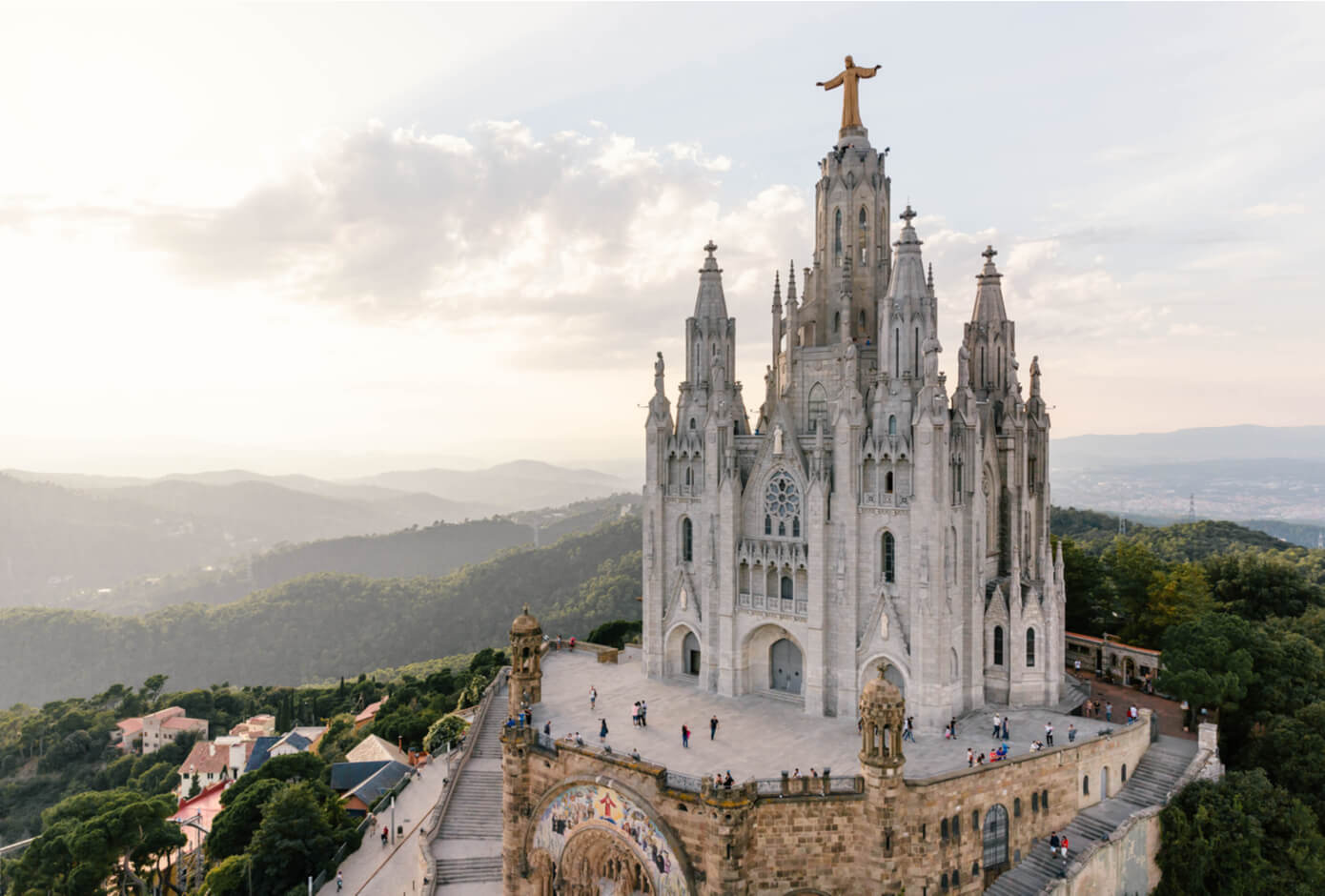 Barcelona is also a paradise for active and outdoorsy adventures. Travelers who are eager to get their hearts racing will have a great time while hiking Mount Tibidabo, which sits on the hills of the Collserola National Park.
The hike takes around 1 hour, and at the end, you'll be gifted with a jaw-dropping view of Barcelona and the sparkling waters of the Mediterranean.
Casa Milà (La Pedrera)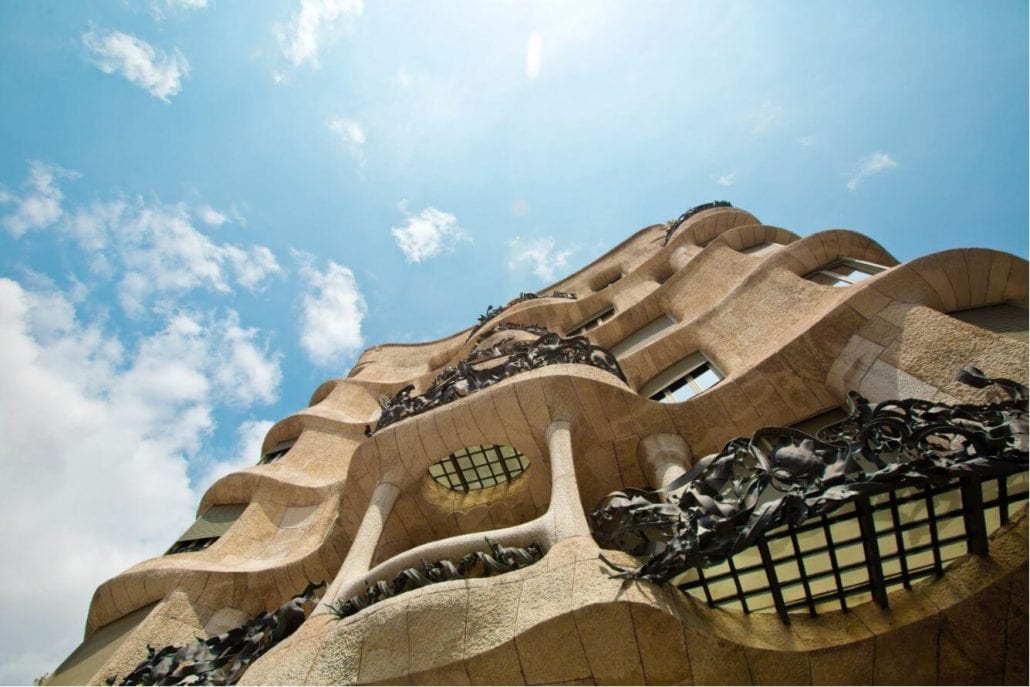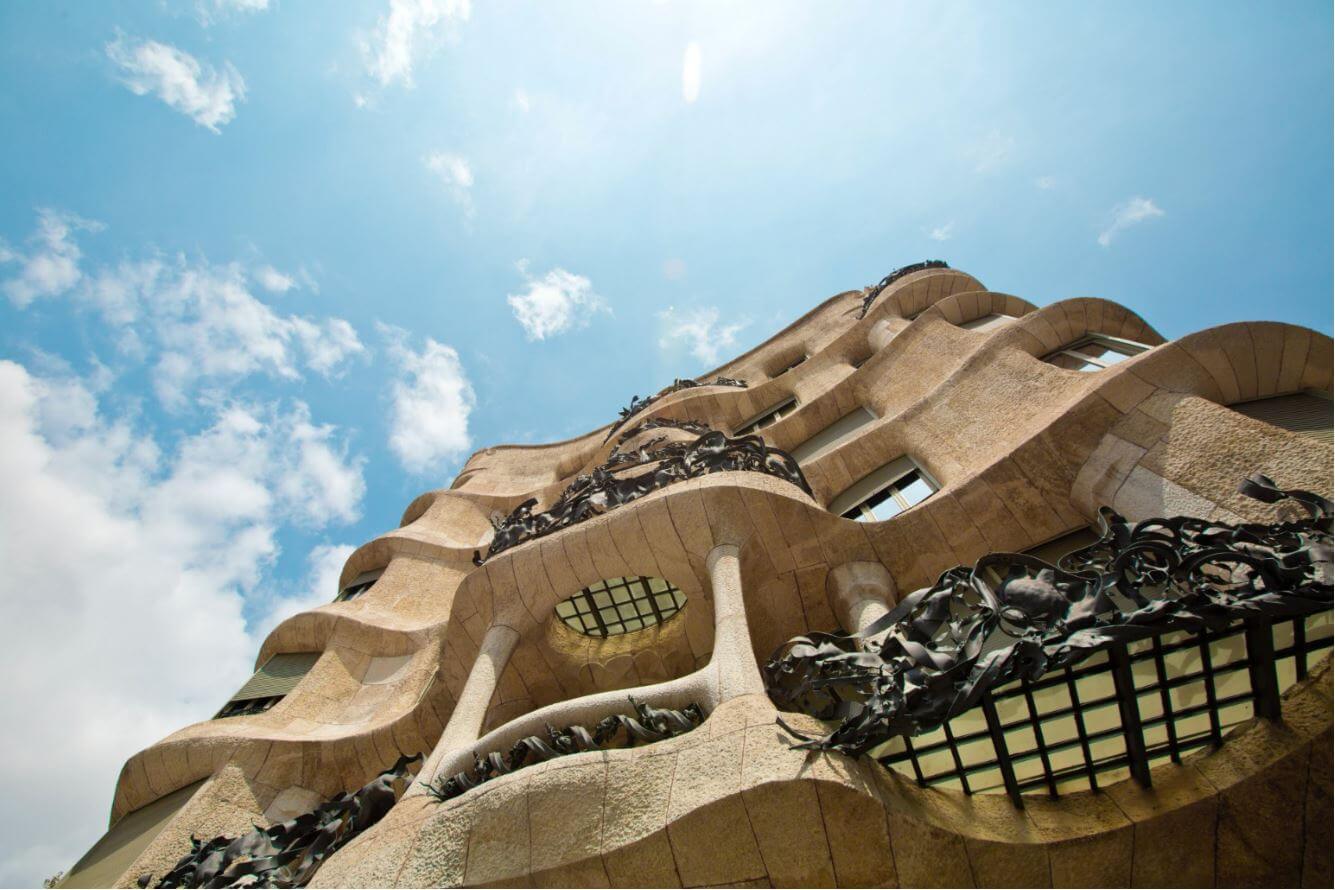 The last private residence designed by Gaudí, Casa Milà is often referred to as the architect's most iconic work of civic architecture.
Also known as La Pedrera ("the stone quarry"), the house has a stunning façade dotted with 32 balconies and is made of three types of stone — limestone from the Garraf, stone from Vilafranca del Penedès, and limestone from Ulldecona.
In the interiors, visitors can marvel at stunning tapestries by symbolist painter Aleix Clapés, and alluring ceilings decorated with inscriptions and even poems.
FAQ
What are the top attractions in Barcelona?
The top Barcelona attractions are:
Parc Güell;
Las Ramblas;
Museu Picasso de Barcelona;
La Sagrada Familia;
Miró Museum;
Casa Battlò;
Montjuïc Castle;
La Barceloneta Beach;
Mount Tibidabo;
Casa Milà (La Pedrera).
How many days do you need in Barcelona?
Barcelona is a big city filled with incredible sights and attractions. Therefore, plan to spend at least 3 days in the city.
CuddlyNest provides all accommodations to all travelers at the best price. Find unlimited travel inspiration on our blog and social media channels.
Here are some curated readings for you:
The Best Cities And Places To Visit In Spain
Spain Culture Travel Tips
Free Things To Do In Barcelona