Barcelona is a shopaholic's paradise that boasts an array of retail experiences suiting all budgets and shopping styles.
From charming streets dotted with exclusive luxury brands and lively flea markets brimming with vintage treasures, to massive shopping centers and big-name department stores, Barcelona will leave you spoiled for choice.
Here's an insider guide to the best shopping in Barcelona to help you decide where to indulge in well-deserved retail therapy.
Whether you're seeking to enjoy some high-end shopping or go antique hunting in vibrant street markets, the options are endless!
Find Places To Stay In Barcelona
10 Top Places To Go Shopping in Barcelona
Passeig de Gràcia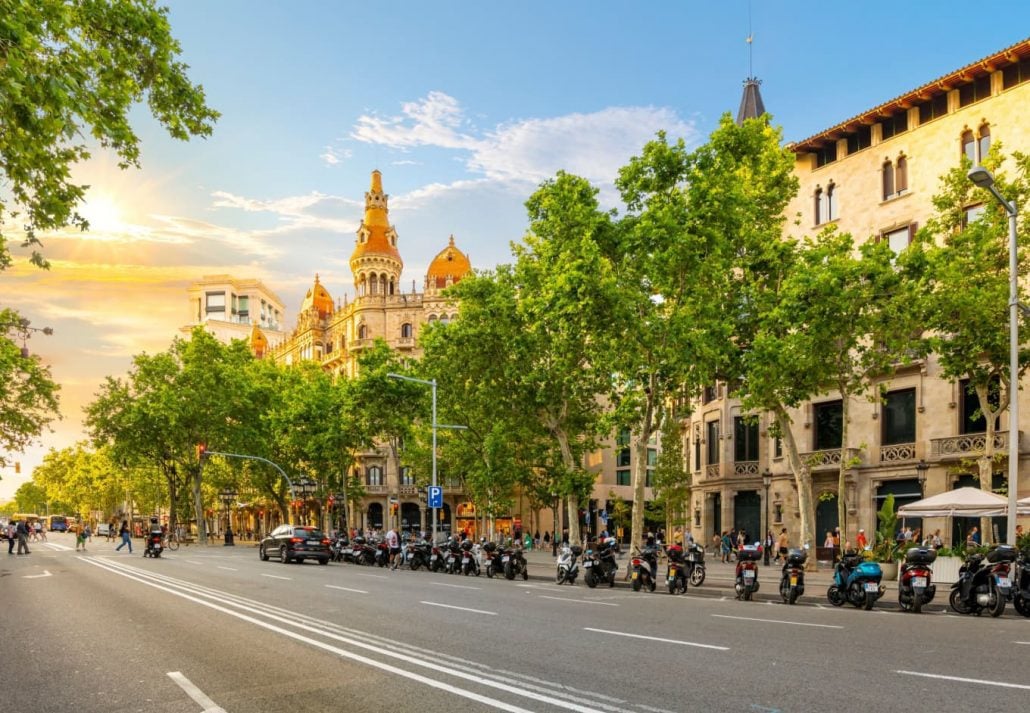 Located in the heart of Barcelona, Paseo de Gracia is undoubtedly one of the best places to go shopping in the city.
Lined with trees and adorned with picture-perfect buildings, this beautiful street is a go-to destination for luxury shopping in Barcelona.
While wandering around Passeig de Gràcia, you'll come across an array of luxury brands, designer boutiques, and upscale fashion houses.
You'll find fashion giants such as Gucci, Prada, Louis Vuitton, Jimmy Choo, and Chanel.
Beyond high-end fashion, Passeig de Gràcia also features flagship stores of many Spanish brands, such as Zara and Mango.
Additionally, the architectural beauty of the avenue itself is something to be experienced, as Passeig de Gracia is adorned with stunning buildings by Antoni Gaudí like Casa Batlló and Casa Milà.
Passeig de Gràcia effortlessly merges luxury, style, and cultural heritage, making it an absolute must-visit for any avid shopper seeking a taste of Barcelona's high-end retail scene.
Also Read:
Where To Stay in Barcelona: The 7 Best Areas
The 8 Coolest Hostels in Barcelona, Spain
The 5 Best Hotels in the Gothic Quarter, Barcelona
Plaça de Catalunya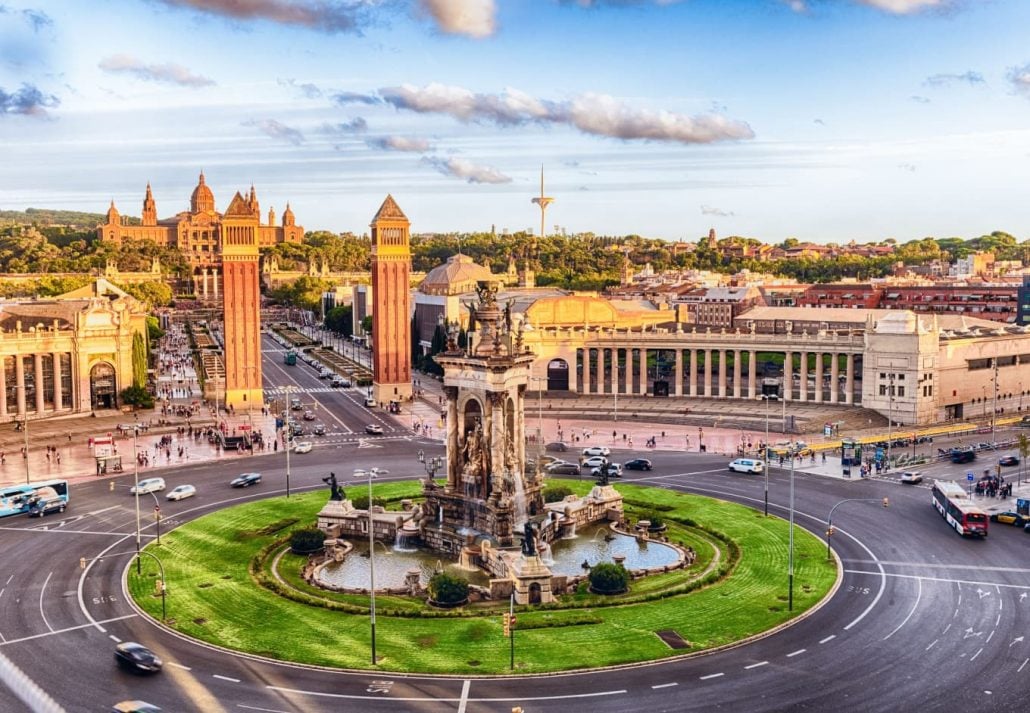 Plaza de Catalunya is a bustling square that serves as a gateway to Barcelona's vibrant shopping scene.
Situated in the city center, the square stands is best known for being home to the famous El Corte Inglés, the largest department store in Barcelona.
El Corte Inglés towers over the square and is a true retail powerhouse, offering everything from fashion and accessories to home goods, electronics, cosmetics, clothing, and gourmet food.
It caters to shoppers of all preferences and budgets, ensuring a comprehensive and satisfying shopping experience.
Some of the top brands you'll find in El Corte Inglés Barcelona are Gap, Levi's, Hugo Boss, Lacoste, Adidas, and Apple, to name a few.
Plaça de Catalunya offers a seamless fusion of retail therapy and urban charm, making it one of the best places to go shopping in the city. One of the standout features of this square is the iconic
Additionally, Plaça de Catalunya serves as a strategic hub, connecting various shopping districts and neighborhoods, such as the vibrant Las Ramblas and the upscale Passeig de Gràcia.
With its central location and the presence of El Corte Inglés, Plaça de Catalunya serves as an undeniable retail haven that should be on the itinerary of any enthusiastic shopper exploring Barcelona.
La Rambla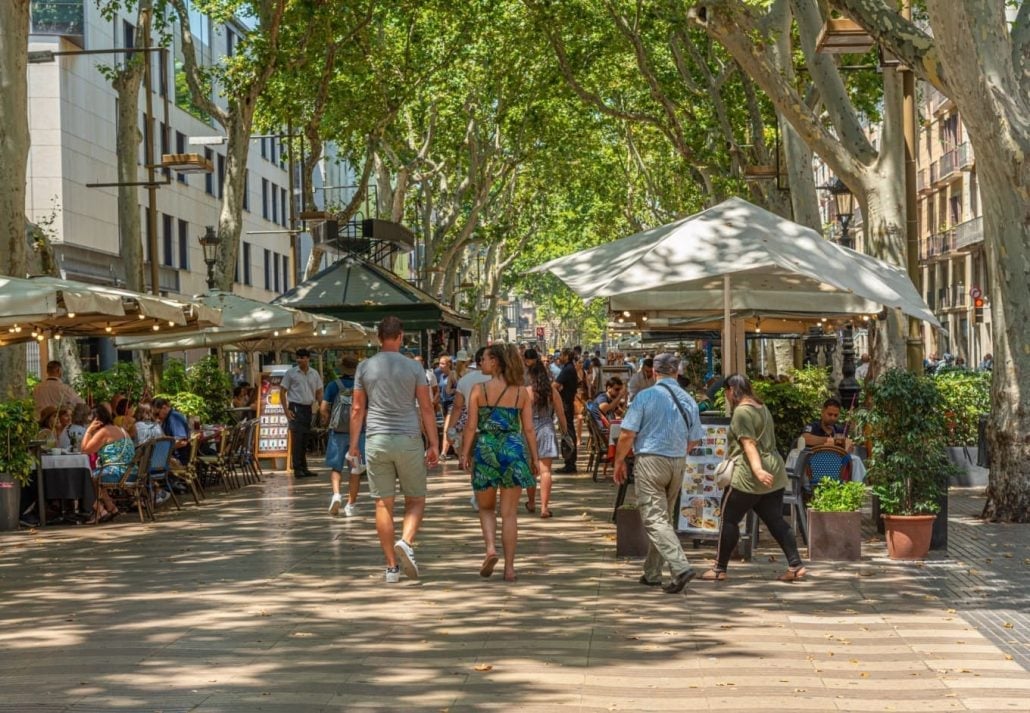 La Rambla is probably the most famous street in Barcelona.
Stretching for ¾ miles connecting Plaça de Catalunya with the Christopher Columbus Monument at Port Vell, this tree-lined boulevard is dotted with an array of shops and boutiques where visitors can find unique goodies.
The street is mostly filled with souvenir shops, making it a great destination for travelers seeking to find Barcelona-themed gifts to bring home.
Flamboyant street performers and colorful flower stands add to the vibrancy of Las Ramblas.
When exploring this popular shopping street, make sure to stop by La Boqueria Market, one of the most famous food markets in the world.
Embracing the vibrant spirit of the city, La Rambla offers a captivating blend of culture, entertainment, and shopping.
Gothic Quarter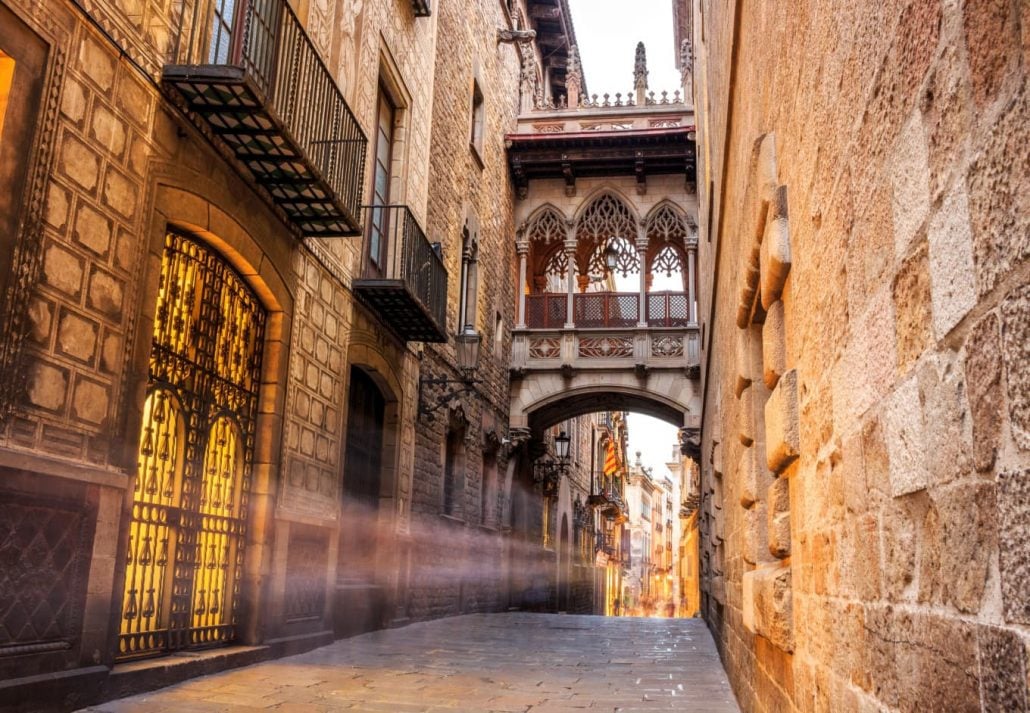 The Gothic Quarter is a captivating neighborhood that seamlessly blends history, culture, and shopping.
With its winding narrow streets and charming medieval architecture, this district also happens to be one of the best shopping areas in Barcelona.
The narrow streets of the Gothic Quarter are home to a plethora of vintage stores, making the neighborhood a great shopping spot, especially for those seeking antiques, books, second-hand clothing, and more.
Here you'll also come across big multinational brands like Zara, Pull & Bear, H&M, Mango, Berska, Levis, Benetton, and Desigual.
Aside from world-class shopping opportunities, the Gothic Quarter also offers visitors amazing tourist experiences.
This history-filled neighborhood is home to some of the top Barcelona attractions, including the Picasso Museum, and the Barcelona Cathedral.
La Roca Village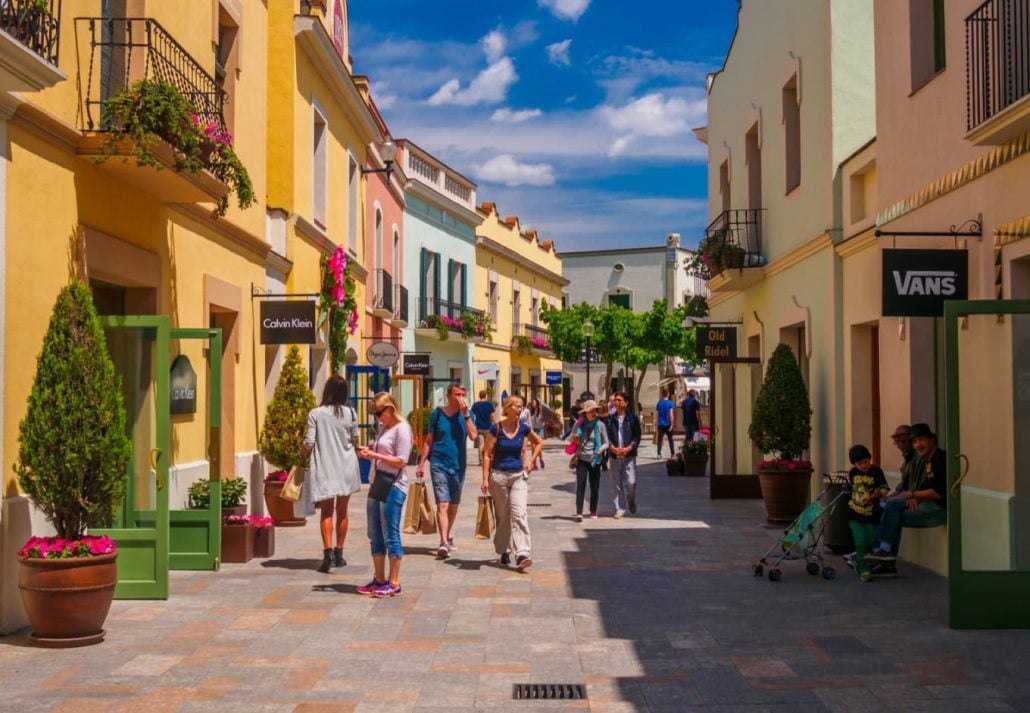 La Roca Village is an open-air shopping mall located just outside of Barcelona.
This outlet shopping mall is a great place for luxury-loving buyers seeking to buy designer items at discount prices.
Here, you'll come across an exclusive selection of over 150 high-end designer brands and luxury fashion labels like Boss, Dolce & Gabbana, Armani, Burberry, Gucci, and Prada.
While browsing through La Roca's high-end stores, you'll find an array of fashion and lifestyle items, all with up to 60% off all year round.
Address: La Roca Village s/n, 08430 Santa Agnès de Malanyanes, Barcelona, Spain
Diagonal Mar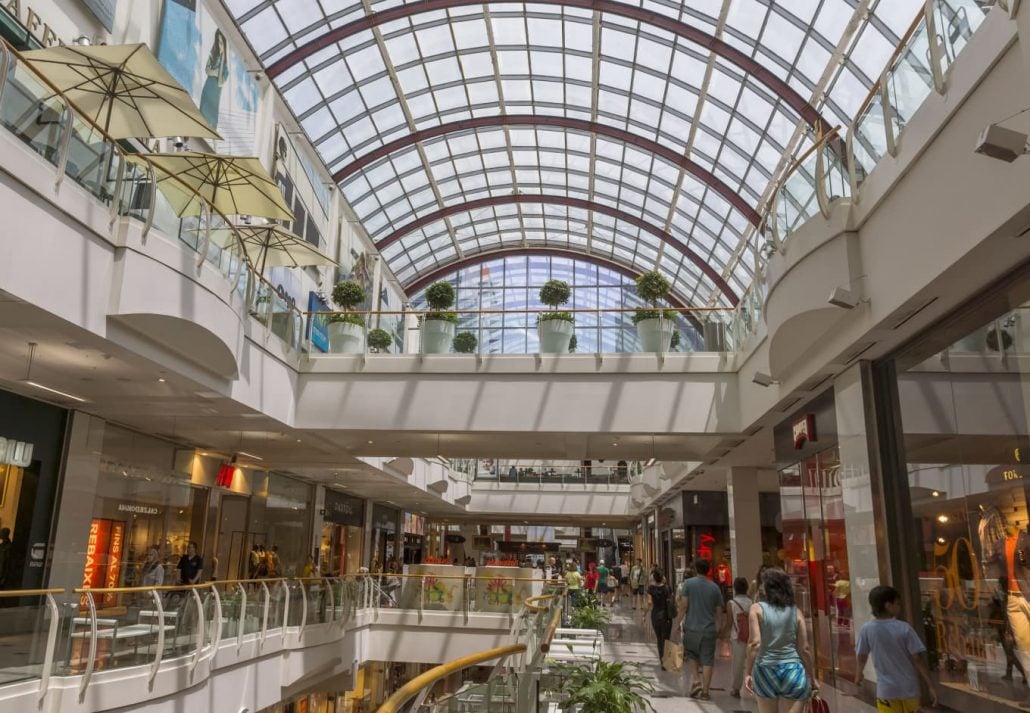 Located in Barceona's newly reformed seafront area, Diagonal Mar is one of the best shopping malls in the city.
This contemporary shopping complex offers a diverse range of stores, entertainment options, and dining experiences, making it an excellent choice for those seeking a comprehensive shopping excursion.
Diagonal Mar Centre is renowned for its extensive selection of national and international brands, such as Bershka, Flying Tiger, Lefties, Mango, Zara, Sephora, and a massive Primark Store.
There's a food court filled with restaurants serving an array of cuisines — from Japanese to Italian —, and a cinema with 3D rooms.
Address: Avenida Diagonal 3, 08019 Barcelona, Spain
Portal de l'Àngel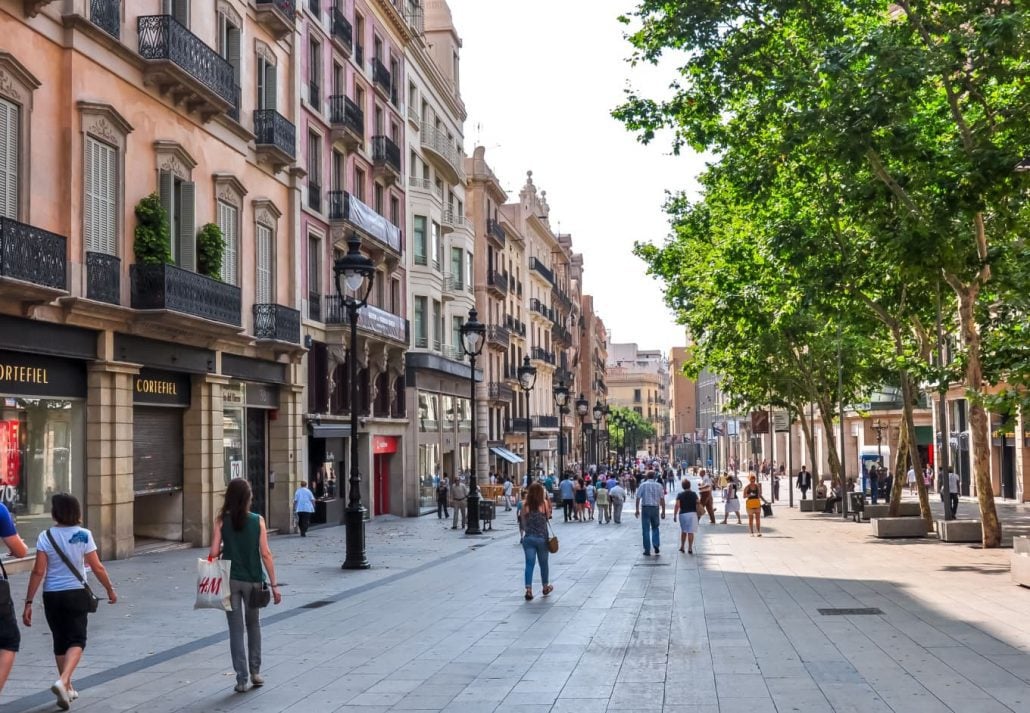 Portal de l'Àngel is a vibrant pedestrian street that holds a special place in the city's shopping landscape.
Renowned as one of the best places to go shopping in Barcelona, Portal de l'Àngel has a mix of popular international brands, trendy fashion boutiques, and local Spanish retailers.
Visitors can find brands such as Zara, H&M, Pull&Bear, Bershka, and an El Corte Inglès department store.
Its central location near major attractions, such as the Gothic Quarter and Plaça de Catalunya, makes it easily accessible and a natural starting point for a shopping expedition.
Portal de l'Àngel is also known for its vibrant and lively atmosphere. Bustling crowds, street performers, and even locals doing traditional Catalan dancing all add to the area's bustling ambiance.
Las Arenas de Barcelona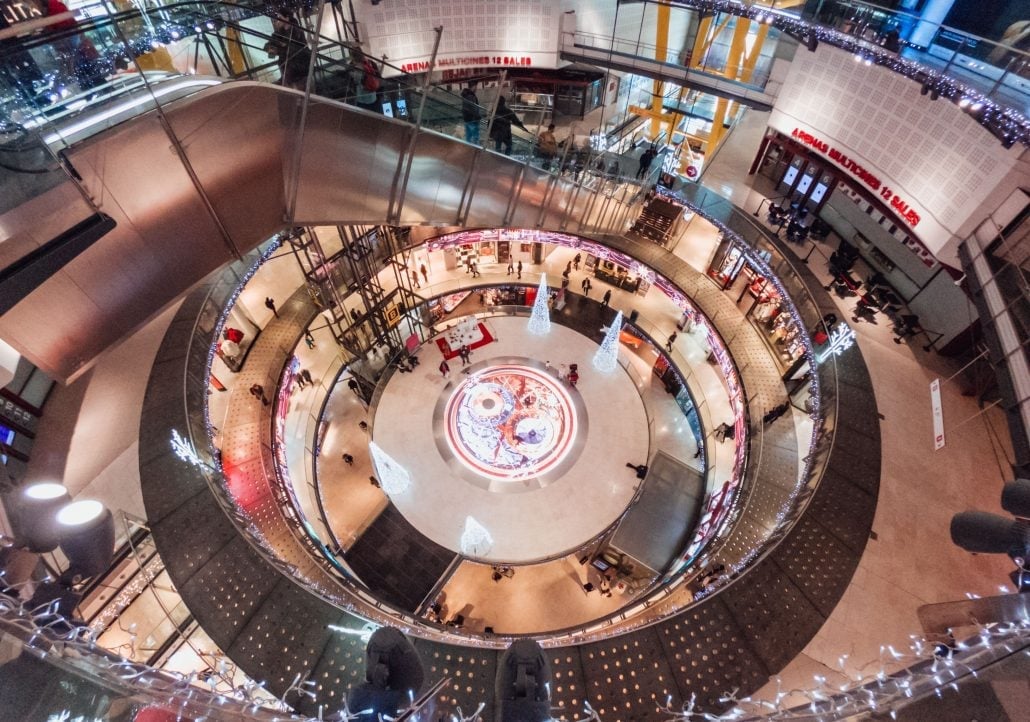 Las Arenas de Barcelona is a unique shopping center housed in a beautifully restored former bullring, which adds a touch of grandeur and charm to the shopping experience.
Situated in Plaça España, this shopping complex has over 100 stores where you can find an extensive selection of fashion, accessories, electronics, home goods, and more.
Some of the big-name brands you'll find in Las Arenas de Barcelona include Lush, Mango, Nespresso, Sephora, and Kiko Milano.
One of the standout features of Las Arenas is its stunning rooftop terrace, which provides breathtaking panoramic views of Barcelona, including Montjuïc Hill and the Magic Fountain.
This rooftop space is not only a great spot to relax and take in the cityscape but also offers a delightful assortment of restaurants and cafes, allowing shoppers to enjoy a meal or a refreshing drink with a stunning backdrop.
Els Encants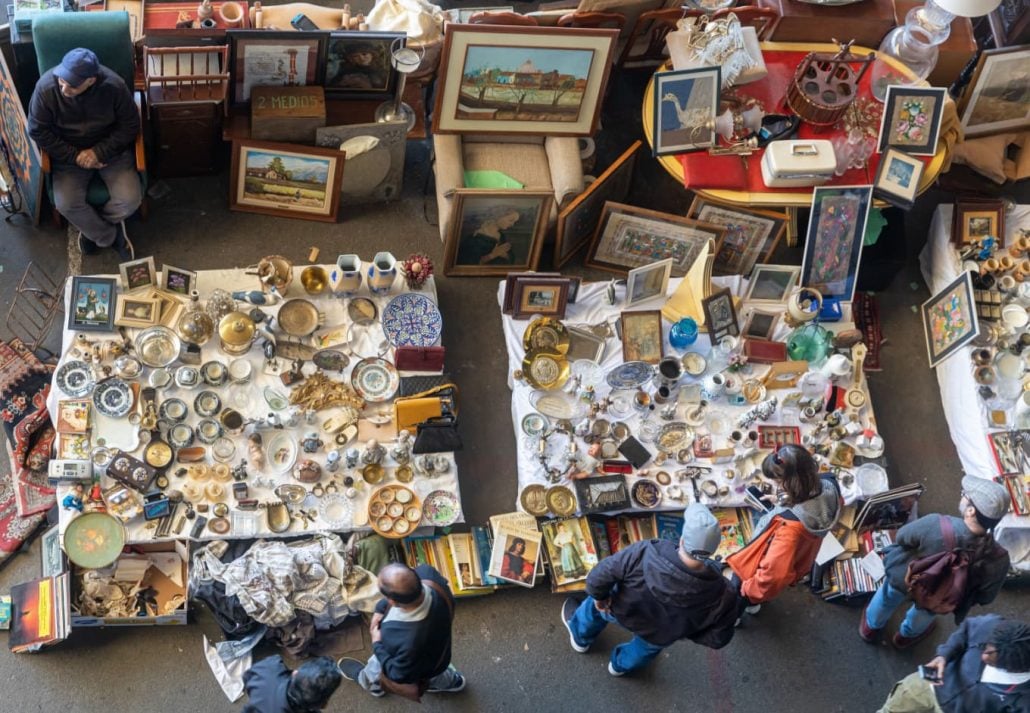 Also known as Fira de Bellcaire Els Encants is a renowned flea market in Barcelona that has earned its reputation as one of the best places to go shopping in the city.
With a history dating back over 700 years, Els Encants offers a unique and eclectic shopping experience that attracts both locals and tourists alike.
This bustling market is a treasure trove of hidden gems, where visitors can find an extraordinary variety of items, ranging from antiques and vintage clothing to furniture, artwork, books, and collectibles.
Whether you're a seasoned collector, a vintage enthusiast, or simply looking for a distinctive souvenir, Els Encants promises an unforgettable shopping adventure.
Westfield La Maquinista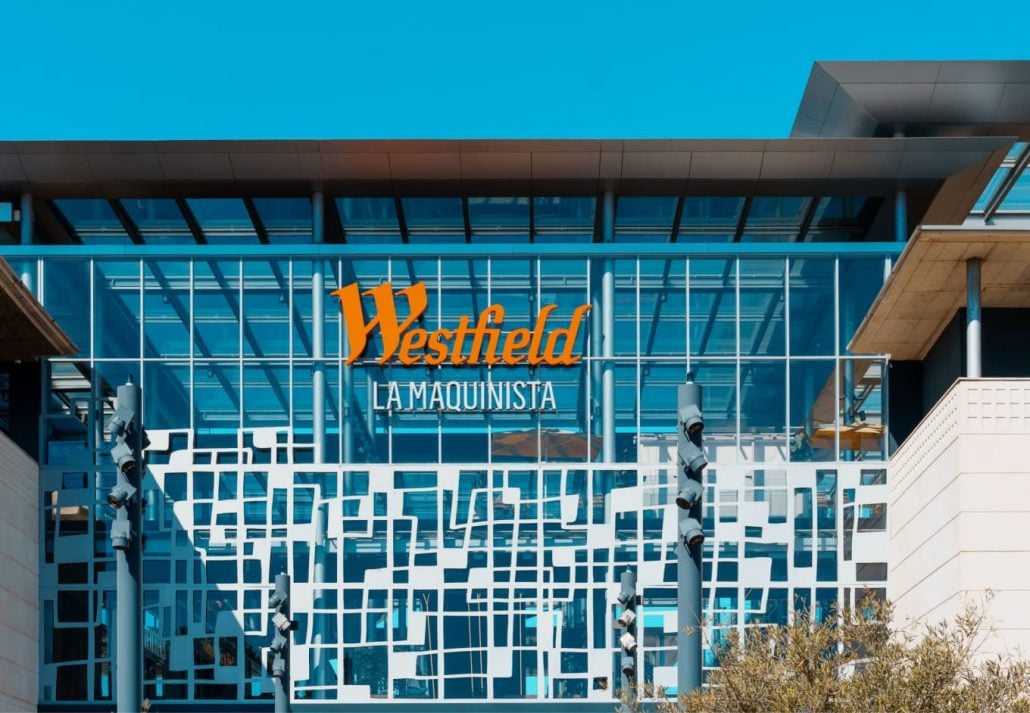 Westfield La Maquinista is an expansive shopping center featuring over 150 stores.
Visitors can explore an extensive selection of fashion, accessories, electronics, books, cosmetics, home goods, and more, all under one roof.
Some of the most famous you'll find here include Adidas, Pull&Bear, Mango, H&M, Uniqlo, Zara, and Victoria's Secret, to name a few.
The mall's modern and spacious design creates a comfortable and inviting atmosphere, allowing shoppers to browse and discover their favorite brands with ease.
Beyond shopping, Westfield La Maquinista offers an abundance of leisure and entertainment facilities, including a cinema complex, and a variety of restaurants, ensuring a well-rounded and enjoyable visit for the entire family.
Address: C/ de Potosí, 2, 08030 Barcelona, Spain
FAQ
Is Barcelona good for shopping?
Yes, Barcelona is renowned as a fantastic city for shopping. It offers a diverse and vibrant retail scene that caters to all tastes, styles, and budgets. Whether you're looking for high-end designer stores, local designers, bustling street markets, or modern shopping centers, Barcelona has it all.
What is the most famous shopping street in Barcelona?
One of the most famous shopping streets in Barcelona is Passeig de Gràcia. Known for its elegance and luxury, Passeig de Gràcia is a bustling avenue lined with high-end designer stores, prestigious fashion brands, and upscale boutiques.
Where do people go shopping in Barcelona?
The best places to shop in Barcelona are:
Passeig de Gràcia
Plaça de Catalunya
La Rambla
Gothic Quarter
La Roca Village
Diagonal Mar
Portal de l'Àngel
Las Arenas de Barcelona
Els Encants
Westfield La Maquinista
What is the best shopping street in Barcelona?
Carrer Del Rec, Carrer de la Princessa, Carrer dels Flassaders, Carrer de l'Argenteria, and Passeig de Gràcia are the best shopping streets in Barcelona.
Which brands are cheap in Barcelona?
Famous fast fashion brands like Pull & Bear, Zara, Springfield, H&M, Bershka, Mango, and more are great places for budget-friendly shopping in Barcelona.
What is the fancy shopping street in Barcelona?
Filled with luxury designer shops and often compared to the Champs-Élysées in Paris and Fifth Avenue in New York City, Passeig de Gràcia is the fanciest street in Barcelona.
Browse. Book. Stay.
CuddlyNest provides all accommodations to all travelers at the best price. Find unlimited travel inspiration on our blog and social media channels:
Facebook, Instagram, Pinterest, and X.
You Might Also Like:
Spain Travel Apps
The 7 Best Places For Shopping in Madrid
10 Best Hotels In Madrid, Spain
The 11 Best Tapas Bars in Madrid
The 12 Best Neighborhoods in Madrid
Madrid With Kids: 12 Fun Things To Do In The City
Best Museums In Madrid, Spain
Tourist Attractions in Barcelona
Best Cities to Visit in Spain
La Tomatina Festival, Spain
Eating Tapas In Granada, Spain
Vegan Restaurants in Alicante, Spain
A Complete Guide To The 15 Best Festivals In Spain
The 10 Best Spanish Cheese You Should Try
The Ultimate Guide to Lobos Island, Spain
The Best Time To Visit Madrid, Spain