Lobos Island, or Isla de Lobos, is a small paradisiac island that many travelers don't know much about yet. Surrounded by idyllic beaches of gin-clean waters and white sand, the destination is a true heaven for travelers who are seeking to spend some recharging time around nature.
Isla de Lobos is part of the Canary Islands archipelago, and it's located just about 100 km west of Morocco, only 2 kilometers north of the island of Fuerteventura.
With pleasantly warm weather, Lobos Island is home to one of the most diverse ecosystems in Europe, and it harbors over 130 plant species and a great variety of seabirds and fishes. For this reason, it has been designated as a protected zone and a special protection area (SPA) for birds.
Thanks to its stunning natural features, this Lobos Island is the perfect sojourn destination for those who are seeking maximum calm and relaxation. Plus, Lobos Island is suitable for all types of travel, from family-friendly getaways to romantic escapes.
To help you plan a memorable trip to Lobos Islands, we've created a comprehensive guide with all the information you need to know about this otherworldly beach destination. Have look!
Note: Make sure to double-check COVID 19 precautions, protocols, and operating hours before you visit any of these sites.
Everything You Need To Know About Visiting Lobos Island
What To Expect From Lobos Island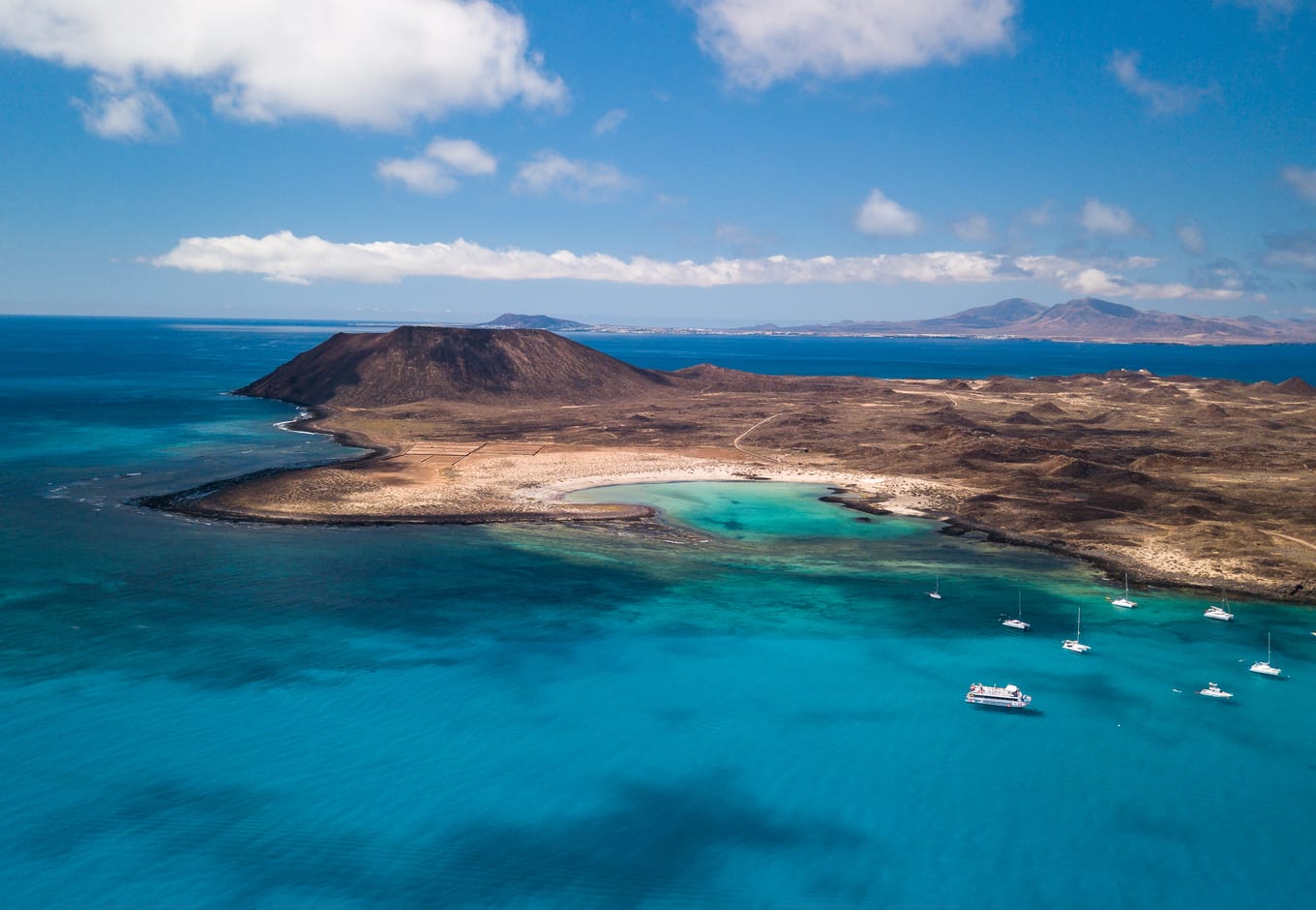 Spanish Islands are well-known for their gorgeous playas with crystal clear water and white sand. And Lobos Island has all of that, but without being overcrowded with tourists. Instead, Isla de Lobos offers a more authentic experience for nature-lovers and those who are looking for a more chill atmosphere.
In Lobos Island, you'll be able to experience nature at its best. You can soak up the sun on the local beaches, climb rocky cliffs, and check the view of the island, swim with exotic fish species, hit hiking trails, and more.
Why Travel To Isla de Lobos
One of the main features that attract worldwide travelers to Lobos Island is this destination's rich biodiversity. Classified as a Protected Natural Park, the island is home to more than 130 plant species and a myriad of bird species.
The Lobos Islands are frequently visited by several migratory birds, some in danger of extinction like Pardelas, Paíños, and el Petrel de Bulwer, which makes it a prime spot for birdwatching. 
Home to an untouched volcanic landscape, the Lobos Islands is also praised for its gorgeous beaches that are perfect for snorkeling, swimming, and sunbathing. The most famous one is, unarguably, Playa de la Concha (La Concha Beach), a 
Lobos Island: A Brief History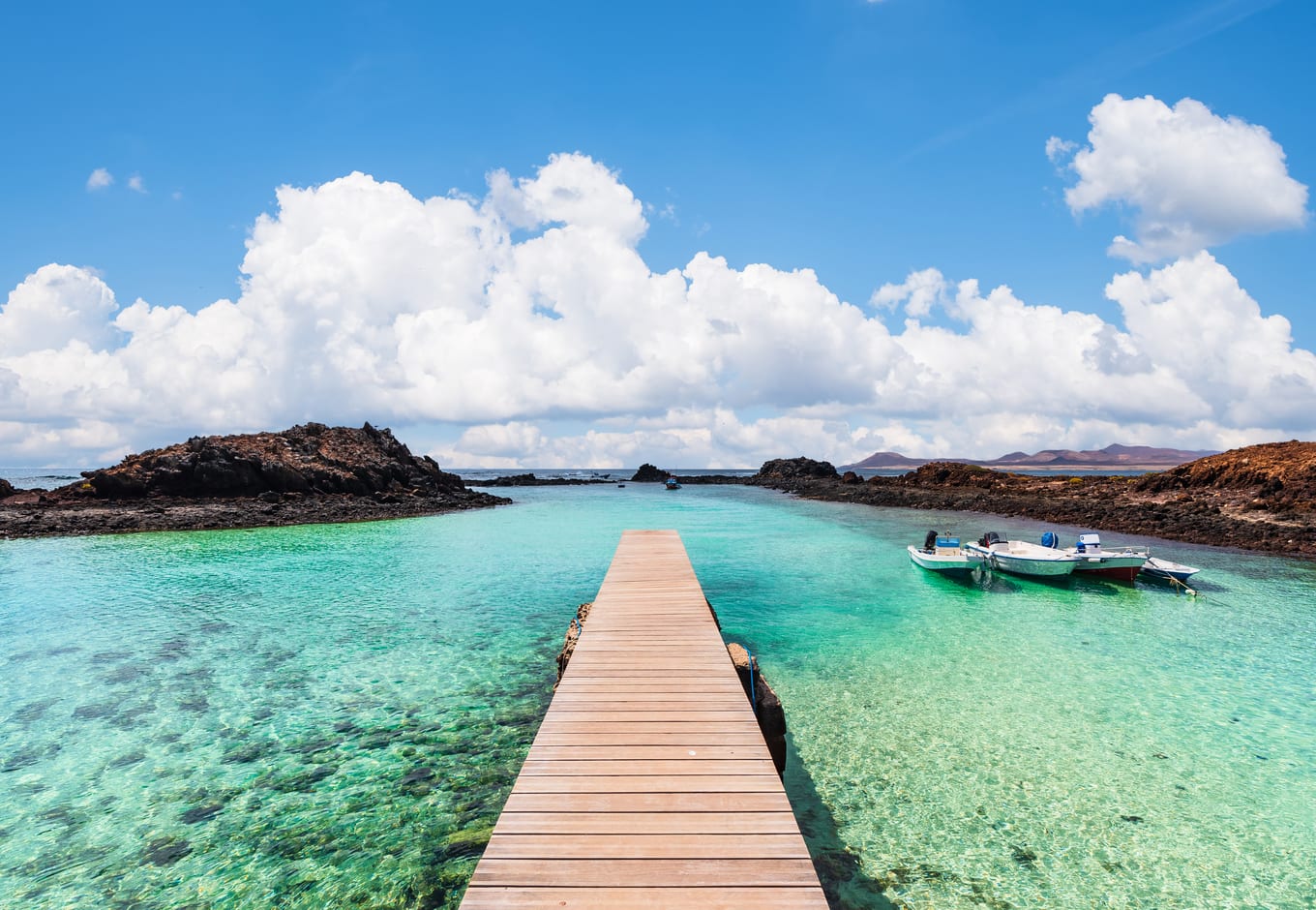 Lobos means "wolves" in Spanish, and the island was named after a large number of sea wolves that once lived in the area. Throughout the centuries, Lobos Island has preserved its natural beauty, and only recently it started attracting inhabitants, which are mostly nature enthusiasts and geologists from all around the world.
Lobos Island was once part of the Roman Empire. However, Romans were there only for a short season, and it's believed that they have established a settlement on the island to obtain the purple dye, which is produced by several species of sea snail.
In the 15th century, the island served as a base for the French explorer Jean de Béthencourt in his conquest of the near Canary Island Fuerteventura. However, the only inhabitants of the island in modern times up until 1968 were the lighthouse keeper and his family, who were operating Faro de Lobos lighthouse at the Northern tip of the island.
In 1982, Lobos was the first Canary Island to have an area designated as a natural park.
When the Spanish discovered the island, there were only a few inhabitants. And even though a lot has changed since then, nature still dominates the island.
The best part of being a visitor to Lobos Island is the fact that nature is not commercialized yet, which means you can hike the trails and watch sunsets right from the cliff without hordes of tourists behind you. So plan your visit while you can!
The Perfect Day Trip In The Canary Islands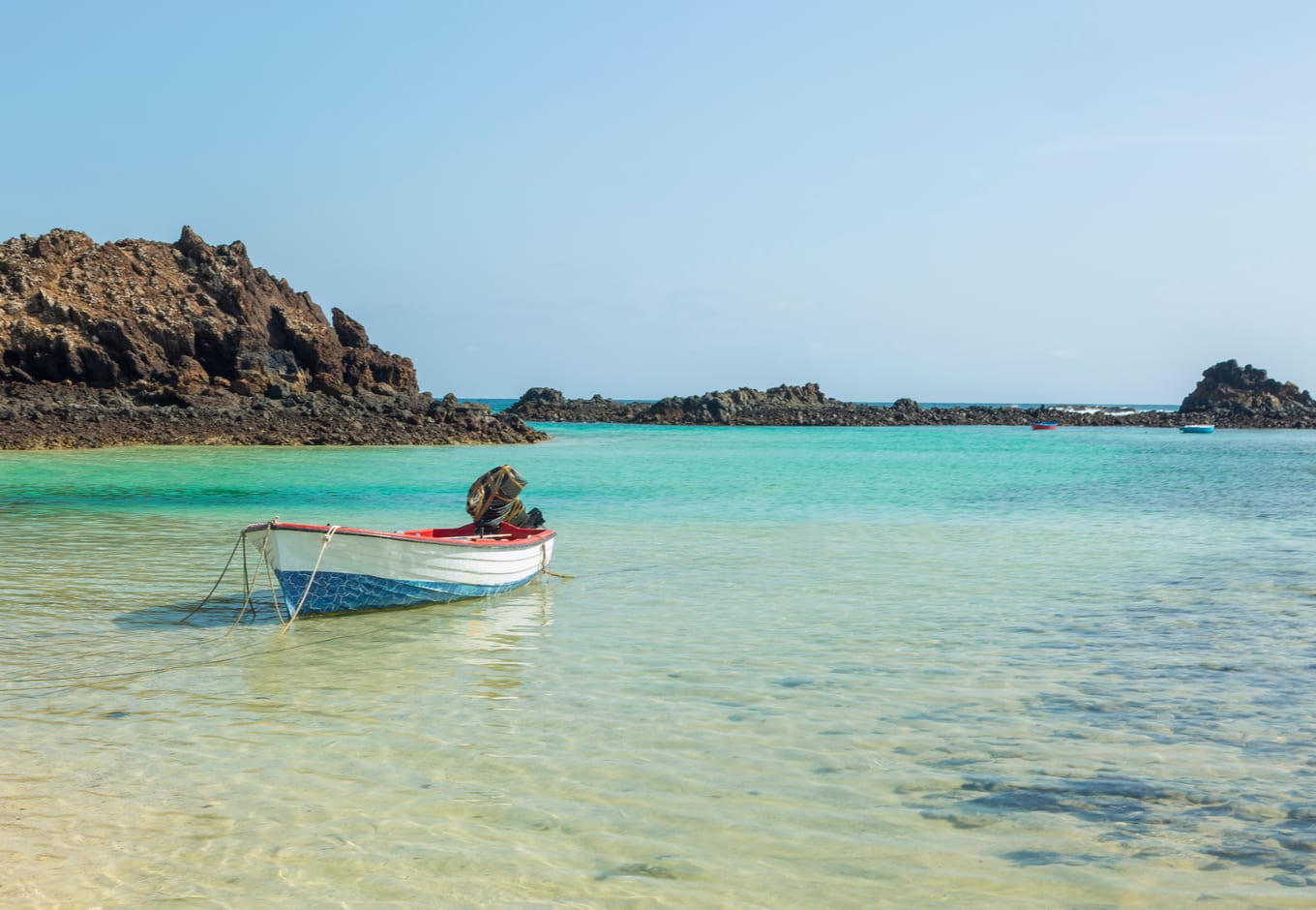 A great idea for travelers who plan a trip to the Canary Islands is to include Lobos Island on the itinerary as a day trip getaway. The island is part of the Las Palmas de Gran Canaria municipality, also known as Las Palmas, and it's a great destination for a short trip, especially for couples.
What makes Lobos Island so different from the other surrounding islands, like Fuerteventura, Lanzarote, La Palma, or La Gomera, is the fact that the islet of Lobos is one of the flattest ones, with the highest peak on Caldera de Lobos raising only 126 meters above the sea level.
This means that Lobos Island offers easier tracks for climbers, as other volcanoes in the Canaries, such as Mount Teide, in Tenerife, or Roque de Los Muchachos, in La Palma, is much higher.
Keeping one entertained on Lobos Island is no challenge. From dolphin watching to local music concerts, Lobos is filled with fun activities that will keep you entertained.
How To Get To Lobos Island, Spain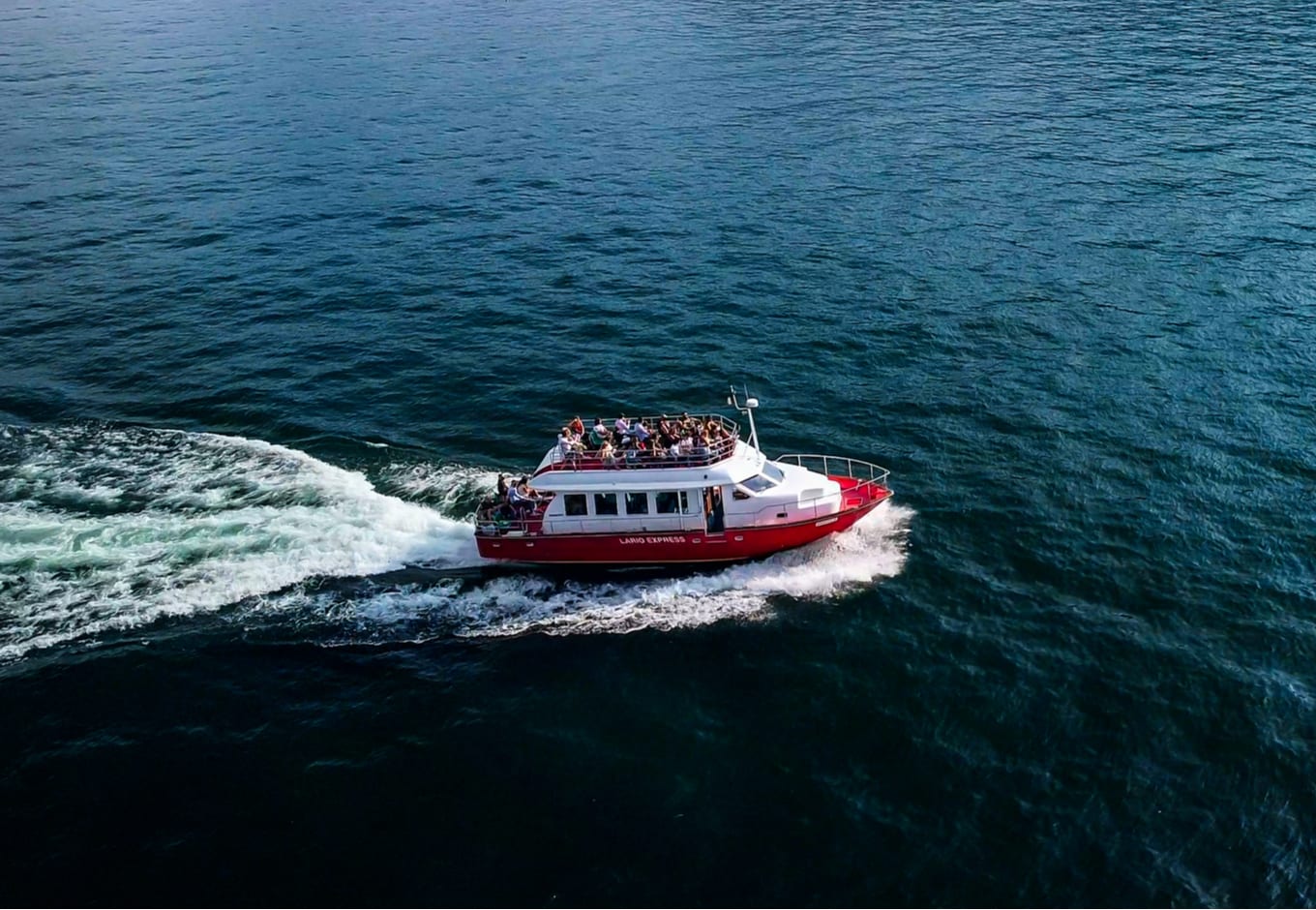 The best way to get from the mainland to Lobos island is by taking a ferry. And, if you are used to kayaking in the sea, you can get from Fuerteventura to Lobos.
To go to Fuerteventura, you have several options. We suggest taking a train or driving to Huelva, and then taking a ferry to Arrecerife (ferries go once a week) and then to Fuerteventura Puerto del Rosario. However, if you are very tight on budget, direct flights may turn out to be a better choice, saving you over €100 one way.
Visiting Lanzarote is slightly cheaper if you go by train and ferry via Cordoba, but flights from Sevilla and Malaga cost around the same as to Fuerteventura. In the low season, you can get to Lanzarote for as little as €75, and the best time to travel for the cheapest tickets is in October.
How to Get a Permit to Visit Lobos Island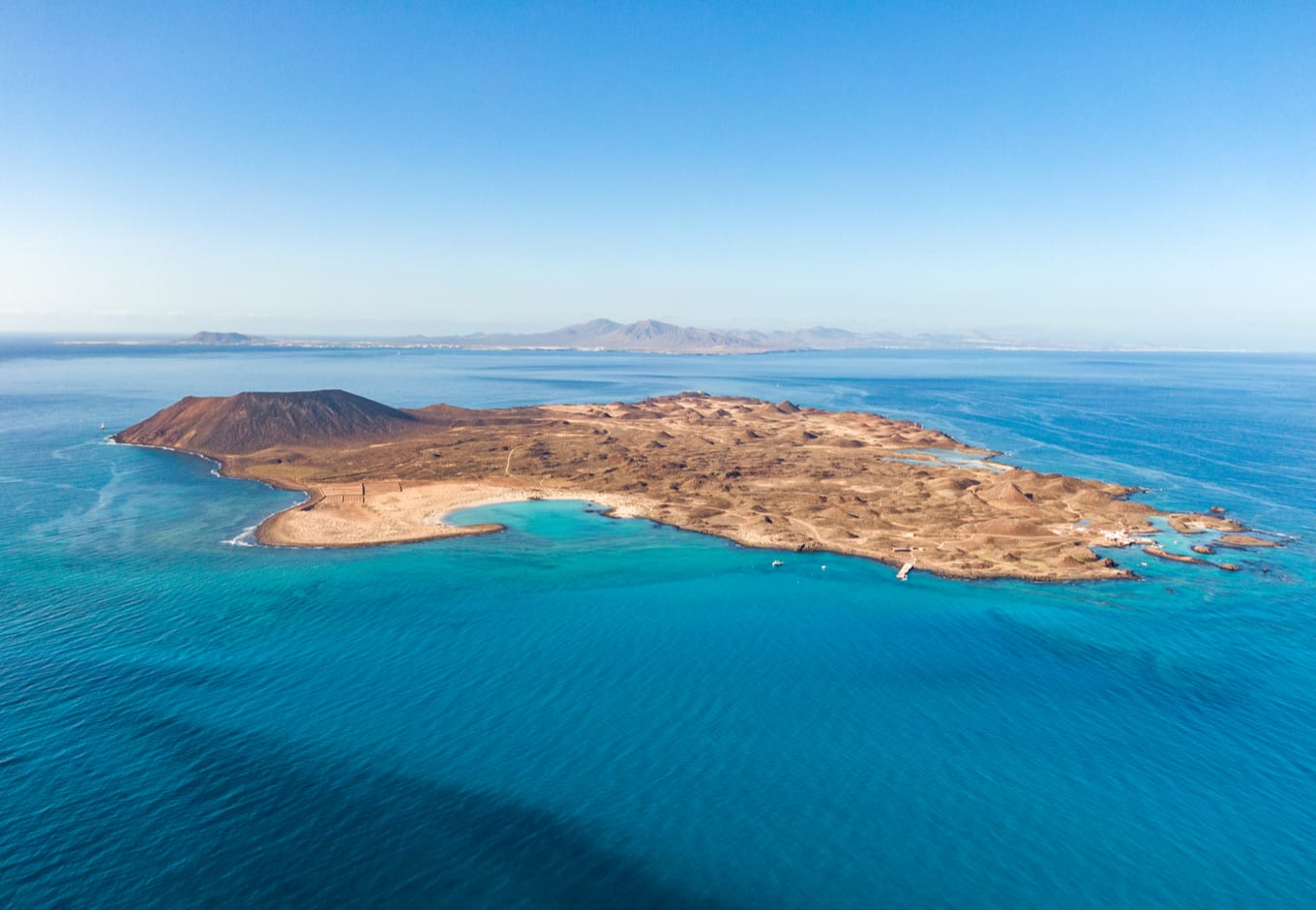 To visit Lobos Island, you will have to get a permit, as the capacity of the island is limited to 200 simultaneous visitors. Therefore, before planning to go to Lobos, go to Cabildo and Fuerteventura's online page, and request a permit to visit Los Lobos.
The Best Things To Do in Lobos Island
Visit The Mount Caldera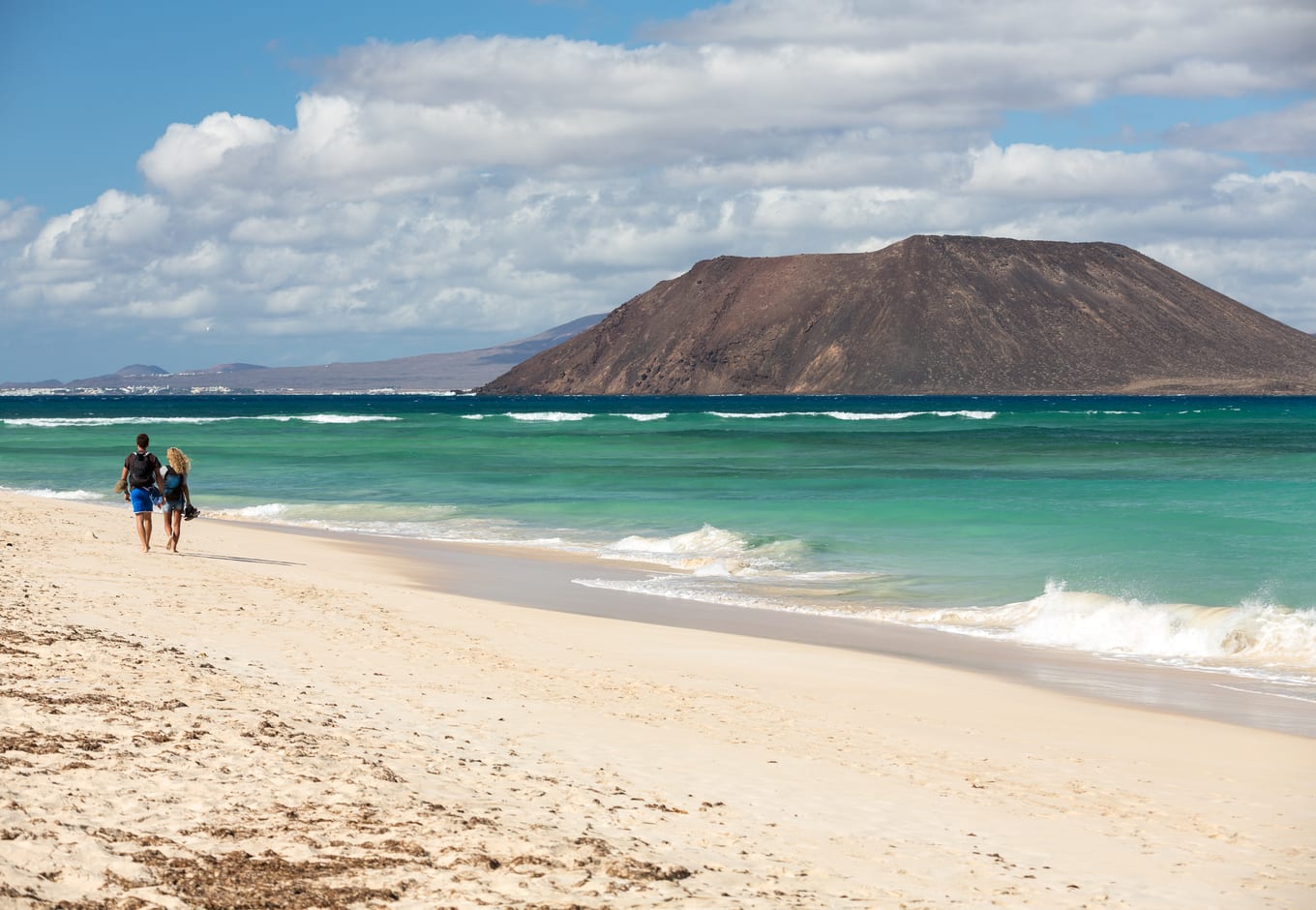 Lobos Island is a good option for those seeking an easy-to-hike route, as its relatively new volcano, La Caldera, has the highest point of 127 meters. Even though the hike is not the most challenging one, we would still suggest you bring some extra water bottles in your bag, as the sun and desert climate can be tiring especially during the summer.
While climbing, you'll be able to check amazing views of the island, and when you reach the peak of the mount, you will have a stunning panorama of the entire Lobos Island.
The Caldera Mountain hike will take you through the whole island. You'll get to see the Greek-looking El Puerterito houses with white-washed walls and romantic narrow streets. You'll also be able to see 8-meter high agave plants.
If you wish to lay down and just enjoy the views or catch some sun, stop at the Faro de Martino beach, known for its white sand and hornitos, which are small pointy hills that were once crater pipes.
The beach is located at the Northern tip of the island. After returning to the main path, make sure you stop at Playa de la Concha beach, a sanctuary of sandy dunes and blue waters.
Some practical information:
        Free toilets are available at the Centro de Visitantes (tourist information center);

        It is forbidden to step off the walking pathway

;

        You can learn more about the

history of the Caldera Mountain at the visitor center;
        If you are in a

wheelchair or with a stroller, the Caldera Mountains

are

not accessible

.
Cycle Around The Island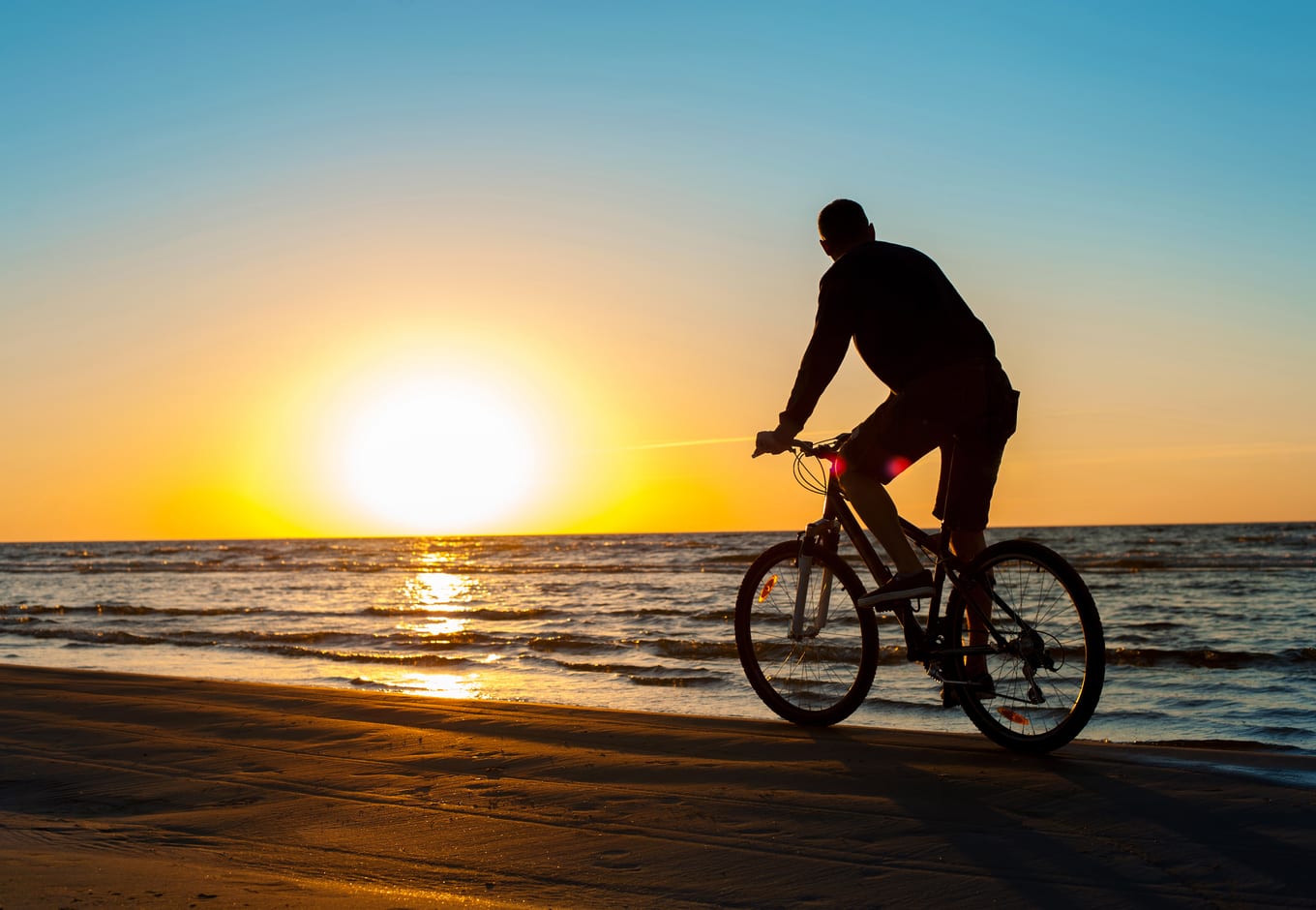 To get around the small island faster, you can also rent a bike (or take one with you on your ferry when you come to the island) and cycle around and explore the island with less effort.
Easy Riders offer 5 types of bikes, from heavy-duty, mountain X-trail to road bikes, so you can choose one yourself for €10 per day. You can cycle the same China Cove Trail on Lobos Island to save time getting around, and choose the place you want to spend the day at. Cycling around the island is the perfect option if you are just visiting the island for a day.
Indulge In Cultural Events and Festivals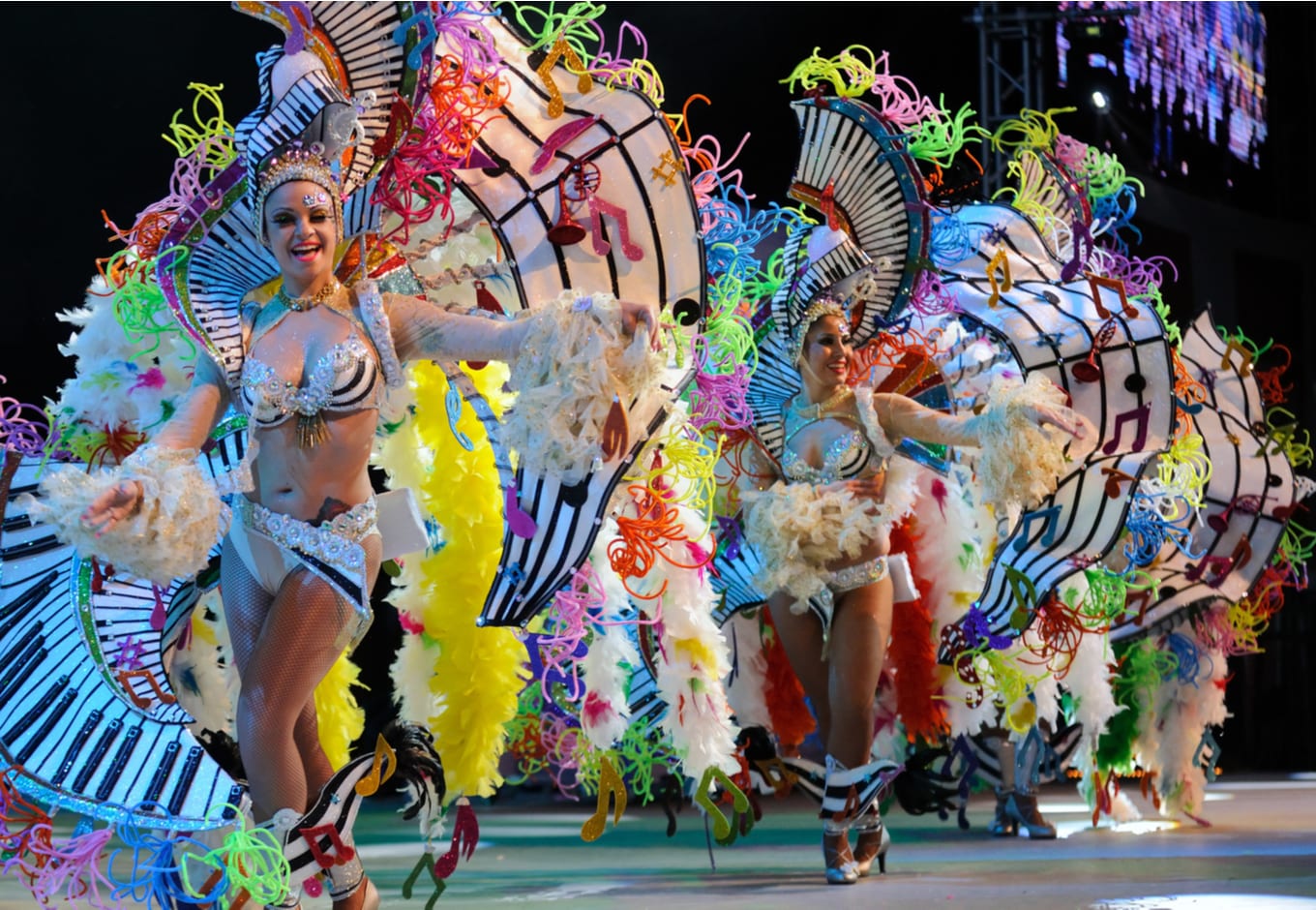 Lobos Island is hardly inhabited and it's known for its preserved nature. This basically means that the island is not a party destination, and the only concerts and music festivals that happen nearby are held on the 2 kilometer-close Fuerteventura island.
If you happen to visit the Canary Islands in June or July, make sure not to miss the typical fiestas and festivals, which are some of the best ways of experiencing the local culture. One of them is Fiesta de San Juan (read: Hogueras de San Juan in Spain), which happens on the last week of June to celebrate the Midsummer Solstice.
Another must-attend festival is the Fiesta de Nuestra Señora del Carmen, which is held in seaside towns on the week of July 16th.
You can also schedule your trip to coincide with the famous Carnival of Santa Cruz de Tenerife, which is held every February in Santa Cruz de Tenerife and it's often considered one of the best festivals in Spain.
Explore The Corralejo Natural Park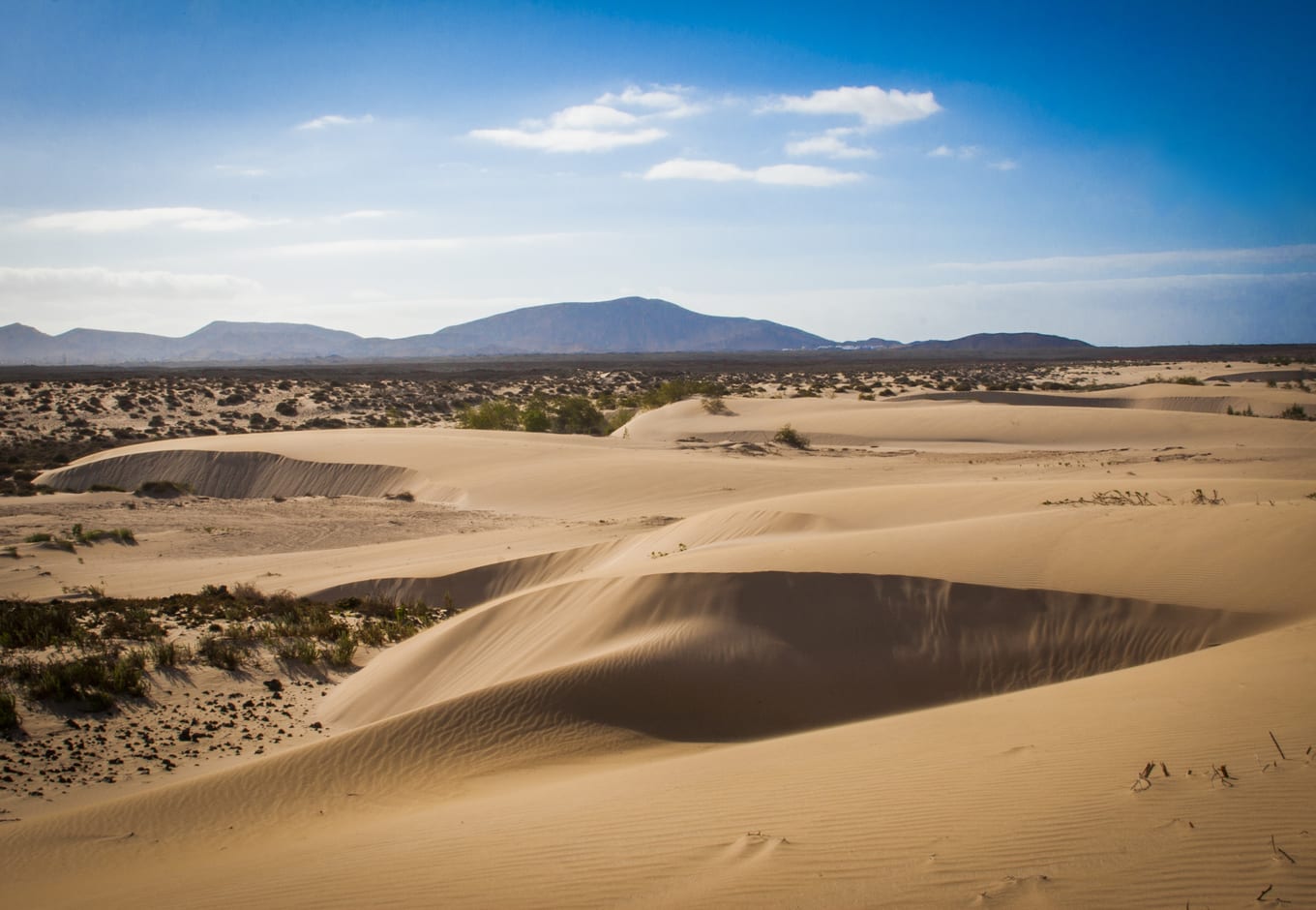 These are the famous dunes of the Canary Islands, and one of the best things to do if you're visiting Lobos Island. Along with Lobos Island, Corralejo Natural park is a Special Protection Area of Birds, and this sandy sanctuary encompasses 2,600 hectares of protected space. The Corralejo Natural Park holds the most extensive dunes of the Canarian archipelago, aside from being home to beaches of golden sand, and crystal clear waters.
Top Places to Stay in Lobos Island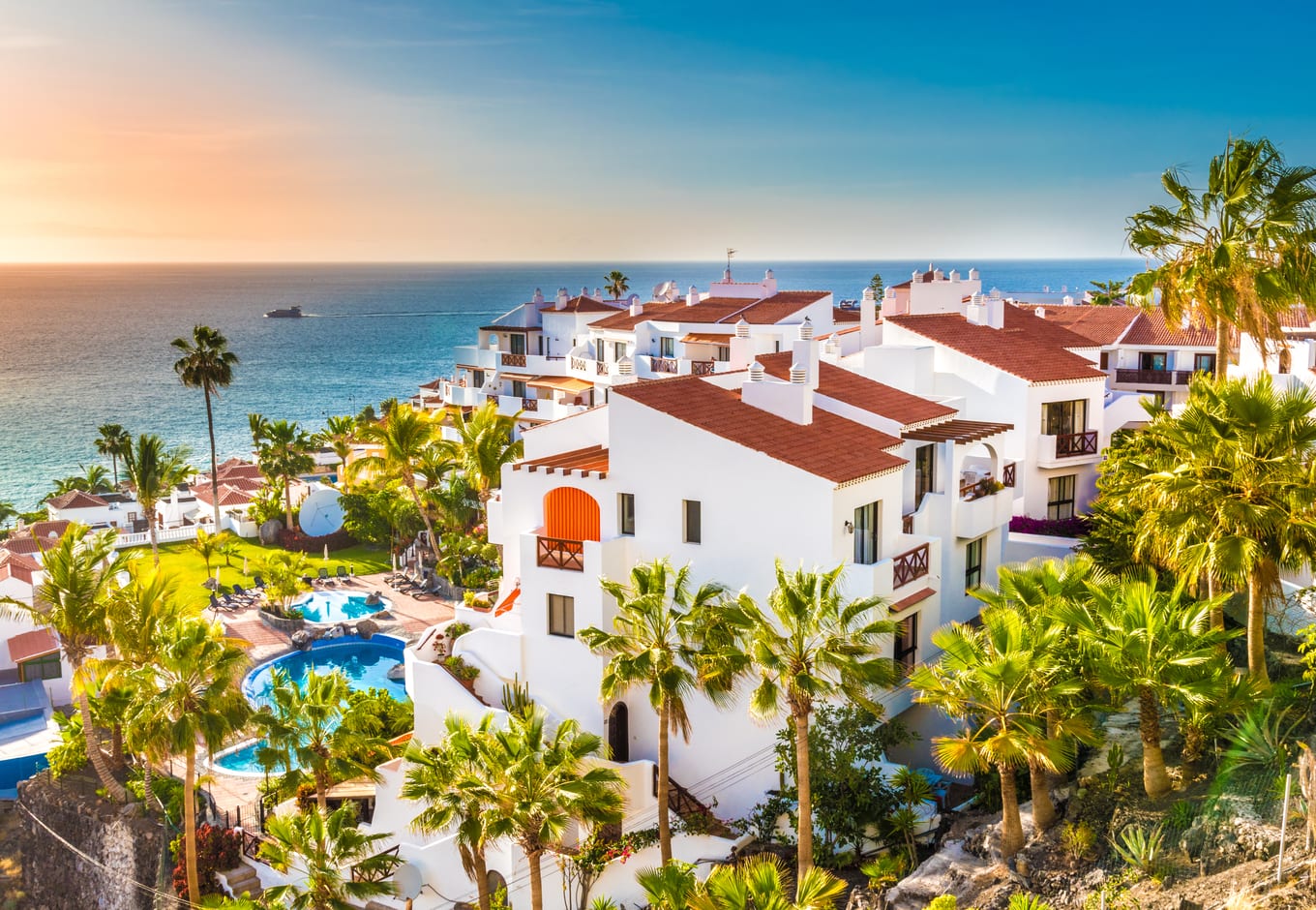 Staying on Lobos Island is not possible, so a good idea is to stay in Lanzarote or Fuerteventura, which are nearby locations. There are several sustainable nature and eco-conscious sustainable hotels near Lobos Island to choose from, and you also have the option of booking an apartment in the Canary Islands if you want to feel at home.
Find Places To Stay In The Canary Islands, Spain
Eating and Drinking in Lobos Island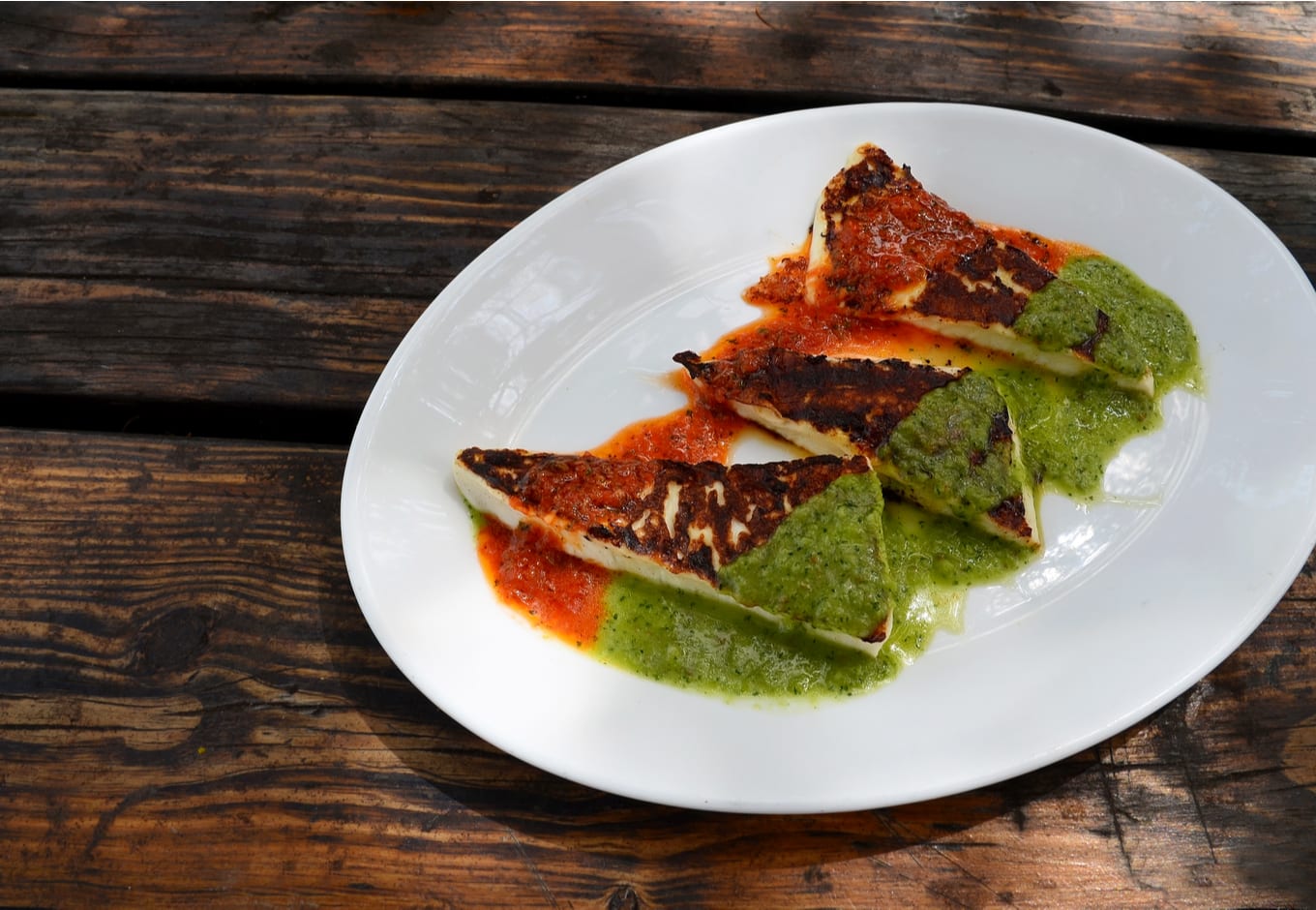 There are no restaurants on Lobos Island, so a great suggestion is to pack a few healthy snacks for your day trip. You even buy some fruits, such as papaya, mango, apple, pineapple, and banana, some nuts, water, and you're good to go.
In case you want a Fuerteventura offers some good restaurants for those looking for a light, inexpensive great meal. To make the most of the natural Canarian vibe, visit Casa de la Naturaleza for lunch. This restaurant is placed at a fantastic old farmhouse, and it serves everything from beer and Canary island wine to almond cakes and Canarian tapas.
If you enjoyed CuddlyNest Lobos island travel tips, you are welcome to stay in touch via Instagram and Facebook, and share this Canary island travel advice on Pinterest: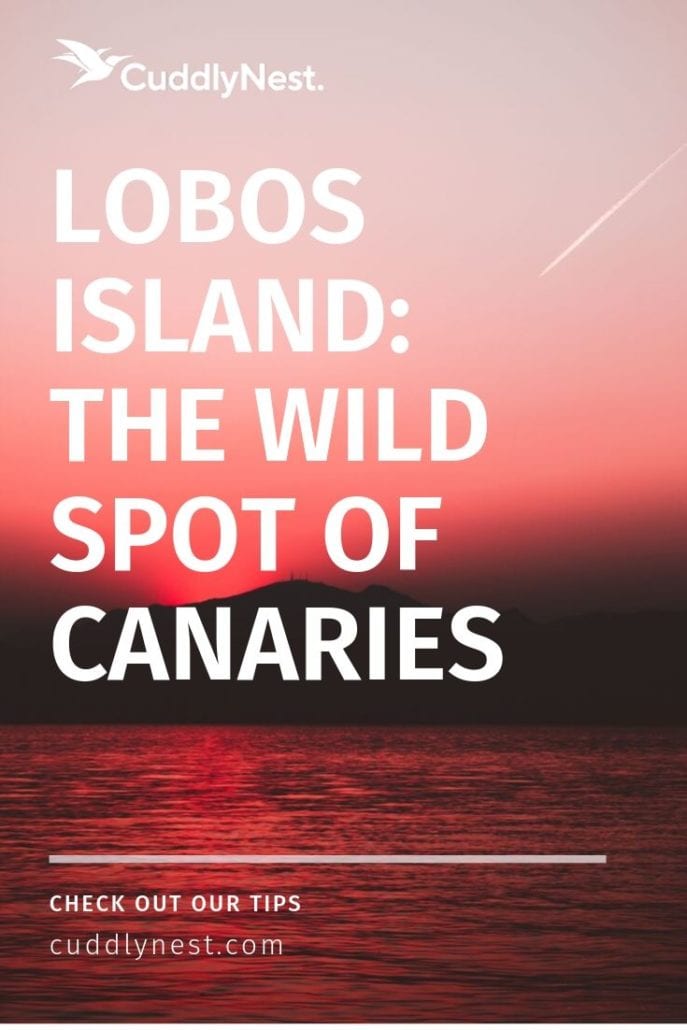 Here are some curated readings for you:
Best Spain Travel Apps
Spain Culture Travel Tips
Top Spanish Cities For 2021
Europe Travel Guide
The Best Beaches In Spain
La Tomatina Festival, Spain
Eating Tapas In Granada, Spain
Vegan Restaurants in Alicante, Spain
The 10 Best Spanish Cheese You Should Try