From the April Fair of Seville to the Canary Islands' Carnival, Spain hosts a range of lively traditional festivals that puts locals and travelers in a joyous atmosphere thanks to a profusion of music, dance, and soulful typical dishes.
But, surprisingly enough, one of the most fascinating festivals in the country revolves around a messy food fight.
Well-known across the globe, La Tomatina happens every year on the last Wednesday of August. It takes place in the city of Buñol, in Valencia, and it brings thousands of people who gather to, well… throw tomatoes at each other for an hour!
Fun, and chaotic, this worldwide praised tomato fight is a great item for travelers to include —and check off — their bucket list.
To help you make the most out of the festival, we created a comprehensive guide with everything you need to know about Buñol's annual tomato fight.
Bonus? A few Valencia travel tips, which are guaranteed to keep you entertained for days. Have a look!
Traveling To Valencia, Spain
About Valencia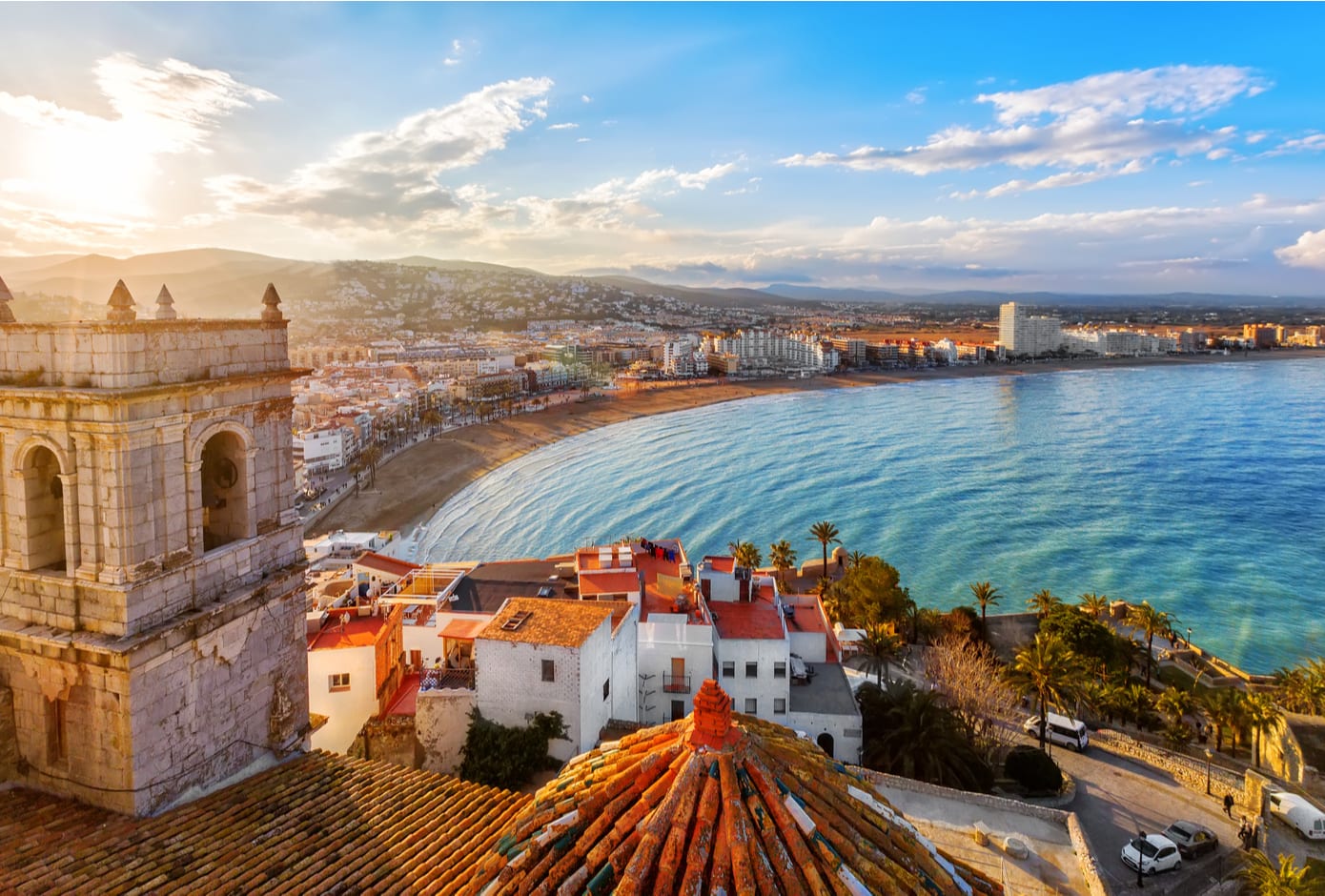 Located on Spain's southeastern coast, on the banks of the Turia river, Valencia is a lively port city adorned with a profusion of ancient Moorish buildings and Gothic constructions.
Valencia is located within just an hour and a half from Madrid and three hours from Barcelona by train, and it's widely known for hosting traditional festivals and celebrations, such as Las Fallas and, of course, the famous La Tomatina festival.
With an average of 300 days of sunshine per year, Valencia is a great year-round destination. If you go during the summer, you'll be able to enjoy some of the city's finest beaches.
But, in case you want to avoid crowds of tourists, try to go during the offseason, between May and June when the weather is still pleasant and warm.
Aside from hosting bustling festivities and being home to paradisiac beaches, Valencia is also home to the La Ciutat de les Arts i les Ciències (City of Arts and Sciences), a cultural and architectural complex that is considered one of the top attractions in Spain!
What To Eat And Drink In Valencia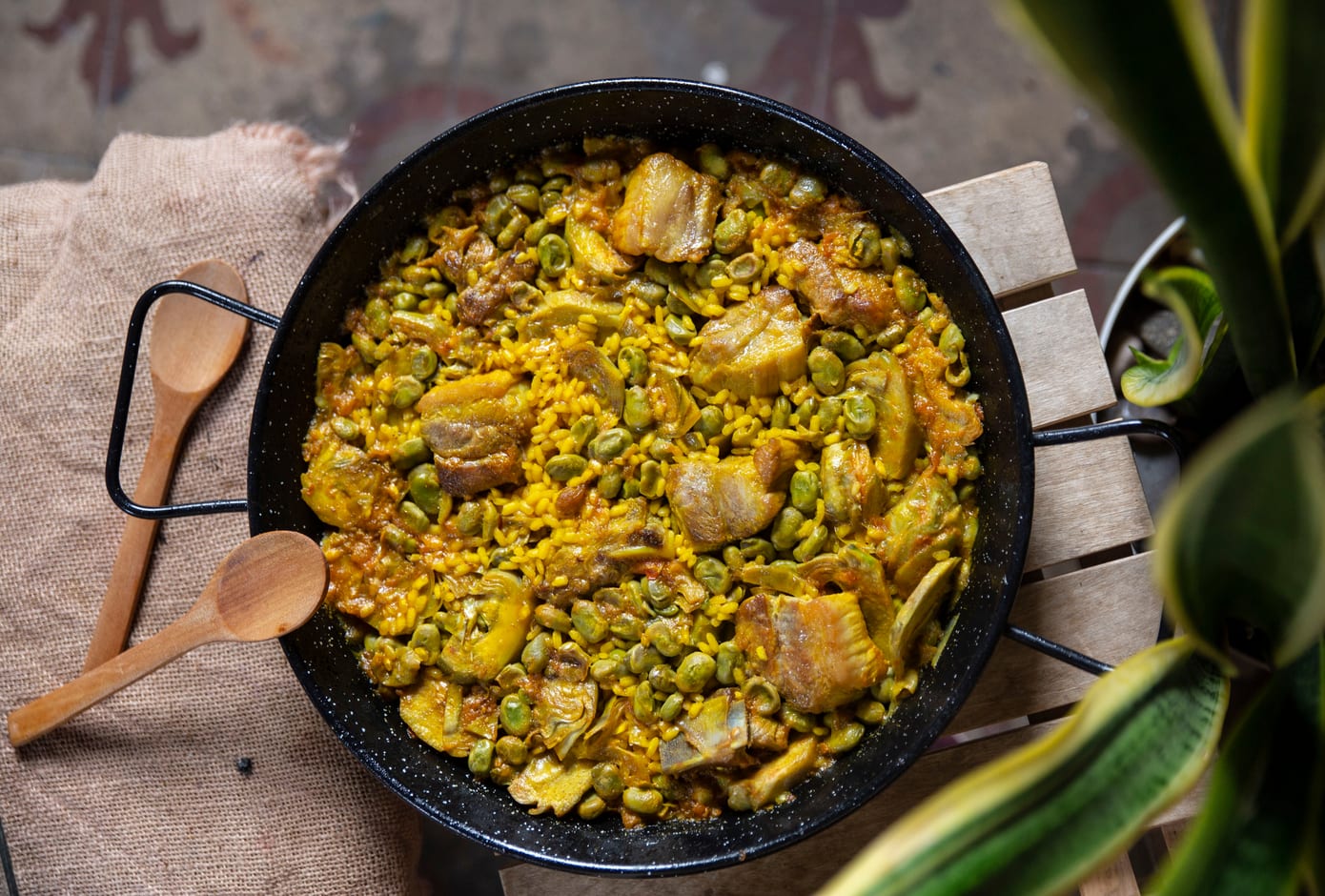 Worldwide known as Spain's staple dish, paella originated in Valencia, and it's a must-try for travelers who are visiting the region. But, differently from what many people think, the Paella Valenciana does not carry seafood. It's actually made with other typical ingredients, such as rabbit, chicken, bomba rice, and garrofón (a type of large white bean) among others.
For trying the best paella in Valencia, make sure you stay away from touristy restaurants where the dish is pre-made, frozen, and reheated. A flavourful and authentic paella is always made to order, and it takes at least 30 minutes to get done.
Also, it should be served in the pan it was prepared in, and the bottom layer of the rice usually has a crispy caramelized crust, which is called socarrat.
Some of the most praised paella restaurants in Valencia are the Restaurante Levante, La Pepica, Casa Roberto, Restaurante Navarro, and Casa Carmela.
Aside from trying the traditional paella, make sure you also sip in the staple drink of Valencia: horchata de chufa. Refreshing and perfect for hot summer days, this non-alcoholic creamy beverage is made with the milky juice of tiger nuts, and it originated in Valencia in the 13th-century.
The drink is so popular across Spain that special "horchataria" shops are dedicated to serving it.
Where To Stay In Valencia, Spain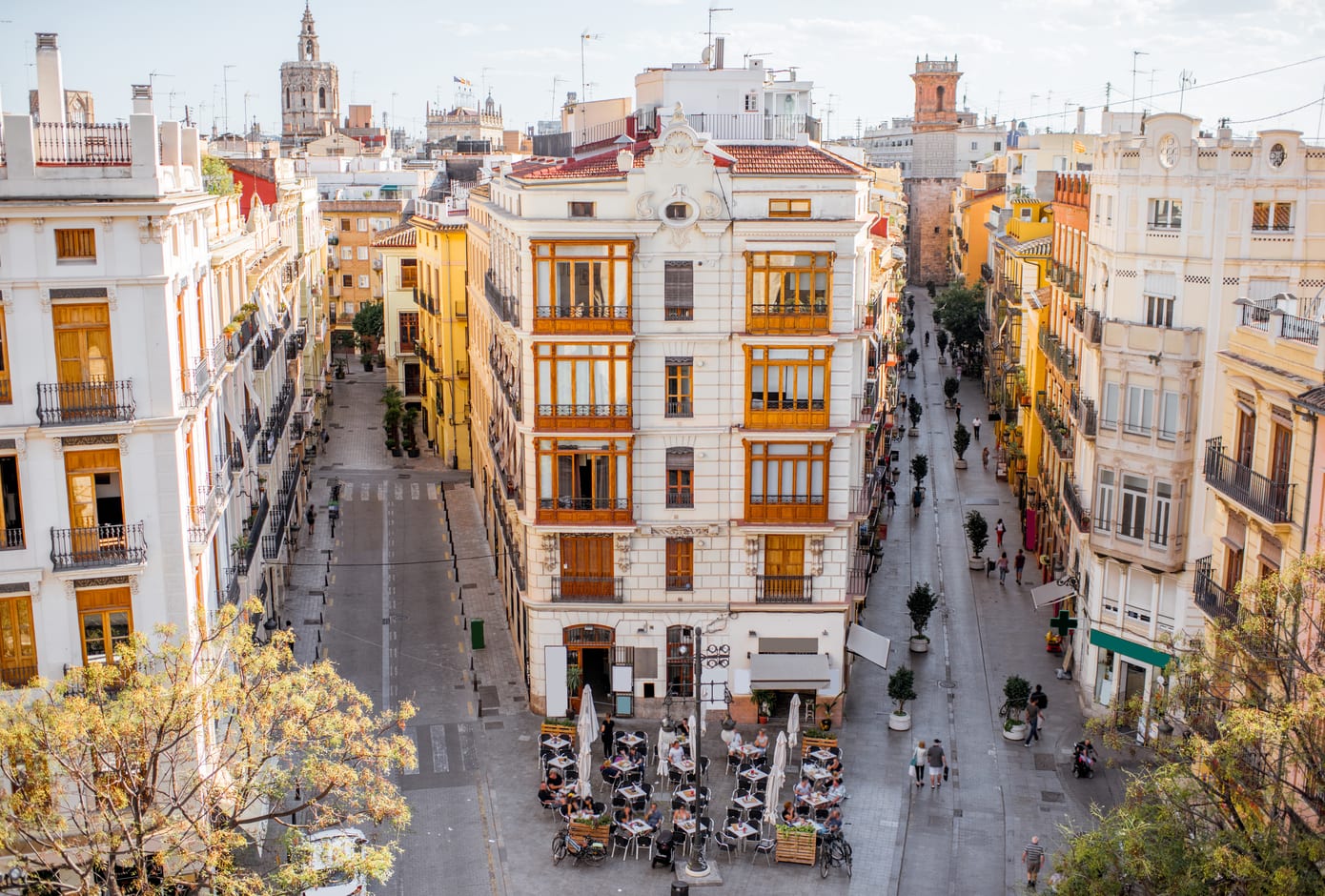 To enjoy Valencia to the fullest, rent an apartment in the city center. You can choose a modernist Spanish apartment in the El Carmen historical neighborhood, which is quite central. Other well-located areas for you to stay in Valencia are Ciutat Vella (Valencia Old Town), L'Eixample, El Cabanyal, Poblats Marítims, and Benimaclet.
Traveling From Valencia To Buñol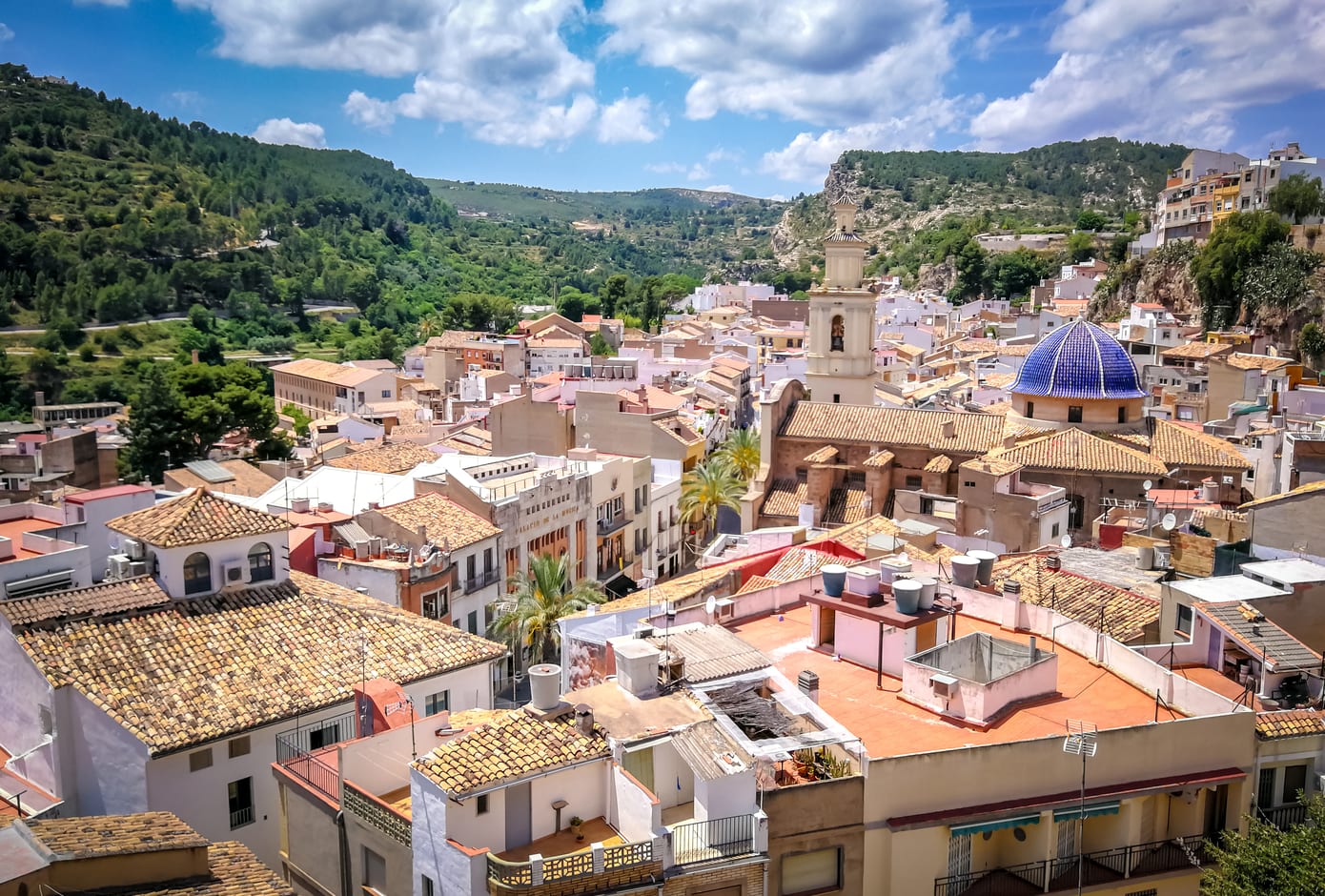 Located in the province of Valencia, Buñol is a small town where the Tomatina happens. The festival is the city's main attraction, so most people opt for staying in the capital city of Valencia, and then go for a day trip to Bunõl.
Bunõl is located within 40 minutes of Valencia, and there are several ways of getting there. If you go by car, just take the A3 highway towards Madrid/Aeropuerto, and then take exit 322 towards VP-3031/Buñol.
In case you want a more affordable option, you can take a direct bus departing from Valencia — 265 or L267A — and arriving at Buñol – Av. Dr. Beltran Vaguena 2. Buses depart every three hours and operate every day. The journey takes approximately 55 min. Tickets cost around 6€.
There's a direct train (C3) that departs from Valencia Estaciò Del Nord (North Railway Station), and arrival at Bunõl. Services depart hourly and operate every day. The journey takes around 1 h 7 min.
Complete Guide To La Tomatina Festival
The History The Tomato Throwing Festival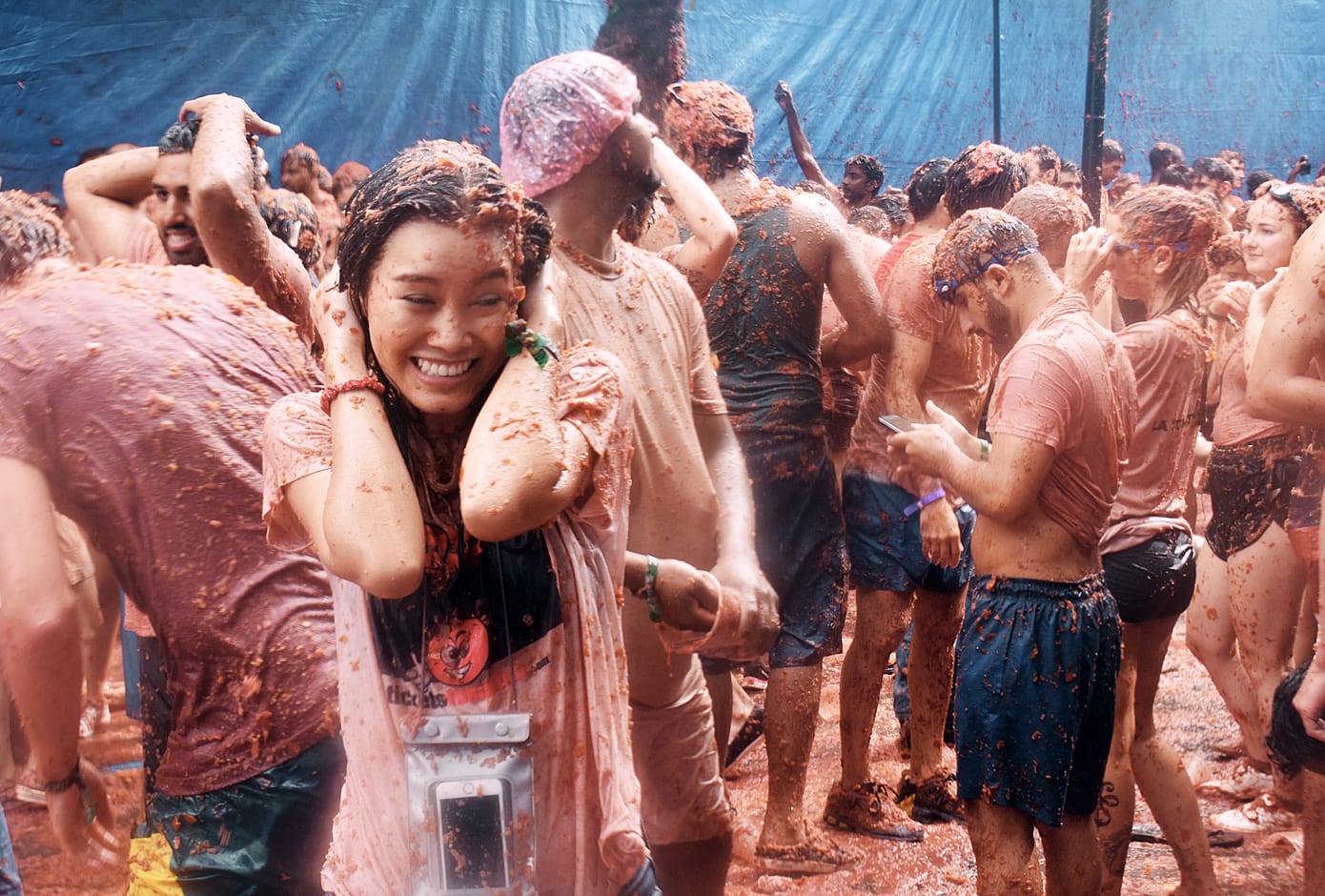 Ever wondered why Spain hosts a food fight festival where people just have fun while throwing tomatoes at each other? We'll explain. While the origins of the festival are unknown, there's a popular story that tells it all began by accident in August 1945.
There was a religious parade taking place in Buñol, and a group of teenagers started throwing tomatoes that had fallen from the bed of a passing lorry.
The tomato throwing became a thing, and it continued for a few years until it was banned in the 1950s by city officials. Later on, in 1957, the people of Buñol held a ceremonial tomato burial, tucking a tomato into a coffin to express their discontent. In 1959 the ban was lifted and La Tomatina became a Festivity of International Tourist Interest in 2002.
What Happens During La Tomatina?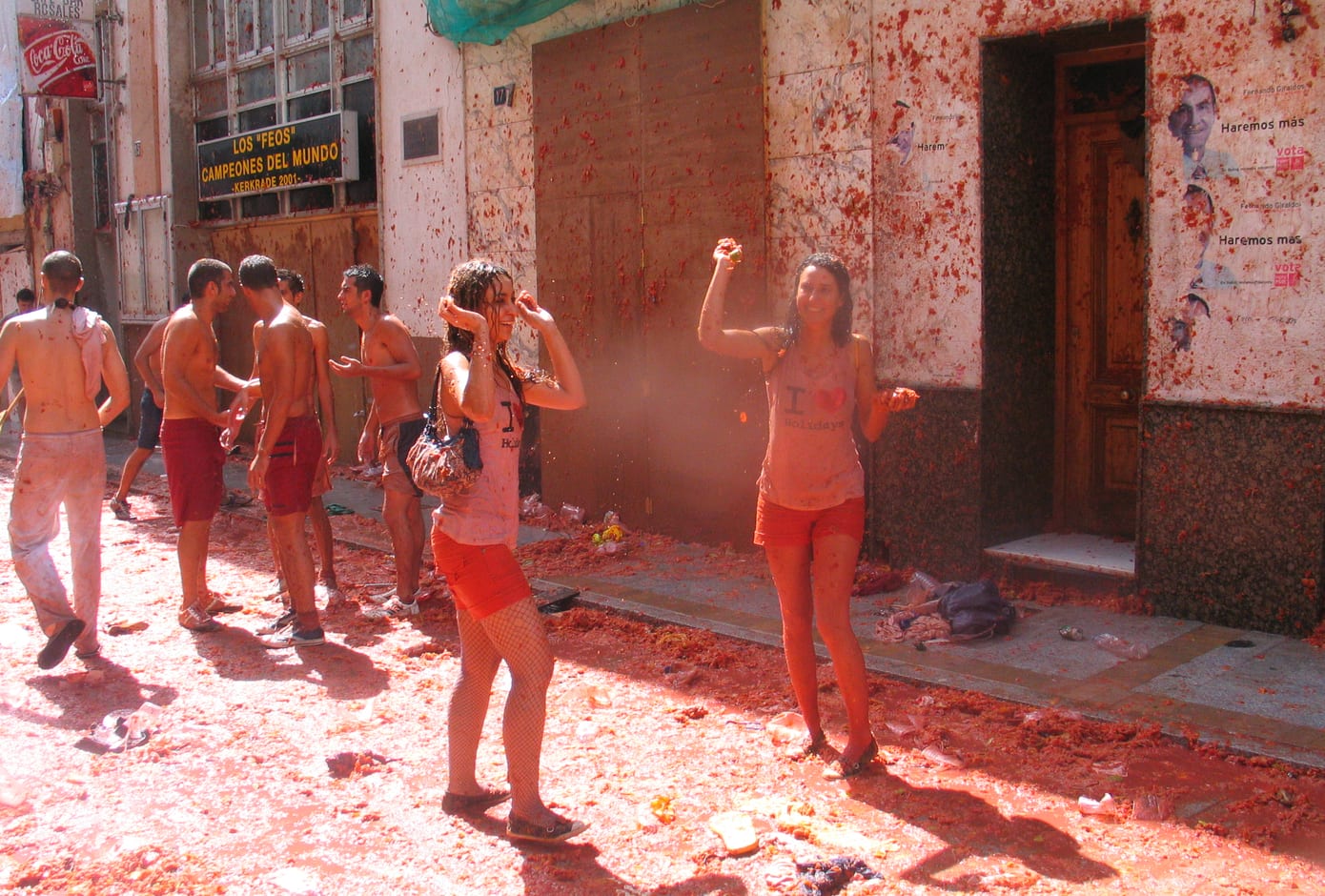 La Tomatina (Valencia's tomato fest) is now held in honor of St. Louis Bertrand — the patron saint of Bunõl — on the last Wednesday of August. Regarded as the biggest food fight in the world, La Tomatina starts at 10 am with people gathering in the Plaza del Pueblo.
At 11:00 am, a gunshot indicates the start of the tomato throwing, which lasts until 12:00 p.m. when another gunshot signals the end. At this point, no more tomatoes can be thrown.
The After Party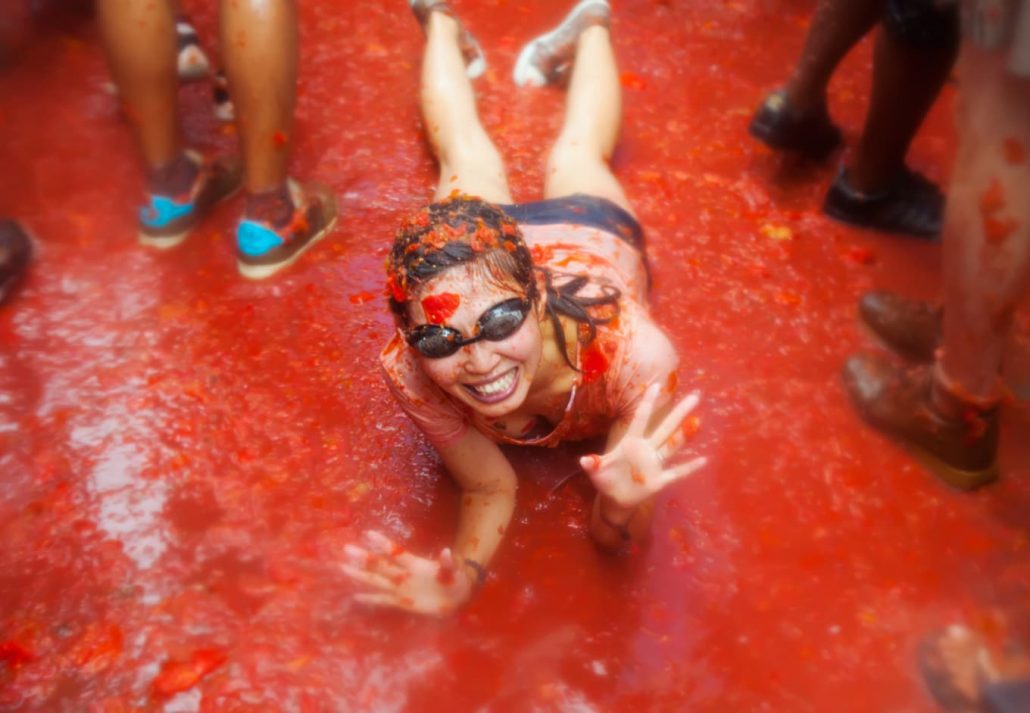 While the fight has to stop precisely at 12 pm, the party goes on afterward. Since 2011, Valencia has been hosting an official La Tomatina After Party, which has quickly become as big as the festival itself. The party happens on the night of the tomato fight and runs from around 7 pm until around 5 am.
Tickets To La Tomatina
Since 2013, the City Council of Bunol stipulated that people have to buy tickets in advance to enter the festival.
There's a limited amount of tickets available so as to avoid a crush and other dangers on the town's small streets. Only people with the entry ticket (wristband) will be allowed into Buñol on that day.
There are also different types of premium packages, including official entry tickets, with perks and benefits for travelers.
| | |
| --- | --- |
| Type | Prices From |
| "Prince & Princesses Experience" La Tomatina Valencia Day Trip | €89,00 |
| "Kings & Queens Experience" La Tomatina Valencia Day Trip | €99,00 |
| "Platinum Full Warrior Experience" La Tomatina Valencia Day Trip | €119,00 |
| "Gold Experience" La Tomatina Barcelona Day Trip | €119,00 |
| "Gold Experience" La Tomatina Madrid Day Trip | €119,00 |
| "Platinum Full Warrior Experience" La Tomatina Barcelona Day Trip | €139,00 |
| "Platinum Full Warrior Experience" La Tomatina Madrid Day Trip | €139,00 |
| La Tomatina Deluxe Experience 2 nights accommodation | €229,00 |
The Ultimate La Tomatina Survival Guide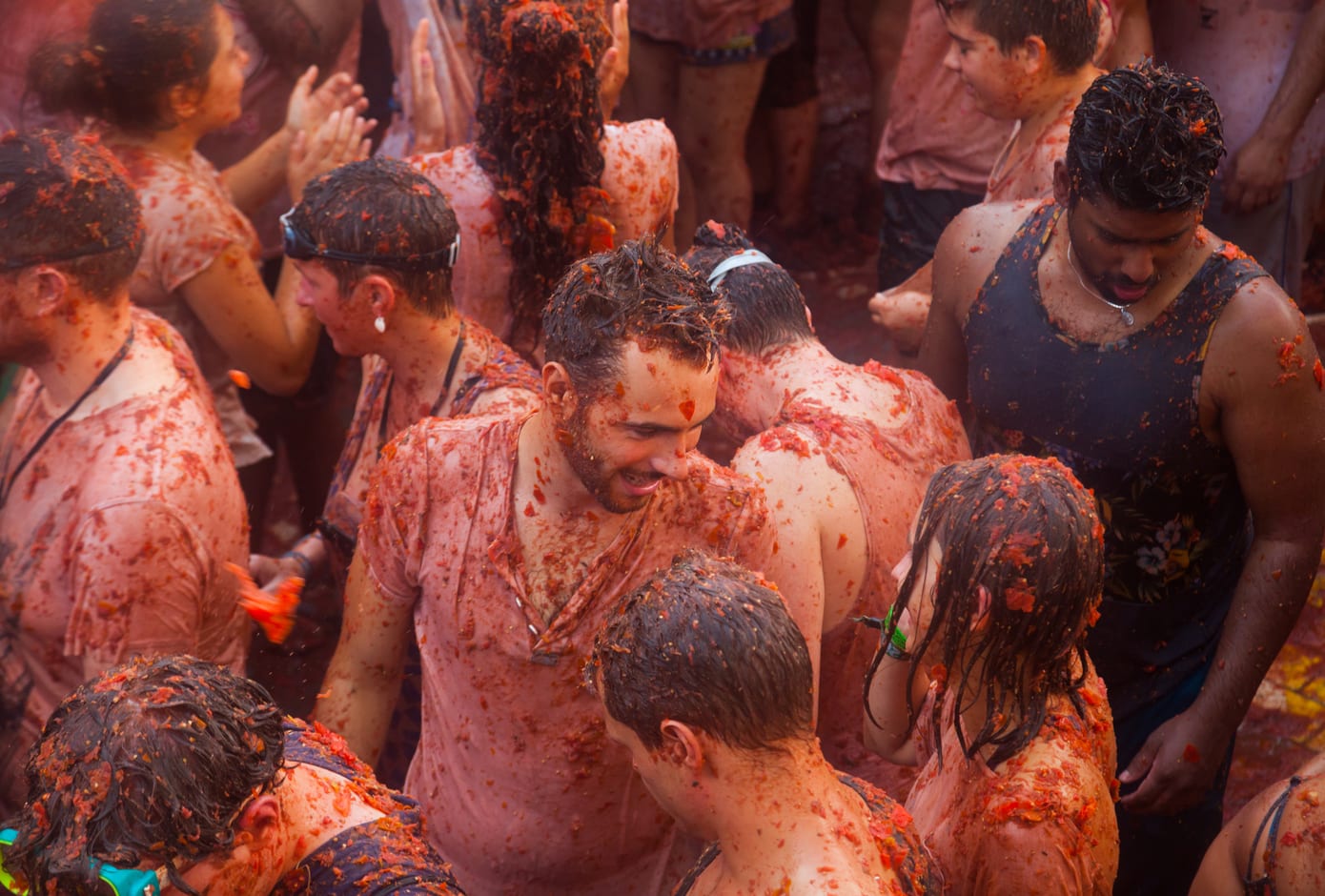 The 5 Rules
Do not bring bottles or hard objects as they can cause accidents and hurt other participants;
Do not rip other people's T-shirts;
You must squash the tomatoes before throwing them as this reduces the impact;
Ensure you keep a safe distance from the lorries;
As soon as you hear the second shot, you must stop throwing tomatoes.
Top Tips And Things To Avoid In The Festival
Avoid wearing flip-flops. First, because someone can accidentally step on your foot, and you might get hurt. Second, because you can easily lose them during the festival;
Wear clothes that you're willing to throw away afterward;
Wear clothing with sealed pockets where you can keep a few things, and dress comfortably. You can even ziplock some cash and pocket it;
Don't target the buildings, only other participants;
Use eye goggles to protect your eyes;
Leave the selfie stick at home. If you want to take photographs, but don't want your phone covered in tomato juice, take a waterproof camera instead.
5 Fun Facts About La Tomatina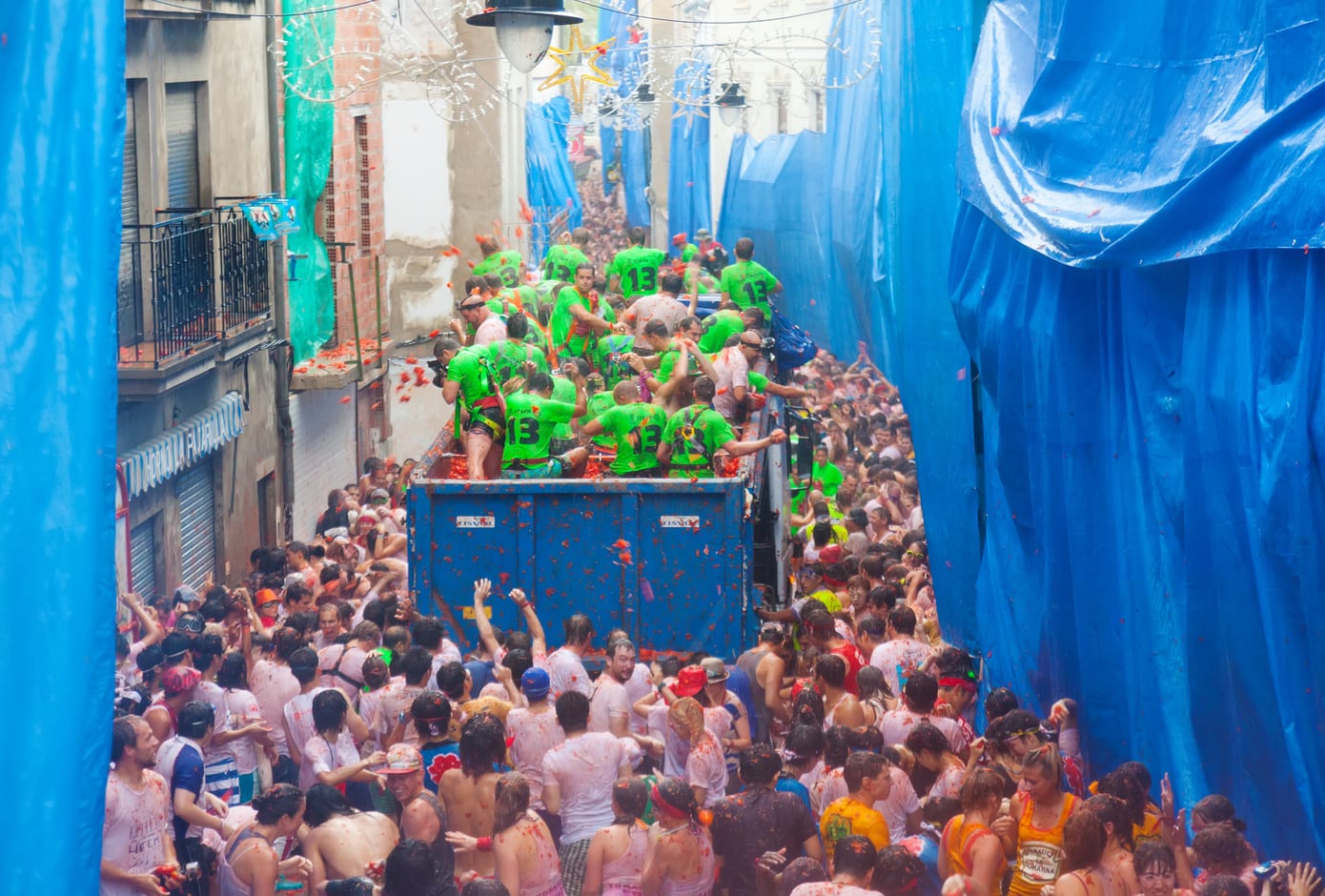 More Than 120,000 Pounds Of Tomatoes Are Thrown
Not by chance, the festival is known as the "world's biggest food fight".
The Food Fight Lasts For Just An Hour
The tomato throwing starts at 11 am and lasts until 12 pm. At this point, no more tomatoes can be thrown.
The Fight Starts With…A Ham!
La Tomatina only starts when a ham is retrieved from atop a greased pole in the main town square. The moment the slice of ham is dropped from the pole, trucks loaded with tomatoes enter and the fight begins.
There Are Similar Festivals Around The World
La Tomatina has inspired similar celebrations around the world, and today other cities such as Colorado, USA, Sutamarchán, in Colombia, and Dongguan, China, host tomato fights;
Around 20,000 People Participate
Including locals and travelers from all over the world.
Frequently Asked Questions About La Tomatina
How Much Does It Cost To Go To La Tomatina?
La Tomatina is no longer free, and the festival's entry fee starts at 12€.
Is La Tomatina Dangerous?
Many people are on the fence about La Tomatina, as the tomato throwing might seem scary and dangerous. To ensure everyone's safety, the festival has put together a set of rules that include everything from dress code to appropriate behavior.
Is La Tomatina Suitable For Children?
The City Council of Buñol does not put an age restriction on those who can participate in the tomato fight. However, the festival tends to get crowded and large amounts of alcohol are consumed, so it might not be the best experience for families with children.
When And Where Is La Tomatina Celebrated?
Its held on the last Wednesday of August each year in the town of Buñol, near Valencia in Spain
When Is The Next Tomatina?
Wednesday, August 25.
Is La Tomatina A Waste Of Food?
Locals don't consider the festival to be a waste of food. The tomatoes used for La Tomatina are no good for anything else, as they're about to start rotting. Others are of such low quality that they are pretty much inedible.
Why Was La Tomatina Banned?
In the early 1950s, the festival was banned by Spanish dictator Francisco Franco for having no religious significance.
What Should I Wear To La Tomatina?
Make sure to wear clothes that you don't mind throwing away after the tomato fight. Avoid flip-flops and slippery shoes.
CuddlyNest provides all accommodations to all travelers at the best price. Find unlimited travel inspiration on our blog and social media channels.
You might also like:
Top Spanish Cities To Visit In 2021
Spain Culture Travel Tips
Best Travel Apps For A Trip To Spain
Here are some curated readings for you:
Eating Tapas In Granada, Spain
Guide to Lobos Island, Spain
Vegan Restaurants in Alicante, Spain