Known for its vibrant culture, soulful cuisine, history-filled cities, and bustling year-round festivals, Spain is one of the most fascinating destinations in Europe.
But there's always the question of "what places are worth visiting in Spain"?
Well, start planning your trip by checking out this highly curated selection of the best cities in Spain.
This thoughtful guide will help you choose the getaway of your dreams — whether you're in the market for an amazing dining experience full of tapas or simply want to witness awe-inspiring flamenco dance performances.
From hidden gems like Bilbao and Cadiz to major cities such as Barcelona and Madrid, we've got the low down on the best places to visit in Spain and the top things to do in each one of them.
Have a look below and pick your favorite!
Why Visit Spain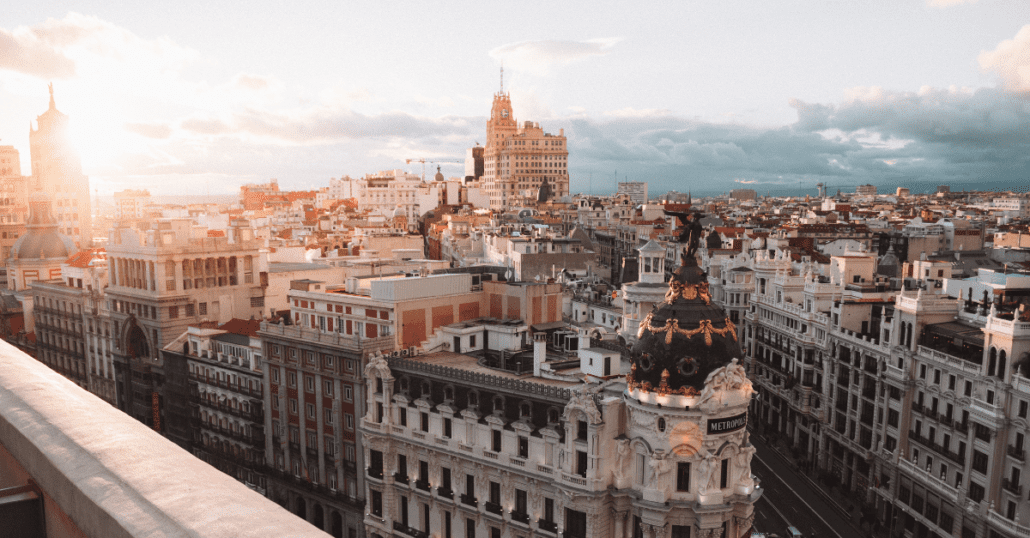 Spain is a soulful and diverse country. That is exactly the reason why it's a top destination for many travelers in Europe.
Most cities in Spain, such as Barcelona, Madri, and Seville, have pleasant sunny weather all year round, aside from housing a showcase of cultural attractions, amazing tapas restaurants, and Instagrammable spots.
Many don't know about this, but Spain is one of the countries with the most Unesco World Heritage Sites in the world – a total of 48 sites.
The entire Old City of Salamanca, for instance, was granted UNESCO World Heritage Site.
Another advantage is that Spain is home to destinations that appeal to all types of travelers. Culture and architecture enthusiasts will have a great time in Barcelona or Bilbao, which are filled with world-class museums.
If you love the beach, try planning a trip to places like the Balearic Islands, which are home to a myriad of beautiful beaches.
In case you want to visit a cosmopolitan dynamic place, head over to Madrid, which is Spain's largest city and one of the liveliest cities in the country.
Fancy the cold weather? Make your move to the Sierra Nevada or to the beautiful Basque Country, which are the best places to visit for indulging in a crisp windy climate and enjoying some fun in the snow.
Of one thing we're sure: Spain has some of the best cities in the world, and there's plenty to see in do in the country. You just have to do some research and find out what are the best Spain cities for you.
Keep reading to learn all the best Spain vacation ideas!
The 13 Best Cities To Visit in Spain
Bilbao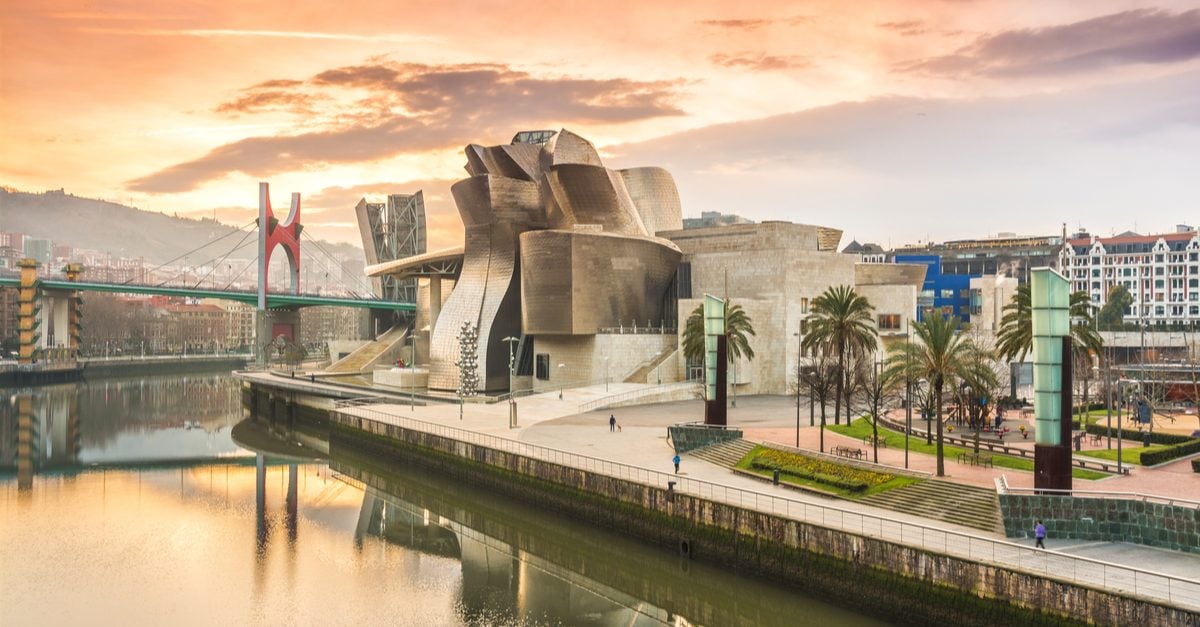 The beautiful city of Bilbao is not one to miss the next time you visit Spain! Located in the North of Spain in the Basque Country, Bilbao offers a unique insight into Spain's more modern side.
Bilbao has a rich, historical, medieval atmosphere combined with modern skyscrapers, futuristic buildings, and a reflection of the country's industrial history.
One of the greatest cities in Spain for architecture and art enthusiasts, Bilbao houses one of Europe's most famous art institutions, The Guggenheim Museum.
While making your way through the museum's galleries, expect to come across dazzling contemporary artworks by major artists like Mark Rothko, Jeff Koons, and Richard Serra.
After exploring Guggenheim's collection, make sure you go for a scenic stroll by the Nervion River, where the museum is built.
And in case you're looking for even a less touristic city to visit in Spain, you can stretch your trip and go visit other destinations in the mountainous Basque Country.
Located in northern Spain, along the Atlantic coast, this autonomous community is home to several bucket list places, including Getaria, a green paradise filled with verdant lush hills.
From here, you can even access the iconic Camino de Santiago de Compostela.
Find Places To Stay in Bilbao, Spain
San Sebastián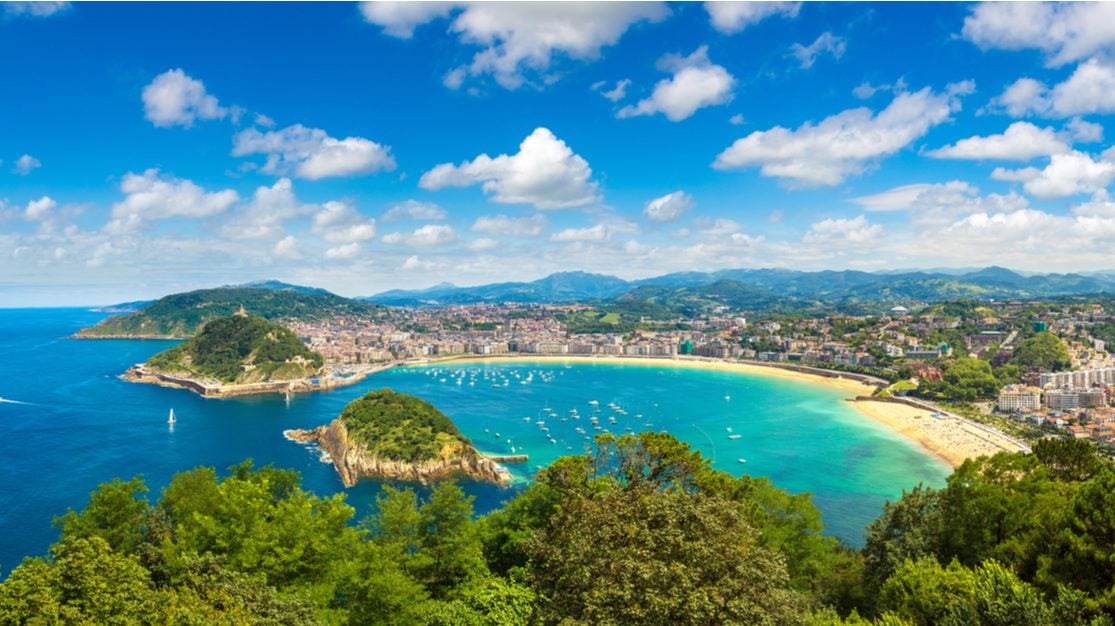 San Sebastián is one of the most popular Spanish cities for travelers who enjoy lying on sandy beaches and indulging in stunning ocean views.
This beautiful city is tucked right into the Bay of Biscay and it is very well known for its lavish resort hotels and vacation offerings.
The northern coast of San Sebastián is green all year long with a rainy winter season and a warm, sunny summer.
Visitors will love indulging in the city's upscale shopping spots, eating "pinchos" in the local restaurants, and climbing all the way up to Monte Igueldo to get panoramic views of the whole city and La Concha Beach.
If a more laid-back vacation is what you're looking for, then this beach city is the perfect destination for you!
Find Places To Stay in San Sebastián, Spain
Barcelona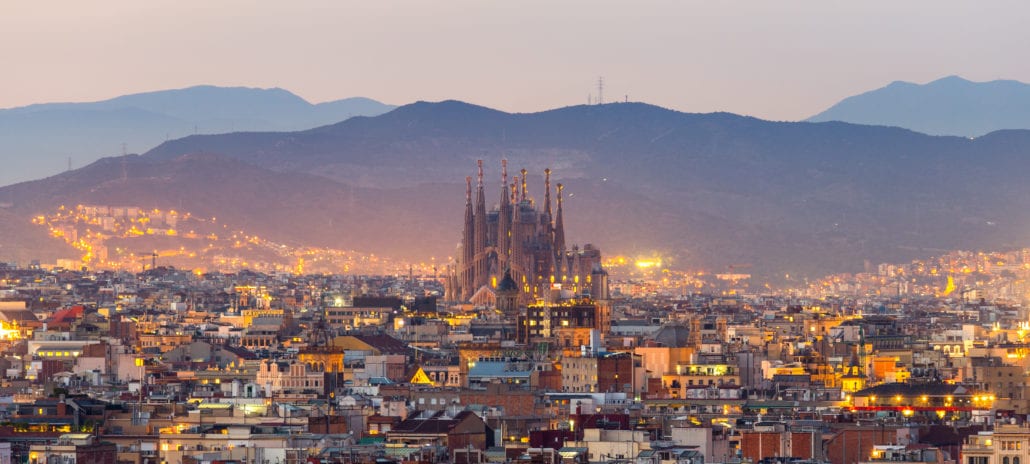 Barcelona is hands down, one of the best and coolest places to visit in Spain.
The capital of the Catalunya region is famous for its lively nightlife, sandy beaches, art galleries, and striking architecture.
In case you'd like to enjoy the most stunning views of the city, pack some manchego cheese, and a bottle of wine, and hike all the way up to The Carmel Bunkers where you can watch the sun setting on the coast of Spain.
Visitors will also like strolling through the winding streets of the Gothic Quarter, and the leafy Las Ramblas, one of the city's main thoroughfares.
During your tour, expect to come across lively squares filled with restaurants that offer everything from tortilla española (omelets) and paella (Spanish rice with seafood) to fresh drinks like tinto de verano (wine with lemon soda).
Before traveling to Barcelona, Spain, we recommend that you make a list of the best places to visit in this vibrant city.
Be sure to include places like the Sagrada Familia Basilica, Parc Güell, the Gothic Cathedral of Barcelona, and Playa de La Barceloneta beach in your itinerary.
Also, don't forget to read our ultimate Barcelona travel guide for the best tips on how to enjoy the city.
Find Places To Stay in Barcelona, Spain
Recommended Read:
La Sagrada Familia Travel Guide
Free Things To Do In Barcelona
Things To Do In Barcelona With Kids
The Ultimate Guide to Park Güell
Barcelona Travel Tips: Things You Must Know Before Your Trip
Valencia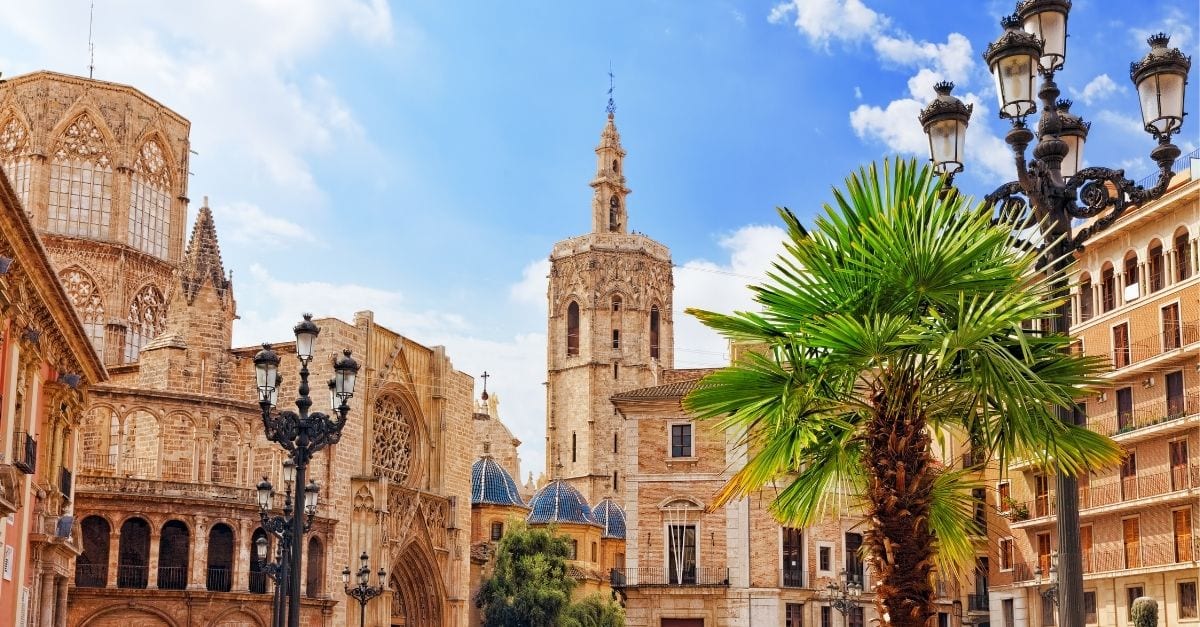 The coastal city of Valencia is Spain's third-largest city and the country's most famous destination for eating paella, the iconic seafood dish.
Located south of Barcelona on the Mediterranean Sea, this beach town is also one of Spain's most coveted summer spots.
After a day well-spent at the beach eating freshly-made paella, make sure to try Valencia's horchata, which is a must-try European drink.
One of Valencia's best-known attractions is Las Fallas, which happens every March during the week leading up to Easter Weekend.
This traditional celebration happens annually in honor of Saint Joseph, and it's considered one of the best festivals in Spain.
When it comes to cultural activities in Valencia, be sure you also visit the City of Arts and Sciences, stroll through the Turia Gardens, and check out the stunning Valencia Cathedral.
When it comes to art and culture, the city is definitely among the best places to visit in Spain!
Find Places To Stay in Valencia, Spain
Salamanca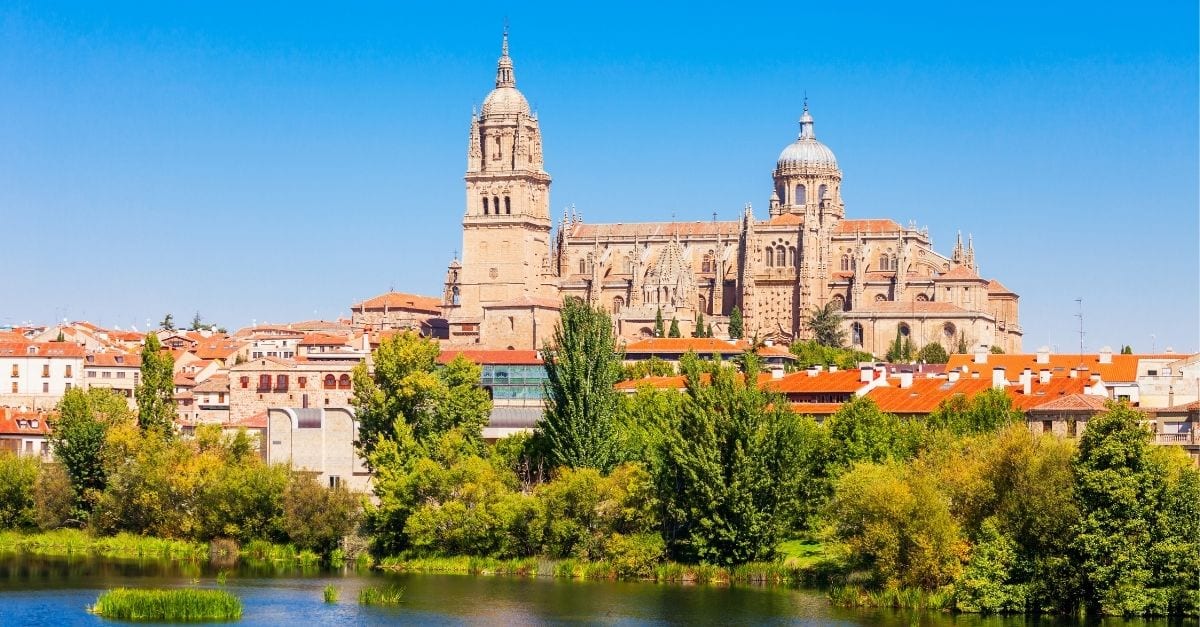 Salamanca is one of Spain's best cities. Popular thanks to its proximity to Madrid and its gorgeous Spanish outdoors, this destination wows everyone who visits it, but especially those who enjoy cheap beer and fun nightlife.
This also happens to be one of Spain's safest cities, which is another reason why it draws such young travelers. boasts
Must-do's in Salamanca include visiting Casa Lis, Salamanca's Art Nouveau & Art Deco Museum which'll take you on a journey through time from the last decades of the 19th century until World War II.
Find Places To Stay in Salamanca, Spain
Madrid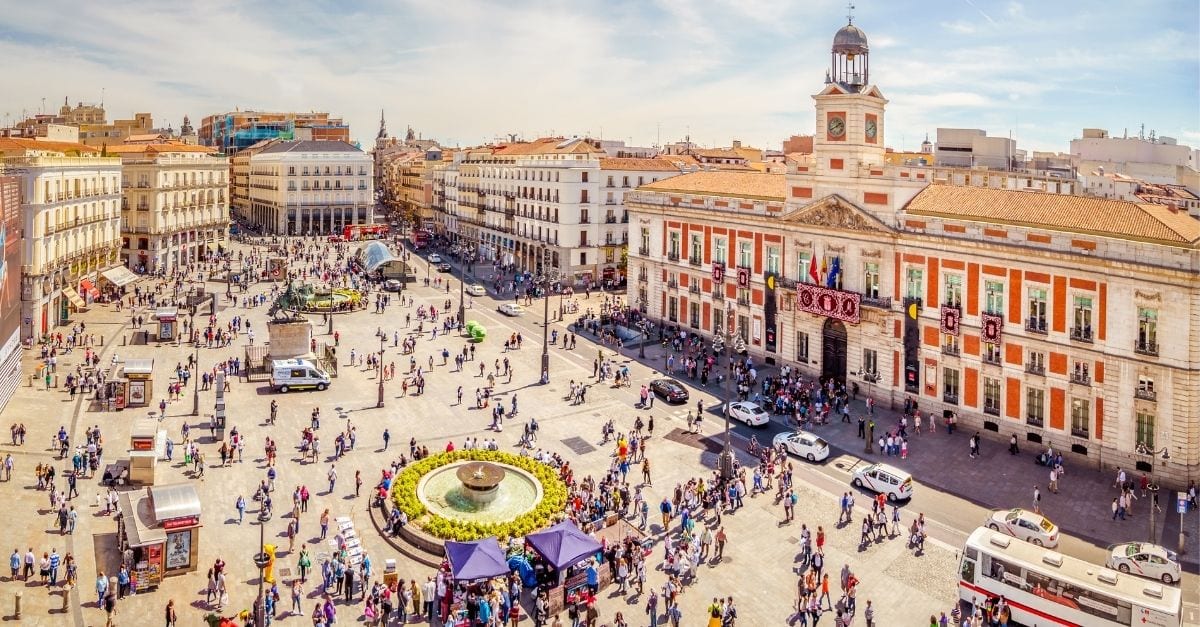 Madrid is a bucket list destination for anyone visiting Spain.
Vibrant, and highly cosmopolitan, the Spanish capital has all you could want from a big city: a string of mouthwatering restaurants, world-class museums, lush urban parks, captivating shopping spots, and a tempting bar scene.
Some of the experiences that Spain travelers can't miss while visiting Madrid include marveling at the artworks in Museo del Prado, and discovering the awe-inspiring Glass Palace (Palacio de Cristal), in Parque del Retiro.
Make sure to also explore Plaza Mayor, a history-filled square built during the reign of Philip III.
Don't forget to also check the iconic "El Oso y El Madroño" statue, in Puerta del Sol square, and dive deep into the Spanish history while snooping around the alluring Royal Palace.
Find Places To Stay in Madrid, Spain
Recommended Read:
The Best Things To Do in Madrid, Spain
Toledo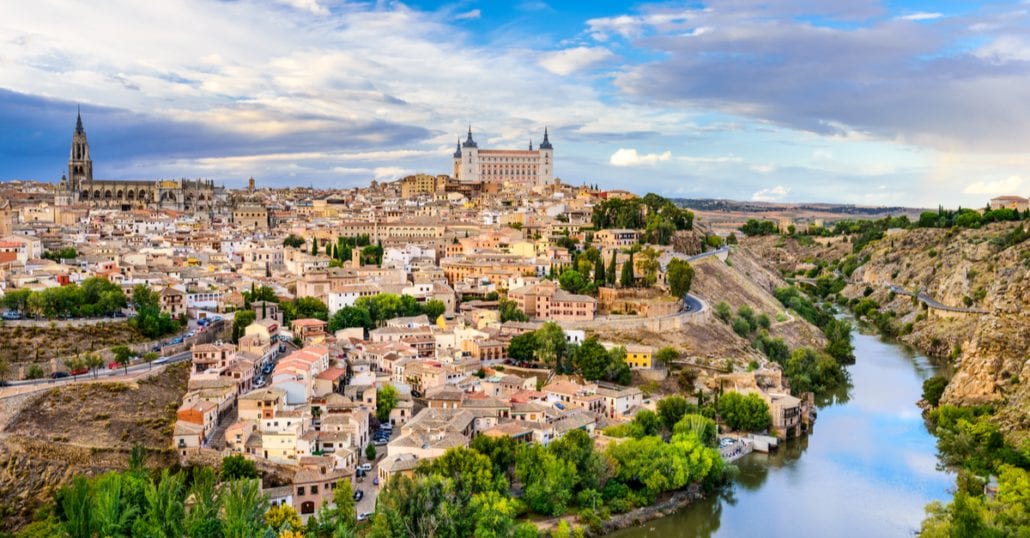 Toledo is a truly off-the-beaten-path city that you must visit during your trip to Spain.
Located just a short ride by bus or train south of Madrid, this atmospheric town filled with charm and nature is the perfect getaway for those seeking to escape the city's hustle and bustle.
Gloriously set in central Spain on a hill above the plains of Castilla-la Mancha, Toledo is especially known for its ancient old buildings that will take you on a journey back in time.
Thanks to its historic significance, Toledo has been a UNESCO World Heritage site since 1986.
The city was dubbed the "City of the Three Cultures", as it showcases a mixture of the three main cultures that have passed through Spain: Jewish, Muslim, and Catholic.
A great way of taking in the irresistible atmosphere of Toledo is by exploring the Old Town (Casco Histórico de Toledo), on foot.
While making your way through the city's cobbled streets, you'll come across vivid remnants of the past including palaces, churches, convents, synagogues, and mosques.
Take your tour even further by visiting the 13th-century Primate Cathedral of Saint Mary of Toledo, also known as Toledo Cathedral, the Mosque of Christ of the Light, built in the 10th century, and the surroundings of the Alcázar.
Also, don't forget to stop and enjoy a glass of wine once in a while!
Find Places To Stay in Toledo, Spain
Granada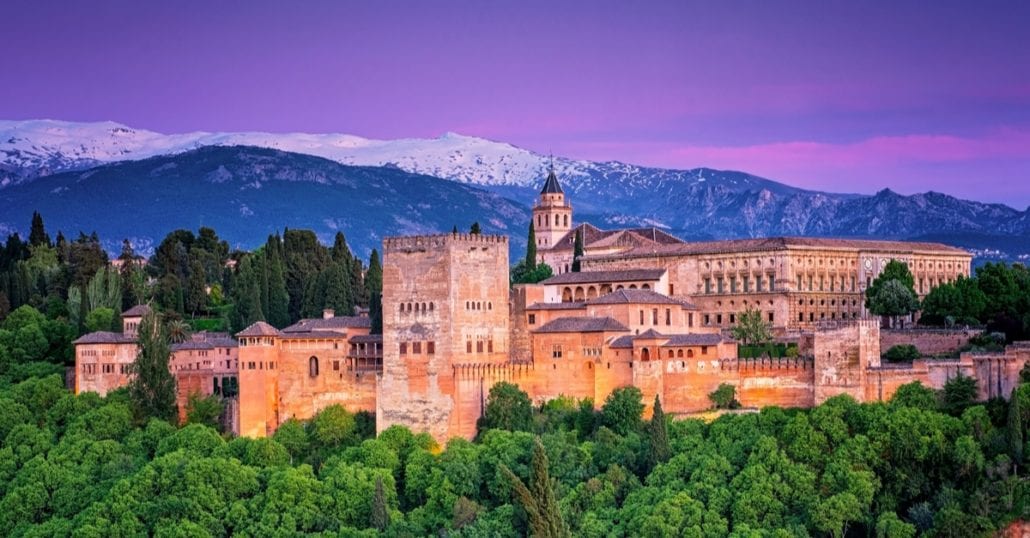 Rewarding travelers with everything from striking Moorish architecture and serene patios to delectable tapas and drinks, Granada is one of the most popular Spain cities.
Some of the tried-and-true activities for those who visit this historic mountain town include hiking up to St. Nicholas Church to enjoy a glass of wine or chilled beer while watching the sunset over the spectacular Alhambra.
While walking around Granada, make sure to pay enough attention to your surroundings. The city is dotted with evocative historical sights, such as gorgeous Moorish and Roman buildings that are simply a feast for sore eyes.
For a fascinating history class, take a free walking tour of Albaicin, which is the historical Moorish quarter of the city and the oldest neighborhood of Granada.
Home to narrow Moorish streets and medieval constructions, this area was declared a World Heritage Site in 1984, along with the Alhambra.
The best time to visit Granada? Definitely spring! During that time of year, the weather is comfortably pleasant, and trees and bushes burst with colorful flowers.
But if you plan on visiting Granada in winter, no worries. The city is nestled in the foothills of the Sierra Nevada Mountains, which is a prime destination for skiing in Spain!
Find Places To Stay in Granada, Spain
Recommended Read:
A Guide To Eating Tapas In Granada
Córdoba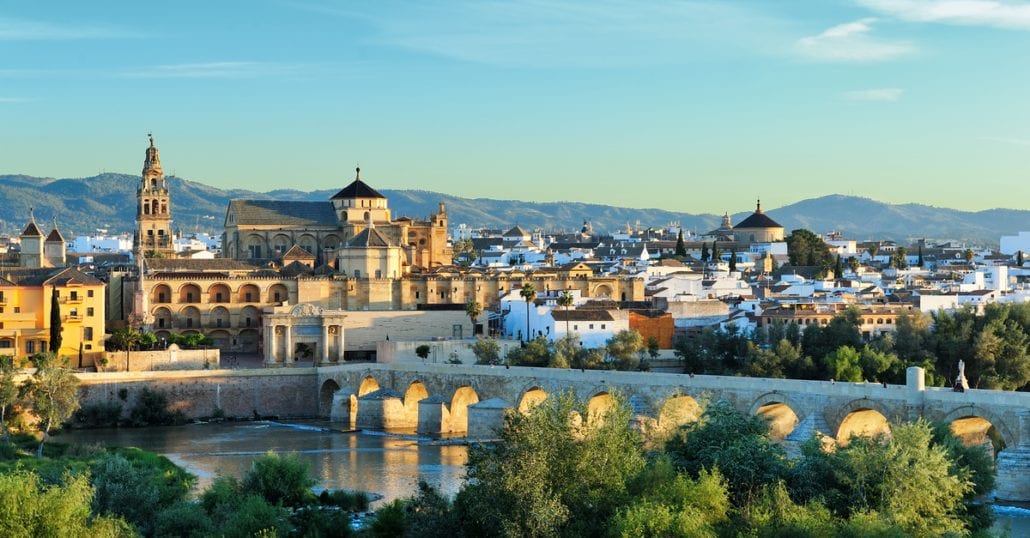 Tucked in Andalusia, only about 30 minutes by train from Spain's southern capital, Córdoba is a beautiful town famous for its mix of Roman and Islamic architecture dating back to the early 1st century BC.
Once one of the largest cities in the world with a population three times its current, Córdoba was the capital of the Caliphate of Córdoba, which for several hundred years controlled most of the Iberian peninsula.
This was mainly because, after Córdoba was captured and destroyed by the Muslims, Abd al-Raḥmān I a member of the Umayyad family took the leadership of the Spanish Muslims and made Córdoba his capital in 756.
Córdoba grew enormously and became the most cultured city in Europe. The Umayyad family filled the city with palaces and mosques, which can still be seen to the present day.
Some of the city's most precious historical treasures include the La Mezquita Mosque, also known as the Great Mosque of Córdoba.
One of the oldest structures still standing from the time Muslims ruled Al-Andalus, the mosque is famous for its sumptuous prayer hall built with recycled ancient Roman columns.
Thanks to its dazzling architecture, it welcomes millions of visitors every year.
The city is truly a treasure trove for architecture lovers.
Aside from the Great Mosque, other must-see ancient constructions are the Alcázar de Los Reyes Cristianos, located just across the Roman Bridge, and Palacio de Viana, a dreamy Renaissance palace filled with 12 lush patios.
Often regarded as one of the most beautiful cities in Spain, Córdoba is a popular destination during springtime.
This is when crowds of people gather to see the famous local patios filled with colorful flowers of all shapes, sizes, and colors.
Curious fact: Did you know that Cordoba's Old Town is a Unesco World Heritage Site? Yes, and a very beautiful one!
So, when visiting the city, wander around its central neighborhoods, such as the Judería Quarter, which is filled with history.
Are you a Game of Thrones fan? Then you can visit Cordoba's GOT Spain filming locations during a road trip through Spain.
Find Places To Stay in Cordoba, Spain
Seville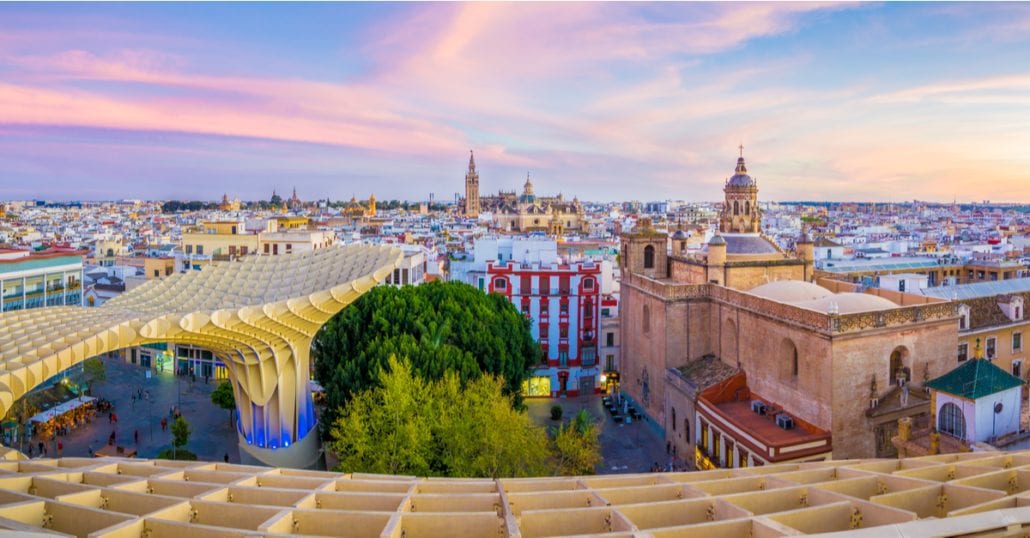 If you are fond of flamenco dancing, enticing floral scents, and striking Moorish buildings, Seville is the perfect place for you.
Considered the beating heart of Southern Spain, this city will quickly captivate you with its rich cultural heritage and fascinating history.
The capital city of southern Spain's Andalusia region, Seville also used to be the capital of Muslim Spain.
Thanks to the ʿAbbādid and the subsequent Almoravid and Almohad dynasties, it became one of the most important cultural and commercial centers in all of Europe.
In the 12th century, Seville truly flourished, and several grandiose constructions started to pop up in the city.
One of the most spectacular buildings of these golden days is the Alcázar Palace, a complex of Mudéjar-style palaces founded in the early Middle Ages, and one of the oldest palaces still in use in Europe.
Filled with breezy gardens, alluring courtyards, sumptuous tapestries, and ceramic tile plinths, Royal Alcázars of Seville was one of the filming locations of Game of Thrones in Spain, as the setting for the city of Dorne.
During your trip to Seville, do not forget to walk around the Maestranza bullfighting ring and take long walks along the Guadalquivir River.
You can also go to a Flamenco concert, as the city is commonly linked to this dramatic, soulful, and beautiful Spanish art.
Make sure you also visit Plaza de España, a showstopping semi-circular square that dazzles visitors with its mix of architectural styles, including Baroque Revival, Renaissance Revival, and Moorish Revival.
Also, if you are already planning your Easter holiday, then we highly recommend you add Seville to your itinerary.
The Easter processions in the city are one of the most beautiful in Spain and happen to attract millions of tourists.
In fact, it's believed that Seville's Easter celebrations have existed since at least the 16th Century, and from Palm Sunday to Easter Sunday, the city's streets come alive with these religious processions.
This lively city is definitely among some of the best places to visit in Spain for its classic Spanish culture and atmosphere that you won't forget so soon!
Find Places to Stay in Seville, Spain
Recommended Read:
A Guide To The Semana Santa Festival in Spain
Cadiz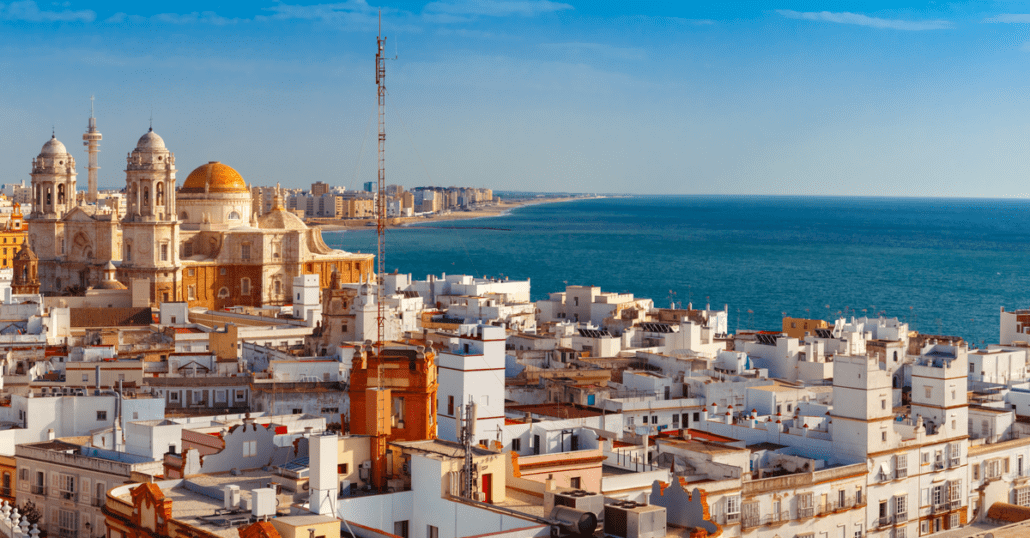 Spain's southernmost city, Cadiz is a true paradise for beach bums and seafood lovers.
Thanks to its glittering coastline filled with idyllic beaches, this breezy Spanish city is one of Europe's top vacation destinations for the summertime, drawing crowds of travelers every year.
Aside from enjoying Cadiz beaches, travelers can also take the opportunity to explore the city's precious historical sights.
An unparalleled way of discovering the local landmarks is by taking a walk through the cobblestone streets of Old Town, which is located within the remnant of the ancient city walls and harbors a collection of splendid plazas.
Some of the attractions you'll stumble upon during the tour include the Baroque-style Cathedral of Cadiz, remains of a partially excavated 1st-century Roman amphitheater, and Castillo de Santa Catalina, a star-shaped 17th-century fortress.
Find Places To Stay in Cadiz, Spain
Palma de Mallorca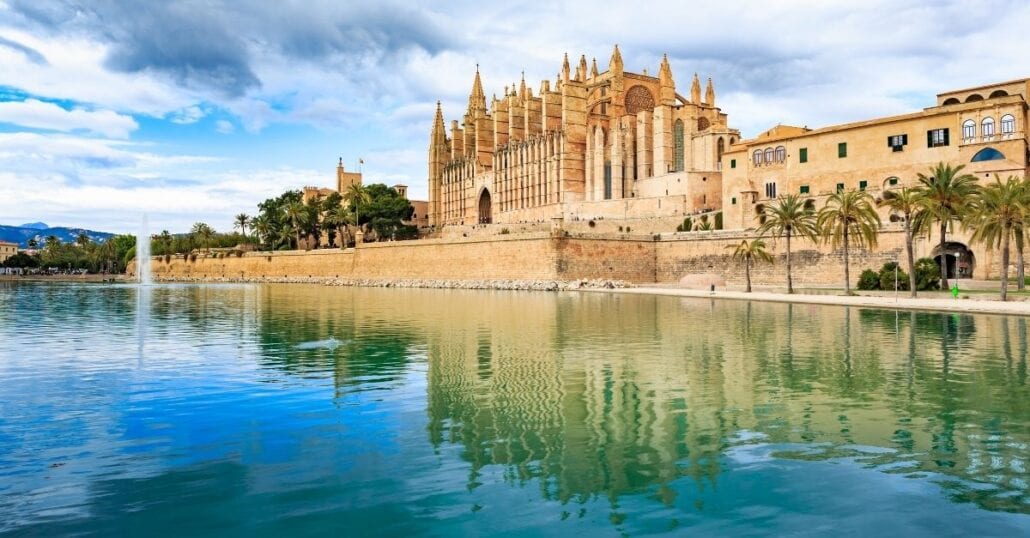 Palma de Mallorca is the capital of the Balearic Islands and one of the most amazing vacation cities in Spain.
Located in the western Mediterranean, the city is well known for its gothic buildings and paradisiac beaches of azure waters.
If it's your first time in Palma de Mallorca, take some proper time to uncover the city center, home to cobbled medieval streets, old townhouses, and the famous Cathedral de Santa Maria of Palma (La Seu Cathedral.)
After visiting the old town, which is walkable and compact, go to the 19th-century Mayor Plaza, also located in the city center.
During the summer, soak up the sun on the Palma City Beach and stroll by the blue ocean on the Paseo Marítimo, a seafront promenade in Palma.
Find Places To Stay in Palma de Mallorca, Spain
Malaga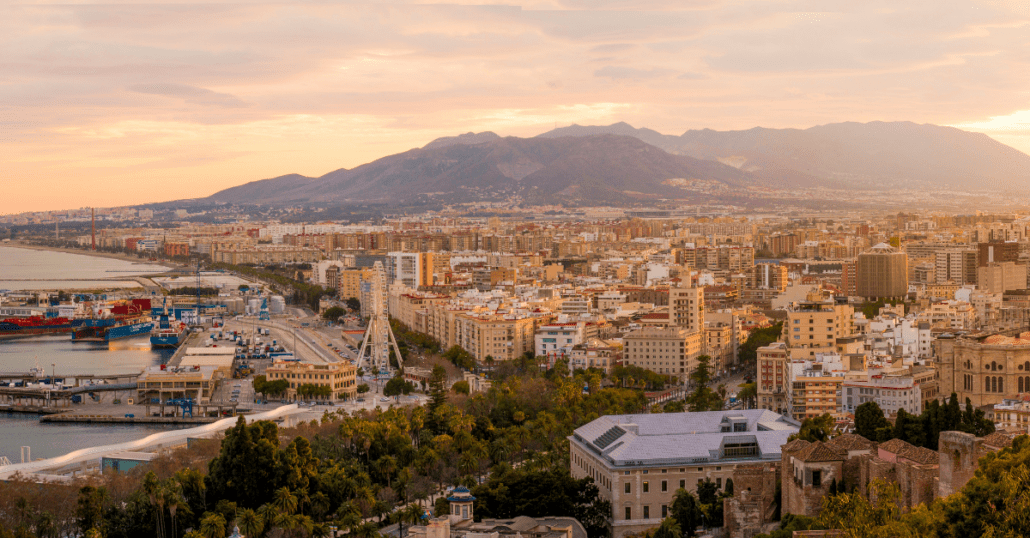 Located in southern Spain's Costa del Sol, Malaga is a laid-back city occupied by resorts and welcoming sandy beaches.
To get started, visit Malaga's old town, which boasts a rich cultural heritage marked by the Roman, Visigoth, and Moor invasions.
And since we're speaking of culture and history, make sure to also include visits to the city's hilltop citadels, which are the Alcazaba and the ruined Gibralfaro, and flaunt remnants of the Moorish rule.
You can also discover the oldest monument in Malaga, the Roman amphitheater, dating back to the first century.
If you're in the mood for some art, a visit to the home where Picasso was born, in Plaza de la Merced, is highly recommended.
Also, take a tour of some of Malaga's finest beaches, such as Playa de La Malagueta and Playa de La Caleta, located close to the heart of the city.
Find Places To Stay in Malaga, Spain
FAQ
Which part of Spain has the nicest beaches?
The Canary Islands, Balearic Islands, and Costa del Sol are home to some of Spain's best beaches.
Where is the clearest water in Spain?
In Es Trenc Beach, Mallorca.
What are the best Spanish cities to visit?
The best cities to visit in Spain are:
Bilbao;
San Sebastian;
Barcelona;
Valencia;
Salamanca;
Madrid;
Toledo;
Granada;
Córdoba;
Seville;
Cadiz;
Palma de Mallorca;
Malaga.
How many UNESCO World Heritage Sites are in Spain?
Spain ranks third in being home to the most UNESCO World Heritage Sites in the world, with a total of 48 sites.
What is the best city to visit in Northern Spain?
The top 5 cities in Northern Spain:
Barcelona;
Santiago de Compostela;
Bilbao;
Pamplona;
Santander;
Oviedo.
Which Spanish Cities are you adding to your travel itinerary? For more Spain inspiration check out our Game of Thrones Spain travel guide, and the best travel destinations to celebrate New Year!
Browse. Book. Stay.
CuddlyNest provides all accommodations to all travelers at an unbeatable price. Find unlimited travel inspiration on our blog and social media channels.
Here are some curated readings for you:
Tourist Attractions in Spain
Honeymoon Destinations in Spain
Adventure Travel in Spain
Semana Santa Spain
Best Beaches in Spain
Things to do in Madrid, Spain
Best Festivals in Spain
Best Spanish Cheese
Tomatina Festival Spain
Tapas in Granada Spain
Spain Culture Travel
Tourist Attractions in Barcelona
Free Things to do in Barcelona
You might also like:
Where to Stay in Europe
Best Travel Apps for Europe
Smallest countries in Europe