With many city-run museums that keep culture-vultures happy, an unlimited variety of food and dining in every class, and unrivaled cultural attractions, Madrid celebrates its role as a deeply cosmopolitan city.
Thanks to its vibrant cultural dynamism — Madrid has incredible architecture, museums, and street art begging to be explored —, this soulful destination is often ranked among the best cities to visit in Spain.
Whether you're keen on visiting some of the best art exhibitions in the world, feasting on mouthwatering tapas, or simply chilling in idyllic gardens, there's always a whirlwind of activity in Madrid.
Read on to discover what are the top 15 attractions you can't miss on your next trip to the Spanish capital.
Find Places To Stay In Madrid, Spain
What You Need To Know Before Visiting Madrid, Spain
What is Madrid, Spain, best known for?
Spain's capital is known for its vibrant atmosphere. Deeply cosmopolitan, Madrid has all the offerings one could want from a big city: world-class museums, an unlimited variety of food and dining in every class, a plethora of nightclubs and bars, and plenty of green spaces.
Is there a lot to do in Madrid?
Known around the world as a first-rate destination, Madrid has a robust line-up of things to see and do. The city's staggering number of attractions means that travelers will never get bored.
How many days are enough in Madrid?
Five to six days should be enough to help you get a feel for this lively city.
What is the best time to visit Madrid, Spain?
Spring and fall are ideal times to visit Madrid. The weather is milder, rates tend to be lower and crowds of tourists are much thinner.
The Best Things To Do In Madrid, Spain
Explore Madrid's Art Museums
World-class museums abound in the capital of Spain. So take your pick, because there's something to satisfy everyone. A great idea is to explore Madrid's "Golden Triangle of Art", which is made of three major museums: Museo del Prado, Reina Sofia, and Thyssen-Bornemisza museum.
Dating back almost 200 years, Museo Nacional del Prado is the biggest one in the country. The glorious Prado Museum displays fantastic works of European art by old masters like El Greco, Francisco de Goya, Velazquez, Rembrandt, and Pablo Picasso.
The Museo Reina Sofia, located near the Atocha train and metro stations, is also among the most visited museums in Spain. When visiting this modern art museum, expect to marvel at a fascinating collection spanning the 19th and 20th centuries, which includes masterpieces like Guernica, by Picasso.
While snooping around the galleries of Thyssen-Bornemisza museum, you'll catch a glimpse of almost 1000 paintings from the 13th right up until the 20th century, including masterpieces by geniuses like Van Eyck, Dürer, Caravaggio, Rembrandt, Canaletto, Monet, Degas, and Van Gogh, just to name a few.
Other must-visit museums in Madrid are the National Museum of Decorative Arts, the Cerralbo Museum, the Lázaro Galdiano Museum, and the Museo de Arte Contemporáneo, for contemporary art.
Visit The Buen Retiro Park and the Crystal Palace
Looking for a quiet place to go for a leisure stroll in Madrid? Then head over to the Parque del Retiro, a lush crown jewel in the heart of the city. Covering over 125 hectares, this dreamy park is dotted with more than 15,000 trees, aside from eye-popping sculptures and fountains.
When visiting "El Retiro", don't forget to stop by the Glass Palace (Palacio de Cristal), which is one of the finest examples of cast-iron architecture in Madrid. Today, the palace is owned by the Reina Sofía Museum, which uses it all year round as a place for hosting temporary exhibits.
Walk Around Plaza Mayor
Built during the reign of Philip III, Plaza Mayor is a portico-lined square is located at the very heart of Hapsburg Madrid, the old part of the city.
Meander your way through this monumental square and pay attention to the eye-catching details in the construction, which was designed by Spanish architect Juan Gómez de Mora.
One of the square's most valuable features is the statue of the king on horseback — often considered one of the most precious works of art to be found on the streets of Madrid.
Marvel At The Art Collection Of The Royal Palace
Built in the mid-1700s for King Philip V, the Royal Palace of Madrid is the largest royal palace in western Europe. Boasting an artful blend of baroque and neoclassical styles, this alluring building was home to home to Spanish kings from Charles III to Alfonso XIII, and it's the official residence for the Spanish Royal Family (although now it's just used for official ceremonies).
Visit the palace to go on a fascinating journey through Spain's history, and to discover the treasures of the royal collections, which encompass gorgeous frescoes and works by Goya, Caravaggio, and Velázquez.
See The Puerta de Alcalá At Plaza de la Independencia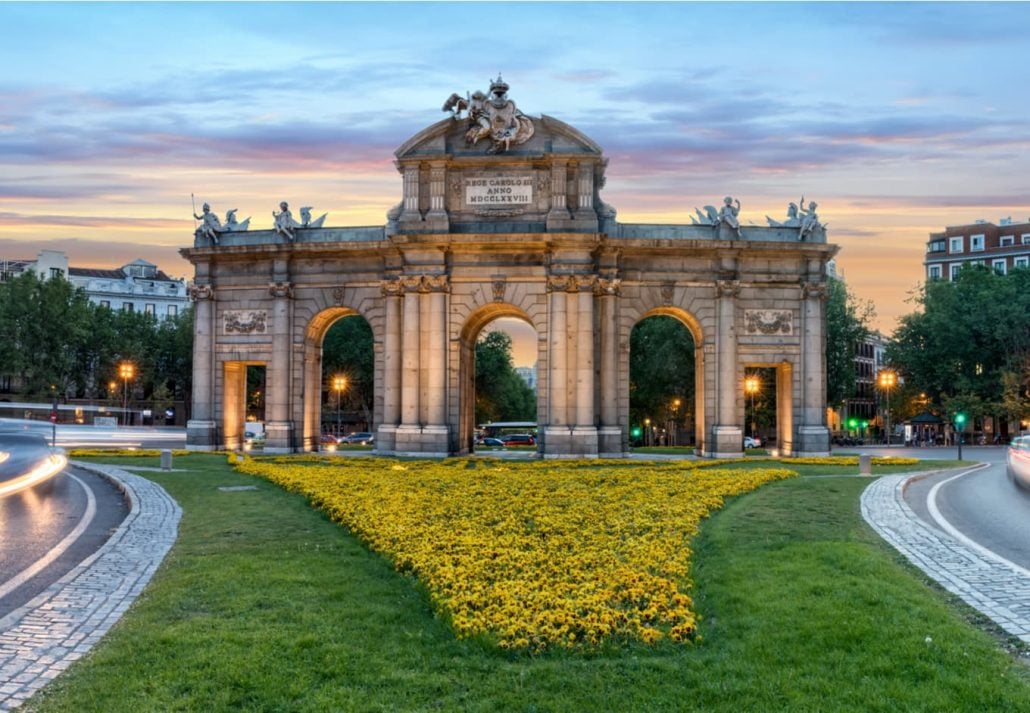 Located where Calle Serrano, Calle Alcalá, and Calle Alfonso XII converge, Plaza de la Independencia is a central square where one of the city's most emblematic monuments, the Puerta de Alcalá gate, sits. Constructed in 1778 by architect Francisco Sabatini, this neoclassical archway made of granite has once served as the gateway to and from the city.
Tour The Santiago Bernabéu Stadium
The Santiago Bernabéu Stadium is a must-visit for any sports lover who's traveling to Madrid. With a current seating capacity of 81,044, it has been the home stadium of Real Madrid since its completion in 1947, and it is the second-largest stadium in Spain.
Grab A Bite At Mercado de San Miguel
No matter what your plans are in Madrid, don't miss the chance to visit Mercado de San Miguel, a veritable paradise that will entice the fastidious foodies.
Located in the city center, the monumental Mercado de San Miguel opened in 1916 as a local food market, and years later it became Madrid's first gourmet market.
In there, you'll stumble across more than 20 stands serving unbeatable food, which offers a unique variety of dishes and delicacies, from the best Spanish cheeses to stellar wines and jet-fresh fishes from the Galician coast.
Walk Along The Paseo del Prado
Running from North to South between the Plaza de Cibeles and the Plaza del Emperador Carlos V, the postcard-ready Paseo del Prado is a gorgeous leafy boulevard and the first of Europe's tree-lined urban promenades.
Dating back to the 16th century, the avenue is dotted with some of the city's most famous museums and cultural spaces, such as the Prado Museum, the Thyssen-Bornemisza Museum, CaixaForum Madrid, the Royal Botanical Garden, and the lovely Paseo Del Prado book market. Perfect place for an idle stroll in Madrid!
Discover Plaza de Cibeles and Palacio de Cibeles
Plaza de Cibeles is awash with monuments that document the city's fascinating past and cultural heritage. When strolling around the square, which is one of the most iconic symbols of Spain's capital city, you'll spot the magnificent Cibeles Fountain, designed by the architect Ventura Rodríguez in 1782, and the gorgeous Bank of Spain (Banco de España). Don't forget to visit the rooftop located in Palacio de Cibeles (Cybele Palace), which offers the most breathtaking views of Madrid.
Eat Your Way Through La Latina Neighborhood
Food enthusiasts who are looking for a tantalizing place to eat should add a visit to La Latina to their Madrid bucket list. This vibrant neighborhood has a thick concentration of lip-smacking tapas bars, especially in the Calle Cava Baja street.
Must-eats include the pintxos at Taberna Txakolina, the vermouth cocktails at Taberna La Concha, and the roasted lamb at La Posada de la Villa.
Check Madrid's Most Iconic Statue In Puerta del Sol
Among the list of the most emblematic squares in Madrid, Puerta del Sol has got to be one of the most iconic. Originally the site of one of the city's gates, the plaza is home to the most famous symbol of Madrid, "El Oso y El Madroño", a 20-ton statue of a bear eating fruits from a tree.
Debod Temple
Of all the precious gems that Madrid has, the Temple of Debod has got to be one of the most intriguing. Dating back to the 2nd century BC, this Egyptian temple was donated to Spain by the Egyptian government and transported to Madrid's Cuartel de la Montaña Park.
While you cannot visit the inside of the monument, the temple is one of the best places for watching the sunset in Madrid.
Gran Via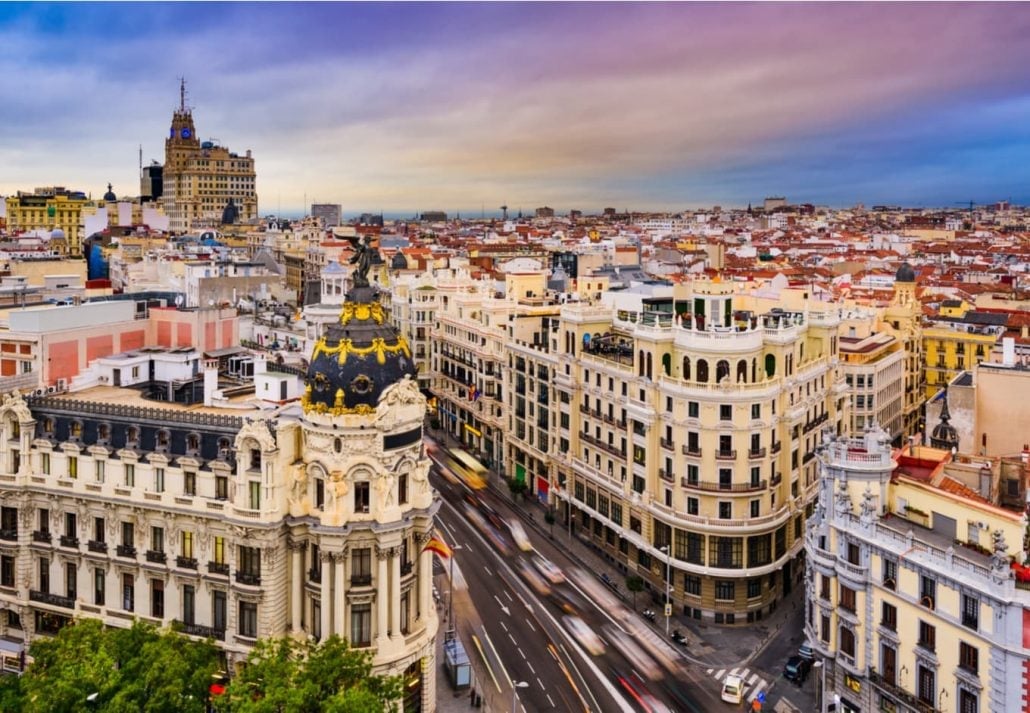 Built between 1910 and 1929, the Gran Via is Madrid's postcard-worthy central avenue, and one of the city's most iconic features. While walking along this bustling avenue, visitors can shop in its tempting boutique stores, eat in its several restaurants, or grab a drink in its vibrant bars.
Círculo de Bellas Artes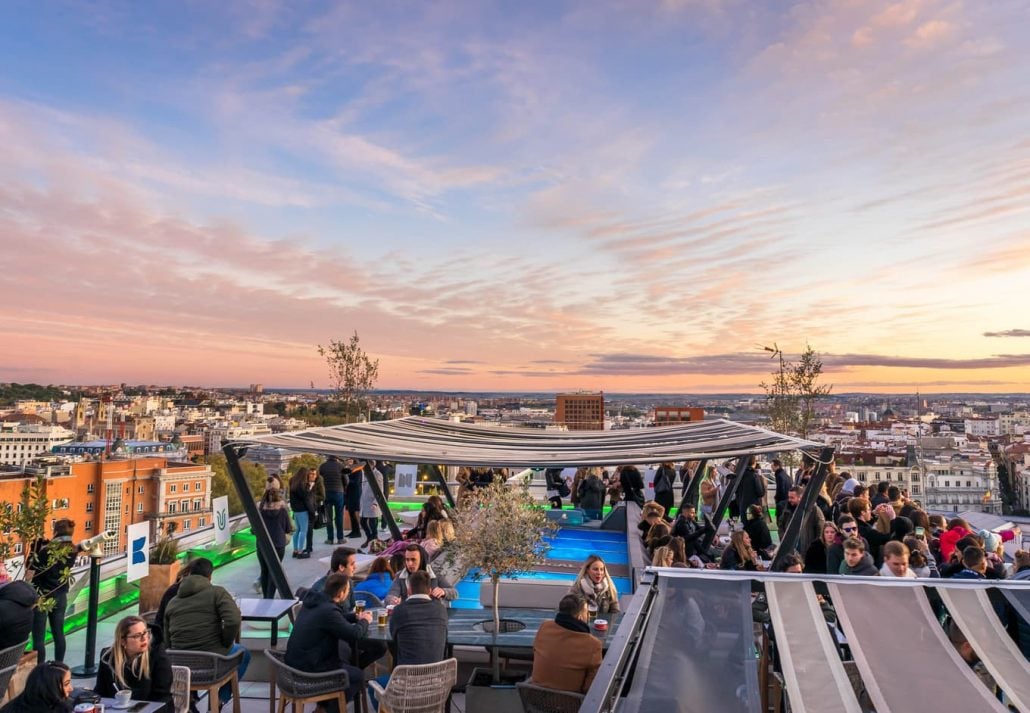 Founded in 1880 by a small group of artists, Círculo de Bellas Artes is one of the most important private cultural institutions in Madrid. Visit CBA to enjoy a vast program of events — from film screenings to art exhibitions —, and to grab a drink at their rooftop bar, which offers a mesmerizing view of the Gran Via.
Curious fact: the young Pablo Picasso attended painting classes in Círculo de Bellas Artes.
Plaza de Toros de Las Ventas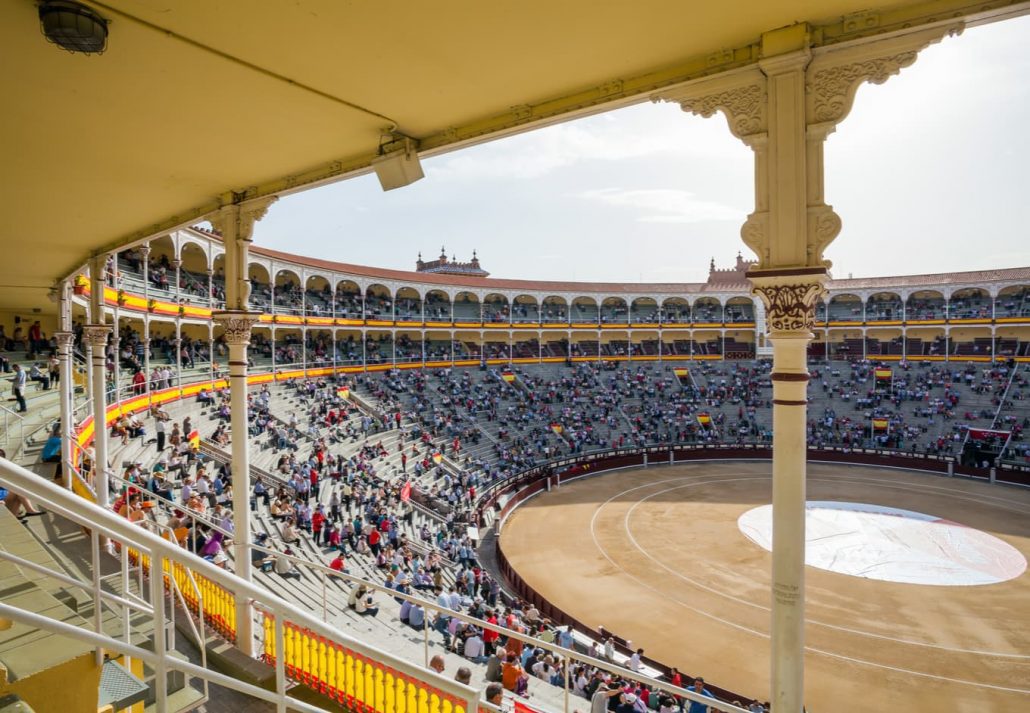 Plaza de Toros de Las Ventas, also known as Las Ventas, is the largest bullfighting ring in Spain. Located in the east of central Madrid, the Mudéjar-style bullfighting ring can seat over 23,000 people (it's the largest bullring in Spain), and it has hosted a brilliant lineup of concerts from The Beatles to AC/DC.
CuddlyNest provides all accommodations to all travelers at the best price. Find unlimited travel inspiration on our blog and social media channels.
You Might Also Like:
Spain Travel Apps
Tourist Attractions in Barcelona
Best Cities to visit in Spain
La Tomatina Festival, Spain
Eating Tapas In Granada, Spain
Vegan Restaurants in Alicante, Spain
A Complete Guide To The 15 Best Festivals In Spain
The 10 Best Spanish Cheese You Should Try
The Ultimate Guide to Lobos Island, Spain