There are endless reasons to hop on a flight to Spain: traditional food, postcard-worthy beaches, big-name landmarks, a laidback atmosphere that is just hard to resist, just to name a few.
The country also happens to host a maze of popular festivals that keep visitors and locals on their toes all year round. From surreal Holy Week processions to a massive tomato fight, Spain festivals offer travelers the one-of-a-king opportunity to experience local culture in the most unique way possible.
Is visiting Spain is on the books for you? Then you might wanna plan your trip around one of the country's festivals and treat yourself to a life-changing travel experience.
Read on to discover everything about the top 15 Spanish festivals you'll want to include on your travel bucket list.
Spanish Festivals Calendar
| | | |
| --- | --- | --- |
| Month | Festival | Date (2021) |
| January | La Tamborrada | 20th January |
| February | Carnival | 12th Feb to 17th Feb |
| March | Las Fallas de Valencia | 1 to 19 March |
| April | Semana Santa | 28th March to 3rd April |
| April | Feria De Abril | 18th to 24th April |
| May | Cordoba Patios Festival | 3th to 16th May |
| May | Feria Del Caballo | 8th May |
| June | Noche de San Juan | 23rd June |
| July | Haro Wine Festival | 23rd June |
| July | Benicassim Festival | 15th to 18th July |
| July | San Fermin | 14th July |
| July | Romería de Santa Marta de Ribarteme | 29th July |
| August | The Semana Grande | 21st to 29th August |
| August | Festa Major de Gràcia | 15th August |
| August | La Tomatina | 25th August |
The 15 Best Spanish Festivals
La Tamborrada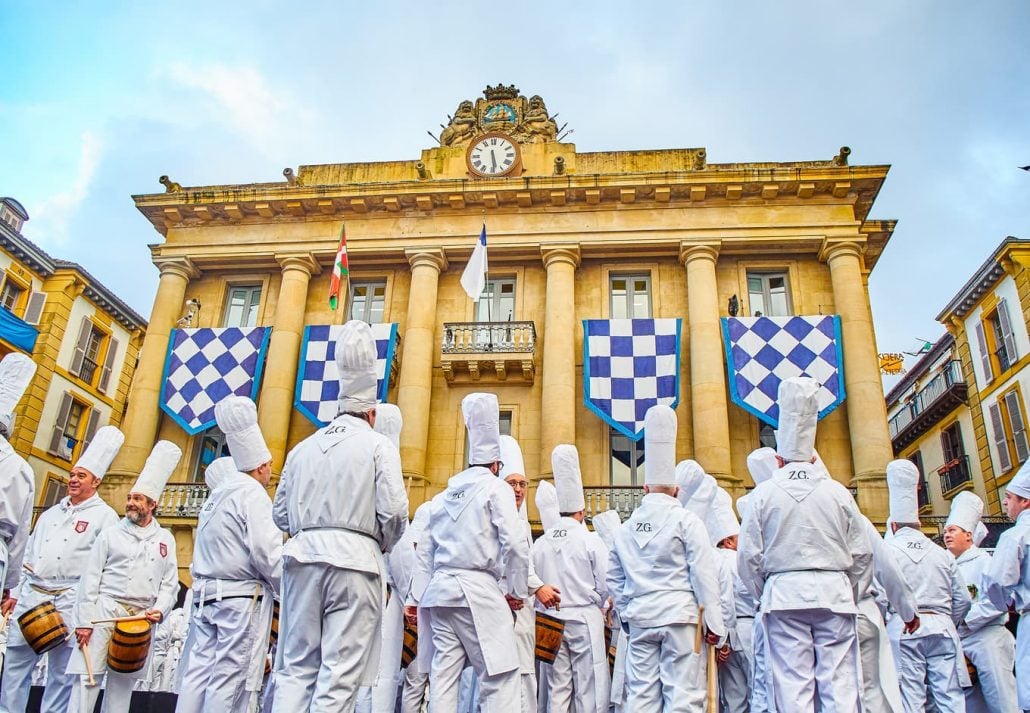 Where: San Sebastián
When: 20th January
If you happen to be in San Sebastián at the end of January, don't pass up the opportunity to participate in the vibrant and explosive La Tamborrada festival. Regarded as the main party on the city's calendar, Tamborrada features loud marching bands parading through town, and jostling crowds of locals and tourists.
Dating back to the times when Napoleon's troops took over San Sebastian, and the French troops marched around the city, banging on their drums, La Tamborrada lasts for 24 hours — from midnight of January 19, until midnight of January 20.
The festival starts with the entire city gathering in the Plaza de la Constitución, where the city flag is raised. More than 15,000 Donostiarras dressed as soldiers and cooks, actively take part in the drumming and march across the city.
Participating in the festival is free — all you need to do is go to the streets and follow the sound of drums!
Find Places To Stay In San Sebastián
Carnival
Where: Nationwide
When: In the week leading up to 40 days before Easter Sunday
Spain plays host to Europe's biggest and best Carnival festivities. Happening across the country usually between February or March, this is a festivity lived on the streets.
Regardless of the cold or rain, huge crowds across the country gather to marvel at a magical spectacle featuring giant floats, and dance to the sound of raucous marching bands for hours on end.
Noted for its humor, and irreverent costumes, Carnival happens in several cities across Spain — with each party having its unique spin and traditions.
Spain's biggest carnival, Carnaval de Santa Cruz, happens on the island of Tenerife, the largest of the Canary Islands, and it's considered the most "Brazilian" of all the Spanish carnivals.
Other worth-experiencing carnivals in Spain include the thrilling Carnival of Sitges, a favorite of the gay community, and the Carnival of Cádiz, an annual ten-day celebration known for its sarcasm, and humor.
While the wildest festivities happen in Cadiz, Canary Islands and Sitges, there are also thrilling carnivals in other Spanish destinations like Badajoz, Villarrobledo, La Bañeza, Toro, Miguelturra, Herencia and La Vijanera in Cantabria.
Las Fallas de Valencia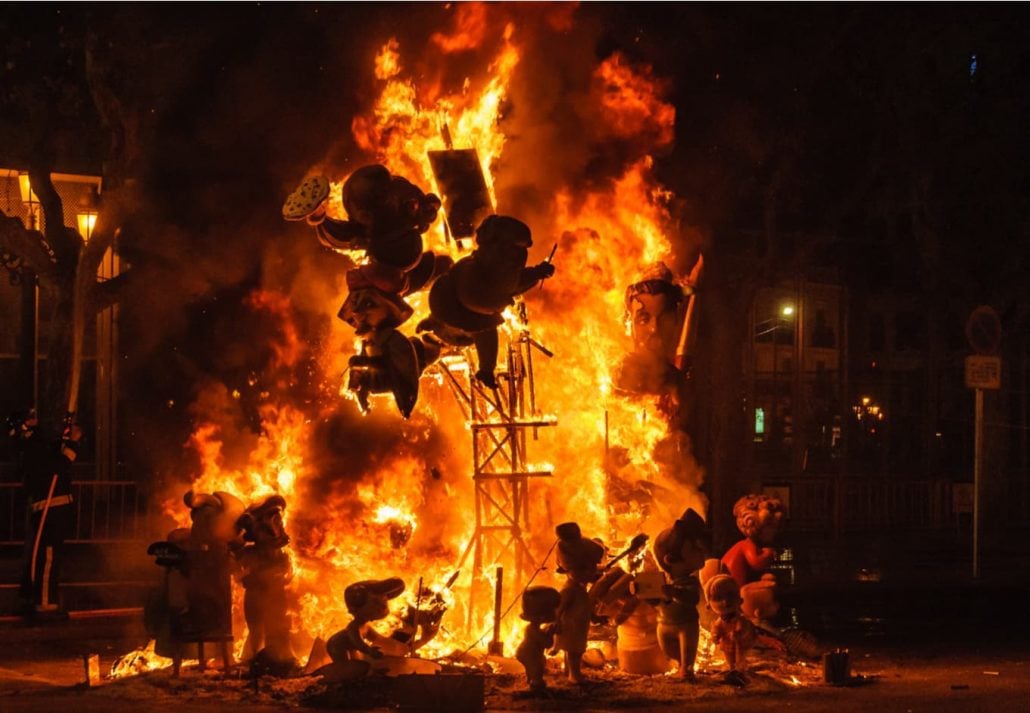 Where: Valencia
When: 1 to 19 March
One of the most famous Spanish festivals, Las Fallas (The Falles) is a must for anyone that's planning a cultural trip to Spain.
Held in commemoration of Saint Joseph in Valencia, this bucket list fiesta draws back to the Middle Ages. At that time, carpenters had the tradition to celebrate the arrival of spring on 19th March by burning pieces of wood that were used to prop up their lights during the winter.
Las Fallas lasts for 20 days, from 1 to 19 March, and it features a pyrotechnic spectacle of firecracker denotation and fireworks display called Mascletà. This show happens every day at 2 p.m. in Plaza del Ayuntamiento.
The five main days of Las Fallas — La Plantà — are celebrated from 15 to 19 March. More than 700 massive ninots (lifelike puppets) are set up around the city during this bustling celebration, representing well-known Spanish celebrities or politicians.
The ninots remain in place until the last day, March 19th, which is known as La Cremà (the burning). On that evening, huge falles (torches) are set aflame and the puppets are burnt. One of the ninots is spared from destruction by the popular vote and is exhibited in the local Fallas Museum along with the winners from the previous years.
Combining satire, culture, and art, Las Fallas is a sight to behold!
Find Places To Stay in Valencia
Semana Santa (Holy Week)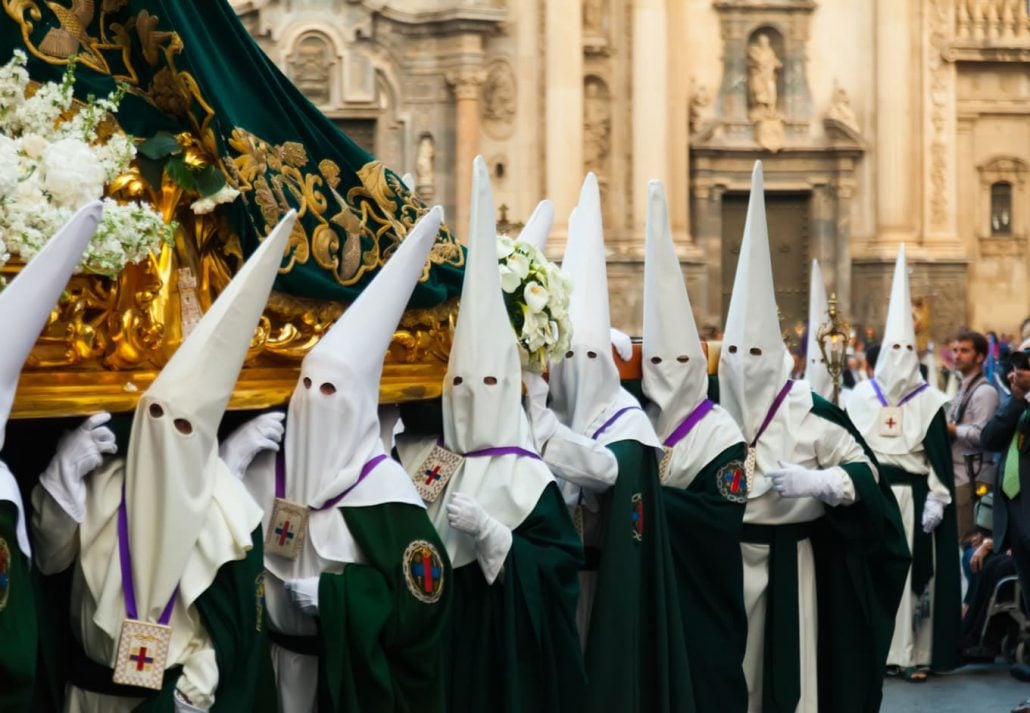 Where: Andalusia, and Castile and León
When: One week leading up to Easter — usually in late March and/or early April.
Taking place in cities all over the country, Semana Santa (Holy Week) is one of the most popular religious festivals in Spain. This week-long celebration happens throughout the week leading up to Easter Sunday, and it's particularly popular in cities of the Andalusia region — Granada, Seville, and Málaga —, and in Castile and León.
The Holy Week in Spain is mainly celebrated with penance processions. Each day, members of the local religious brotherhoods solemnly walk through the streets wearing distinctive cloaks and hoods — the famous capirotes — and carry stunning floats (pasos) depicting different scenes related to the Passion of Christ or the Sorrows of the Virgin Mary.
If you're a foodie, you'll be especially tempted to go to Spain during Semana Santa, as locals cafes have the tradition of serving delicious torrijas, which is the Spanish version of the French toast.
Learn more about Semana Santa Holy Week in Spain
Feria de Jerez (Feria Del Caballo)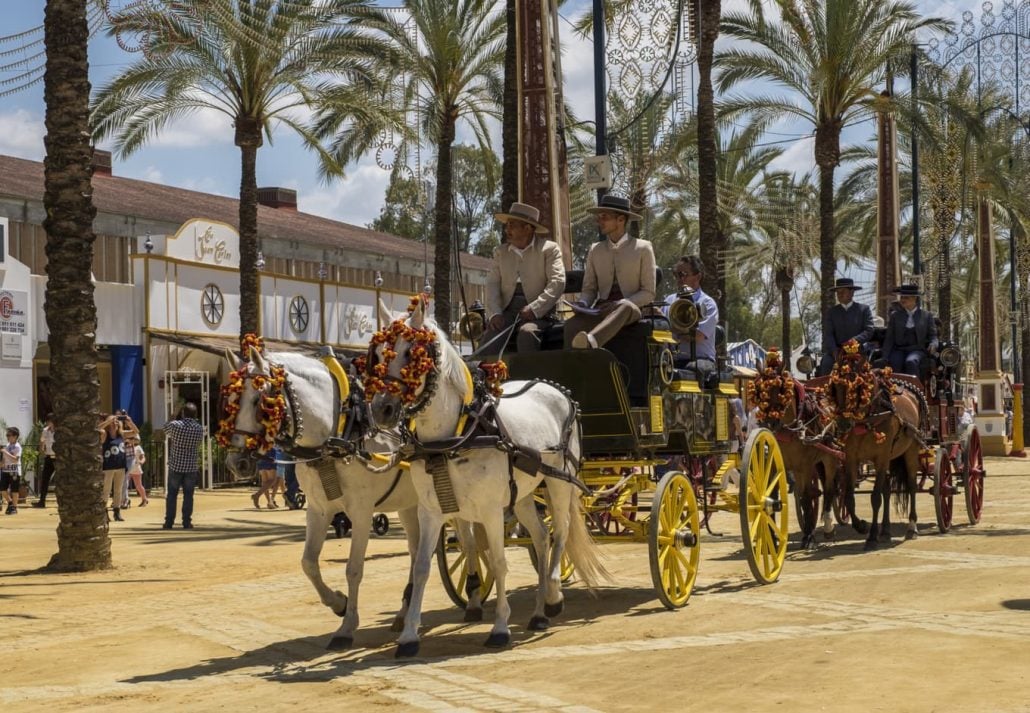 Where: Jerez de la Frontera
When: May, one week after Feria de Abril, of Sevilla
Feria Del Caballo (Horse Fair), is different from everything you've ever seen. Held in the Andalusian city of Jerez de la Frontera, this unique festival brings the entire city together at the González Hontoria fairground, which gets specially decorated with farolillos — colorful paper lanterns.
Also known as Feria de Jerez, the fair attracts thousands of visitors every year, both locals and travelers, who indulge in a dazzling variety of events. The fair's program features equine events, like eye-popping carriage processions, which take place every day within the fairground from 13.00 hrs to 19.30 hrs.
From watching horses elegantly strolling around, to feasting on mouthwatering tapas and drinking fino sherry, Feria Del Caballo treats visitors with a delightful range of things to do.
The Jerez Horse Fair is celebrated every May, and it's open to the public — except for the equestrian events, which require tickets.
La Feria De Abril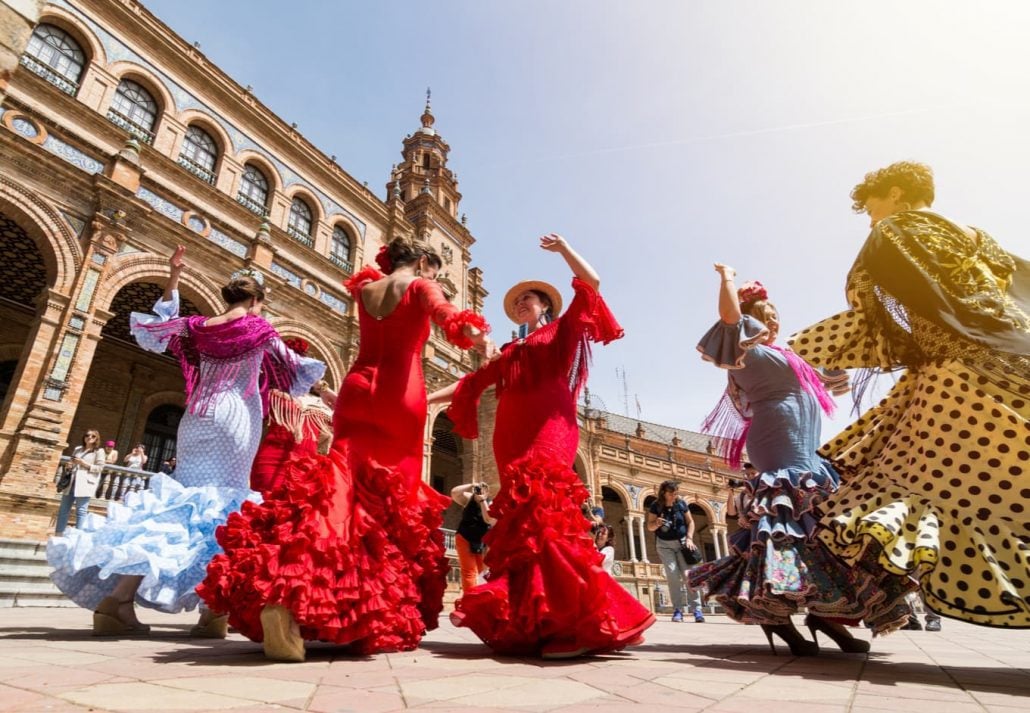 Where: Seville
When: Two weeks after Easter
Held two weeks after Semana Santa, the Feria de Sevilla brings joy and excitement to the capital of the Andalusia region. This traditional Spanish festival boasts a reputation as one of the best in the country, gathering more than one million people from all over for some serious dancing, drinking, and socializing.
The April Fair takes place in the massive Real de la Feria fairground, which gets completely covered with rows of casetas — tents where people eat tapas, drink Sherry, and of course, party. While most casetas are private and belong to prominent families of Seville, there are a few that are public.
Real de la Feria also encompasses an amusement park, Calle de Infierno, which hosts more than 500 activities, aside from featuring food stalls, and thrilling rides like a giant wheel, bumper cars, and a roller coaster.
After a vibrant week filled with parties, carriage and horse parades, and flamenco performances, the festival ends on a high note on Sunday, at midnight, with a spectacular firework display over the Guadalquivir River.
Find Places To Stay in Seville
Cordoba Patios Festival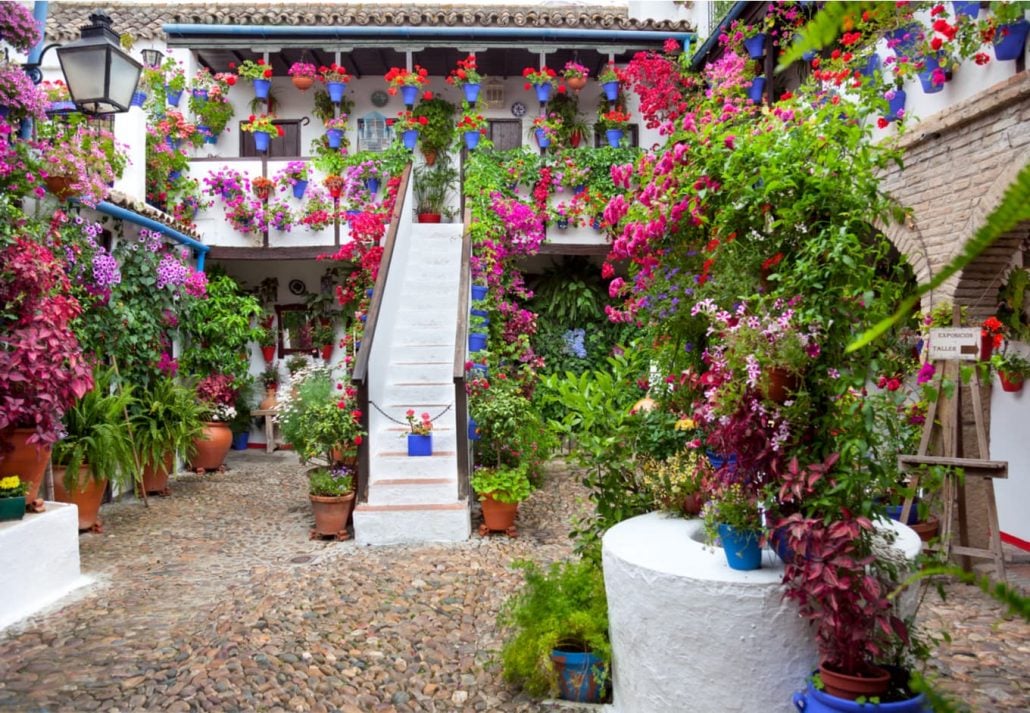 Where: Cordoba
When: First week of May
Patios the Cordoba is the perfect match for those who want to catch a glimpse of the radiance of spring in Spain. In the first week of May every year, this local festival invites locals and visitors to marvel at the most beautiful private courtyards of the city, which are opened for public viewing during the event.
The festival, which started in 1918 during the Spanish civil war, is a long-standing tradition of the city of Cordoba. During the event courtyards (patios) all over the city are covered with colorful blooming flowers and plants, and everyone gets the chance to visit them for free.
Gorgeously decorated, the patios can be discovered by 6 different routes, the Alcázar Viejo being the most visited one. Highlights of this route include the Postrera, Duartas, and San Basilio patios.
Find Places To Stay in Cordoba
Noche de San Juan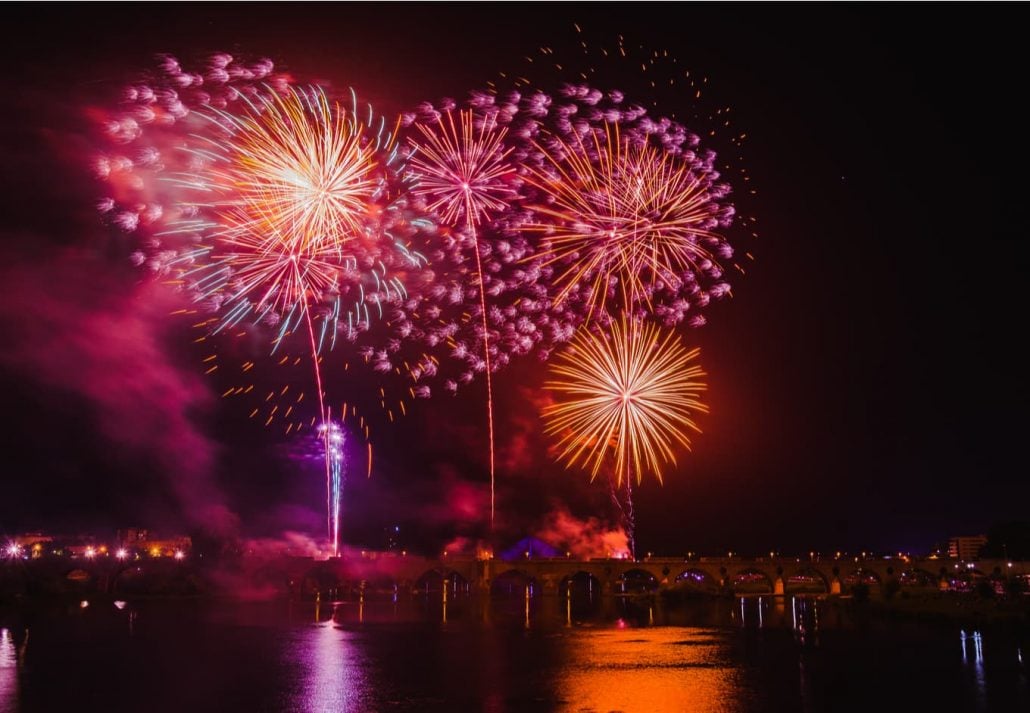 Where: Nationwide
When: June 23
Noche de San Juan is a fun-filled Spanish fiesta that welcomes summer in the warmest possible way welcome. Celebrated at sunset on June 23, one day before the Feast Day of Saint John the Baptist, the festival is held in coastal cities all over the country, from Barcelona and Alicante to Valencia and Gran Canaria.
During Saint John's Eve, locals celebrate by heading over to the beach, where huge bonfires are lit up. One of this festival's main traditions is leaping over the fire and jumping to attract good luck. People also write their wishes on a piece of paper and burn them afterward to come true.
Haro Wine Festival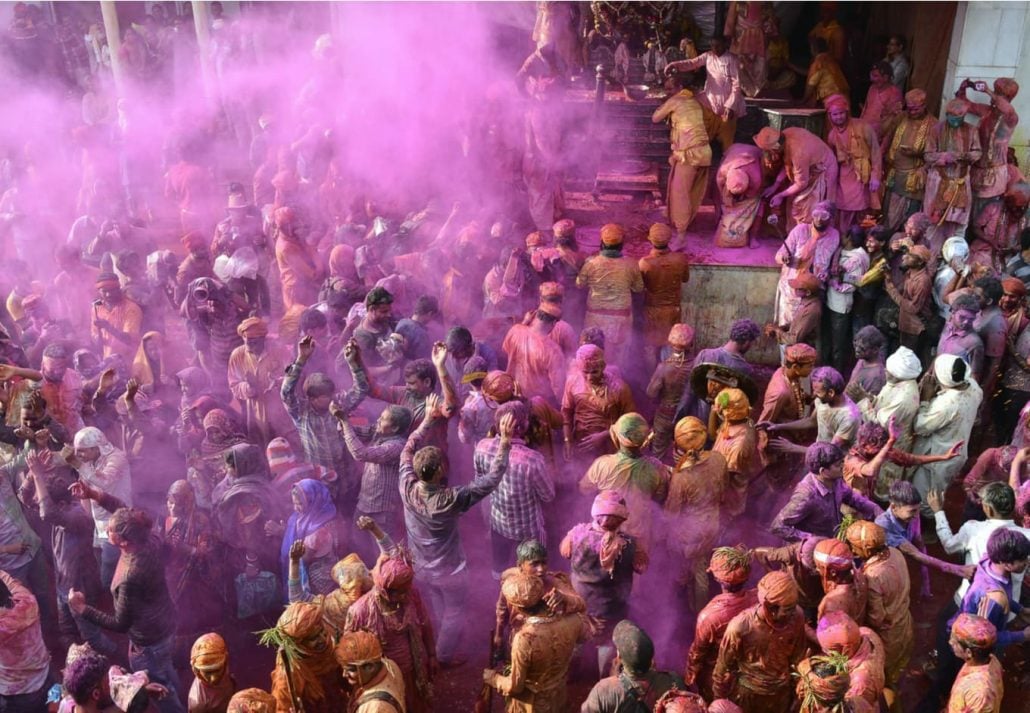 Where: Haro
When: June 29
You must've already heard of the famous — and messy — La Tomatina festival, held in Buñol. But did you know that Spain also hosts a massive wine-throwing festival? Yes!
Every year, the small town of Haro in La Rioja Province, Northern Spain, welcomes thousands of thirsty people who gather to throw wine at each other.
Now declared a Festival of National and Touristic Interest by the Spanish Government, the Haro Wine Fight (Batalla del Vino) is held between the 28th to the 30th of June, with the major focus being the Haro wine battle itself on Saint Peters Day (29th of June).

Most people wear white, and bring containers like water pistols, jugs, bottles, buckets, and toss wine on each other until everyone is completely soaked with the red liquid.
Benicassim Festival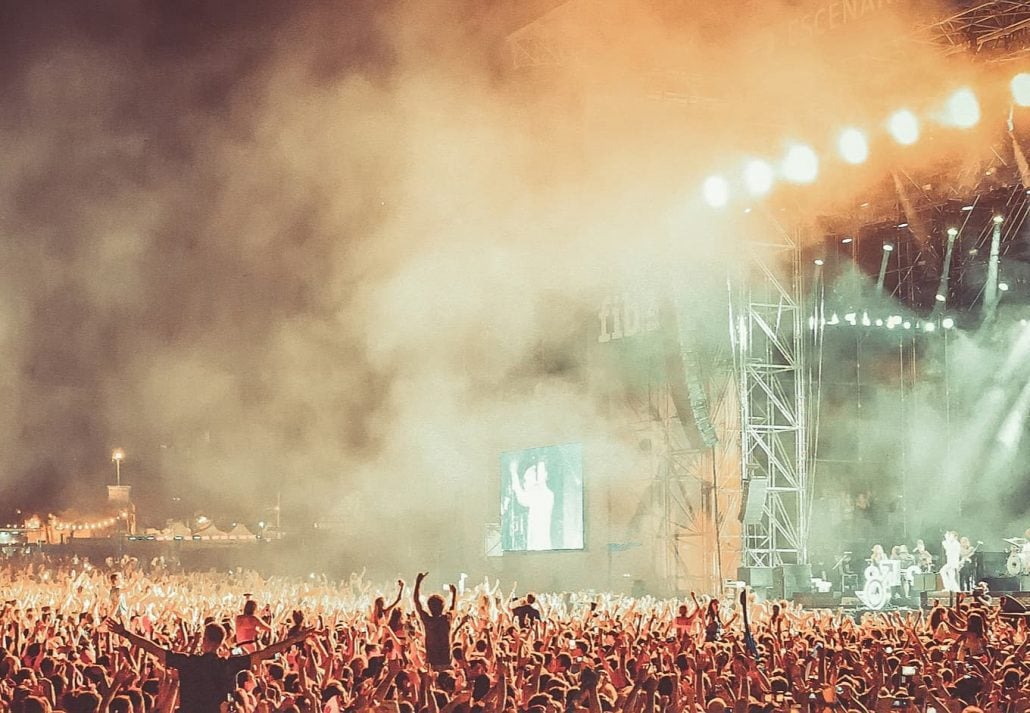 Where: Costa del Azahar
When: 15th – 18th July
Each July, festival-goers from all around the world head over to the scenic Costa Azahar, Spain's orange blossom coast, for the electrifying Festival Internacional de Benicàssim.
Held in the town of Benicàssim, this is one of the most sought-after music festivals in Spain, with a lineup that includes all-time legends like Leonard Cohen, Iggy Pop, Bjork, and Oasis.

The concerts usually start during the late afternoon and last until the morning, so visitors still have plenty of time to explore Valencia, which is often considered one of the best places to visit in Spain.
Find Places To Stay In Valencia, Spain
San Fermin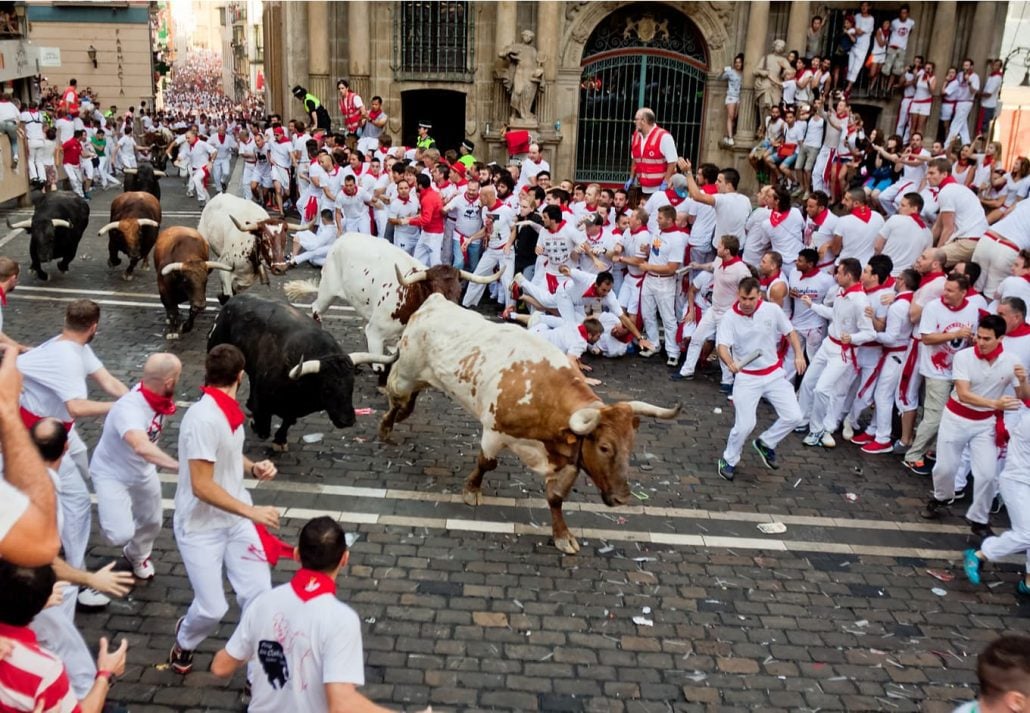 Where: Pamplona
When: July 6th to July 14th
San Fermin Fiesta is, possibly, the most intriguing of all Spanish festivals. Held annually in Pamplona during the summer, this well-known honors Saint Fermín, the city's first bishop and patron saint.
The event begins at noon on July 6 and ends at midnight on July 14, and is made up of a series of vibrant fiestas that are lived out in the open streets, and feature live music, dancing, and drinking.
Unarguably, the best-known event of the Fermín fiesta is the Running of the Bulls, a tradition immortalized by Ernest Hemingway in his novel Fiesta. More than 1 million spectators gather around the streets of Santo Domingo, Mercaderes, and Estafeta to witness participants run from 6 enormous Spanish fighting bulls weighing upwards of 1300 pounds.
But if you don't feel like participating or watching the run, no worries. You can enjoy the almost 400 events that happen throughout the city during the festival — from bustling parades, and live music performances, to firework displays, and kid-friendly activities.
Find Places To Stay In Pamplona
Romería de Santa Marta de Ribarteme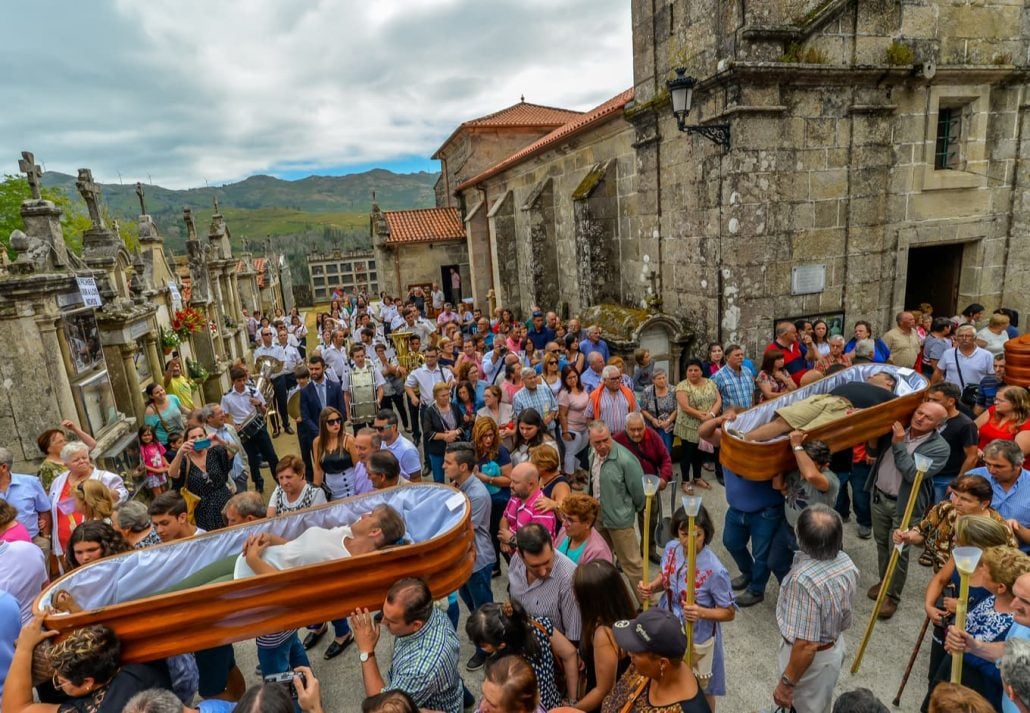 Where: As Neves
When: July 29th
One of the oldest pilgrimages in Spain, Romeria de Santa Marta de Ribarteme is held every year on July 29th, in As Neves, in honor of Santa Marta, the city's patron saint. According to the Catholic tradition, Santa Marta — the sister of Lazarus —, was brought back from death by Jesus Christ, and it's now believed to protect Las Nieves from evil.
Also known as the Festival of Near-Death Experiences, the event is well-known for its procession, where several coffins with a real living person inside are carried out towards the nearest cemetery. The procession is topped by an image of Santa Marta, symbolizing her return from the dead.
The Semana Grande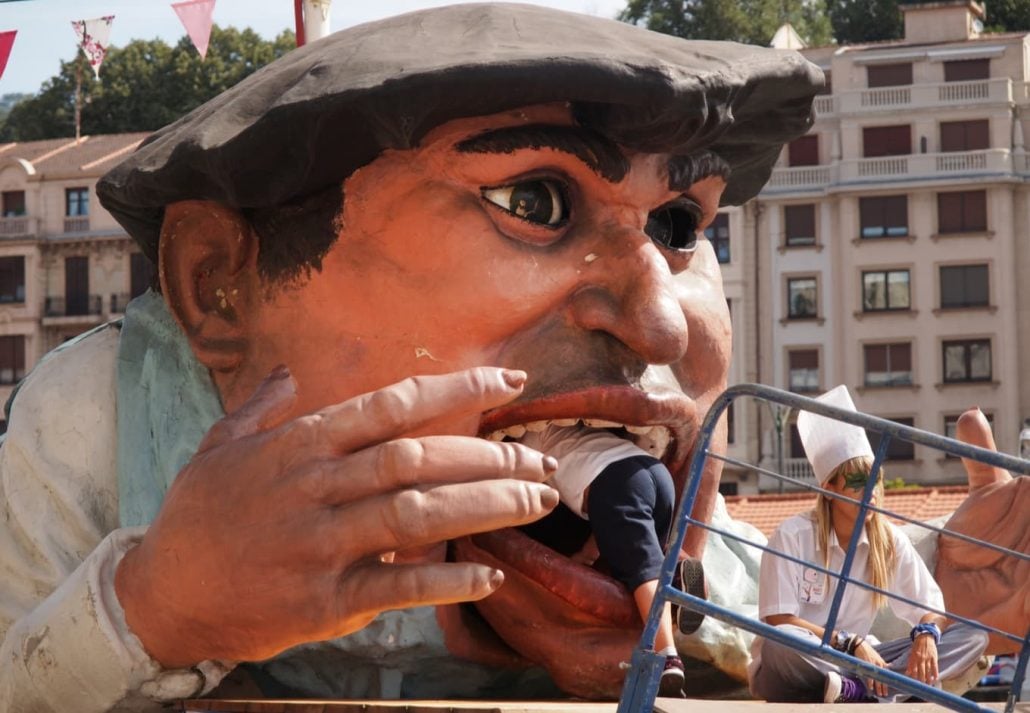 Where: Bilbao
When: 21st – 29th August
One of the most anticipated festivals of Basque Country, the Semana Grande, or Aste Naguisa, attracts more than 100,00 people to enjoy a robust lineup of events in the city of Bilbao.
Dedicated to the Virgin of Begoña, also known as Amatxu, or Mother, to the Basques, this week-long summer festival rewards participants with a delightful maze of parties, spectacular fireworks displays, parades, regattas, and traditional Basque dances.
The most iconic highlight of Semana Grande is the massive Gargantúa monsters, who parade through the streets "swallowing" children (who then ride on a giant slide through their body and come out at the tail).
Festa Major de Gràcia
Where: Barcelona
When: 15th to 21st August
Planning on visiting Barcelona during the summertime? Then don't pass up the chance to experience the Gràcia festival, which turns the picturesque Gràcia neighborhood into a colorful and beautifully decorated wonderland.
This eye-popping five-day festival happens in August every year, and it features a competition where the fiercely proud residents have to embellish the streets using recycled materials.
Aside from the decoration competition, the Gràcia festival also hosts cultural activities, street food, and several parties across the neighborhood.
Gracia is located just north of the old city center and the Eixample district, and, from there, you can easily reach some of Barcelona's top attractions, such as La Sagrada Familia.

We have created a list of the best free things to do in Barcelona, in case you want to explore the city on a budget, and a thorough Barcelona guide that'll help you make the most of your trip.
Find Places To Stay In Barcelona, Spain
La Tomatina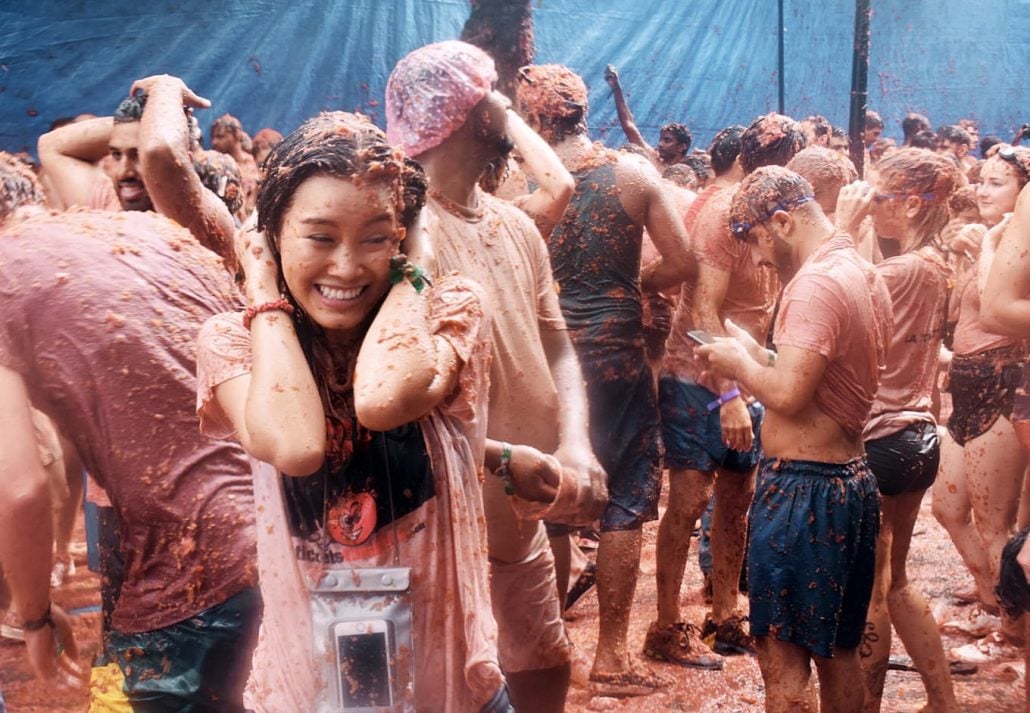 Where: Bunõl
When: Last Wednesday of August
Fun, messy, thrilling, and chaotic — this is the best way of describing La Tomatina. Taking place every year in the city of Buñol, in Valencia, the festival brings together thousands of people in Plaza del Pueblo to throw tomatoes at each other for two hours straight.
Believed to have started by accident in 1945, La Tomatina became the biggest food fight in the world and the major attraction of the city of Buñol.
This massive festival starts at 10 am and ends precisely at 12 pm, but since 2011 the city has been hosting an after-party, which has become just as big as the food fight.
Read our complete La Tomatina guide to learn everything you need to know about the festival — from how it started to the top mistakes to avoid.
Frequently Asked Questions About Spanish Festivals
What Are The Two Most Famous Festivals In Spain?
La Tomatina is the country's most famous festival. Semana Santa is also a very popular celebration in Spain.
What Is The Most Celebrated Holiday In Spain?
Christmas is the country's most important and most celebrated holiday. Other significant holidays in Spain are the Semana Santa and Three King's Day (Día de los Reyes Magos).
What Are All The Festivals In Spain?
There are more than 20 festivals in Spain. Some of the best-known are La Tomatina, Las Fallas, April Fair, and Three Kings Day.
Does Spain Celebrate Cinco de Mayo?
Spain doesn't celebrate Cinco de Mayo an annual celebration that commemorates the anniversary of Mexico's victory over the French Empire.
Follow us on Instagram and Facebook, and share this article on Pinterest:
CuddlyNest provides all accommodations to all travelers at the best price. Find unlimited travel inspiration on our blog and social media channels.
You Might Also Like:
Spain Travel Apps
Tourist Attractions in Barcelona
Best Cities To Visit In Spain
La Tomatina Festival, Spain
Eating Tapas In Granada, Spain
Vegan Restaurants in Alicante, Spain
Top 20 Tourist Attractions in Spain
La Sagrada Familia: Travel Guide, History & Facts
Best Spanish Cheese You Should Try
13 Summer Traditions And Festivals Around The World