Offering a dazzling wealth of not-to-be-missed tours and experiences, Spain still reigns as one of the most sought-after destinations in Europe. Just think of idyllic beaches spiked by the Mediterranean Sea, otherworldly Moorish palaces, fascinating medieval towns, lush national parks, and world-class museums where one can marvel at masterpieces by Picasso and Salvador Dalí.
The array of things to see and do in Spain is so gloriously wide, that you'll have no trouble filling up your itinerary. Even locals haven't exhausted all there is to do there! And while it can take years — or even a lifetime — to truly explore every corner of this amazing country, there are few attractions that visitors tend to favor.
Whittling down what to do on your next trip to Spain? Then check our list of the top tourist attractions you can't miss in the country.
The 20 Best Spain Tourist Attractions
La Sagrada Familia, Barcelona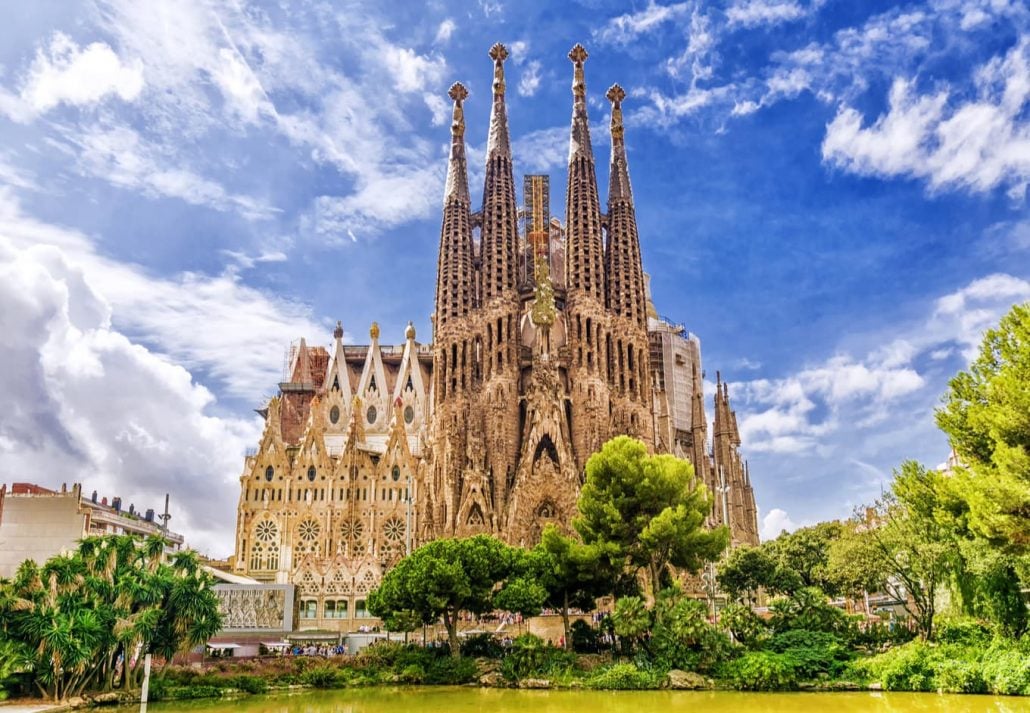 Often considered one of the most beautiful buildings in the world, La Sagrada Familia is a must-see attraction for anyone visiting Barcelona. Designed by the praised Catalán architect Antoni Gaudí, this magnificent cathedral boasts three gorgeous façades representing parts of the life of Christ.
Embellished with columns representing branching trees, and multicolored stained glass windows, the interiors of the church resemble a magical forest.
Thanks to its sheer beauty, and cultural importance — the building is the perfect synthesis of Gaudí's architectural evolution —, La Sagrada Familia was listed as a UNESCO World Heritage Site in 2005.
Read our comprehensive Barcelona travel guide to discover the top attractions of this beautiful city and how to make the most out of your trip.
Find Places To Stay In Barcelona, Spain
Royal Palace (Palacio Real), Madrid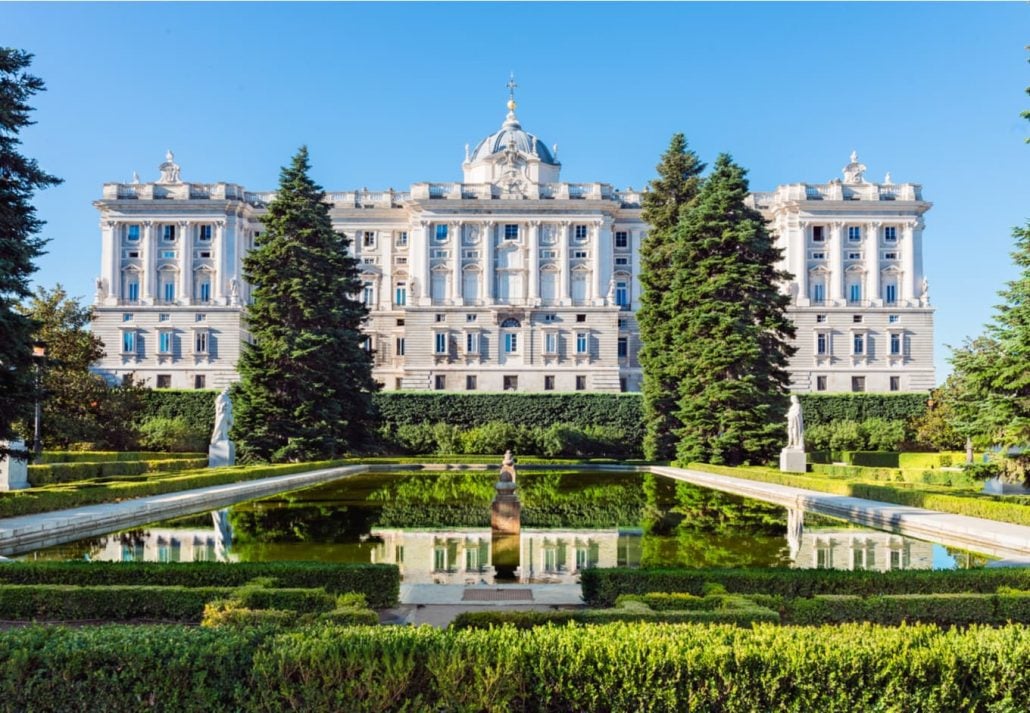 The Royal Palace (Palacio Real), is the official residence of the Spanish royal family in Madrid, although now used only for state ceremonies. Built on the site of the old Alcázar, the Moorish castle, which was destroyed by fire in 1734, the royal palace takes visitors on a journey through Spain's history. In fact, the old city wall around this area can still be seen.
Comprising over 3000 rooms and built in the form of a square, the alluring Palacio Real was inspired by sketches made by Bernini for the construction of the Louvre Museum, Paris.
While meandering your way through the building — the largest functioning royal palace in Europe —, you'll stumble upon a gorgeous staircase designed by Sabatini, a Throne Hall featuring a ceiling painted by Tiepolo, and the Royal Armory, which houses weapons and armor worn by the kings of Spain since the 13th century.
Another must-visit room in the Royal Palace is the Painting Gallery, home to works by Caravaggio, Velázquez, and Goya.
Find Places To Stay In Madrid, Spain
Santiago de Compostela Cathedral, Santiago de Compostela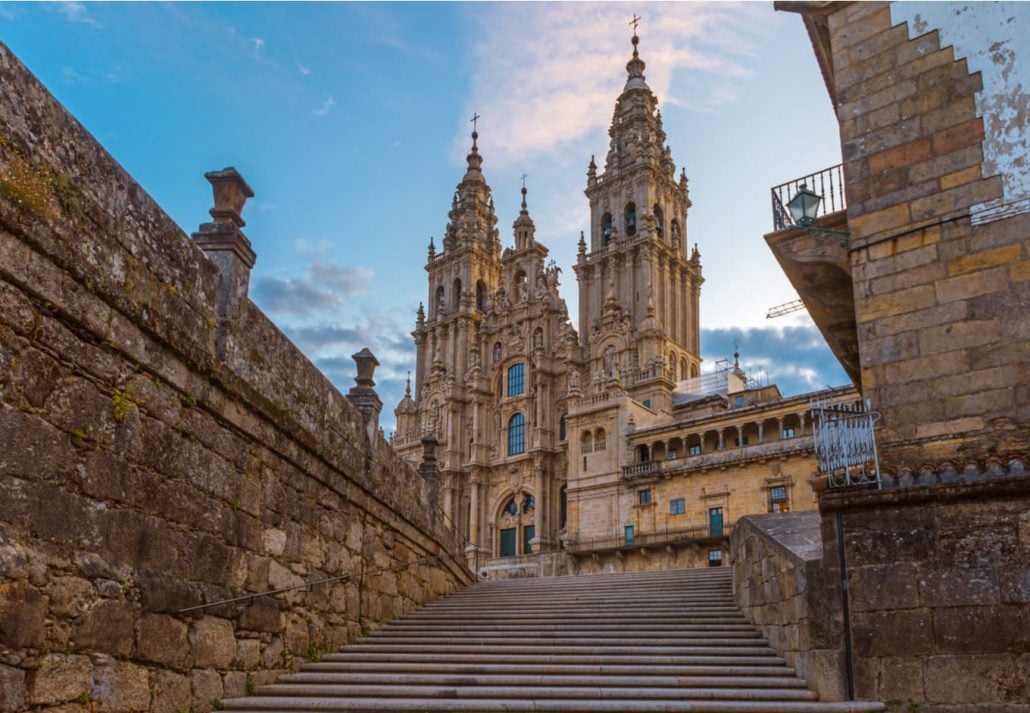 Built-in 1075 during the reign of Alfonso VI, the Santiago de Compostela Archcathedral Basilica is one of the most important religious buildings in Spain. Aside from being the reputed burial place of St James the Great, the apostle of Jesus Christ, the basilica is also a historical pilgrimage site that marks the end of the Camino de Santiago route.
The entire city of Santiago de Compostela, by the way, is worth exploring. Capital of the autonomous community of Galicia, in northwestern Spain, the city encompasses a picturesque jumble of medieval tenements. In there, be sure to visit the Old Town, a UNESCO World Heritage Site that houses a collection of Romanesque, Gothic, and Baroque buildings.
Find Places To Stay In Santiago de Compostela, Spain
Ciudad de las Artes y las Ciencias, Valencia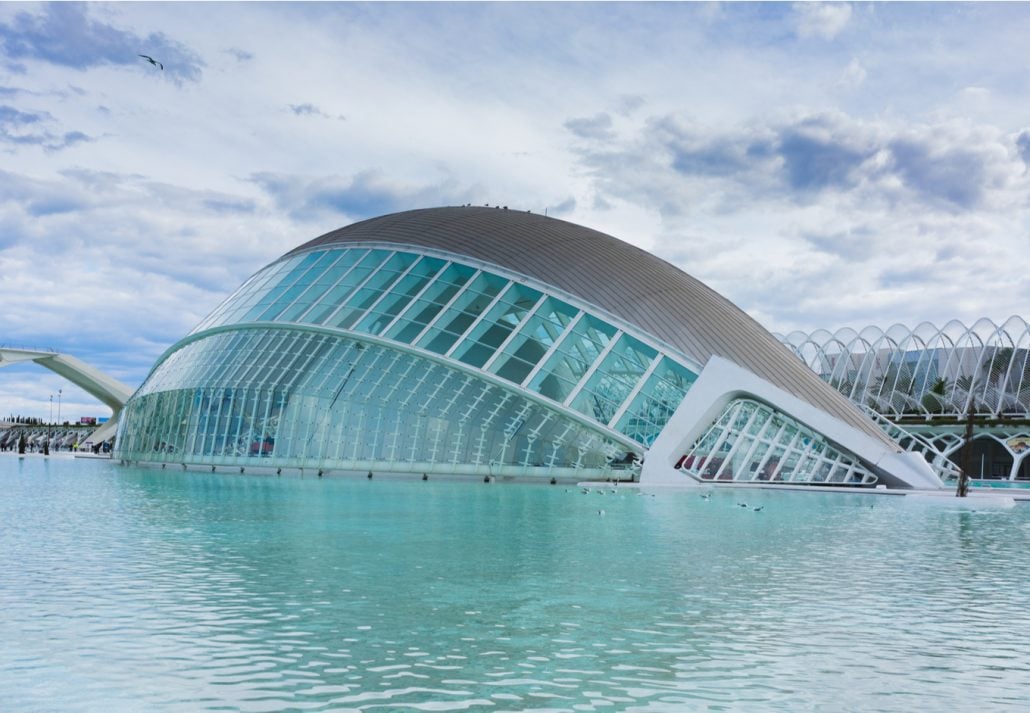 Regarded as one of the "12 Treasures of Spain", Ciutat de les Arts i les Ciències is one of the main attractions of Valencia. This cultural and architectural complex was developed to bring in more tourism to the city, and it soon became one of Valencia's most instantly recognizable landmarks.
Entirely designed by the Spanish architects Santiago Calatrava and Félix Candela, this futuristic and eye-popping complex took nearly a decade to be completed.
The City of Arts and Sciences houses an interactive museum of science (Museu de les Ciències Príncipe Felipe), an IMAX Cinema, planetarium and laserium (L'Hemisfèric), an opera house and performing arts center (Palau de les Arts Reina Sofia), the largest oceanographic aquarium in Europe (L'Oceanogràfic), and other futuristic structures.
Throughout the year, the complex hosts a variety of local festivals and events, like Festival de les Artes, and the Exposicion del Ninots, which is part of the traditional Las Fallas festival.
Find Places To Stay In Valencia, Spain
Guggenheim Museum, Bilbao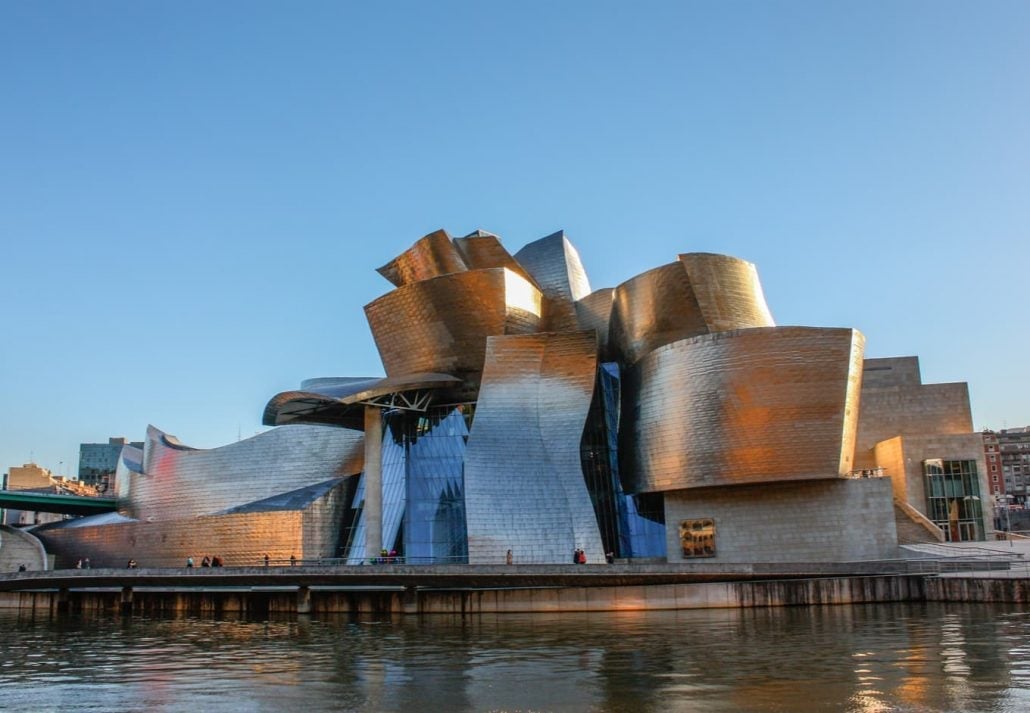 Culture buffs will never get bored in Spain, as the country is awash with fabulous museums covering a wide range of subjects. If you want to catch a glimpse of precious contemporary art pieces, don't pass up the chance to visit the Guggenheim Museum Bilbao, in the Basque Country.
Designed by Canadian-American architect Frank Gehry, the museum is a masterpiece of contemporary architecture. Inside, you'll find a dazzling collection of approximately 600 artworks that were given to the museum by businessmen and collector Solomon Guggenheim between 1937 and 1949.
Masterpieces by Mark Rothko, Jeff Koons, and Richard Serra make the Guggenheim Museum Bilbao one of the top cultural experiences in Spain.
Find Places To Stay In Bilbao, Spain
Plaza de España, Seville
Surrounded by the verdant grounds of the María Luisa Park, Plaza de España is one of the most majestic squares in all Spain. This gorgeous plaza was built in 1928 for the Ibero-American Exposition of 1929 and designed by the praised Seville architect Aníbal González.
The semi-circular Plaza de España combines elements of the Baroque Revival, Renaissance Revival, and Moorish Revival styles of Spanish architecture, and it's framed by a row of buildings that are used as government buildings. The plaza also features a canal, which visitors can cruise by boat.
Find Places To Stay In Seville, Spain
Plaza Mayor, Salamanca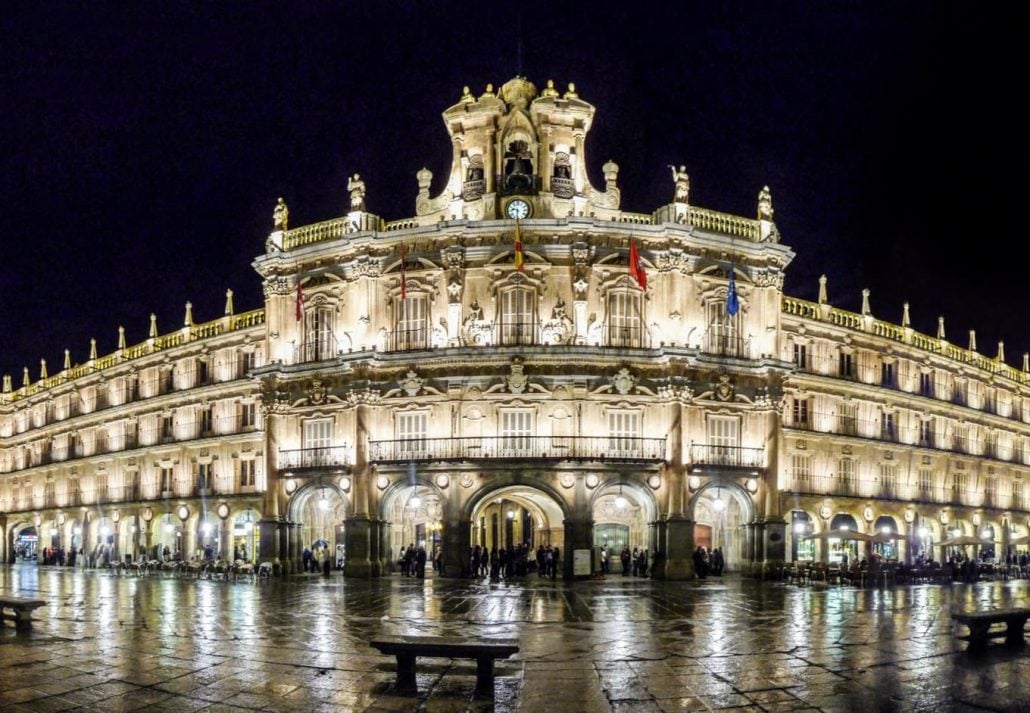 If you were impressed by the beauty of Plaza de España, just wait until you visit the Plaza Mayor, in Salamanca. Nestled in the heart of the city and built between 1729 and 1755, the plaza is known as one of the most beautiful in Europe thanks to its grandeur and intricacy in decoration.
Dotted with sandstone buildings, the entire old city of Salamanca, by the way, was declared a World Heritage Site by Unesco, and it's worth exploring during a trip to Spain.
Find Places To Stay In Salamanca, Spain
La Alhambra (Alhambra Palace), Granada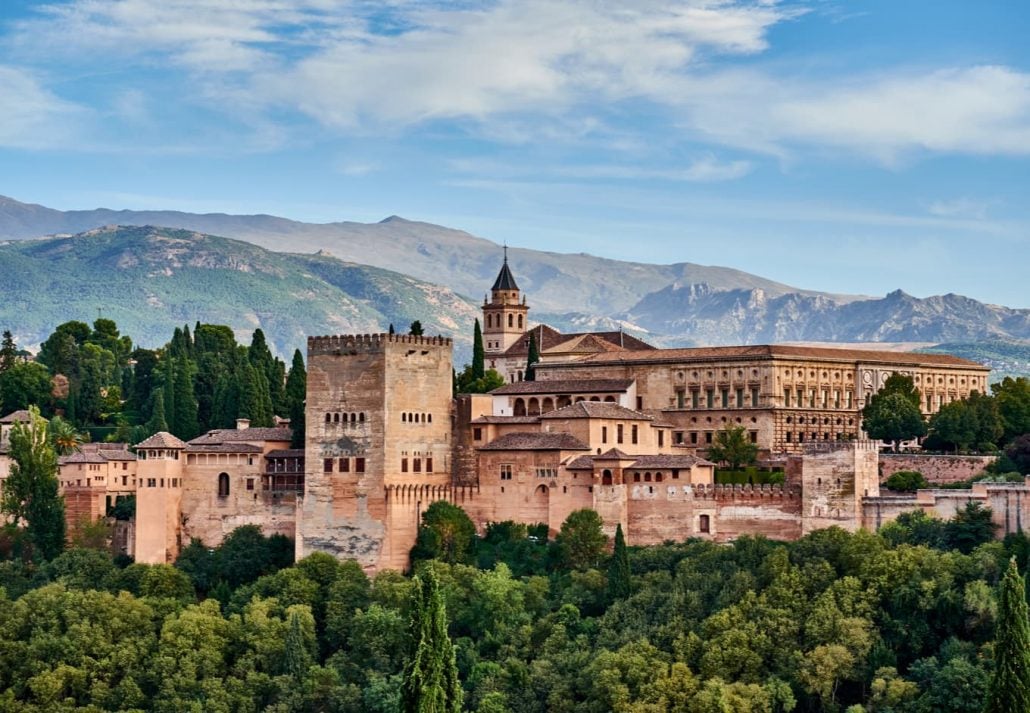 La Alhambra is the crown jewel of southern Spain. Located in Granada, in the alluring Andalusia region, the palace is the perfect destination for travelers who are seeking to learn more about the rich history of Spain.
Originally built as a small fortress in 889 CE on Roman remains of ancient fortifications, the Alhambra was rebuilt in the mid-13th century by the Arab Nasrid emir Mohammed ben Al-Ahmar of the Emirate of Granada, and then converted into a royal palace in 1333 by Yusuf I, Sultan of Granada
Offering visitors a birdseye view of the whole city, this majestic royal residence is fully covered in intricate decorations, including rich ceramics and plasterworks, Kufic inscriptions, and poems written by different poets of the court, arches, and ornate gardens.
Find Places To Stay In Granada, Spain
El Escorial, San Lorenzo de El Escorial
Nestled in the foothills of the Sierra de Guadarrama, The Escorial is a grand building complex located in San Lorenzo de El Escorial, near Madrid.
Considered one of the most important constructions of the Spanish Renaissance, the complex was conceived by King Philip II, who wanted a building to serve the multiple purposes of a burial place for his father, Holy Roman Emperor Charles V.
Constructed between 1563 and 1584, The Escorial includes a church, a monastery, royal palace, and college, and a library, and was decorated by many notable Spanish and Italian artists.
While snooping around the buildings, expect to marvel at several artistic treasures, including frescoes by Pellegrino Tibaldi and Federico Zuccaro, six statues of Old Testament kings on the façade of the basilica, and manicured gardens.
Find Places To Stay Near San Lorenzo de El Escorial, Spain
Costa del Sol Beaches, Andalusia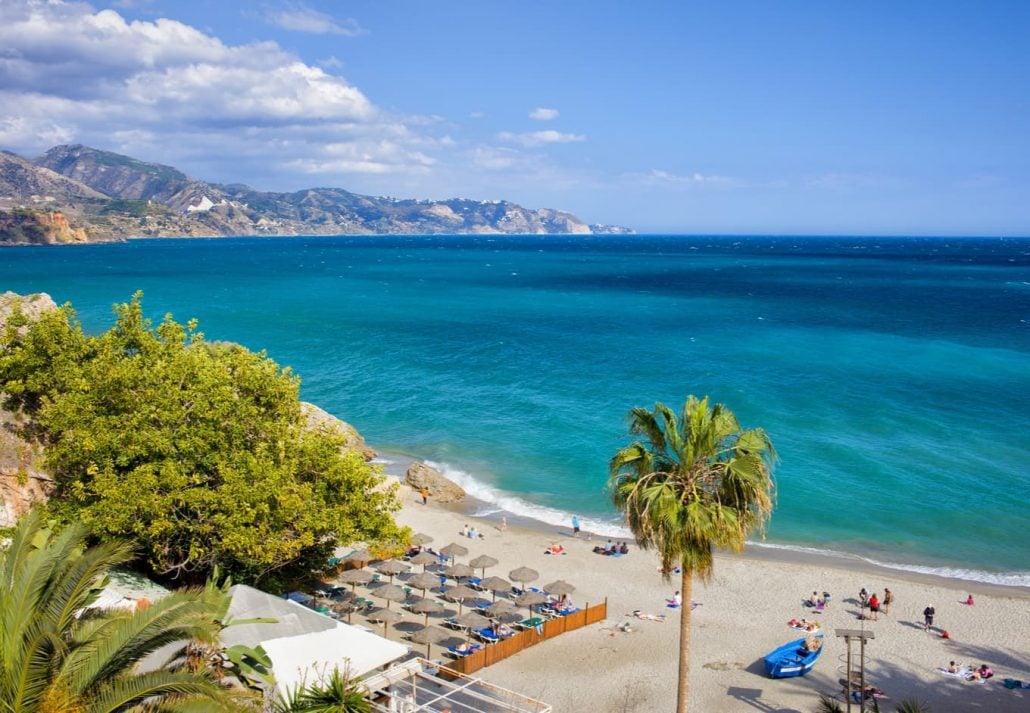 With a sparkling coastline that stretches almost 100 miles along the south of Spain, Costa del Sol is resplendent with some of the most beautiful beaches in the country. This coastal haven is located in the autonomous community of Andalusia and is praised for its laid-back Mediterranean atmosphere that is just perfect for a summer vacation.
When visiting Costa del Sol, be sure to explore the region's heavenly beaches, including the Blu Flag Playa Malapesquera, and Playa de Burriana, which is framed by a variety of tempting beach bars and restaurants.
Find Places To Stay In Marbella, Costa Del Sol, Spain
Picos de Europa, Asturias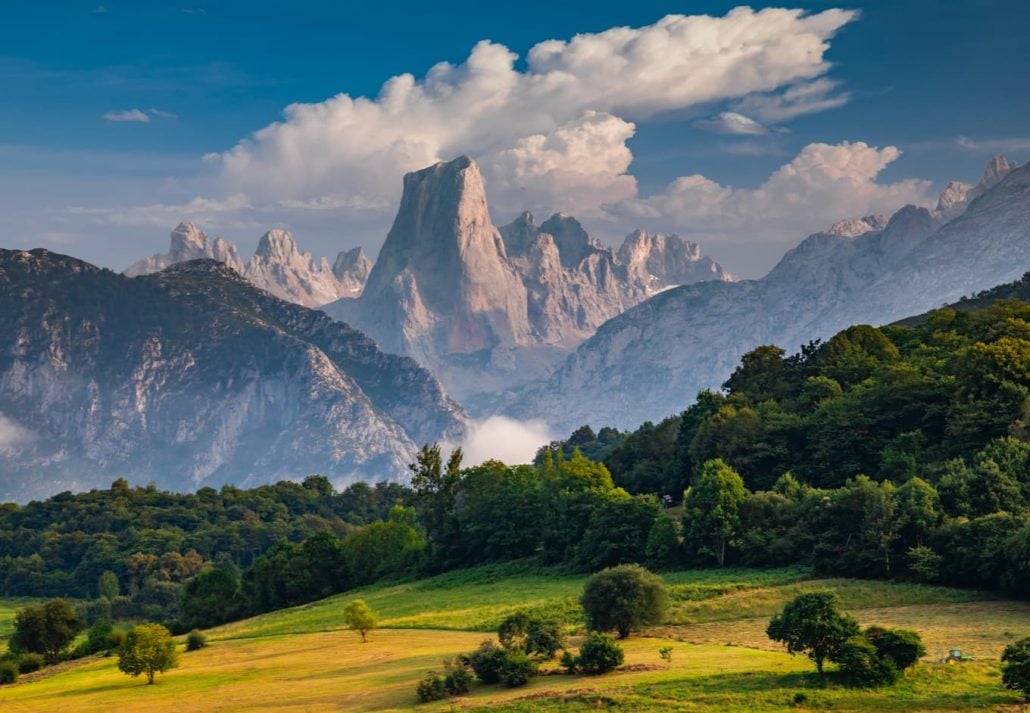 Adventure seekers who are traveling to northern Spain should include a visit to Picos de Europa on their bucket list. Spread across the provinces of Asturias, Cantabria, and León, the Picos de Europa National Park is filled with oak and beech groves, meadows, lakes, mountains, and gorges.
Visitors can explore the park through its more than 30 routes, and marvel at the local nature at one of the park's scenic viewpoints.
Find Places To Stay In Oviedo, Asturias, Spain
City of Cuenca, Castilla–La Mancha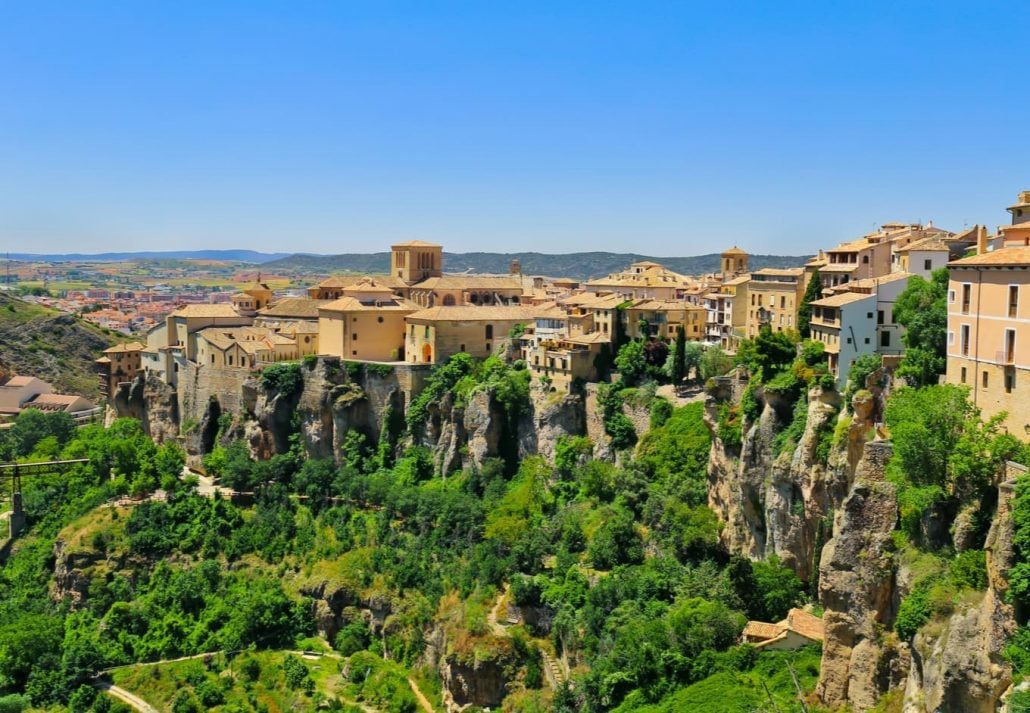 Located in the autonomous community of Castilla–La Mancha, Cuenca is a stunning city set in the gorgeous mountains of east-central Spain. Founded by Moors in 714, the city retains its charming Historic Walled Town with steep cobbled alleys and medieval castle ruins, making it the perfect destination for history buffs.
A fine example of a medieval city, Cuenca is dotted with eye-popping ancient monuments. These include the famous Cathedral of Santa María and San Julián, built from 1182 onwards over the old Muslim mosque, the 1733 Baroque-style Town Hall, and the Museum of Spanish Abstract Art in Cuenca, in the Hanging Houses.
Find Places To Stay In Cuenca, Spain
Seville Cathedral, Seville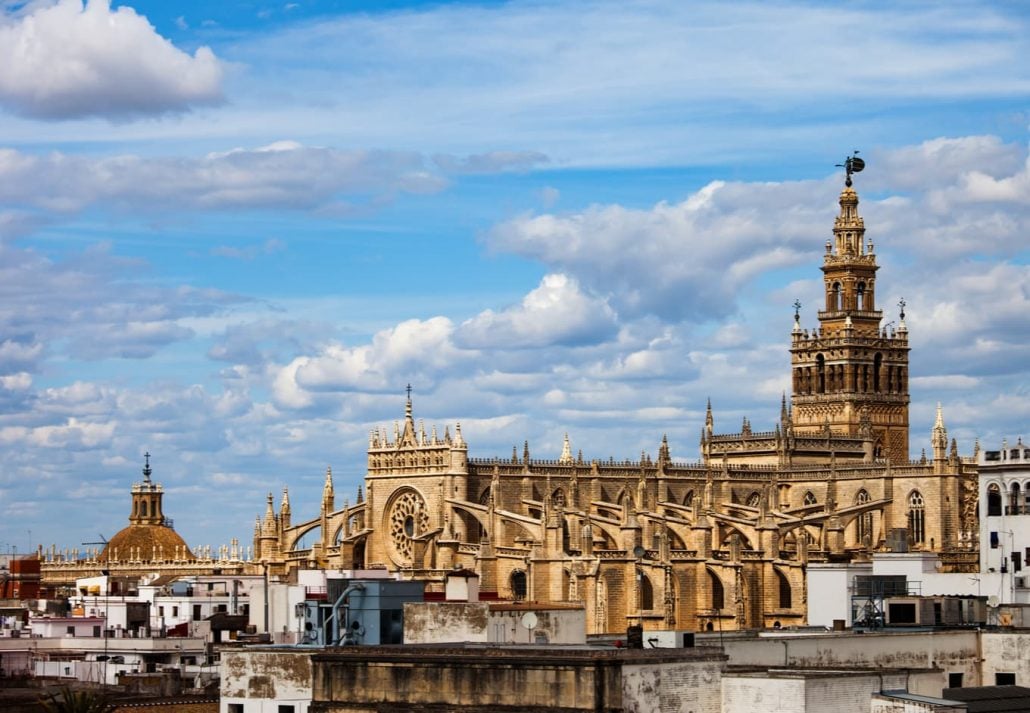 Welcome to the Cathedral of Saint Mary of the See, the largest Gothic cathedral in the world and one of the most visited tourist attractions in Spain. Better known as Seville Cathedral, the church was built over a century, from 1401 to 1506, and it's famous for being home to the tomb of Christopher Columbus, which contains the remains of the great explorer.
Recognized as a UNESCO World Heritage, the cathedral features some impressive details like a beautiful courtyard (Patio de Los Naranjos) that dates back to the Moorish era, and the Giralda, which was the tallest building in the city for over 800 years.
Find Places To Stay In Seville, Spain
Jerez de la Frontera, Andalusia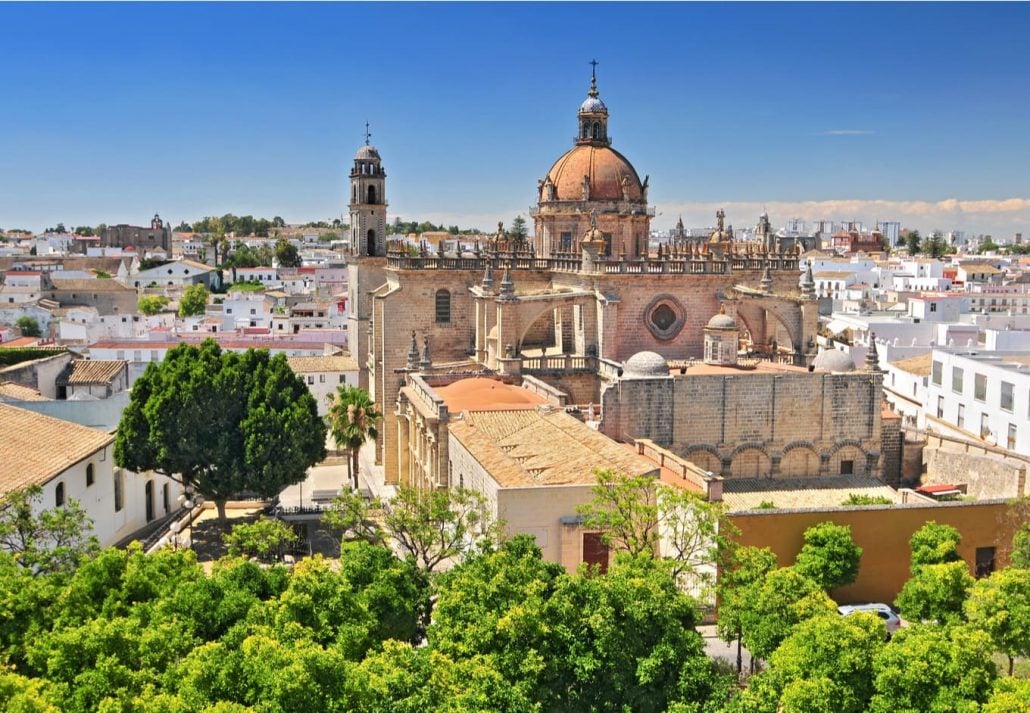 56 miles south of Seville lies the charismatic city of Jerez de la Frontera, or simply Jerez. This hidden gem located in the Andalusia region is a must-visit destination for offbeat travelers who want to uncover the lesser-known marvels of Spain.
Jerez has a charming Old Town, and several worth-seeing landmarks like the Moorish fortress, the San Salvador Cathedral, and the 11th- and 12th-century Moorish Alcázar.
Jerez is also known for its sherry production, and it's home to a lip-smacking collection o local bars — the tabancos — that specialize in the city's signature tipple.
Find Places To Stay Near Jerez de la Frontera, Spain
Teide National Park, Tenerife
Situated on the island of Tenerife, in the Canary Islands, Teide National Park is a true haven for active and outdoorsy adventures. The park is home to the mighty Teide-Pico Viejo stratovolcano, the world's third-tallest volcanic structure.
Visitors can take the cable car ride up the mountain for a spectacular view of the park, hike Mount Teide, and go on whimsical stargazing sessions in the national park!
Find Places to Stay in Santa Cruz de Tenerife, Spain
Prado Museum, Madrid
Dating back almost 200 years, the Prado Museum, officially known as Museo Nacional del Prado, is the main national art museum in Spain. Set in a gorgeous building designed by architect Juan de Villanueva in 1785, the museum is home to more than 2,300 paintings, aside from sculptures, prints, and drawings.
Prado is one of the most thorough art museums in Europe, and it's worth visiting if you'd like to catch a glimpse of masterpieces by Picasso, Velázquez, Goya, and El Greco.
Find Places To Stay In Madrid, Spain
The Great Mosque of Cordoba, Cordoba
Once a temple to the Roman god, Janus, the site was converted into a mosque and completely rebuilt by the descendants of Umayyads—the first Islamic dynasty who had ruled from their capital Damascus (in present-day Syria) from 661 until 750.
The mosque, which was converted into a Christian cathedral in the 13th century, boasts an artfully crafted decoration, countless pillars like rows of palm trees, a Renaissance-style bell tower, white marble details, Byzantine-style mosaics, and other eye-popping features.
Find Places To Stay In Cordoba, Spain
Monasterio de Piedra, Zaragoza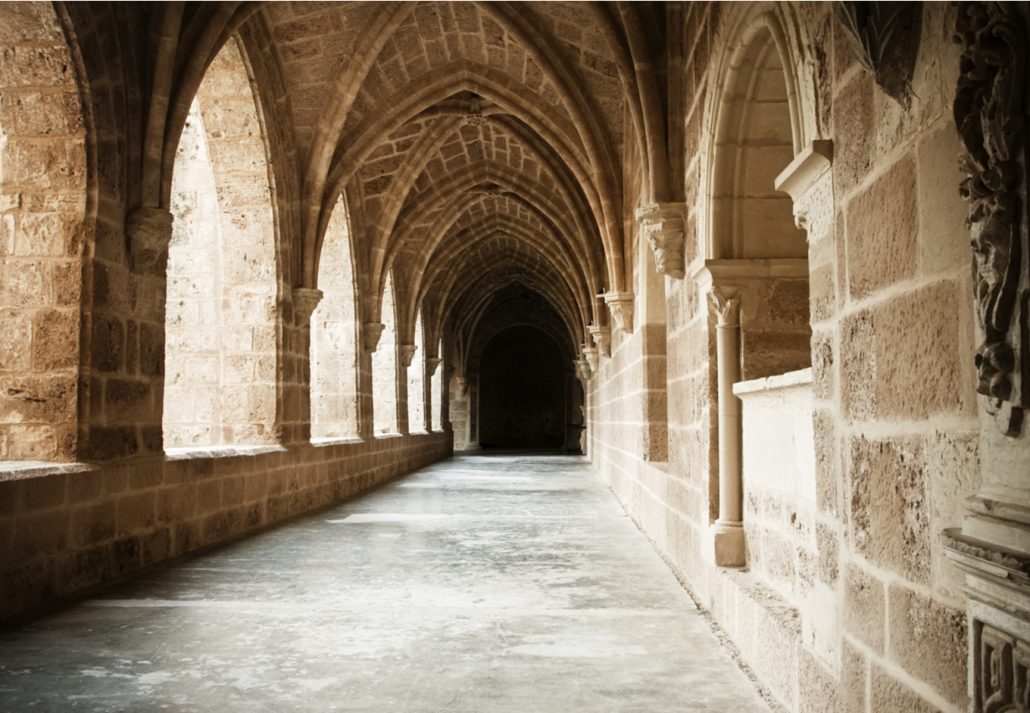 Nature lovers seeking an outdoor adventure in Spain can't miss the chance to visit Monasterio de Piedra (Stone Monastery). Located in the Iberian System mountain range, near Zaragoza, this lush natural park is home to a collection of sparkling waterfalls, dreamy rock formations, a garden, a mirror lake, and an otherworldly monastery with more than 800 years of history.
Find Places To Stay In Zaragoza, Spain
Palma Cathedral, Palma de Mallorca
Constructed at the place where the Arabian main mosque stood during the time of the Moors, the Cathedral of Santa Maria of Palma (Cathedral of St. Mary of Palma) is a true symbol of Palma de Mallorca.
This Gothic Roman Catholic cathedral also called "La Seu" or "Cathedral of Light" awes visitors not only with its fascinating past but also its alluring details and features. The church boasts a massive rosette with more than 1,200 pieces of colored glass composed into patterns and floral ornaments and an impressive central nave that is one the tallest in Europe.
Find Places To Stay In Palma de Mallorca, Spain
Parc Güell, Barcelona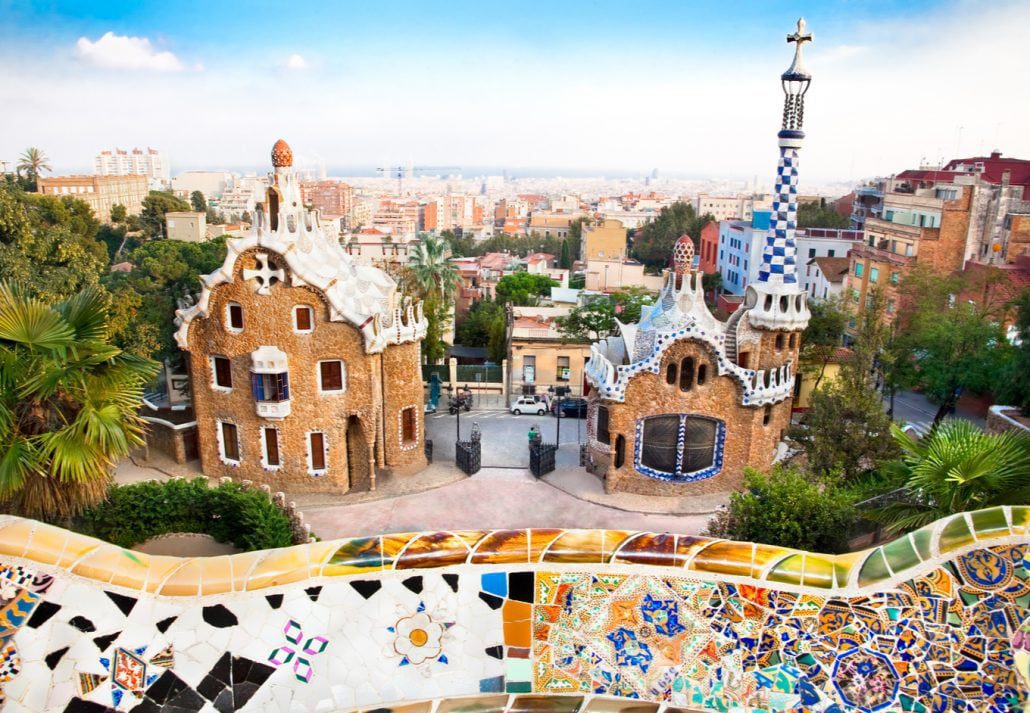 A mandatory visit for anyone who's traveling to Barcelona, Parc Güell is one of Gaudí's most fascinating creations. Nestled on top of Carmell Hill and surrounded by an emerald-green forest, the park welcomes visitors with its sinuous and fluid structures that evoke the shapes of nature and its multi-colored tiled mosaics.
Find Places To Stay In Barcelona, Spain
Frequently Asked Questions About Spain's Tourist Attractions
What Is The Most Visited Place In Spain?
Barcelona is the most visited city in Spain, and the Sagrada Familia Basilica is the country's most visited tourist attraction.
What Are The Best Places To Visit in Spain?
Here's a list of the best places to visit in Spain curated by CuddlyNest's team of expert travelers.
Why Do People Travel To Spain?
An irresistible combination of year-round pleasant weather, idyllic Mediterranean Beaches, vibrant culture, lively traditional festivals, delicious food, and big-name landmarks make Spain the second most visited country in Europe.
Where to stay in Spain?
To find accommodations and where to stay in Spain visit the page. Alternatively, you can find all sorts of accommodation we have here.
Follow us on Instagram and Facebook, and share this article on Pinterest:
CuddlyNest provides all accommodations to all travelers at the best price. Find unlimited travel inspiration on our blog and social media channels.
You might Also Like:
Spain Travel Apps
Tourist Attractions in Barcelona
Best Cities to visit in Spain
La Tomatina Festival, Spain
Eating Tapas In Granada, Spain
Vegan Restaurants in Alicante, Spain