True Mediterranean magic is to be found in Valencia. Often overlooked in favor of Barcelona and Madrid, the city has plenty to offer anyone who makes the trek: colorful fiestas, wide sandy beaches, lush city parks, striking architecture, and some of the best cuisine in Spain.
And there's more. Boasting a rich history dating back to 130 B.C, Valencia has a passion for everything new and keeps finding ways of reinventing itself. Spread across this 2000-years old city, you'll find heart-capturing futuristic buildings, such as the Ciudad de las Artes y las Ciencias, which have been inflecting the city with creativity and innovation.
With so many options packed into Spain's third-largest city, it's easy to find reasons to stay for a week's vacation or longer. To help you fill up your itinerary, we've listed the 12 most amazing things to do in Valencia. Read on to find out!
Find Places To Stay in Valencia, Spain
12 Amazing Things To Do in Valencia, Spain
Visit The City of Arts and Sciences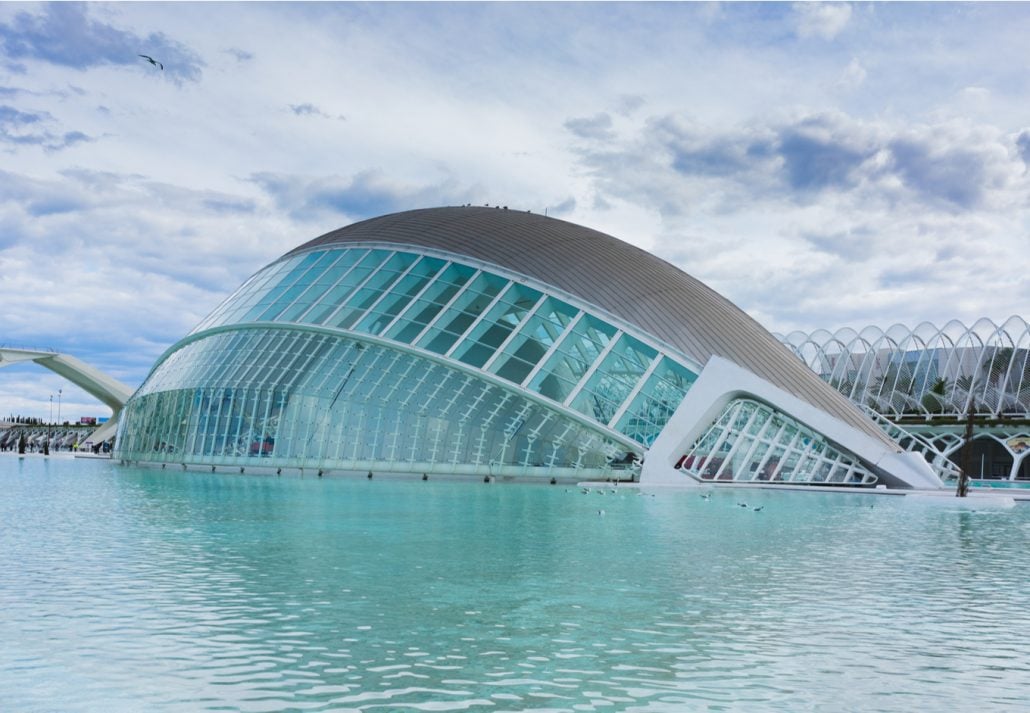 Ciutat de les Arts i les Ciències is often considered one of the top tourist attractions in Spain. Artfully designed by renowned Spanish architects Santiago Calatrava and Félix Candela, this scientific and cultural complex is set in an expansive area in the dry river bed of the now diverted River Turia, which comprises six futuristic structures.
There's L'Oceanogràfic, the largest aquarium in Europe featuring 45,000 animals of almost 500 species of marine life — from sharks to walruses —, and the Museu de les Ciències Príncipe Felipe an interactive science museum that showcases hands-on permanent exhibits. L'Hemisfèric is home to a state-of-the-art planetarium and an IMAX cinema featuring a huge 900-meter concave screen, while the Insta-worthy Umbracle harbors a lush garden dotted with Mediterranean plants.
Are you a music lover? Then don't pass up the chance to watch an opera or ballet performance at the Palau de les Arts Reina Sofia (available from October to November)
The latest addition to The City of Arts and Sciences is the Ágora, a multipurpose space that hosts a variety of events.
Address: Av. del Professor López Piñero, 7
Go Bird Watching In The Albufera Natural Park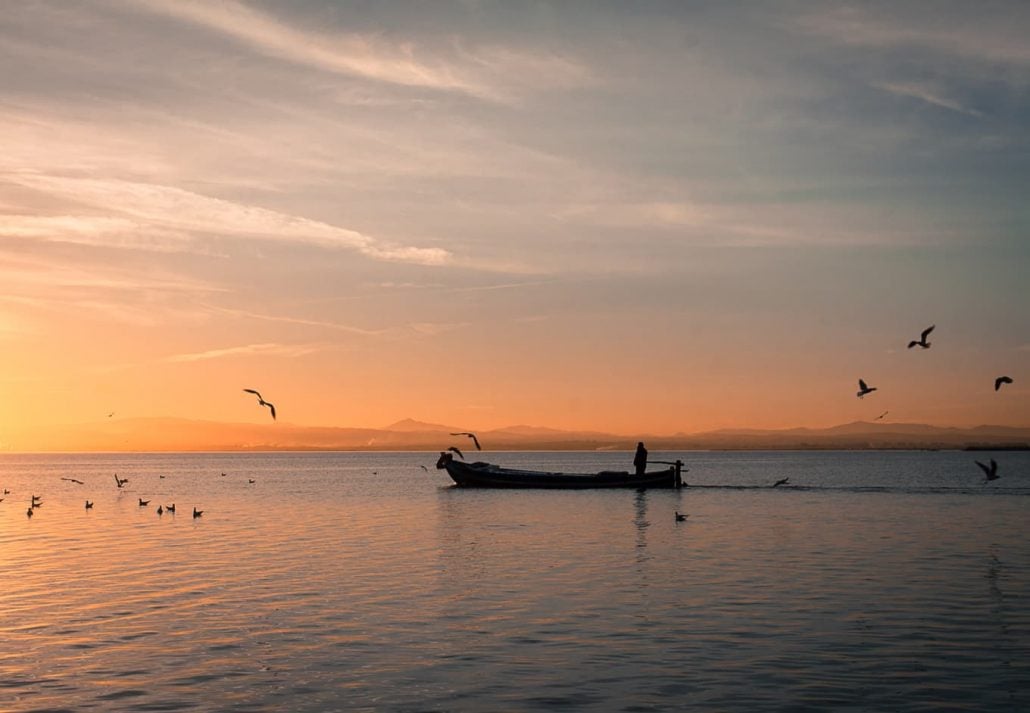 L'Albufera Natural Park is the ultimate destination for those seeking to flee the crowds and experience nature in a unique, primitive setting. The centerpiece of the park is a freshwater lagoon that spans more than 2,800 hectares, and is shielded by miles of marshes and paddy fields, making it one of the most important wetlands in Spain.
Wildlife comes in a spectacular variety in L'Albufera, which provides shelter for up to 300 species of birds. In case you want to see the park's bird life close up and take in the beauty of this bountiful natural environment, we recommend that you go on a boat tour of the lake. During the ride, you'll also be able to spot the barracas, traditional thatched farmers' cottages, with a design that dates back hundreds of years.
Before you leave Albufera, be sure to stop by the town of El Palmar to feat on lip-smacking local specialties such as paella and arros a banda.
Marvel At The Collection Of The Museum of Fine Arts of València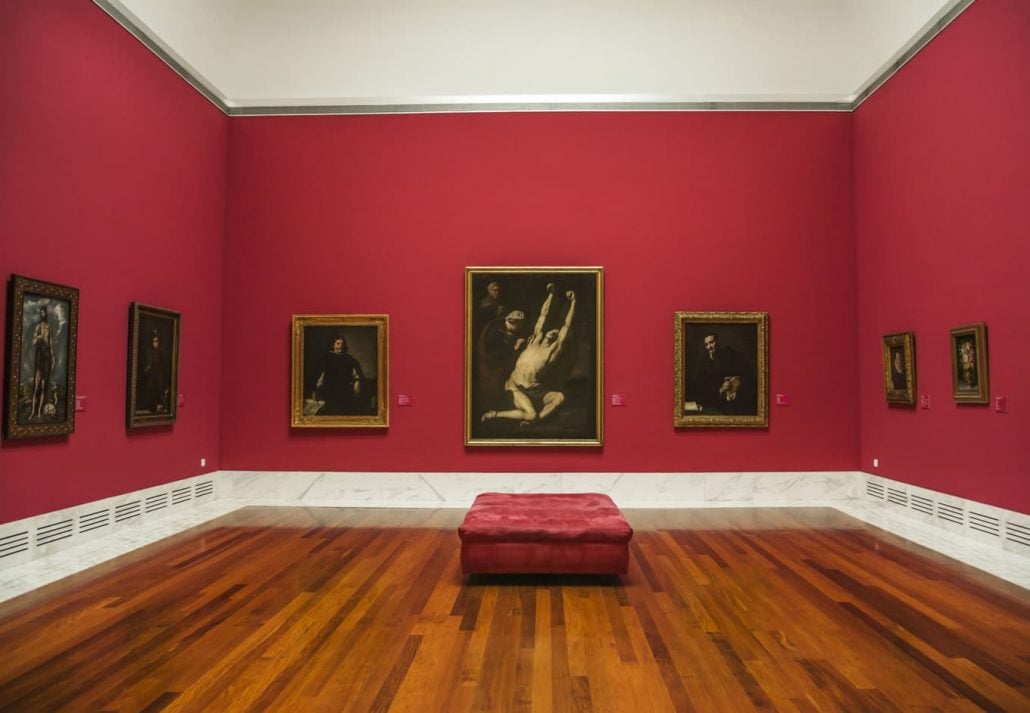 Culture and art lovers should seek out the Museum of Fine Arts of València, the second largest art gallery in Spain. Beautifully set in a 17th-century Baroque building, the museum boasts rooms entirely dedicated to the works of famous Valencian painter Joaquín Sorolla, as well other local artists like Vicente López, Juan de Joanes, Los Ribalta, Espinosa, Pinazo.
The Museum of Fine Arts of València also flaunts a dazzling collection of works by Pintoricchio, Andrea del Sarto, Van Dyck, Murillo, Velázquez, El Greco and Goya.
Address: Carrer de Sant Pius V, 9
Check The View From Torres de Serranos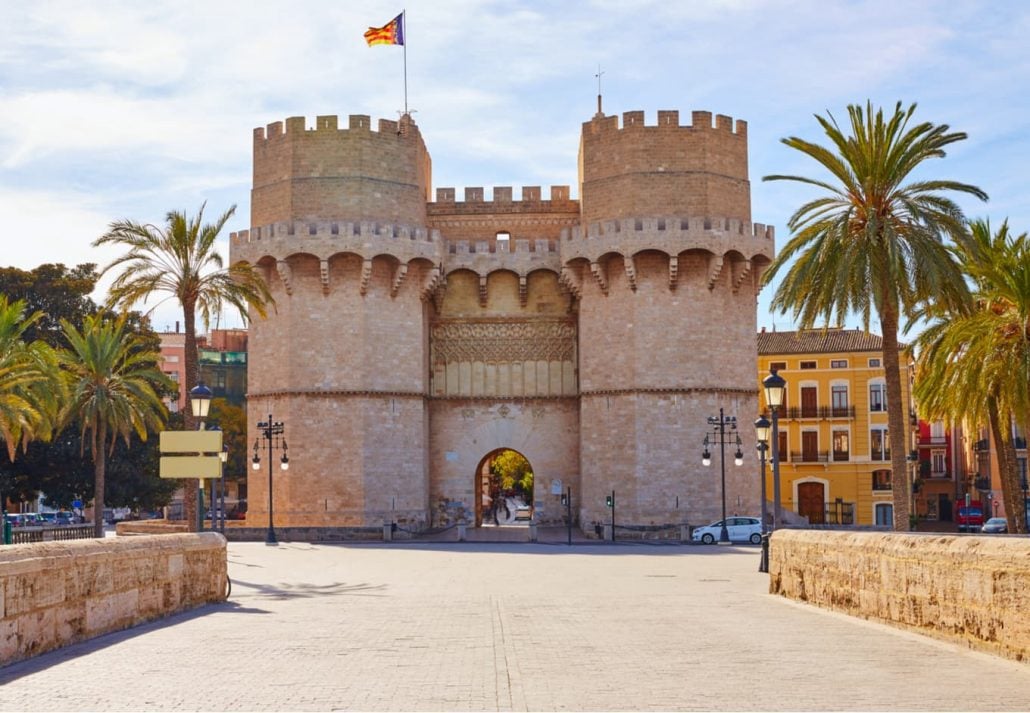 The Serranos Towers are one of the 12 gates that formed part of the ancient city wall, the Christian Wall (Muralla Cristiana), of Valencia. Regarded as the largest Gothic city gateway in all of Europe, the towers were built at the end of the 14th under the supervision of Valencian architect Pere Balaguer and designed to serve as defensive structures against sieges and attacks. Quite often, they were also used to host ceremonies of kings and ambassadors.
Since the city walls were demolished at the end of the XIX century, the towers have stood alone.
Visitors can climb to the terraces of the Torres de Serranos, and enjoy the most heart-warming views of Valencia.
Address: Carrer dels Serrans, 31
Discover Spain's Largest Ceramics Collection At Palacio del Marqués de dos Aguas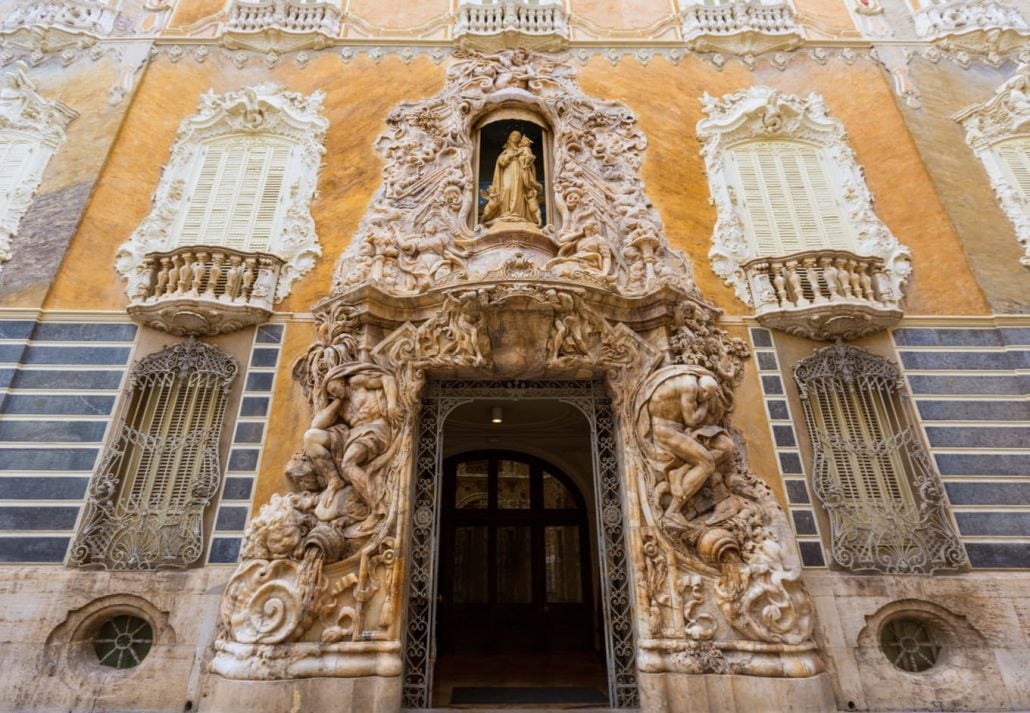 Splendidly luxurious, the Palace of the Marquis of Dos Aguas is a must for those who like exploring the architectural fineness of bygone eras. The original building was commissioned in the 15th century by the family Rabassa de Perellós, who had acquired the barony of Dos Aguas in 1496, and extensively renovated in the year 1740. In fact, many of the architectural elements of the palace, as well as decorative elements of the façade, are from this era.
Located in the heart of Valencia, this Rococo nobility palace dazzles visitors with its achingly beautiful façade decorated with alabaster, family shields, and an image of the Virgin of the Rosary. Inside, there's an impressive collection of ceramics — the largest in Spain —, which was donated by Manuel Gonzalez Marti and includes pieces by Picasso.
Address: Rinconada Federico García Sanchiz, 6
Try The Authentic Valencian Paella At Casa Carmela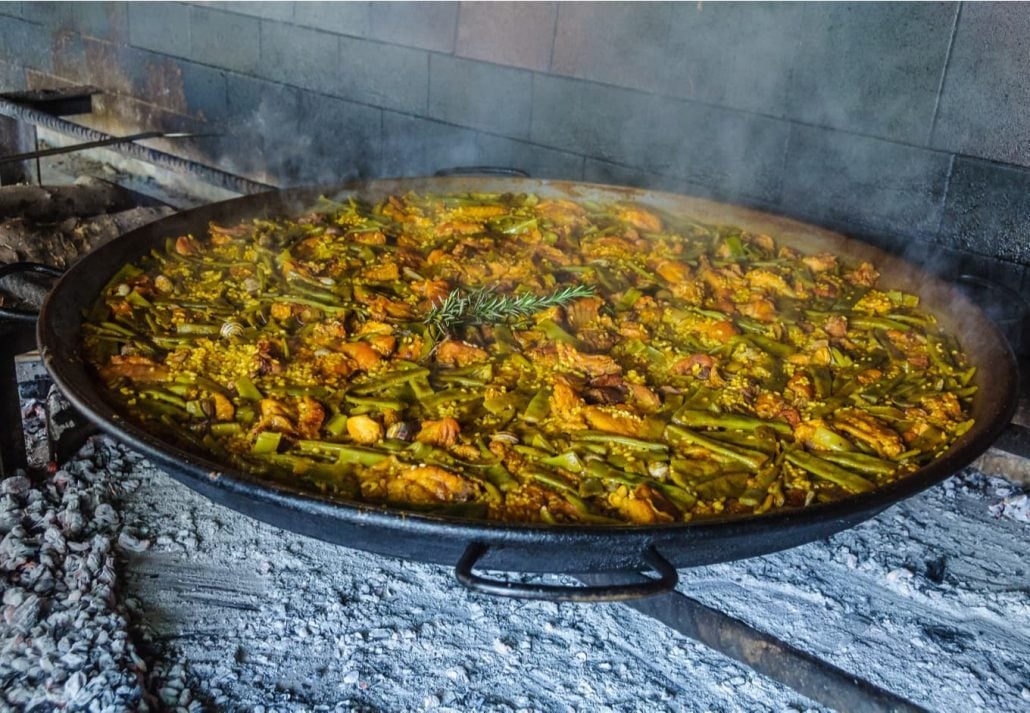 Travelers who are fastidious about food can't pass up the chance to sample Spain's best-known dish while visiting Valencia. Made with a very clear list of ingredients that includes rice, saffron, tomatoes, flat green beans, lima beans, chicken, and rabbit (seafood, never), the authentic paella was actually originated in the Valencian region, which is surrounded by rice fields.
One of the best places to try the authentic paella in Valencia is Casa Carmela. In this 100-year old restaurant, the dish is cooked over an orangewood fire, according to the traditional recipe, and made with the original ingredients. The result? A perfectly thin layer of rice and smoky firewood taste.
Address: Carrer d'Isabel de Villena, 155
Learn About Valencia's Golden Age In La Lonja de la Seda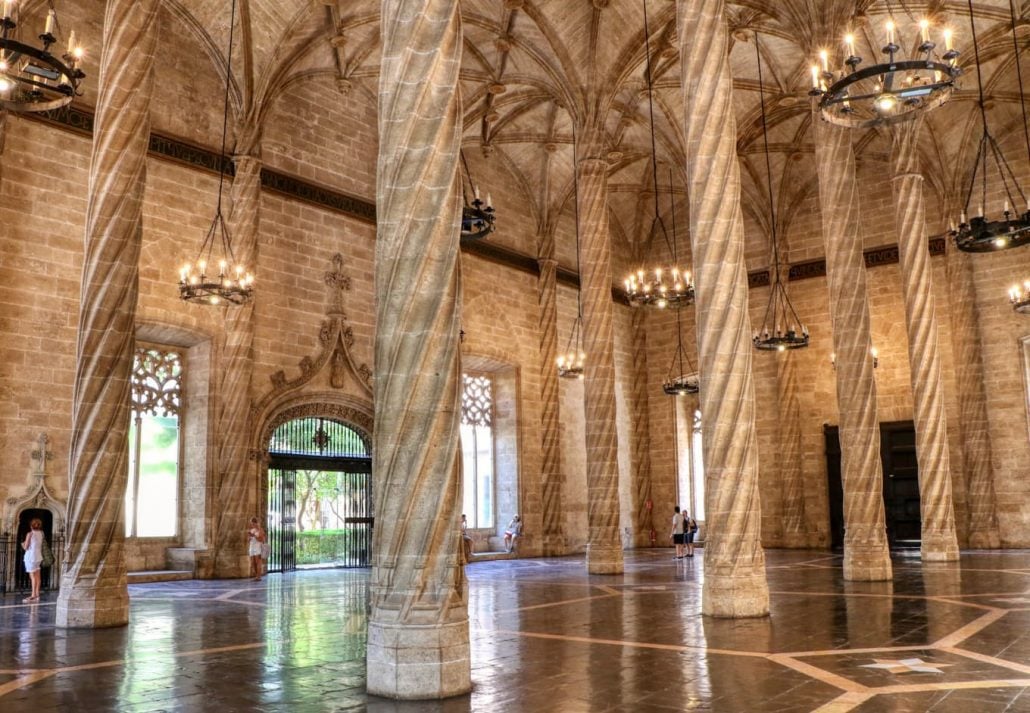 Nestled in the Old Town, La Lonja de la Seda was built in the 15th century to house the city's Silk Exchange. One of the most striking features of this well-preserved group of buildings, which are considered a true masterpiece of late Gothic architecture, is the immense Sala de Contratación, a sumptuous hall in Flamboyant Gothic style. The room boasts an eye-popping floor paved with Alcublas marble of different colors, a Latin inscription in Gothic characters on the walls, and majestic helical pillars almost 16 meters high.
Declared a UNESCO World Heritage site since 1996, La Lonja de la Seda is a bucket list attraction if you want to delve into Valencia's past and learn more about the city's commercial and financial glory during the Golden Age.
Address: Carrer de la Llotja, 2
Experience The Las Fallas Festival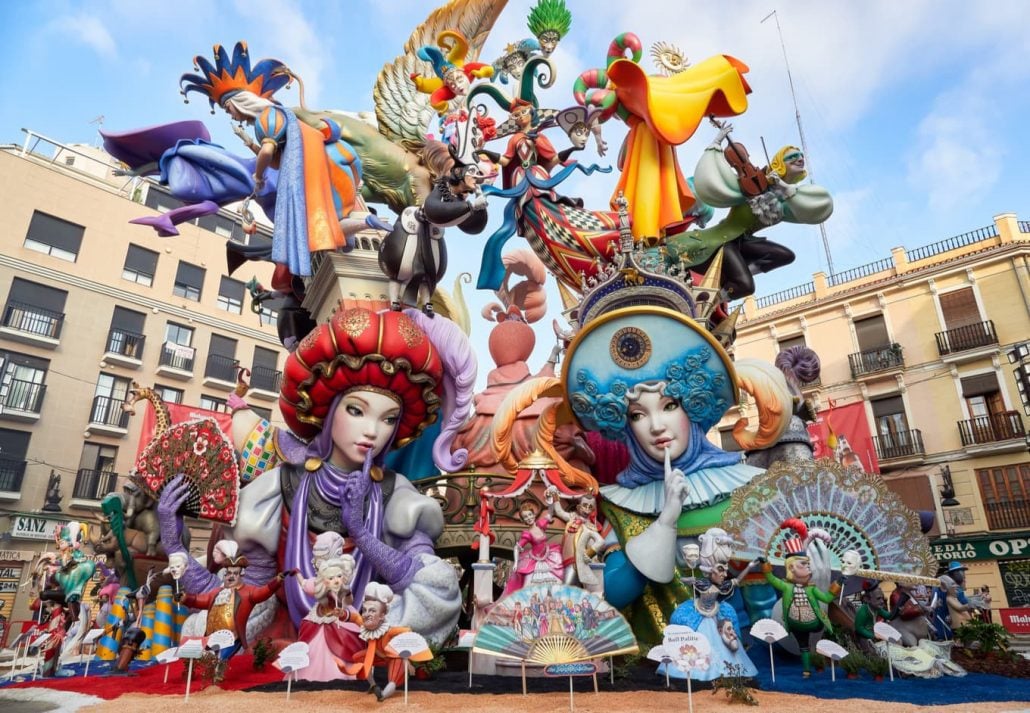 When it comes to vibrant fiestas, Valencia is scandalously rich. A must-experience festival among the city's colorful lineup of events is Las Fallas (The Falles), held in commemoration of Saint Joseph. The celebration lasts for 20 days, from 1 to 19 March, and it features eye-popping pyrotechnic spectacles of firecracker detonations and fireworks displays.
Dating back to the Middle Ages, Las Fallas is not only one of the top attractions in Valencia, but also one of the best festivals in Spain.
See The Holy Grail In The Valencia Cathedral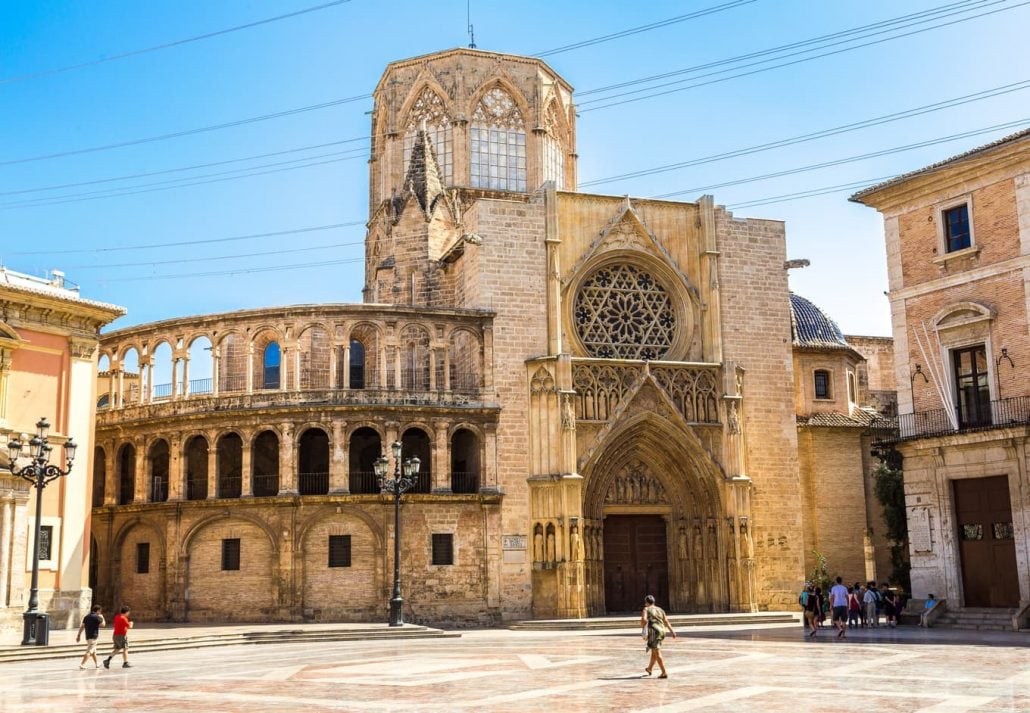 Built between the 13th century and the 15th century on the site of an ancient Roman temple, the Valencia Cathedral holds an array of not-to-be-missed cultural treasures. One of the cathedral's most mysterious relics is the Holy Grail, which, according to legend, is the very cup used by Jesus Christ during the Last Supper. Inside the building, you'll also find a collection of Renaissance frescoes commissioned by Cardinal Rodrigo de Borja (future Pope Alexander V) to Italian artists Paolo da San Leocadio and Francesco Pagano, as well as a wonderful museum featuring works by Maella, Goya, and Juan de Juanes.
After marveling at the cathedral, be sure to climb to the top of the Miguelete bell tower, from where you'll be treated to the most stunning views of the city.

Address: Plaza de la Reina, 46003
Admire The Architecture Of Valencia's Central Market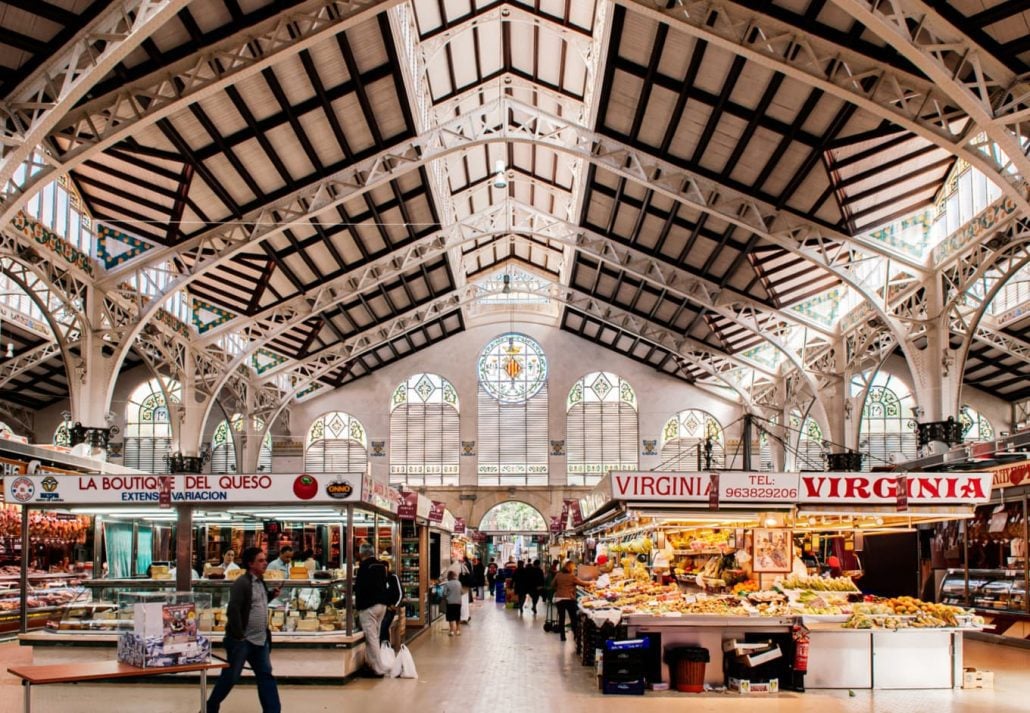 Set in an emblematic Valencian Art Nouveau building, the Central Market of Valencia (Mercat Central) covers over 86,000 square feet in two floors, making it one of the largest of its kind in Europe. Inside, you'll find more than 1200 stalls selling fresh fruit and vegetables, aside from meat, cheese, spices, seafood, fish, as well as a selection of restaurants and bars. A must-visit for foodies and architecture lovers alike!
Address: Plaça de la Ciutat de Bruges
Go For An Idle Stroll In Plaza de la Virgen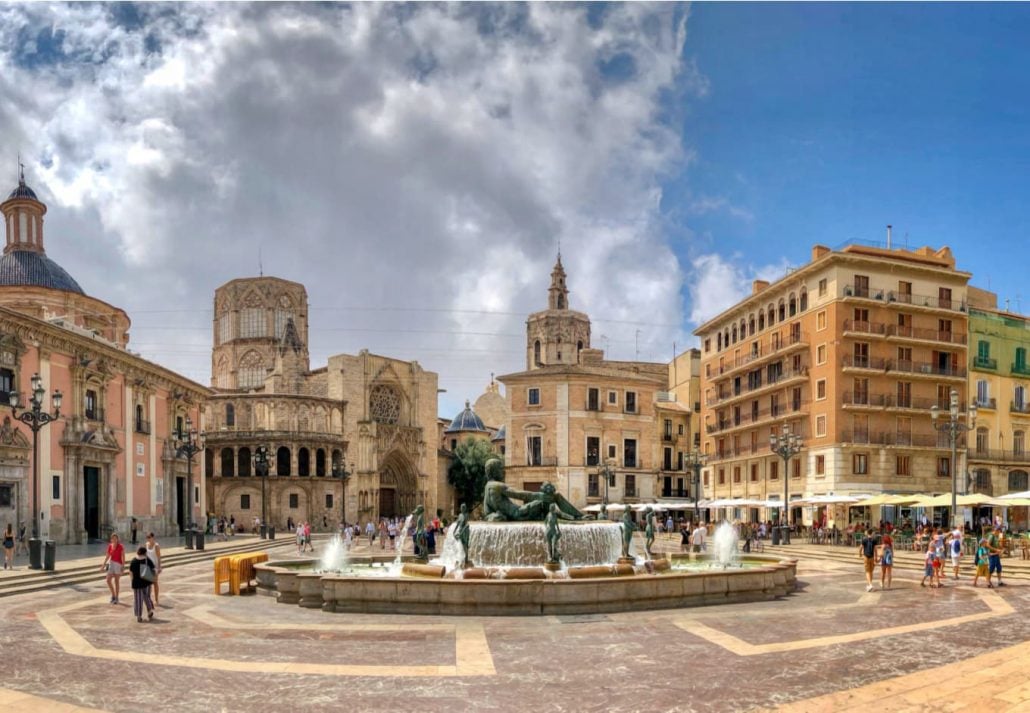 Located on the site that was once the Roman forum, La Plaza de la Virgen is the square where the city of Valencia began. This atmospheric square is dotted with impressive monuments, the most famous of which is the central glittering fountain dedicated to the Turia River and decorated with the figures of 8 females pouring water from the pitchers they hold. On the eastern side of the plaza you'll find the basilica of Nuestra Señora de Los Desamparados and on the western side the Gothic Palau de la Generalitat, the seat of government for the Valencia region.
Explore The Beaches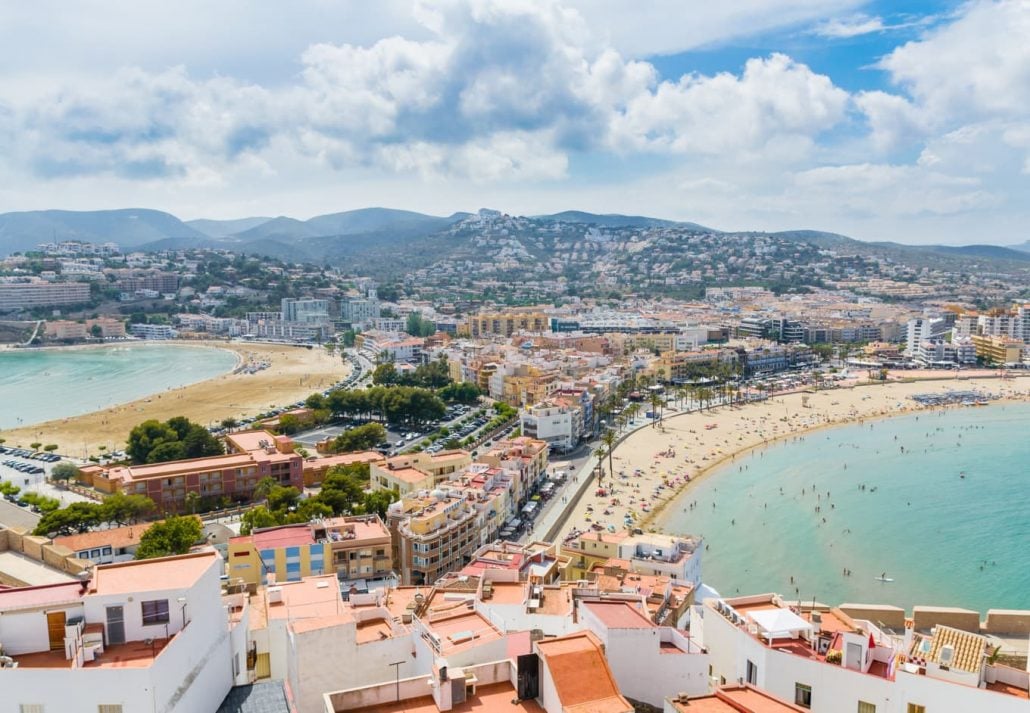 Gloriously nestled on the Mediterranean coast, Valencia has a sparkling 323-mile coastline where you'll find a beach to suit every mood and moment. One of the most coveted is Las Arenas, located less than 2 miles from the city center, and easily accessible by public transportation. This ample beach features a vast stretch of fine golden sand, where you'll find the perfect spot to tan and relax, aside from a range of amenities such as volleyball courts, toilets, and sun loungers for hire.
Another must-visit beach in Valencia is La Malvarrosa, the most popular beach in the city thanks to its wide offer of outdoor activities — from paddleboarding to canoeing.
FAQs
What is Valencia famous for?
Valencia is famous for its historical attractions, bustling festivals, futuristic cultural complexes, and typical dishes.
Is Valencia worth visiting?
Yes, the city is worth visiting for at least 2 days thanks to its beaches, cultural sights, and delicious food.
Is 3 days enough in Valencia?
3 days should give you enough time to explore Valencia and uncover the city's top attractions.
What should I experience in Valencia?
The 12 top things to do in Valencia:
The City of Arts and Sciences;
Albufera Natural Park;
Museum of Fine Arts of València;
Torres de Serranos;
Palacio del Marqués de dos Aguas;
Valencian Paella At Casa Carmela;
La Lonja de la Seda;
Las Fallas Festival;
Valencia Cathedral;
Valencia's Central Market;
Plaza de la Virgen;
The Beaches.
CuddlyNest provides all accommodations to all travelers at the best price. Find unlimited travel inspiration on our blog and social media channels.
You Might Also Like:
Spain Travel Apps
Best Museums In Madrid, Spain
Tourist Attractions in Barcelona
Best Cities to visit in Spain
La Tomatina Festival, Spain
Eating Tapas In Granada, Spain
Vegan Restaurants in Alicante, Spain
A Complete Guide To The 15 Best Festivals In Spain
The 10 Best Spanish Cheese You Should Try
The Ultimate Guide to Lobos Island, Spain
7 Must-Visit Museums In Orlando, Florida